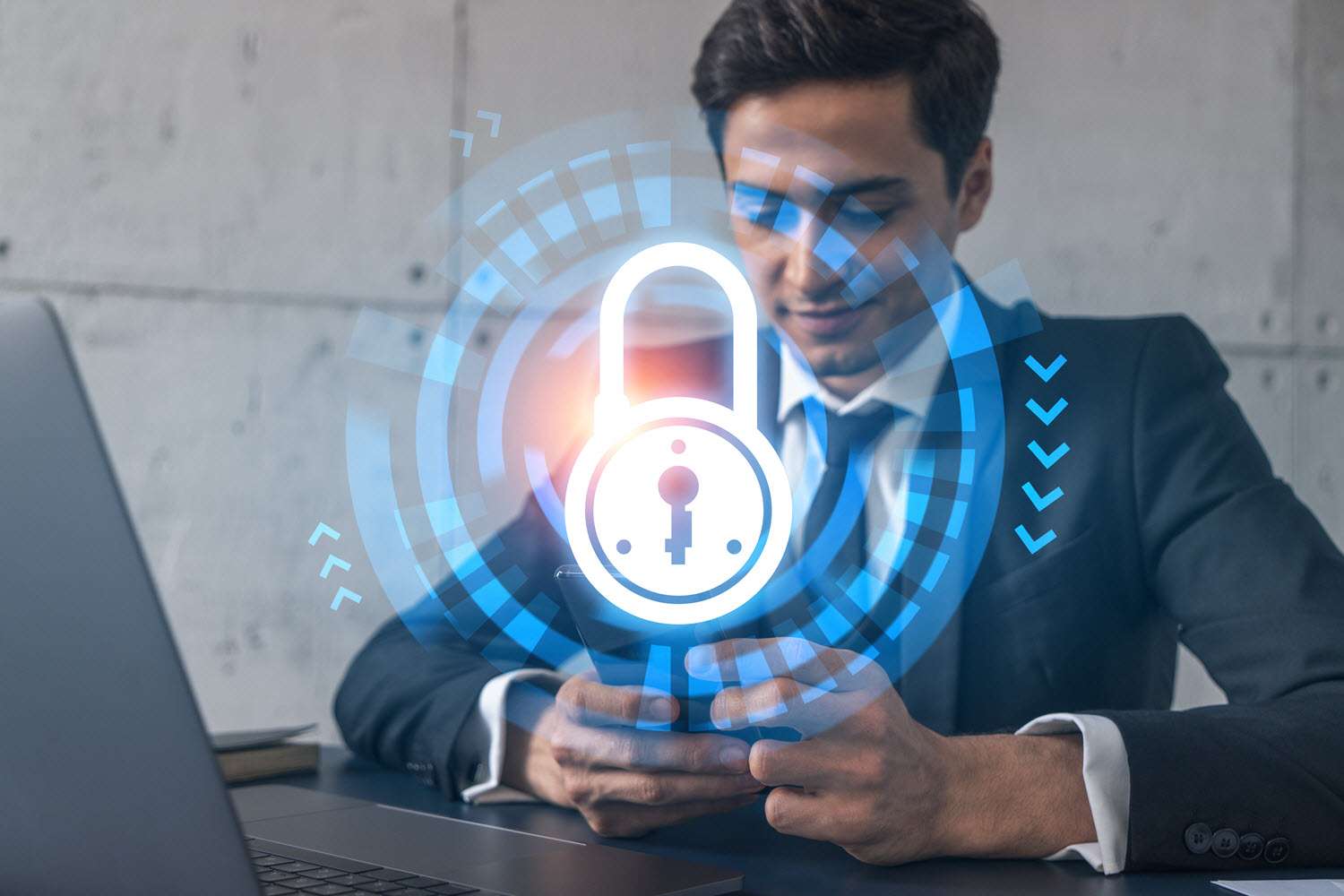 Spokeo is a popular background check service that has been around for quite some time. They also offer a business version of their popular people search engine that helps businesses find and validate potential customers. The service is also helpful for finding old friends, classmates, or employees who are out there somewhere in the world.  
Spokeo Features Overview
Spokeo is a company that started in 2006 intending to simplify the digital lifestyle. They are now striving to make people's search simple, and they've attracted millions of more visitors every month since 2010 when their "people search engine" was launched. Spokeo is one of the many public records search websites for people looking into their potential employee's background information and past behavior or history. You can find out how long they've been in business if there have been any complaints lodged against them by browsing through civil judgments filed with state court systems (even those that were lost) as well as seeing what other companies they might belong to. As a background check service, it cannot screen for compliance with the Fair Credit Reporting Act. It serves as an asset search instead of tenant screening or employee research. Spokeo is not a company that helps you find out more about people, but rather contact information only. For example, they can't be used to see if someone would be a good worker, or for credit checks, or screening tenants as defined by the Fair Credit Reporting Act (FCRA).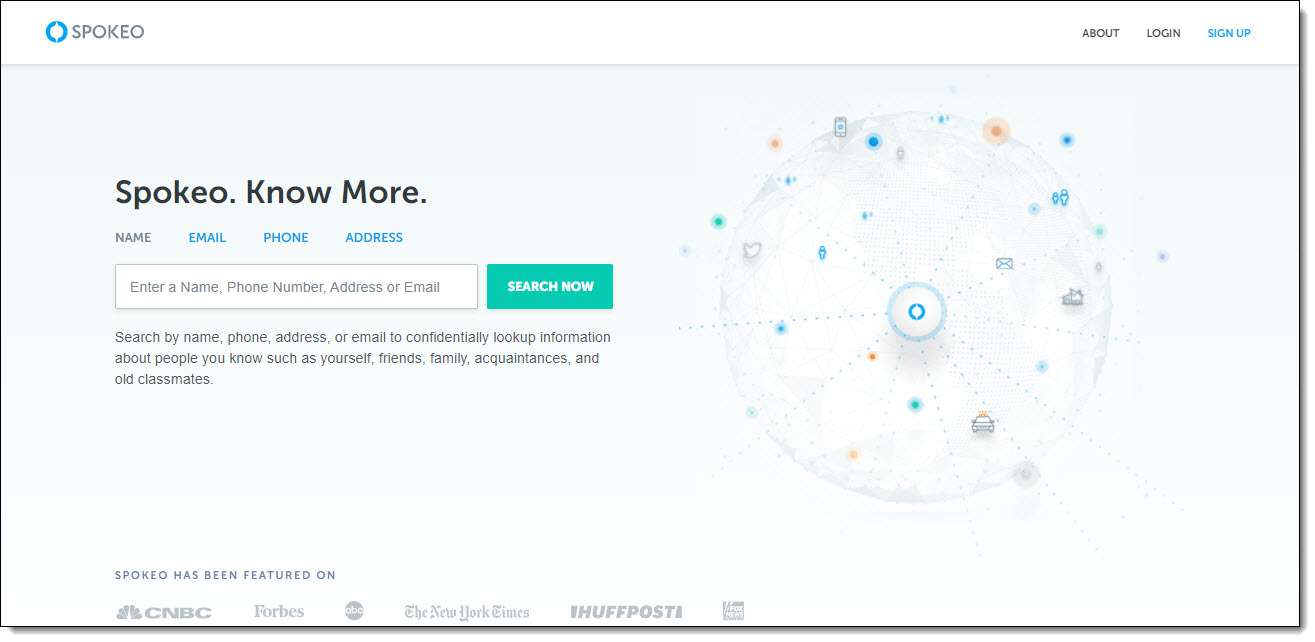 Screenshot from the Spokeo website. Image Credit: Spokeo.com / Spokeo Inc.
  Spokeo is an online service for finding more contact information on people, holding themselves to values and beliefs to be transparent and trustworthy when it comes to data.  
Contact Information
If you are looking for somebody, then you might find them on Spokeo. If they don't have a social media account or email address listed in their public records, that can still be found through a people search engine like this one.  
Location History
If you want to know where somebody has been, Spokeo can help. They have databases for public records like tax filings and civil judgments that go back as far as 2006.  
Family and Associates
Spokeo can help you find family members, classmates and old friends. It has databases that show information on companies a person might belong to, and their education history.  
Spokeo Chrome Extension
Currently, there is not a Spokeo Google Chrome extension available to download.  
Spokeo Database Coverage
Spokeo is a search engine that contains over 12 billion public records. These include criminal records, marriage licenses, divorces, and background checks. Anything you need to know about anyone online.  
Spokeo Apple Store App
Spokeo currently does not offer an app for iOS.  
Spokeo Google Play Store App
There is a Spokeo Google Play app available to download and install from the Google Play Store for your Android. Titled "Spokeo: People Search" and listed under the "Tools" category, Spokeo has over 3,036 user reviews rating it 3.6 out of 5 stars on average. It also shows 100,000+ users installed the Spokeo plugin.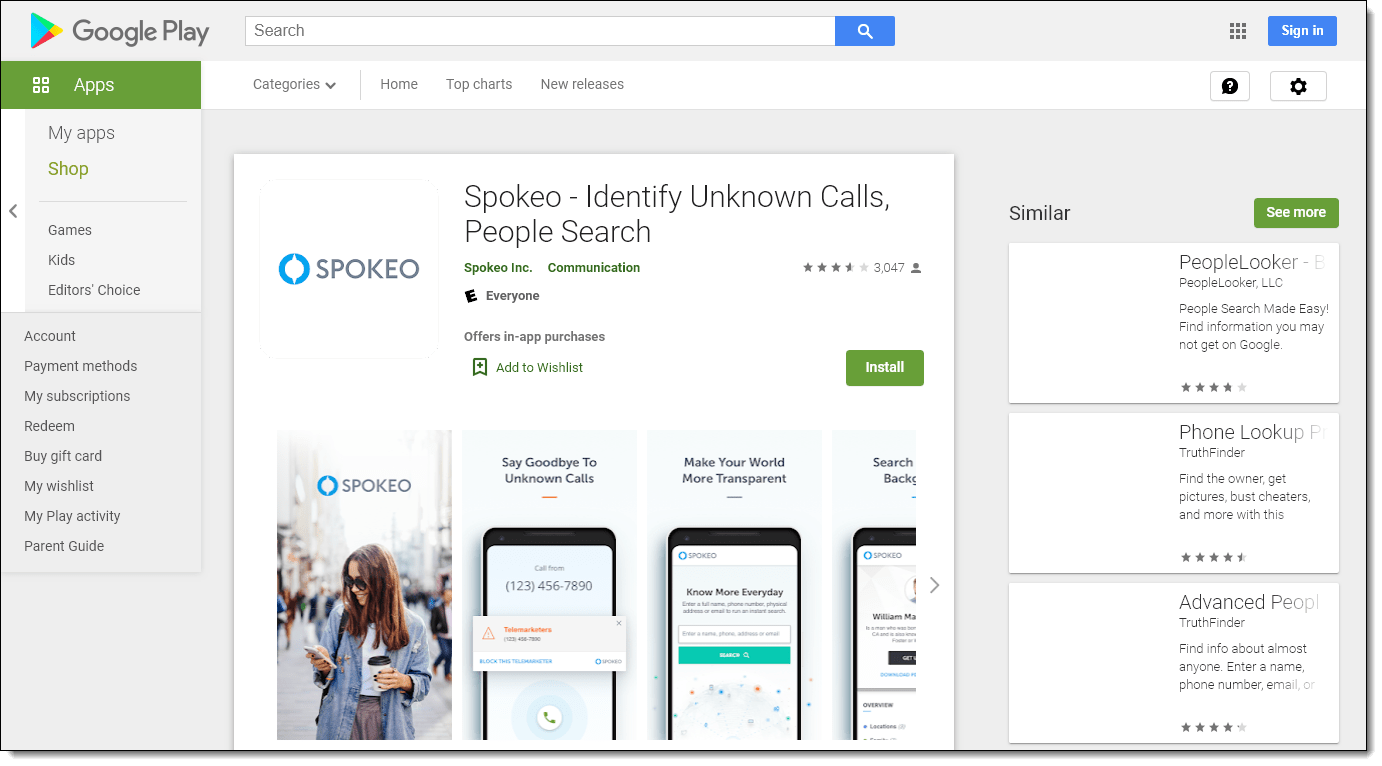 Spokeo People Search: screenshot from the Google Play App Store. Image Credit: Spokeo Inc. / Google Play.
Spokeo Products and Solutions
Spokeo solutions break down into these categories:  
Reverse Address Lookup
Spokeo's Residential Address lookup allows people to search the property ownership information of a home and its residents. This allows users to see who lives at that specific address.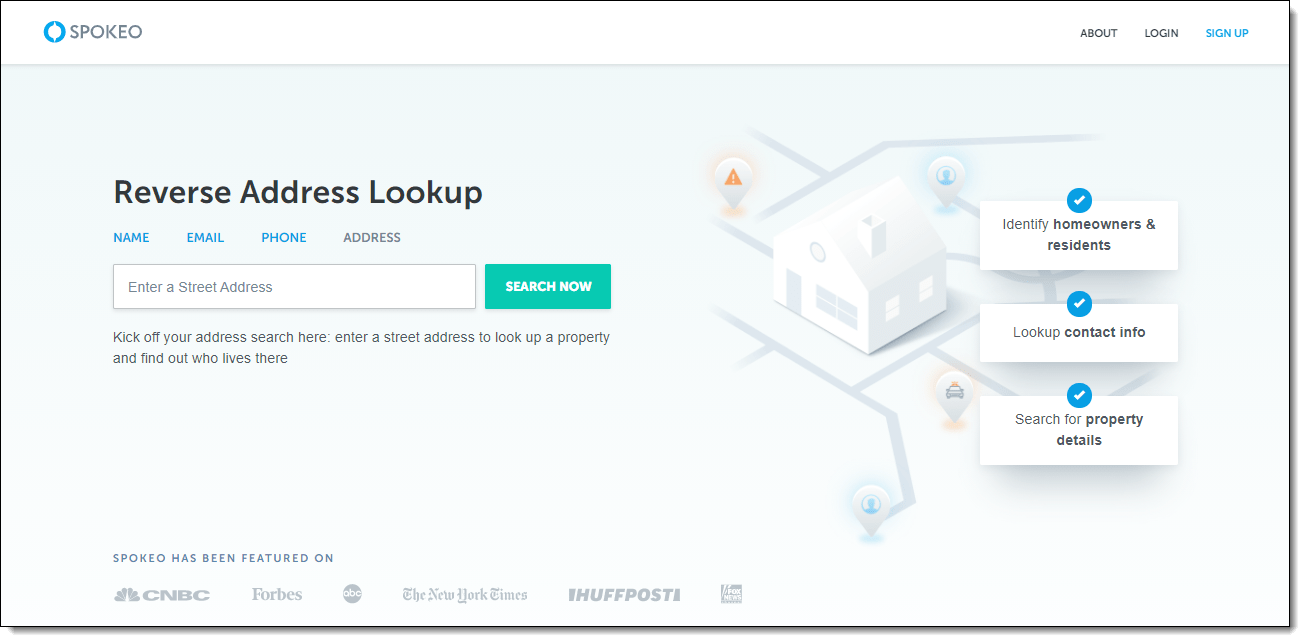 Image screenshot of the Spokeo Reverse Address Lookup page. Image Credit: Spokeo.com / Spokeo Inc.
Reverse Email Lookup
Spokeo Email Search is the fastest and most effective way to find and contact someone on the Internet. With one search, you'll know all of their information: name, address, phone number(s) (including unlisted numbers), email addresses, marital status, as well as links to social media profiles with photos, and more.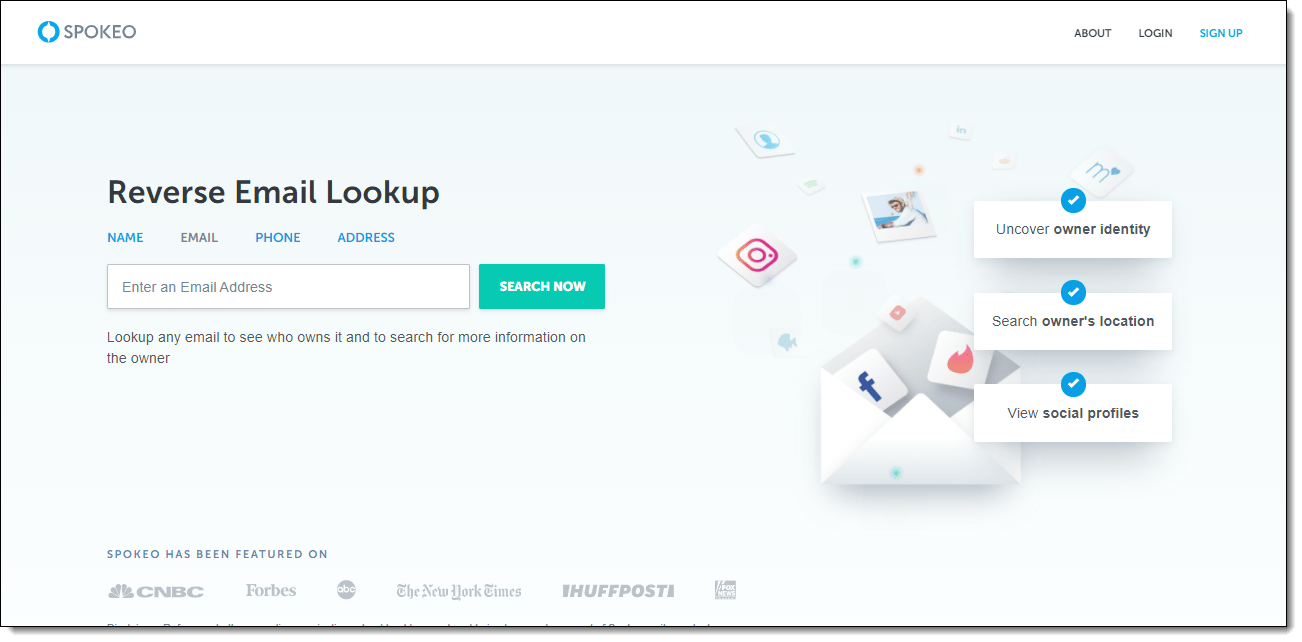 Image screenshot of the Spokeo Reverse Email Lookup page. Image Credit: Spokeo.com / Spokeo Inc.
Reverse Phone Lookup
Spokeo is a popular search engine that searches through millions of phone records and provides you with free record information in seconds.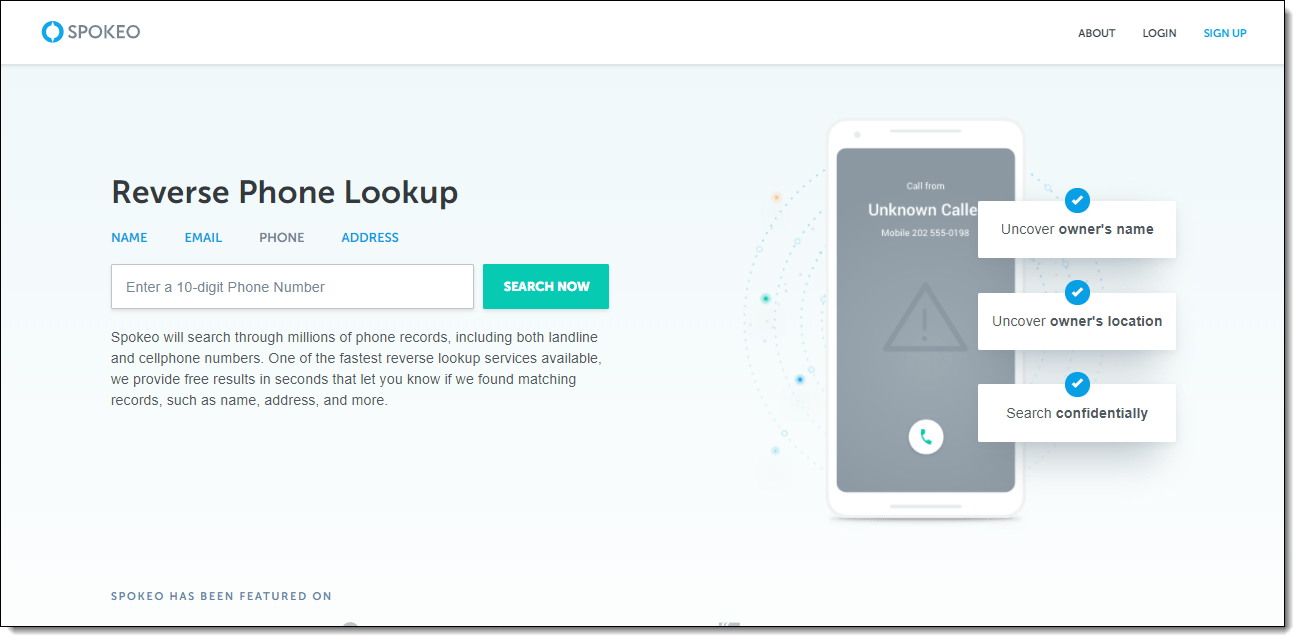 Image screenshot of the Spokeo Reverse Phone check page. Image Credit: Spokeo.com / Spokeo Inc.
Check Criminal Records
Spokeo Court Record Search is a fast, convenient way to gather information on federal and state court cases. This search includes records from over 600 million court cases originating from 1400 courthouses across the USA. Read descriptive details about the offense, disposition date, sentencing information, filing date, and much more.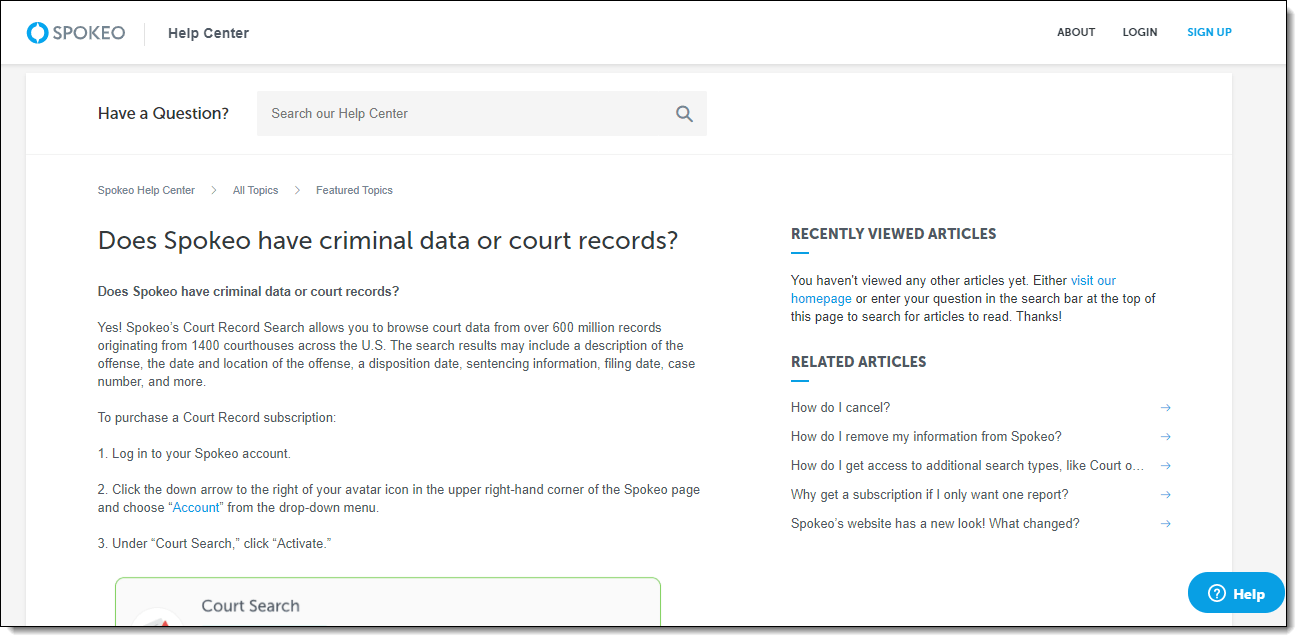 Image screenshot of the Spokeo Check criminal record page. Image Credit: Spokeo.com / Spokeo Inc.
Spokeo Pricing Plans (Monthly, Quarterly, Annual)
Spokeo offers both monthly and annual payment options, but they do not offer trial periods for any search.  Spokeo offers two price plans: its non-premium plan, which costs $23.76/month, and its quarterly plan, which is priced at $13.75 / month.  Both offer the same function, but unlike the more expensive one, none include unlimited searches or those that carryovers to a future month. If you decide you no longer want to use Spokeo you can cancel your membership or package plan to avoid being continually billed.  
Spokeo Free Trial Offer
Spokeo currently does not have a free trial offer listed on their website.  
Spokeo Integrations
Spokeo currently does not have integrations with other platforms or tools.  
Spokeo Interface 
Spokeo is an user-friendly public records search engine and people finder. It's great to find someone, run background checks, or get peace of mind.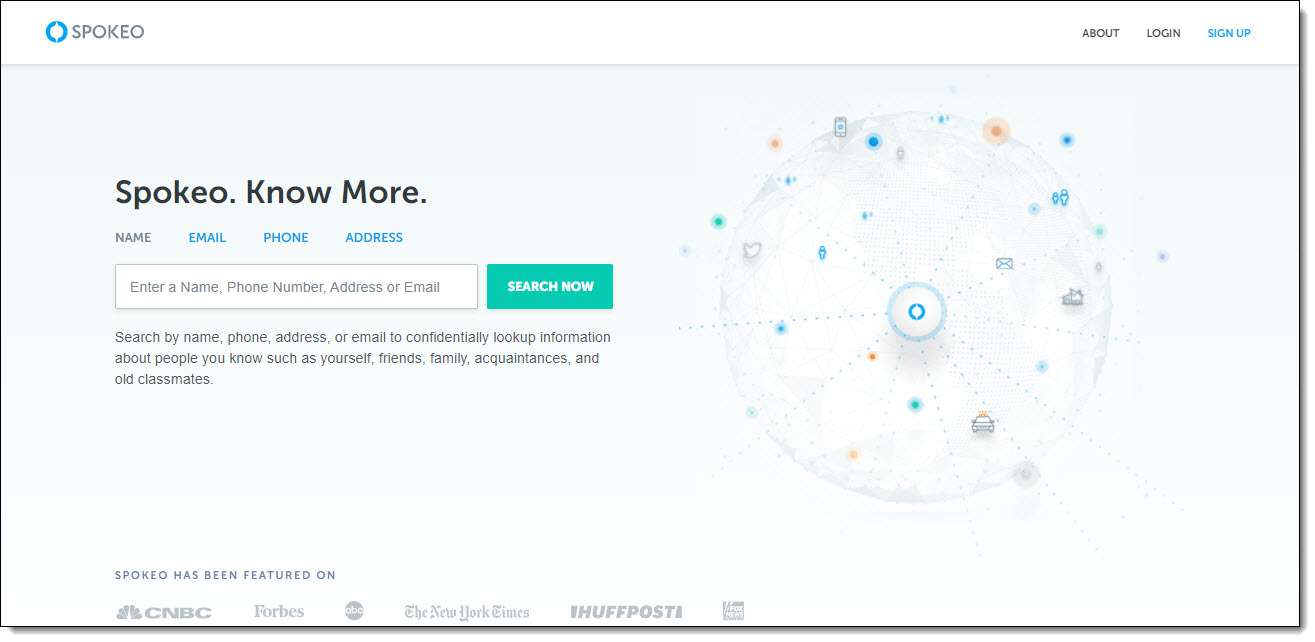 Image screenshot of the Spokeo people search page. Image Credit: Spokeo.com / Spokeo Inc.
Spokeo Founders and Team
Spokeo was founded in 2006 by Mike Daly, Harrison Tang, Ray Chen, and Eric Liang.  Read more about Spokeo here. The Spokeo Corporate Headquarters is located in Pasadena, CA. If you want to contact them, call them at 1 (888) 558-9004 or email at Customercare <at> spokeo.com 
Spokeo Blog
Find the Spokeo blog here.   
Spokeo Social Media
Social media accounts include: Twitter @Spokeo, Facebook @Spokeo, Linkedin @Spokeo, and others, including Spokeo YouTube Videos. Hashtag #Spokeo.  
Spokeo YouTube Video Demo
How to Use Spokeo to Find Anyone
Video of Spokeo from YouTube channel.
Latest Tweets from Spokeo
Creating an #inclusive workplace for all teammates comes from the top down. We're proud to have a CEO whose leadership helps create an environment where all feel welcome. Join us in congratulating @TheCEODad on making @Comparably's Best CEOs for Diversity Annual List! pic.twitter.com/7GgVZla770

— Spokeo | People Search Engine (@Spokeo) July 19, 2022
Tweets from Spokeo's Twitter account @Spokeo.
Latest Facebook Posts from Spokeo
Post from Spokeo's Facebook account @Spokeo.
Latest Linkedin Post from Spokeo
Post from Spokeo's Linkedin account @Spokeo.
Spokeo Customer Service, Help, and Support
Here is the Spokeo support and help area for frequently asked questions (FAQs).  
How to Contact Spokeo?
By phone: 1 (888) 558-9004 or by email: support <at> mailer.Spokeo.com.  
Top Best Spokeo Alternatives
These are some top alternative best background check services to Spokeo you can use to uncover email addresses and cell phone numbers.  This is a partial list of background check companies and is current for 2022 and will continually be updated during the 2022 year.
• Swordfish AI (swordfish.ai)
• Intelius (Intelius.com)
• Pipl (pipl.com)
• Radaris (radaris.com)
• BeenVerified (BeenVerified.com)  
Spokeo Competitors
Swordfish AI, BeenVerified, Intelius, Radaris, Pipl, Zoominfo, DiscoverOrg, Clearbit, ContactOut, AeroLeads, Voila Norbert, Lusha, UpLead, instant checkmate, and others.  
Spokeo Reviews
Read other authentic Spokeo Reviews on Techjury.net.  
Spokeo Pros and Cons
Have you had any experience using Spokeo? Share your thoughts on Spokeo as a helpful tool to find productivity contacts. What were the pros and cons? Here are some pros and cons shared for you:  
PROS:
Use the search function by typing in the person's social media network username.

Real-time searches
CONS:
Limited searches per month

Many options are difficult to find.
Conclusion and Summary
Spokeo is a paid service that helps people perform background checks on others, but it costs money first, and they may not always yield the desired results. Leave your feedback in a comment about Spokeo and any other similar services you have used.
Cover Image Licensed from: 123RF.com / Videoflow.