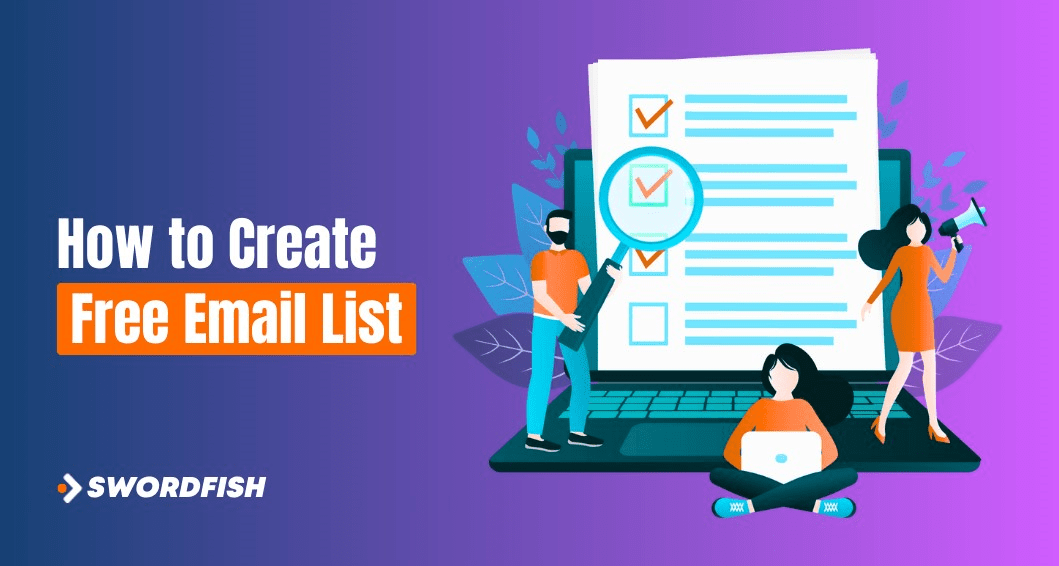 Ever wondered how to upscale your marketing without breaking the bank or how to build an email list without a website? The answer lies in building a robust free email list with great tools. But where do you start?
Well, with many providers out there, choosing the right one can be exhausting, we get it. That's why here we are with this article. It dives deep into the top 10 providers that allow you to create a free email list, ensuring you reach your target audience effectively.
Also, you'll be equipped to make an informed decision by understanding the hook and nook of each provider. So, if you're keen on amplifying your marketing efforts without incurring hefty costs, read on.
Use the power of a free email list and watch your business soar!
What is an Email List?
An email list is a curated compilation of email addresses. These addresses are collected when individuals voluntarily sign up or "opt-in" to receive electronic communications.
Such as newsletters, promotional offers, announcements, or other targeted content, from a specific business, organization, or individual.
According to a study by the Radicati Group, there were over 3.9 billion email users worldwide in 2019, underscoring the immense potential reach of email marketing.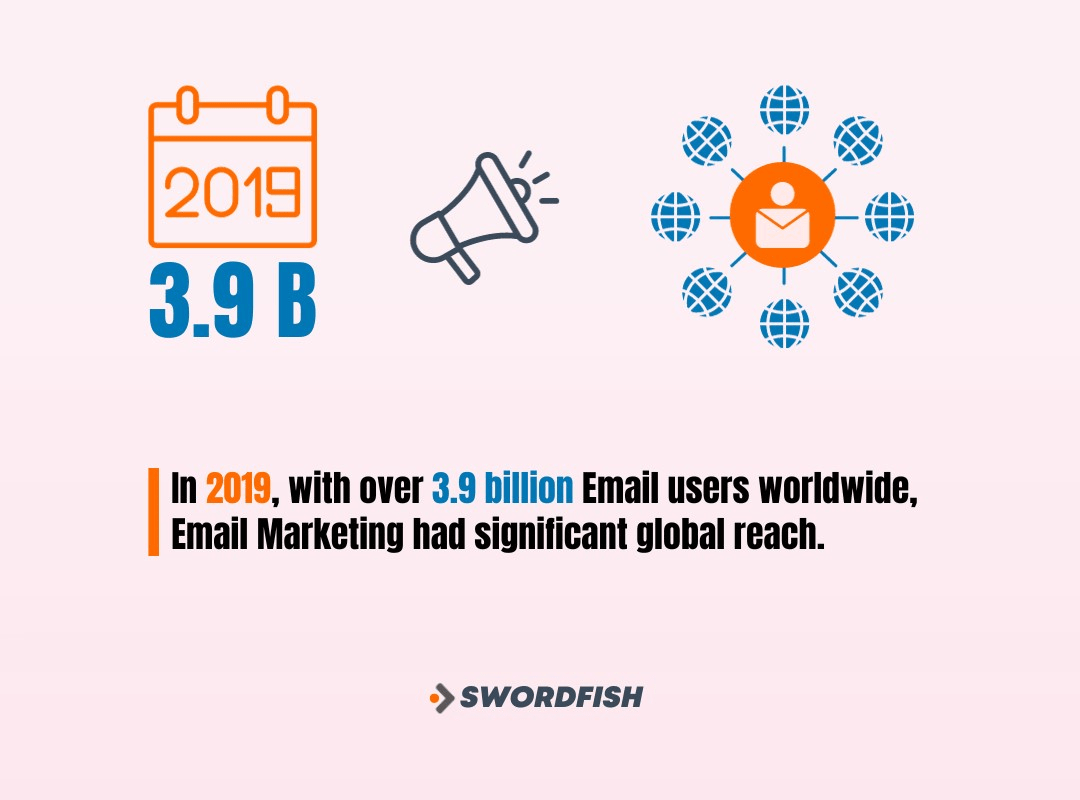 Moreover, for businesses and marketers, an email list isn't just a database; it's a goldmine. It offers a direct and personalized communication channel.
Additionally, it allows for the nurturing of relationships, increased engagement, and the driving of conversions with both prospective leads and existing customers.
Therefore, in this era, where attention is fragmented across various platforms, a well-maintained email list stands out as a powerful tool. You can just cut through the noise and connect directly with one's audience.
Why Should You Create an Email List?
Building free email lists isn't just a marketing strategy. it's an investment in fostering lasting relationships with your audience. The details are given below: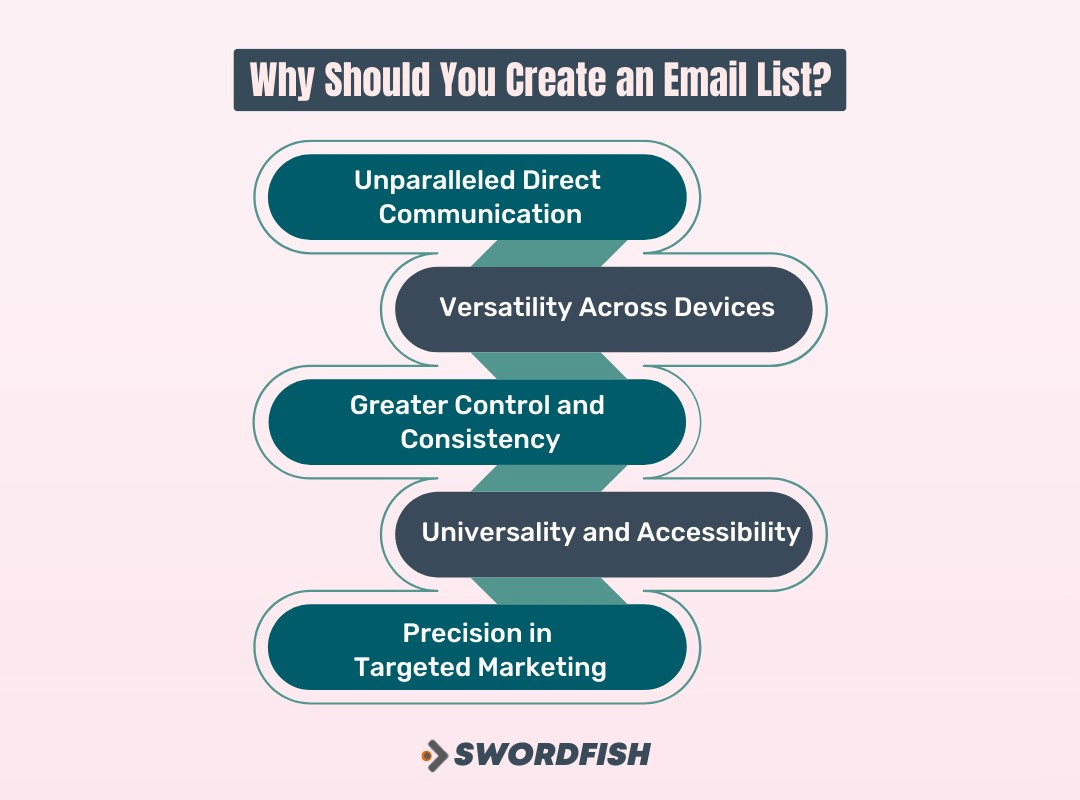 Unparalleled Direct Communication
Email remains one of the most effective communication tools that allows businesses to convey their messages directly to the recipient's inbox.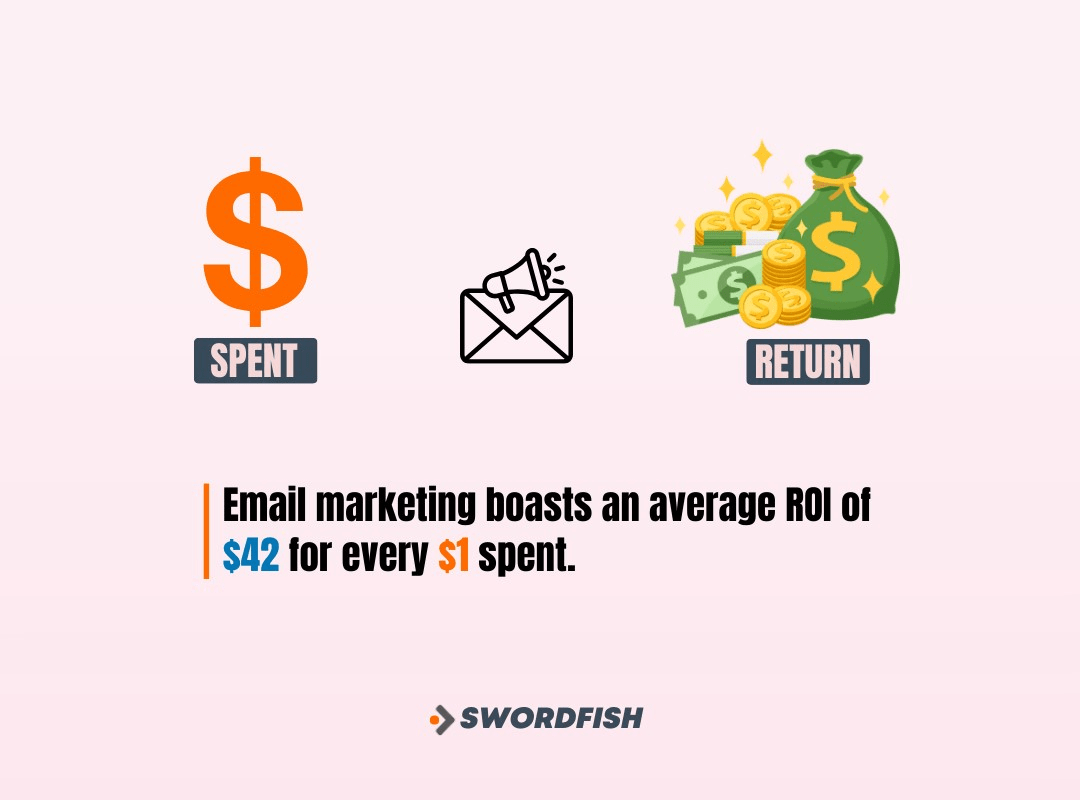 In fact, according to Campaign Monitor, for every $1 spent on email marketing, the average return on investment (ROI) is $42. This showcases the potential of emails to deliver targeted messages and offers with precision.
Versatility Across Devices
People usually access their emails on a myriad of devices, from desktops to smartphones these days. A study by Litmus revealed that 42% of emails are opened on mobile devices, emphasizing the adaptability of email communication and its expansive reach.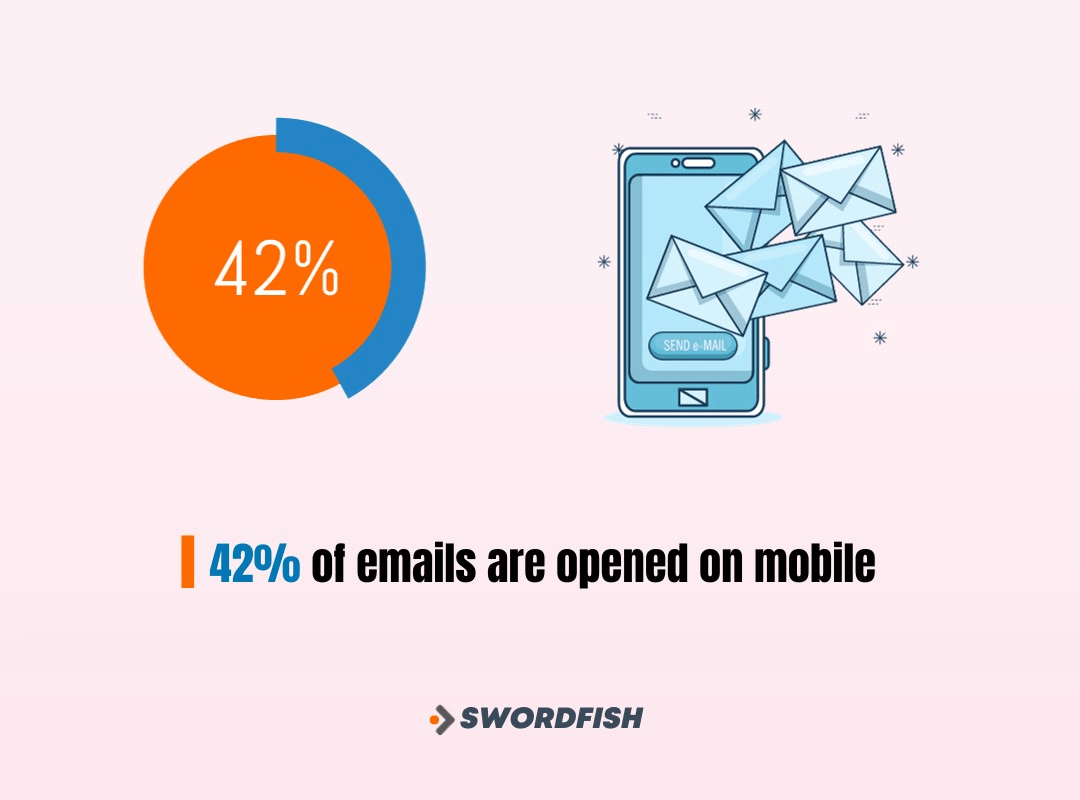 Greater Control and Consistency
Social media platforms, while valuable, are notorious for their ever-changing algorithms, which can affect content visibility.
In contrast, email lists provide businesses with consistent and direct access to their audience, devoid of intermediary algorithmic barriers.
Universality and Accessibility
Email is a ubiquitous medium. A report by Statista highlighted that over 4.26 billion people used email in 2022. This actually makes it a universally accepted and understood platform.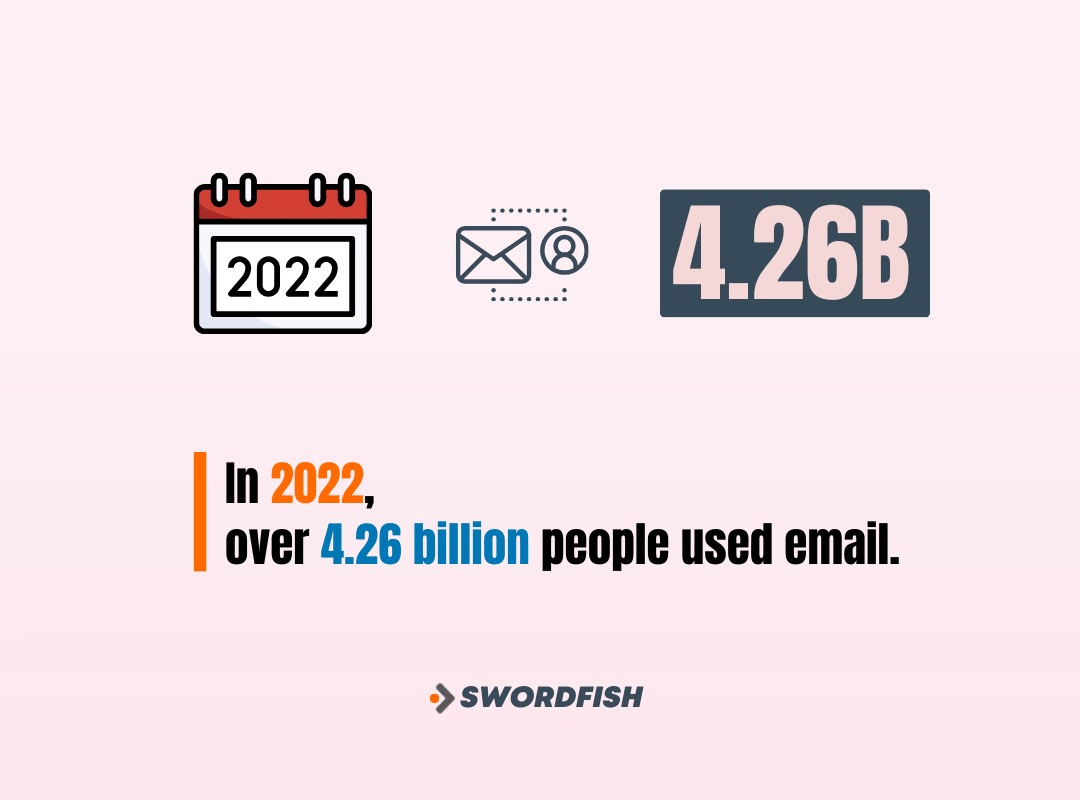 Its widespread use ensures that businesses can communicate with a vast and diverse audience seamlessly.
Precision in Targeted Marketing
A meticulously curated email list is not just about quantity but quality. It ensures that the right message reaches the right individual, leading to personalized interactions and, consequently, higher engagement rates.
With segmentation and a free email list generator, businesses can tailor their campaigns for specific audience subsets. It drives better results and maximizes ROI.
Top 10 Platforms to Build a Free Email List
Creating a strong email list is crucial for businesses looking to maintain direct communication with their audience. Here's an in-depth analysis of the top 10 platforms that can assist you in building some comprehensive best email lists for marketing:
1. Swordfish AI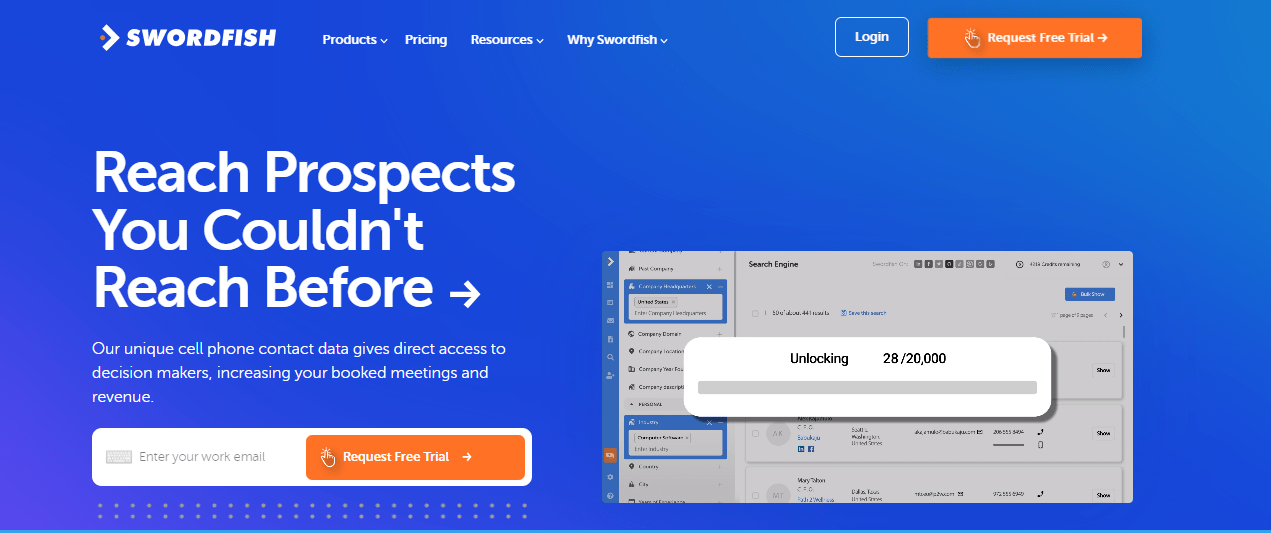 Swordfish AI is a testament to the power of aggregation. By pooling contact data from top-tier data providers, it offers users access to an unparalleled database of over 3.5 billion verified profiles.
The platform's emphasis on real-time validation ensures that the leads are not just vast in number but also high in quality. The generous offer of $500 worth of free data during the trial period showcases its confidence in its offerings.
Ready to elevate your marketing game? Start building your high-quality free email address list with Swordfish AI today!
Try Swordfish Ai
2. UpLead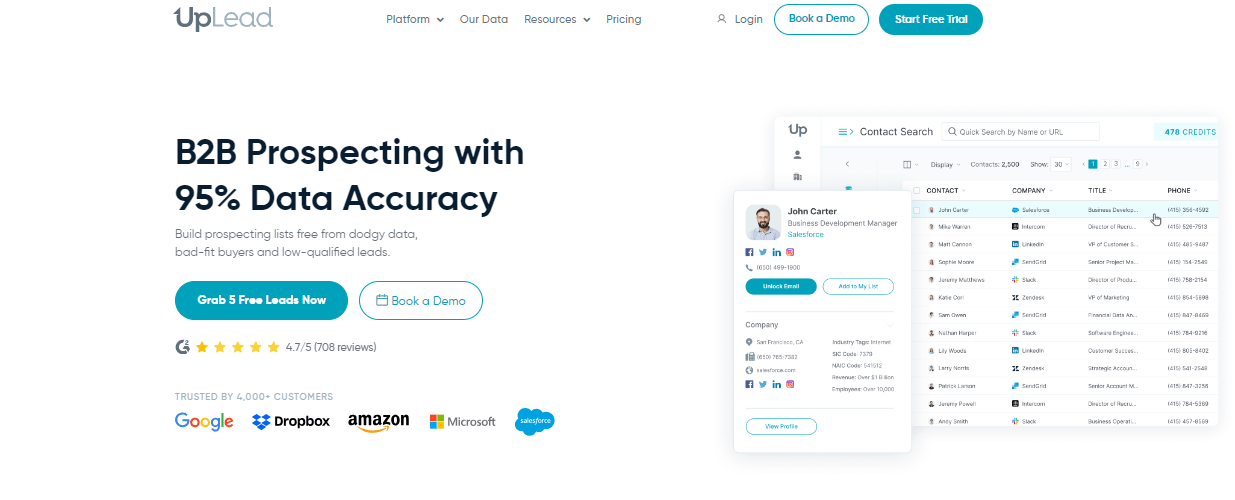 Positioned at the forefront of B2B lead generation, UpLead is more than just a database. It's a comprehensive solution. With a repository of over 135 million contacts, it emphasizes data integrity.
On top of that, the platform's commitment to a 95% accuracy rate, combined with real-time email validation. It makes sure that businesses not only find leads but also engage with genuine, responsive prospects.
Therefore, UpLead's interface is user-friendly and cost-effective. This makes the process of lead discovery and validation seamless.
3. Hunter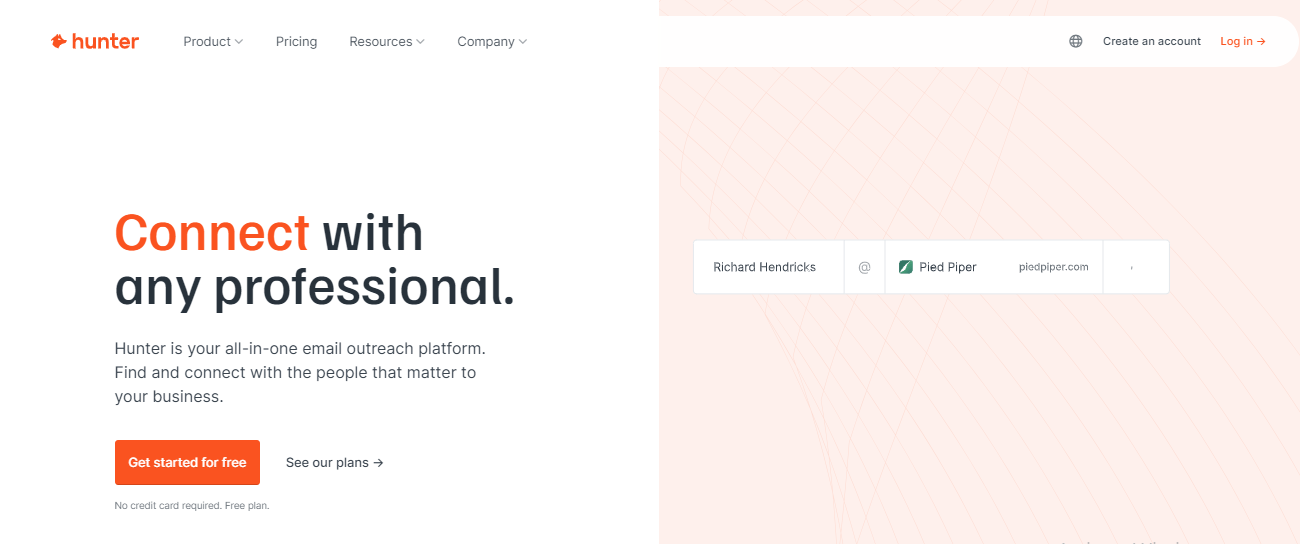 Now, Hunter is a multifaceted platform that combines the power of email discovery with robust verification tools. Its expansive database is tailored for business-centric searches.
Furthermore, this tool offers 25 searches and 50 verifications monthly and is designed thoughtfully. It keeps in mind the needs of emerging businesses and individual marketers.
Additionally, Hunter provides insights into the most used email patterns, aiding in predictive lead generation.
4. Spokeo

Spokeo stands out as a unique lead generation tool that goes beyond email. It delves into diverse criteria like addresses and names to fetch comprehensive contact details.
The platform's algorithm is designed to sift through vast amounts of data. This also ensures that users receive relevant and actionable leads.
While the basic functionalities come without a price tag, Spokeo's advanced features including in-depth background checks, are worth exploring.
5. Lusha

Lusha operates at the intersection of integration and lead generation. Its ability to effortlessly sync with platforms like Salesforce and LinkedIn means that businesses can extract personal email addresses without switching between tools.
Moreover, the platform's algorithm is adept at navigating through professional networks. This makes sure that the leads generated are of high quality.
Plus, the provision of five monthly credits in its free plan showcases Lusha's confidence in its offerings.
6. Seamless.AI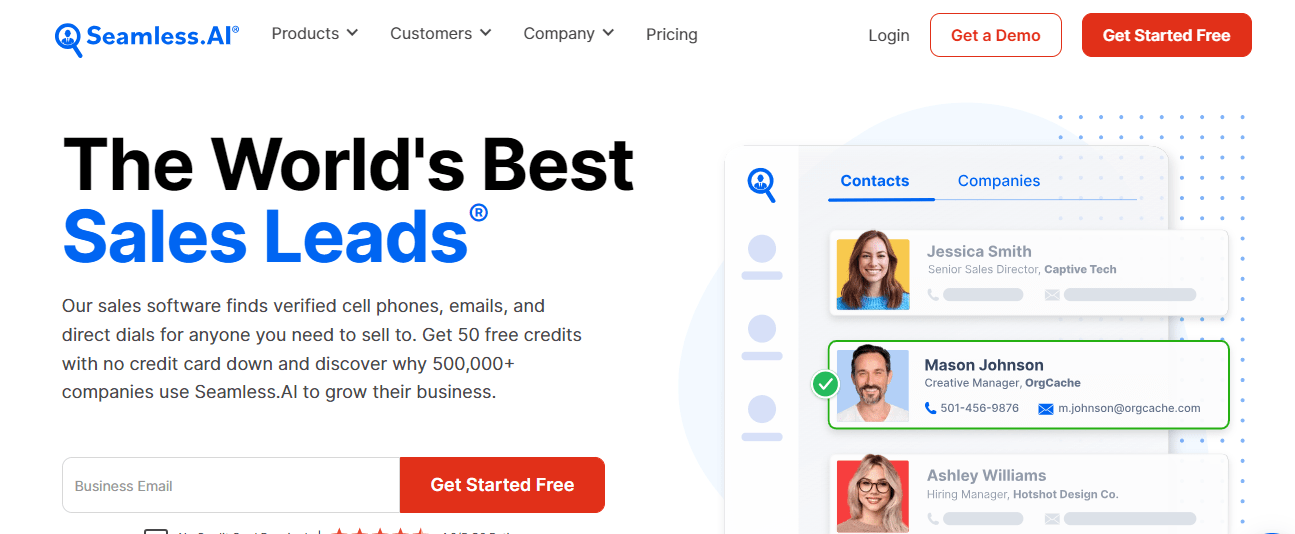 Seamless.AI is not just a tool, it's a digital companion for businesses. Its algorithm, powered by artificial intelligence, scours the internet to find professional information.
The tool's design prioritizes user experience. It confirms that even those new to lead generation can navigate with ease.
Also, the free trial is a testament to its capabilities. It offers businesses a risk-free opportunity to enhance their lead-generation efforts.
7. LeadIQ

LeadIQ is a powerhouse in the digital lead generation landscape. Its database, teeming with 100 million verified email addresses, is just the tip of the iceberg.
The platform enhances the user journey with visual analytics. It provides granular insights into lead behavior, preferences, and engagement patterns as well.
Here, the 30-day free trial period is indicative of LeadIQ's commitment to transparency and value delivery.
8. GetEmail.io

Utilizing the power of big data and machine learning, GetEmail.io promises precision and speed. The platform's algorithm is adept at navigating the digital landscape to find the email address of any professional or potential lead globally.
Its emphasis on global outreach makes it an invaluable tool for businesses looking to expand their horizons.
9. Voila Norbert

Simplicity meets efficiency with Voila Norbert. The platform is designed with a singular focus: to offer robust email verification and search services.
Its intuitive interface assures that users can clean their email lists, enhance deliverability, and discover new leads without any hassles.
The platform's insights into email patterns further increase its value proposition, too.
10. Snov.io

Snov.io is a holistic solution for businesses looking to supercharge their cold outreach. From discovering emails to orchestrating drip campaigns, the platform offers a suite of tools designed for efficiency.
Its Chrome extension, which allows for seamless LinkedIn integration, is a game-changer. It turns passive browsing into active lead generation.
Final Words
That's all about building free email accounts. A free email list stands out as a cost-effective tool for businesses aiming to connect with potential customers.
However, the true value of a free email list isn't just in its cost-saving aspect, but in its potential to drive engagement, brand awareness, and conversions when used ethically and strategically.
Therefore, as with any tool, it's essential to prioritize quality and relevance to make sure that every email sent aligns with the recipient's interests and needs.
FAQs
Are free email lists legal?
The legality depends on the list's acquisition and usage. In many places, unsolicited emails are illegal. Make sure any list you use complies with regulations like CAN-SPAM or GDPR and that recipients have given consent.
How do I ensure the quality of a free email list?
Check the list's source. Always make sure it is reputable and verify email addresses. Regularly clean your list. And try to remove inactive or unengaged addresses.
Can I integrate a free email list with my existing marketing tools?
Most email marketing platforms allow list integration. Before importing, ensure the list format is compatible and you're not violating your provider's terms. This way, you can use a free email list with your existing tools.