The value of accurate and up-to-date contact information cannot be undermined for successful outreach campaigns. Lusha is one such B2B sales intelligence platform, claiming to provide fresh, dynamic, high-quality prospect data.
It has been a reliable go-to-market platform for many businesses seeking reliable contact data for years. But is it the best? More importantly, is it the only platform available?
No. Lusha is not a one-platform-fits-all, and different organizations have different requirements, raising the question, "Which Lusha alternative is the best and will fulfill my requirements?"
We will discuss Lusha's features, pricing, and limitations and provide the best alternatives. We'll explore them in detail and see what makes them stand out and where they lag. Let's compare Lusha with its top competitors to pick the best B2B data provider.
Lusha: About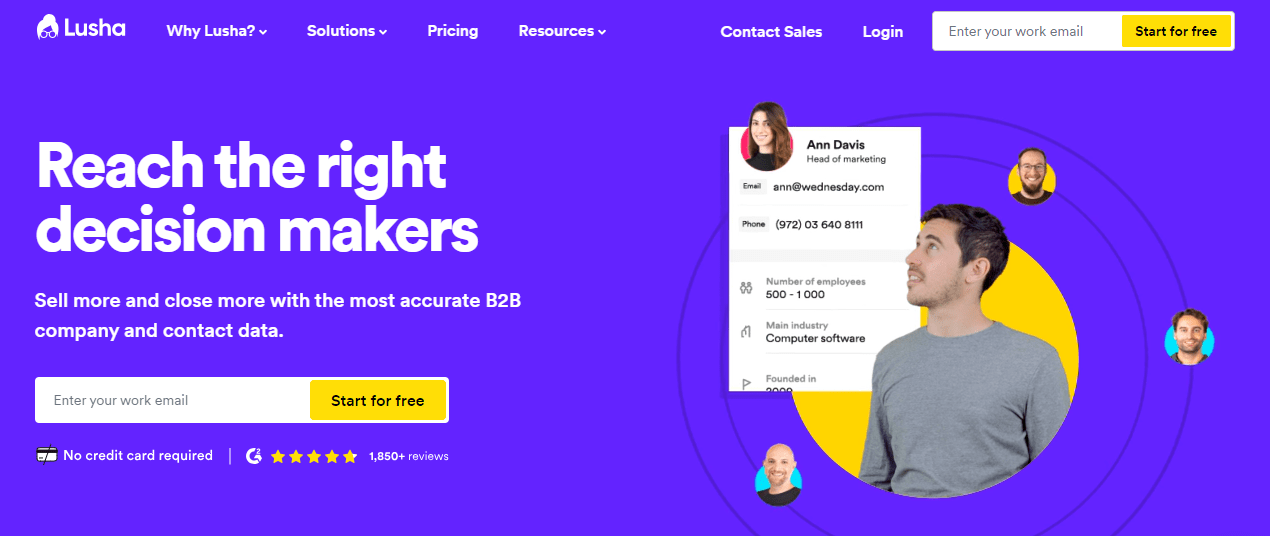 source
Lusha is a popular go-to-market data enrichment platform that provides accurate B2B data at your fingertips. Its platform is regularly updated with verified details of professionals from different industries, which can be prospected at scale.
Trusted by 1 million users, it provides unrivaled data quality. It can refine your past searches to provide you with ideal customer profile insights.
Lusha is also the first ISO 27701-certified sales intelligence platform in the market, so you know you're working with the highest privacy and security standards. Let's have a look at the distinct features of Lusha:
Lusha: Features
Lusha provides a great interface for narrowing down contact info with advanced search filters and CRM data enrichment. But how? Let's discuss:
Buyer Intent Data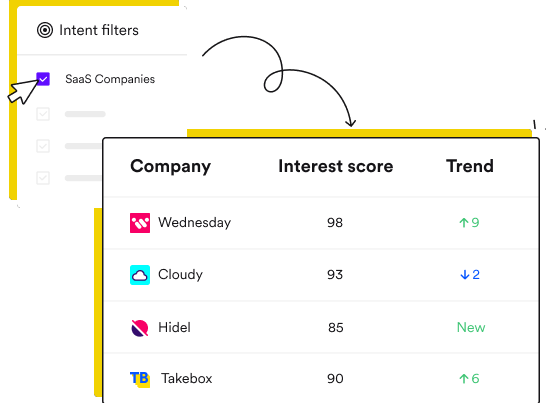 source
Identifying potential buyers is a breeze with Lusha. Lusha provides exclusive buyer intent data, which helps you enrich your contact data to ensure engaging with the right prospects at the right time.
It uses intent signals that identify a company's likelihood to purchase based on its behavioral signals. These signals are classified into weak, strong, and strongest and categorized based on their profile and engagement signals, which may be direct or indirect.
Lusha also identifies and notifies you when a prospect changes job profiles so that you can customize your messaging accordingly.
Interestingly, they have a technology filter that lets you filter companies based on the tech they have in their stack and predict their needs to know their business potential.
Prospecting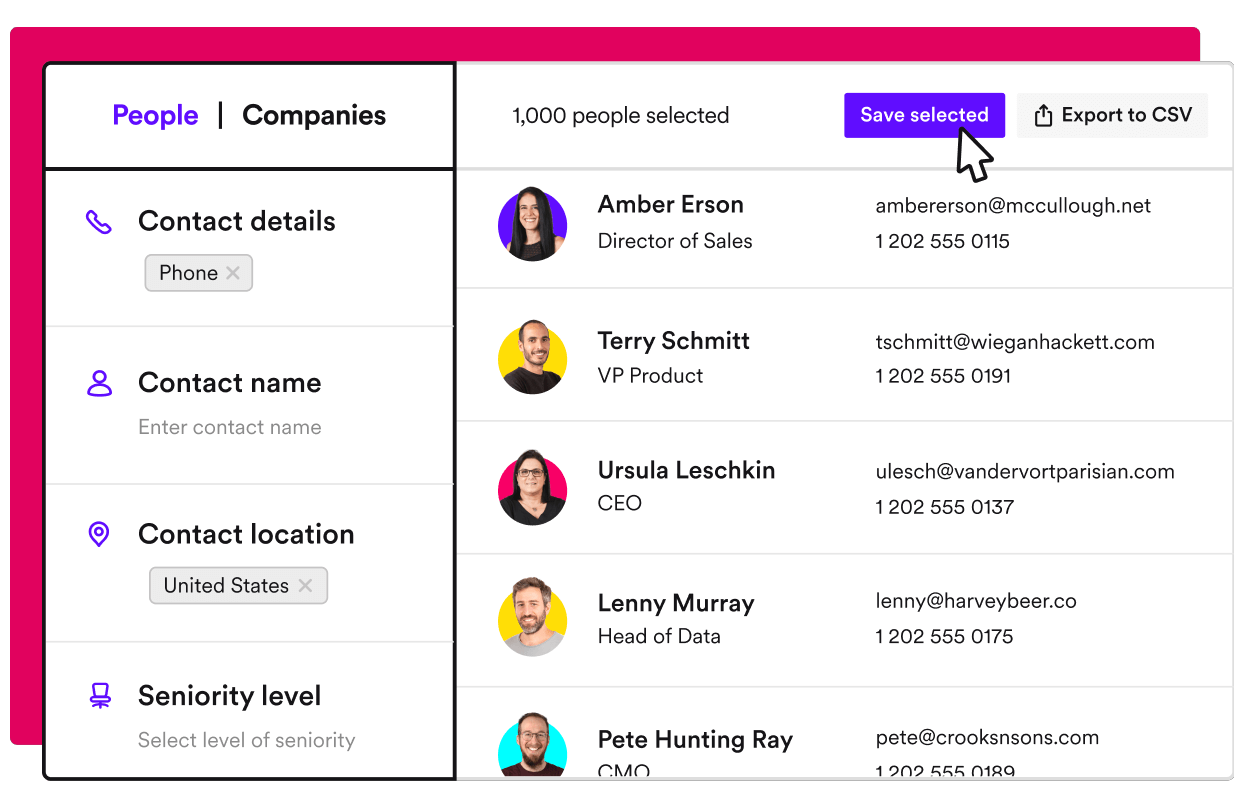 source
Lusha has seven trust filters that provide fully compliant data on a company's most relevant decision-makers. You can prospect at scale and get up to 1,000 contacts that data enriched in one search.
The prospector provides filters like prospect name, location, department, seniority, and more to refine your search and target high-priority accounts.
You can convert your searches into laser-focused, accurate, clean contact lists, which can be exported to your CRM or CSV in one click.
Integrate your CRM painlessly to Lusha and immediately follow up on priority prospects. Descriptive dashboards give immediate visibility into your team's prospecting activity and help understand how credits are used.
Chrome Extension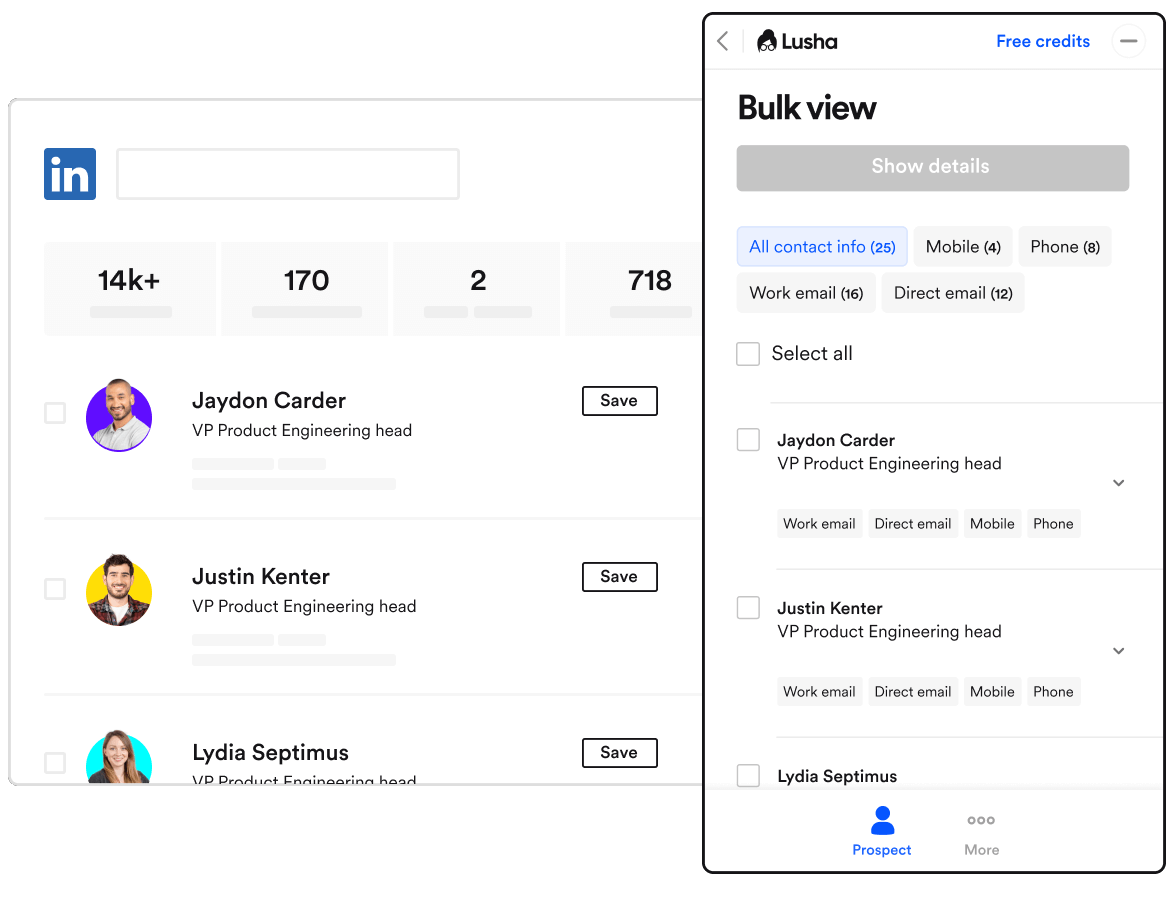 source
Lusha's extension can be added to your Chrome browser to prospect faster. The extension works with LinkedIn, Sales Navigator, Salesforce, and more to give instant access to your prospect's contact details and B2B company info within seconds.
The extension helps enrich data on any prospect directly on their LinkedIn profile or bulk enrich multiple prospects on LinkedIn People Search and Sales Navigator. The extension can also be used to reveal valuable information about a company by using the extension on its website.
Lusha on CRM add-on helps reveal and enrich potential opportunities on your Salesforce and Hubspot CRMs without leaving the platform.
API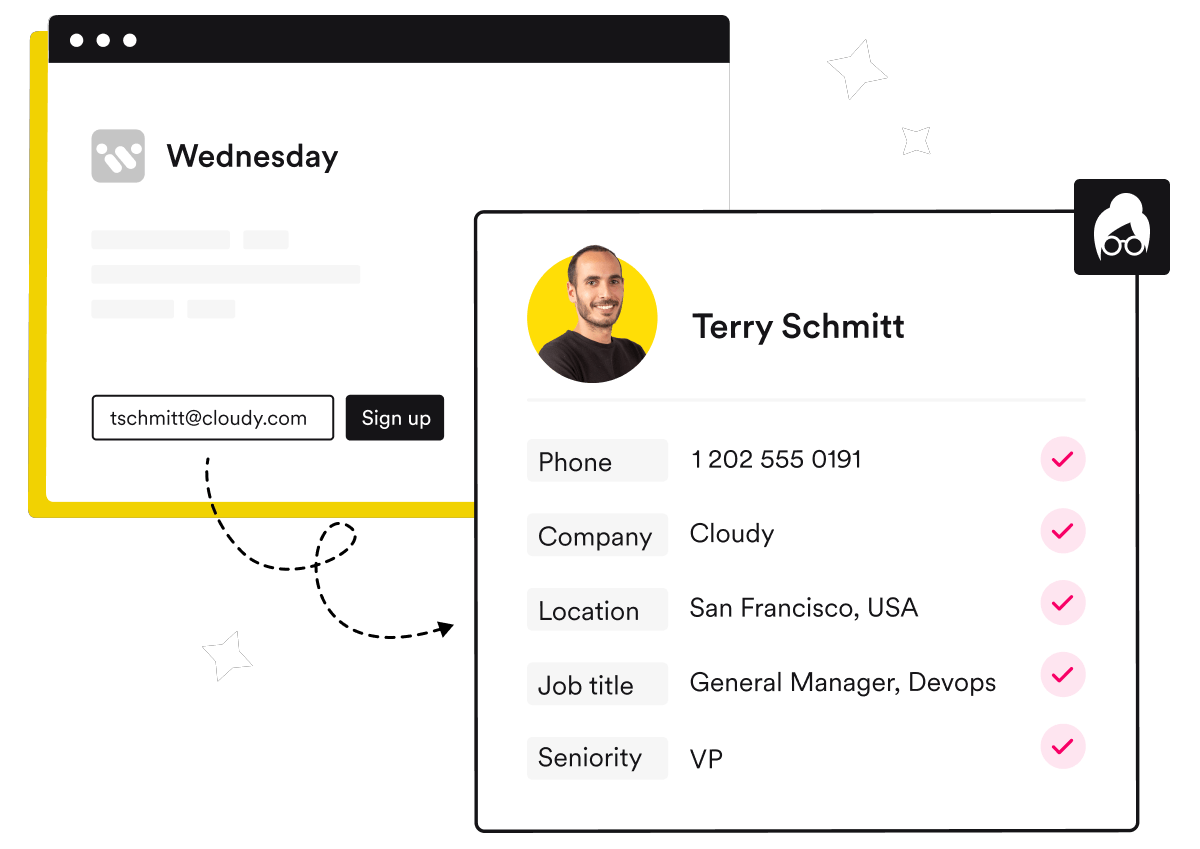 source
Lusha's one-click API helps keep your B2B database fresh and accurate. Person API helps enrich your system with details like contact data, direct dials, and email addresses.
Similarly, company API updates your database with fresh company profiles and specific details like company size, industry, and technologies. It also allows you to retrieve up to 100 contacts simultaneously with bulk API.
You can contact Lusha's team to get started and pick an API that best matches your needs. They also allow you to set specific ICP filters, if any, and then you can set up your API and ensure your data stays fresh and accurate.
Integrations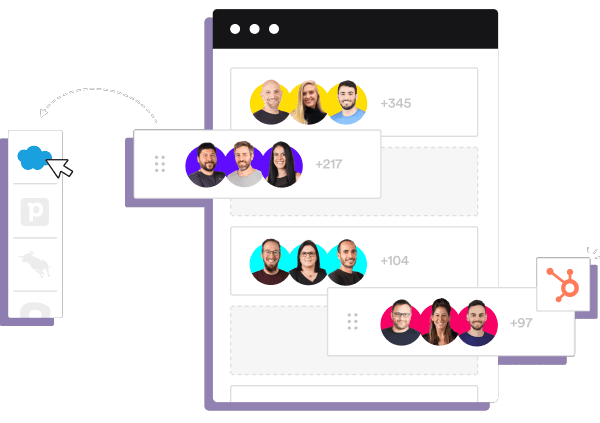 source
Scale your team's efficiency by integrating Lusha with any data management and CRM platform to free up time for what really matters- revenue growth. Lusha supports various integrations with platforms like Salesforce, HubSpot, Outreach, and more.
Lusha Integrations puts your admin work on autopilot without breaking your workflows. Save time and speed up productivity in one click.
It also helps you save contacts in bulk directly to your CRM and instantly populate the right field with the correct data, ensuring your database is always clean and filled with piping-hot leads.
With such features comes great responsibility, and is Lusha capable of handling them? Let's see:
Lusha: Limitations
Lusha may seem like the perfect platform for lead generation and prospecting. Still, it lags because:
Outdated data: There have been instances where almost 10-40% of emails bounced and a good percentage of invalid emails. Even phone numbers have been reported as wrong or outdated.
"Fair usage Policy": Unlimited leads are not given as promised, and they have a "fair usage policy" that is not clearly defined, making it hard to understand how the credits are deducted.
Limited filters: Filters are limited compared to competitors, and credits are deducted even for bad data.
Steep pricing: Small businesses and freelancers will find Lusha's pricing steep. It's rigid, and the database is not comprehensive enough.
Limited usage: Features like buyer intent and technology filters are available at extra cost, and accounts can be locked for 'high-activity,' a major disadvantage for large organizations and those on tight schedules.
For these reasons, there is a requirement for a reliable Lusha alternative that fulfills your needs without burning a hole in your pocket. Let us explore some of the top data providers in the market:
Lusha Alternatives That Are Worth Trying
Here are some of the best Lusha alternatives worth your attention. We have highlighted their features and limitations so you can evaluate them according to your requirements and budget:
ZoomInfo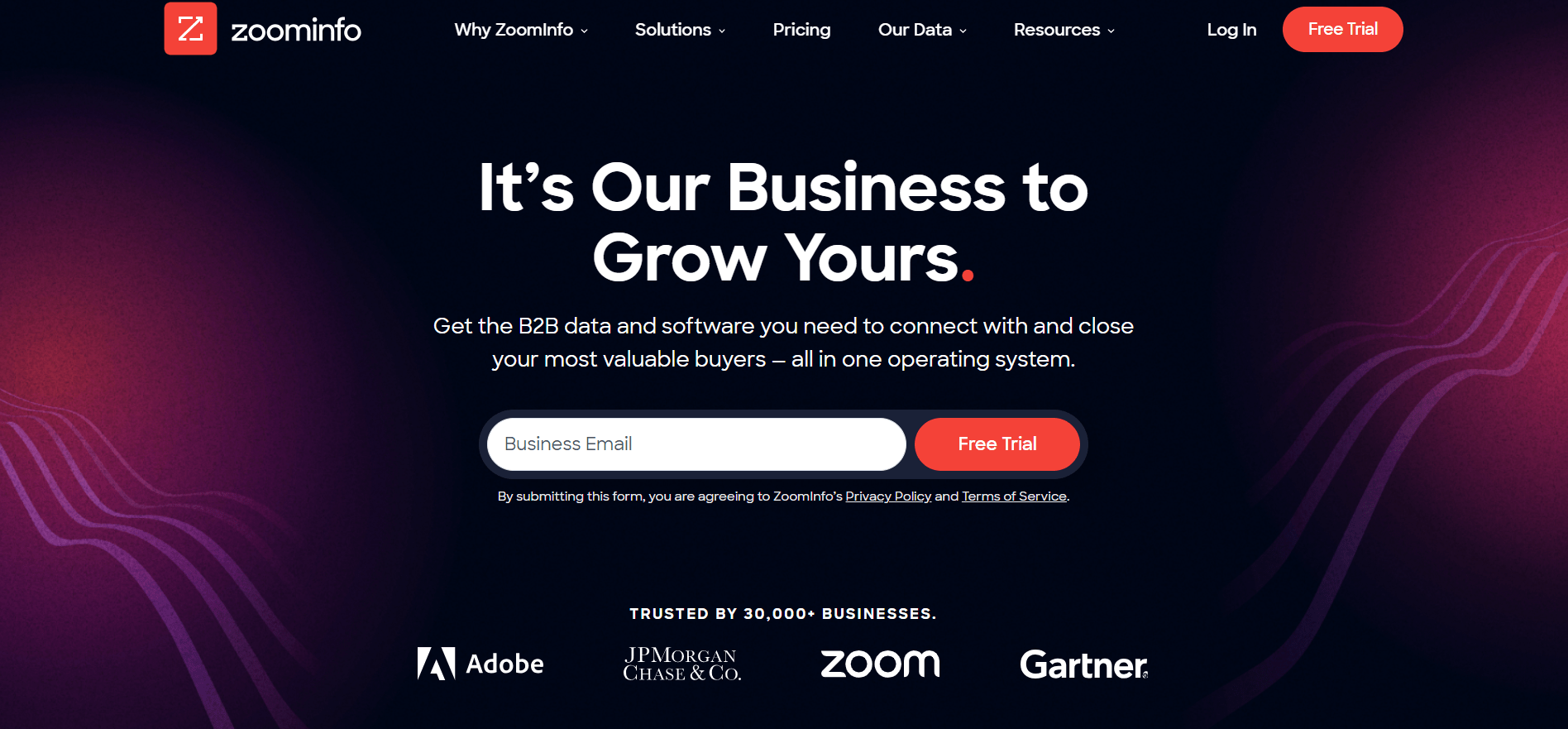 source
ZoomInfo is a leading Lusha alternative because of its business intelligence and contact information. It's an all-in-one, valuable platform for organizations worldwide, covering various industries and geographies.
ZoomInfo helps you close deals faster by telling you how to reach your prospects faster and automates tasks across all outreach channels. ZoomInfo also provides native integrations with popular platforms like HubSpot, Pipedrive, and Dynamics 365.
ZoomInfo can increase your productivity by five times by combining data and technology to connect you to customers.
ZoomInfo Features
Vast database: ZoomInfo provides accurate contact information with an extensive database of 65M+ direct dial phone numbers and 150M+ verified email addresses.
Intent data: Buyer intent data lets you identify and reach prospects at the beginning of their buyer's journey by tracking companies researching solutions across the web.
Conversation intelligence: Conversation intelligence lets you analyze customer calls, meetings, and emails to drive process changes.
Contact tracking: Contact tracking helps you track critical contacts to stay informed of where your best prospects are and whether their moves will impact business.
Data enrichment: ZoomInfo enriches your incomplete database and scores lead based on their behavior to help you make further decisions.
ZoomInfo Limitations
Outdated platform: ZoomInfo's dashboard sometimes suggests random companies based on past searches, which is distracting. Limited visibility of records also makes the platform feel outdated.
Poor support: The customer support team's upselling attempts feel irritating sometimes. There have been reports of unhelpful interactions and auto-renewals without any notice.
Limited customization: The platform could be more customizable. Limitations on search parameters and no options for exclusions add to the hassle.
Security issues: Is ZoomInfo secure? Some users have reported the potential for unauthorized access is higher, which may lead to the loss of valuable data and opportunities.
Outdated data: The data provided is not reliable and up-to-date. This majorly affects accuracy and outreach efforts. The pricing is not transparent, and there might be additional, unexpected costs that might not be suitable for all.
ZoomInfo's customer support and outdated platform have disappointed many, as it has been a known name in the world of B2B data providers. We suggest fully using its 14-day free trial to assess the platform carefully before purchasing.
Adapt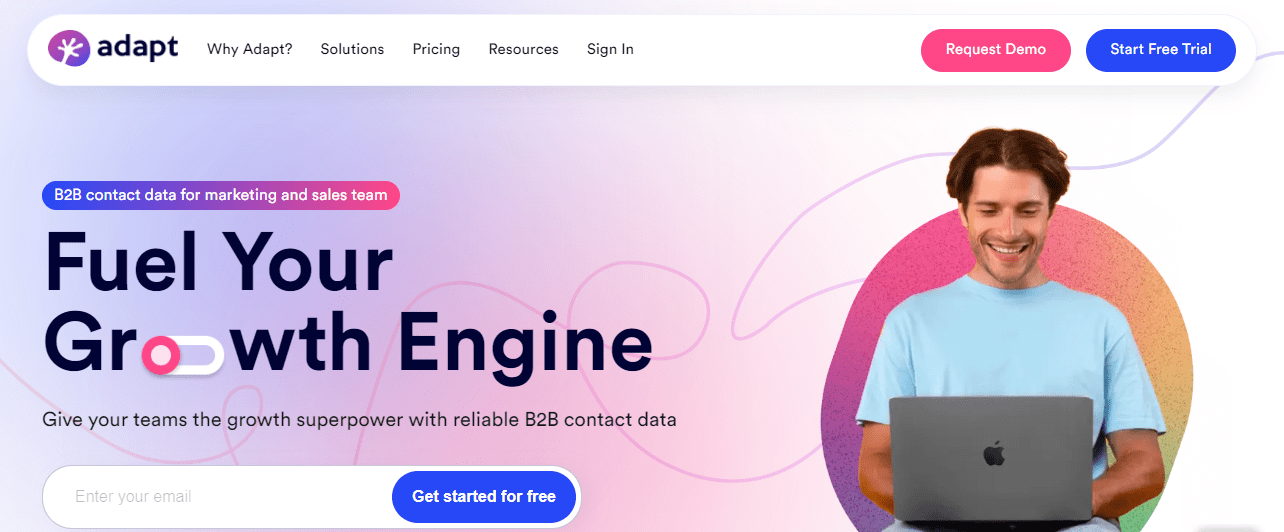 source
Adapt is a B2B contact and company data provider with 5M+ users and 100M business contacts. It also provides industry-specific company databases and contact information like job titles and email addresses.
It has an easy plug-and-play interface and class-leading support. Adapt works in your workspace and gets you the contact data you need with its industry-leading filters like locations, employee count, revenue, and more.
Adapt Features
Prioritize leads: Adapt can feed into your lead scoring engine and provide critical data points to help teams prioritize leads and take further steps.
Regular updates: Fresh data is processed weekly with about 2 million updates.
Data enrichment: Adapt can enrich your data by filling in gaps so your teams can confidently rely on your CRM for real-time data.
Regular clean-ups: Adapt can help you remove stale data and automate the audit and clean-up so there's no hassle.
REST API: REST API empowers your teams with fresh and accurate buyer intelligence to target and customize at scale.
Adapt Limitations
Insufficient trial period: Only a 3-day free trial with no transparent pricing is significantly less to fully evaluate the platform before making a purchase decision.
Generic filters: Filters could be more accurate.
Technical limitations: Those unfamiliar with the platform need help navigating through it.
Time taking: Customization and content creation with Adapt takes time.
Consistency errors: Some emails are visible on LinkedIn but are not reported using the platform.
Adapt is a great alternative with no significant limitations, but its 3-day trial period may not be enough to evaluate whether it's a good fit for your organization.
Cognism

source
Cognism, another competitive Lusha alternative, is a lead generation and sales intelligence platform that operates globally and complies with global privacy laws. Cognism provides you with verified email addresses and phone numbers of critical decision-makers.
They provide additional data to engage and target high-value prospects to help you close more deals. It combines AI and human verification to provide you with the most reliable data.
The database is updated regularly to keep the data fresh and clean. All the data provided is GDPR and CCPA-compliant.
Cognism Features
Intent data: Intent data provides information on accounts actively searching for your business or products.
Personalized outreach: Contact information is verified and combined with firmographic and technographic data to personalize outreach efforts.
Sales prospector: Allows you to build ideal-fit account lists and enrich them with premium situational and valuable contact data.
Secure: Cognism's GDPR-compliant browser extension lets you browse corporate websites and prospects using LinkedIn and Sales Navigator.
Diamond data: Diamond data ups your dial-to-connect rate by seven times. Their team manually calls every number to test for verification.
Cognism Limitations
Time wastage: Intent data often does not work well, leading to time wastage.
Inaccurate data: Cognism and Sales Navigator's data are sometimes at odds with each other, leading to confusion.
Non-verified emails: No email verifier or checker is embedded in the extension, which can be disturbing.
Slow: When generating large lists for exporting, the platform gets slow.
Expensive: Bulk exporting requires extra credits; otherwise, you can only export 25 contacts simultaneously.
An email verifier is necessary for contact data to ensure that the emails are verified and up-to-date. While no platform is expected to provide 100% accurate data, Cognism's extension disappointed a lot of users regarding verified email data.
Kaspr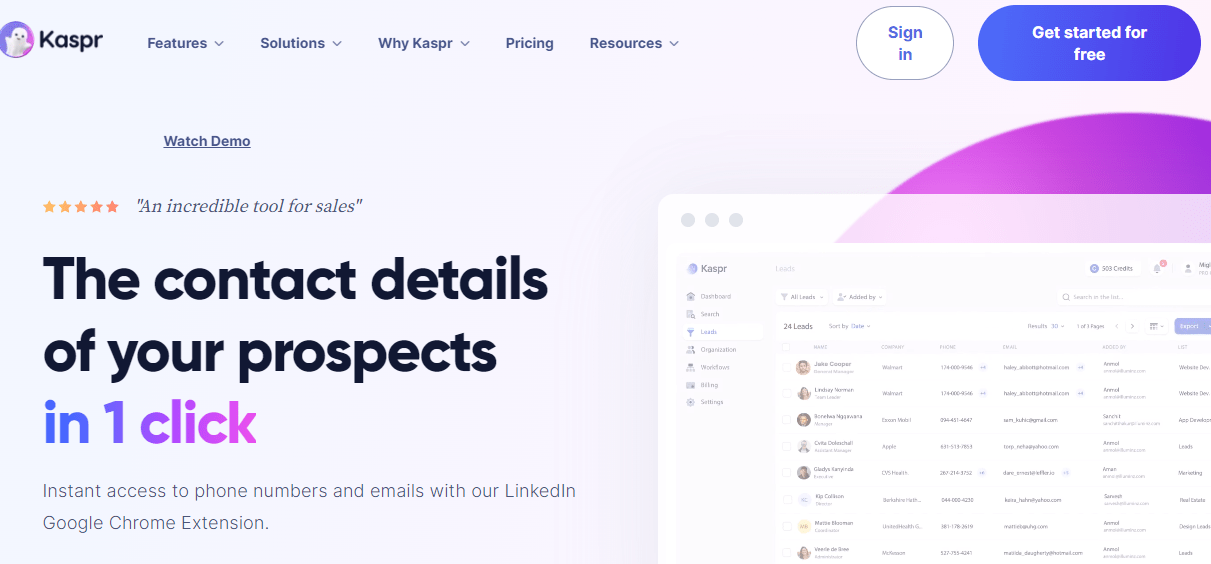 source
Kaspr is an incredible Lusha alternative that can provide the contact details of your prospects in just one click. It can access unlimited B2B emails and automatically retrieves contact details from LinkedIn.
Kaspr allows you to automate LinkedIn outreach by sending follow-up messages to your leads on your selected day and time. You can also enrich your data, integrate it with your favorite applications, and manage it within Kaspr's platform.
Kaspr's LinkedIn Chrome extension and comprehensive dashboard are recognized by G2 as a top solution compared to Lusha.
Kaspr Features
Free unlimited access: Kaspr allows you to start for free without any credit card and provides unlimited B2B email access on LinkedIn.
LinkedIn filter searches: You can extract and enrich data from LinkedIn filter searches and LinkedIn Recruiter lists in bulk.
Automated workflows: An all-in-one platform that automates your tasks and manages your leads with lists, tasks, notes, and automated workflows.
API: Kaspr's API lets you enrich and keep your systems up-to-date.
Enrich incomplete data: It can also bulk enrich incomplete or stale contact details.
Kaspr Limitations
Expensive: Pricing plans are expensive and unsuitable for businesses of all sizes.
Less credits: Fewer credits are provided as compared to the competitors.
Late updates: Details like job profiles and roles are not updated quickly, hindering the outreach efforts.
Personal Information: Kaspr has a lot of personal email data instead of professional. It's not advisable to contact C-level executives on their emails.
Extra spending: Advanced searches cost two credits or more, leading to more spending.
Kaspr deducts credits for incorrect information, which can be frustrating. Also, Kaspr is relatively more expensive than others on this list, and the free trial consists of only five credits, which is again insufficient to evaluate it fully.
5. Swordfish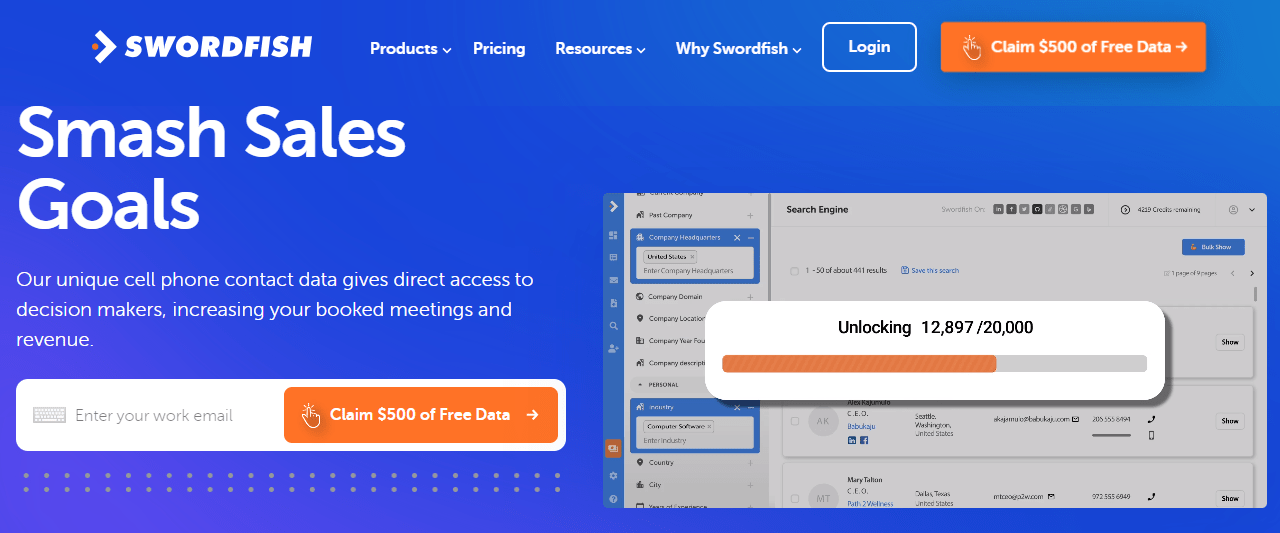 source
Swordfish is the ultimate Lusha alternative, trusted by over 50,000 companies worldwide. It collects data from live data providers so you get verified and up-to-date information.
It has partnered with the top independent data providers like Hoovers, Dun & Bradstreet, and Experian. Swordfish's advanced sourcing filters, like industry tags, departments, and locations, refine your searches and make work easier.
With over 3.5 billion verified profiles, it provides bulk search, database enrichment, and reverse search features. Swordfish guarantees over 95% accuracy of email data and 80% over cell phone data.
Swordfish surpasses all the other tools listed here with real-time validation and phone-line connectivity. US phone numbers are tested for line connectivity, and emails are checked for deliverability before providing them to you.
Swordfish Features
Contact data accuracy is the least of your concerns with Swordfish. Swordfish doesn't believe in making lofty promises and will provide you with the most accurate contact information possible. Here's how: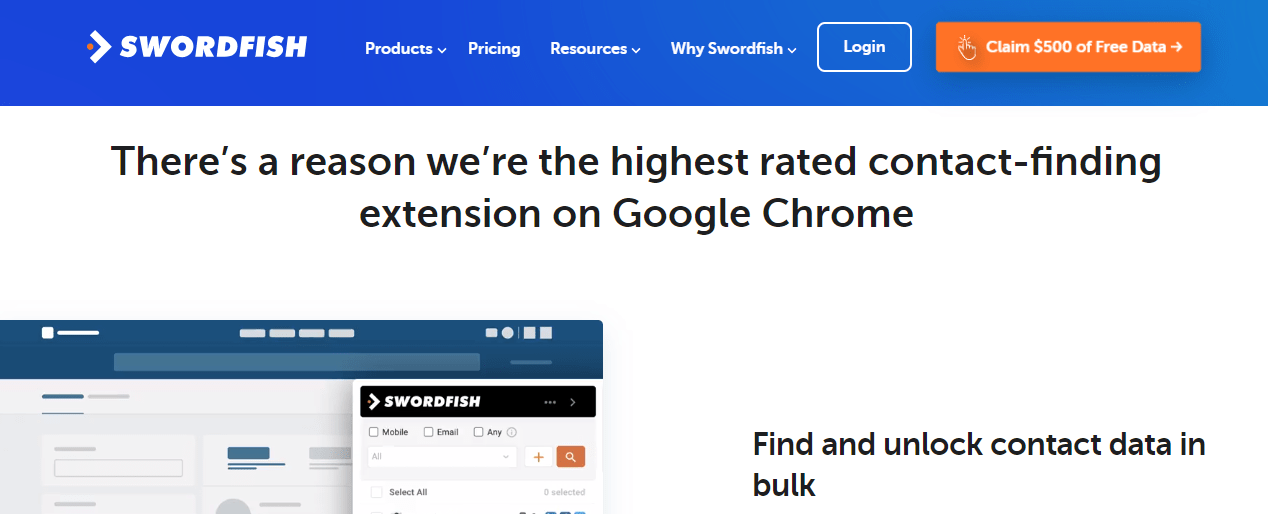 Chrome Extension: It has the highest-rated Chrome extension on Google to find prospects online. Swordfish verifies contact data from LinkedIn, Twitter, Facebook, Dribble, GitHub, StackOverflow, Google, and Bing.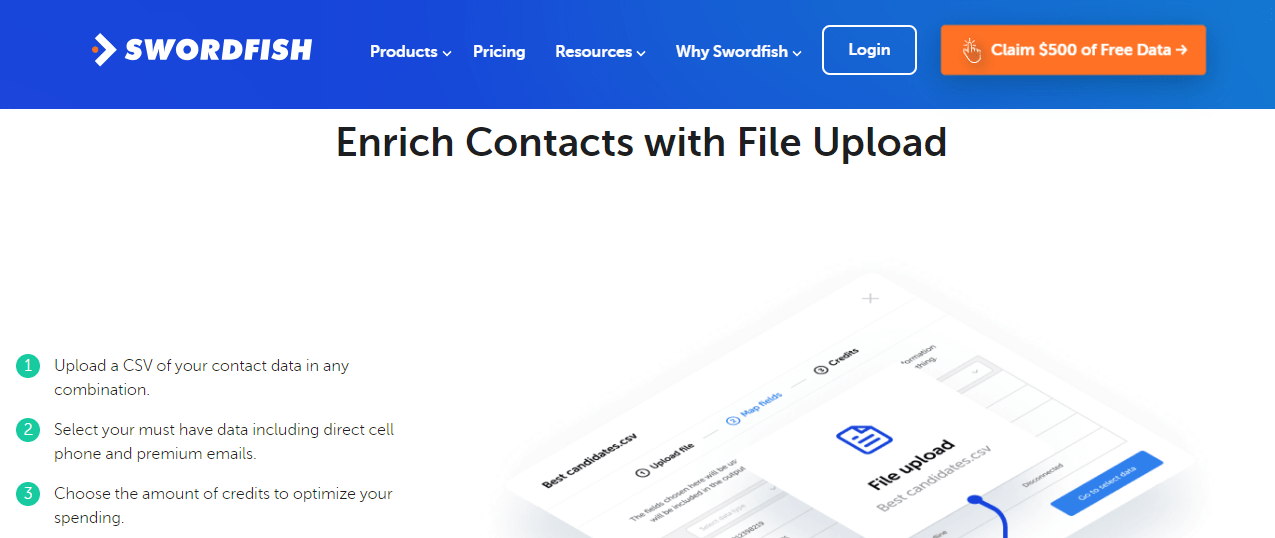 Prospector: With the prospector, you can fuel your sales pipeline in bulk. It also lets you create dialing/ email lists in seconds with advanced filters and suppression for accurate lead generation.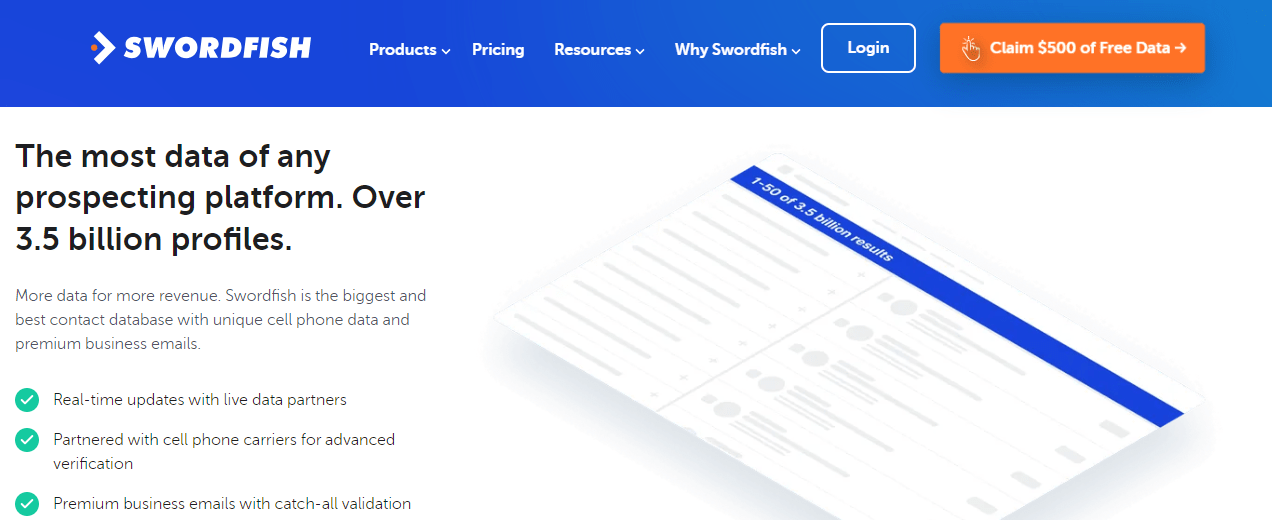 File Upload: If you have missing or incomplete details of your prospects, upload a CSV of your contact data to fill in the blanks and export it anywhere in the same format.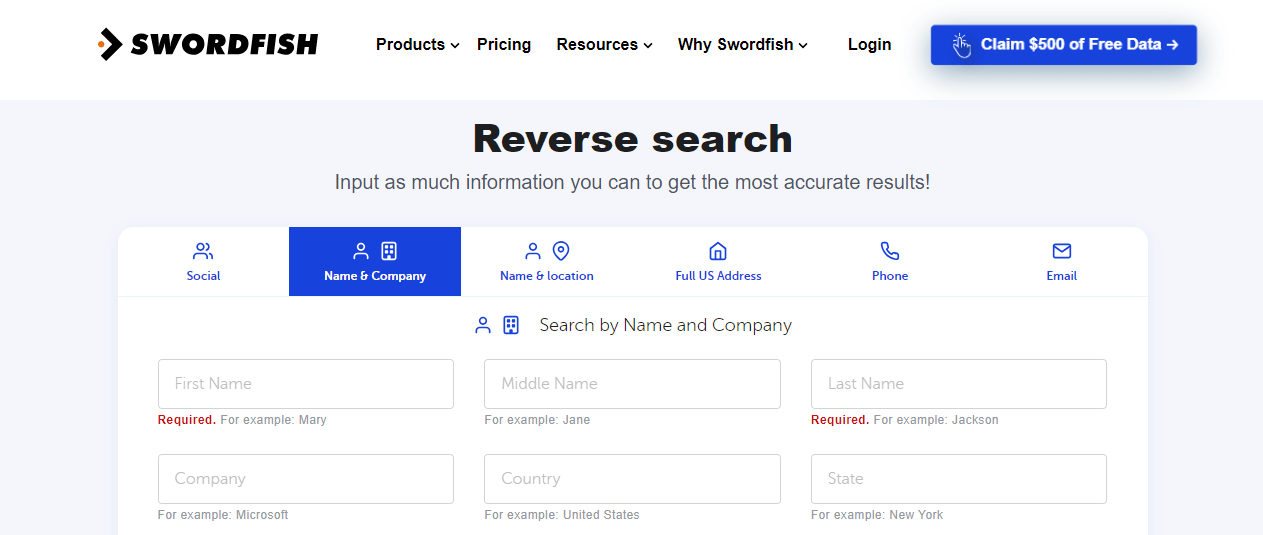 Reverse Search: The reverse search feature allows you to look for anyone by name, company, job title, location, etc.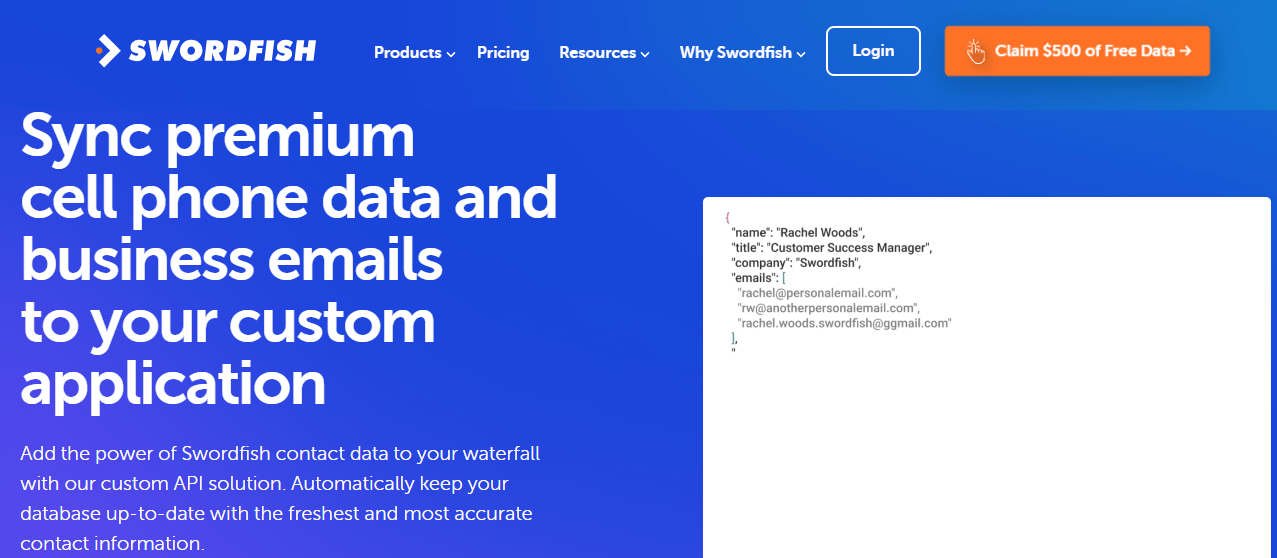 API: Swordfish premium cell phone data and business emails to your custom application with its API.
Swordfish has also recently partnered with Bombora for buyer intent to provide insights into company buying signals.
Swordfish Limitations
Conclusion
While Lusha is a leading data provider in the B2B market, it does have limitations like steep pricing and inaccurate data that cannot be ignored. This has left people looking for a reliable Lusha alternative.
We've explored five different platforms for varying needs that can help you better. You need to evaluate your teams and goals to make a wise choice. We would recommend going with Swordfish as it has, time and again, proven to be the best among all.
Swordfish's features, like real-time validation and verification of US phone numbers and email deliverability checks, make it the best choice. Swordfish also provides data worth $500 for free without any limitations so you can evaluate the platform correctly.
Don't take our word for it; try Swordfish today and see the difference in your conversion rates!