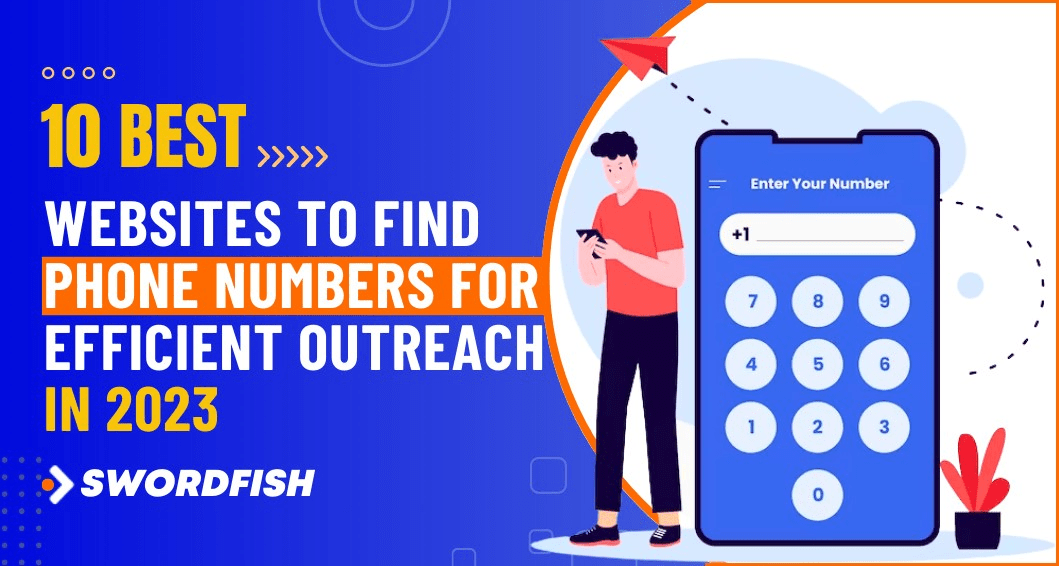 Finding phone numbers has become easy these days. We no longer flip through big phone books. Instead, we use websites to find the number we need quickly.
People love these websites because they are fast, simple, and get the job done. But as times change, it's good to know different websites to find the best fit for our needs.
There are many websites out there. But only a few websites to find phone numbers are available. Hence, today, we'll look at some top websites to find phone numbers and see how they can help you connect with others. Let's dive in!
What is the Importance of Finding Phone Numbers?
In the digital world, one might wonder about the relevance of phone numbers. But even today, the importance of a simple phone call cannot be understated.
There are several best websites to look up phone numbers. But before jumping into them, you should know the importance of finding phone numbers.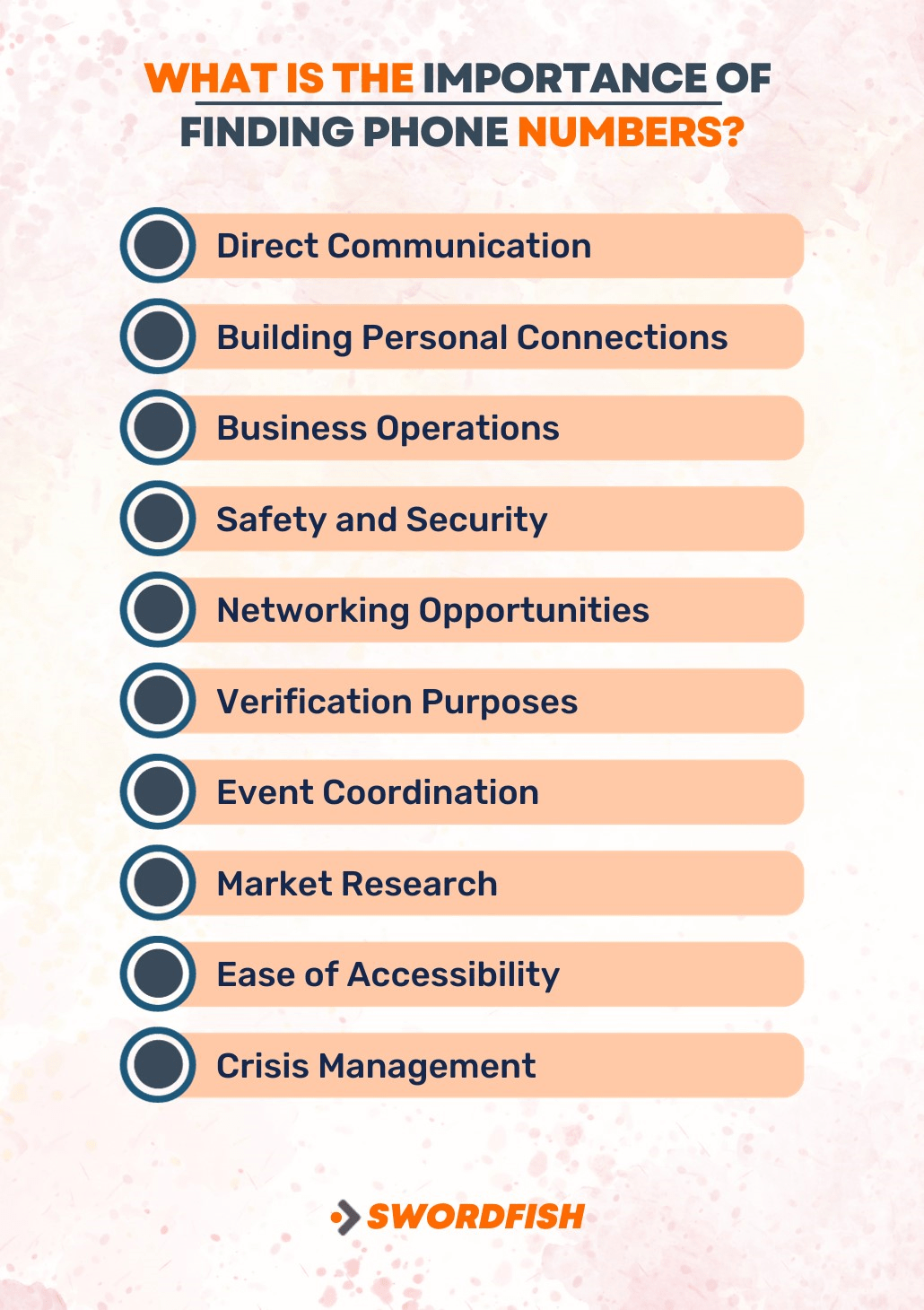 Direct Communication
Phone calls offer a unique advantage: immediate feedback. When you pick up the phone and dial someone, you can quickly gauge their reactions and understand their perspective.
A quick call can often lead to a clearer understanding and faster resolution than a chain of emails.
Building Personal Connections
There's something inherently personal about hearing someone's voice. It adds warmth and depth to a conversation, fostering stronger bonds.
Whether catching up with an old friend or speaking to a family member, voice interactions often lead to deeper relationships.
Business Operations
For businesses, phone numbers are more than just a means of communication. They're a lifeline.
Whether reaching out to a potential client or addressing a customer's concern, a direct phone call can make a difference. It's about offering immediate solutions and enhancing client satisfaction.
Safety and Security
Imagine facing an emergency and not having a phone number to call. Scary, right?
Phone numbers are the key in emergencies. They ensure quick responses and can sometimes be the difference between life and death.
Networking Opportunities
A phone call is the gateway to opportunities in the professional space. Professionals can explore potential collaborations or even set up face-to-face meetings by reaching out directly. It's about expanding one's network and seizing opportunities with integrations of other networks.
Verification Purposes
Security is key in our online-centric world. Many platforms use phone numbers to strengthen account security. Phone numbers are crucial in keeping user accounts safe, from two-factor authentication to verification calls.
Event Coordination
If you've ever organized an event, you know the importance of staying connected. Phone numbers allow organizers to manage events seamlessly.
Whether sending out immediate updates or addressing attendee queries, a direct line ensures smooth coordination.
Market Research
For businesses looking to understand their customers better, phone calls are invaluable. Direct feedback, obtained through phone surveys, provides genuine insights. It's about getting a real sense of what the customer wants and needs.
Ease of Accessibility
While emails and messages are great, not everyone stays on top of them. A phone call, on the other hand, ensures you reach the person instantly. Many people prefer voice calls over written communication, especially those not glued to their screens.
Crisis Management
When things go south and crises arise, direct communication with prospects becomes essential. Phone numbers facilitate quick decision-making, allowing teams to coordinate effectively and address issues head-on.
Top 10 Websites to Find Phone Numbers: Comparison Table
While many websites promise accurate results, only a select few truly deliver. Here's our curated list of the top 10 websites, laid out in a comparison table, to help you make an informed choice.
| Website | Key Features | Specialized In | Privacy & Security Features |
| --- | --- | --- | --- |
| Swordfish | Direct dials, mobile numbers, email addresses | B2B Contacts | GDPR compliant |
| ContactOut | Find emails and phone numbers | Professional Profiles | Privacy-focused |
| ZoomInfo | B2B contact details, organization charts, intent data | B2B Database | GDPR and CCPA compliant |
| Pipl | Identity verification, risk management | Identity Resolution | Privacy-focused, GDPR compliant |
| Spokeo | Phone lookup, email search, address search, and more | Individual Profiles | Data protection and privacy controls |
| BeenVerified | Background checks, contact info, location history | Public Records | Secure searches |
| Whitepages | Phone numbers, addresses, public records, background checks | Contact & Public Records | Privacy controls, opt-out options |
| Instant Checkmate | Public records search, contact info, criminal & traffic records, social media profiles | Background Checks | 256-bit encrypted connection, dedicated to customer privacy |
| PeopleFinders | People search, reverse phone lookup, criminal records, public records | Public Records | Private and confidential searches |
| Intelius | People search, reverse phone lookup, background checks, public records, criminal records | Public Data & Connections | Not a consumer reporting agency as defined by the FCRA, offers tools to guide on privacy and data rights |
10 Best Websites to Find Phone Numbers Effectively
Finding a phone number can be challenging. Hence, we've compiled a list of top websites to find phone numbers. These platforms are user-friendly and designed to assist in your search. Let's check them out!
1. Swordfish
Swordfish AI is a leading contact information tool that boasts a staggering collection of over 3.5 billion contact data profiles. It is one of the best reverse phone number lookup sites.
Designed for efficiency, this platform bridges gaps, making finding and reaching out to contacts easier. Whether for personal use or business networking, Swordfish has carved a niche.
However, Swordfish isn't limited to just individual searches. It offers a suite of tools designed to supercharge your outreach efforts.
With the Swordfish AI Chrome Extension, you can effortlessly find contact information for anyone on the internet, spanning platforms like LinkedIn, Twitter, Facebook, and more.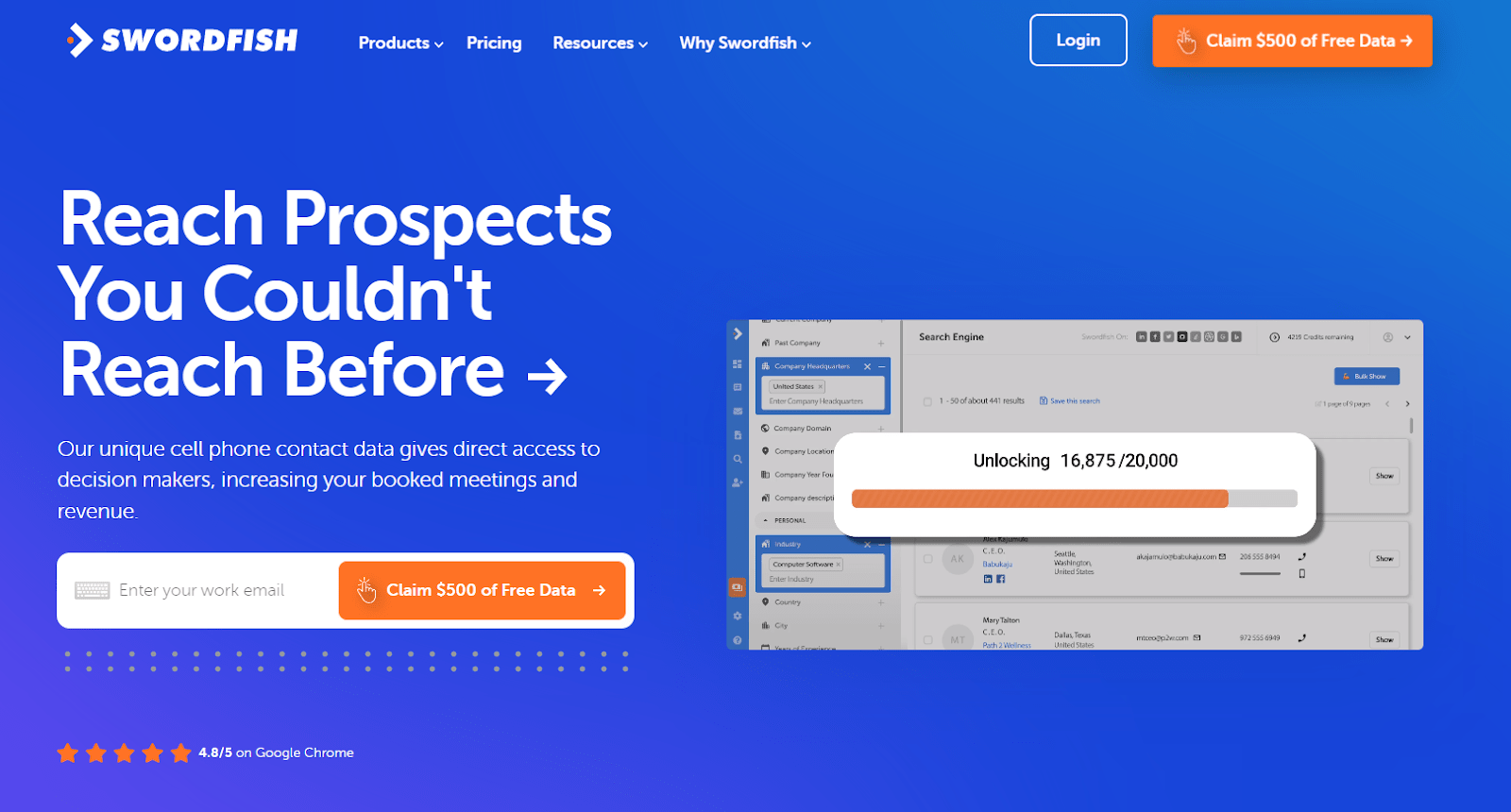 Steps to Find Phone Numbers
Follow the simple steps below to get numbers —
Log in to your Swordfish account.
Then hover to product and click on Reverse Search.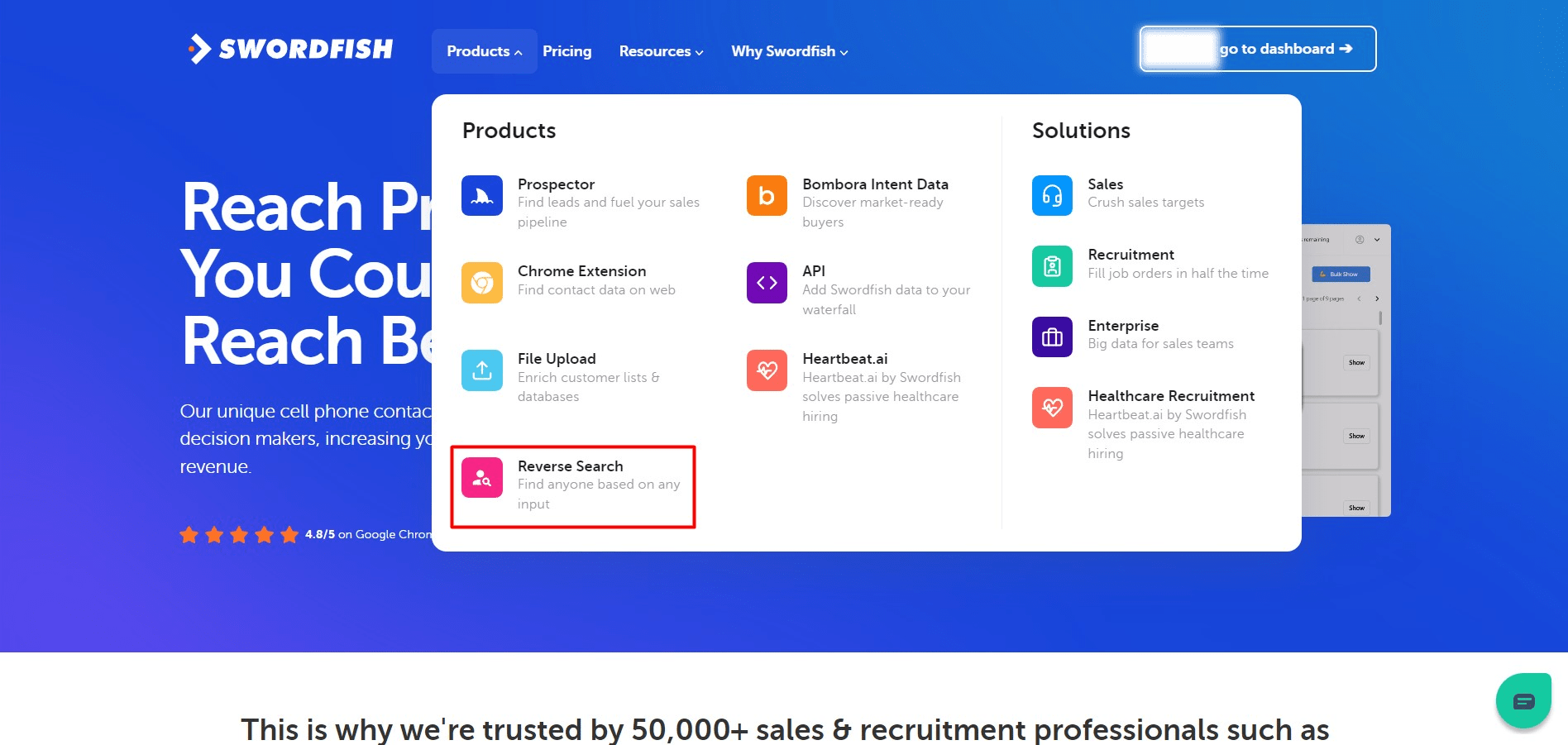 It'll take you to the below page.
Then, you must a First and Last name, and hit the Search button.
Within a few seconds, you'll get results showing: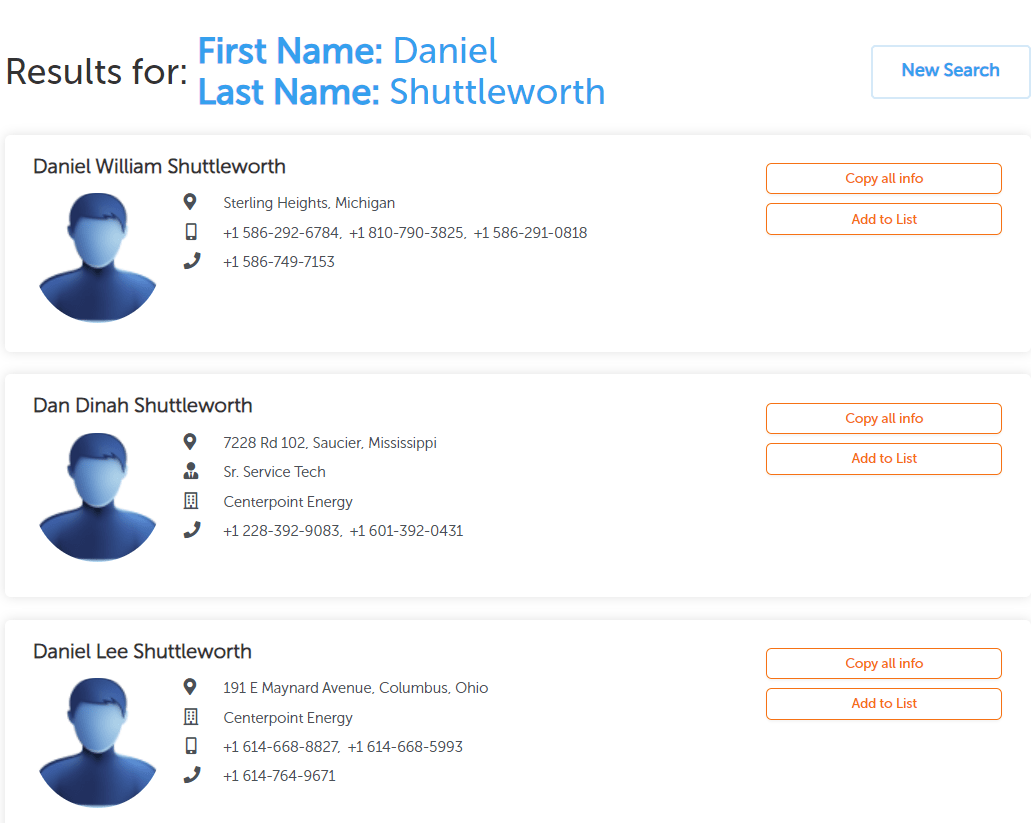 Decide which one matches your needs
About Swordfish
Founding year: 2015
Founding team: Ben Argeband
No. of users: 50,000
What Sets Swordfish Apart?
The following features of Swordfish sets it apart:
Direct Access to Decision Makers: Swordfish's unique cell phone contact data provides direct access to decision-makers, which can significantly increase booked meetings and revenue.
Superior Cell Phone Data Accuracy: Swordfish prides itself on being the leader in cell phone number accuracy and match rates. They offer:

33%+ more cell phone numbers than leading providers.
45%+ more accurate cell phone numbers than leading providers.
Real-time line connectivity validation, ensuring that the numbers you get are active and valid.

Extensive Data Profiles: Swordfish provides over 3.5 billion contact data profiles. This vast database ensures that users have access to the information they need, making it easier to reach out to potential contacts.
Trusted by Professionals: Swordfish is trusted by over 50,000 sales & recruitment professionals, and the testimonials from various sectors vouch for its accuracy and efficiency.
Real-time Validation: Swordfish has exclusive partnerships with unique cell phone data providers. This allows them to offer exclusive cell phone contact information. Additionally, their real-time validation checks for line connectivity, ensuring enhanced accuracy in the data provided.
Key Features
The key features of Swordfish are:
Unbeatable Database
Swordfish have a big collection of contact information. In fact, we have over 3.5 billion contact data profiles. That's a lot of people and a lot of contacts that will help you to find your desired phone number!
Really Accurate
Swordfish is proud of how accurate our data is. We say we have 33% more cell phone numbers and 45% more accurate cell phone numbers than other providers. That means you're more likely to get the right number when you use Swordfish.
Checking in Real-Time
When Swordfish gives you a cell phone number, it checks at that moment to make sure the line is actually working. That's what they mean by "100% real-time line connectivity validation".
Easy to Use
Swordfish has a simple design. You don't need to be a tech expert to use it. Just open it, type what you're looking for, and let Swordfish do the work.
Quick Results
You'd prefer quick results when looking for contact details, right? Swordfish gets it. It delivers fast, letting you get back to your tasks without delay.
CRM Integrations
Do you have other apps or software you like using? No problem. Swordfish can work in Integrations with them. This makes your tasks even more straightforward.
Pros
Quick search results save time.
Integrates seamlessly with other software.
Prioritizes user data protection.
Offers a vast database for comprehensive searches.
Cons
Might require a learning curve for some.
Premium features come at a cost.
Pricing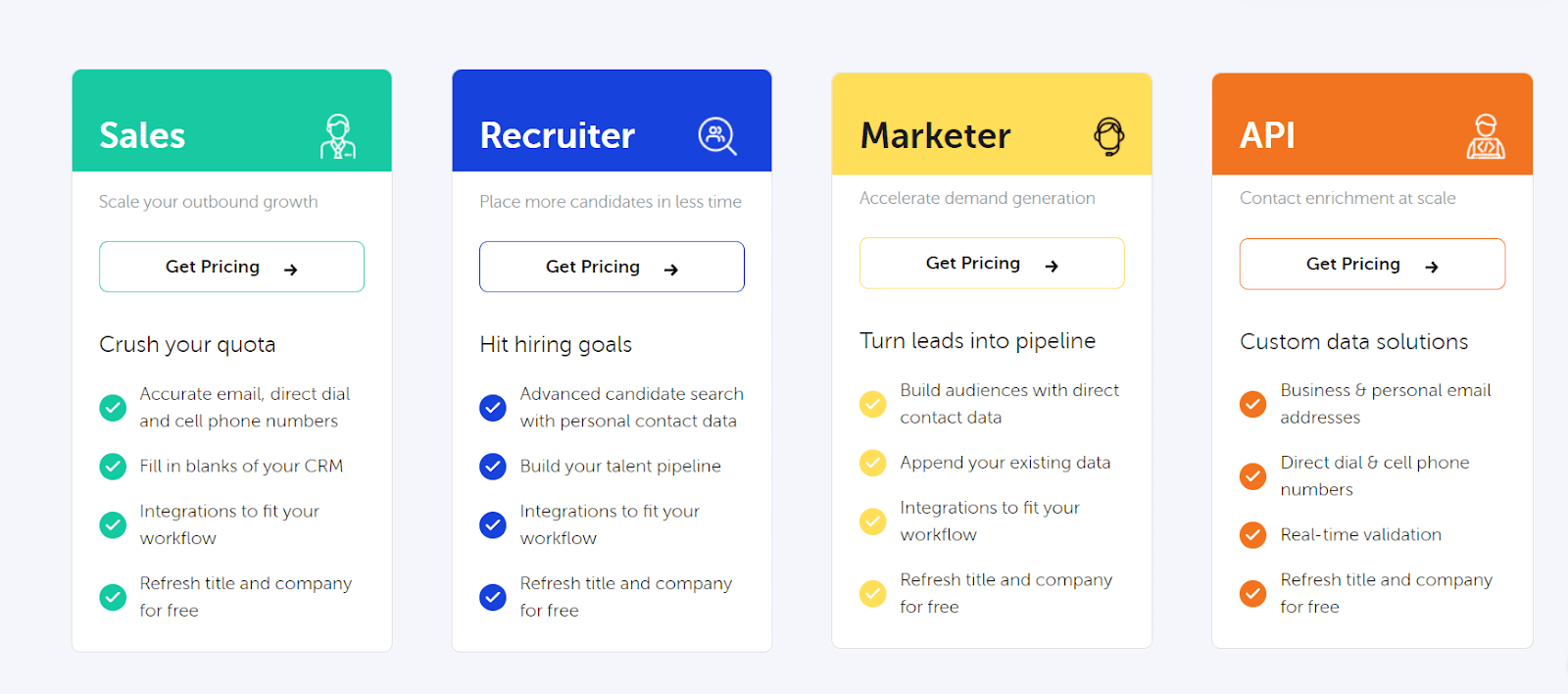 Swordfish AI offers a free trial as well. To learn more about free trials, visit the Swordfish pricing page. However, Swordfish's mission is to provide the best service to its customers at an affordable price.
Explore Swordfish now and discover a smarter way to connect. Your next key contact is just a click away!
Try Swordfish Ai
2. ContactOut
ContactOut stands as a powerful tool in online communication. It boasts a collection of 150 million personal emails, 200 million work emails, and 100 million direct dials phone contact. But it's not just about the numbers.
The platform's strength lies in its ability to provide a holistic view of professionals, encompassing 300 million professional profiles and 30 million company profiles. This comprehensive approach ensures that users can find, connect, and engage with their target audience seamlessly.
However, ContactOut provides a user-friendly dashboard designed with efficiency in mind. Here, users can manage their searches, organize contact details, and even track their search history.
Plus, we've also listed ContactOut alternatives and competitors.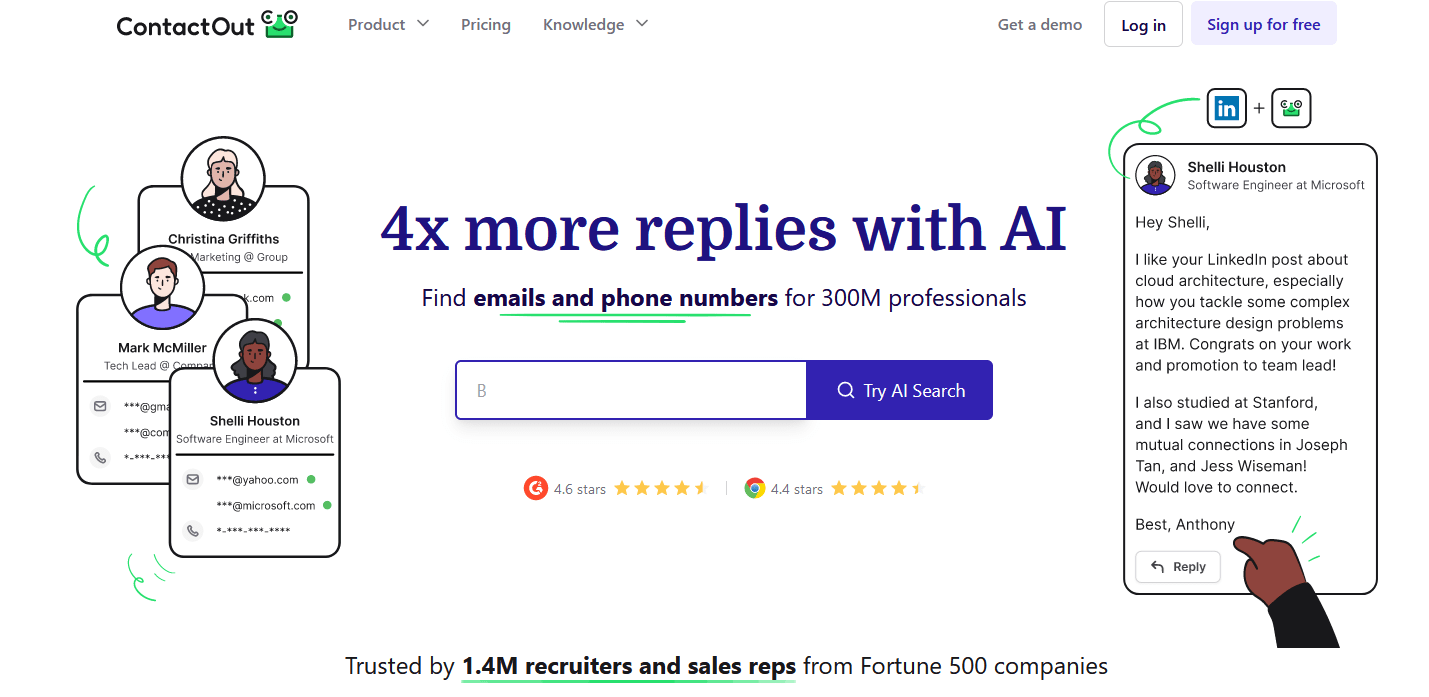 About ContactOut
Founding Year: 2015
Founding Team: Rob Liu
Key Features:
Here are some of the extraordinary features of ContactOut:
LinkedIn Integration
ContactOut seamlessly melds with LinkedIn, one of the world's largest professional networks. This integration allows users to instantly extract phone numbers and email addresses directly from LinkedIn profiles.
Browser Extension
The tool offers a handy browser extension, making it incredibly convenient for users. This feature ensures that finding contact details becomes integral to your online routine.
Expansive Database
ContactOut prides itself on its vast database. This extensive collection ensures that users have a higher success rate in locating the contact details they need.
Pros
High accuracy rate in finding contacts.
User-friendly interface makes navigation simple.
Real-time data security ensures up-to-date information.
Efficient LinkedIn integration enhances the search process.
Cons
It might not cover all social platforms.
Requires a learning curve for first-time users.
The browser extension is limited to specific browsers.
Pricing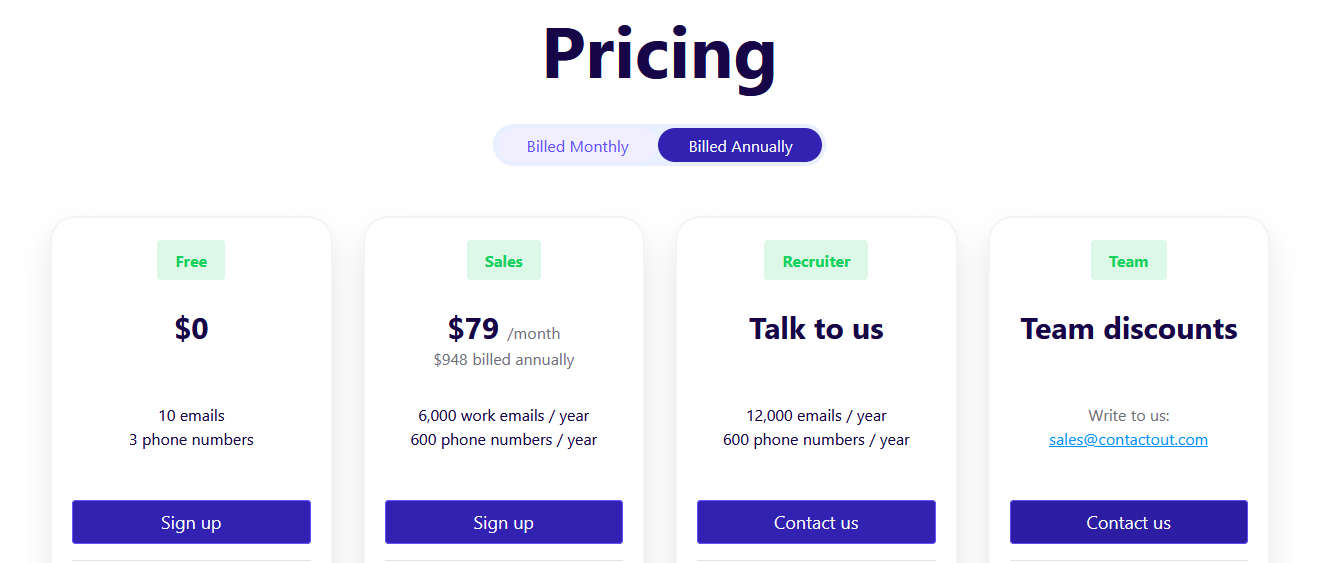 3. ZoomInfo
ZoomInfo stands out as a powerful tool for businesses. People use it to find detailed information about other companies. With a vast database, ZoomInfo helps make informed decisions and build strong connections.
However, ZoomInfo lets you search for contacts using various filters. This helps in finding the exact type of person or company you're looking for. They offer a browser extension that lets you find contact details directly from websites you visit.
Also, check out alternatives to ZoomInfo if you're interested.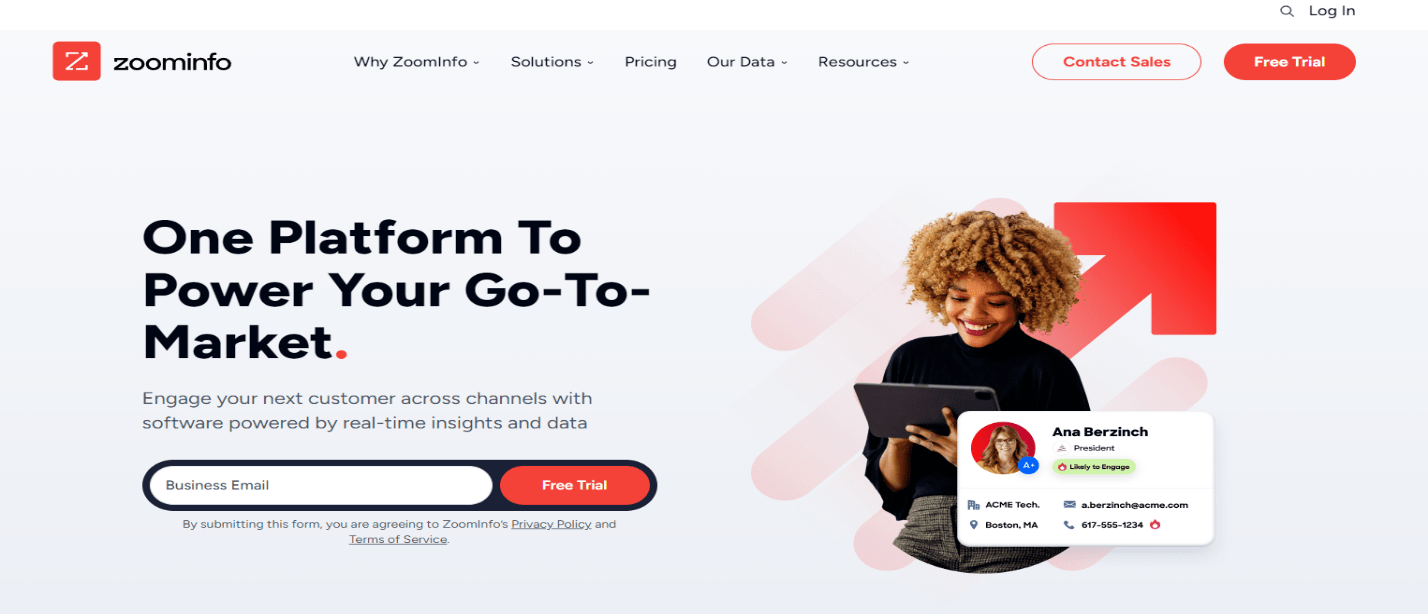 About ZoomInfo
Founding year: 2007
Founding team: Henry Schuck
Key Features
The significant features of ZoomInfo are:
Massive Database
ZoomInfo is like a huge bookshelf filled with company data and people's contacts. It makes finding what you're looking for much easier.
Smart Search
With ZoomInfo, you don't just search; you search smartly. You can be very specific about what you're looking for. For example, if you want to find companies in a certain city or industry, you can do that.
Smooth Integration
If you have other business tools you use every day, there's good news. ZoomInfo can work with them. This means you can move information from ZoomInfo to your other tools easily.
Pros
Offers detailed company insights.
Provides updated contact information.
Allows for precise search results.
Integrates with various business tools.
Cons
Premium features might be pricey for some.
New users might need some time to explore all the features.
Pricing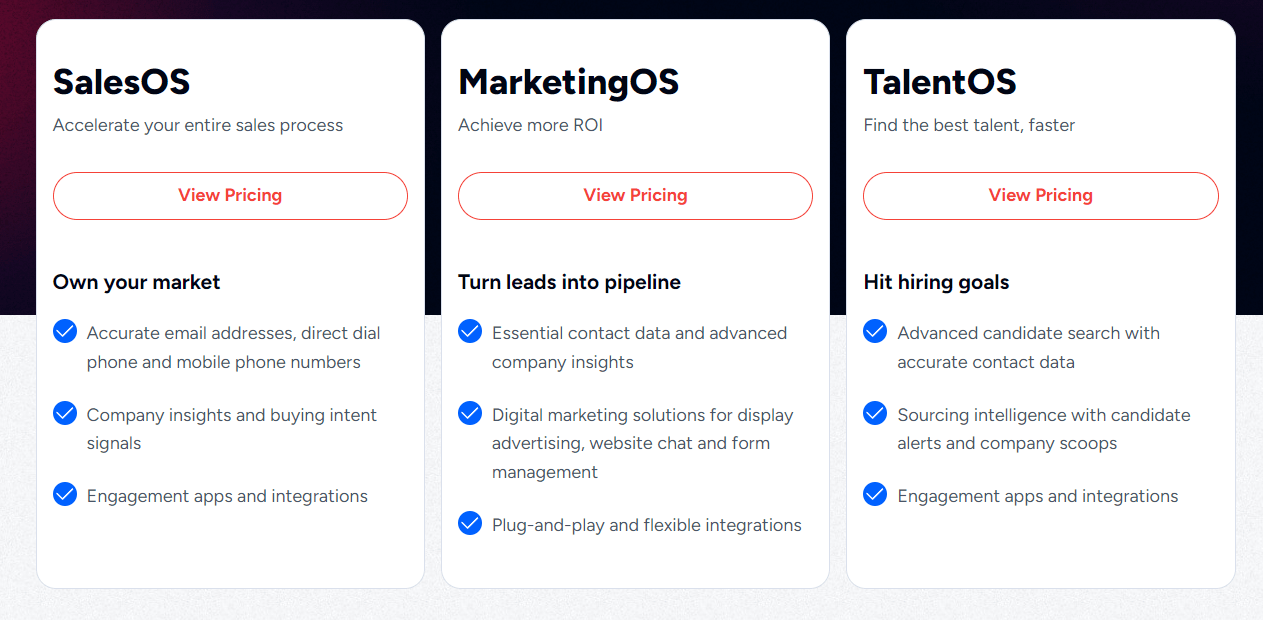 4. Pipl
Pipl boasts information on over 5 billion trusted identities. This is further broken down into 28+ billion unique identifiers, such as email addresses or usernames.
Regarding communication data or multiple data sources, Pipl has records of 10+ billion global emails and 3+ billion global phone numbers.
However, Pipl is revolutionizing the way we perceive online identities. It ensures a safer and more transparent digital area as it is one of the premier people search tools.
For anyone seeking clarity about an individual's online presence, Pipl emerges as a reliable and comprehensive tool. You can also check out a full list of competitors and Pipl alternatives.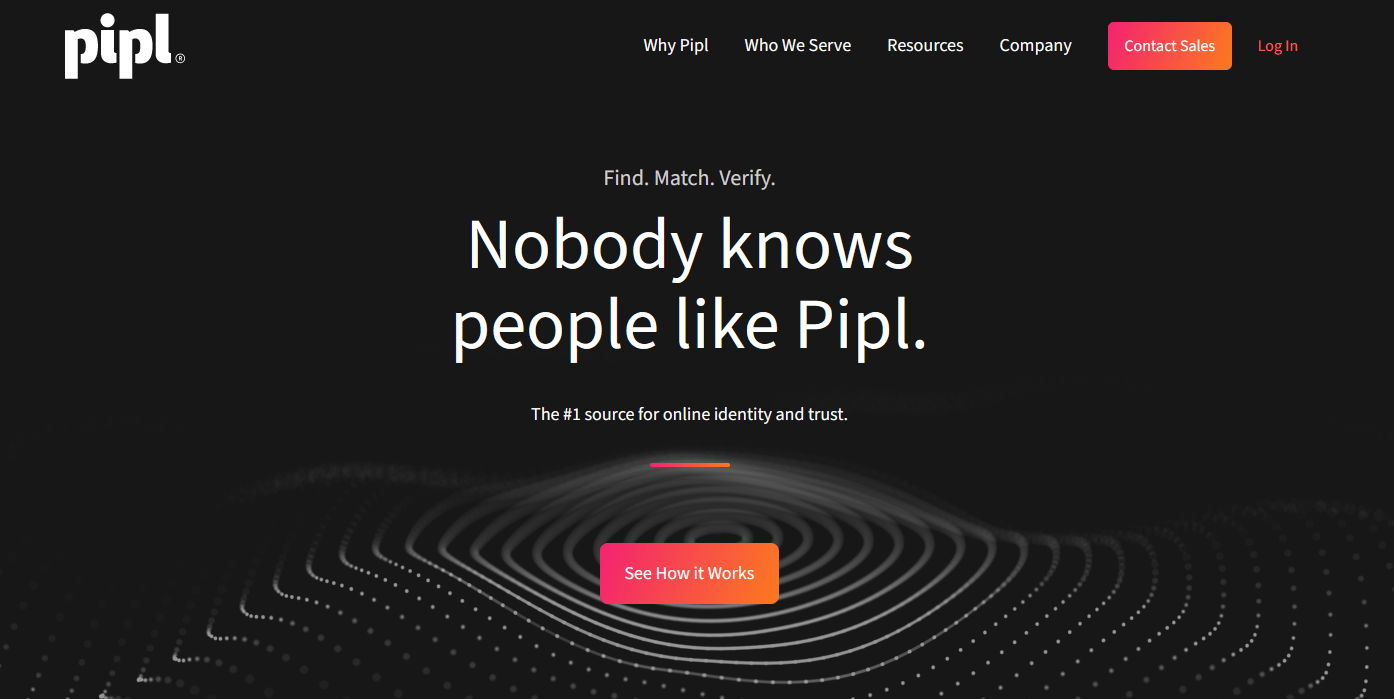 About Pipl
Founding Year: 2004
Founding Team: Matthew Hertz
Key Features
Its major considering features are:
Deep Web Searches
Pipl scours the depths of the internet, fetching data from corners often overlooked by regular search engines.
Comprehensive Profiles
The tool compiles detailed profiles, offering insights beyond just contact details, such as social media presence and work history.
Advanced Algorithms
Pipl employs sophisticated algorithms to ensure accurate matches, filtering out irrelevant data.
Cross-platform Searches
Pipl isn't limited to one platform; it searches across various online spaces for comprehensive results.
Pros
Offers in-depth web searches, ensuring comprehensive results.
Provides detailed profiles, giving users a holistic view.
Uses advanced algorithms for accurate data matching.
Searches across multiple online platforms for thorough results.
Cons
Might be overwhelming for users seeking basic details.
Premium features come at a higher price point.
Some searches might yield too much information, requiring filtering.
Pricing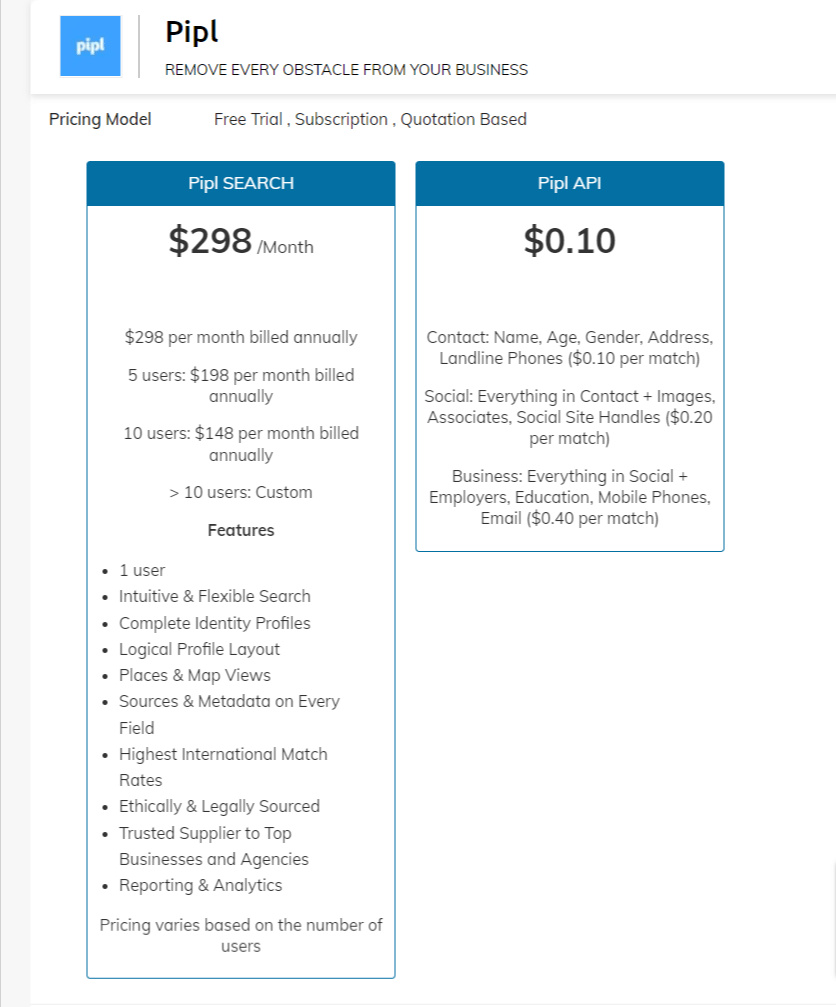 5. Spokeo
Spokeo serves as a handy tool for those seeking information. Its vast database spans across 300 million professional profiles and 30 million company profiles.
This comprehensive network of contact details lets users find details about individuals, ranging from contact information to social media profiles. For both personal and professional use, Spokeo offers a window into the digital footprint of individuals.
Spokeo is like a detective that helps you find out more about people. Whether you're searching for someone specific or just curious, Spokeo has many features to help you out. Moreover, if you want, you can get an overview of Spokeo alternatives.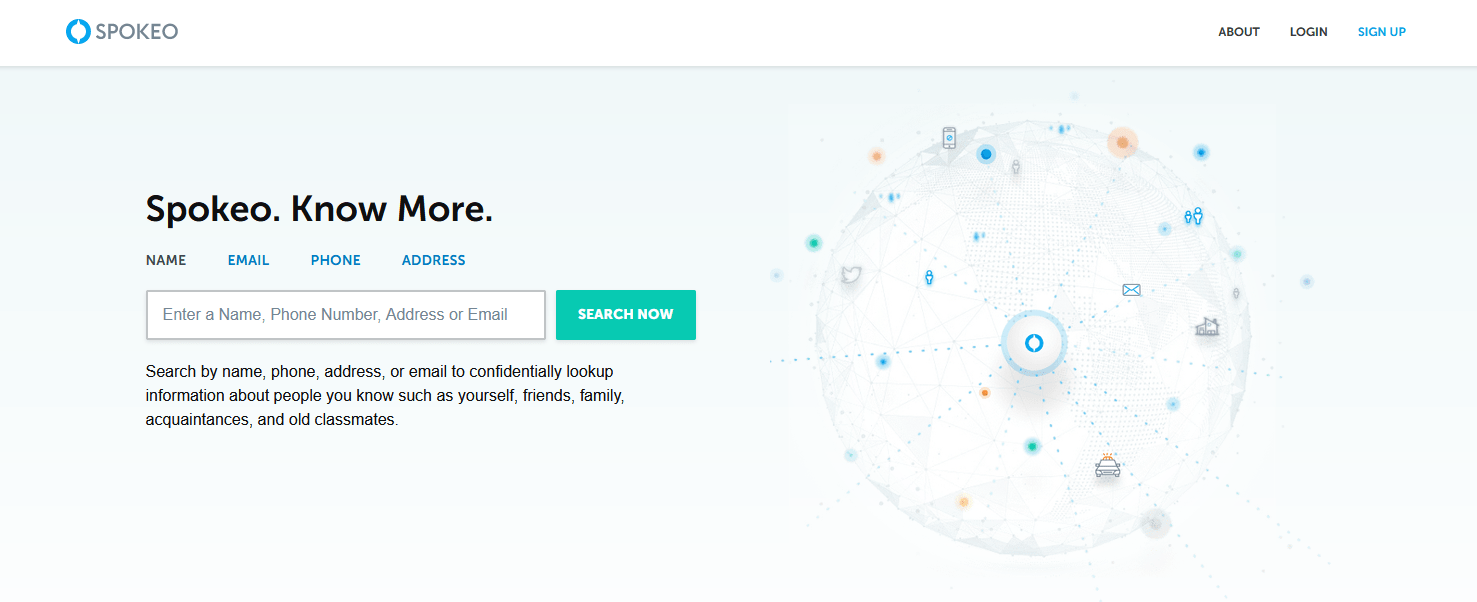 About Spokeo
Founding Year: 2006
Founding Team: Harrison Tang
Key Features
Check out the major features of Spokeo below:
People Search
One of Spokeo's main features is searching for people. You type in a name, and Spokeo gives you a list of matches. It's like having a digital phone book but with more details.
Reverse Phone Lookup
Ever get a call from a number you don't recognize? With Spokeo, you can type in that number and determine who it belongs to.
Email Search
Emails are a big part of our lives. With Spokeo's email search, you can type in an email address and find out more about the person behind it.
Pros
Provides a wide range of personal details.
Offers multiple ways to search.
Regularly updates its database.
User-friendly interface for easy navigation.
Cons
Some information might not be up-to-date.
Full details often require a paid subscription.
Pricing
Pricing isn't available.
6. BeenVerified
With a vast database that encompasses millions of professional profiles, BeenVerified has carved a niche for itself as a reliable and comprehensive people search engine.
Users turn to BeenVerified to gain insights into individuals, uncovering details from contact information to criminal records.
BeenVerified stands out for its thorough background checks. When you input a name or contact detail, the platform dives deep, pulling together a detailed report.
This report can include past addresses, affiliations, and even educational history. It gives users a fuller picture of the individual in question. Moreover, if you want you can see a full analysis of BeenVerified alternatives.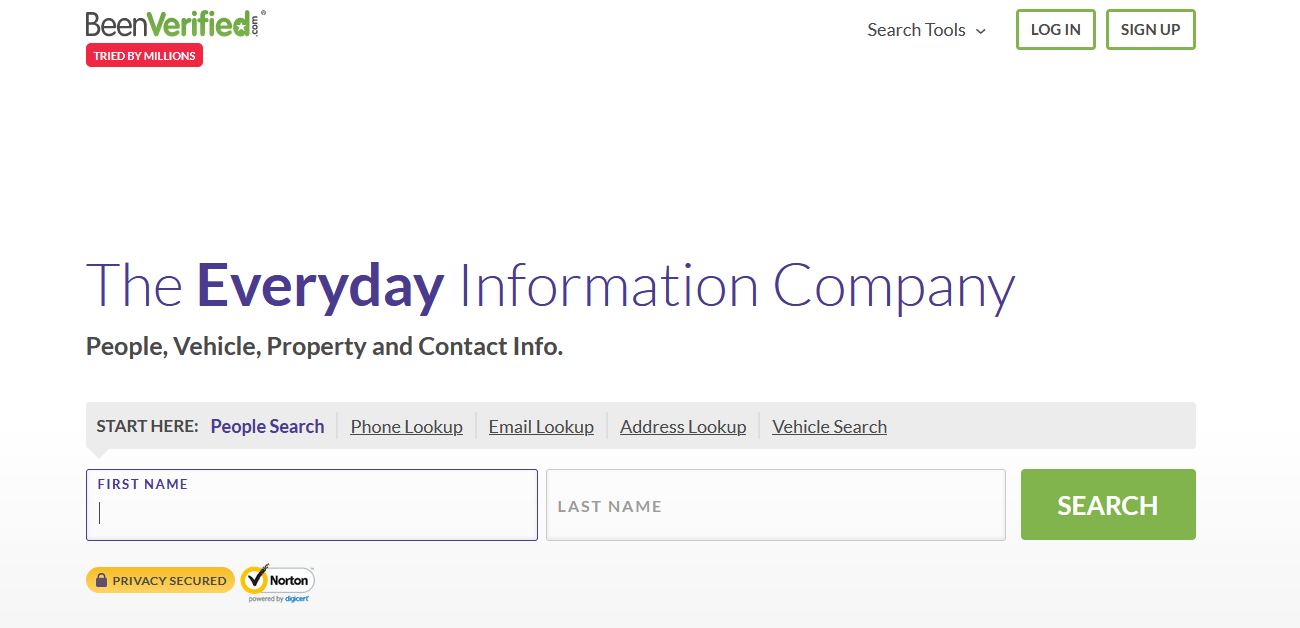 About BeenVerified
Founding Year: 2007
Founding Team: Josh Levy and Ross Cohen
Key Features
The key features to consider are:
Background Checks
BeenVerified provides detailed background reports, offering a deeper understanding of an individual's history.
Public Records Access
The tool grants access to public records, from property ownership to court documents.
Contact Details Compilation
BeenVerified gathers phone numbers, email addresses, and more, streamlining the outreach process.
Pros
Delivers comprehensive background checks.
Provides easy access to public records.
Offers insights into criminal histories.
The mobile app enhances user convenience.
Cons
Some reports might require additional fees.
Not all records are updated in real time.
Search results can sometimes be broad, requiring further filtering.
Pricing
Pricing isn't available.
7. Whitepages
Whitepages serves as a leading digital directory. It offers users a window into the lives of individuals, with comprehensive contact information for over 250 million people nationwide.
However, Whitepages remains a top choice for those seeking reliable and comprehensive information. Beyond just names and phone numbers, Whitepages allows users to dig into address details.
By entering an address, one can uncover details about a property, its history, and even its current and past residents.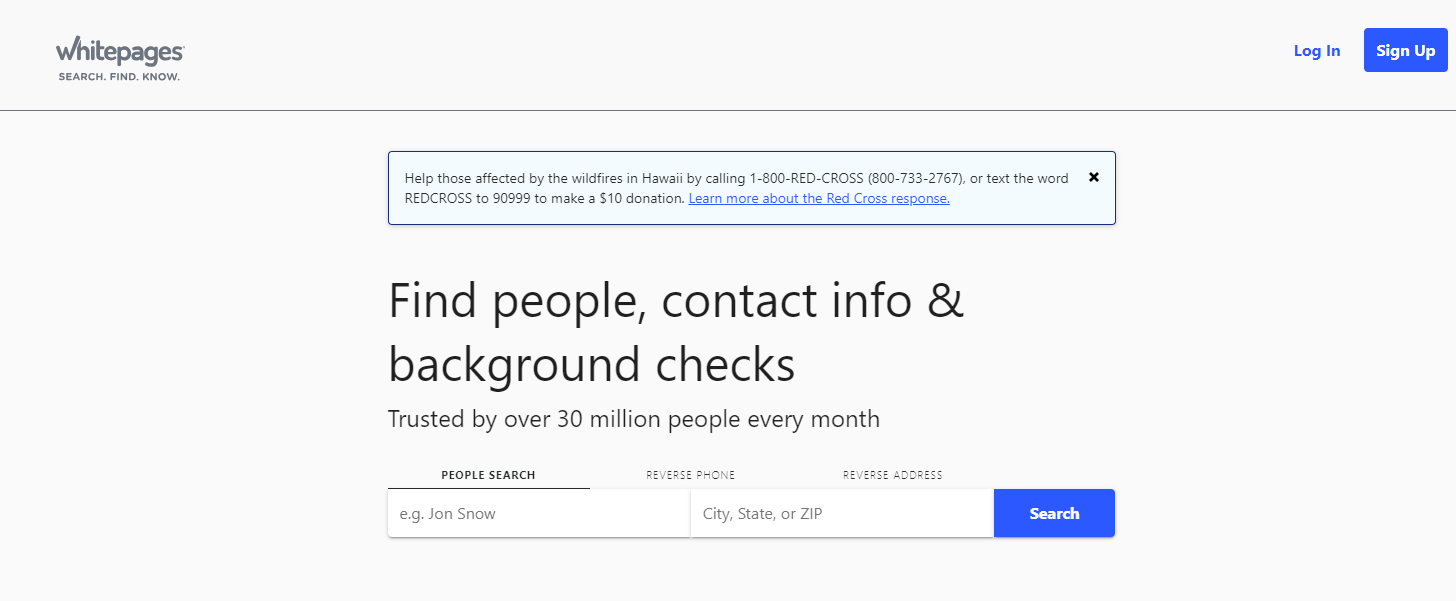 About Whitepages
Founding Year: 1997
Founding Team: Alex Algard
Key Features
Its noteworthy features are:
Extensive Directory
Whitepages isn't just a directory; it's a vast reservoir of information. It ensures that users can find almost anyone or any business they're searching for.
Identity Verification
Verifying the identity of individuals, especially for businesses, is crucial. Whitepages offers a strong identity verification feature.
Reverse Phone Lookup
Have you ever received a call from an unknown number and wondered who it might be? Whitepages' reverse phone lookup feature comes to the rescue.
Pros
Offers a wide-ranging directory.
Enhances business operations with identity verification.
It helps in identifying unknown numbers.
Provides detailed background checks.
Cons
Some features might be behind a paywall.
Not all records are updated frequently.
Search limits might apply for free users.
Pricing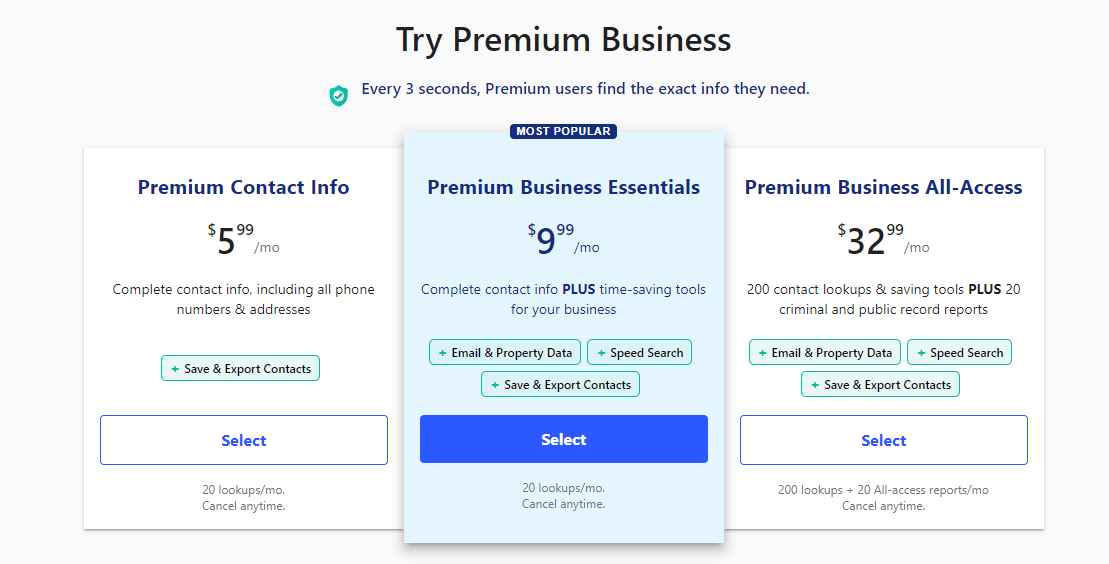 8. Instant Checkmate
Instant Checkmate is a helpful tool that enables you to learn more about people. People turn to this platform for detailed reports about someone's background. From criminal records to contact details, Instant Checkmate offers a clear picture of an individual's past and present.
Sometimes, you might want to know more than just about one person. Instant Checkmate can show you potential family members or friends connected to the person you're searching for.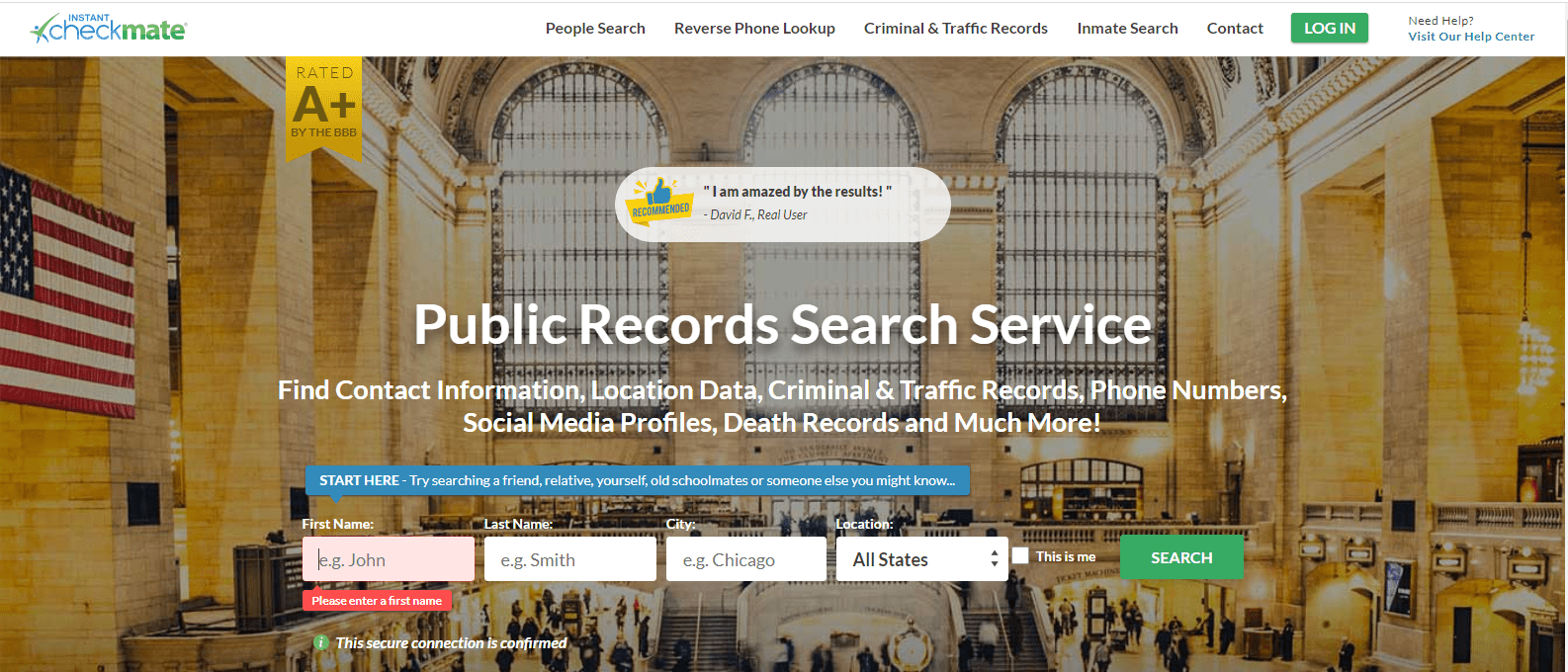 About Instant Checkmate
Founding Year: 2010
Founding Team: Joey Rocco
Key Features
Look at its features below:
Background Checks
Instant Checkmate stands out for its thorough background checks. When you enter a name, the tool searches through various records to give you a full report.
Criminal Records
Safety is important. If you're meeting someone new or checking out a neighbor, you might want to know about their past. Instant Checkmate can show if someone has been in trouble with the law before.
Contact Details
Have you ever lost touch with an old friend? Instant Checkmate can help reconnect. By entering a name, you can find phone numbers, email addresses, and home addresses.
Pros
Offers detailed background reports.
Easy to use with clear results.
Provides both recent and old information.
It helps users make informed decisions.
Cons
Not all reports are 100% accurate.
Access to detailed reports might require payment.
Pricing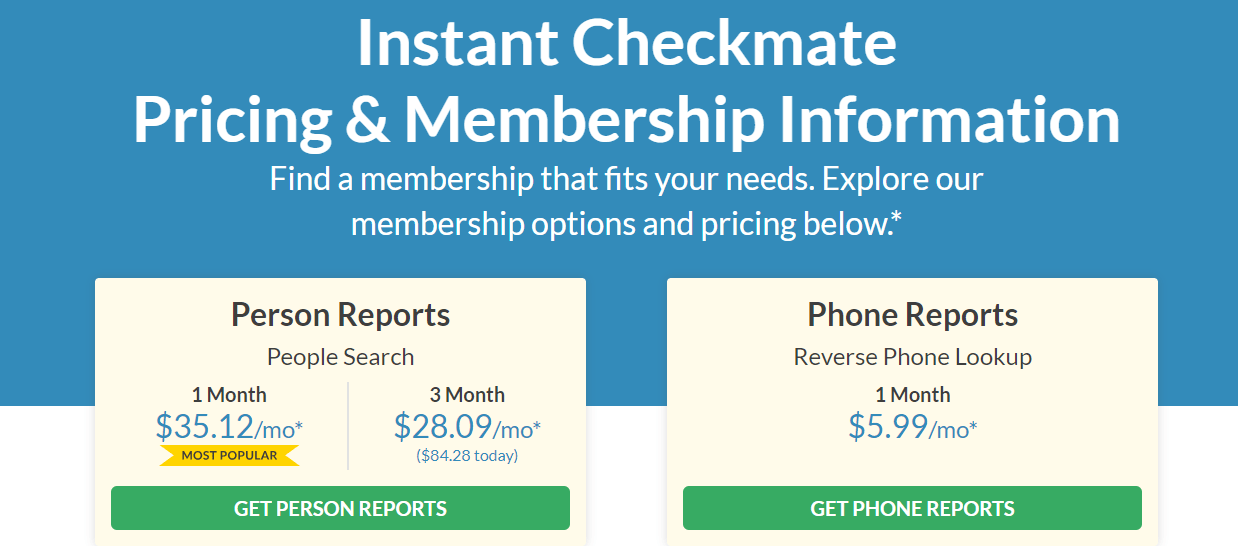 9. PeopleFinders
PeopleFinders, with its vast reservoir of public records, stands out as a trusted bridge to the people's personal connections. With its enhanced database, users can access a plethora of information, from contact details to intricate background checks.
As a trusted platform, it makes information access both simple and efficient. It isn't just about names and numbers. The platform delves deeper. It offers users a comprehensive view of an individual.
From past addresses to known associates, PeopleFinders ensures that you get a holistic understanding of the person you're searching for. Thus, your search becomes more insightful.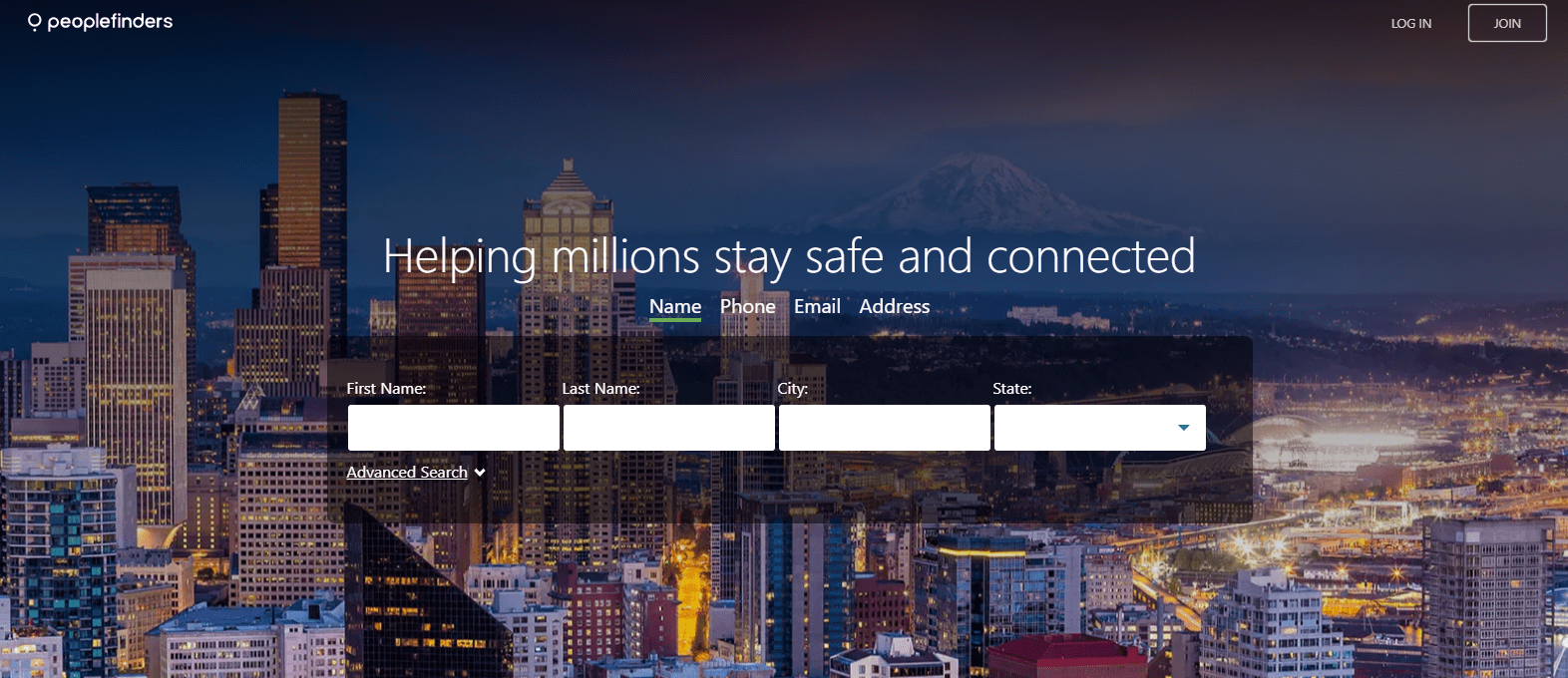 About PeopleFinders
Founding Year: 1999
Founding Team: Rob Miller
Key Features
The major features are:
Background Reports
Knowledge is power, and PeopleFinders equips you with it. The platform's background reports are meticulously detailed.
Criminal Records Check
Safety and trust are paramount. Recognizing this, PeopleFinders offers a feature that allows users to check for any criminal records associated with an individual.
Reverse Phone Lookup
Enter an unknown number, and the platform will provide details associated with that number, be it a business, telemarketer, or a long-lost friend trying to reconnect.
Pros
Provides comprehensive people searches.
Offers detailed background reports.
Ensures safety with criminal record checks.
Allows easy access to public records.
Cons
Premium features might come at a higher cost.
Some searches may yield broad results.
Not all records are frequently updated.
Pricing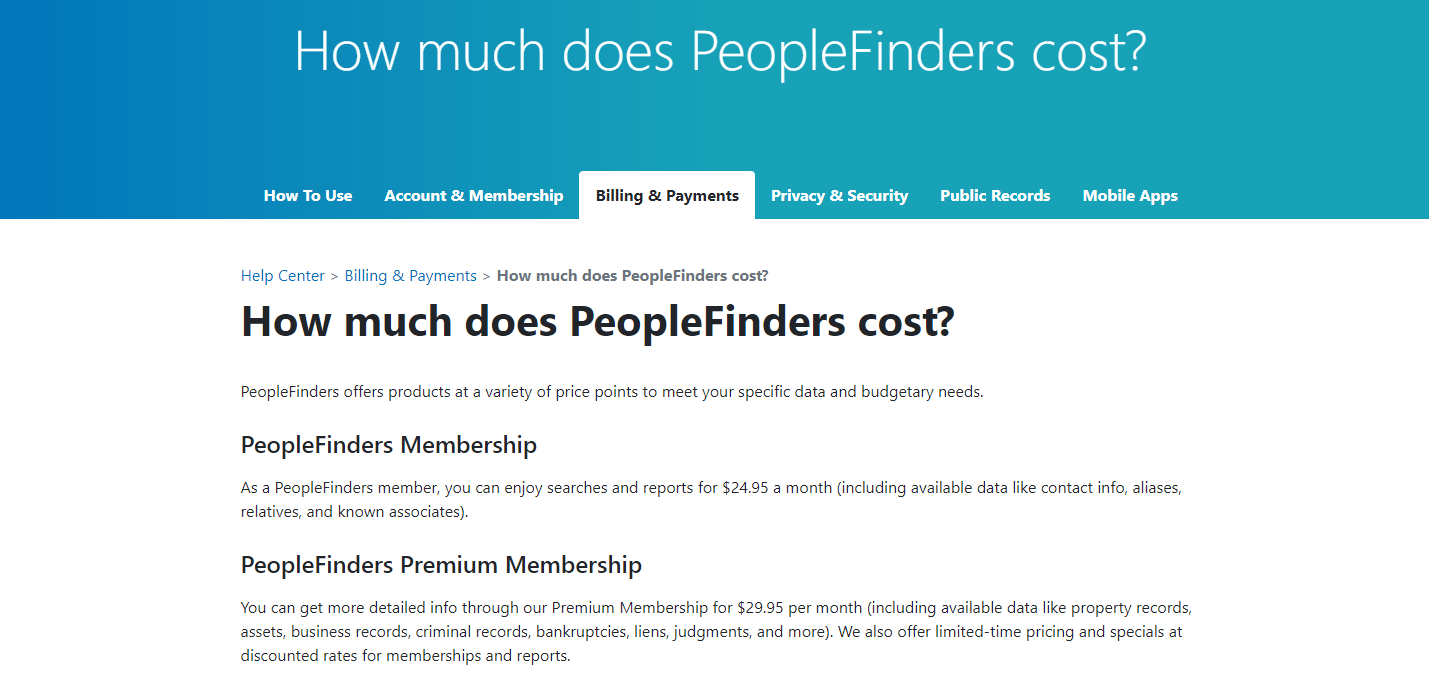 10. Intelius
Intelius is a popular tool for gathering information about people. Users rely on it to get insights about someone's background, contact details, and more.
Whether for personal reasons or business checks, Intelius offers a comprehensive look into an individual's life.
It offers more than just names and contact details. Users can unearth a plethora of information, from criminal and traffic records to public documents and social media profiles.
This database ensures that users have a panoramic view of their search subjects, aiding in informed decisions. Aside from that, check out all Intelius alternatives.

About Intelius
Founding Year: 2003
Founding Team: Naveen Jain, Kevin Marcus, Niraj Shah, Ed Petersen, Chandan Chauhan and John Arnold.
Key Features
The significant features are:
Public Records Search
Public records are documents that anyone can look at. Intelius can search through these records for you. This means you can find out if someone owns a house, if they've been in court, or other public details.
Phone Number Search
Got a call from a number you don't know? Intelius can help. Just type in the phone number, and Intelius will tell you who it belongs to.
Email Search
Emails are everywhere these days. If you have someone's email address, you can use Intelius to find out more about them. This can be their name, where they live, or other details.
Pros
Provides in-depth information.
A User-friendly interface ensures easy navigation.
Regularly updates its database for accuracy.
Offers multiple search options for flexibility.
Cons
Some reports might need payment to access.
Not every search yields comprehensive results.
Pricing

Free Phone Number Lookup Vs. Paid Services: What Should You Go for?
When figuring out who's behind a certain phone number, you might wonder whether to use a free service or pay for one. Here's a deeper look into both options, broken down in simple terms, to help you make the best choice.
Free Phone Number Lookup Services
What's Good About Them:
No Money Needed: The biggest perk? It's free. You don't have to open your wallet.
Simple to Use: Most of these services are straightforward. Type in the number, and you'll see some info.
Fast Answers: If the number is well-known or from a public list, you'll find out who it belongs to pretty quickly.
The Not-So-Good Parts:
Might Not Be Right: Sometimes, the Info you get from free services isn't 100% correct.
Basic Info Only: Often, you'll just get a name or location, not much else.
Worries About Privacy: Some free sites make money by showing ads or selling your data. This can be a bit worrying if you value your privacy.
Paid Phone Number Lookup Services
What's Good About Them:
Usually Spot On: Because they charge money, these services make sure their Info is as correct as possible.
Lots of Details: Not just a name, but maybe an address, other phone numbers, or even past addresses.
They Respect Your Privacy: Paying customers is valuable. So, these services usually don't risk upsetting you by selling your Info.
Help When You Need It: Got a problem or question? Many paid services have people you can talk to for help.
The Not-So-Good Parts:
You Have to Pay: Obviously, it's not free. Some might find it a bit expensive.
Ongoing Costs: Some services might ask you to sign up and pay every month, even if you just want to look up one number.
Things to Think About
How Right Do You Want It to Be?: If you need the Info to be correct, you might want to consider paying.
How Much Info Do You Want?: If you want lots of details, paid services usually give more.
Your Personal Info: If you don't want your data sold or used for ads, be careful with free services.
Is It Worth the Money?: Think about what you need. If it's just a one-time thing, maybe free is okay. But paying might be worth it if you'll use it a lot.
Choosing between free and paid phone number lookups depends on what you're looking for. Free is okay if you just want a quick answer and aren't too worried about it being perfect or private.
But paying might be the better choice if you want lots of details, and you want them to be right, and you care about your privacy. Think about what's most important to you and how much you're okay with spending.
How to Choose the Best Website to Find Phone Numbers
Choosing the best website to track phone numbers can be tricky. With so many options available, you need a guide to pick the best one. Here's how to make an informed choice.
Always look for websites known for accurate results. Wrong numbers waste time and effort.
Read reviews to see if other users found the results reliable.
Look for clean layouts and clear instructions.
Some websites offer free searches, while others charge a fee. Decide if you're willing to pay for premium features or if free options work for you.
Websites that regularly update their database are more likely to provide current information.
Some sites offer more than just phone number searches, like background checks or email lookups. Determine if these added features are beneficial for your needs.
Check if they have a responsive customer service team.
End Note
We hope this guide has shed light on the best websites to find phone numbers. While each platform has its unique offerings, Swordfish stands out as a top recommendation for its reliability and comprehensive features.
Remember, the right tool often depends on individual needs, and Swordfish might just be the perfect fit for yours.
However, always note down your requirements, know what you're looking for, and how much data you need. All these will lead you to the right choice.
If you have any more questions or insights, don't hesitate to drop a comment. We value your feedback!
Frequently Asked Questions
Can I find both landline and mobile numbers on these websites?
Many of these platforms cater to landline and mobile number searches. They pull data from various sources to provide a comprehensive view.
Is it safe to use websites for finding phone numbers?
Safety is paramount. Many top-tier phone number search websites prioritize user data protection and privacy. Always ensure you're using a secure connection and read their privacy policies and terms of use.
Do these websites only provide phone numbers?
Not at all. In addition to phone numbers, many platforms offer other valuable information, such as email addresses, residential addresses, work history, and sometimes even social media profiles.
Can I remove my phone number from these websites?
Yes, many of these websites respect user privacy and offer an opt-out feature. This allows individuals to request the removal or suppressing of their details from the platform.
Do these websites work worldwide or just in specific countries?
Some websites have a global reach, providing phone number details from various countries. Others might focus on specific regions or countries. It's best to check the website's coverage area before starting your search.