Prospects and potential business partners are difficult to reach out to, especially when overwhelmed with the content overload in today's market.
Worse still, contacting them can be a nightmare if their contact information is missing, scattered, or hard to find. It could cost you several resources and days of manual work to find the key decision-makers for your company to thrive.
People finder sites help make this monumental task easier. These tools enable you to find everything from names, email addresses, and phone numbers for lead generation to criminal records and professional history for background checks.
Read ahead to find out how your company could benefit from people finder sites and my recommendation to achieve the best results for your next marketing campaign.
What are People Finder Sites?
As the name suggests, people finder sites enable users to find people with small bits of information as input. The tool is extremely efficient for gathering public records for a specific individual.
The best people finder sites rely on powerful algorithms to search databases and instantly output relevant information. While most people might use it to find long-lost friends or family members, these sites can benefit your B2B company.
Marketing representatives need critical information such as business emails, contact numbers, and social media usernames to present your brand offering through cold emails and nurture leads with drip campaigns.
Without people finder sites, you could be wasting time and resources, which could be spent on closing more deals.
How People Finder Sites Can Help Your Next Business Venture
It may not be apparent initially, but people finder sites can save you a lot of hassle. They can assist in the corporate requirements for sales and marketing reps and recruitment departments.
Here is a detailed look into the range of applications for people search engines in the B2B industry:
Prospect/Lead Generation
Prospect gathering is the first step in your email marketing strategy. Reaching out to potential customers with your customized offering for their business problems through cold emails is one of the best ways to generate more sales-ready leads and grow brand awareness.
However, you need to find the list of people who you can connect with in the first place. Manually looking for prospects in the vast expanse of the internet can cut into the time you could have spent personalizing your email for better click rates.
Searching for recipients can get tedious, even if you email mutual connections or people in the same industry. The relevant people in the target organization can have missing credentials or incomplete personal information.
Even social media handles are crucial to finding follow-up strategies and engagement. Tools like Swordfish AI allow you to easily find email addresses, phone numbers, and social media accounts. You can choose individual contacts or search for them in bulk.
Background Checks for Potential Employees and Partners
Looking for people as a B2B brand isn't restricted to just marketing. You need new contacts when it comes to recruitment and collaborative efforts. There are several considerations one makes when hiring highly skilled employees.
Beyond the job qualifications, background information like criminal records is a major factor when onboarding someone new to your company. Hiring from mutual connections can get similarly tedious as prospect hunting, even if it is in the same social groups on platforms like LinkedIn.
Instead of painstakingly going through public records, people finder sites can present this information with a full name and a single click. Other information like addresses, educational information, and so on comes in handy when verifying their qualifications.
Important decision-makers of a target organization you wish to work alongside can often have incomplete contact information. With limited ways to reach out, cutting through the noise and having your voice heard can be hard.
Thus, you can find alternative ways to contact important members and update yourself with their online activity on social media platforms.
Speed
As mentioned before, you and your team must allocate extra time manually searching for high-value prospects and business partners. Manual searching can range from scanning results online or physically accessing public records in a government office.
People finder sites help you save the effort by gathering information publicly available on a specific individual or a list of people in minutes. You can view the results on a single dashboard for better access.
Accuracy
Since people finder tools are updated online, they can be trusted to be more accurate than print records. Real-time updates give you the most reliable way to contact and find more information about people.
Reconnect with Lost Contacts
Reconnecting with long-lost contacts is not something you can do for just friends and relatives. You may forget an important business contact and have no other way to contact them.
A people search engine can solve this issue without hassles, as you get accurate information on the people you are looking for in no time. By using inputs such as full names, email addresses, residential addresses, or phone numbers, you can fill in the gaps with people finder tools.
Top 7 People Finder Sites
Now that we understand how people search sites function and the ways they can benefit your brand let's take a look at the seven best tools in the market so that you can further streamline your business strategies:
1. Swordfish.AI
Swordfish.AI (swordfish.ai) is an easy-to-use and accurate people finder tool that lets you search for people, including their email addresses, social profiles, and contact numbers.
They rely on sophisticated algorithms and 200+ data partners to search public databases and provide contact information of 3 billion verified people. You can find people with specific inputs, bulk search with file uploads, or on LinkedIn and Facebook groups.
Among the range of services, Reverse Search provides you with a plethora of information with minimal input information. With a full name, you can get a hold of the person's public email, phone number, and mobile number.
Reverse Search also gives you the same information with different inputs like social media profiles, full US addresses, email IDs, and phone numbers.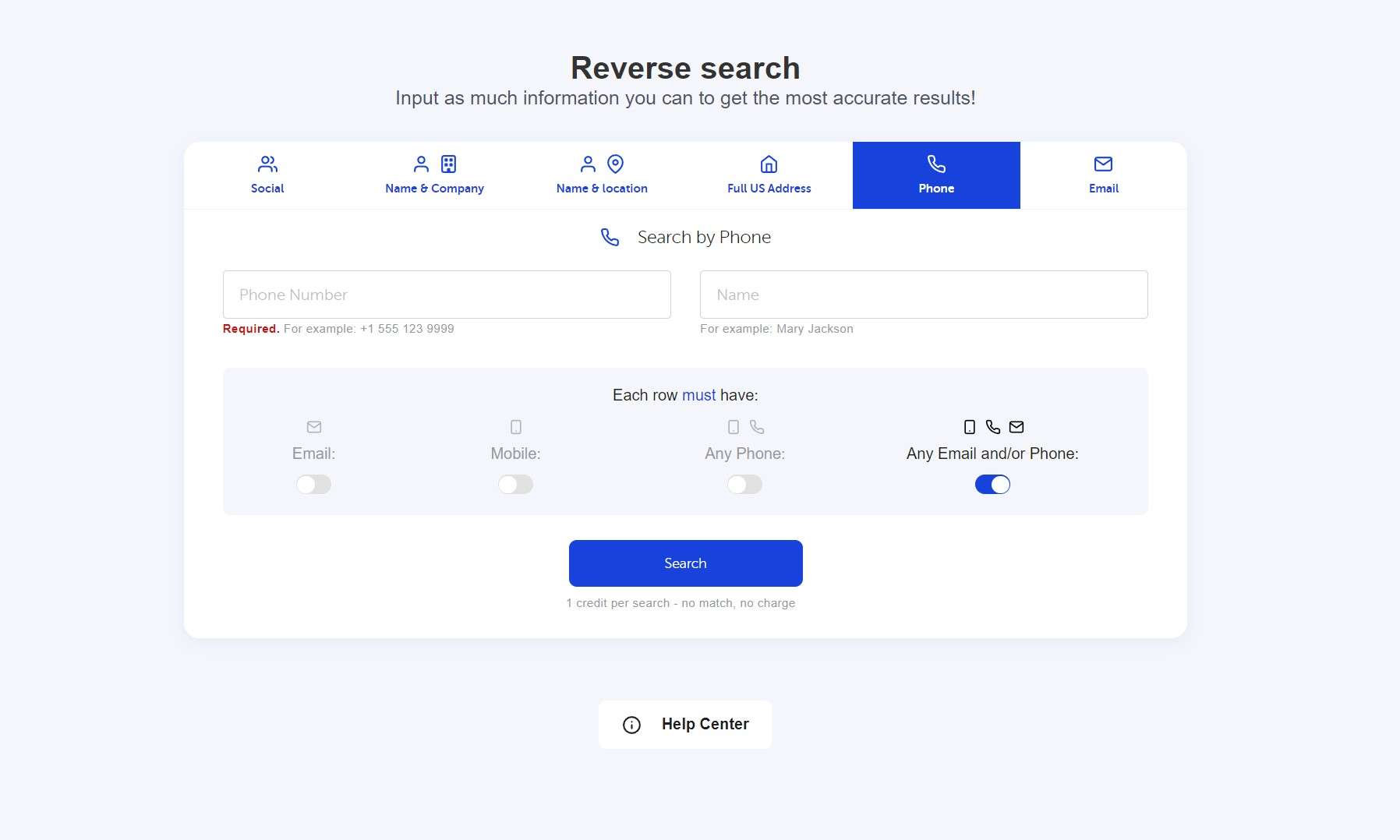 Swordfish AI uses a credit-based system, charging one contact search as a single credit. If Swordfish AI cannot provide you with a verified profile, it does not charge you anything. Every profile you unlock stays with you permanently.
For a seamless experience, you can use the Swordfish AI Google Chrome extension plugin that integrates platforms like LinkedIn, Facebook, Twitter, Gmail, Github, Bing, and more to extract contact details in bulk without the need to switch tabs.
Swordfish AI assists your recruitment efforts with features that let you streamline your onboarding process by saving the time that it would have taken to scan each profile manually.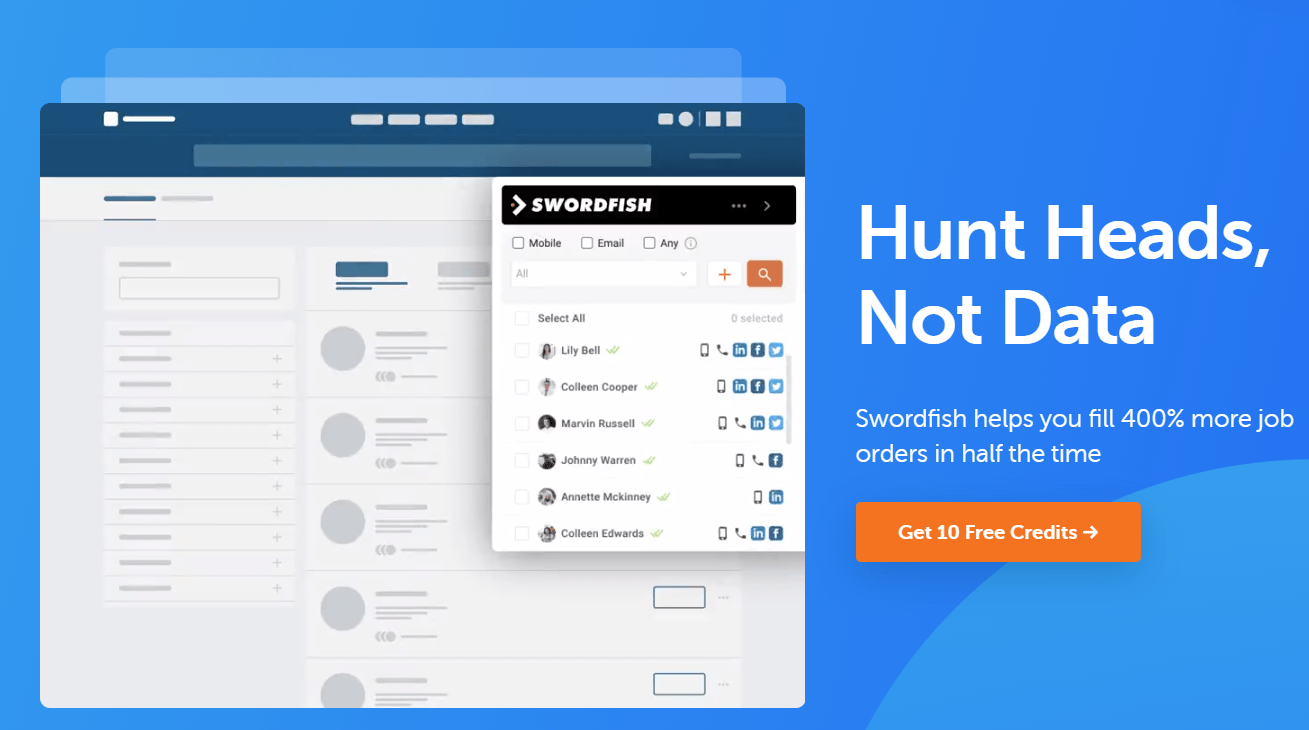 With their identification system, Swordfish AI can fill in the gaps in your ATS with a file upload. Automation and powerful algorithms remove the need to look for verified personal information.
With social media profiles, you can easily engage with your people of interest and follow up on their online activity to run a background check or plan your engagement strategy.
Swordfish AI offers a custom-sized free trial suited to the organization's needs. The Swordfish AI pricing page contains information on different plans, including custom enterprise solutions. 
2. Truthfinder
Truthfinder is an accurate people finder service that provides complete public records gathered from authorities, government agencies, corporations, etc.
Like Swordfish AI, you can input details like names, addresses, phone numbers, email, etc., to find a wide range of information. Its intuitive user interface separates and provides easy access to features like reverse phone lookup and background checks.
Background check is a great way to learn about someone's history, previous court records, relatives, online profile, etc. You can run a background check on yourself to see how much of your information is publicly available to others.
Regarding identity fraud protection, Truthfinder's dark web scans to look for potentially stolen private information available on the dark web.
Truthfinder's drawback is that there is no free trial, and you cannot purchase individual records. You can start looking people up after paying the monthly subscription of $26.
3. Instant Checkmate
Instant Checkmate is another commendable addition to the list, focused on providing accurate background information and the possible criminal record of a specific person.
Instant Checkmate offers more limited features: reverse phone lookup, people search, criminal and arrest record search and inmate search. Their services are geared toward giving you detailed federal and state records of possible criminal activity.
You can access publicly available records, such as arrests, traffic misdemeanors, licenses, court documents, etc. It is perfect for a background check if you're worried about a potential business partner's shady past.
Like Truthfinder, you cannot access single reports and must subscribe to their service monthly for $35.12 for people reports and $5.99/month for phone lookups. They also come with a deep web scan to protect your identity.
4. Intelius

Intelius is trusted by people who want an easy-to-use people search site with a database containing over 20 billion records.
In addition to criminal records and background searches like Instant Checkmate, Intelius can help you find someone based on a home address. You need to pay their monthly subscription of $24.86/month for criminal records.
Intelius gives detailed reports on people and property that can be downloaded or accessed for 45 days.
5. Pipl
Pipl is a people finder tool designed for business users specifically, as it helps safeguard you from financial fraud.
Unlike the other entries, Pipl is specifically marketed for business users and not for personal use. You can verify the identity of any financial partner through the identity resolution engine.
Its interface can be a little harder for the average consumer. Still, it is a great way to verify the name, contact number, email, address, and other public information of over 3 billion contacts.
Pipl provides APIs for better website integration. Being tailored for organizations keeps it at a higher price range of $298/user. Despite its clean and detailed reports, it is best suited for larger teams with bigger budgets.
6. Spokeo
Spokeo is a US-only people finding site that uses sources like social media and white page listings. It provides personal information quickly with a comparatively budget-friendly pricing plan.
Spokeo stands out from its competition with over 12 billion records so that you can reliably find criminal records, property and consumer records, social media profiles, etc. Its access to the deep web makes it more accurate than most people search tools.
Despite quick results and easy to read interface, Spokeo does not have access to several public government records. You can opt for their $24.95/month plan or a $19.95/month for three months.
7. BeenVerified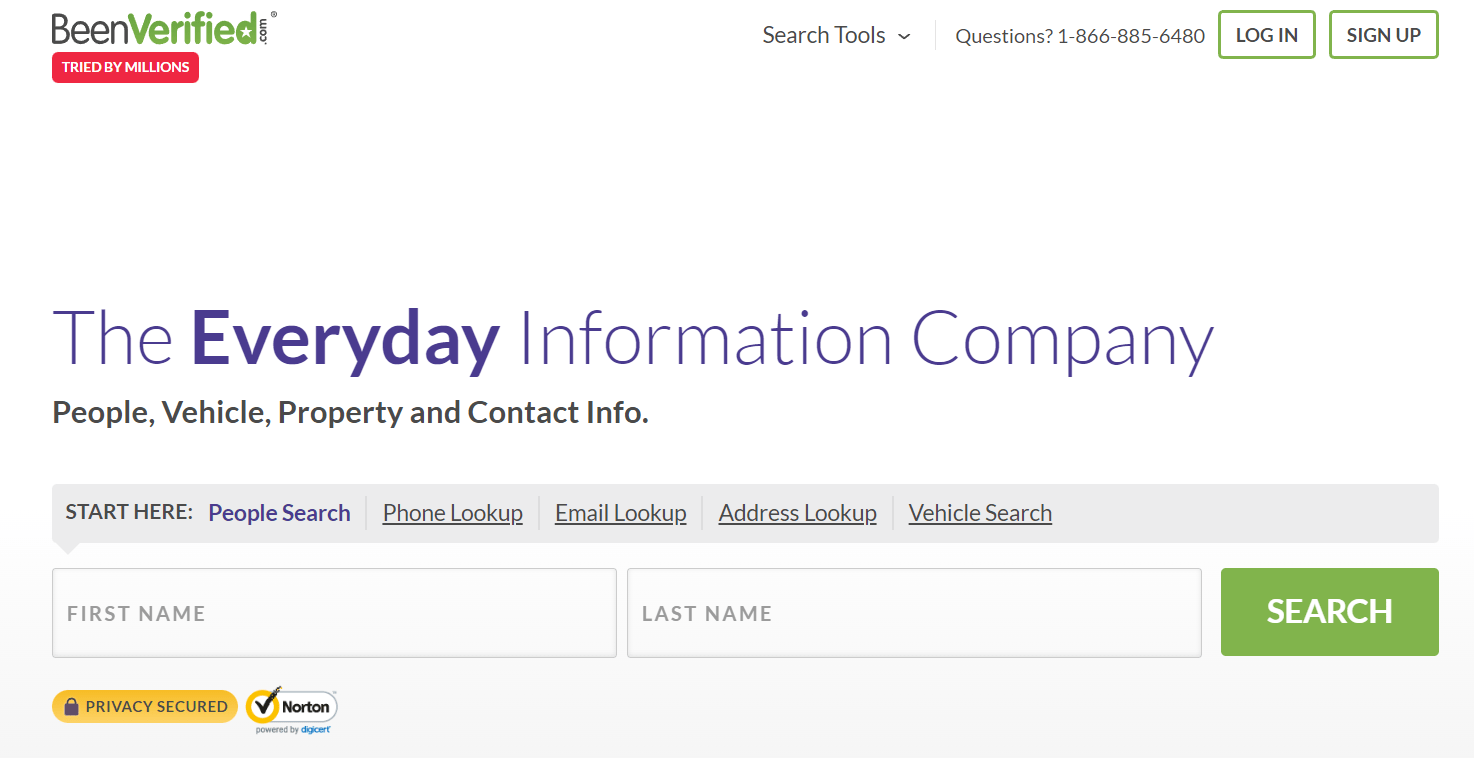 Finally, we come to BeenVerified. It is a people finder tool designed for accurate results derived from a single name. Users can add more information to get more data on the specific individual for better effectiveness.
In addition to personal information and criminal records, BeenVerified also provides an option for Vehicle Search, which makes it unique. Their database is constantly updated to ensure you get the most recent data on the person you're looking up.
However, you must subscribe to their monthly plans to access information beyond basic data like email, social media profiles, phone numbers, etc. With $26.89/month, you can access court records and criminal history alongside the above data.
Conclusion
The market's competitiveness always forces you to adapt to its changing dynamics. If you aren't one step ahead of your competition, you risk losing revenue and a chance to grow your brand.
With people finder sites, you can reliably look for potential customers to whom you can tailor your brand offering and expand your market reach. Better yet, collaborating with influential members of other organizations can help you achieve shared goals more efficiently.
To help you turn this aspiration into reality, I recommend Swordfish AI to cut down on time it would take to manually search people from the internet and online groups. Their advanced people finder algorithms and email listings can help you focus on nurturing more sales-ready leads.
Try out Swordfish AI with a 15-day free trial, and watch how you can take your company to new heights with better business connections.