Leads are the fuel of any growing B2B SaaS. Lead generation for B2B SaaS requires a unique and targeted approach, and traditional lead generation methods often fall short of capturing the right audience's attention and nurturing them through the sales funnel.
You require leads interested in your business and qualified enough to become paying customers. We're here to help you guide through the process.
We will discuss B2B SaaS lead generation, different types of leads and their importance, and how you can generate leads effectively. Implementing these strategies will help you build a pipeline that generates non-stop B2B leads.
We intend to provide you with a roadmap to gain sales-qualified leads for your B2B SaaS business. Let's get started!
What is B2B SaaS?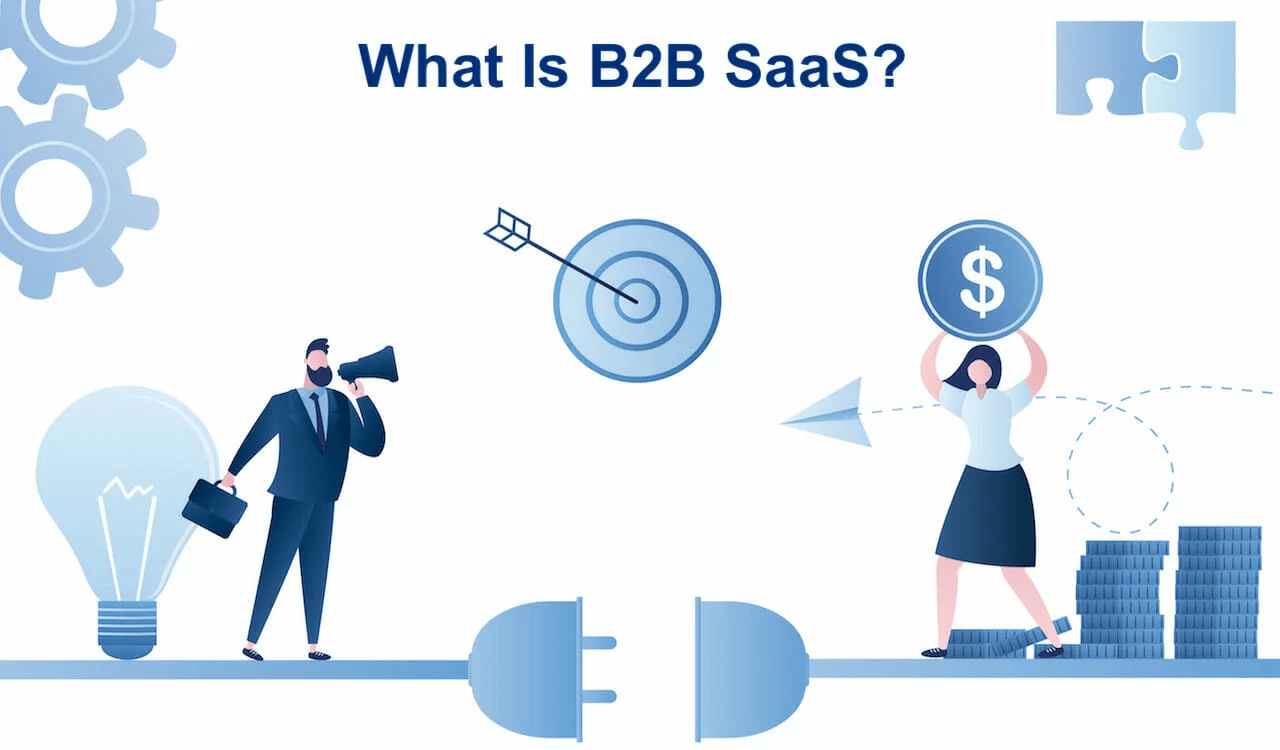 B2B SaaS stands for Business-to-business Software-as-a-service. It refers to a software delivery model where a company provides its services to another (and not individual customers) on a subscription basis.
The software is hosted in the cloud and accessible via the internet, eliminating the need for on-premises installation. The primary purpose of a B2B SaaS setup is to cut down human resource expenses while increasing efficiency and effectiveness.
B2B SaaS Lead Generation
Lead generation for B2B SaaS is how B2B SaaS companies attract prospects and turn them into sales-qualified leads.
Channels used here are different from Business-to-consumer (B2C). The primary focus is to fill your sales pipeline with demo calls or scheduled appointments for your B2B SaaS.
Types of SaaS Leads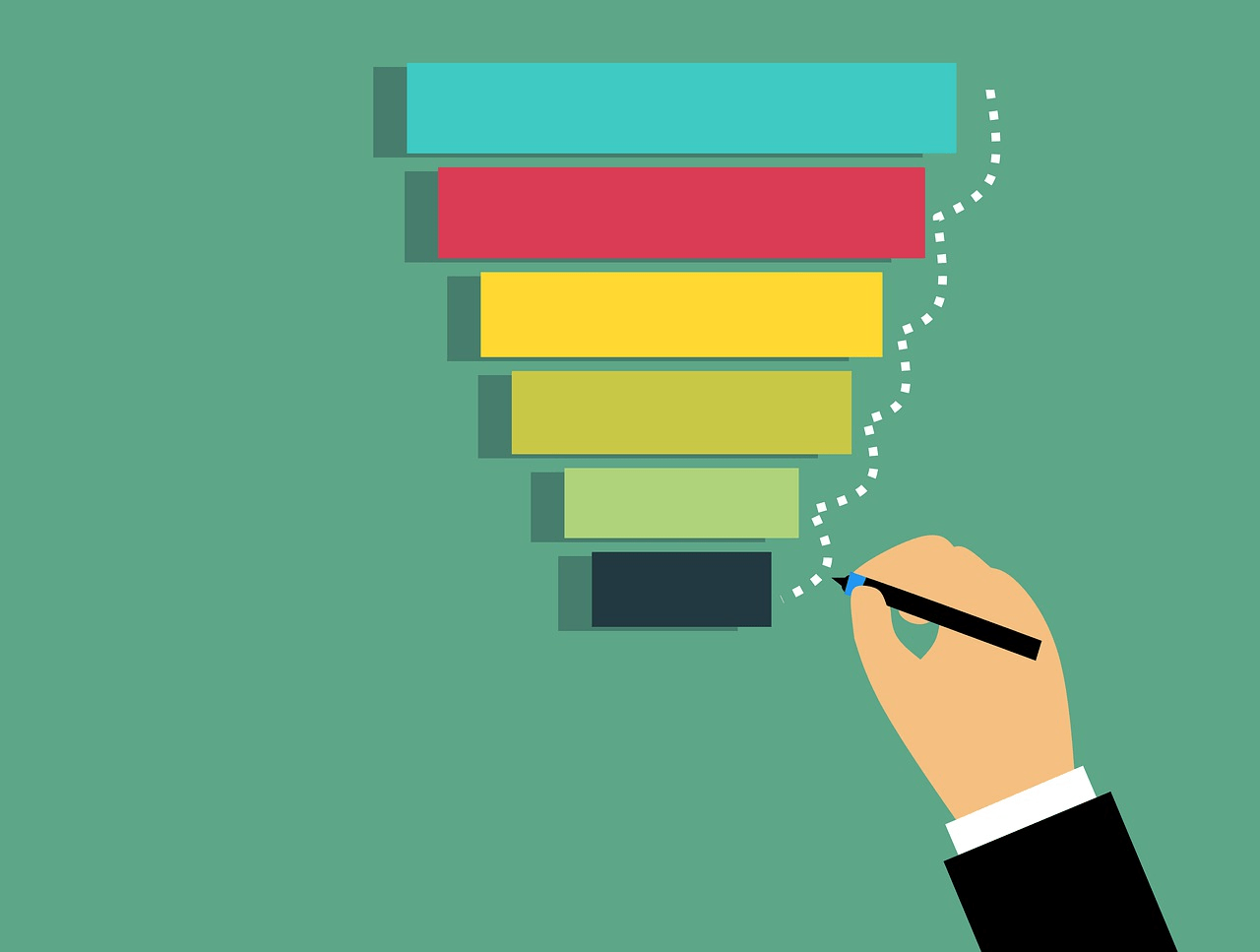 We can broadly classify SaaS leads into three different categories based on their levels of intent. They are-
Information Qualified Leads (IQLs) or Cold Leads
IQLs are found at the beginning of a buyer's journey at the Awareness stage. They can be described as prospects that have come across your top-of-the-funnel (TOFU) content and signed up in exchange for a subscription, like content or an ebook.
They haven't interacted with your brand before this, and maybe they don't even know they have a problem that your solution can help solve. You can identify these leads through a lead generation tool. You want to convert them to warm leads or MQLs.
Focus on building brand recognition and increasing trust by offering relevant content like ebooks/blogs.
Marketing Qualified Leads (MQLs) or Warm Leads
MQLs are considered to be in the Consideration stage of the buyer's journey. They are aware of your brand and have interacted with it before already, either via content, social media, sign-ups, or any other behavior that demonstrates interest.
These can be closer to purchasing but still need some convincing. They know your services and have considered your solutions as answers to their problems.
They are already moving down the sales funnel. The goal here must be to provide the best quality to turn these leads into paying customers, aka SQLs. You can send email campaigns or offer free trials for the same.
Sales Qualified Leads (SQLs)
Sales-qualified leads are considered ready for direct engagement by the sales team. They have progressed through the marketing funnel and have met the criteria indicating their potential to become paying customers.
They are in the Decision stage of a buyer's journey. You can use lead scoring to determine whether a lead qualifies as an SQL. The higher the score, the more likely the lead will be considered sales qualified.
Once identified, you can move further and hand these leads to the sales team for direct contact. Ideally, we all want to get here, but we must start from IQLs and carefully move our leads down the sales funnel.
So how do you start generating leads for your SaaS business? There are different ways or channels you can use for B2B leads. Let's discuss some-
Ways to Generate B2B Leads
While these may differ for each company, there are some basic ways you can use to generate leads and make them aware and interested in your service. They are-
Content Marketing
Content marketing is the now of marketing. Well-created content is a tried and tested way to engage prospects and nurture leads. If you understand your audience well, you can explain why they must consider your product as a solution to their problems.
Make sure your content is SEO optimized, though. Here are the different types of content you can utilize-
Blogging allows you to create informative and valuable content that showcases your expertise and addresses your audience's pain points.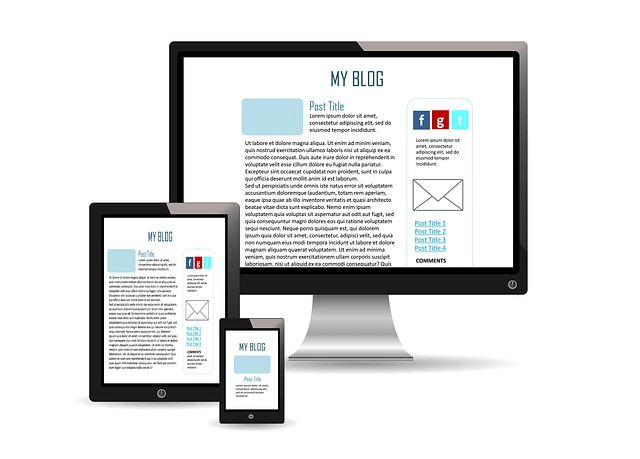 A nicely crafted blog can position your brand as trusted in the industry. Remember to be consistent, do proper keyword research and keep the blog length under 3000 words.
Gated content such as e-books or whitepapers can be used to capture leads by requiring visitors to provide their contact information in exchange for access to valuable resources.
Try to provide them with the value they won't get anywhere else. Gated content also allows you to see which pieces of content are effective at generating leads.
Webinars allow you to engage directly with your audience, communicate your brand value, and collect leads through registrations.
Webinars must be used correctly during the later stages of the buyer's journey. Keep them short and precise because everybody wants their time to be valued.
Email Campaigns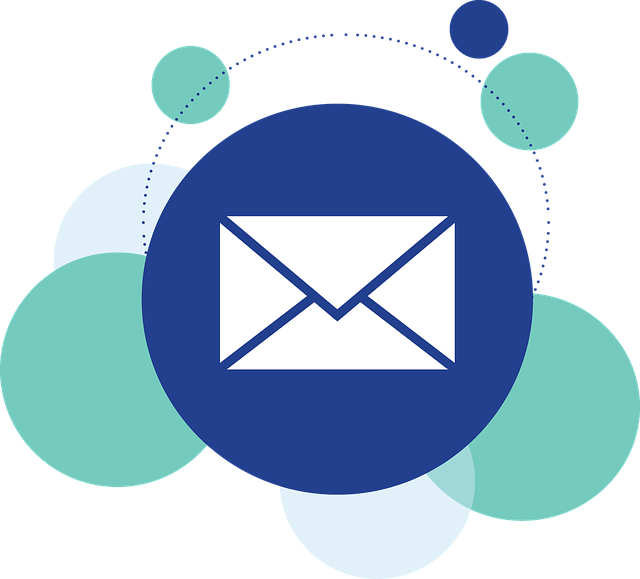 Email campaigns are crucial in nurturing leads and moving them down the sales funnel. When you build an email list of interested prospects, you can deliver targeted and personalized content directly to their inbox.
Segment your email list based on factors like industry and previous engagement to personalize your outreach even more. Effective email campaigns include educational content, product updates, and promotional offers.
You can create an email drip campaign that slowly shows prospects that you're the company they need. Keep them less frequent, and avoid intensifying your drip campaigns too much.
Social Media Engagement
Social media platforms provide an excellent opportunity to engage with your target audience.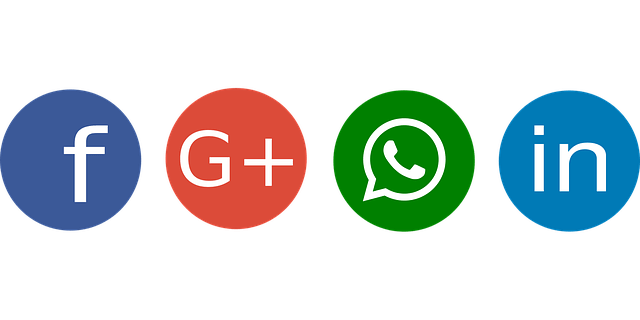 But is TikTok or Instagram the right place to sell your B2B SaaS product? No. This is why you must pick your social media platform carefully. Here are some social media engagement tactics you can try-
In-stream ads are what most people see while scrolling through social media. In-stream ads push ads out to users that match your criteria, like interests and location.
You can also track your website traffic using Facebook or LinkedIn pixels. Just remember that your ad must push viewers toward a call-to-action.
LinkedIn InMail works a little differently. You can send an ad directly to someone's inbox using it. Though it's a premium feature, the response rates are crazy using the same content.
Paid Advertising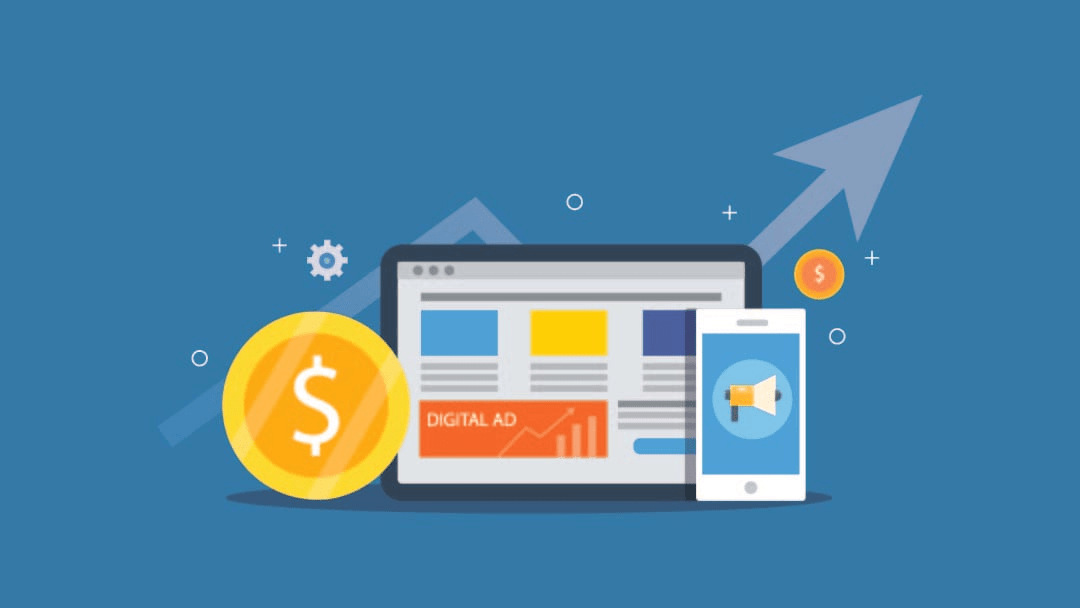 Paid advertising comprises ads that pop up as a gentle reminder on your landing page as well as on other websites users visit. These ads can convince users to check out your product and sign up for your content.
This helps generate information-qualified leads that can be converted to sales-qualified leads with the right approach. Here are the two most common methods of paid advertising-
Pop-up ads appear as separate windows or overlays on a website. They are designed to capture a user's attention and convince him to act.
They are effective because they interrupt the user's browsing experience making it difficult for them to ignore. Try not to go too overboard with them, though.
Videos deliver information engagingly and memorably, making them highly effective.
You can leverage video ads in pre-roll formats that play before video content on YouTube or LinkedIn or as sponsored content on social media channels.
The best lead generation strategies combine multiple channels to ensure maximum reach. Now let us move forward and discuss seven smart strategies you can follow to improve lead generation for B2B SaaS.
7 Smart Strategies to Improve B2B SaaS Lead Generation
These lead generation for B2B SaaS strategies will ace up your lead gen game. Let's discuss them in detail-
Understand your requirements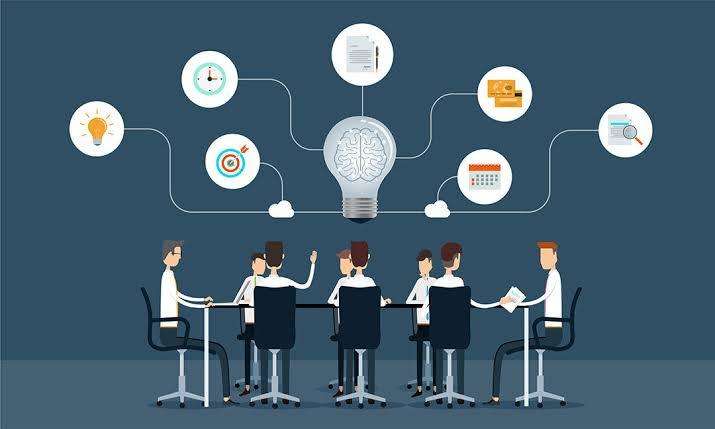 To improve your lead generation for B2B SaaS, you must understand your requirements. What part of lead generation do you struggle with the most? Is it prospecting, qualifying leads, or closing deals?
Understanding this will help you pinpoint your pain points and tailor your strategies accordingly. Address these challenges head-on and you can develop targeted solutions to overcome them and drive better results.
Optimize your landing page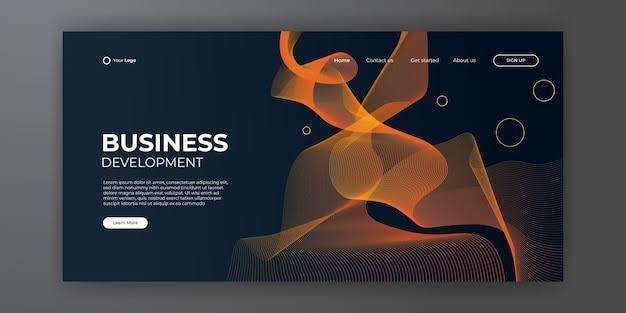 Your landing page plays a critical role in converting visitors into leads. To maximize its effectiveness, consider implementing exit intent popups that appear when a user is about to leave the page.
This offers them a compelling reason to stay or provide their contact information. Additionally, free trials or valuable gated content go a long way in enticing visitors to take action and become leads.
Design a versatile website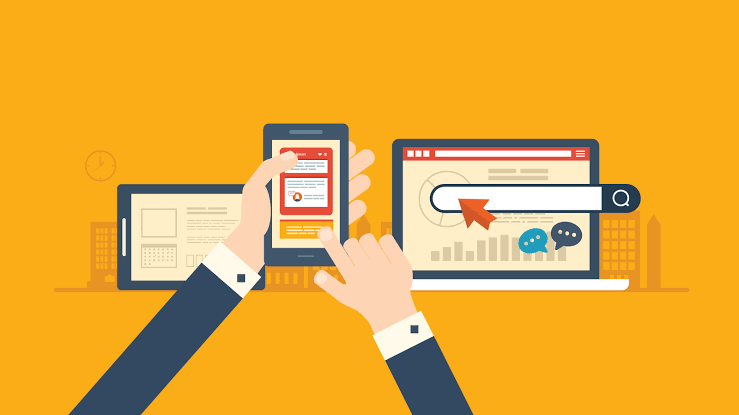 With the increasing number of mobile users, ensuring your website is mobile-friendly is crucial.
A responsive design that adapts seamlessly to different screen sizes and provides a smooth user experience on mobile devices can significantly improve lead generation.
Mobile users should be able to navigate easily, access information, and complete desired actions, such as filling out forms or requesting demos.
Invest in your Marketing team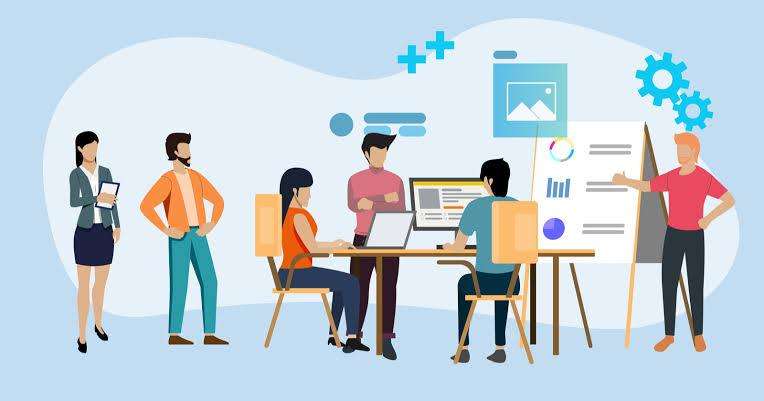 Your marketing team will be the first point of contact with your leads, so make sure you build a skilled one. They should be aware of B2B SaaS marketing strategies. A well-trained team will help your leads easily move down the sales funnel.
Utilize Referral Marketing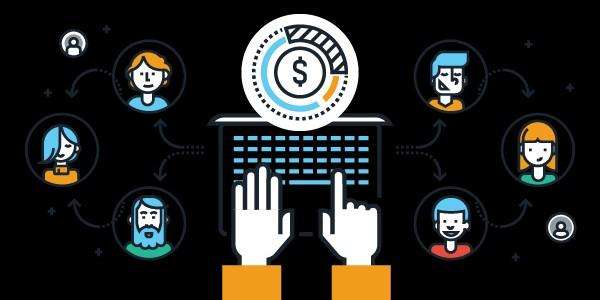 Referral marketing is an understated strategy when it comes to lead generation for B2B SaaS. Encourage satisfied customers to refer your products or services to their network by offering incentives, discounts, or exclusive content.
Referrals from trusted sources can significantly boost brand awareness, drive organic website traffic, and generate high-quality leads. Establish a referral program that rewards both the referrer and the referred, and leverage the power of word-of-mouth marketing.
Track your KPIs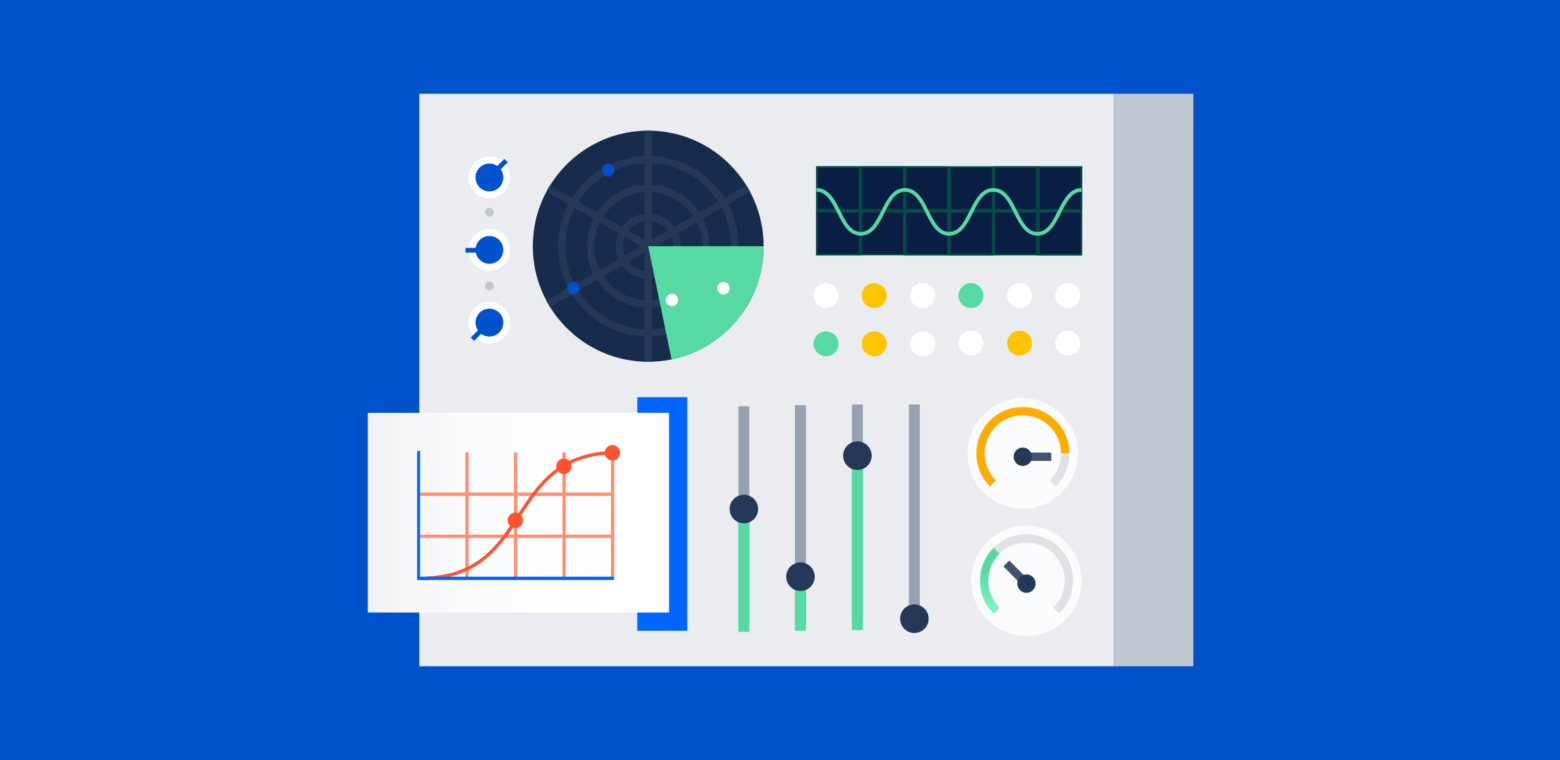 Tracking key performance indicators is essential to gain valuable insights into your campaigns. The following KPIs can be tracked-
Money spent on each channel and lead generation
Total leads generated
Website Traffic
Customer Acquisition Cost
Tracking KPIs also helps you check your spending to allocate your budget wisely.
Include a CTA wherever you can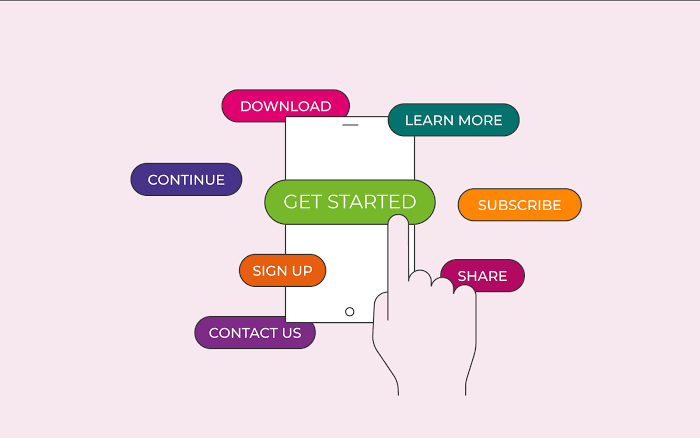 A clear and compelling call-to-action prompts visitors to take the desired action, such as-
Downloading an ebook
Signing up for a newsletter
Requesting a demo
Place CTAs strategically throughout your website, blog posts, ads, and landing pages to guide visitors toward becoming leads. Ensure your CTAs are visually appealing, use persuasive language, and communicate the value proposition.
Want to supercharge your sales pipeline with high-quality leads? Try using Swordfish AI. With Swordfish AI, your sales reps can avoid hours of manual prospecting as it finds all the data you need.
Swordfish products add prospects seamlessly into your prospecting solutions and provide unique contact data unavailable on any other platform. Let's learn more about it-
Swordfish AI: The Ultimate Lead Generation Platform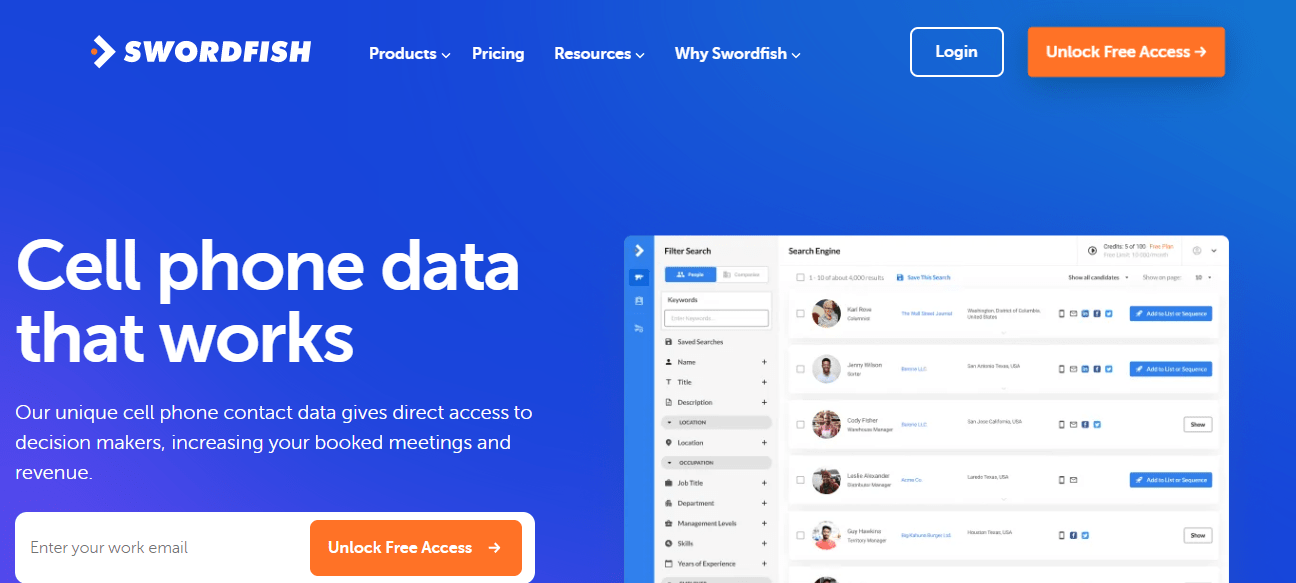 Swordfish AI is a leading contact search engine with unparalleled power in finding accurate and up-to-date contact information.
It aggregates data from renowned identity verification providers like Hoovers, Dun & Bradstreet, Experian, and numerous other reliable sources; Swordfish AI ensures you can access valid and direct contact details for the individuals you seek.
Trusted by top recruiters, sales professionals, and investigative experts in prestigious defense, technology, and government agencies worldwide, Swordfish is the go-to tool for contact sourcing.
Fuel Your Sales Pipeline With Swordfish AI
By leveraging its extensive database of over 3.5 billion profiles, verified cell phone numbers, and email addresses, Swordfish ensures its data is up-to-date and guarantees an 80% accuracy on its cell phone data and over 95% accuracy on its email data.
Here's how it ensures the accuracy of its contact data-
Prospector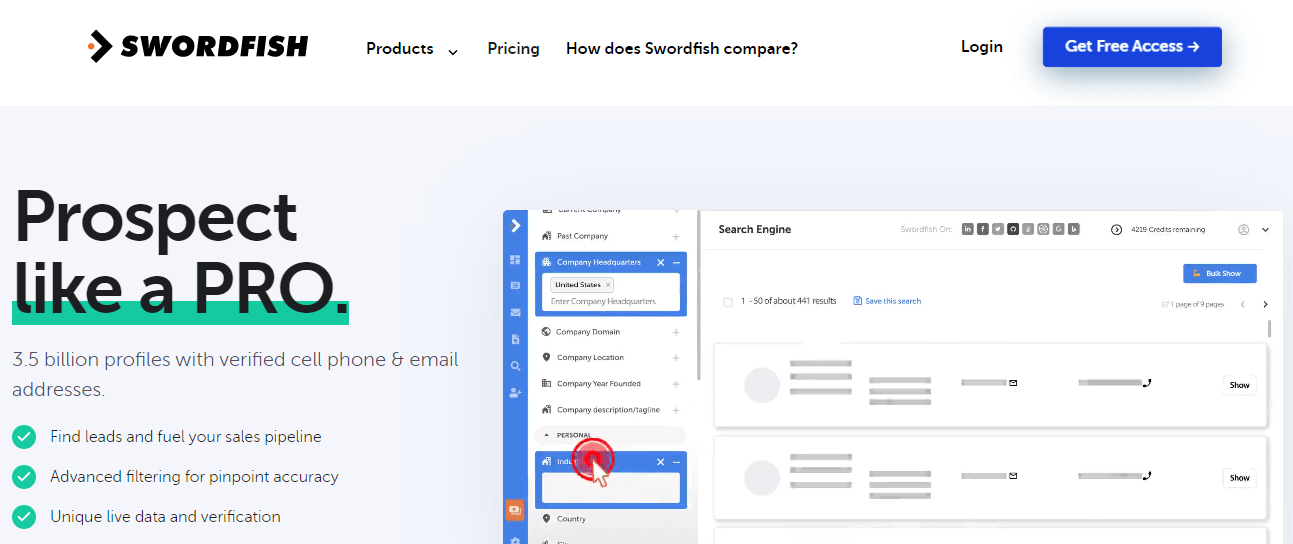 You can trust that you're getting reliable information to fuel your outreach efforts. Swordfish's notable feature is its Prospector, designed to keep your sales pipeline full and help you achieve your revenue goals.
With verified cell phone data and impressive accuracy rates, Prospector can empower your sales development reps (SDRs) to make effective and targeted outreach.
Chrome Extension
Swordfish also offers a convenient Chrome extension that allows you to access contact data directly from your browser.
This means you can find the information you need without having to navigate away from the web page you're on, saving you time and effort.
Reverse Search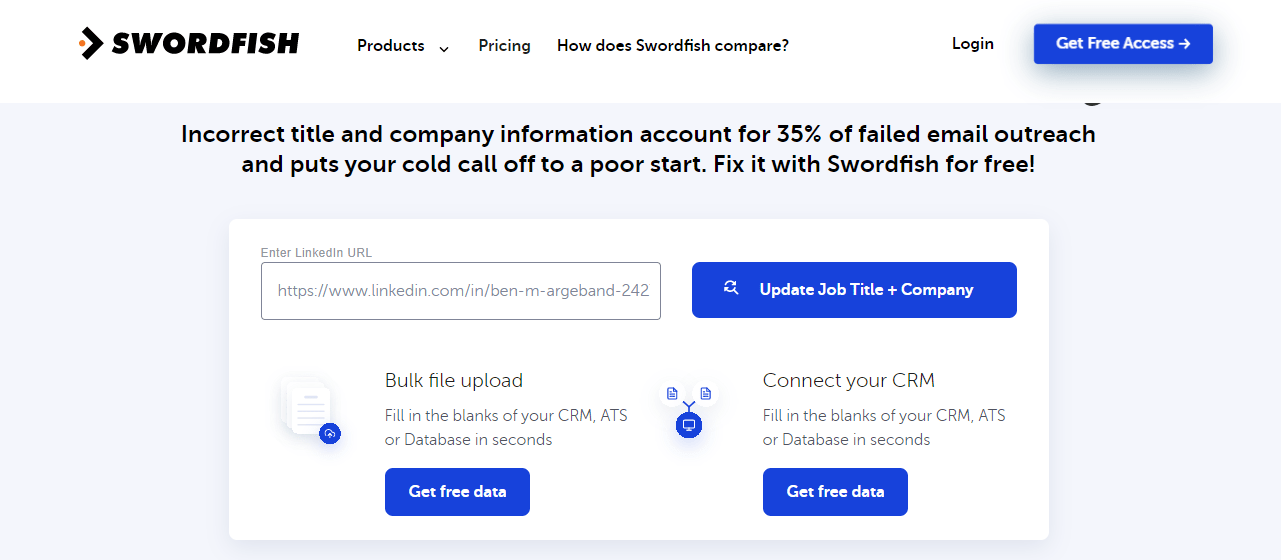 Another valuable feature of Swordfish is its Reverse Search. You can input whatever information you have about your prospects, and Swordfish will find the missing information for you!
Plus, all the data is verified for freshness, ensuring you have the most up-to-date contact information.
API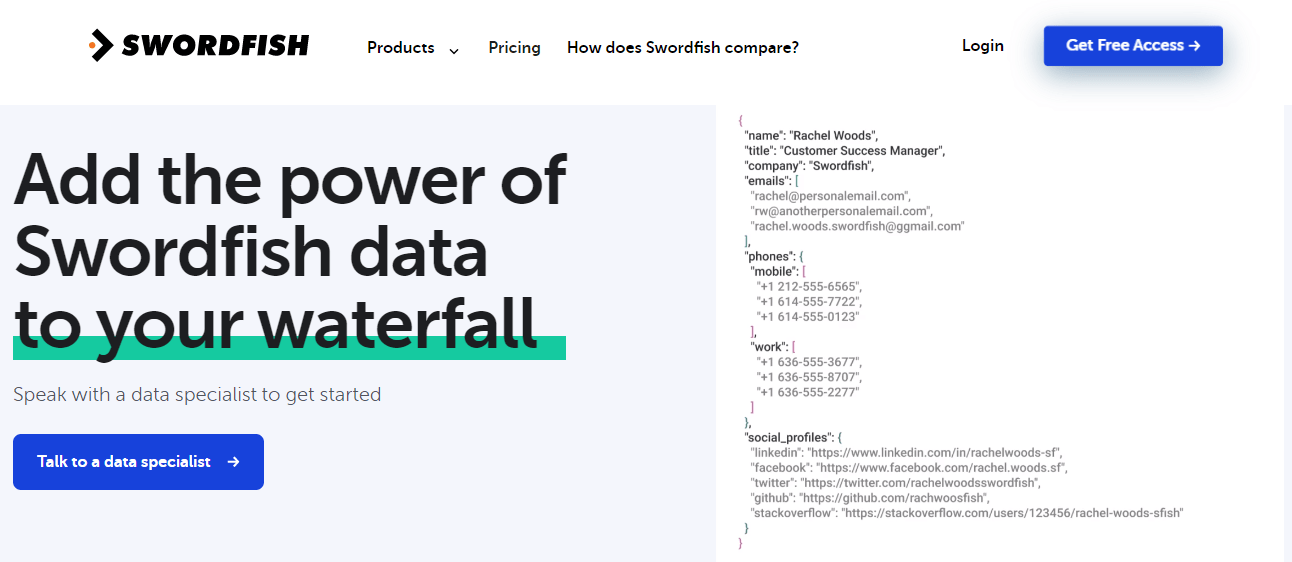 Swordfish provides an API that allows you to enhance and optimize your company's sales process.
File Upload
Whether you have a spreadsheet of leads or customer information, you can upload the file to Swordfish and get instant results.
With file upload, you can save time and effort by avoiding manual data entry or searching for contact details individually. Instead, you can upload a batch of data and let Swordfish do the work.
Swordfish empowers you to reclaim lost time, enhance your prospecting efforts, and drive revenue growth.
Whether you need to find missing contact data, enrich your existing leads, or uncover new opportunities, Swordfish provides the solution. Now that we have explored the powerful features of Swordfish let's discuss its pricing options.
Swordfish AI Pricing
You can contact our team to get the pricing. B2B Sales and HR Teams of the world's top brands, like Uber and Deloitte, are crushing their numbers with Swordfish AI, and you can too!
Here are the four plans offered by us-
Sales

Recruiter

Marketer

API

Crush Your Quota

Accurate email, direct dial and cell phone numbers

Fill in the blanks of your CRM

Integrations to fit your workflow

Hit Hiring Goals

Advanced candidate search with personal contact data

Build your talent pipeline

Integrations to fit your workflow

Turn Leads Into Pipeline

Build audiences with direct contact data

Append your existing data

Integrations to fit your workflow

Custom Data Solutions

Business & personal email addresses

Direct dial & cell phone numbers

Real-time validation
Conclusion
Building a consistent pipeline of qualified leads is essential for the growth and success of any B2B SaaS company. You must understand where your customers are in their journey and strategically move them down the sales funnel.
We have discussed multiple channels and strategies for the same that will help you with your lead generation for B2B SaaS. Additionally, consider leveraging Swordfish AI to accelerate your lead generation process.
Swordfish AI verifies the contact information in real time and provides the most accurate data with the help of its vast database of over 3.5 billion contact profiles. Try it today for free and supercharge your sales pipeline.