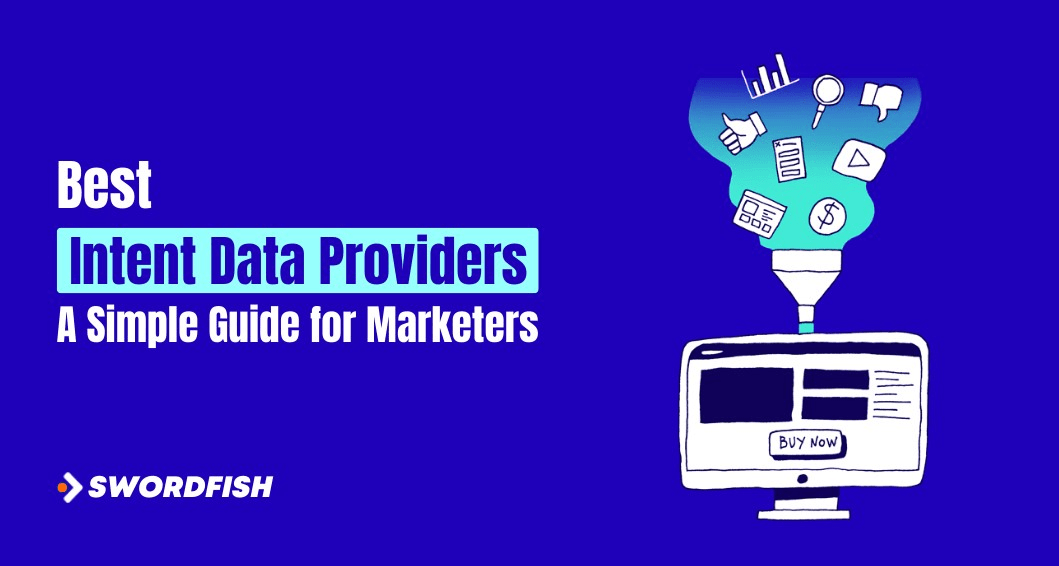 Intent data is like a flashlight in the dark world of data analytics. It shows what potential buyers might be interested in. According to InboxInsight, 26% of B2B marketers use their own data, 19% use data from outside sources, and 55% use a mix of both.
Even, HubSpot found that 61% of these marketers struggle to get traffic and leads. This is where intent data shines. It turns simple interests into clear actions.
As online business gets more complex, we must use intent data providers. It isn't just a good idea, it's essential to increase sales and ROI. That's why, we'll explore the best intent data providers to help your marketing efforts.
What is Intent Data?
Intent data shows when businesses are keen on buying a particular product or service. It's like piecing together a puzzle from the digital hints buyers drop online. These hints can be the websites they visit, the content they read, the keywords they search for, or their social media activity.
Buyer intent data providers gather these hints to offer valuable insights about a buyer's intentions. When you understand these insights, you're in a better position to secure more deals.
But remember, just because someone wants to buy doesn't mean they can. That's why many providers combine intent data with other details, like company information and technology usage, to give a complete view.
There are different kinds of intent data, each with its strengths and weaknesses:
First-party intent data: This comes from your own sources, like your website or social media. It tracks how leads interact with your brand, helping you gauge their interest.
Second-party intent data: Data that you purchase from another company. It might come from places like review sites, such as TrustRadius or G2.
Third-party intent data: This data is collected by external vendors from various online sources. They process and organize it to give you a broad view of what your potential customers are interested in.
Why Should You Use Intent Marketing Tools?
Intent marketing tools give you a detailed look at who's visiting your website. You can see things like the size of their company, their revenue, and the industry they're in. These tools also help you understand your ideal customer, check how up-to-date your lead information is
Plus, they give advice on how to approach each potential customer. Here's how using intent marketing tools can benefit you —
Better Understanding Of Your Audience
You can get a clearer picture of who you're targeting by looking at various details, like their company's size, technology they use, and personal demographics. This helps your team decide which leads to focus on and which ones might not be the right fit.
More Effective Campaigns
Marketers can design campaigns that really speak to what the buyer needs, leading to more successful outcomes. By segmenting your data, you can better target specific groups, increasing your chances of success.
Personal Touch
Sending messages that feel personal can make a big difference in B2B sales. When you address prospects by their name and role, and offer content that fits their current needs, they're more likely to engage.
Better Customer Support
By using intent data, companies can get a deeper understanding of how customers shop and any changes in their behavior. This means support can be customized for each customer, making them happier at every step of their buying journey.
Among the tools available, the best intent data providers can offer insights not just for B2B but also for B2C intent data, catering to a wider range of businesses.
How Do You Pick the Right Intent Data Software?
Choosing the right intent data software from so many options can be tricky. Here's what to consider —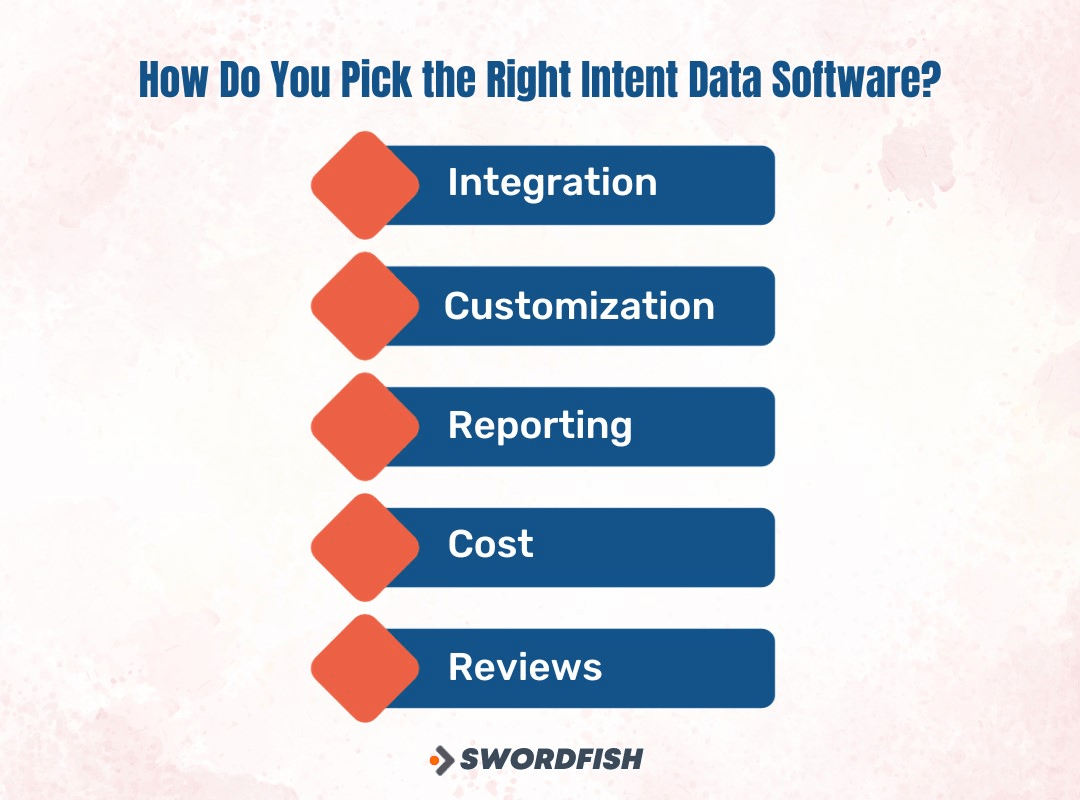 Integration: Make sure the software works well with your existing marketing tools. This helps you use the data smoothly in your campaigns.
Customization: Good software lets you filter and group data. This way, you can focus your campaigns on the right people.
Reporting: Look for tools that offer clear analytics. This helps you see how well you're doing and where you might need to change things up.
Cost: Find software that fits your budget. Check what features it offers and its monthly price to see if it's a good deal.
Reviews: While reviews can't tell you everything, they can give you a sense of how useful a tool is, its features, and the quality of its support.
Remember, understanding what intent data is can help you make a more informed choice. Always consider your business needs and what each tool offers.
Top 10 Intent Data Providers to Increase ROI
With so many choices out there, finding the right one can be tough. We've made a list of the top 10 providers that help improve profits. Check it out to find the best match for your needs.
1. Swordfish AI
Swordfish AI stands out as a prominent intent data provider, helping businesses uncover both professional and personal contact details. The platform is designed to scan social media profiles of professionals, ensuring real-time accuracy in its findings.
We have a unique cell phone number and a proprietary cell phone verification system. Furthermore, with access to over 3.5 billion data profiles, Swordfish ensures a vast reach.
With just one detail, Reverse Search gives you full contact info for key people. Besides, we offer you to upload your Excel or CSV files, and we'll update missing details like job titles, locations, and contact info. It helps you avoid reaching out to outdated contacts.
The 'Update Job Title + Company' tool prevents wasted time on wrong calls. Plus, you can use our Chrome Extension to quickly find prospects on sites like Facebook, LinkedIn,and Twitter. It's a time-saver for sales and recruitment, letting you add many contacts at once.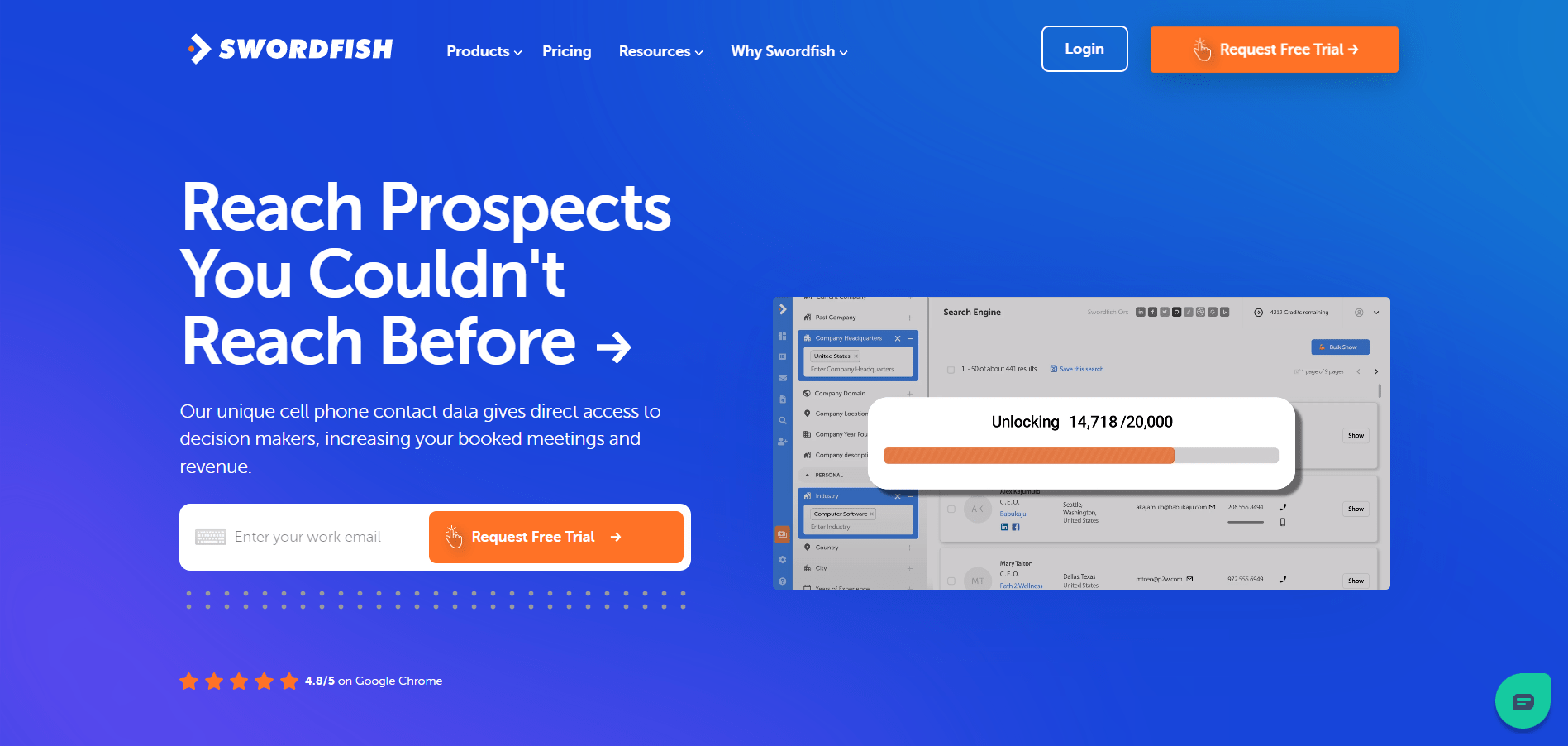 Pros
Accurate real-time data extraction
Integration with major social platforms
Machine learning-enhanced data accuracy
Compliance with GDPR and CCPA
Vast access to 3.5 billion profiles
Unique cell phone verification system
Cons
Limited results with deep search option
Pricing
New members can take advantage of an exclusive complimentary trial. Afterward, explore our diverse premium offerings, from Sales and Recruiter to Marketer and API packages.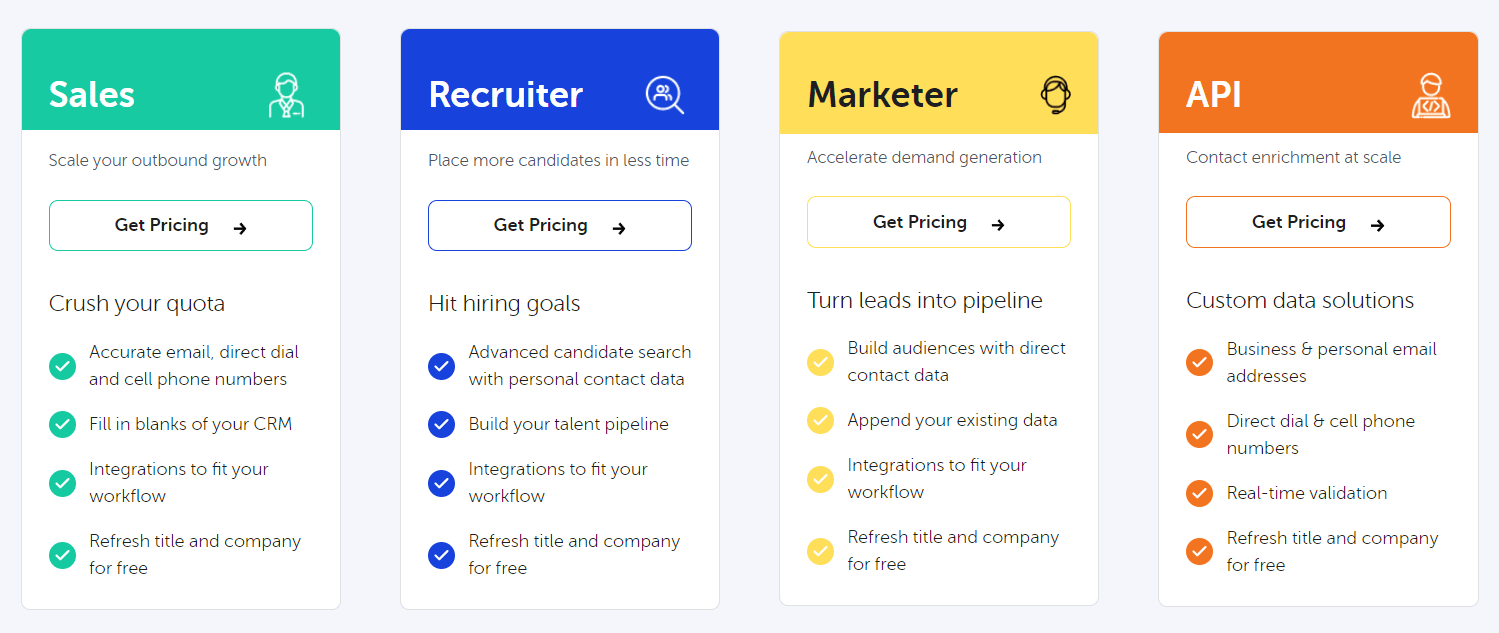 Reach out for a free trial and share your goals with us. We'll create a pricing plan specially designed just for you.
Try Swordfish Ai
2. Bombora
Bombora stands out as a pioneer in the realm of B2B Intent data. Their Data Cooperative is the most detailed and privacy-friendly you'll find online.
Its data is ethically sourced from a cooperative of consent-based websites, making it a trusted choice for businesses. They collect data directly from users, with their consent, from over 5,000 top B2B sites, providing a genuine insight into a buyer's digital journey.
This data helps businesses gauge the level of interest in purchasing. Furthermore, Bombora's data integrates seamlessly with all major platforms within the sales, B2B ad, and martech ecosystem.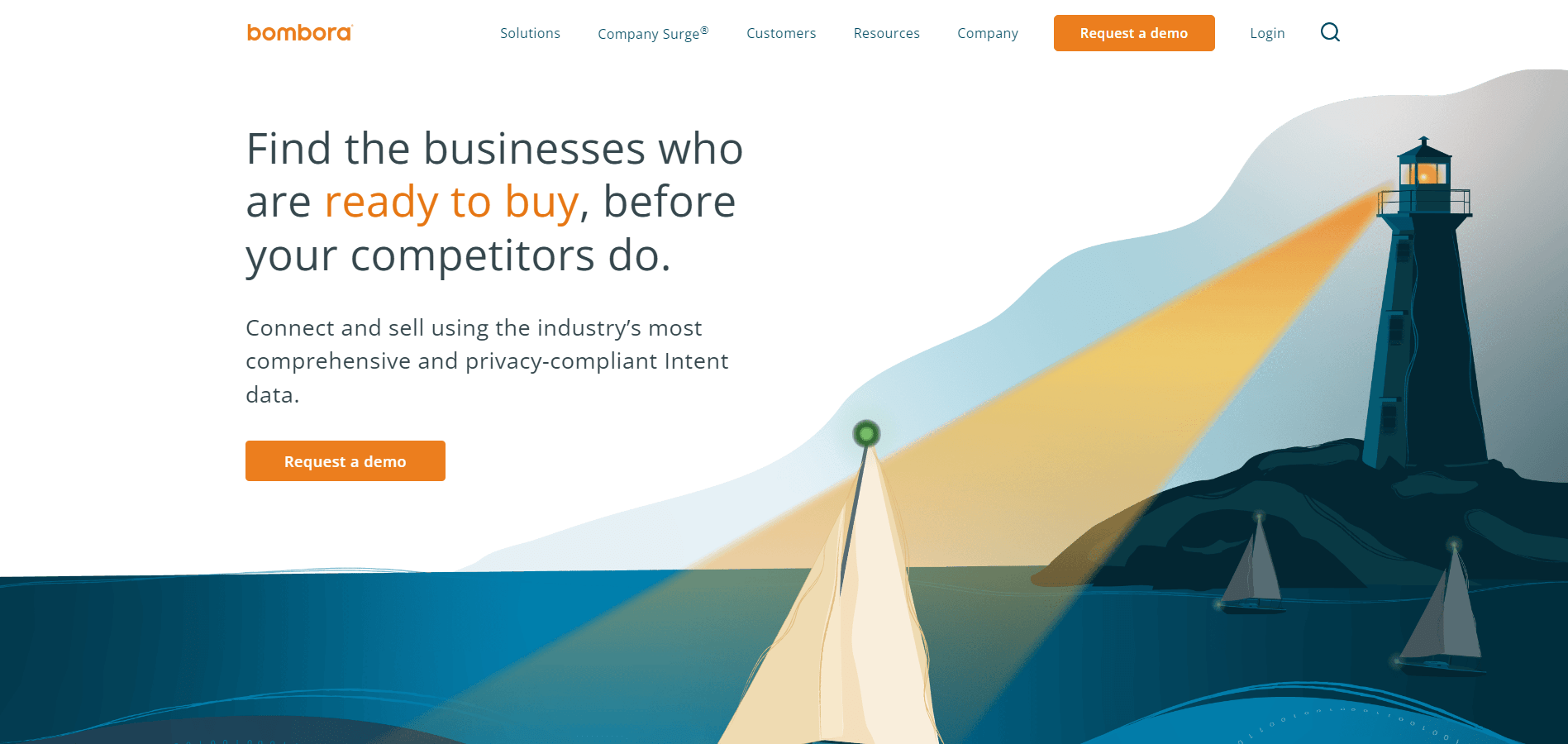 Pros
Comprehensive, privacy-compliant Data Cooperative.
Ethically sourced data from over 5,000 B2B sites.
Seamless integration with major B2B platforms.
Accurate reflection of buyers' digital journey.
Advanced machine learning for true buyer intent.
Patented method for business identity resolution.
Cons
Tracking on the site could be better
Pricing
To get your customized pricing, fill out the form, and they'll get back to you within two business days.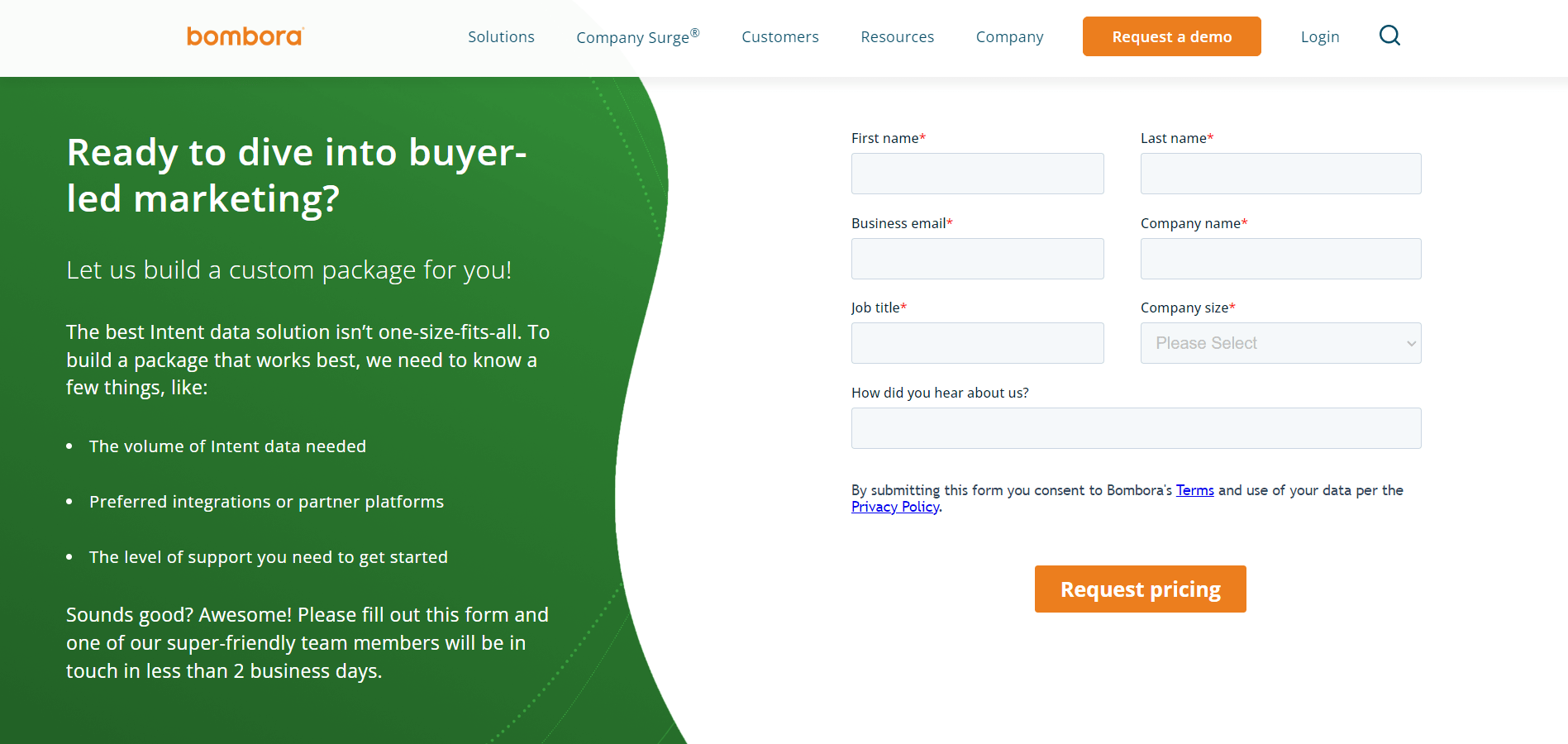 3. Lusha
Lusha is a prominent player in the business intelligence and lead generation domain. It's designed to enrich your contact list, boost conversion rates, and simplify sales prospecting.
With a user-friendly web extension compatible with Chrome, Firefox, and Edge browsers, Lusha offers seamless access to vital contact data from platforms like LinkedIn and other B2B sites. The platform boasts a vast database, aiming to provide accurate and up-to-date contact information.
Lusha is trusted by over 800,000 sales professionals, catering to both small businesses and large enterprises. Notably, renowned companies like Google, Amazon, Salesforce, and Apple utilize Lusha's services.
It's a vital tool for sales and recruitment professionals, Lusha helps businesses navigate the challenges of a rapidly changing workforce.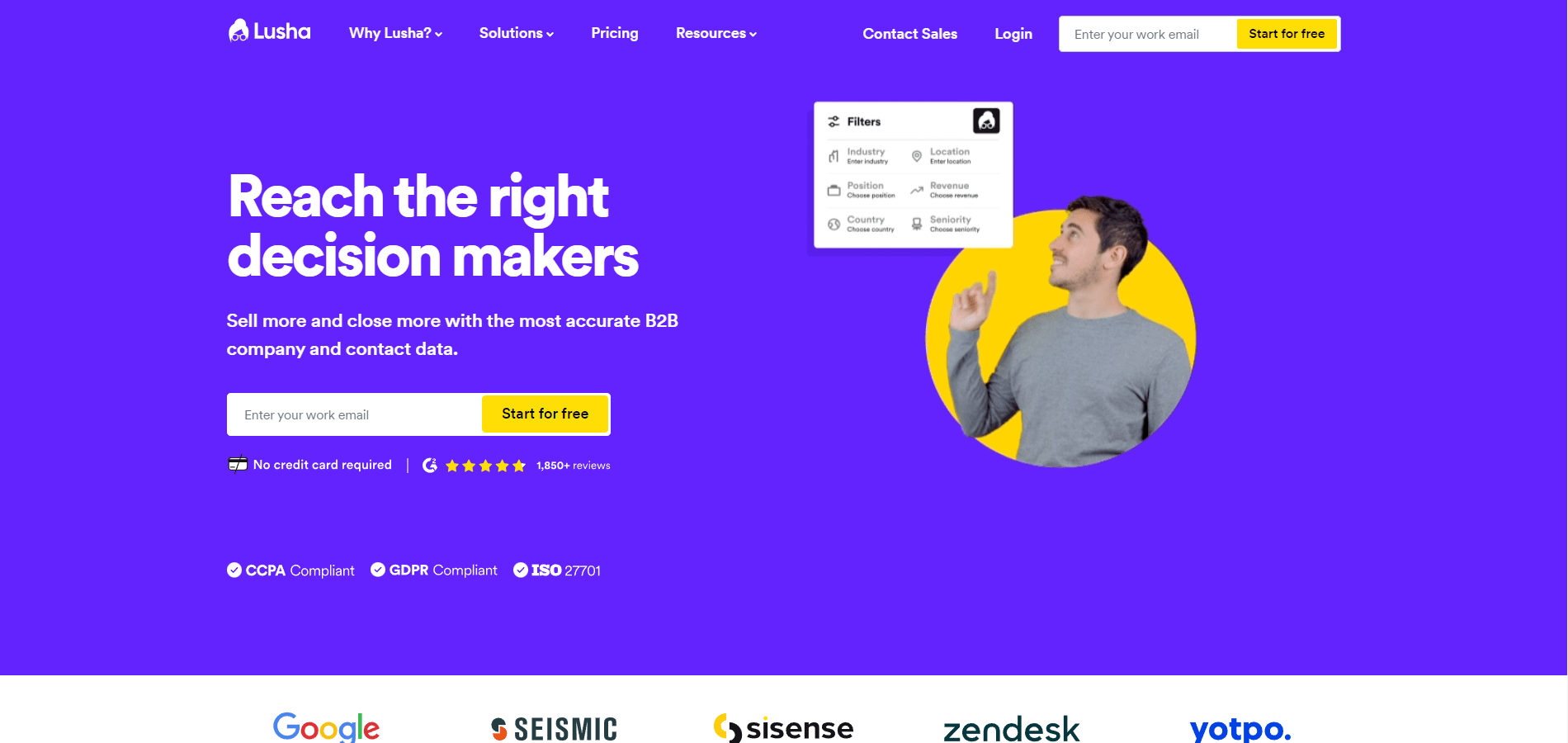 Pros
Web extension for easy data extraction
Bulk enrichment for CRM contact addition
Advanced lead data segmentation
CRM integration with major platforms
Data compliance with GDPR and CCPA
Data cleaning and enrichment features
Cons
Salesforce integration is difficult
Pricing
As a you newcomer, you can benefit from our Complimentary package, granting 5 credits without any charges. For a more advanced experience, the Advanced package at $39 per user per month provides 40 credits.
Those seeking a comprehensive solution can opt for the Elite package at $69 per user monthly, which comes with 80 credits. For custom solutions, we encourage you to get in touch with Lusha directly.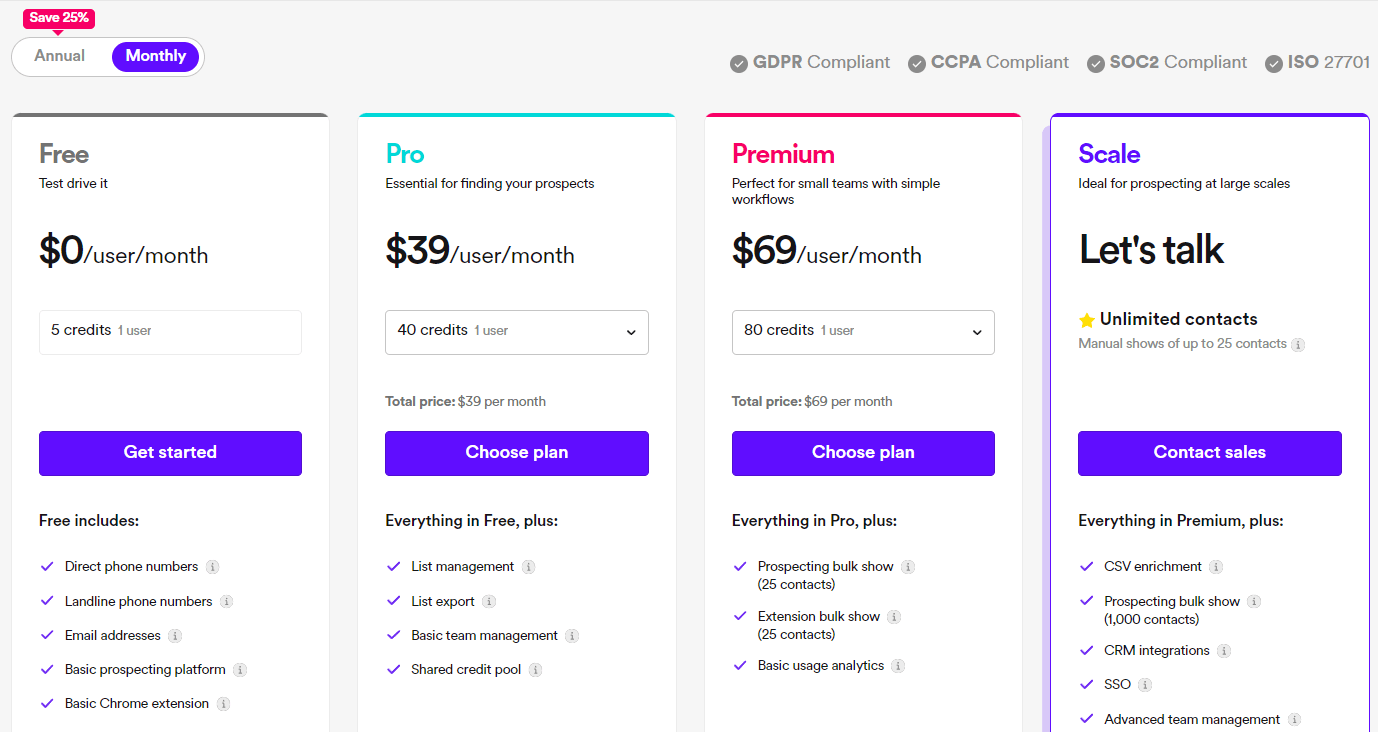 4. ZoomInfo
ZoomInfo stands out as a leading go-to-market intelligence platform tailored for business-to-business sales and marketing professionals. The platform combines advanced technology with a large database, ensuring data coverage, accuracy, and depth.
Serving over 20,000 customers, ranging from global enterprises to small businesses, ZoomInfo helps businesses reach their ideal customers. The platform provides access to over 50 million direct dial phone numbers and millions of verified email addresses.
Furthermore, ZoomInfo's buyer intent feature enables sales teams to identify prospects actively searching for topics related to their business. ZoomInfo provides accurate and actionable insights that make it invaluable for lead generation, prospecting, and recruiting.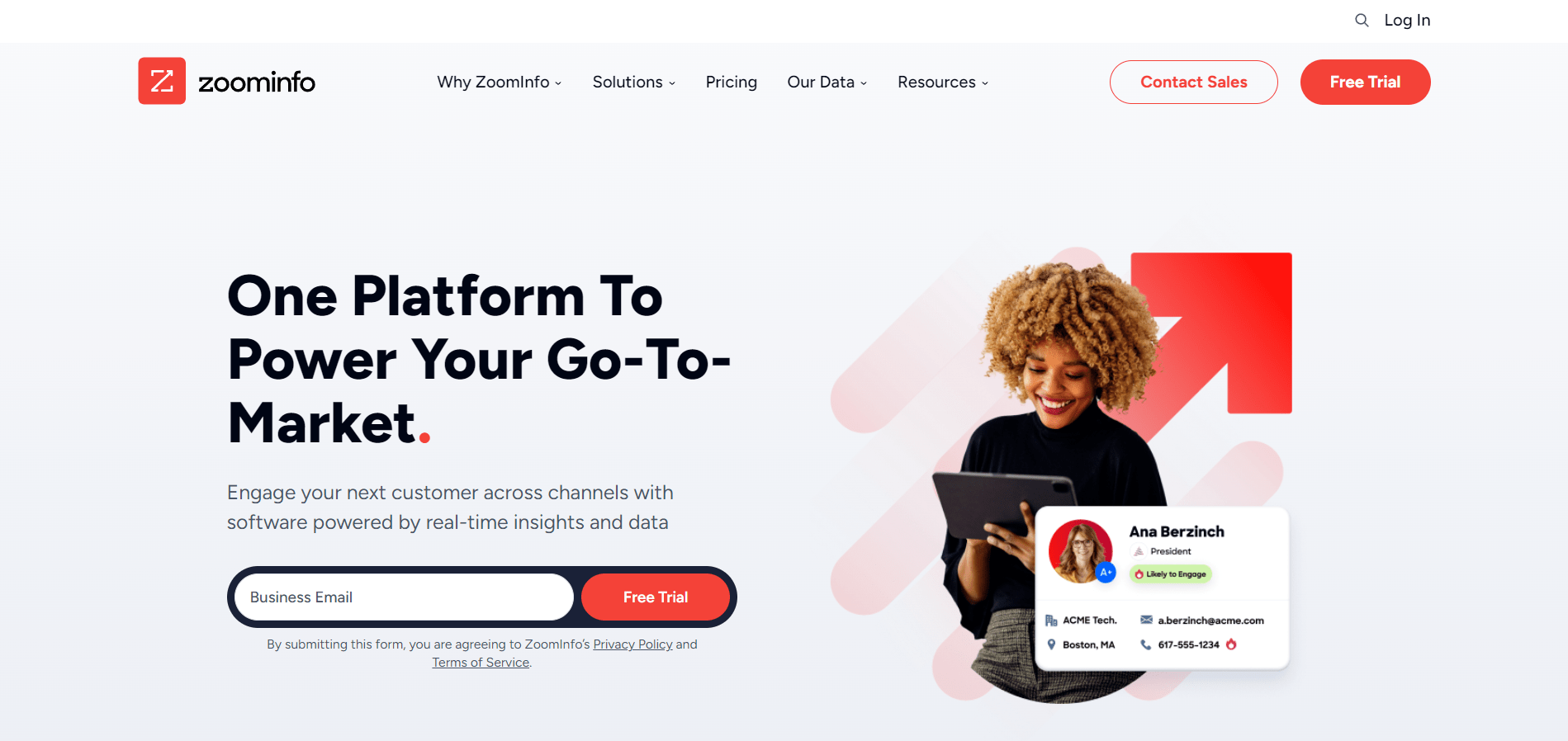 Pros
Extensive B2B contact database
Buyer intent feature for sales-ready prospects
Conversation Intelligence for sales call analysis
Automated sales workflows based on buying signals
Customizable solutions for enhanced data control
Integration with major CRM platforms
Cons
Pricing
There are 3 plans available for you, but you'll need to reach out to them for a custom quote.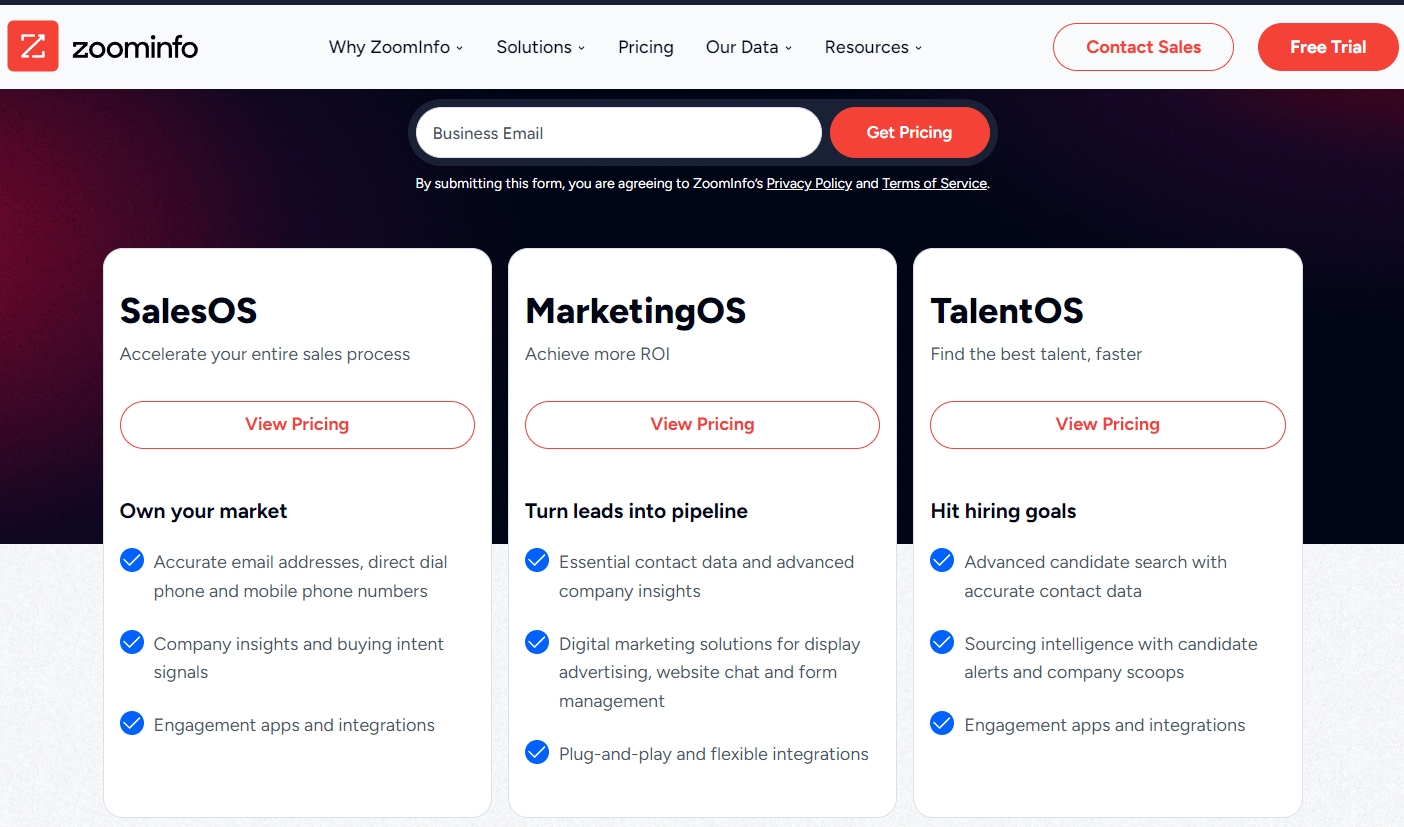 5. Demandbase
Demandbase is a tool that helps sales and marketing teams work together on account-focused tasks. They provide tools for sales insights, account details, and advertising to strengthen your marketing approach.
As an intent data provider, Demandbase stands out with its unique approach to go-to-market intelligence designed for B2B sales and marketing professionals. The platform is designed to help you locate, prioritize, and measure the effectiveness of in-market accounts.
Due to its ability to deliver precise insights, Demandbase has become a vital tool for growing quality pipelines and increasing customer lifetime value.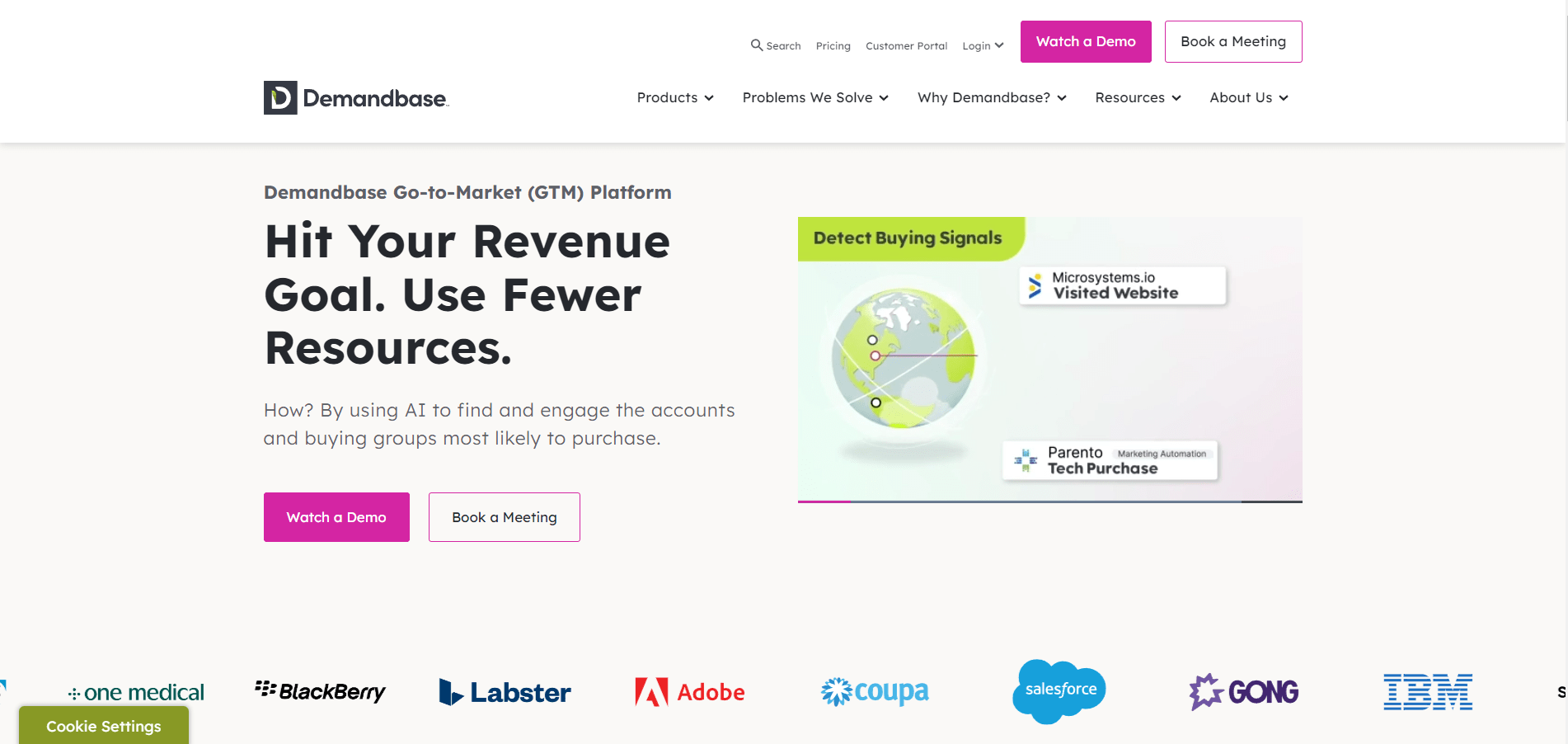 Pros
AI-driven go-to-market platform
Precise targeting of in-market accounts
Comprehensive B2B data insights
Sales intelligence for better prospecting
Seamless integration with major CRM platforms
Account-based advertising for precise targeting
Cons
There's room for improvement in reporting
Pricing
You can choose from Professional, Enterprise, or Elite plans. However, you'll need to contact them to find out the price.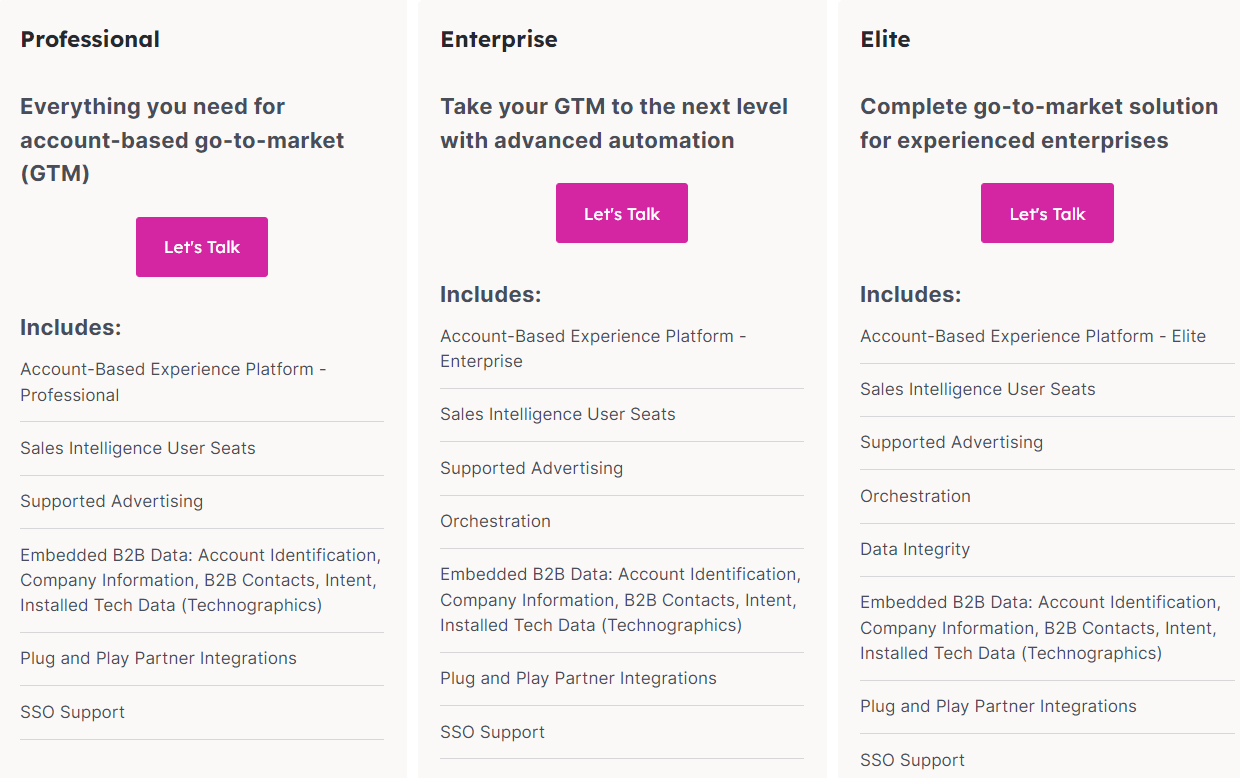 6. 6sense
6sense is a dynamic platform that offers a blend of AI-driven capabilities to B2B organizations, aiming to supercharge their sales and marketing efforts. As an intent data provider, 6sense provides deep insights into buyer journeys, helping teams prioritize accounts.
The platform's Property Intent Network offers insights for millions of B2B web domains, tracking billions of events and identifying buying behaviors. With its AI-powered scoring for accounts, leads, and contacts, 6sense offers actionable predictions, suggesting the next steps for sales teams.
This makes 6sense a powerful tool for businesses looking to harness the power of data to drive growth and revenue.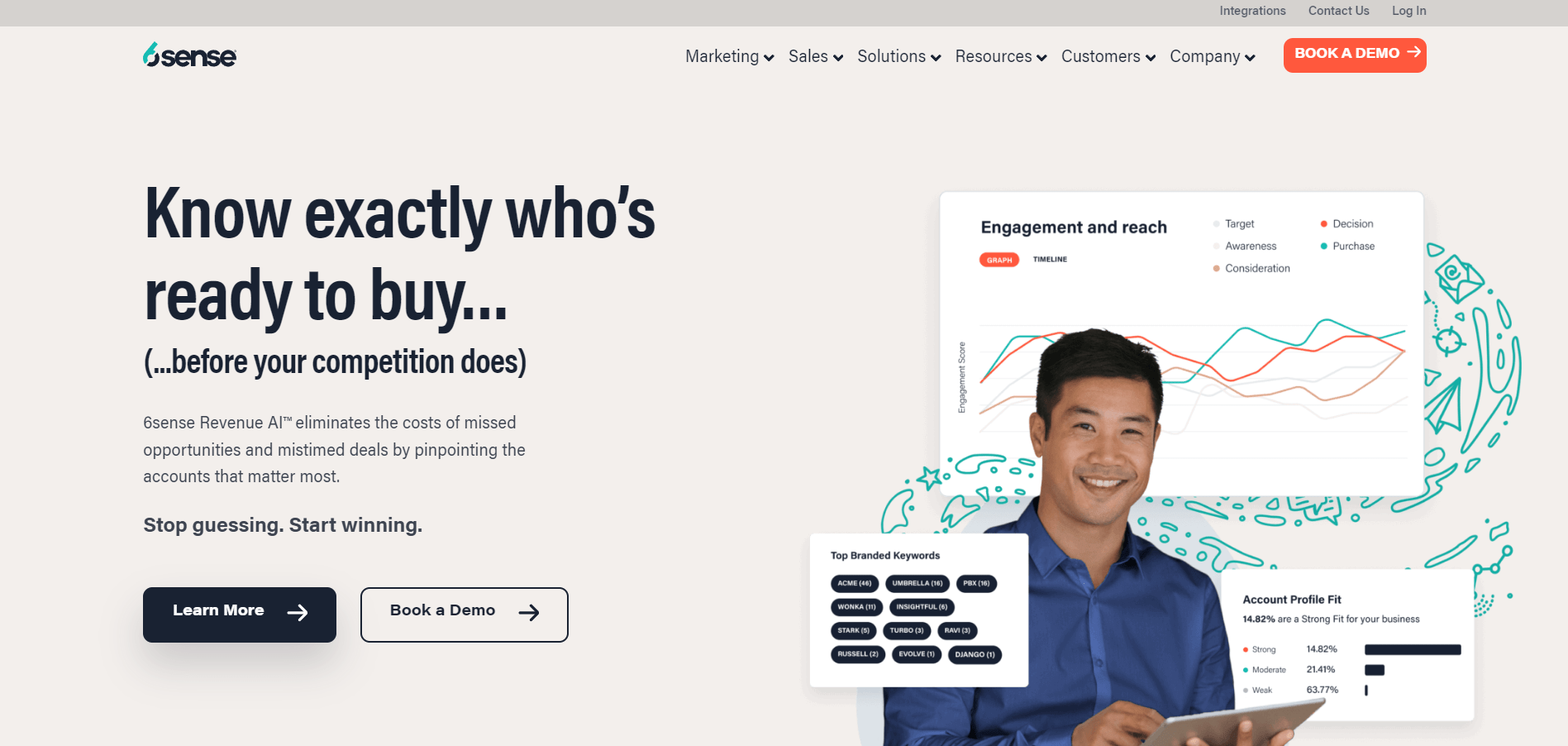 Pros
AI-driven capabilities for precise targeting
Comprehensive Property Intent Network
Accurate buyer journey insights
Predictive analytics for sales opportunities
Seamless omnichannel integration
Campaign analytics for performance measurement
Cons
Intent data visualization problems
Pricing
They provide a free brief demo for your convenience and then you can customize a plan based on your needs.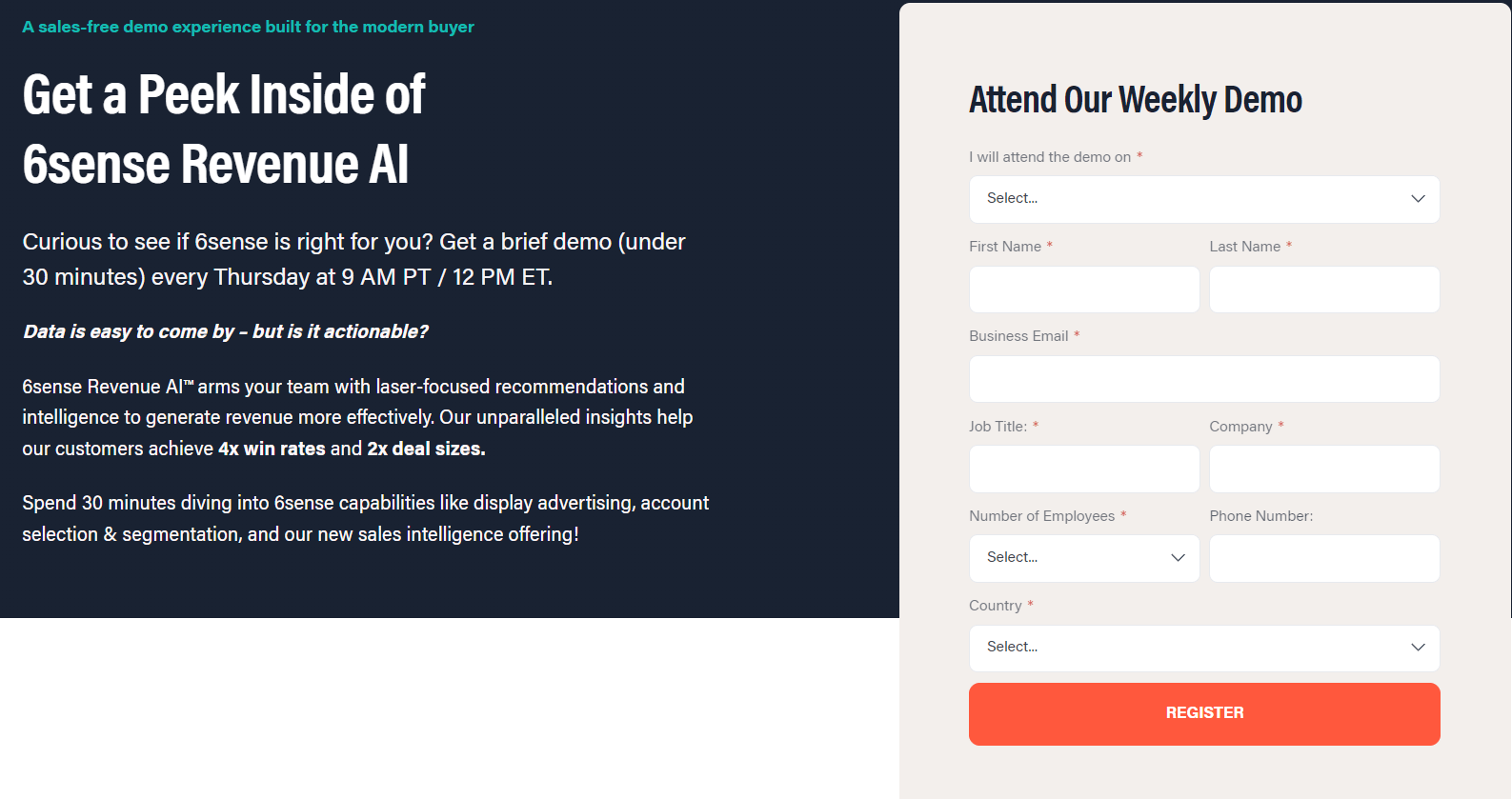 7. DemandScience
DemandScience is a leading B2B demand generation company. It optimizes marketing and sales processes by enabling organizations to identify the right prospects swiftly.
The company's Live Data Factory employs innovative technologies to deliver accurate data with pertinent intent signals. That way it facilitates organizations in accelerating the buyer's journey from top-of-funnel to conversion.
Founded in 2012, DemandScience boasts a global presence with offices in seven countries. Their offerings include PureABM, PureSyndication, and PurePush, which cater to various stages of the sales funnel.
With a commitment to quality and precision, DemandScience has positioned itself as a pivotal player in the intent data provider domain.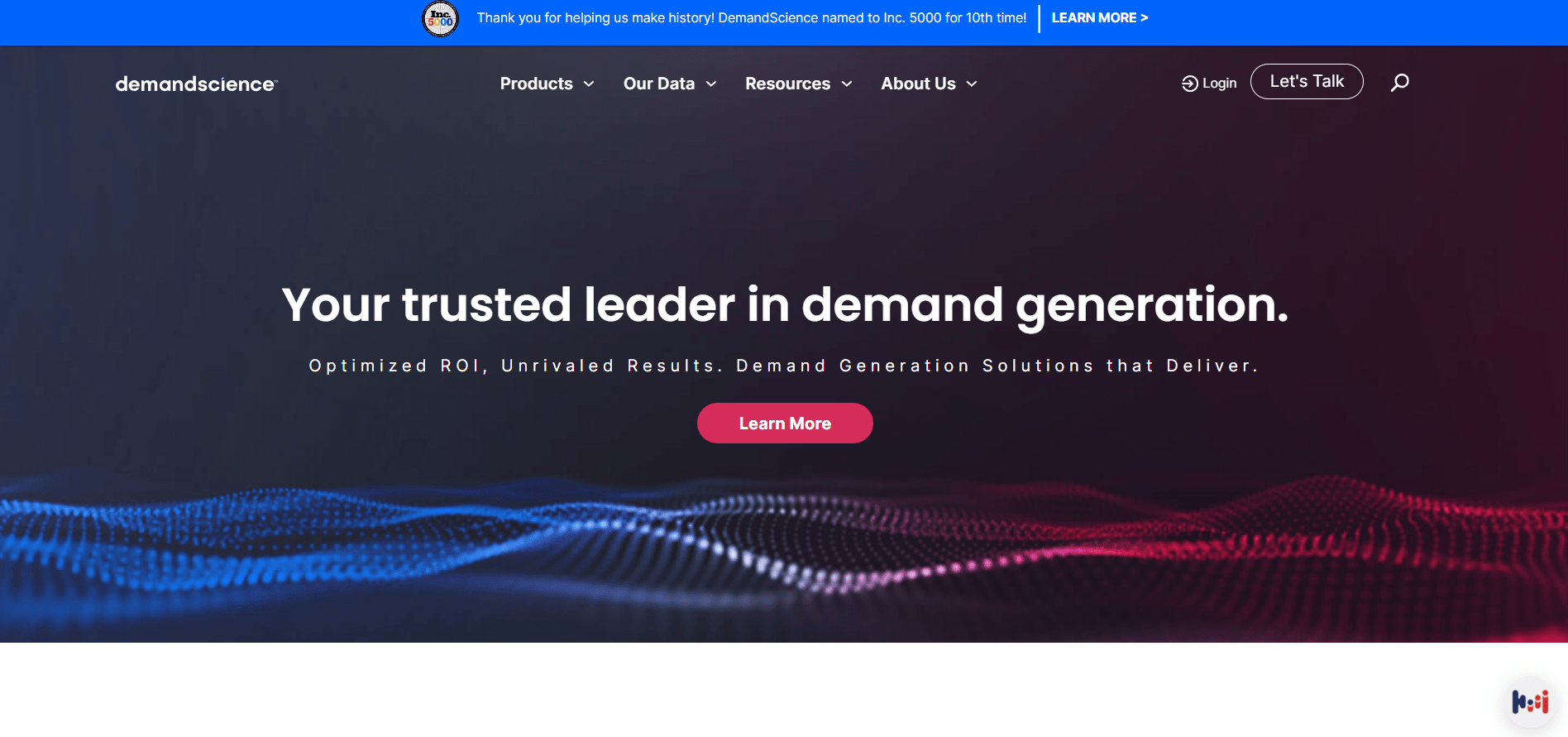 Pros
Global buyer intelligence leader
Accurate data with relevant intent signals
Accelerates buyer's journey effectively
Offers targeted ads to desired accounts
Provides mid and bottom funnel prospects
Cons
Intent data delays due to minor issues
Pricing
You can get it upon request
8. Leadfeeder
Leadfeeder is a specialized intent data provider that offers businesses insights into who visits their website. By integrating with Google Analytics, Leadfeeder identifies companies that browse your site.
Even if the companies don't fill out a form or make direct contact, it'll identify them. Thus, it allows you to identify potential leads and understand their interests based on the pages they visit.
The platform also provides contact information for the employees of the visiting companies, making outreach more targeted. Leadfeeder ensures sales teams have the right information at their fingertips to pursue promising leads with features like CRM integration.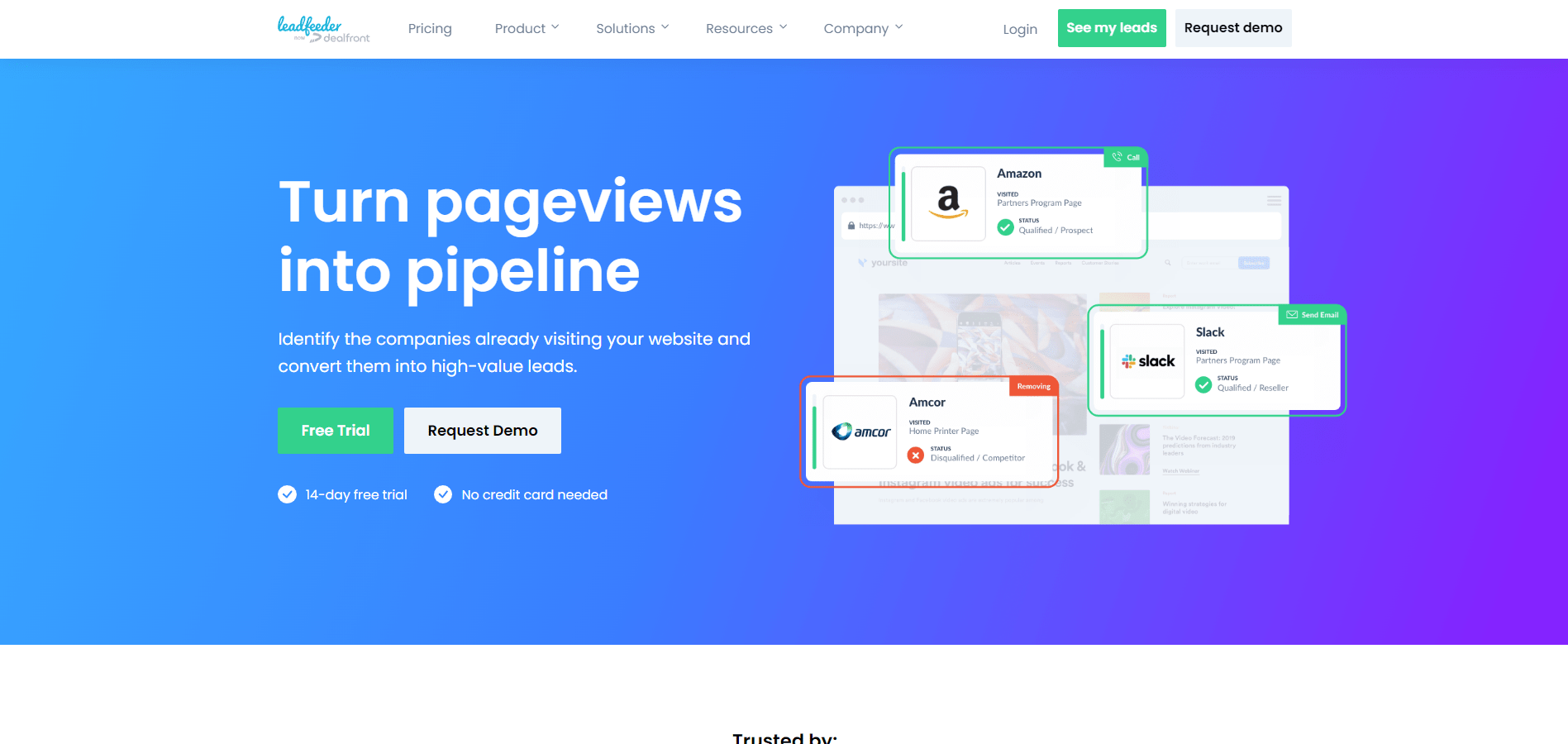 Pros
Integrates with Google Analytics
Provides contact details of visiting companies
Lead scoring for prioritizing outreach
CRM integration for seamless data transfer
Automated lead generation without forms
Real-time visitor insights for timely outreach
Cons
The analytics could be better
Pricing
Leadfeeder presents a duo of choices tailored for your tracking needs. Begin with their complimentary offering, which reveals data from the past week and pinpoints up to 100 firms.
For a more expansive experience, consider transitioning to their Premium package at $198 monthly, offering limitless data retention and unlimited user access.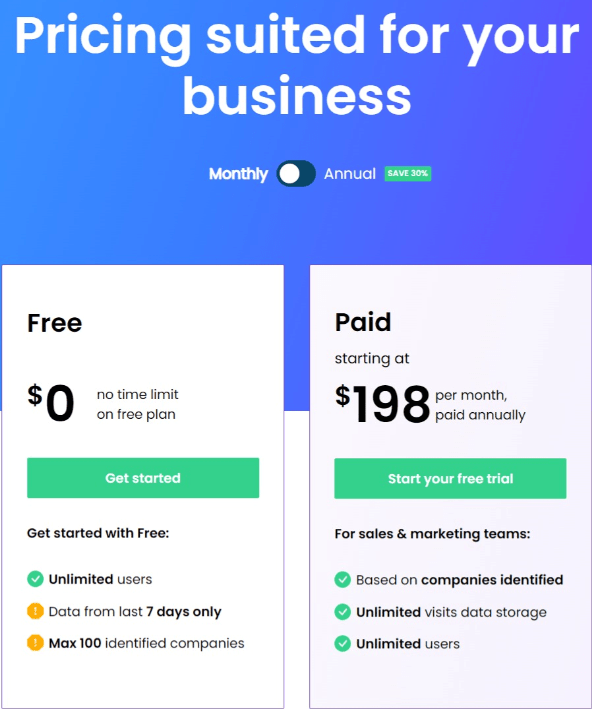 9. Lead Onion
Lead Onion is a potent tool designed to boost team collaboration and streamline communication within organizations. It offers a comprehensive set of features that help teams operate more efficiently.
One of its standout features is real-time messaging, allowing team members to communicate instantly and create channels for different projects or topics. This feature supports rich text formatting, emoji reactions, and file sharing.
Another significant aspect is its task management system, where users can create, assign, and track tasks with customizable boards. Lead Onion also emphasizes file sharing and document collaboration, providing a centralized platform for these purposes.
Furthermore, it integrates seamlessly with popular productivity tools, enhancing its utility and adaptability.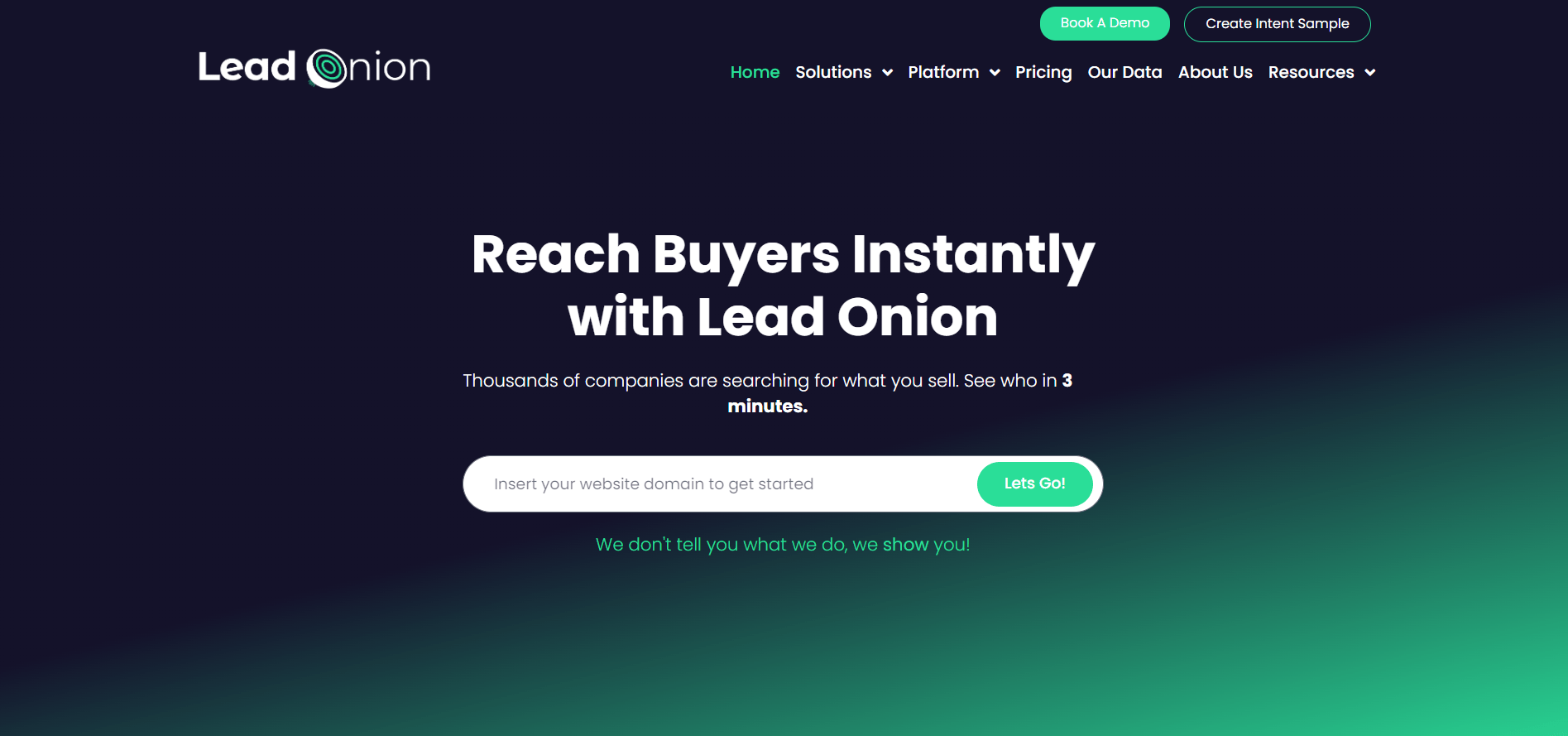 Pros
Real-time messaging enhances instant communication.
Comprehensive task management system.
Seamless integration with third-party tools.
Centralized platform for file sharing.
User-friendly interface with intuitive navigation.
Robust features tailored for diverse team needs.
Cons
There may be some outdated leads
Pricing
The Basic plan costs €200 monthly per user, offering 500 data credits and features like contact search. For those with larger needs, the Advanced plan is €1,500 monthly, providing 1,000 credits and real-time data for up to 20 team members.
For businesses aiming to scale, the Ultimate plan at €2,500 monthly grants 3,000 credits with no user cap. There's a plan tailored for every requirement.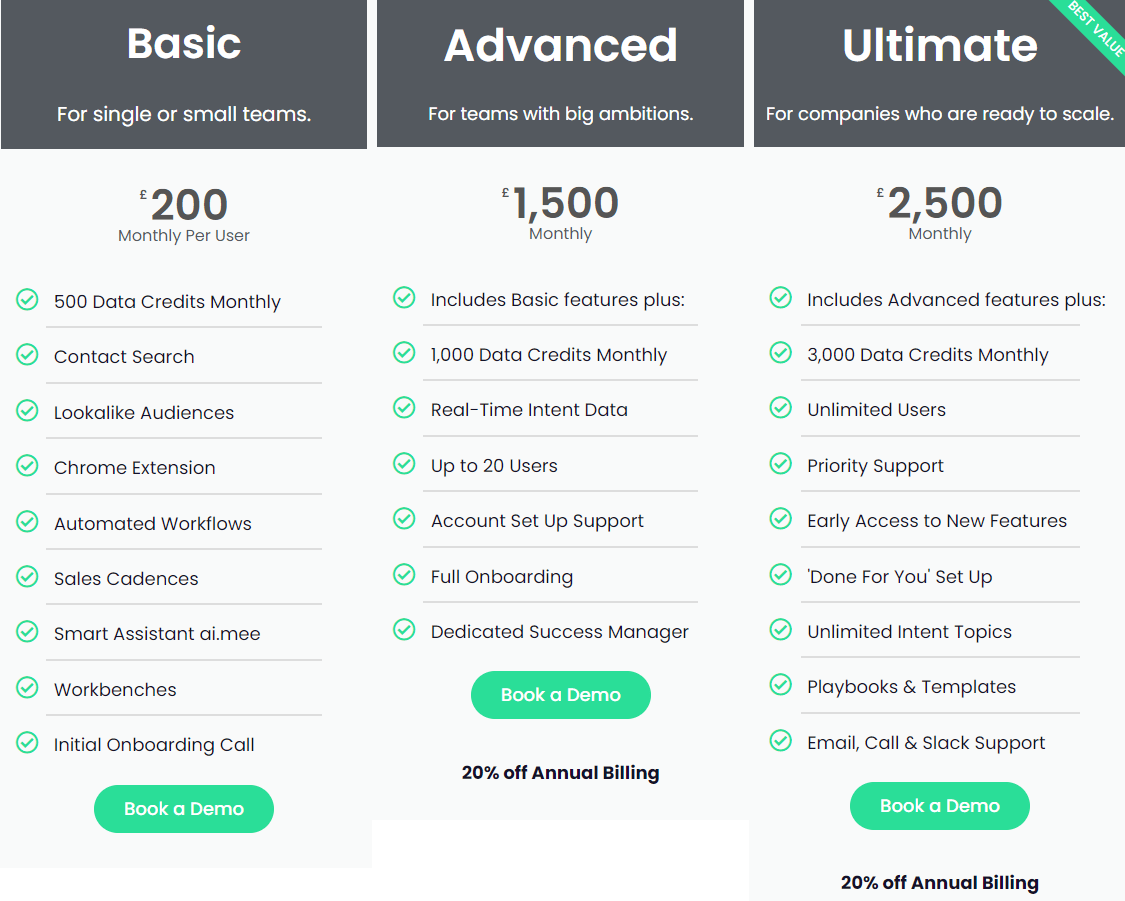 10. Terminus
With over 200 million business professionals in its database, Terminus stands out as a leading account-based marketing software. This is achieved using both proprietary and cookie data.
What makes Terminus unique is its ability to pinpoint the exact individuals associated with a particular brand or business. It then reaches out to these individuals across various platforms, including web, mobile, and social. As a result, persona-based campaigns deliver the right messages.
Terminus not only focuses on accounts but also offers insights into engagement, funnel progression, and media spending. It seamlessly integrates with Salesforce CRM, allowing for a more streamlined advertising experience for each account.
Moreover, Terminus Cloud for ABM provides users with the ability to design, implement, and scale an account-based marketing solution.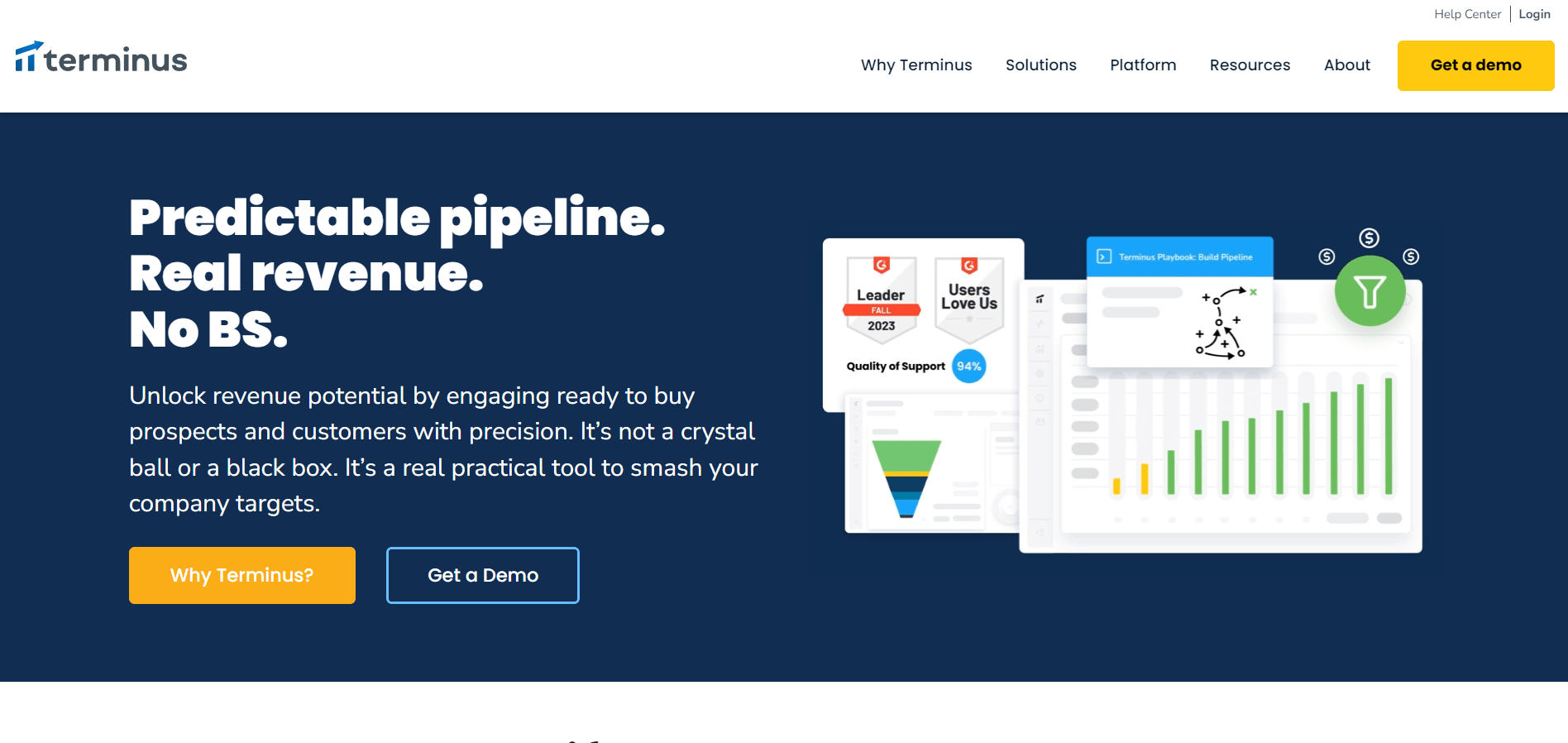 Pros
Targets over 200 million B2B professionals
Engages users across multiple platforms
Provides insights into engagement and funnel progression
Seamless Salesforce CRM integration
Offers Terminus Cloud for ABM customization
Cons
Pricing
They offer a demo where they learn about your business and mechanism. And then, you can ask for a customized plan with pricing.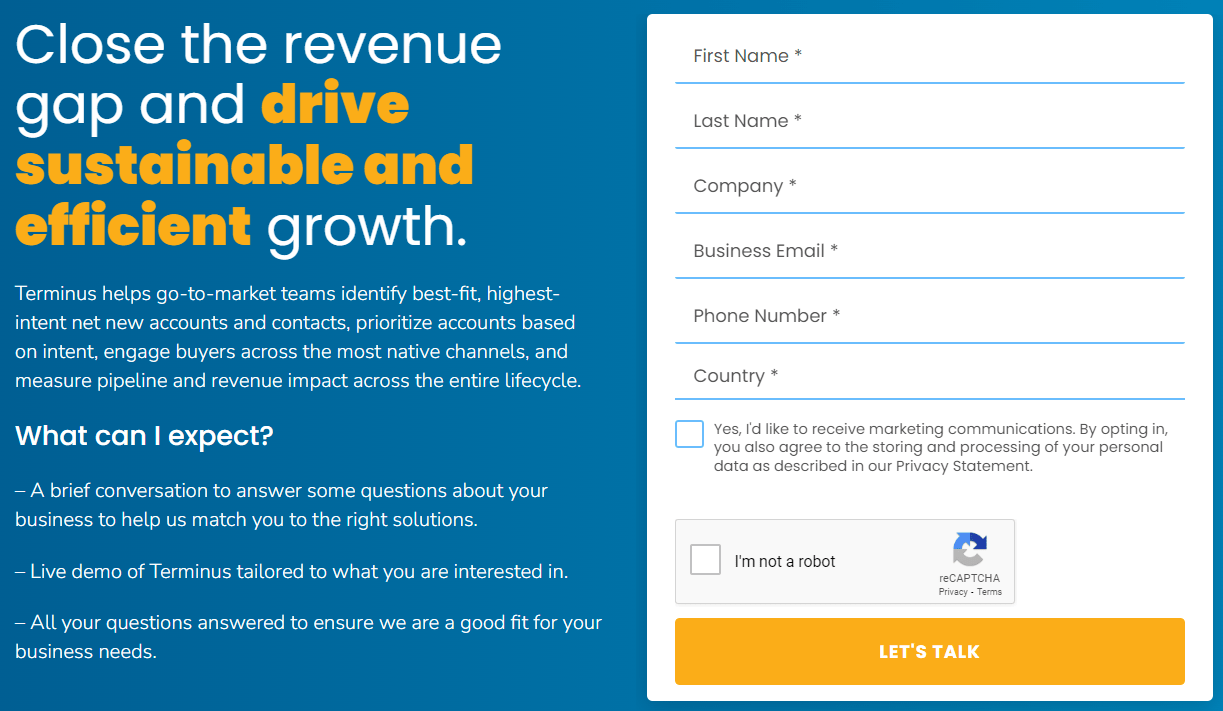 Important Pricing Considerations while Choosing Intent Data Providers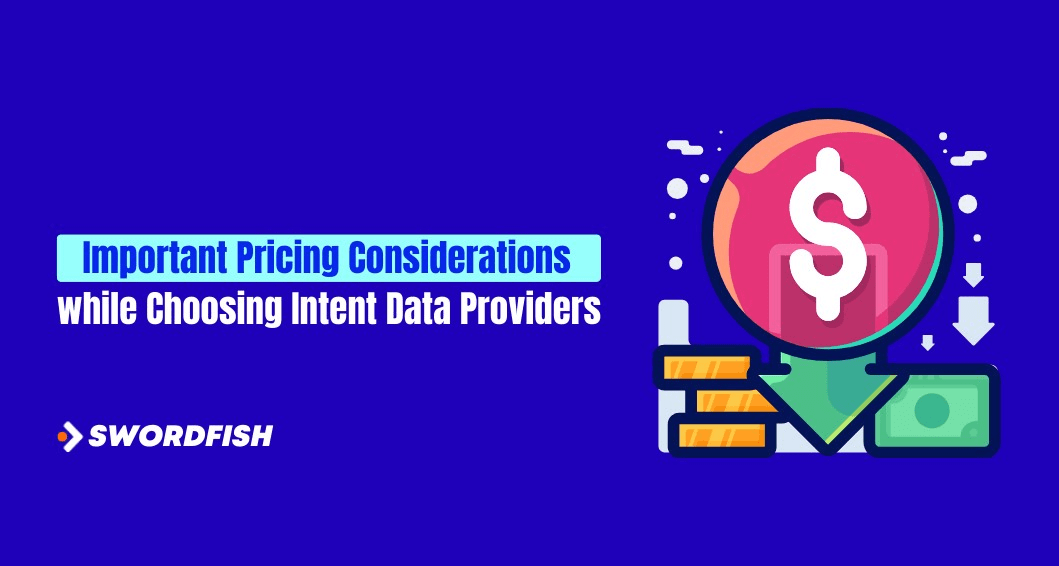 When it comes to pricing, it's crucial to understand what you're getting:
Contact Info
Some companies offer basic details like names and company contacts. Others provide direct contact info like emails and phone numbers. It's important to know how fresh this information is.
If a company gets its data from multiple places, it might be more reliable.
Contract Length
Some companies want you to sign up for three years, others for just one year or even a few months. While technology and its effectiveness keep evolving, shorter contracts might seem less risky.
However, longer contracts might come with discounts.
Filters
If you're new, you might get too much data. Good filters can help. Some tools let you set up profiles of your ideal customers and then filter the data to match. It's also handy if you can easily move this data to your other marketing tools.
Support
Since intent data is still new, learning how to use it is key. Some tools are straightforward, while others might have a steeper learning curve. A good company will guide you from the start and offer strong support.
Bundled Offers
Some companies include intent data in a bigger software package. This means you're paying for multiple features. It's best to choose packages where you'll use most of the tools.
A few tools can even be combined for more detailed results, like pairing intent data with tools that help identify potential buyers in a company.
Conclusion
As we've explored, intent data is making a significant mark in digital marketing. It's clear that businesses can gain a deeper understanding of potential buyers by tapping into their online behaviors.
The varied ways B2B marketers use data, whether their own, external or a mix, highlight the value of intent data. This variety in data sources emphasizes its crucial role in today's marketing strategies.
With the online world's complexities, intent data providers stand out as essential partners. They provide not just data but also the tools businesses need to understand their customers better.
However, if you're confused about which one to go for, go for Swordfish AI to collect intent data. With over 3.5 billion data profiles at its fingertips, Swordfish AI offers unparalleled accuracy, free trial, and depth in intent data collection.
So, try Swordfish today!
Try Swordfish Ai
Frequently Asked Questions
Where do companies get data on intent?
Businesses learn about your preferences in several ways. They gather info from their websites, apps, and customer records. They can also get details by teaming up with other businesses. For instance, they might get an email list from a partner.
Lastly, some businesses buy data from outside sources. This data doesn't show personal details but helps companies know what customers are looking for
What's private intent data?
It's information that shows when someone is looking online for a product or service, based on the websites and content they check out.
What's a double data type?
It's a type that can hold 64-bit decimal or floating-point numbers. It can store twice as much data as the float type. 'Double' is a standard data type.