Marketers rely on data to gain insights into customer behavior, target their audience effectively, and make informed decisions that can improve their return on investment (ROI).
Marketing data enrichment is a process that involves enhancing existing data by incorporating information from various sources.
This blog post will explore the importance of marketing data enrichment and how it helps improve ROI. You will understand the significance of marketing data enrichment and how it can empower your marketing efforts.
What is Marketing Data Enrichment?
Marketing data enrichment involves adding supplemental data and information verification to improve raw customer data. Third-party apps are used for verifying the information. This process makes sure that the information is up-to-date and accurate.
Marketing data enrichment helps businesses get complete information about their customers and understand them better.
Marketing Data enrichment can also involve adding external data to the organization's data. External enrichment data sources may include business partners, data syndicators, public sources (such as Census or Bureau of Labor and Statistics data), or newer digital data sources.
This enrichment provides deeper insights into customers' behavior beyond the brand's immediate environment.
Importance of Marketing Data Enrichment
Marketing data enrichment is a powerful tool that empowers marketers to unlock valuable insights and optimize their strategies. Let's explore the importance of data enrichment:
Improved Customer Segmentation: Enriched data provides marketers with more attributes to define customer segments, making it easier to tailor interactions and build relationships with similar groups of customers.
More Effective Communications: Data enrichment expands marketers' insights about each customer, enabling precise targeting of offers and content that are highly relevant, leading to increased conversion rates and brand loyalty.
Enhanced Customer Experiences: Enriched data helps brands understand customers' preferences, past interactions, and anticipate their needs, allowing for personalized and contextual experiences that drive higher customer satisfaction and engagement.
Precision Algorithms: With richer data, marketers can use cloud based quantum machine learning system, predictive analysis, and AI to develop accurate models of customer behavior, predicting wants, needs, and propensity to convert more effectively.
Reduced Data Management Costs: By enriching data in a planned and structured way, brands minimize the need for one-off data integration projects, reducing data management costs and providing marketers with readily available insights.
Increased Sales: Enriched customer data enables marketers to better understand the ideal target customer, their potential lifetime value, and the offers that resonate with them, leading to the creation of experiences and campaigns that drive new incremental sales.
How to Enrich Marketing Data?
Here are some effective strategies that help in enriching marketing data.
Have a clear Goal: You must have a clear idea about the goal you are trying to achieve from a particular marketing campaign. When you know your campaign's end goal, you can collect accurate and valuable data according to it.
Keep your data up to date: The data enrichment process is ongoing, and you have to repeat it regularly to ensure your data is accurate and relevant.
Web scraping tools: You can use web scraping tools to gather data from all over the web, and then you can import the relevant data to your CRM sheets and enrich your marketing data.
Segment your Audience: You can segment your customers according to a wide range of criteria like demography, age, or gender to group them and send them to suitable reps based on this segmentation.
Customer surveys: You can send surveys to your previous customers to understand them better. This will help you in segmenting your audience.
Top 5 Data Enrichment Tools
Here is a list of the best tools you can use for marketing data enrichment and boosting the ROI of your business.
Swordfish.AI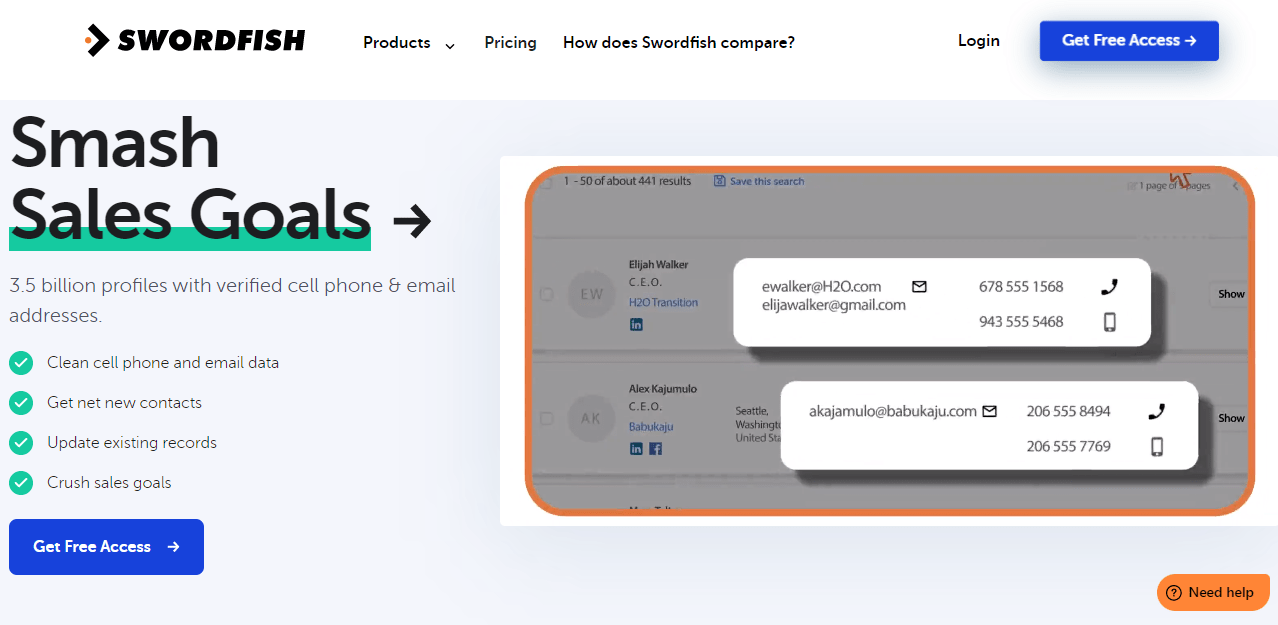 Swordfish.AI is a data enrichment tool that helps you make your customer data better. It uses advanced AI technology to give you more information about your customers. It can find missing details, update old information, and complete customer profiles.
Swordfish.AI looks at other data sources to give you useful and accurate information. This helps you understand your customers better, so you can personalize your interactions with them.
Features:
Google Chrome Extension: The tool is convenient, allowing easy access and integration with your browsing experience.
Vast Database Coverage: The tool provides access to a comprehensive and extensive database, ensuring a wide range of information is available for searches.
Free Trial Version: Users can explore the tool's capabilities through a free trial version, allowing them to experience its features before committing to a paid plan.
Unlimited Business Email Addresses: Users can search for and retrieve unlimited business email addresses, facilitating outreach and communication with potential contacts.
Direct Dial Phone Numbers: The tool provides access to direct dial phone numbers, allowing users to establish direct contact with individuals or businesses of interest without intermediaries.
Lusha

Lusha is a popular tool that helps businesses improve customer data by adding correct contact information. It has a big database of verified details like phone numbers and email addresses.
Businesses using Lusha with their CRM system can improve their customer profiles and reach out to customers more effectively.
Lusha easily connects to CRM systems and gets information from reliable sources, making it a trusted choice for organizations that want to improve the accuracy and completeness of their customer data. This helps them do better sales and marketing activities.
Features:
Prospecting Database: Access a database of around 60 million profiles to find prospects and candidates, with a 7-step verification system to ensure data accuracy.
Custom APIs: Enrich and automatically push data to your favorite tools and software, with options for data filtering and regular API updates.
Integrations: Seamlessly integrate Lusha with popular tools like Salesforce, HubSpot, and Gmail for enhanced productivity and efficiency.
Contact-Finder Extension: Install the browser extension on Chrome, Firefox, or Safari to quickly access contact information from platforms like LinkedIn and Salesforce.
Hubspot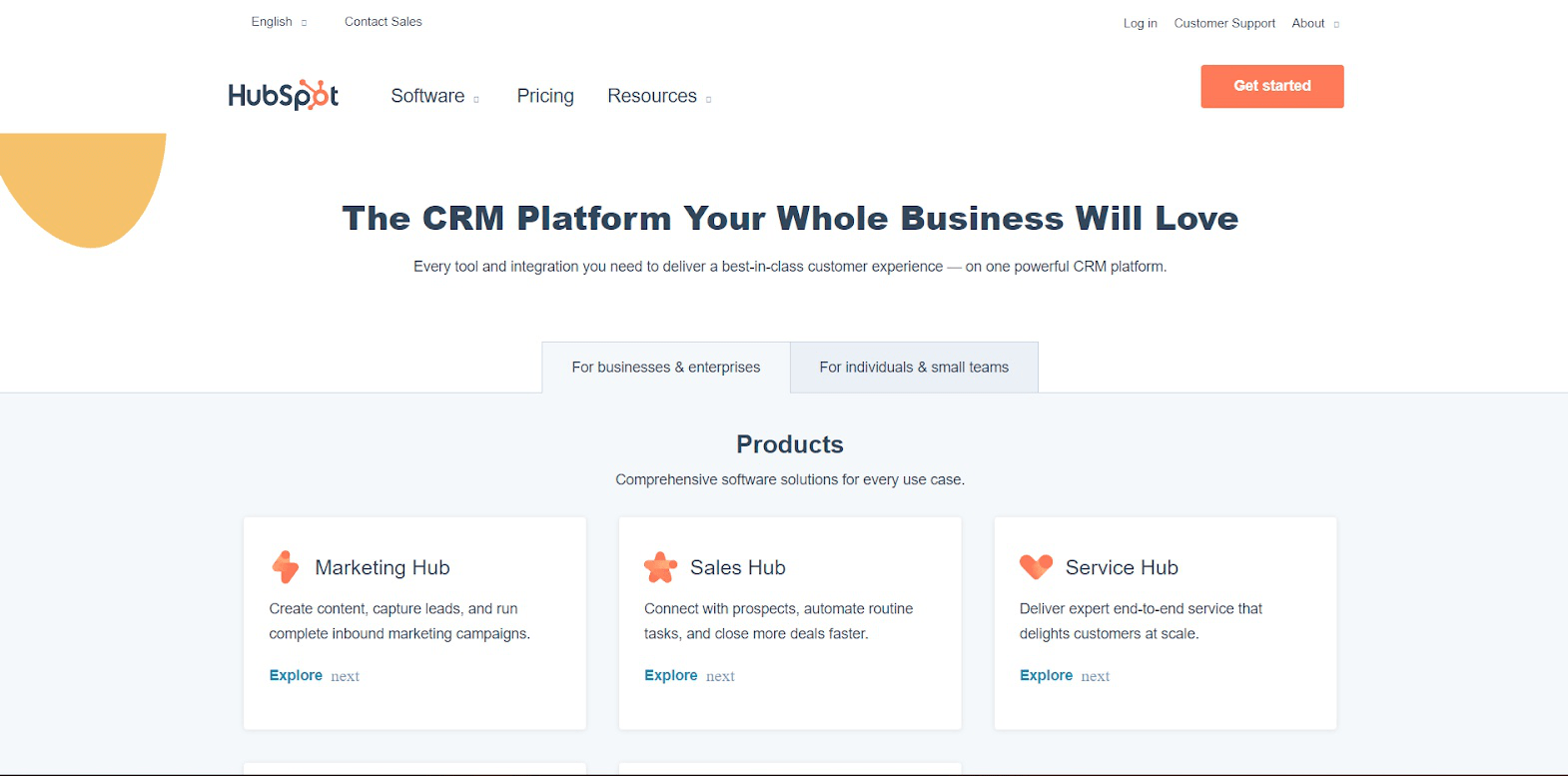 HubSpot CRM helps you maintain track of your contacts. It has many useful features that make organizing and managing your contacts easy.
You can customize the properties, tasks, activities, and web forms in the CRM to match your needs. This means you can set it up exactly how you want it.
HubSpot CRM has many sales tools, like live chat and email scheduling. These tools make it easier for you to sell and manage customer interactions.
Using HubSpot CRM, businesses can keep their contacts organized, make their sales processes more efficient, and have a unified approach to collecting and improving their data.
Features:
Email Performance Insights: Get valuable insights into the performance of your emails with clients, including open rates and engagement metrics.
Sector-focused Hubs: Easily manage different sectors of your business with separate hubs, all within one comprehensive tool.
Email Tools: Schedule, track, and engage with clients using email scheduling, tracking, and template tools.
CRM Integration: Seamlessly integrated with HubSpot's CRM for efficient tracking and collaboration across marketing, sales, and customer service teams.
Uplead

UpLead helps you find and verify contact information for businesses. They specialize in providing data for business-to-business (B2B) purposes.
With UpLead, sales teams can create customized lists of B2B contacts based on specific criteria. They can also verify email addresses using a lookup function and interact with prospects in real-time to improve their chances of converting leads into customers.
This software allows businesses to upload lists of company names, URLs, emails, and pre-qualified leads to gather important data for their sales processes.
Features:
Data Enrichment Mobile App: Use the mobile app to enrich data and find potential customers based on your target list.
Google Chrome Plugin: Install the plugin to extract lead information from LinkedIn profiles and business websites automatically.
Email Finders and Account-Based Marketing: Utilize email finders and implement account-based marketing strategies for effective outreach.
Integration with Third-Party Applications: Seamlessly integrate with popular applications like Zapier, Salesforce, Copper, HubSpot, and Reply for streamlined workflow and data synchronization.
Zoominfo

Zoominfo gives users access to contact information and profiles of different companies. This information can be used to research potential customers and create targeted lists.
Sales, marketing, and talent acquisition teams mainly use the software. It helps these teams generate leads and conduct market research. Zoominfo has a large database that allows users to find potential customers who match their specific criteria.
The platform's extensive database can also help identify potential clients who meet specific criteria and analyze customer interactions across virtual communication channels.
Features:
Automated Intelligence and Outreach: Automate contact discoveries and company searches with precision, eliminating the need for manual data updates.
Lead Enrichment: Prevent outdated and incomplete data by auto-updating with new additional information for simplified database management.
Enterprise API: Customize workflow and data presentation with the API, which enables search, enrichment, and appending of existing data.
Campaign Optimization: Understand the target audience, enhance data, and develop hyper-targeted campaigns with updated and accurate CRM data for successful outreach.
Swordfish is the best option among all these tools because of this vast database and accurate data. You can also get campaign analytics and reports with Swordfish. Read the details of Swordfish below in detail.
Swordfish.AI: Best Tool for Data Enrichment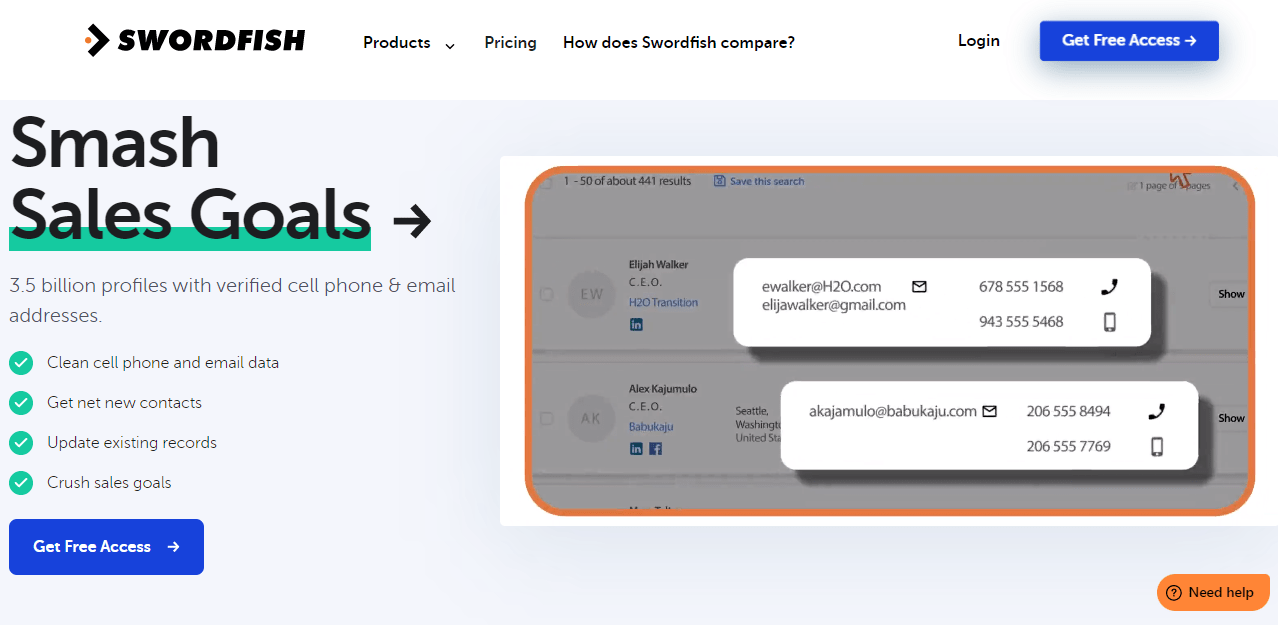 Swordfish.AI is a powerful sales intelligence tool designed to help businesses connect with potential clients, partners, and candidates. With its prospect database and verification system, Swordfish.AI enables users to access accurate contact information for leads.
The tool offers custom APIs for data enrichment and integration with popular CRM and marketing software. Swordfish.AI aims to streamline prospecting efforts, enhance data quality, and improve sales and marketing productivity.
It is a valuable tool for sales, marketing, and HR teams seeking to identify, verify, and engage with the right individuals for business growth. It offers accurate and up-to-date information and an easy-to-use interface.
Why is Swordfish.AI the Best Tool for Data Enrichment?
Here are why swordfish should be a top choice for data enrichment purposes.
CRM Data Enrichment: It offers CRM data enrichment which helps improve customer data and gets valuable insights about potential clients.
Contact Finder: Swordfish is popular for its efficient contact-finding capabilities. It offers accurate email and contact numbers, which help you connect directly to your potential customer.
Vast Database: Swordfish.AI has over 200 network partners that provide up-to-date information and gather verified data.
Easy to Use: It is easy to use with a simple interface.
Money-back Guarantee: Swordfish promises to return the money if you're unsatisfied with its features or services.
Pricing: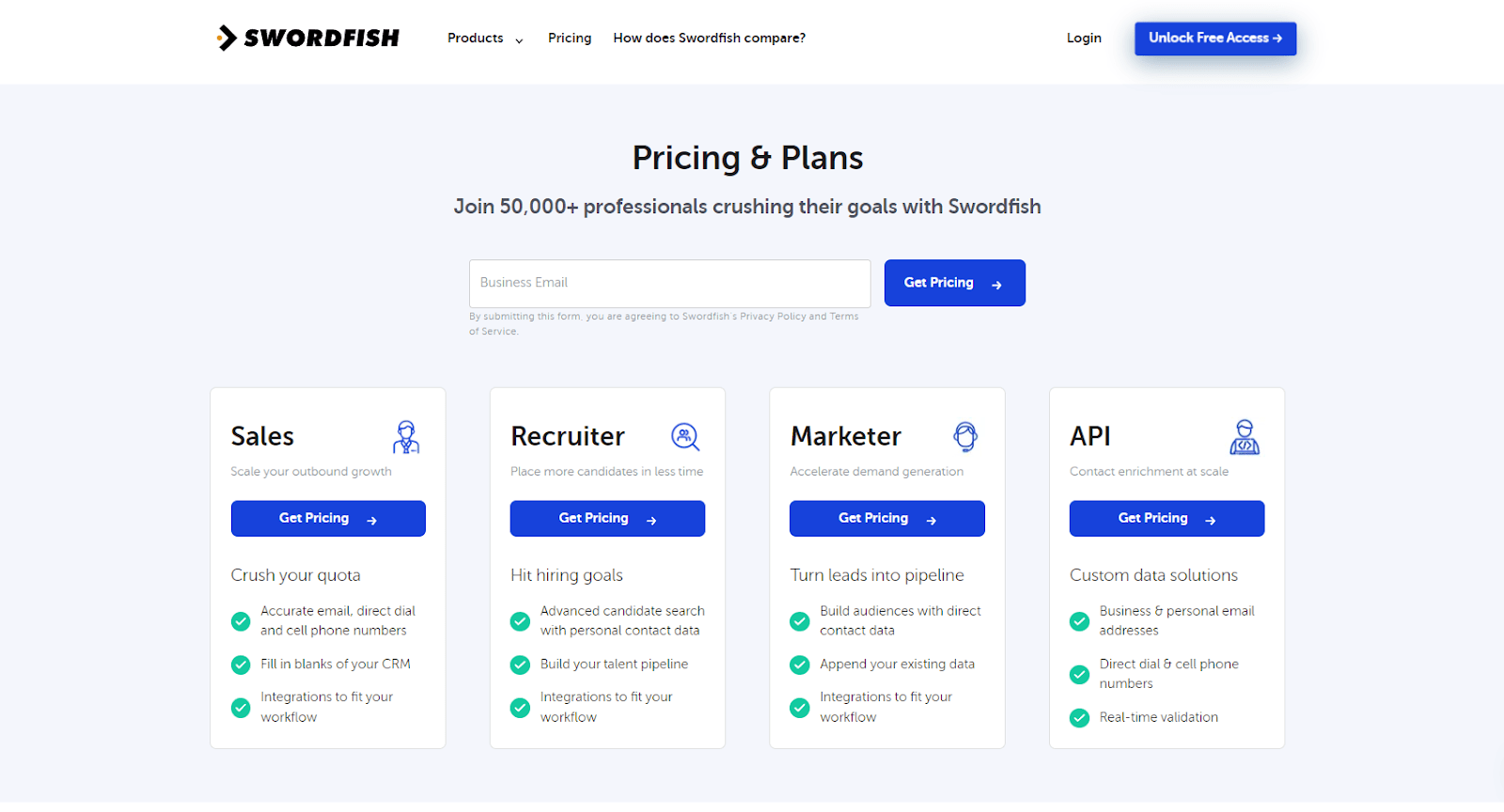 Swordfish. AI offers multiple pricing plans. You can contact our team to learn more about these plans and get a quote.
Conclusion
Marketing data enrichment improves business return on investment (ROI). By enhancing existing data with additional information from various sources, marketers gain deeper insights into customer behavior, enabling them to make more informed decisions and optimize their strategies.
Marketing data enrichment offers several benefits, including improved customer segmentation, more effective communication, enhanced customer experiences, precision algorithms, reduced data management costs, and increased sales.
Swordfish.AI is a comprehensive solution among the top data enrichment tools available. It offers a vast database, Google Chrome extension, unlimited business email addresses, direct dial phone numbers, and features for data enrichment, verification, analytics, and CRM integration.
With Swordfish.AI, businesses can enhance customer data, improve prospecting efforts, and drive sales and marketing productivity. Sign up today for a free trial!