Are you tired of shuffling through hundreds of resumes, trying to find the perfect candidate for a job opening? Of course, finding the best fit for the position can be overwhelming with so many job seekers.
That's where recruiter leads come into the picture; providing you with a targeted list of potential candidates can save you time and effort, allowing you to focus on what matters.
They are an important part of the recruitment process as they provide several probable candidates your company can evaluate, screen, and interview to find the best people for the job openings.
There are many ways to generate them, and here in this article, I will discuss what recruiter leads are and the best tools and techniques for you to generate them online.
Recruiter leads: What is it?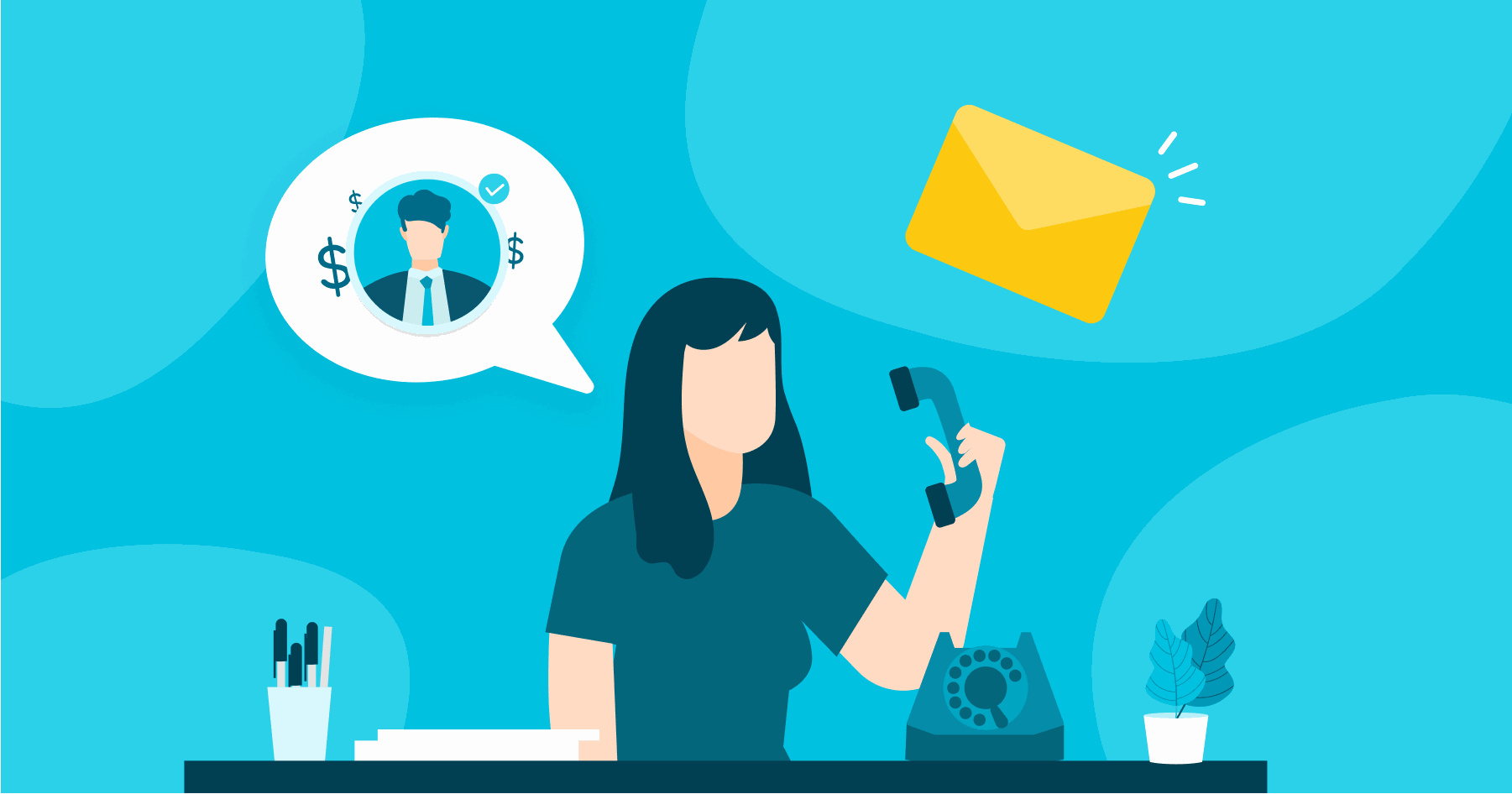 It refers to the potential candidates for the job or the job seekers identified by the recruiters as probable matches for the job opening in a company. These can be obtained from several resources such as job boards, social media, current employee referrals, etc.
With a dynamic strategy, the leads can help your company ensure you get the best available candidates for the job openings in your company. These leads will also allow your company to cultivate a pool of candidates who might be interested in future job openings.
These leads can also help your company save your precious time and resources while improving the quality of new hires.
How to generate recruiter leads?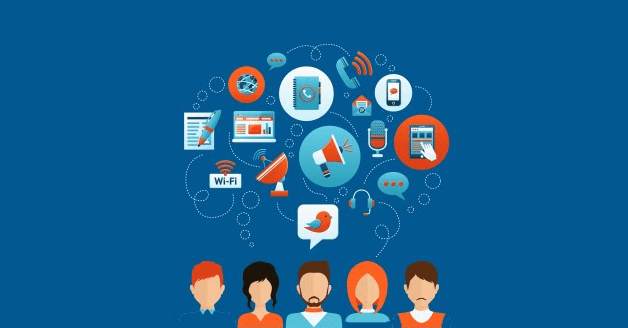 Though there are many ways to generate leads and some old-school methods (still effective), I will discuss the most viable ways to generate leads online here.
Online job postings for your company is a great way to generate leads. Your company can post the opening through online paid advertising or a recruitment agency to put your company in the eye of the public.
Although effective. But this can be an expensive option to choose from. In addition, many job boards are online, allowing companies to create job advertisements to look for new potential candidates, generating more recruitment leads.
Internal databases and talent pools:
Your company can put to work your internal database and talent pool to identify potential new candidates, those who have previously applied or worked for your company, or those who want to work again.
Online Social Recruiting:
Social recruiting can be defined as using your existing social presence to find and recruit new candidates. With this, you can leverage your social media platforms to find suitable candidates for job openings.
Online social recruiting has gained prominence due to its simplicity, reliability, and effectiveness. Your company can use many online social platforms to hire new candidates and get their profile information and qualifications.
Direct outreach to passive job seekers:
What this means is that your company is directly approaching passive job seekers who are not actively looking for a job but may be interested if presented with the right opportunities.
You can use emails, phone calls, and personalized messages to reach out to potential candidates and build a relationship with them for prospects.
Blogs are another good example of lead generation strategies. They are a great way for search engine optimization allowing users to generate leads.
Besides aiding several lead generation strategies, blogs can help new users easily get information about the latest job openings. In addition, the users will explore different topics that might interest them.
Using this and other methods, you can raise awareness about your company's job openings and recruitment needs without being aggressive.
Swordfish is one of the tools to help you identify and generate leads. It is a contact finder tool that helps you find out information about contact numbers, emails, social profile URLs, etc., with the help of its huge database.
Below, I have discussed Swordfish and how it can help you.
The importance of recruiter leads
They are important because they provide potential job candidates for companies or recruiters to pursue. They are essentially a list of individuals likely to be interested in a particular job opportunity based on their experience, skills, qualifications, etc.
A strong pool can make the hiring process more efficient and effective, allowing recruiters to identify and reach out to qualified candidates quickly. This can save time and resources and improve the chances of finding the best candidates for the job.
Recruiter leads can also help your company stay competitive by allowing it to fill open positions with top talent quickly. In today's fast-paced business world, having the right people in the right positions can make all the difference in achieving success and staying ahead.
Advantages of Recruiter leads
Efficiency: It can save recruiters and hiring managers time and effort by providing a targeted list of candidates who meet the requirements for a job opening. This can help to streamline the hiring process and reduce the time to fill a position.
Cost-effective: Using leads can be a cost-effective way to fill a job opening, as it can reduce the need for expensive job postings or other recruitment advertising.
Competitive advantage: A strong pool of leads can give your company a competitive advantage in the job market by allowing you to quickly and efficiently fill open positions with top talent.
Quality: It can also help you to identify high-quality candidates who may not be actively searching for a new job. This can help your company to access a broader talent pool and find the best candidate for a particular job opening.
Tools for recruiter leads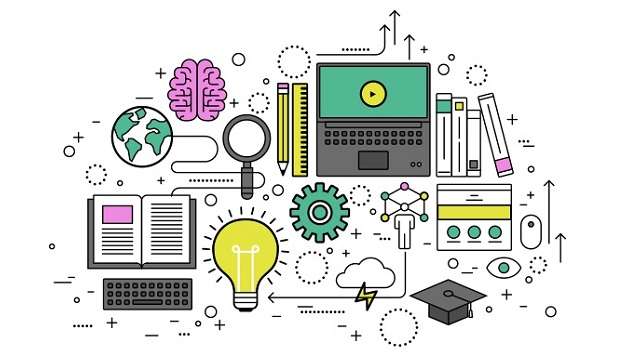 Several tools can be used for leads, like job boards, referrals, applicant tracking systems (ATS), social media, etc. But what if I told you that you could get all the information about the required candidates at a single online place? Yes, you can, through Swordfish.
What is Swordfish?

Swordfish is one of the best contact finder tools that can very well help your company in the recruiting process. It can help you find emails, contact numbers, social media profiles, locations, addresses, etc., at your desk's ease.
Swordfish also has a Chrome plugin that helps you access contacts directly whenever and wherever you want them. In addition, Swordfish can search through vast web resources with its largest available database of more than 3.1 billion contacts.
It also comes with real-time verification and uses advanced algorithms to find the most precise and up-to-date information about your contacts. Swordfish also comes at ease when you use it. You are not required to be a tech genius to use Swordfish and find what you need.
You can just go to the Swordfish website and start rolling. It also has features like Chrome extension, File upload, API, and deep search engine.
Features
File upload: The file upload feature of Swordfish adds data like name, contact number, company name, emails, location, social profiles, etc. This feature of swordfish bulk enriches customer lists and saves your time.
Chrome extension: With the swordfish Chrome extension feature, you can add swordfish directly to your Chrome browser and find contact information through a vast network. This feature is simple; it scans the profile, emails, etc., whenever you open the tool on the website.
API: The API feature of Swordfish allows you to use Swordfish's data and storage management services. It uses a generalized data model to provide a customer-centric and scalable data model.
Deep search engine: Swordfish's deep search engine feature allows you to find anyone instantly based on the input you give to it. It assists you in finding people through their profile URLs, names, location, emails, etc.
Pricing
Pricing of swordfish is offered in three segments; the prices of the segments depend upon the feature they provide.
The pricing is as follows;
Starter plan: Three thousand credits, priced at $249/mo.
Starter Plus Plan: Six thousand credits, priced at $239/mo.
Swordfish Custom Plan: The price of the swordfish custom plan varies according to the features selected by the customer.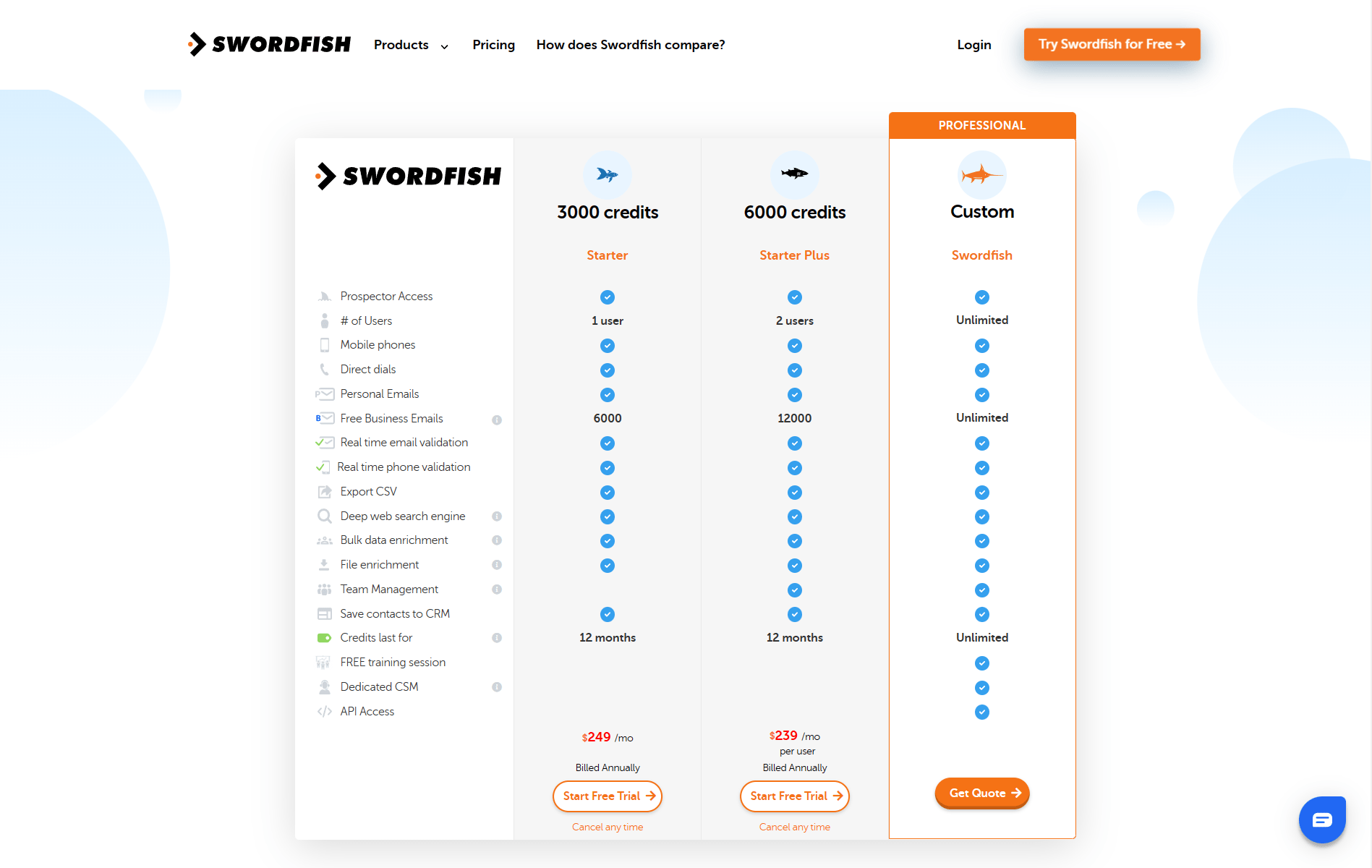 These plans of Swordfish include features like prospector access, direct dials, personal emails, free business emails, data enrichment, etc.
Conclusion
Lead generation is considered one of the most important steps in the whole recruitment process. Lead generation helps you simplify and streamline the whole recruitment process for your company.
Recruiter leads are a valuable option for your company and your recruiters looking to fill open positions with the best talent in your company. Providing a targeted list of probable candidates can help streamline the hiring process.
With its many attractive features, I believe Swordfish can very well come to your help regarding leads. Moreover, Swordfish can act as the perfect information finder for you. First, you need to put the input data, and then the rest is on Swordfish.
Swordfish is also very simple to use and highly user-friendly, which is one of the aspects required for most businesses, and this will be the case for your company too. But you need not believe me; just explore for yourself at Swordfish.ai.