The most economical direct marketing channel is email marketing. But to make Email Marketing work much faster, Email verification tools like Snov.io come into the picture.
Keep reading to get insights into Snov.io pricing, its features, and more. You will also learn about its pros and cons. So, let's get started.
Snov.io: A Brief Overview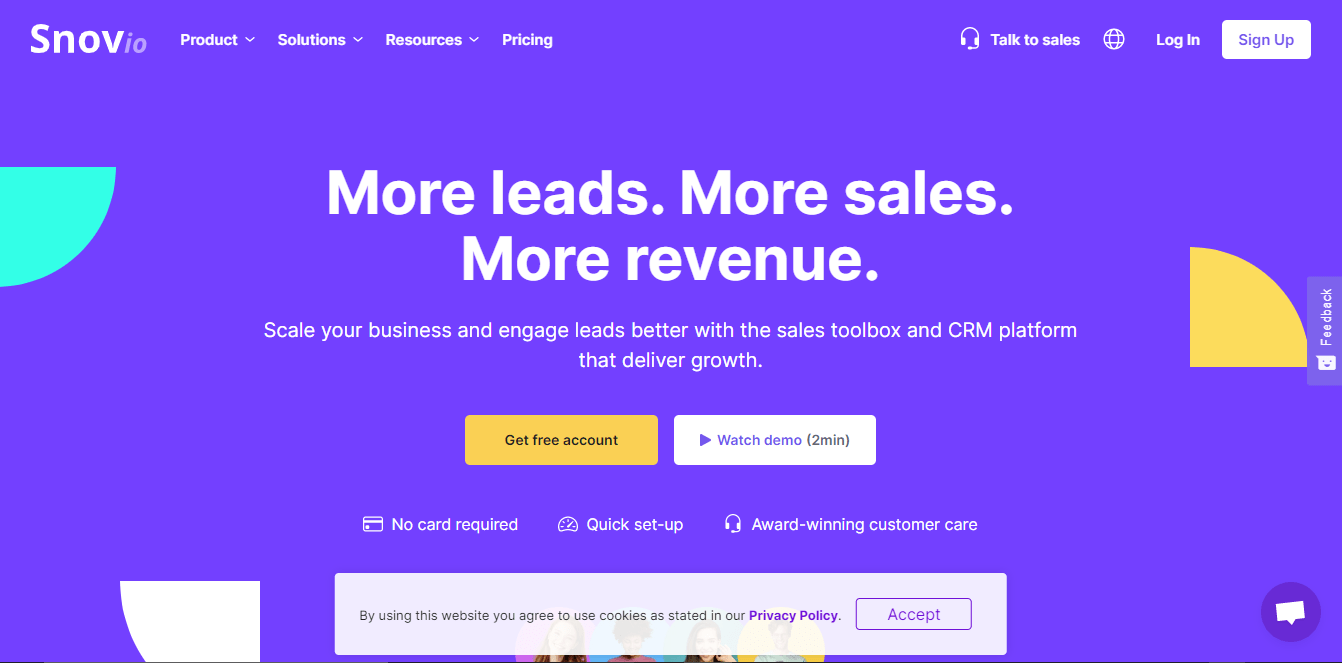 Snov.io is  a cloud-based automation platform that allows businesses to streamline methods related to:
Email verification
Email prospecting
Lead generation
Personalized drip email campaigning
Through the email verification option, businesses can easily detect all invalid domains or addresses. Afterward, they can export the outcomes in Google Sheets, XLSX, and CSV formats. Apart from the email schedule options, Snov.io also provides the "Chrome extension."
The extension can help companies to save the lead information across various websites and verify all the information through the Google keyword search and LinkedIn. You can also develop custom email drip campaigns through the drag-and-drop builder.
This email finder software will also enable you to enhance the outreach by triggering the email sequences and nurturing the leads right to automated follow-ups. With an accurate email discovery feature, businesses can easily find emails according to the following filters:
Domain
Location
Size
Name of the Organization
Social URLs
The software also comes with the REST API or Application Programming Interface, enabling businesses to integrate the solutions with countless 3rd-party systems.
 Features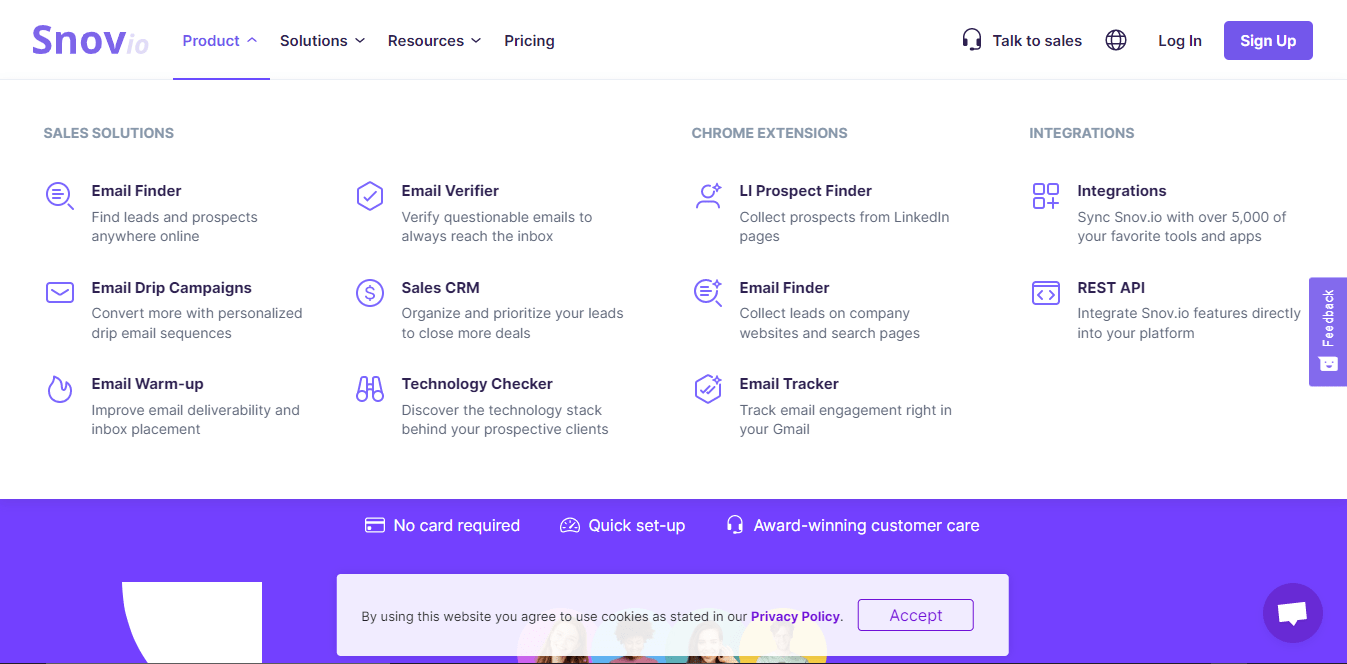 Even though Snov.io is ideal for mid-sized, big, and small businesses, even the most typical users will benefit from this software. But the thing that makes this email discovery software stand out from other tools is its features.
The Snov.io features are one-of-a-kind, and you will not find them in other email finders or marketing software. These features are
Email Drip Campaigns
This particular feature will allow users to develop all the personalized email sequences and help you control the workflows. Under this feature, you will come across the following options.
You can easily boost sales by maximizing delivery, reply, and open rates. Users can also effectively manage all the cold prospects through the unique drag-and-drop email campaign creator. A small business can easily outreach with personalized content.
All big and small businesses can easily nurture the leads by reminding all of them about the products through calls and email follow-ups. Through lead conversion, here are some of the things that users can do:
A big or small business can easily send all the correct emails and also to the right individuals accruing to the user behavior to lessen the conversion time.
You can easily track the recipient's engagement and email performance using real-time KPIs, metrics, and detailed analytics.
A company can easily utilize the pre-built templates to send all the follow-ups and quickly make all the drip campaigns.
Email Tracker
Businesses will greatly benefit from the email tracker, enabling them to track down all the email clicks through and opens through the Gmail account.
It will also track down a personal signature, and the leads can check the recipient activities, receive live desktop notifications, and schedule emails. You can always turn off the tracking through the chrome extension whenever you want.
Email Verifier
Through this feature, you can easily lessen the bounce rate through the extension or app. The email verification will complete all the email list verification effectively.
You can also upload the list to verify and get ready-to-use valid mail address lists.
Get to leverage through an API for the integrated mail validation at the lead form sign up or during registration.
Email Finder
The email finder will look for emails of all the individual contacts on websites or social media platforms. You can easily capture all the latest LinkedIn leads through all the verified business mail addresses.
Receive relevant emails from the Google search outcomes through this feature. This feature from Snov.io also has other options under its belt, which are:
You can easily look for countless lead sources for all the prospects and candidates through position, skill, and location.
You can detect firms by location, industry, name, and size.
Businesses can look for mail addresses using company domains and lead names to complete the prospect lists.
You can easily find all the addresses on all domains instantly. You can easily explore over 20,000 domains with the bulk domain feature.
GB last
This particular feature of Snov.io will enable businesses to send all the professional-looking email campaigns from the Gmail account paired. Along with that, businesses can also send personalized variables for every recipient.
The Gmail account integration will lessen the tab switching, help set up personalized restrictions, and preserve the account's reputation by controlled sending.
Snov.io Pricing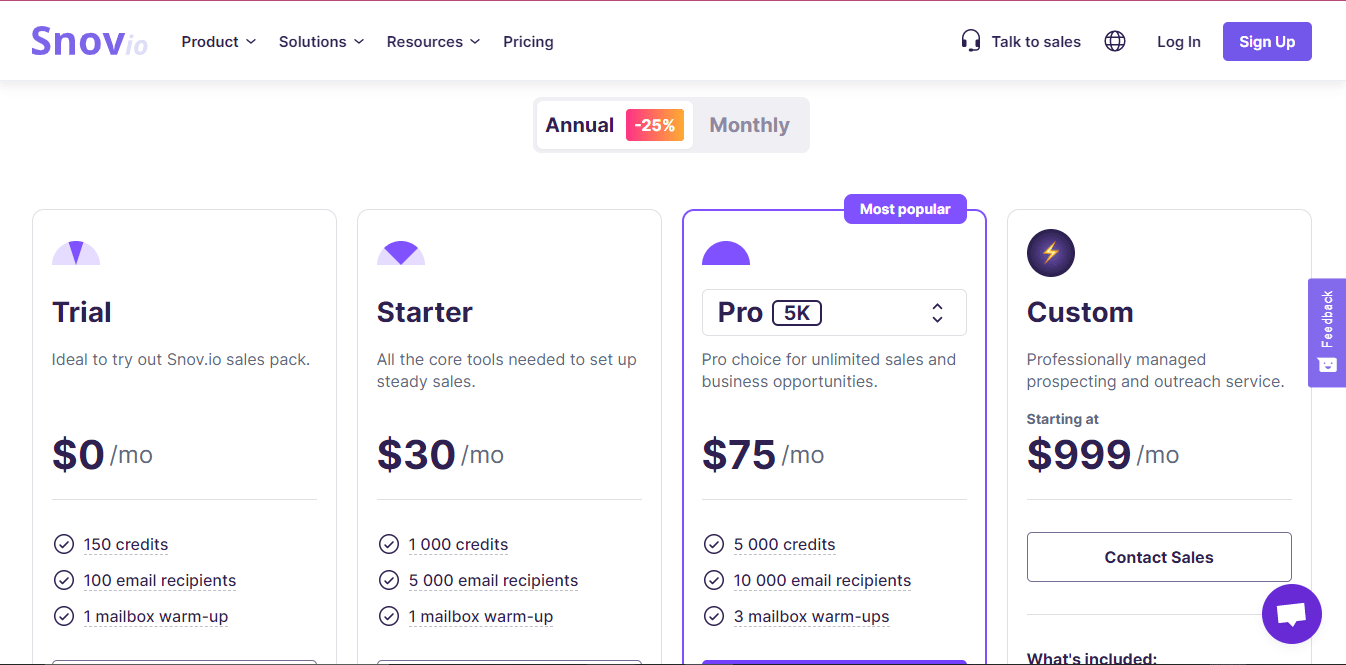 For the Snov.io pricing option, you will encounter 4 options available. You will get a good understanding of each of the prices in detail under this section.
Trail: The free trial or the demo version will enable you to check out the Snov.io software and its performance. To enhance your experience, you will receive 100 email recipients, 150 credits, and 1 mailbox warm up.
Starter: Under the starter price section, you will find all the core tools, which are compulsory set up for steady sales. You need to pay $30 per month, receive 1 mailbox warm up, 1000 credits, and 5000 email recipients.
Pro: This price option will provide unlimited business opportunities and sales. You will be charged $75 monthly, get 3 mailbox warm-ups, 10,000 email recipients, and 5000 credits.
Custom: This particular pricing pack is for professionally handled outreach and prospecting services. You must pay $999 monthly and get custom outreach, lead generation strategy, and prospective services based on your ICP. You will also get copywriting services for all the email sequences paired up with follow ups, curated outreach set up, and custom email warm up techniques.
 Pros and Cons
Just like its competitor, Snov.io too has several benefits and drawbacks. So, what are they? Let's find out about them from this section.
 Pros
Snov.io will enable companies to connect with over 2000 social media platforms and customer support teams.
Helps in building rich databases easily and effectively.
Get to add Bcc/Cc along with new recipients and edit all the campaigns even after you launch them.
 Cons
 Pricing options are pretty expensive, especially the custom one.
The integration feature doesn't function on Facebook.
Swordfish AI: Best Alternative to Snov.io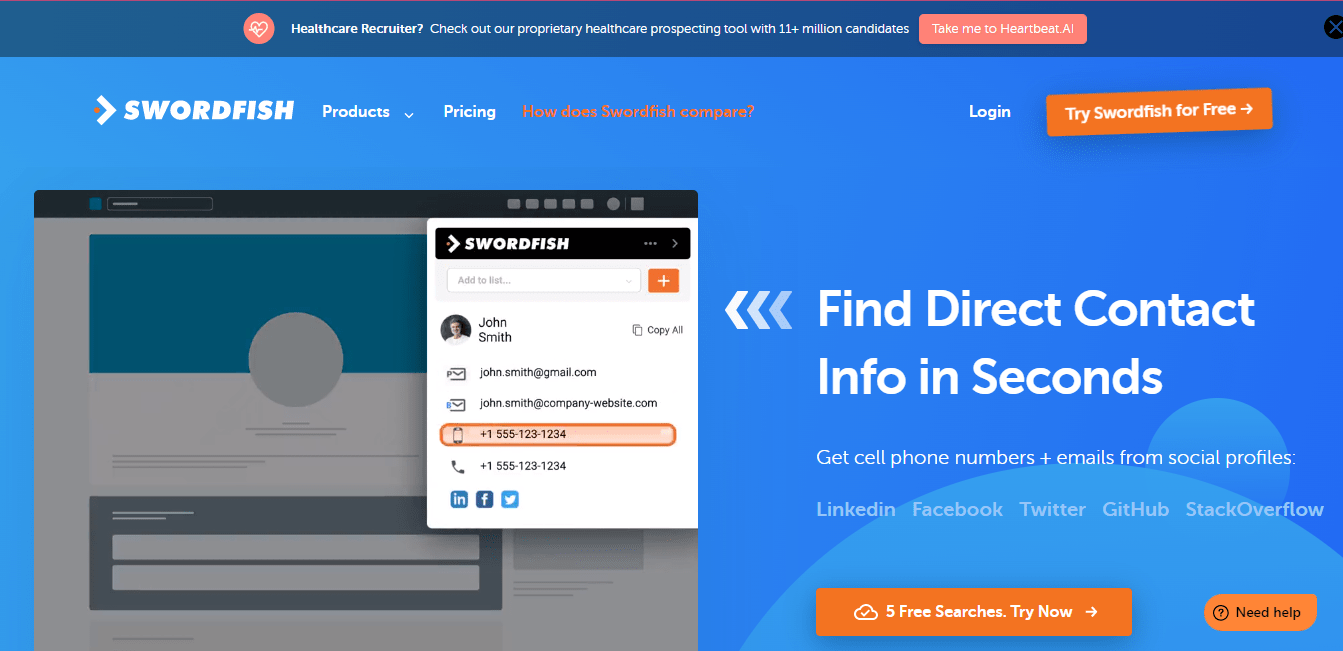 Snov.io is software for validating, opting, and finding emails to reduce the bounce rate organically. But if you're looking for an alternative option, you should go for Swordfish AI.
This software will enable you to find direct contact within a matter of seconds. You can easily find people's email addresses and phone numbers from LinkedIn, Gmail, Facebook, Twitter, etc.
With Swordfish AI, you can easily enrich the contact data in bulk, preventing you from spending hours daily. Besides that, this tool is created for all the companies that deal with sales and recruitment and wish to simplify their work.
Features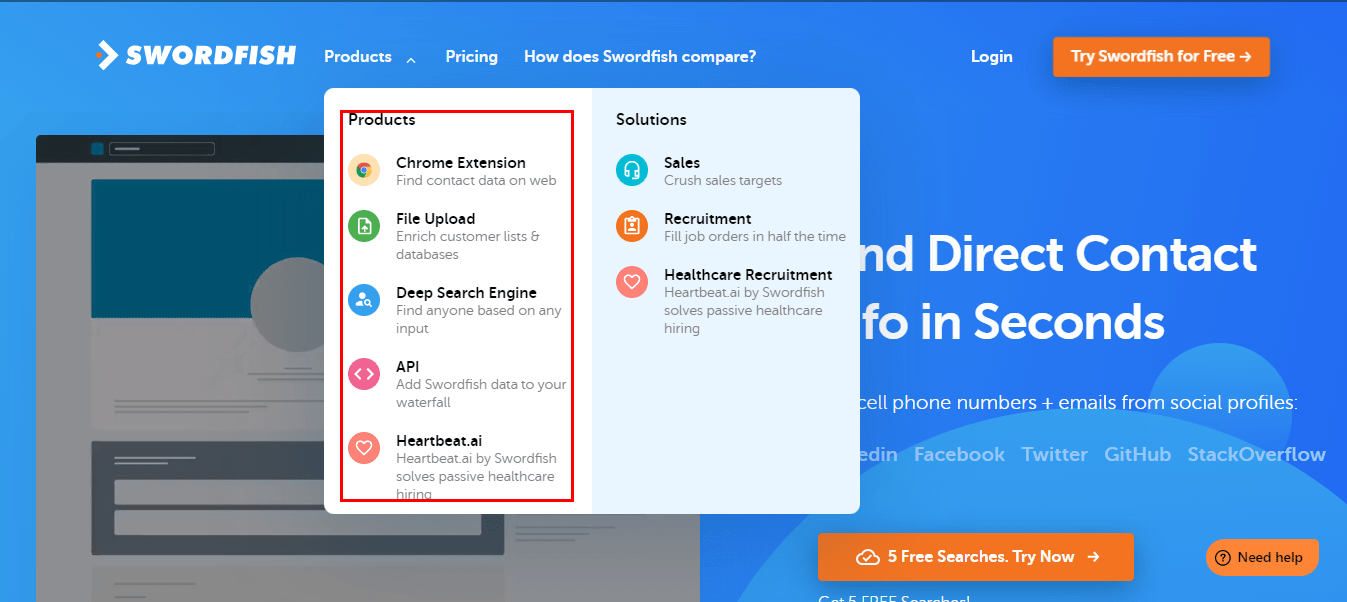 Swordfish AI has some of the best features, which will also not find their competitors. Let's learn about these features briefly.
This particular tool offers a Chrome extension, which all businesses can use to find all the contact data on the web easily.
File Upload will enrich the customer databases and lists greatly. You can fill in all the banks in the ATS or CRM within a matter of seconds.
The Healthcare.io from Swordfish will certainly resolve all the passive hiring and help companies get experts' direct phone numbers and email addresses. As mentioned in their licenses, it will also enable users to look for specialty healthcare providers.
You can easily add the power of Swordfish AI to your waterfall. To get started, you can contact the sales team, decide the type of data you want, and integrate easily with a data expert.
Swordfish AI Vs Snov.io Pricing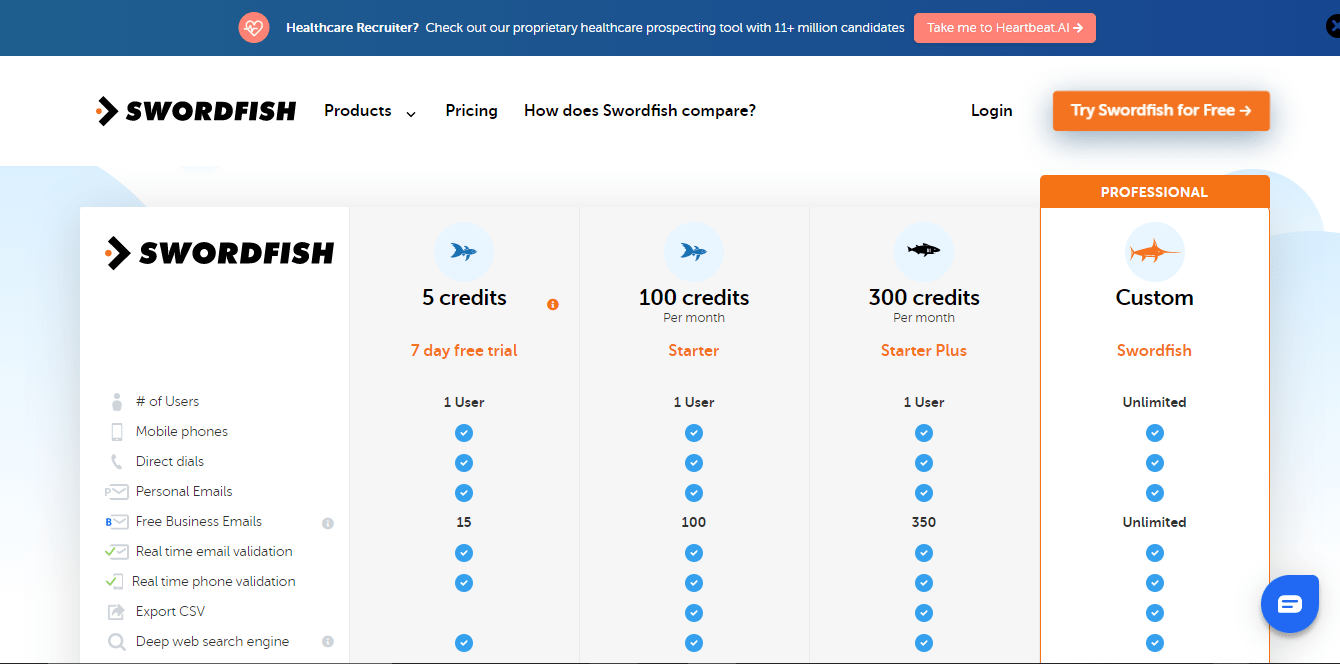 The pricing is pretty reasonable compared to various other tools in the market. You will get a 7-day free trial, where you will get 15 free business emails along with features like personal emails and direct dials.
Besides that, you will come across three more prices, which are "Starter," "Starter Plus," and "Custom ."To help you have a good understanding of these options, check the following points:
Starter: You will get most of the software's features for the starter pack and receive 100 free business emails. These business emails are valid for one month, and you will be billed $99 monthly.
Start Plus: This pack will offer you 350 free business emails and have unique features, such as file enrichment, bulk data enrichment, deep web search engine, etc. You will be billed $199 monthly when you opt for this pack.
Custom: The custom will provide unlimited free business emails and has all the features, including those not available in the starter and starter options. To learn about its pricing, you can contact the experts from Swordfish AI.
 Pros and Cons
Here are the pros and cons of Swordfish AI.
Pros
The software offers a 7-day free trial.
The pricing is pretty reasonable, even for scaling Businesses.
This will allow you to connect to all the best candidates.
Users will not experience any interruption while using the software.
Will work on PC/laptops and even tablets.
It will enable you to do a deep search whenever you want.
Cons
I found the email and phone validation available only in the Chrome extension.
It can be a bit slow when looking for contact information.
Sometimes the information is not accurate.
Conclusion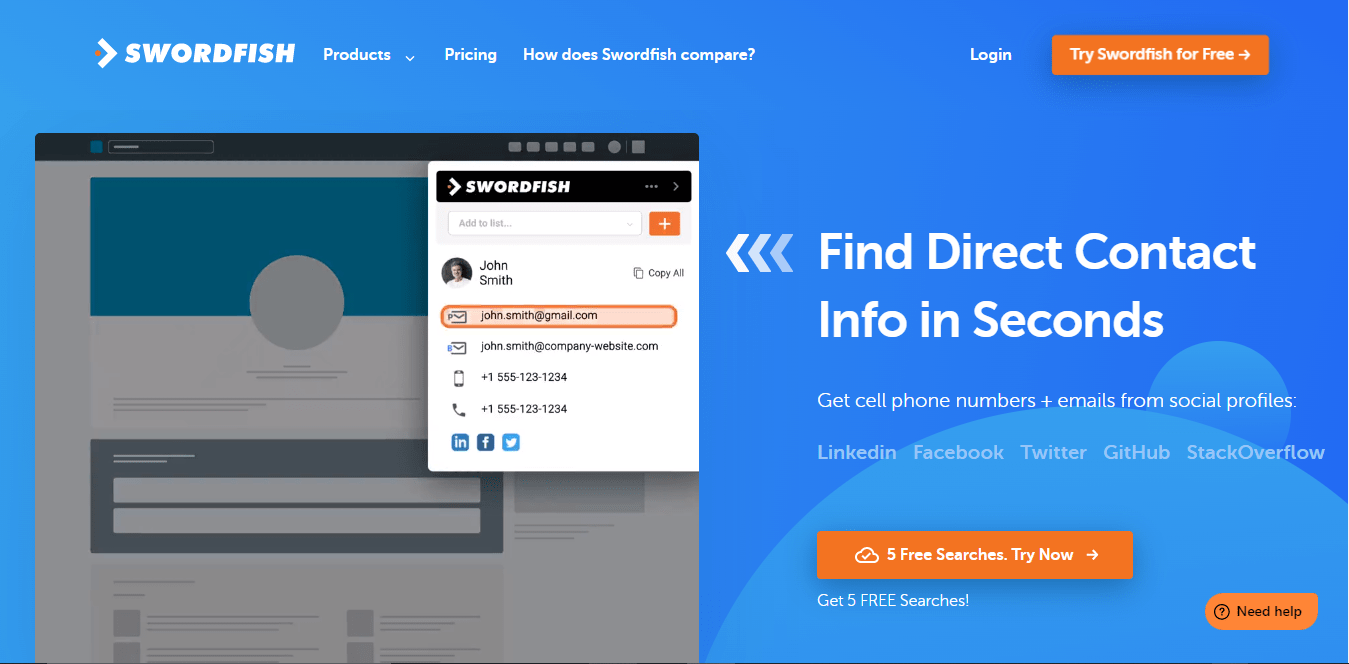 Swordfish AI has proven itself to be one of the leading software in the market. It's easy to use, comes with countless features, and helps you find phone and email addresses within a matter of seconds.
The software is ideal for all recruitment companies and sales teams as it will simplify all their work effectively. Besides that, it also comes with 4 different pricing options, allowing businesses to choose pricing according to their budget and needs.
Ensure you review the pricing pack and check what the things included in each are. So, don't spend too much time deciding.
Get Swordfish AI for your business today!