The priorities of recruitment teams have changed significantly in modern times as they seek new techniques to effectively engage and attract candidates. However, it's important to remember that hiring the best talent for every job role in your business is the ultimate goal. Utilizing recruiting software is highly recommended if you seek candidates to help grow your company. Studies have shown that approximately 67% of businesses use these tools to secure top-notch talent.
In today's market, numerous recruiting software options are available, such as HireEZ, which is suitable for both large and small businesses and streamlines the recruitment process. This review will provide all the necessary information to learn more about HireEZ pricing and features.
HireEZ Recruiting Software: An Overview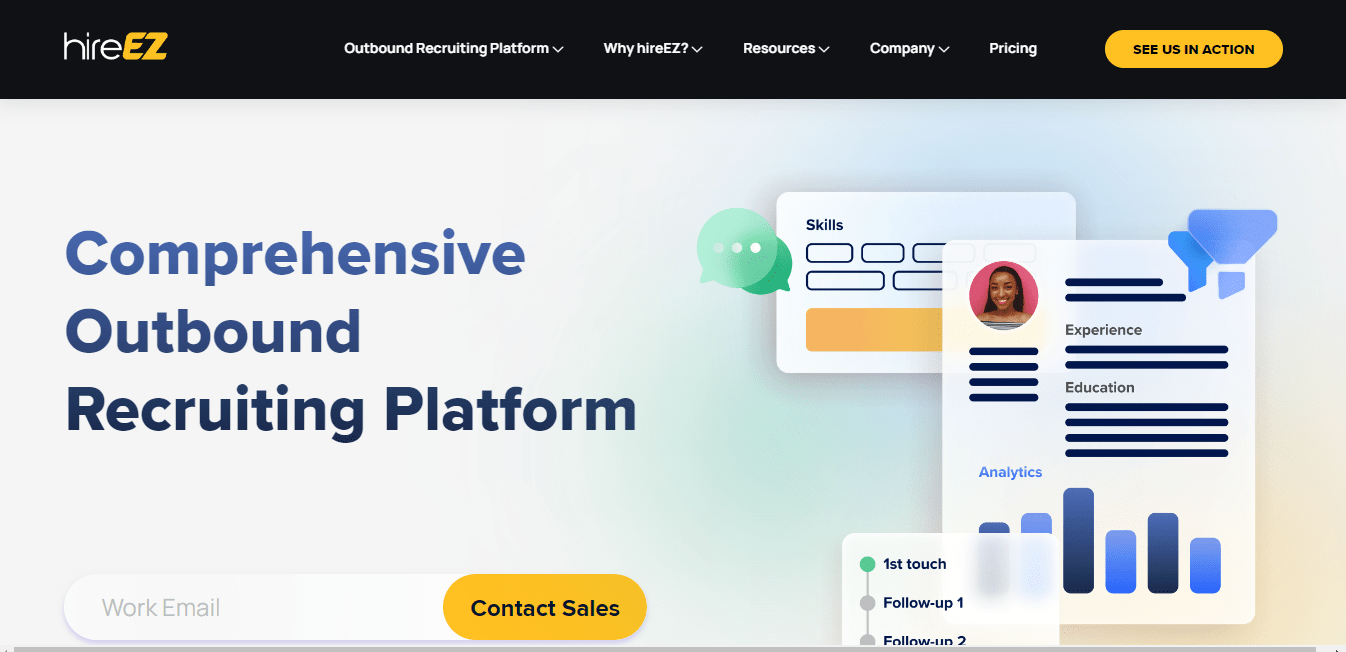 HireEZ, formerly Hiretual, is an AI-based recruiting platform that empowers all businesses to reach their objectives by bringing forth the visibility of unprecedented talent and hiring the right people. The software's talent data cloud is the single source of truth for recruitment.
It's designed as a system for native integration to refresh and centralize all the soiled data. Its "Experienced AI Sourcing" is conducted on over 45 platforms to go beyond the normal resumes and uncover all the candidates' potential.
You can create personalized campaigns with the help of sequences, calendar scheduling, and tracking for a meaningful connection. HireEZ offers cloud-based hiring solutions to not just one industry but countless others, including entertainment, media, hospitality, construction, and e-commerce.
Besides that, this software is also ideal for businesses such as:
Talent Acquisition Companies
Firms with Manpower Services
Human Resource Departments
Recruitment Firms
Headhunters
HireEZ also comes with customized tools for all industries and will help to fulfill all the requirements of high-growth firms, start-ups, and big corporations. This software lets you easily rank and screen around 200,000 candidates within seconds.
Whether you run a small business or a massive corporation, with HireEZ, you can easily find top-notch talents by searching intelligently across 800 million candidate profiles.
You will check out the talent market insights and hiring trends for all the data-backed hiring plans, which align perfectly with all the business goals. You can also contact HireEZ directly to learn more about their solutions and services.
Features of HireEZ Software
HireEZ comes with some of the unique features of all time, which will certainly help a small or midsize business. Now, let's learn about these features in detail: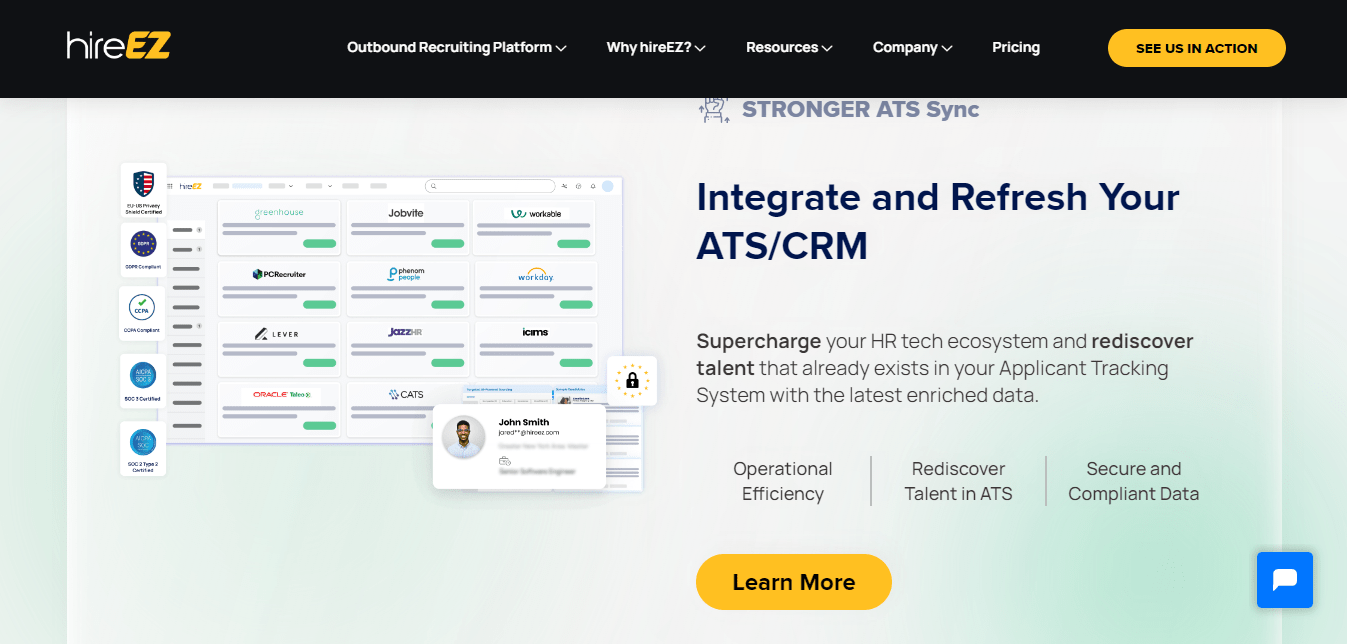 When you source from the HireEZ platform, the EZ rediscovery will keep the database clean so that all the information is correct and current. You can enrich the AT with the new and open web data and merge all the duplicate profiles with the custom field mapping.
You can easily transform the tech stack overflow into a unified hiring powerhouse. You can also identify and explore the warmest leads and collaborate in real time, you will receive enterprise-grade security, and it comes with two-factor authentication and SSO.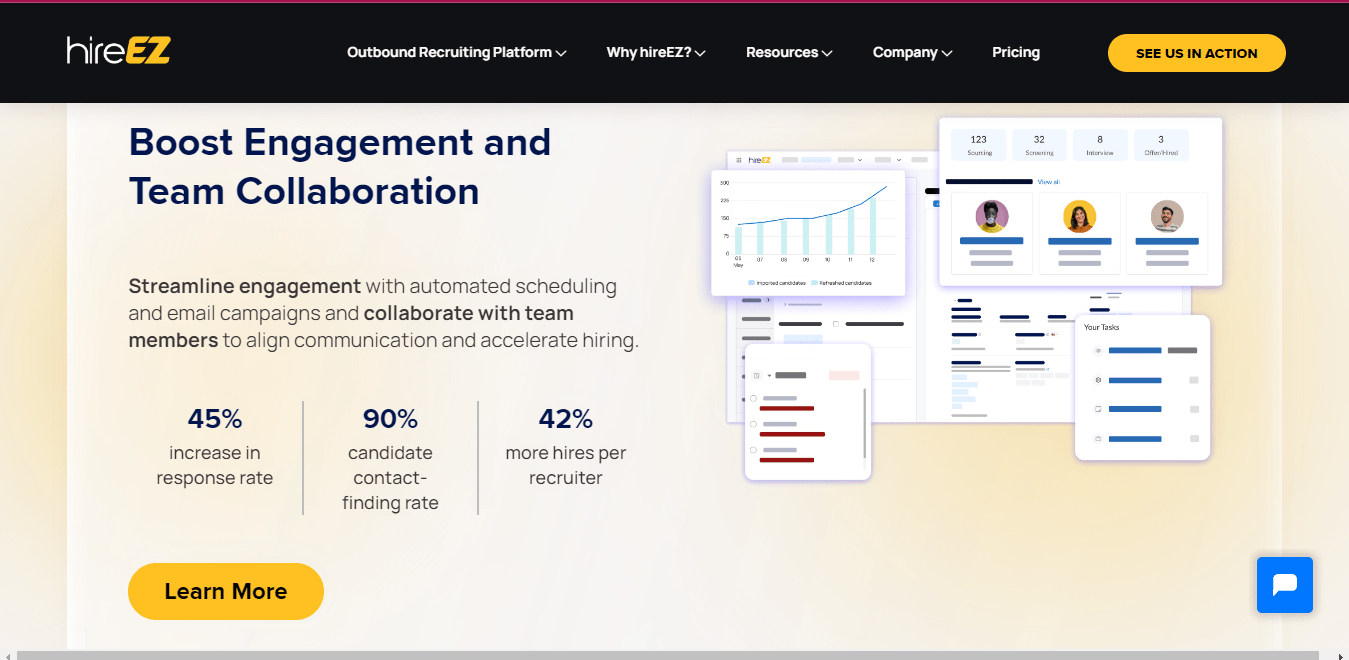 You can easily streamline all the scheduling with the automated campaigns and get to interact with all the team members to speed up the hiring process and align the communication.
Furthermore, you will also get real-time notifications for engagement activities with robust analytics and email tracking options.
You can also optimize the candidate engagement with email templates and sequences and get to send all the emails on behalf of the hiring managers and other stakeholders. You can also share real-time availability information with HireEZ.
This way, candidates can easily accept the meeting invitations and get to pick from all the available options in just a few clicks.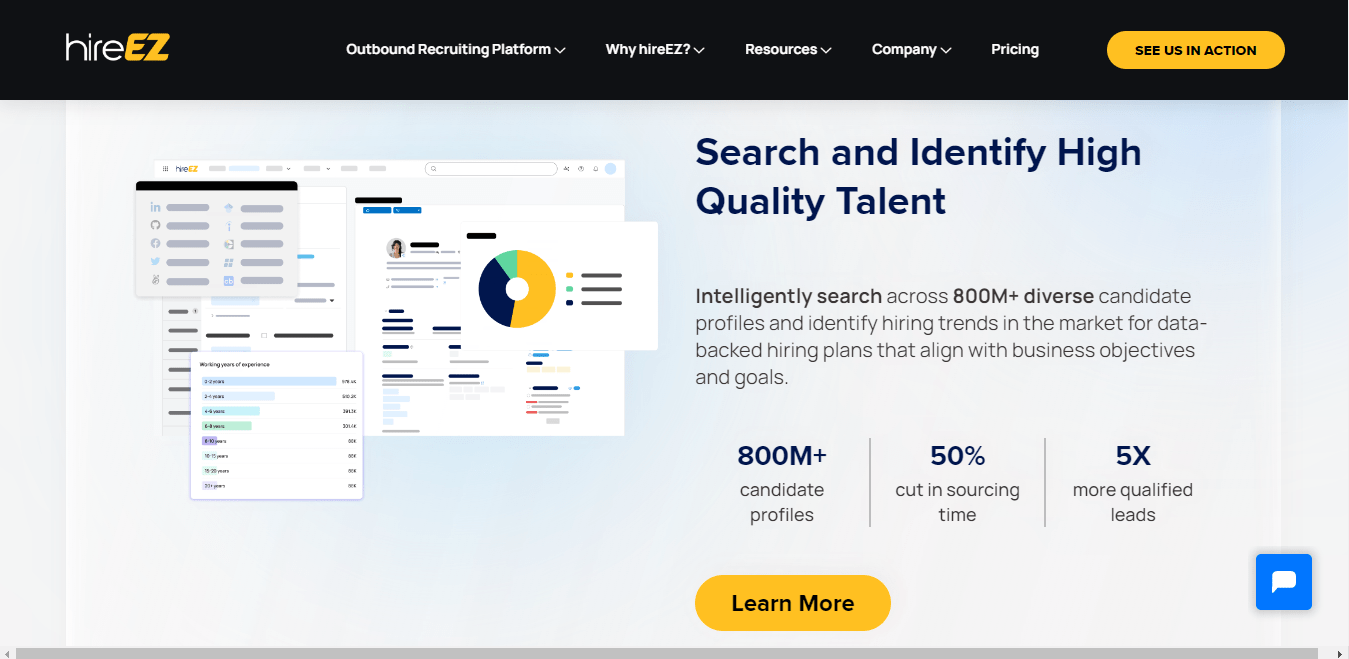 You can easily identify and find your company's best talents on the software's website. You can explore through 800 million candidate profiles and check out all the hiring trends for all the data backend recruiting plans. You can explore for talents on:
Facebook
Healthgrades
AngelList
CareerBuilder
GitHub
LinkedIn
Zocdoc,
Twitter
Kaggle
RateMDs
You can also diversify your recruiting process and get a good grasp on the Boolean strings through the Boolean interface. This interface allows you to easily make and share all your favorites with the community effectively.
HireEZ Pricing: Things to Know!
Regarding the HireEZ pricing, you can opt for either the monthly or yearly pricing model for your business. Both of the pricing options come with different features, and users can choose the one according to their needs and budget. Let's learn about the pricing in detail.
Monthly

You have to pay $169 per month, which will unlock the following features:
AI Sourcing with Unlimited Reach
Unlimited Boolean Builder
It comes with Chrome Extension
Hiring Manager Collaboration
100 Contact Credits Each Month
Recruiter Team Collaboration
Sequence and Single Email Management
Unlimited Projects
Yearly [Annually]

If you take up this pricing option, you must pay $1428 annually. Under this price section, you will get all the features that are mentioned under the monthly pricing details. But instead of 100 contact credits, you will get 12000 of them monthly.
HireEZ enterprise also offers a 15-day free trial period for all businesses. The free version gives you an idea of what HireEZ offers, how well it performs, and whether or not you will benefit from this specific tool. To pay for the premium version, a credit card is required to get it done because the site only accepts payments through cards.
HireEZ Software: Pros and Cons
Like all the other recruitment tools, HireEZ has several benefits and drawbacks. Let's find out what they are!
 Pros
Provides smart search
Offers talent market insights
It comes with a free trial
Accurate contact information
Email Sequencing Campaigns
High-quality UX/UI
 Cons
The UI needs a bit of work to drive efficiency when reviewing profiles.
Some of the candidate reference information is incorrect
It cost me extra funds for the "insights."
There is no text feature.
The annual pricing is a bit too expensive
Looking for an Alternative? Choose Swordfish AI!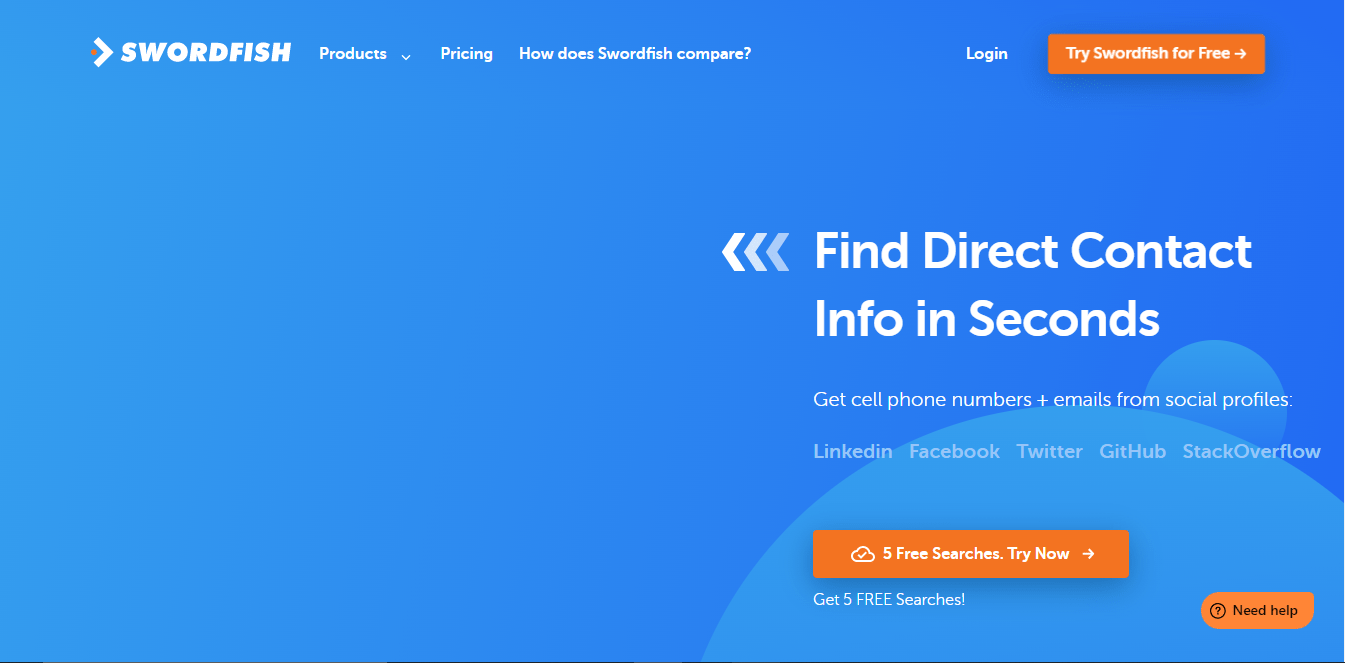 Swordfish AI has proven to be one of the leading software for finding top talents across various platforms, including social media. You will get accurate data and hire candidates to help your business grow.
The cost for this software is extremely reasonable in comparison to HireEz pricing. You can choose according to your needs.
So, don't think twice. Click here to get Swordfish AI for your business today.
Features of Swordfish AI
Some of the most common features of this software are finding phone numbers, lead enrichment, email address tracking, company information tracking, and bulk domain tracking. Besides that, this software has several other features in store. Let's find out.
The chrome extension will make it easier for you to find and explore contacts within minutes. Countless companies use the extension because it enables them to find over 3 billion profiles from various social media platforms effectively. Using the extension will also help increase engagement by 400% and quickly verify all the email addresses and phone numbers.
Through the "file upload" feature, you can easily enrich the customer lists greatly. This feature will add the following information:
Name
Job Title
Organization's Name
Location
Mobile Phones
Personal Emails
Social Profiles
Landline Numbers
Business Emails
If you want someone to run the list for you, the Swordfish AI experts will help you. You have to contact them via live chat and tell them about your requirements.
Deep Search Engine will enable you to look for individuals by their social media profiles, home addresses, locations, names, email addresses, and phone/mobile numbers. You can also look for professionals by name and their company. Just type all the information, and you will immediately get the needed data.
Swordfish AI vs HireEz Pricing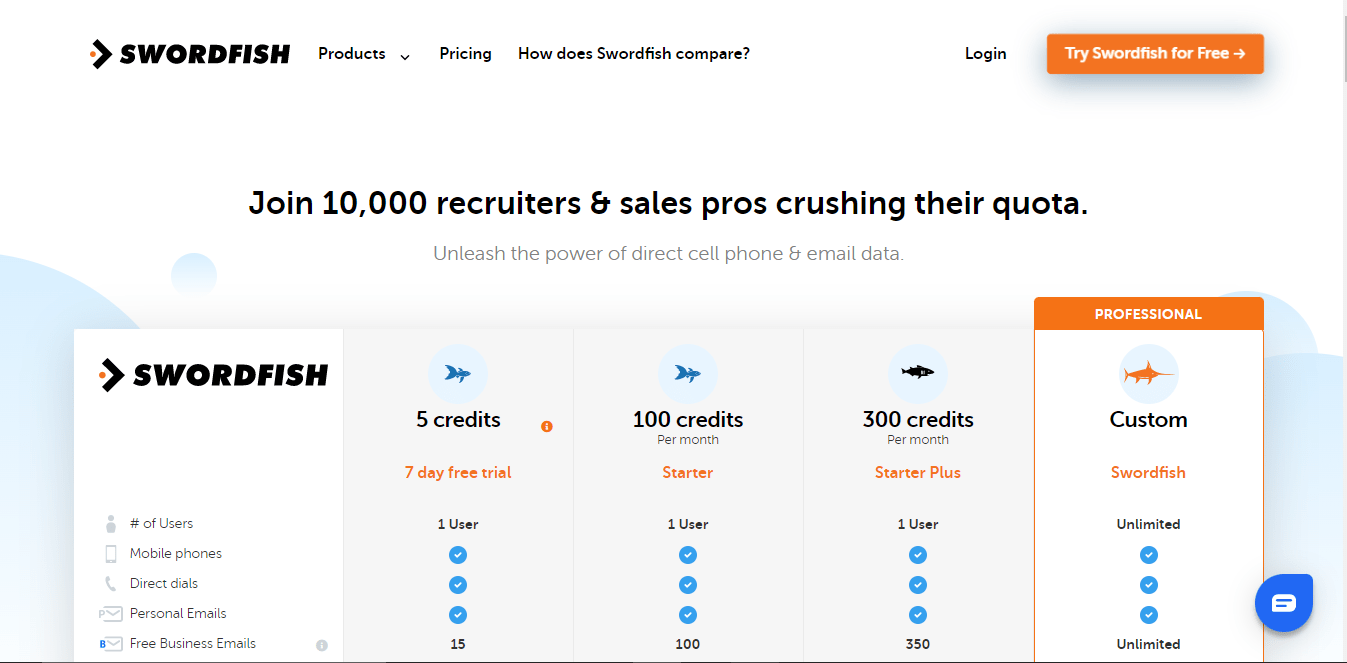 When it comes to pricing, the software has several options available. But the best part about this software is that it comes with a free version. Through the free trial, you can easily check out the performance and speed of the software. After that, you can opt for the premium version of the tool. Now, coming to the pricing part, here are the options available:
Starter Pack: This pricing option includes features like mobile phones, direct dials, free business emails, real-time email and phone validation, bulk data enrichment, etc. You will also get 100 credits per month and have to pay $99 each month to keep using this pack. Before you use the starter pack, you can try the trial pack first.
Starter Plus: The Starter Plus option will provide you with various features, including file enrichment and team management. You will also get 350 credits per month and be billed $199 per month. The credits for this particular pack will last for 1 month.
Custom: This particular pricing option is for all professionals. You will not just get unlimited credits, but all the features will be available for you to use. Opting for this pack will make it easier for you to deal with the hiring process and look for all the experts effectively. To know about the pricing, make sure to get a quote.
 Pros and Cons of Swordfish AI
In this section, you will learn about the pros and cons of this particular software.
Pros
It's easy to use
It has a user-friendly interface
It comes with a chrome browser extension
The pricing options are not that expensive
It comes with a 7-day free trial
Works on all devices
Cons
The records on Swordfish are not that perfect.
Looking for a Recruiting Tool: Choose Swordfish AI!
Swordfish AI has proven itself to be one of the leading software for finding top talents across various platforms, including social media. You will certainly get accurate data and get to hire candidates who can help your business grow.
The cost for this software is extremely reasonable, and since various options are available, you can choose according to your needs.
So, Don't think twice. Click here to get Swordfish AI for your business today.