In today's competitive business landscape, generating leads is crucial for driving sales and ensuring growth. Sales teams often rely on many tools to discover new prospects and boost their company's bottom line. However, finding fresh leads can be a challenging endeavor for sales analysts.
Numerous tools have been developed to streamline this process to help businesses expand and prosper. As a result, these tools have become the backbone of successful, profit-driven organizations.              
In this blog, we will explore eight top-notch tools for generating sales leads, empowering your business to thrive in the days ahead.
What are leads for sale tools?
Leads for sale tools, or lead generation tools, are software solutions that help businesses identify, capture, and store qualified leads. In addition, these tools assist in capturing contact information from people interested in a company's products or services, usually from websites or other online sources.
Lead generation tools are software solutions that help you effortlessly gather contact information from people interested in your company's products or services.
There are various types of lead generation tools, including:
Inbound lead gen tools: Drive leads to your website

Outbound lead gen tools: Find and message leads via email, calls, social media, etc. 

On-page lead gen tools: Capture leads via your website using lead capture forms

Customer Relationship Management (CRM) tools: Connect and track leads throughout the sales funnel

Sales tools: Convert leads into paying customers and maintain communication with existing customers

Communication tools: Utilize chat and communication features to generate leads

Advertising tools: Promote your business to attract leads
Why are these tools important?
Using the tool, you can effortlessly record contact information from visitors who like your organization's product or service

. Such data are identified as 'leads.' 

These tools are time-saving sales and marketing apps through which you can automatically generate leads in large numbers & direct them to the right team. 

The tool focuses on the top of the sales funnel by pulling leads from online channels such as social media, emails, landing pages, etc. The collected data is from visitors who are interested in the products or services you provide.
The cue behind the leads for sale tool is that it collects leads without your need to do something manually. The whole process becomes automated because this tool allows you to focus on other business sectors such as operations, sales, and finance. 

The tool offers visitors lead magnets (e.g., downloadable items) once they submit their emails.
Then the tool collects the email addresses. Then you can follow up with these leads and plan a strategy to convert them into payable clients. 

Investing in excellent quality tools is important to evaluate the lead generation setup critically.
Top 7 tools to generate leads for sale
1.SeedProd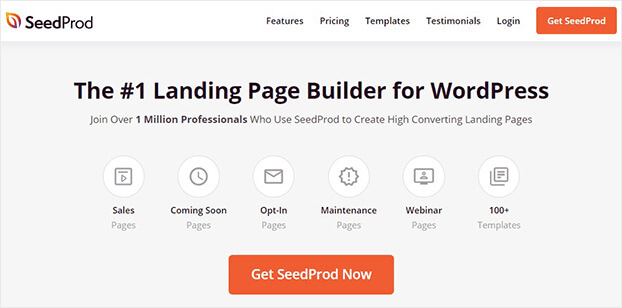 SeedPro is considered WordPress's best landing page builder. It offers a learner-friendly drag-and-drop builder to create great landing pages for the sites to collect leads. This tool is best for opt-in emails, sales, webinars, or maintenance campaigns. 
Pricing
Its annual pricing is $239.60 for the Elite Bundle, $159.60 for the Pro package, $89.55 for the Plus package, & $39.50 for the Basic package.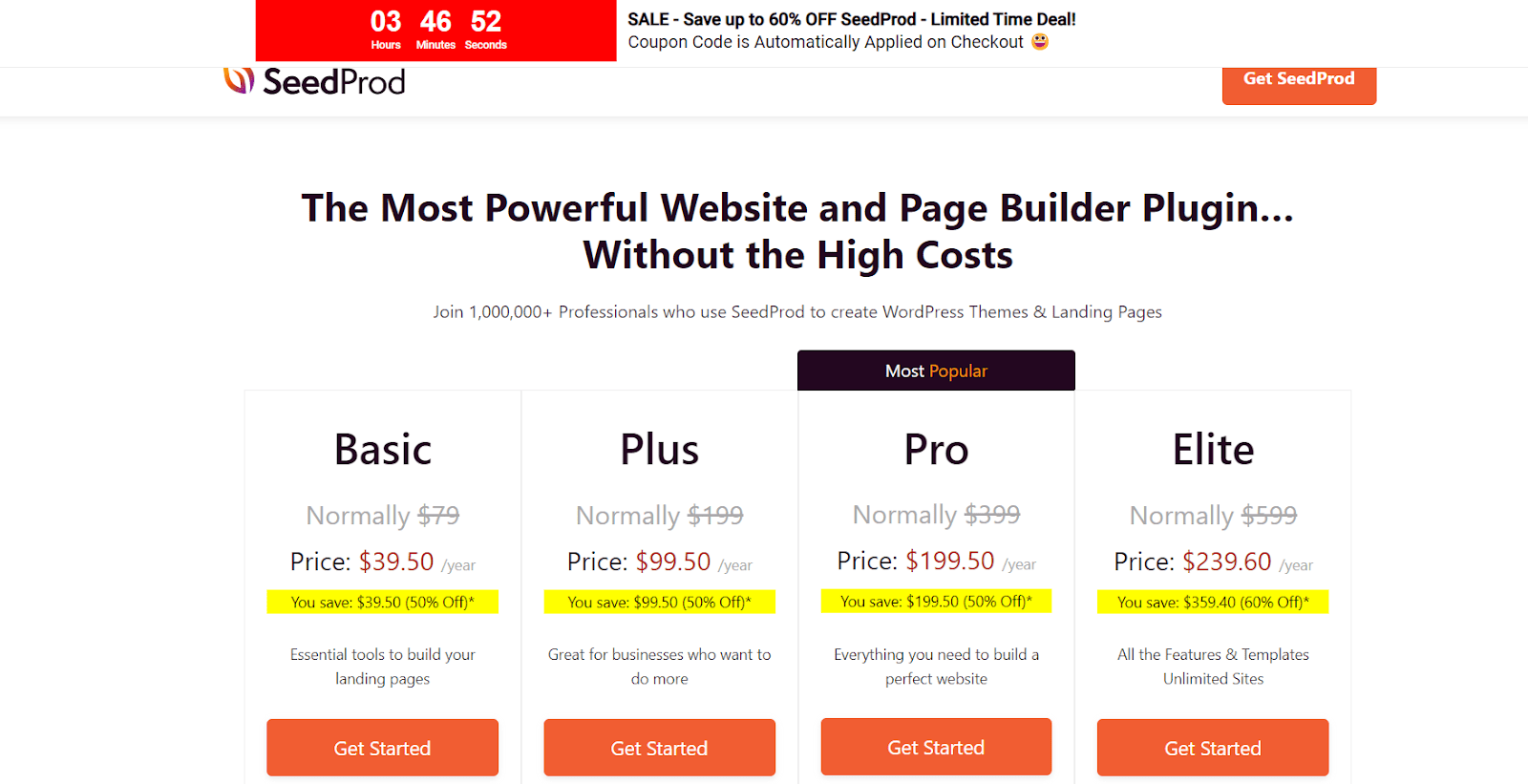 Benefits:
It comes with 150+ landing templates that assist in designing mobile-ready & responsive pages. Your work is almost done. 

It integrates with several email service providers and protects pages from bots, spam, or other fraud services.

You can edit real-time content and preview it as visitors would get to see it.

Ensures your site matches your branding.
Drawbacks
Business growth components are only available with the paid version.

It is compatible only with WordPress and not other Content Management Systems (CMS).

Elements & blocks provided by SeedPro are limited compared to similar tools.
2.HubSpot
One of the best CRM available, HubSpot offers many services. However, the best is its email marketing services. It creates awesome emails which are conversion-ready, along with learning valuable insights.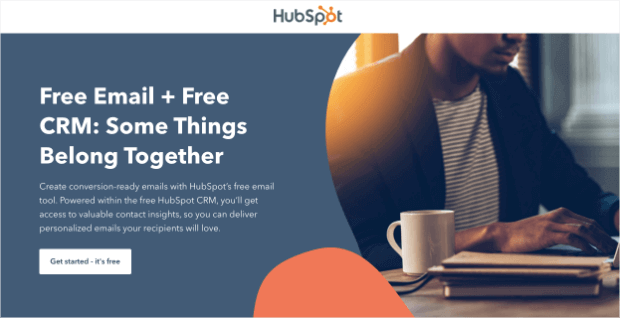 Pricing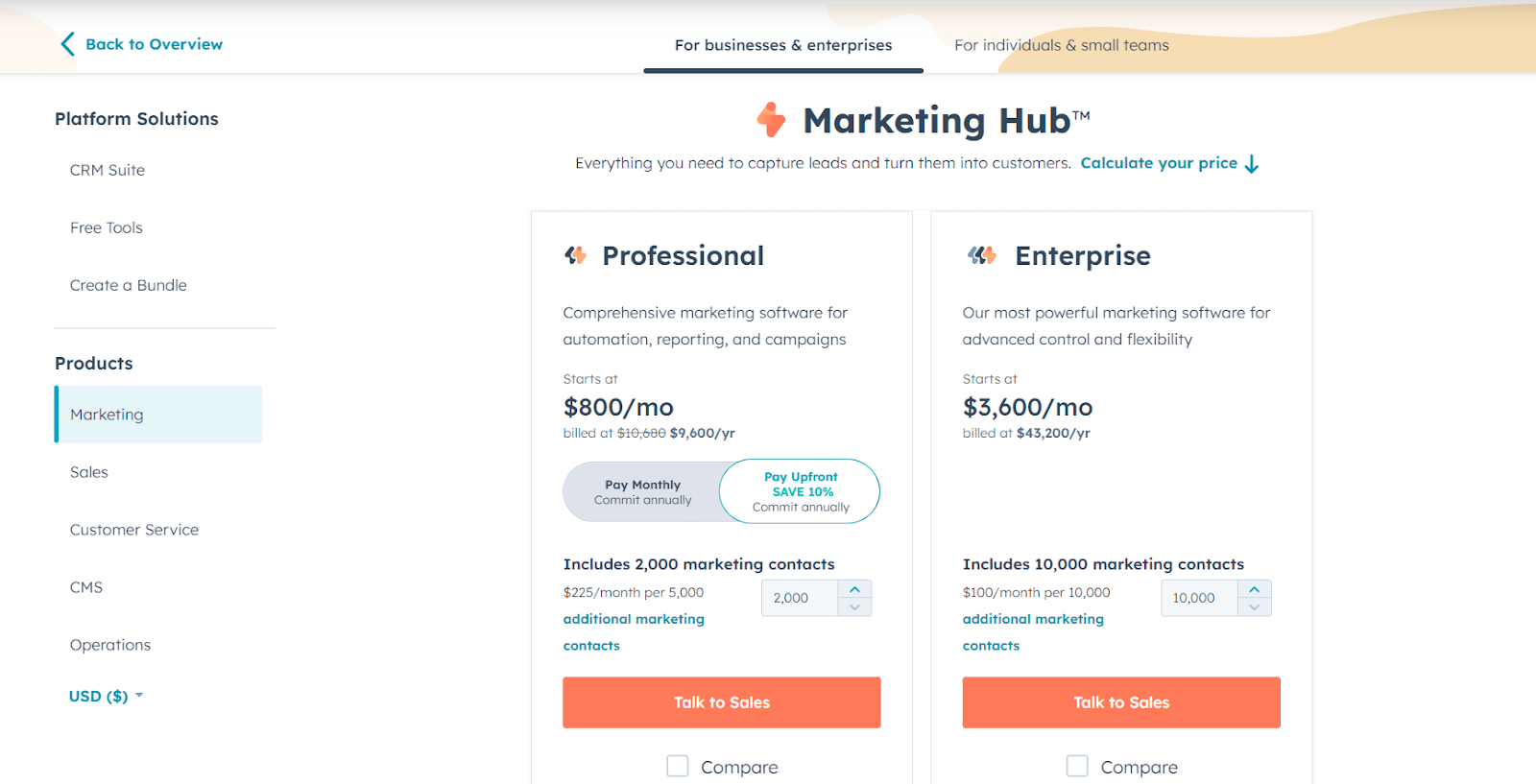 HubSpot offers an all-in-one marketing software with different pricing plans depending on the features and number of users. The Marketing Hub starts at $18 per month for two users, while the Service Hub starts at $20 per month for two users
The Professional plan for Marketing Hub starts at $450 per month for up to five users, and the Enterprise plan for Service Hub costs $1,200 per month for 10 users. The Operations Hub Enterprise package costs $24,000 per year.
Additional users for the Service Hub and Sales Hub Starter plan cost $10 per month, while extra users for the Professional plans cost $100 per month
Benefits
It provides insights regarding how your emails have been performing with the clients.

It offers separate hubs that let you focus on sectors of your business need – all through one tool. 

It offers email scheduling, engagement, tracking, and template tools.

It offers a live chat personality.
Drawbacks
It is impossible to retrieve lost data most of the time.

There is a limit of 1000 custom fields.

There is no customer support for free plans.
3.Adobe Marketo Engage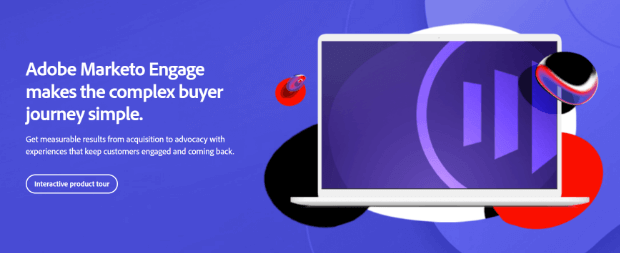 Adobe Marketo Engage Adobe Marketo Engage is a marketing automation software that streamlines, automates, and measures marketing tasks and workflows to increase operational efficiency and revenue growth. It is a B2C and B2B marketing automation tool that brings sales and marketing together to strategize and execute as a team.
Adobe Marketo Engage provides industry-leading marketing automation that solves complex, cross-channel customer journeys. It is a robust product that allows users to create and manage marketing campaigns and sales funnels
Pricing

Marketo Engage is a marketing automation software offered by Adobe. The pricing for Marketo Engage varies depending on the plan and features selected. According to various sources, the pricing for Marketo Engage starts at $895 per month for the basic plan.
Benefits
The tool personalizes your site's user experience, even if visitors are anonymous. In addition, it improves your leads for sale quality.

Its revenue tracking tool to track various marketing channels influences the bottom line.

Its marketing automation tool is designed to attract & engage more leads.

It allows you to work with various teams in your organization to increase leads & sales.
Drawbacks
There are no customizable reporting options available which make it tough to navigate.

The smart list designs are not flexible and hard to design.

It is unavailable for desktop chrome book, desktop Linux, or desktop Mac.

Buyers don't get a chance to conduct a free trial.
4.Salesforce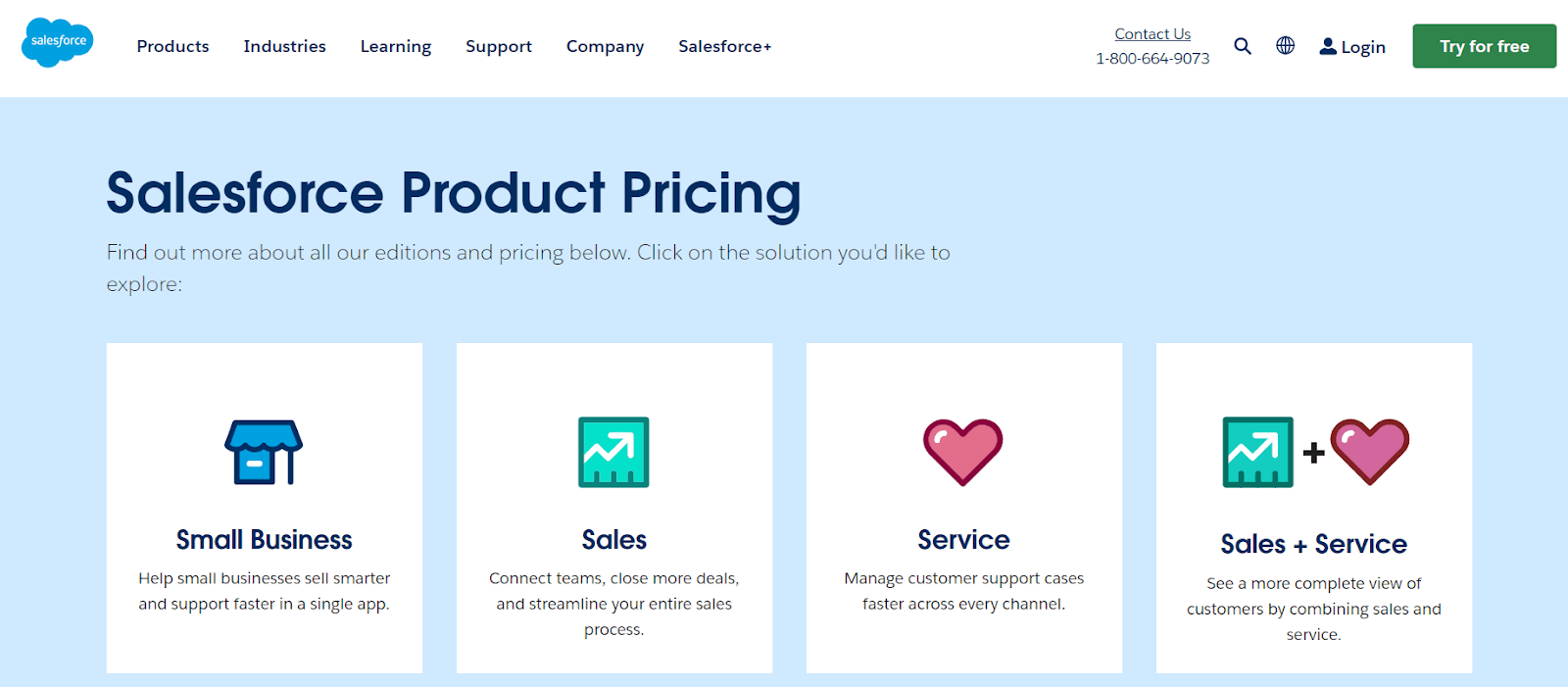 Salesforce is a lead management software that focuses on making your tasks easier. It assists you in managing customers & sales teams along with lead generation. In addition, you can integrate it with other sales and marketing software to practice businesses in selling more & delivering better customer service. 
Pricing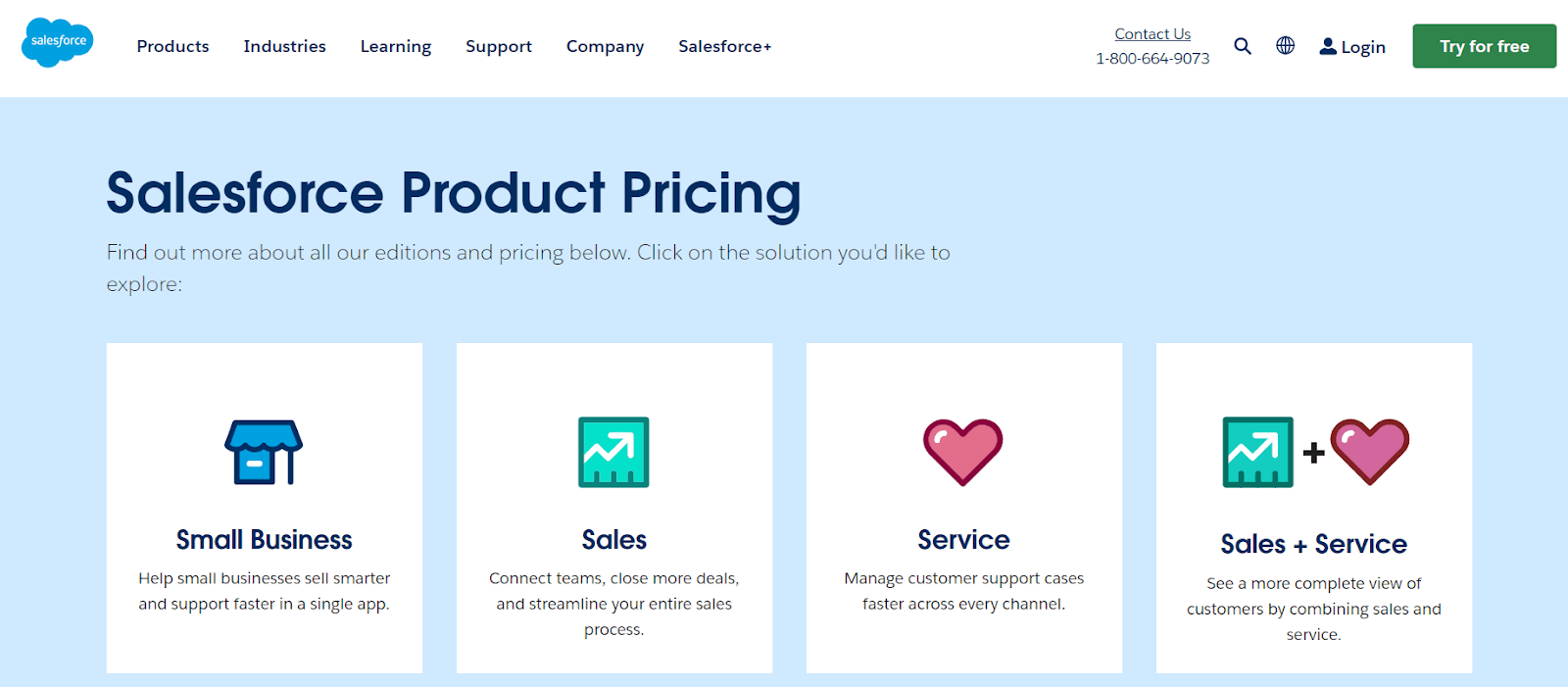 Salesforce offers a $25/month plan per user for small businesses. For up to 10,000 contacts, it charges $1,250/month. You can also customize these plans as per your company's needs.
Benefits
It offers separate tools related to your sector to counter competition.

It provides support such as field service tracking, a customized help center & chatbots.

It provides a guided setup so that you can integrate your different departments.
Drawbacks
Its interface can be hard to use or manage many times.

At times its automation fails & provides inaccurate data.

At times its built-in email message creation may send unformatted messages randomly.
5.Drift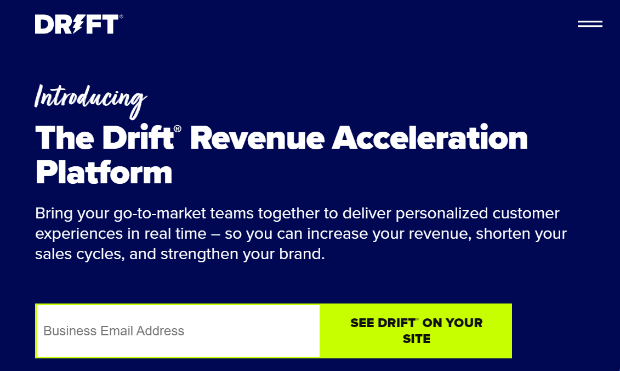 Drift Revenue Tool is a conversational marketing and sales tool part of Drift's Revenue Acceleration Platform. It is designed to guide visitors on a personalized journey where they can voice their intent with open text questions, find answers to their questions, get personalized recommendations or book a sales meeting
Pricing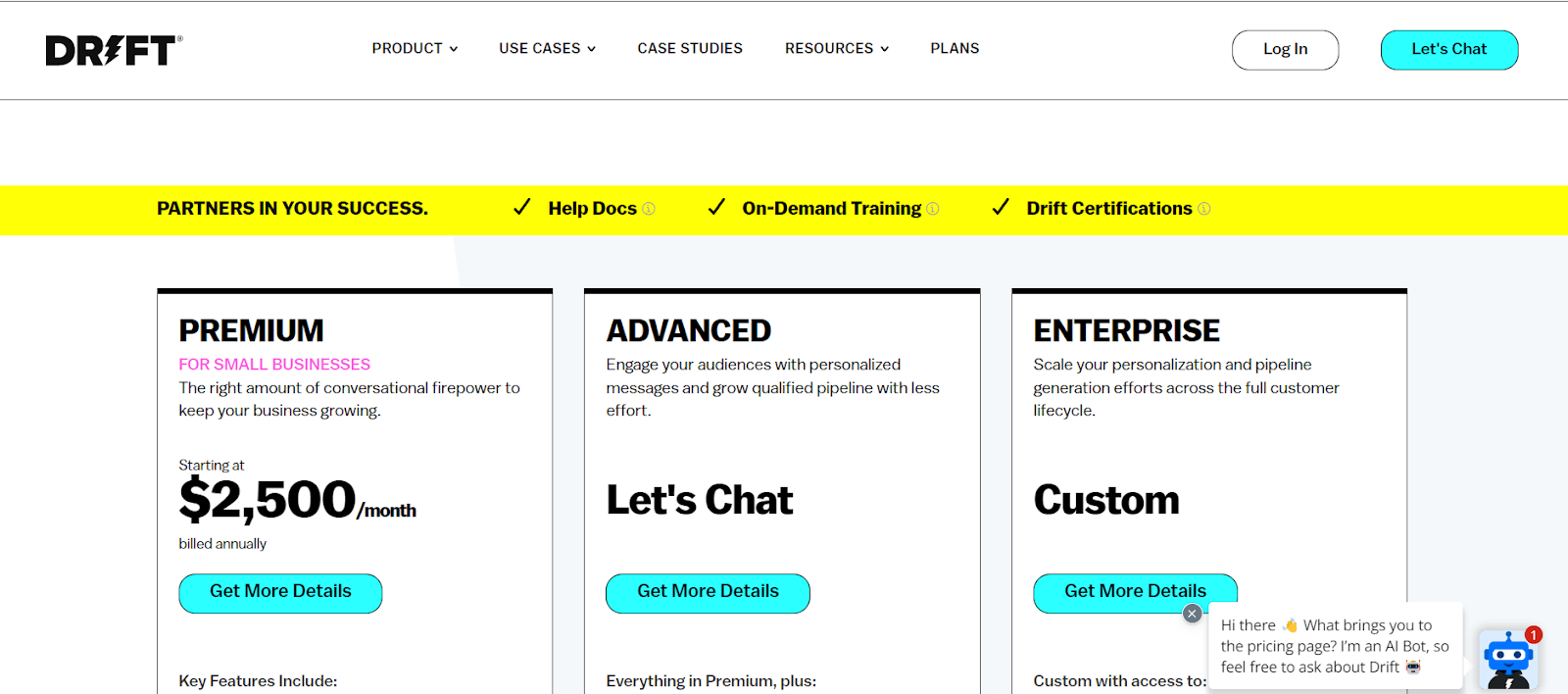 Drift offers its clients a free version before they can decide. After that, it offers a premium plan at $2500 per month. For the rest, you will have to consult a sales agent.
Benefits
You can integrate Drift with other sales and marketing tools to personalize each client experience depending on their business history with your organization.

You can remove alternating communication through leads and connect with them in real-time through your site.

It comes with a chatbot to guide your leads. 
Drawbacks
Sometimes, the tool is buggy & does not function as described in the segment.

There can be an issue with the customization & functionality option.

It has a confusing backend user interface.
6.CallPage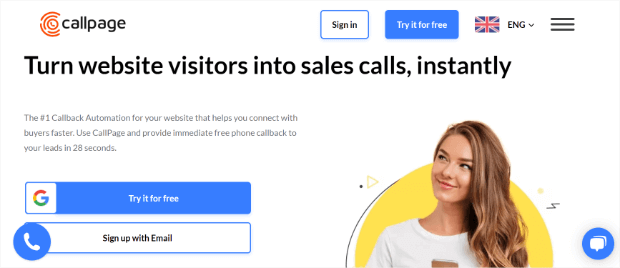 As the name suggests, this lead generation tool provides call-based leads for your dealings. The prospective leads enter their contact numbers through a button on this site. 
From your side, you have to mention your business hours to receive client calls. Once they enter their phone number & they receive an automatic call back within 28 seconds.
Pricing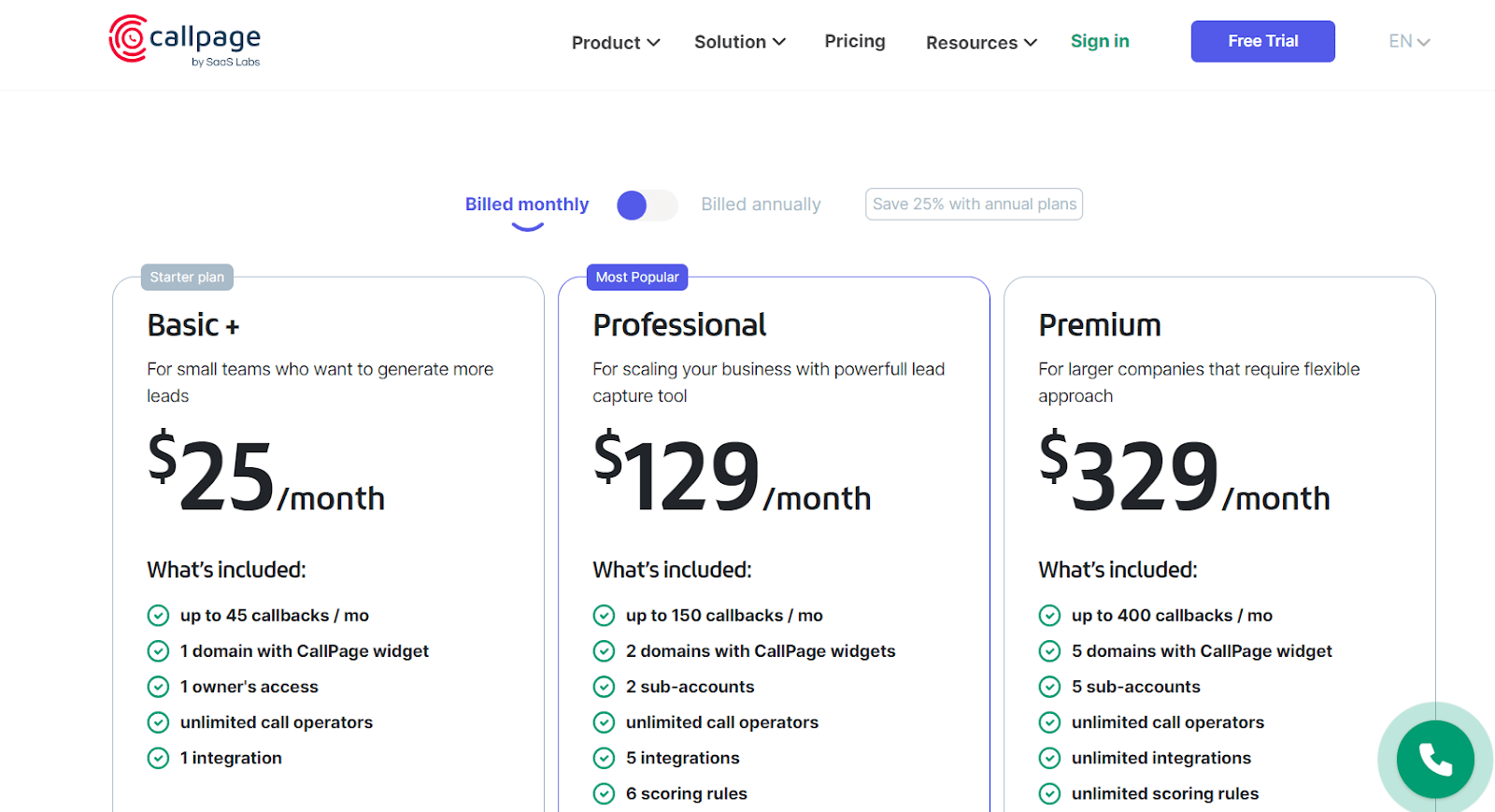 Its basic plan is free that covers 15 leads in a month.

Its Basic plan is $25 per month, the Professional plan is $129 per month & Premium package is $329 per month.
Benefits 
It comes with a call analytics dashboard that provides details of your call.

It targets rules; hence the callback button appears only after high leads.

You have the option to customize pop-ups.
Drawbacks
Customer support is not up to mark.

It is sometimes tough to locate team configuration & number configuration on the CallPage dashboard.

Volume-wise, the plans are very limited as compared to other tools.
7.Swordfish.ai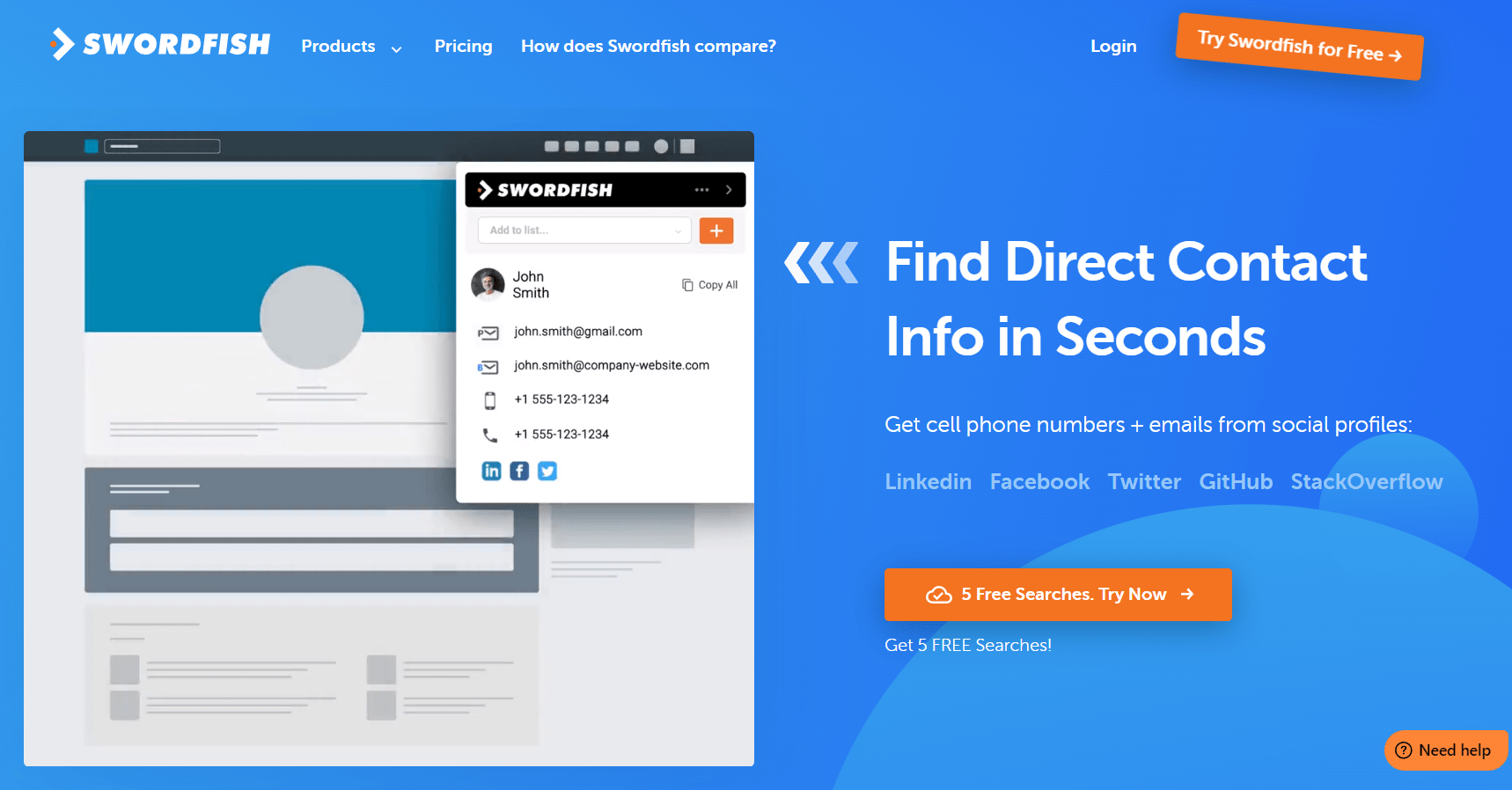 Swordfish.ai is a lead-for-sale tool that primarily assists you by finding email IDs & cell phone numbers of professionals out there. 
Swordfish.ai is a sales intelligence platform that provides a contact-finding tool for sales professionals. It has a self-serve Chrome extension and a multi-product platform with an in-house unique verification system. Swordfish.ai has over 3.1 billion contact profiles and is used by over 50,000 professionals. Its Prospector feature helps users find accurate contact information in bulk with advanced filtering and search parameters
Swordfish.ai is known for being one of the best email and cell phone finder tools and is called "The
Ultimate Contact Finder
".
It has the largest live database of over 3.5 billion contacts and real-time verification
Pricing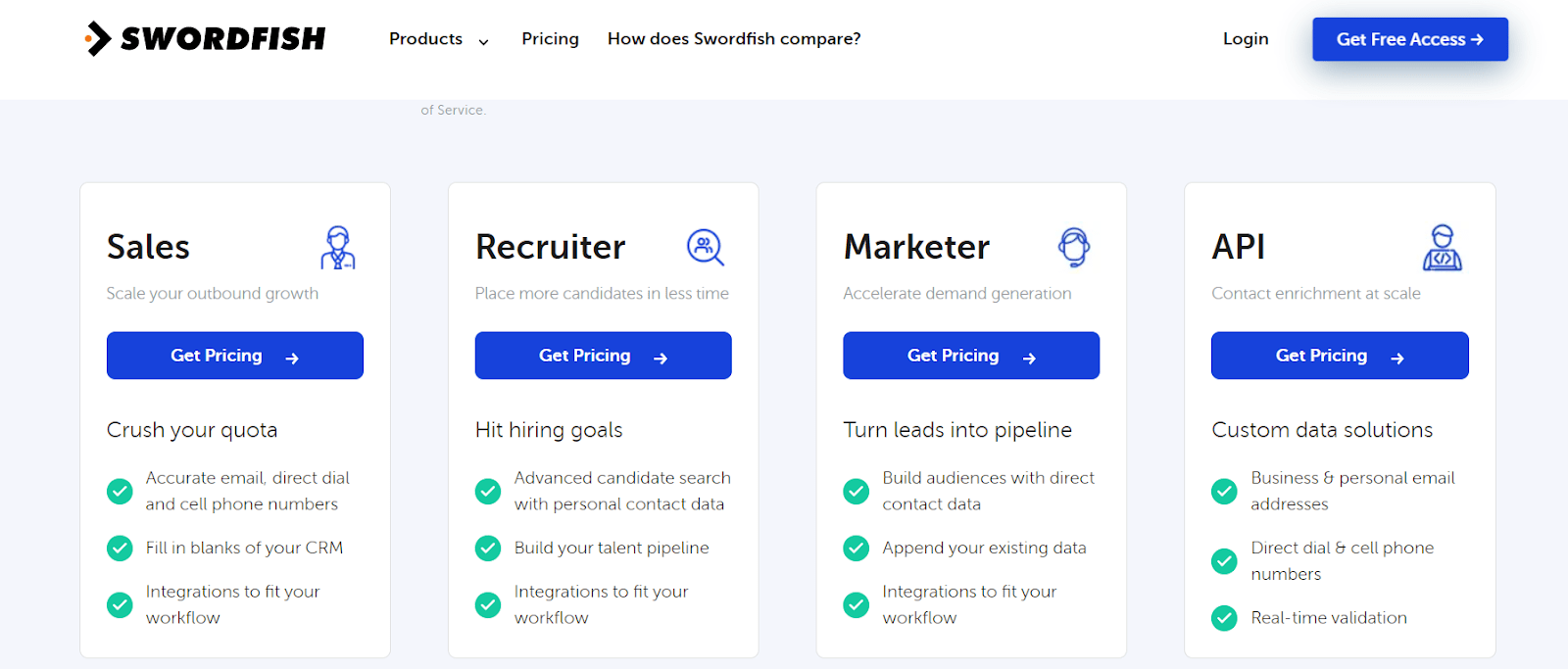 Swordfish AI offers a custom-sized free trial suited to the organization's needs. The Swordfish AI pricing page contains information on different plans, including custom enterprise solutions. 
Benefits
It provides a free Google Chrome extension plugin that integrates if you visit Google, Bing, Stack Overflow, LinkedIn, Dribble, Meetup, or Facebook.

With its Deep Search Engine feature, you can locate anyone depending on input data.

The tool enriches existing lead data with missing data.

It allows you to create & manage lists of potential clients. 

You can import & export your lead data to and from different formats like spreadsheets, plain text, etc.
Drawbacks
Conclusion
The top 7 tools to generate leads for sale that significantly boost your business's growth by attracting and nurturing potential customers. These tools include HubSpot Marketing Hub, Swordfish, and more.
Utilizing these lead generation tools allows you to streamline your customer strategy, focus on delivering what your customers need, and automate processes to make lead generation more efficient.
Ultimately, after learning about these tools, we concluded that Swordfish is one of the most crucial leads for sale tools in the above list. Why?
Swordfish.ai is a powerful lead-generation tool that helps businesses find accurate contact information, including email addresses and phone numbers, for decision-makers and key executives. It connects to over 200 network data partners to provide the most updated and accurate contact information.
Swordfish.ai offers a Google Chrome extension that integrates with popular social media profiles like Facebook, Twitter, LinkedIn, GitHub, Meetup, Stack Overflow, Dribble, Xing, Bing, Gmail, and Google, making it easy to find contact information while browsing these platforms.
Swordfish.ai can save time, reduce cognitive load, and make connecting with potential customers easier. It is particularly useful for sales, marketing, business development, lead generation, and demand generation teams looking to fill their pipelines with high-quality leads.
With a 15-day free trial and a money-back guarantee, Swordfish.ai offers a risk-free way to enhance your lead-generation efforts.