Real estate agents don't just sell houses. They ensure potential homeowners are connected with the right people to conduct business and find common ground in business transactions.
As an agent, you must maintain good customer relations with potential customers and nurture them into leads willing to take your deals before the competition. You can leverage real estate email marketing to build trust by keeping your prospects updated on the market.
A realtor email list is the best way to reach and communicate with your audience.
But how do you create one and start generating leads?
Learn more about the importance of realtor email lists, the best practices in building one, and why you should reconsider buying them from online vendors.
Why Do You Need A Realtor Email List?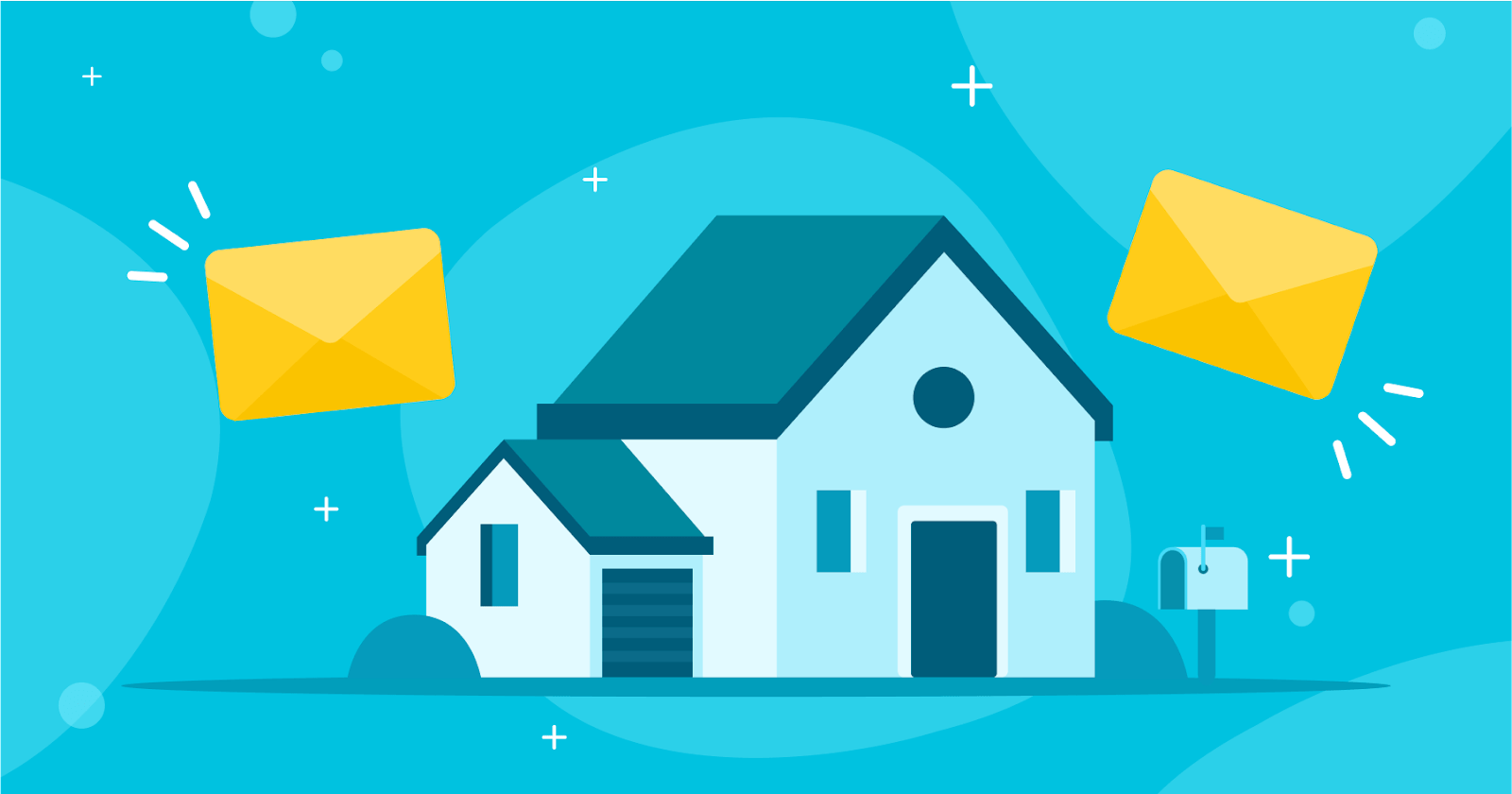 source
Real estate agents certified by the National Association of Realtors (NAR) are called realtors. Realtors are federally registered to this association as real estate professionals who abide by the organization's code of ethics.
A realtor email list is crucial to develop and maintain for any industry professional who wants a steady flow of real estate leads. These buyers and sellers are interested in your products or properties, making them high-value qualified leads in your sales funnel.
The central objective of realtor email lists is to act as a repository for the contact information you collect from prospects who want to receive updates on your services, properties, listings, etc. Accepting updates from you implies that they are interested in dealing with your real estate agency.
In addition to sending updates, real estate lists help realtors:
Better engage with prospects to notify them about lucrative deals.
Send personalized emails to make them feel catered to, thus increasing the chances that they convert for you or your agency.
Prospects can analyze market trends with the news you send them based on the real estate industry. This initiative helps build trust and asserts your position as an authority in the field by being a trusted source of information.
Consistent cold-calling strategies supplemented with follow-up emails help you gauge the level of interest for particular prospects and identify leads with high-purchase intent.
Emails help bring more attention to your websites and landing pages that can provide additional information about your services to prospects in their research stage of the buyer's journey.
How To Create a Realtor Email List That Converts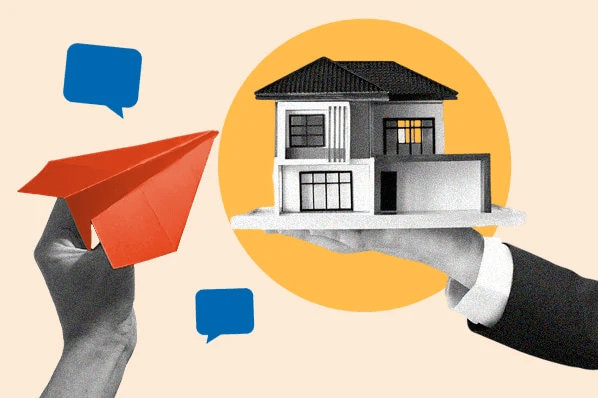 source
Contacting your prospects on your realtor email list is not enough.
A well-maintained list of engaged leads with whom your interactions eventually turn into successful appointments.
When you successfully curate your prospect's contact information database, you can expect higher click-through rates for emails and positive responses to your cold-calling strategies.
Here is how you can start creating realtor email lists filled with active leads you can nurture into long-term customers:
Define Goals and Targets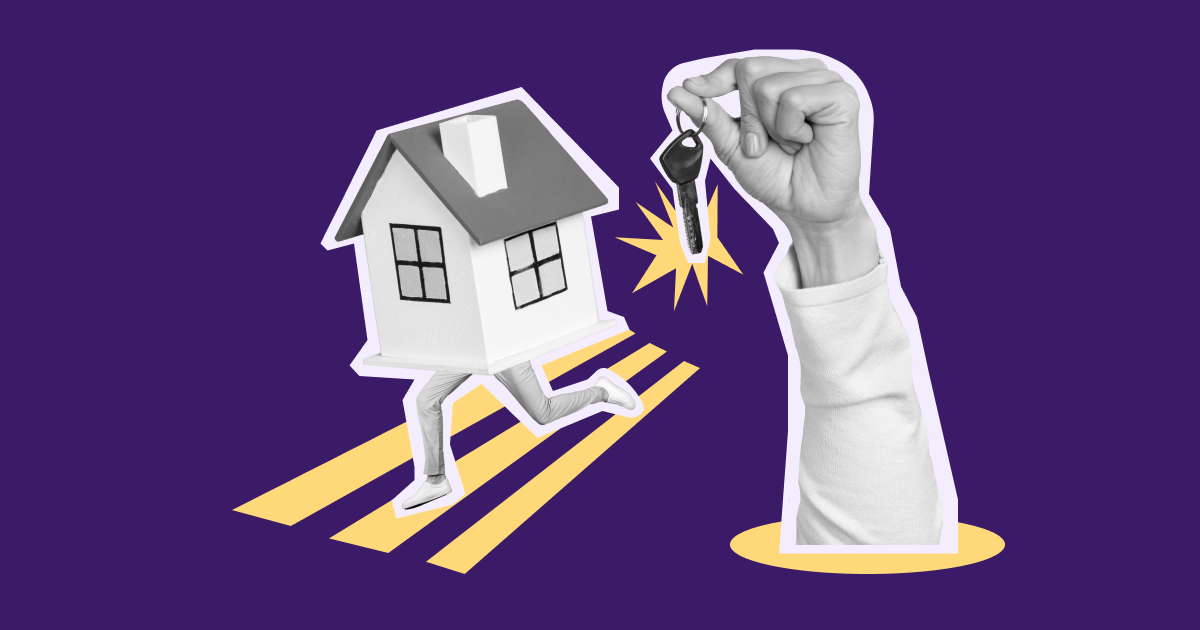 source
Like any B2B business plan, the first step you must undertake is setting up goals and clear win conditions.
Choosing one from retaining current leads, acquiring new leads, or upselling to your email list can help you identify and chart an effective course of action to meet your goals.
Gathering new leads requires you to find email addresses of potential customers in your neighborhood and reach out to them through cold emails, whereas personalized branded content or housing updates help re-engage your existing leads.
You can spot upselling opportunities for properties that might interest specific homeowners on your email list and let them know first so they can act on it instantly.
Review Legal Guidelines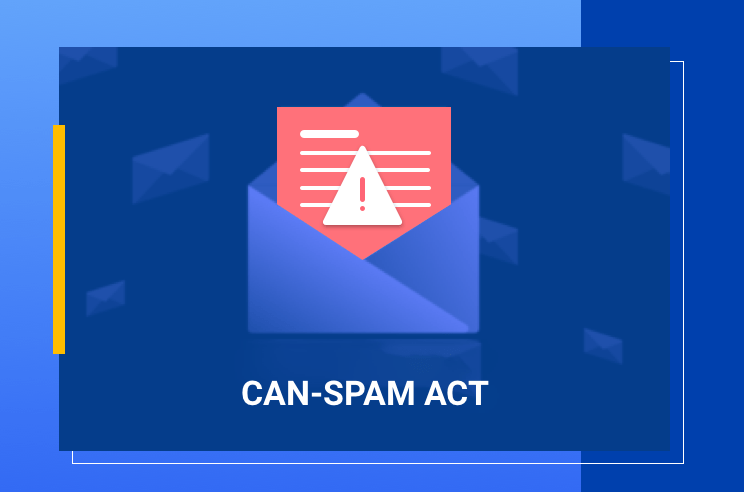 source
While adding new contacts to your realtor email list is an enticing venture, you must remember to comply with the CAN-SPAM Act to acquire prospects and add them to your mailing list ethically.
Complying with the act requires you not to add emails arbitrarily without their consent and give prospects an option to opt to be a part of your targeted leads voluntarily.
You can include forms in your landing pages, websites, or on call-to-action (CTA) buttons placed strategically in your email outreaches for a better chance of gaining more contacts.
Select the Optimal Email Service Provider (ESP)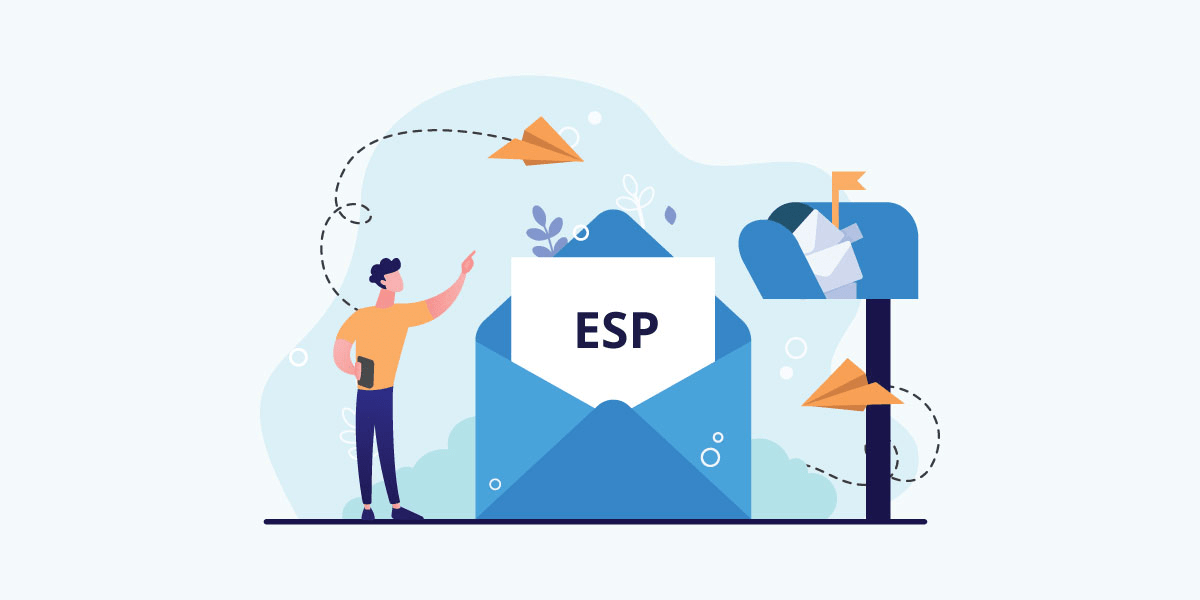 source
An email service provider (ESP) helps you import your list of subscribers and contacts instead of adding them individually. ESPs are also convenient for sending bulk emails, as sending them from your mailbox would trigger spam filters.
The qualities of a good ESP include:
Intuitive and easy to use with access to pre-made email templates.
Multiple options to segment leads based on demographics like area, industry, age, nature of business (buyer or seller), etc.
Automated workflow features to trigger specific messages based on user actions.
Comprehensive analytics features for better A/B testing.
Create a Personalized Landing Page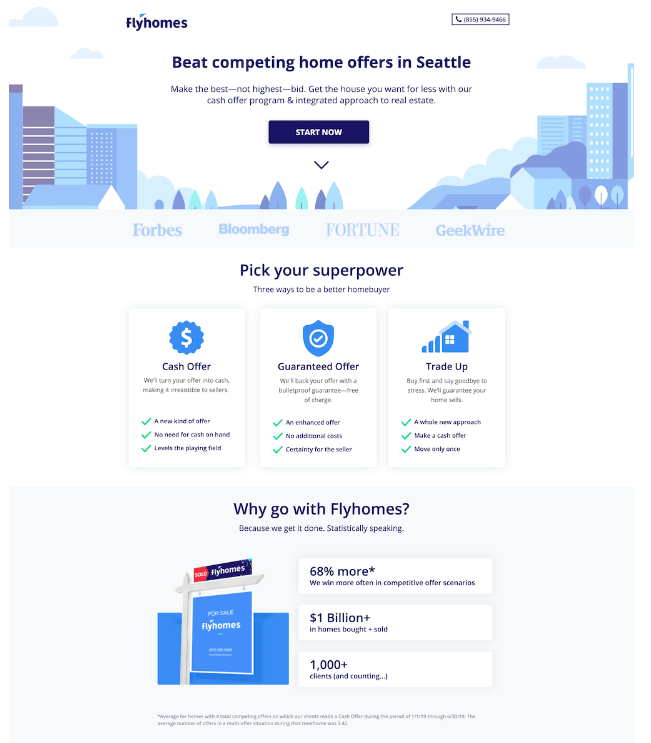 source
Creating a personalized landing page geared for sign-ups helps eliminate distractions and focus on guiding the website visitor to a specific CTA button, where clicking on it asks them to exchange their contact information for enticing offers and branded content.
A dedicated landing page clears external links from the prospect's immediate consideration to provide value with real-time property and housing updates or house valuation reports after they opt to join your email list.
Given that your real estate landing page's central objective is to guide visitors into signing up for your email updates, following the industry-standard best practices in creating these pages will guarantee the best results:
Write a concise and compelling headline that conveys the brand offering to website visitors.
Supplement the brand offering with a subheader that lets prospects know what to expect when subscribing to your mailing list.
Strategically place CTAs to guide prospects into filling opt-in forms that link with your real-estate customer relationship management (CRM) platform or ESP to collect and grow your realtor email list.
Include branded media like images and videos emphasizing your brand value in an engaging format.
Grow Your Email List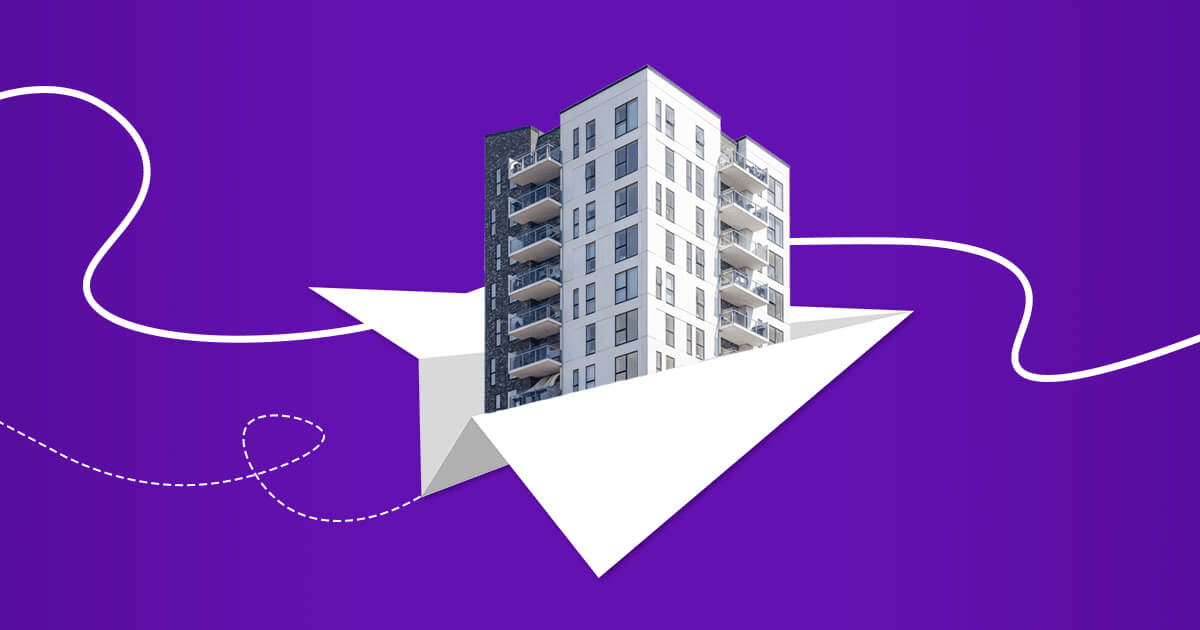 source
The next major for any real estate agent after creating an email list is growing it. You must focus on reaching out to and nurturing every lead, as they are all considered potential long-term customers.
The email opt-in landing page can be placed on several platforms like outreach emails, social media posts, redirects from Google Ads, CTAs at the end of your website, etc.
Furthermore, these can be placed as a means for visitors to access real estate gated content once they subscribe to your email list.
Lead Segmentation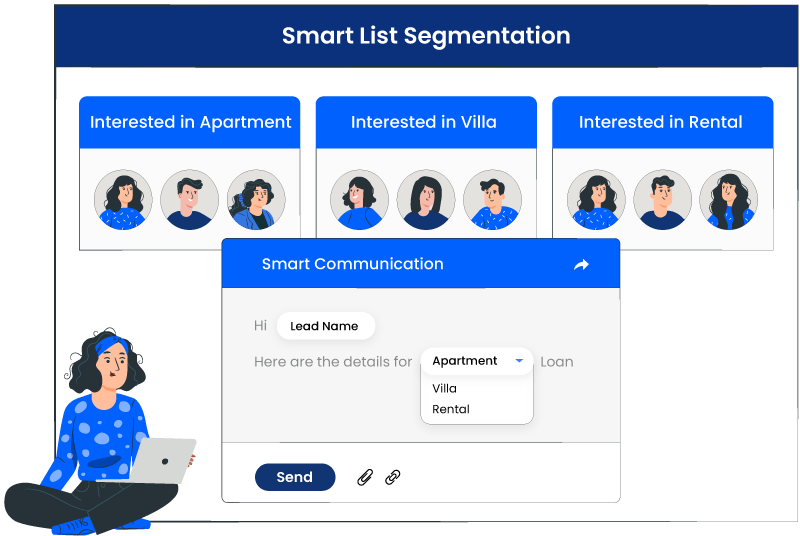 source
Segmenting your unorganized realtor email list is crucial to personalize every outreach and nurture each category of leads differently using targeted methods.
You can start by organizing your leads based on the following:
Intent: Separate leads based on what they seek in the real estate market. These groups can be potential buyers, sellers, renters, or leads who want to gather more information by viewing updates for new listings.
Warm or Cold Leads: Leads who have already interacted with you or your agency don't require the same top-of-the-funnel (ToFU) content and are treated as warm leads to move through further stages of the funnel.
A prospect who has not heard of you but shows high-purchase intent can be reached through cold emailing strategies to incentivize completing their buyer's journey and converting with your agency.
Both parties require different tactics and content to encourage a conversion.
Source: Groups based on where you found the lead's contact information, like events, open houses, branded landing pages, etc.
10 Ways to Make The Most Out of Your Email List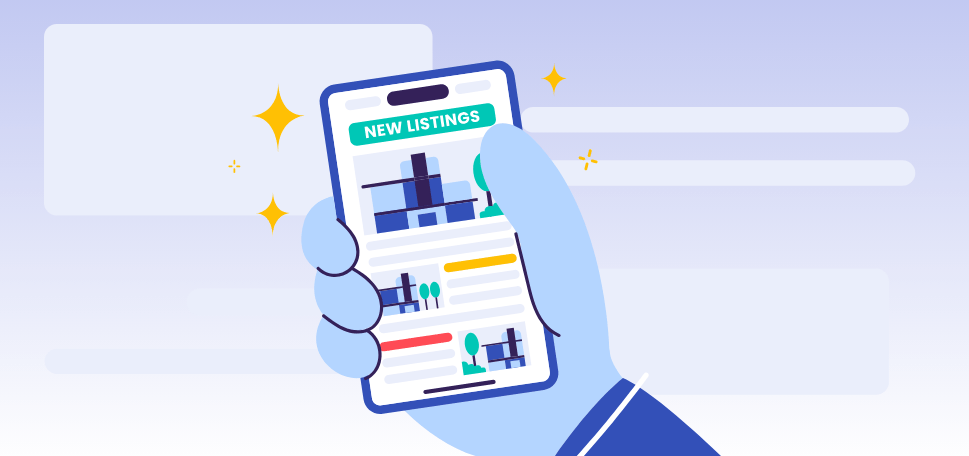 source
Even after you have successfully created and set up your realtor email list, you must have adequate knowledge on how to utilize the list to engage your leads and have your offering stay on the top of their minds for longer.
Here are ten ways to ensure you're making the most out of your email lists:
Schedule Emails for Better CTR – Prospects are not always up for opening emails at certain times, such as early in the morning. Experiment with different timings to avoid sending emails when leads are the busiest and instead more likely to open your emails.
Send Weekly Newsletters – Keep your contacts updated on the recent developments in your neighborhood to have them act faster on new listing updates.
Leverage Analytics – Monitor the open and click-through rates of emails that get the most engagement to identify winning strategies and formats that your prospects respond positively to and create subsequent email templates.
Provide Monthly Reviews – A monthly review for the best-selling properties can help buyers and sellers make informed decisions faster.
Offer the Latest Market Alerts – Keeping your contacts updated on factors that affect housing prices, like new retail openings, tax reforms, increased housing communities, etc., helps build trust amongst your readers in the neighborhood.
Personalized Emails for Special Occasions – Personalized emails for events like birthdays and anniversaries can help emotionally impact prospects and enhance business relations.
Create Email Templates – Creating email templates for scenarios like welcome emails, newsletters, listing notifications, open house announcements, etc., can save significant time and resources instead of spending hours crafting a new email from scratch.
Consistent Email Frequency – In addition to deciding when to send your emails, set a proper email frequency that doesn't end up being too spammy while keeping your deals and offerings relevant in the minds of your prospects.
Targeted Follow-Up Emails – Website visitors must also be engaged through follow-up emails to ensure they return to you for enticing deals. Track user behavior with website analytics tools and send follow-up emails to potential customers.
Provide an Option to Opt-Out – To remain compliant with laws like the CAN-SPAM Act, ensure you give your prospects an option to opt out of your email list and avoid unnecessary legal trouble.
Why You Should Not Buy Realtor Email Lists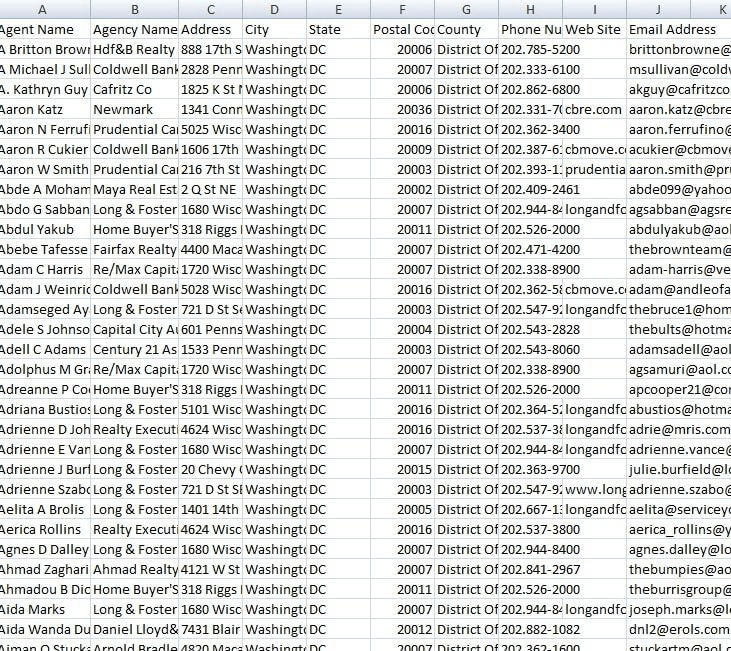 source
Several services online provide you with an already curated realtor email list. Although you can access these email lists for a price, the drawbacks of such a service can easily outweigh the time you save by not creating a list by yourself:
Purchased email lists often contain inactive and outdated contacts with no way of updating contact data in real-time.
Emailing contacts who have not consented to receive your emails can result in spam complaints against your domain. Furthermore, you would violate the CAN-SPAM Act if you send unsolicited emails to people who have not permitted you to send them emails.
Purchased lists often contain spam traps and honeypots to catch spammers. Sending emails to these contacts can get your company flagged as spam, damaging your reputation and deliverability rates.
With the severe repercussions of buying realtor email lists, creating and organically growing your list is the best solution for real estate agents who want to connect with prospects and nurture them into sales-ready leads.
Swordfish AI is the perfect tool to help you gather accurate contact information for buyers and sellers who are most likely to convert for your offers. We supplement our easy-to-use automation features that fulfill your contact data requirements in just a few clicks.
Swordfish AI: Create the Perfect Realtor List with Accurate Data
Swordfish AI is a comprehensive prospect finder tool that expedites your search for potential customers in the real estate industry by leveraging automation, data enrichment features, and an expansive database.
Swordfish AI offers contact information for over 3.5 billion verified profiles by working with 200+ data partners to help you create the perfect realtor email list. Features like File Upload automatically add updated emails to your databases, so you don't have to buy lists from online vendors.
Features
File Upload: Swordfish AI's File Upload feature bridges gaps in your real estate CRM/ATS platforms by automatically filling out missing contact information like names, job titles, locations, contact numbers, mobile numbers, business emails, etc.
You can fill out information for your realtor email lists in bulk after you upload your files in Excel or .CSV formats on our browser platform.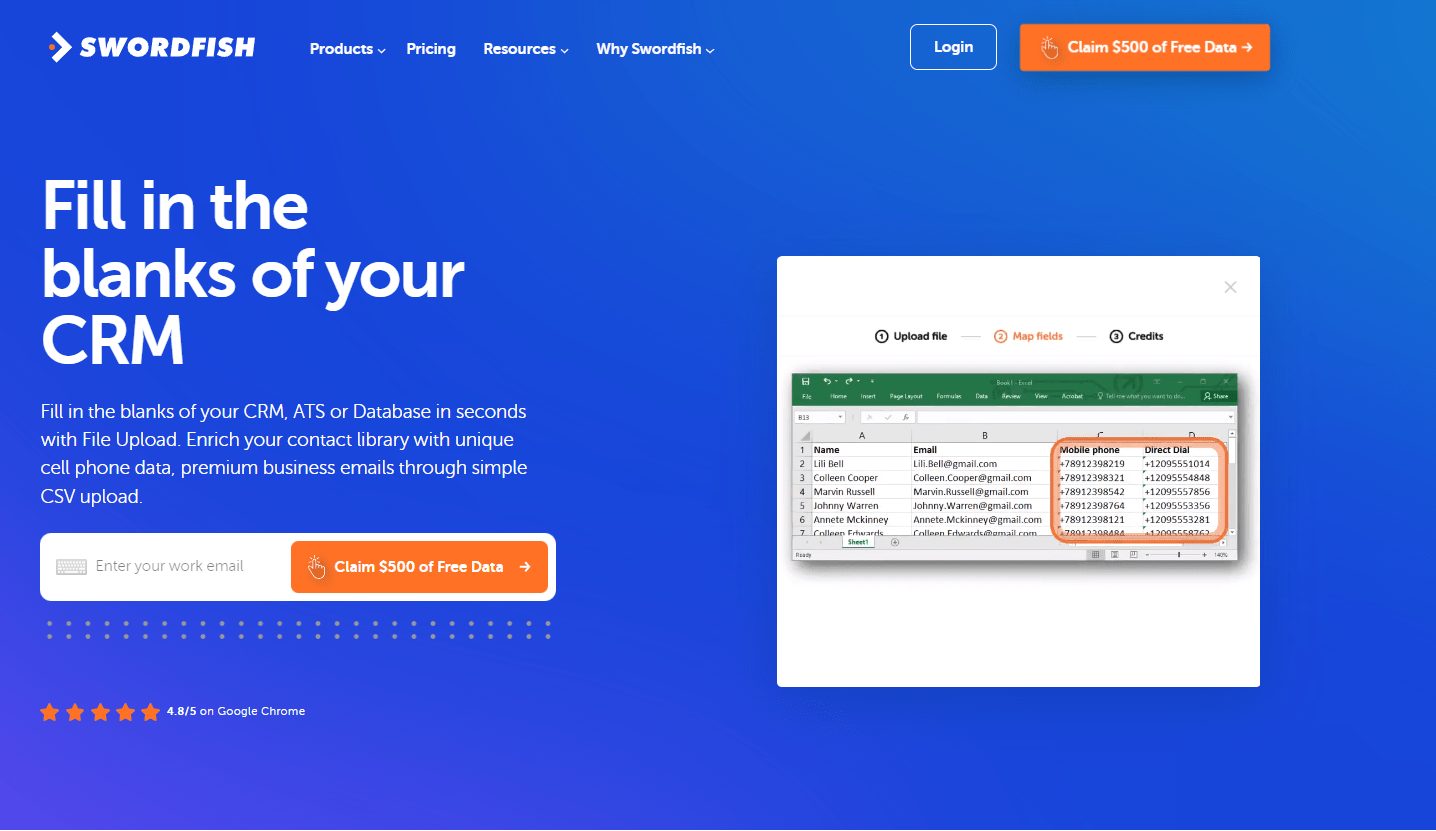 Reverse Search: Our Reverse Search feature provides email addresses for prospects when you input any one credential.
You can prioritize data requirements like email by marking them as "must-have" data to have our service search and display accurate contact data automatically.
Swordfish AI charges you based on whether we can provide the "must-have" data. We don't charge you for the search if we cannot find it.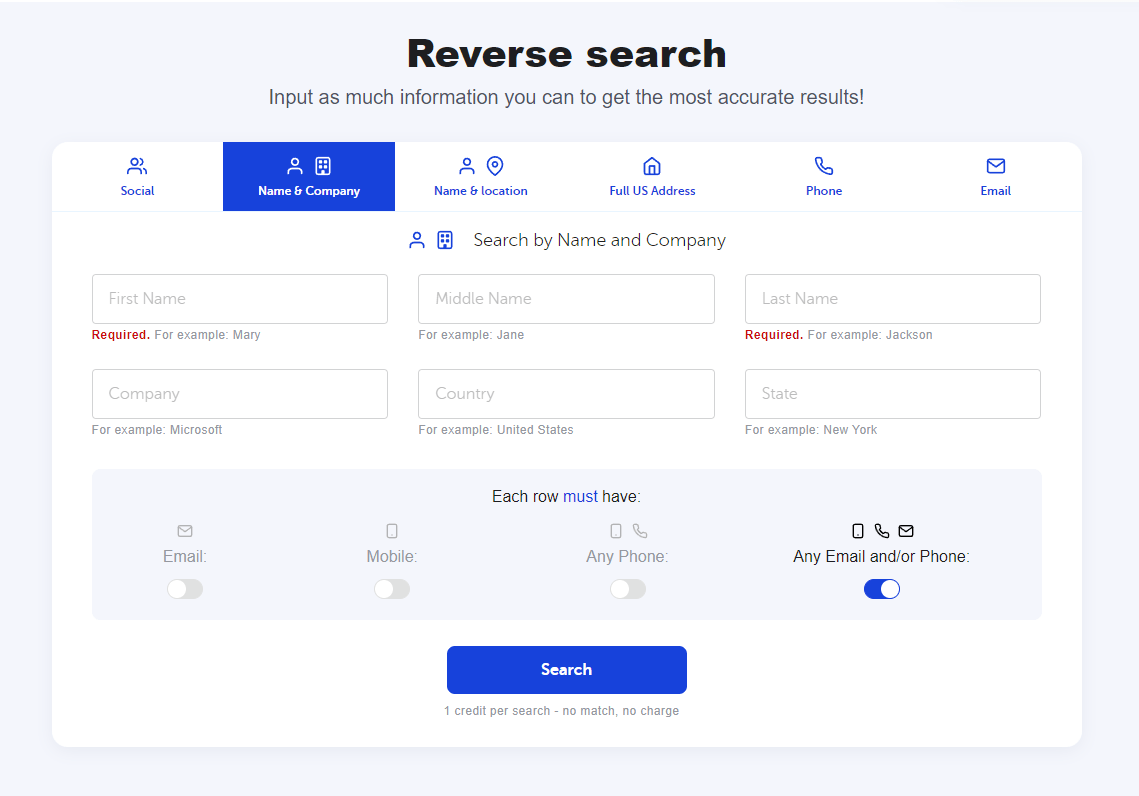 Chrome Extension: With our Chrome Extension, you can obtain the email addresses of prospects when you browse social media platforms like LinkedIn, Twitter, GitHub, Dribble, Facebook, etc.
You can also save prospect data into individual project lists for better lead segmentation.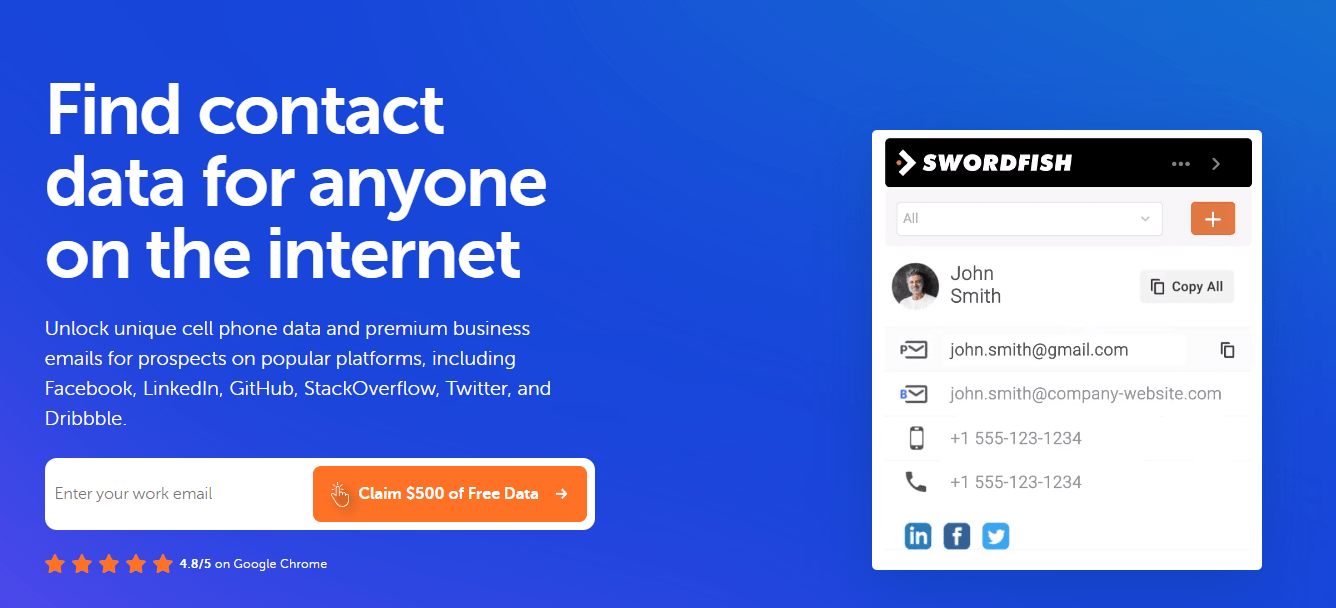 Refresh Title+Data: Refresh Title + Data offers updated data for job titles and current employment of high-value leads in target companies after you input the organization's LinkedIn URL.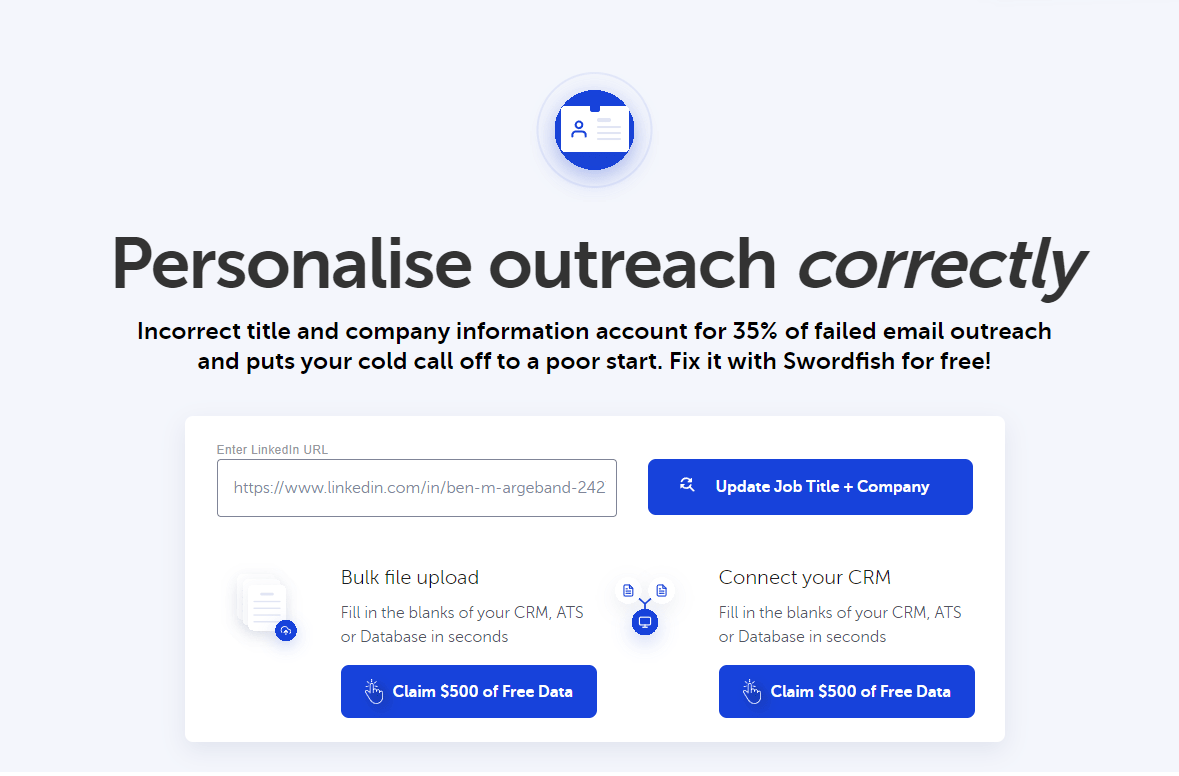 Swordfish AI's Bombora integration provides buyer intent data to identify real estate prospects ready to buy or sell properties in your neighborhood.
We offer a flexible pricing plan aimed at assisting you with closing more deals with interested homeowners. Try our features risk-free with a free trial, or talk to us about your email data requirements so we can tailor a pricing plan for your real estate agency.
Conclusion
Reaching out to real estate prospects is crucial in keeping track of potential homeowners willing to buy or sell houses in key properties. You must actively engage with them consistently to ensure they are more likely to take your housing deals than your competitors.
A realtor email list is an excellent resource to develop and manage that assists you with sending out personalized emails for every scenario that helps you stand out and generate more revenue for your brand.
Structuring email lists can take significant time and resources to set up while buying them from online vendors can cause several legal consequences eventually.
Swordfish AI helps real estate agents create comprehensive email lists with accurate contact information for 3.5 billion profiles worldwide to reach prospects quickly and ethically. Our File Upload feature ensures your email database in CRMs is consistently updated.
You can get a custom pricing plan after you talk to us about your data requirements, or try our features with a risk-free free trial to experience our impact on your email outreach strategies.
Stay ahead of the competition and keep real estate prospects returning for more housing deals when using Swordfish AI!