In today's data-driven world, organizations constantly strive to extract valuable insights from their customer data.
However, raw data alone is often insufficient to provide the understanding required to make informed decisions and drive business growth. This is where CRM data enrichment comes into play.
CRM enrichment refers to enhancing customer data's accuracy and completeness by integrating internal CRM data with external data sources.
By leveraging advanced technologies and tools, businesses can enrich their CRM systems with additional information, empowering them to gain a deeper understanding of their customers and make data-driven decisions.
In this blog, we will explore the concept of CRM data enrichment in detail, highlighting its importance and benefits to businesses.
What is CRM Data Enrichment?
CRM Data enrichment refers to the meticulous procedure of enhancing the precision of unprocessed customer data by combining internal CRM data with external data sources.
Organizations can significantly enhance the quality and usefulness of their existing datasets, enabling them to make more informed decisions and gain valuable insights.
Data enrichment specialists utilize various technologies and tools as part of their tech stack. These may include data management platforms, data cleansing and validation software, API integrations with external data sources, and analytics tools.
By harnessing these technologies, they can efficiently retrieve and integrate data from diverse sources, enriching the CRM system with valuable insights.
Importance of Data Enrichment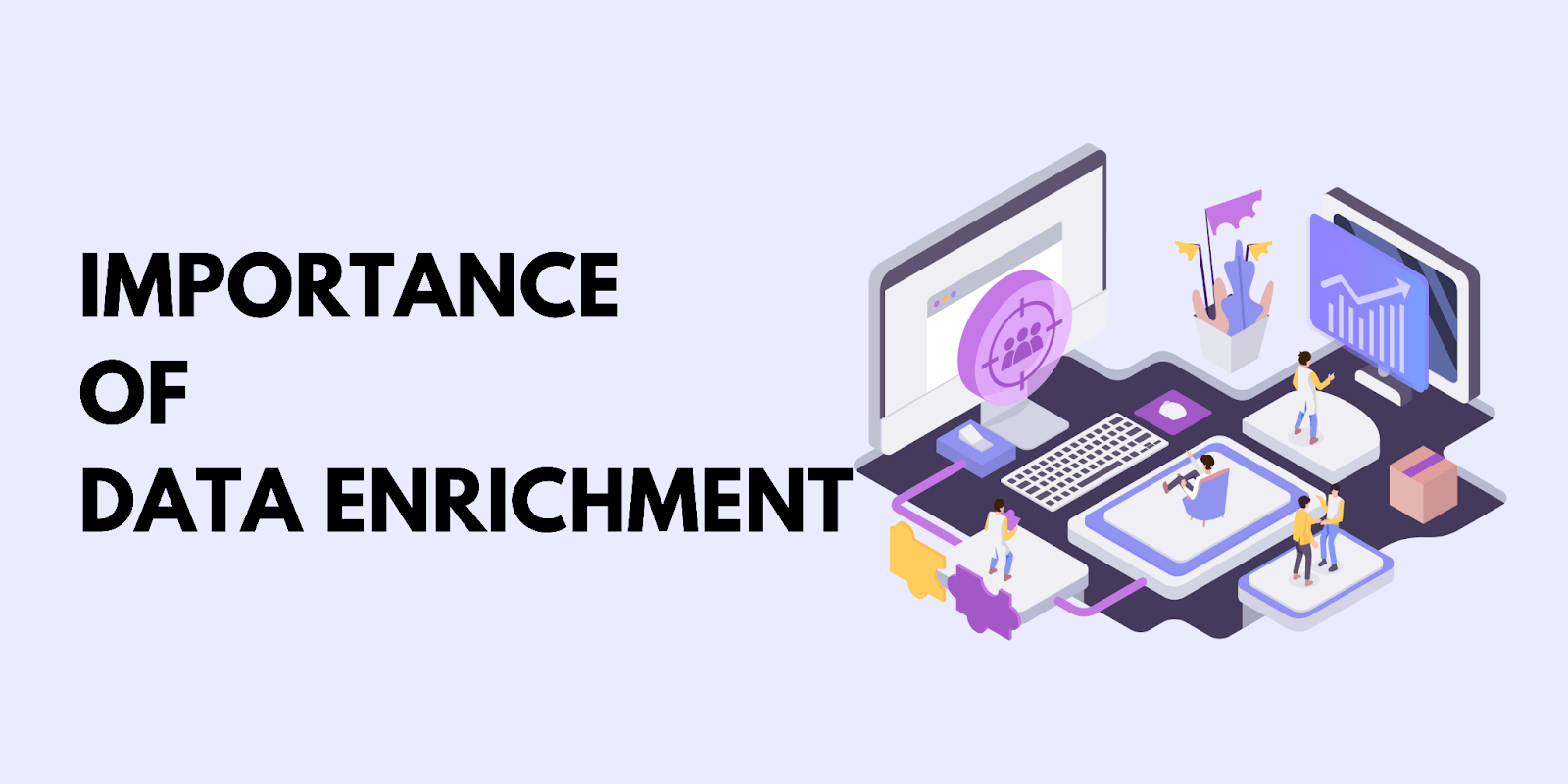 Here are the key reasons why enriching CRM data is important.
Enhanced Customer Understanding
Enriching your CRM data gives you a deeper understanding of your customers. This enables you to create accurate customer profiles, identify trends, and anticipate their needs and preferences.
You can tailor your marketing messages, offers, and product recommendations based on their interests, increasing engagement and conversion rates.
Improved Customer Segmentation:
Enriched data enables you to segment your customer base more effectively. You can group customers based on demographics, behaviors, or purchase history, allowing for targeted marketing campaigns and tailored messaging.
Cross-Selling and Upselling Opportunities:
Enriched CRM data helps you identify cross-selling and upselling opportunities. By understanding customers' past purchases and preferences, you can offer relevant complementary products or premium upgrades, boosting sales revenue.
Data Accuracy and Completeness:
Data enrichment ensures that your CRM data remains accurate and up-to-date. It helps fill in missing fields, correct inaccuracies, and validate contact information, maintaining data quality and reliability.
Enhanced Lead Generation:
Enriched data enables more precise lead-generation efforts. You can better target your marketing campaigns and capture higher-quality leads by gathering additional information about potential leads, such as industry, job titles, or interests.
Improved Customer Service:
Enriched CRM data allows for more personalized and proactive customer service. By having a comprehensive view of customer preferences and history, you can provide timely and tailored support, leading to higher customer satisfaction and loyalty.
Better Sales Forecasting:
Enriched CRM data provides a more accurate basis for sales forecasting. You can make more reliable sales projections and allocate resources effectively by analyzing customer behaviors, purchase patterns, and historical data.
Competitive Advantage:
Enriching your CRM data gives you a competitive edge in the market. With a comprehensive understanding of your customers, you can deliver superior customer experiences, outperform competitors, and build long-term relationships.
Ways to Enrich CRM Data
Enriching customer data is crucial for businesses to overcome various challenges and maximize the value of their customer data. But how exactly can you enrich your CRM data?
Ensure your CRM system acts as a single source of truth:
Your team members can see all interactions in one place, so your CRM system should be integrated with all your other business solutions, allowing data to flow freely.
Consider a CRM with automated data capture to ensure all data entry is completed quickly and cleanly.
Make it easy to create opportunities in your CRM:
To ensure you have accurate insight into every relationship your firm is building, make it easy for your team members to create opportunities.
Real-time, high-quality CRM data from Affinity allows your team to collaborate confidently because all their contact information is stored directly alongside their deal flow pipeline.
Make the system as user-friendly as possible:
Find out where the friction points are with your CRM. Is the user experience positive? Does your CRM work seamlessly on mobile? Is it reliable at home, the office, and in meetings with prospects and partners? Does it load and save quickly, or does it crash?
Find out what's missing or broken in the CRM system, and work to fill those gaps one feature at a time. A quality user experience can differentiate between a CRM full of valuable information and a potentially failed investment.
Define a standard CRM data management process
The process is key when it comes to improving CRM data quality and hygiene.
Provide clear instructions to your firm's team members about how your CRM system should be used and what will happen if your data quality erodes (i.e., incomplete or out-of-date information that leads to missed opportunities).
Automated contact data entry helps minimize human error by setting these standards for you. Wherever possible, automating workflows can keep your data clean.
Input clean, reliable data from the start:
Keep data on your contacts and relationships up to date daily. Stay in touch with people and enter new contact information immediately. When you import new data, check for import or integration errors or visually check for manual data entry problems.
Audit your CRM data regularly:
You don't want a CRM full of bad data or dirty data. Perform regular audits to make sure your data is high-quality. Existing data like contact information and LinkedIn or other social media profiles should be up-to-date and accurate.
Look for missing data like job titles or phone numbers. Start with quarterly data audits and schedule them more frequently if necessary.
Train your team and provide support:
Deliver consistent training to improve the adoption of your CRM. This training might include company-wide training events, one-on-one user practice sessions, Q&A workshops, and customized tutorials with the CRM system.
No matter what kind of training you put in place, highlight how much time and energy your firm's financial professionals can save when they improve data quality and fully adopt your CRM system.
Top 5 CRM Data Enrichment Tools
Here are the top 5 Tools to help you enrich your customer data effectively.
Swordfish.AI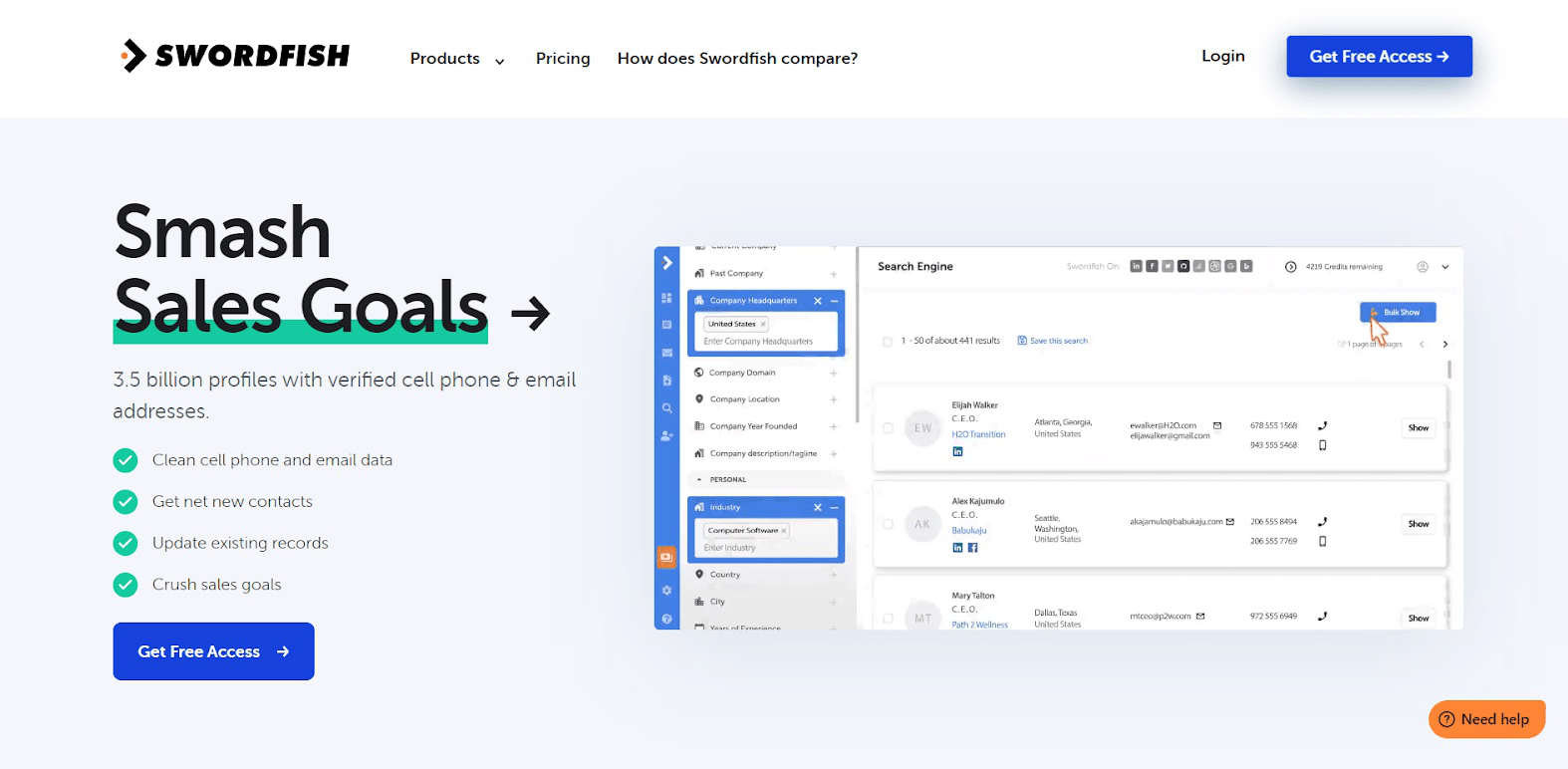 Swordfish.AI is an innovative CRM data enrichment tool that empowers you to enhance your customer data. With advanced AI capabilities, it offers real-time data enrichment services to fill in missing fields, update outdated information, and enrich customer profiles.
By leveraging external data sources, Swordfish.AI provides comprehensive and accurate insights, enabling businesses to personalize interactions, improve segmentation, and make data-driven decisions.
Its user-friendly interface and powerful enrichment capabilities make it a valuable tool for businesses wanting to maximize the value of their CRM data.
Pricing:
Swordfish.AI offers the following pricing plans.
Starter – $249/ month billed annually for 3000 credits
Starter Plus – $239/ month billed annually for 6000 credits
Professional – It is a customized plan
Lusha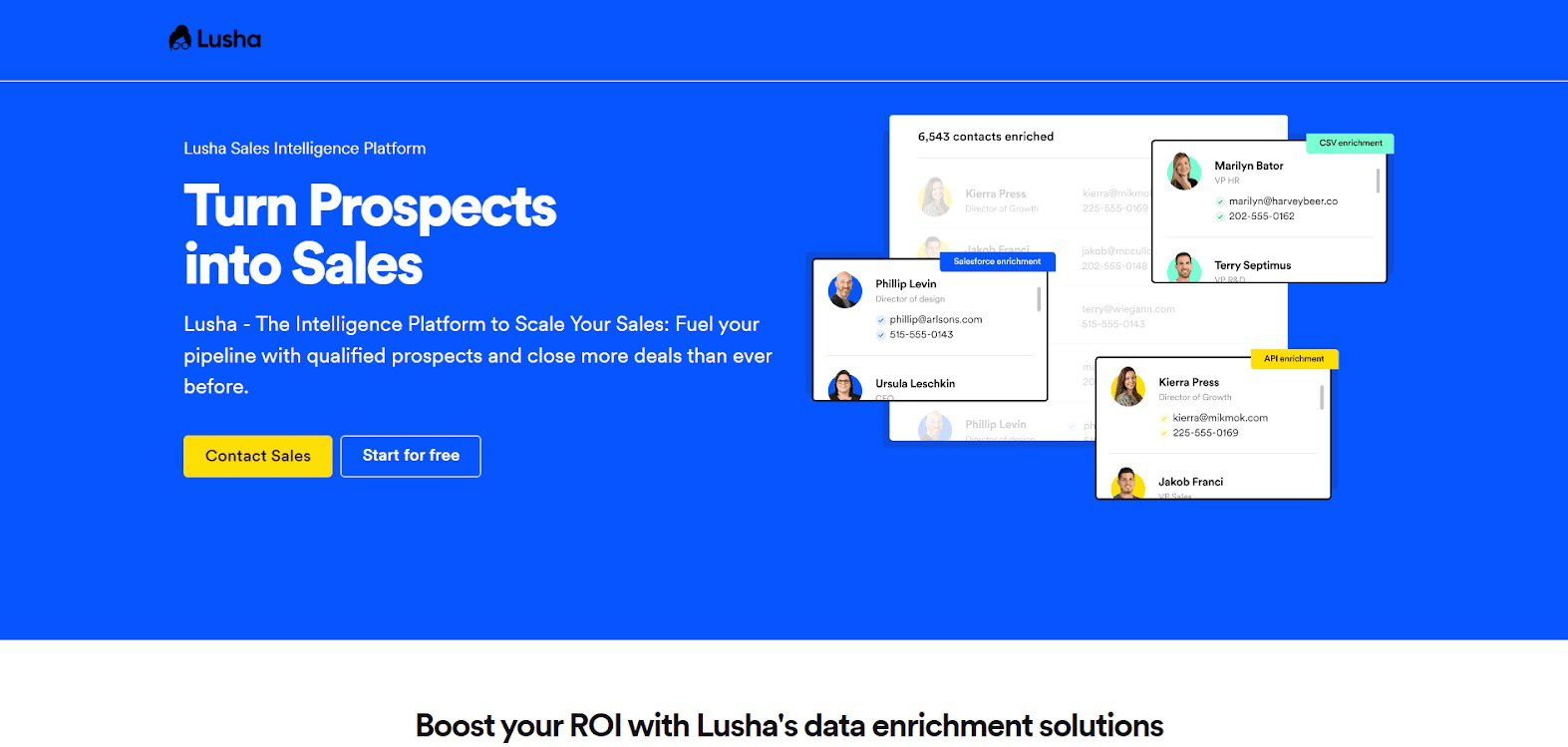 Lusha is a leading data enrichment tool that helps businesses enrich customer data with accurate contact information. With Lusha, users can access a vast database of verified contact details, including phone numbers and email addresses.
By integrating Lusha into their CRM system, businesses can enhance customer profiles and improve outreach efforts. It's seamless integration and reliable data sources make it a trusted solution for organizations looking to enhance the accuracy and completeness of their CRM data for effective sales and marketing activities.
Pricing: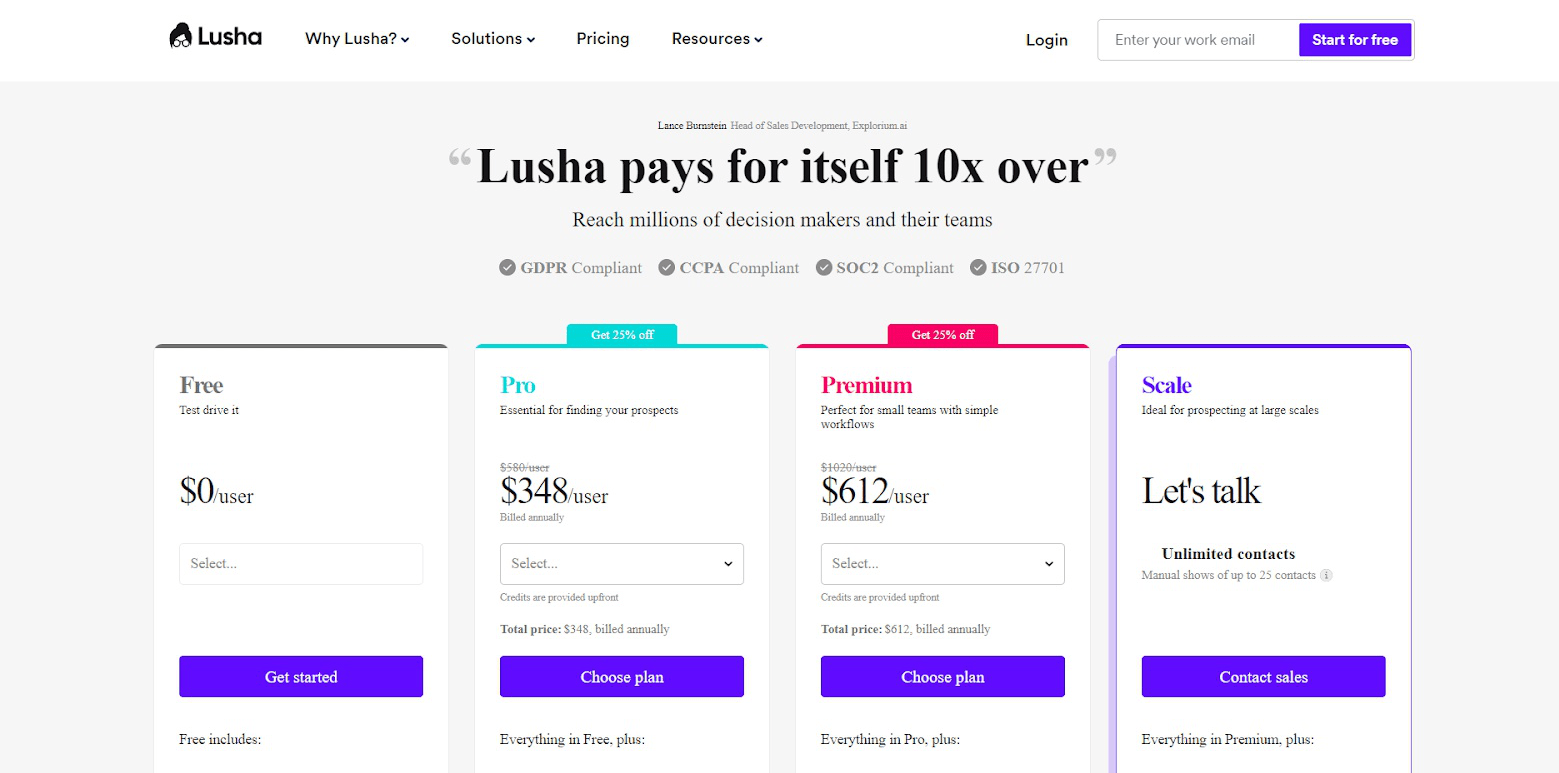 Lusha offers three pricing plans.
Pro Plan – $348 for each user billed annually
Premium Plan – $612 for each user billed annually
Scales plan – customized Plan
Hubspot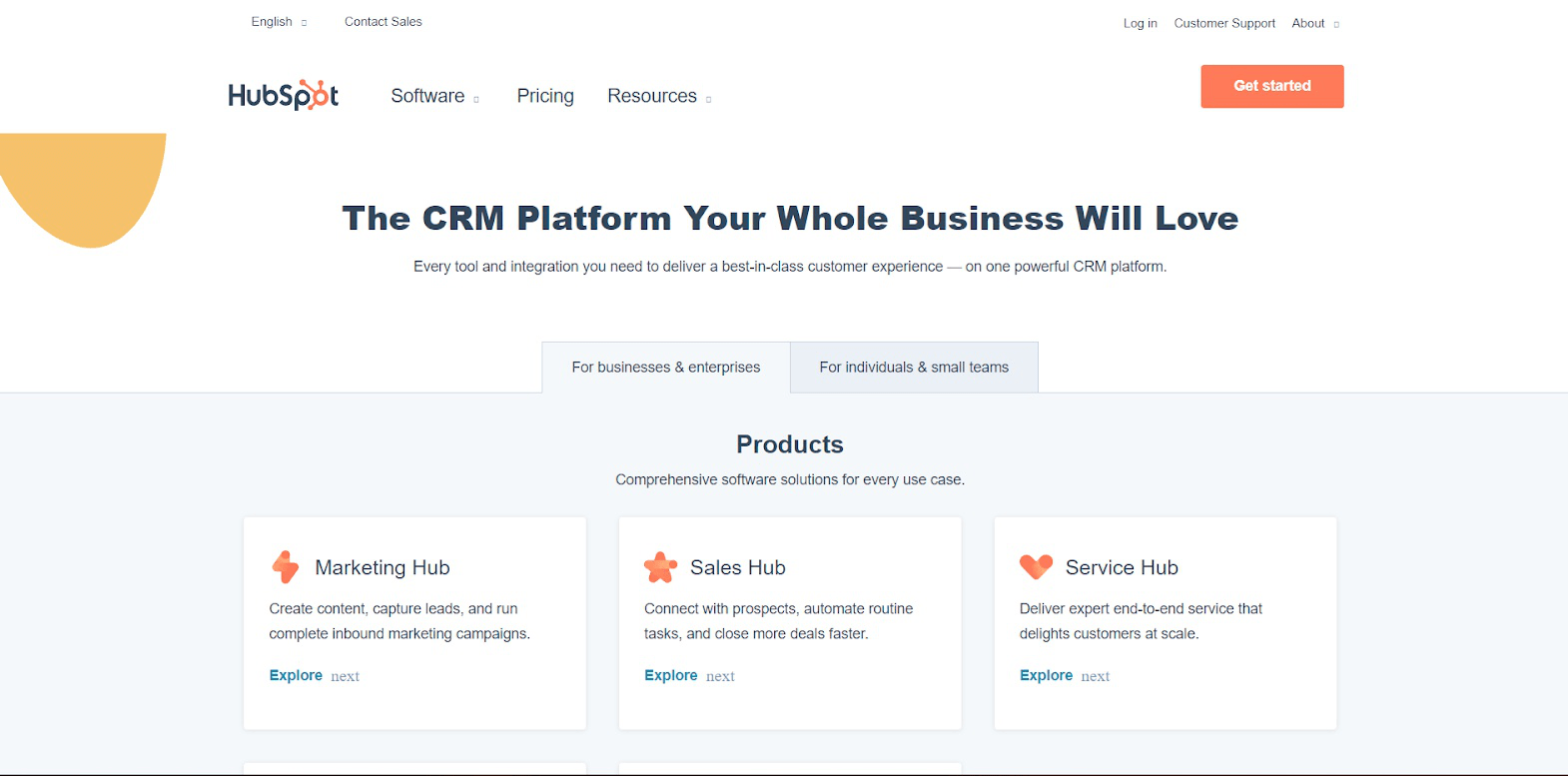 HubSpot CRM offers many valuable contact management features that enhance your ability to organize and maintain contacts.
With customizable properties, tasks, activities, and web forms for data collection, you can tailor your CRM to your specific needs.
HubSpot CRM also provides an extensive suite of sales tools, including live chat and email scheduling, empowering you to streamline your sales processes and efficiently manage your customer interactions.
With HubSpot CRM, businesses can effectively manage their contacts, streamline sales processes, and foster a unified approach toward data collection and enrichment.
Pricing: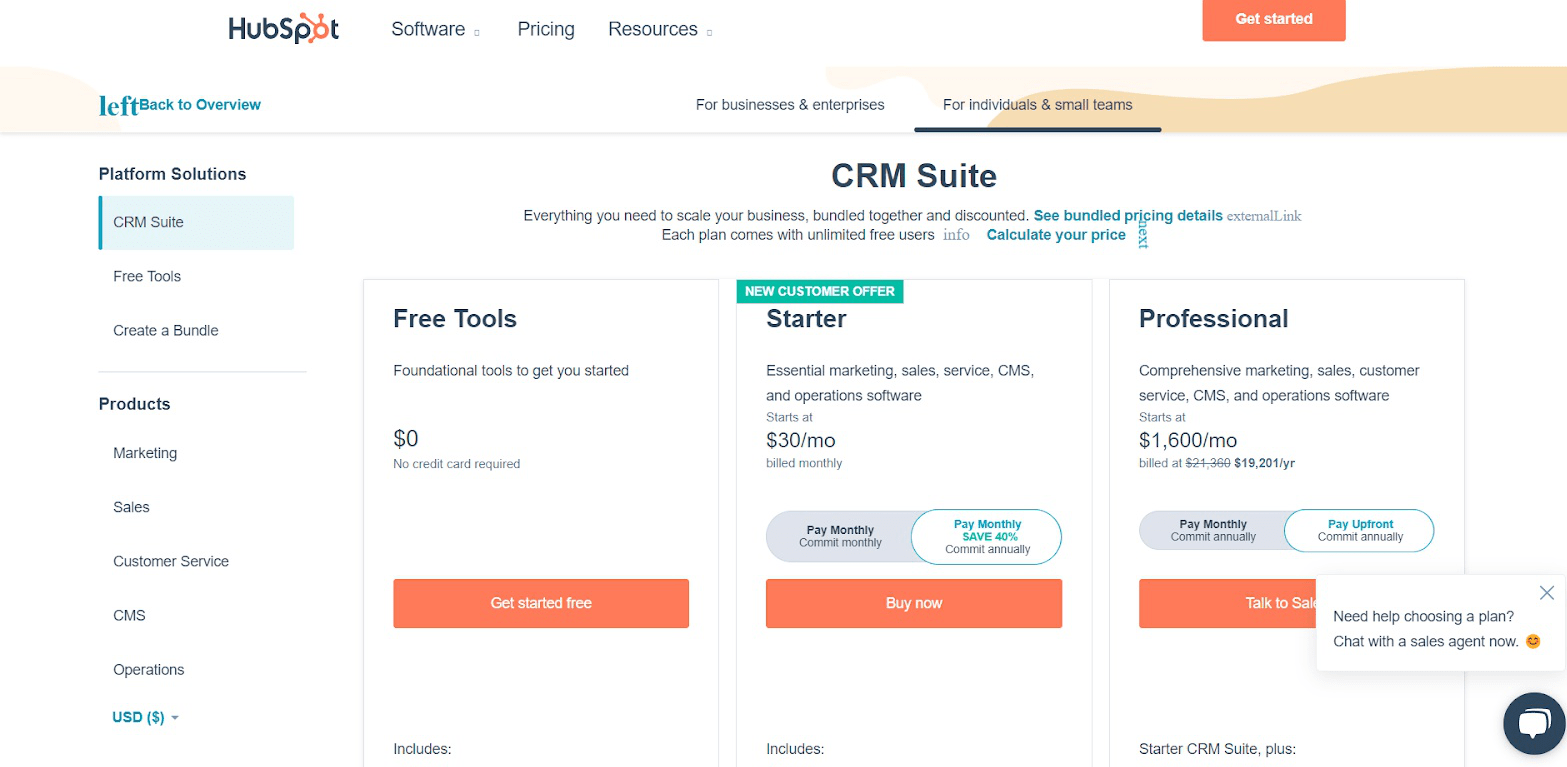 Hubspot CRM offers separate pricing plans for individuals, small businesses, and large businesses or enterprises.
For individuals and small teams, it offers two pricing plans:
Starter Plan – $30 per month
Professional Plan – $1600 per month
For businesses and enterprises, it offers two plans:
Professional Plan– $1600 per month
Enterprise Plan – $5000 per month
Vainu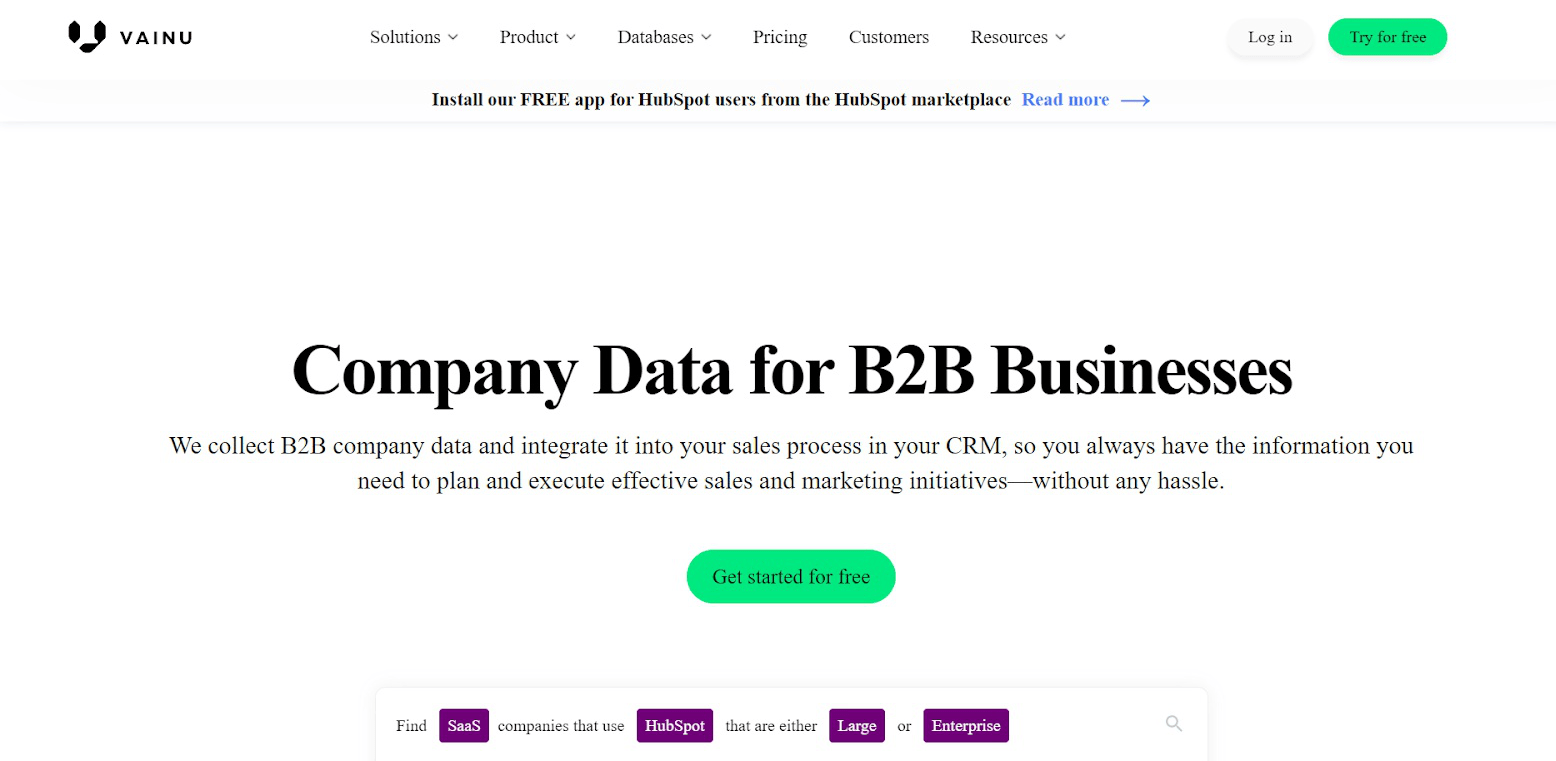 Vainu is a B2B business database and sales intelligence software that helps users identify prospects matching their ideal customer personas. With millions of company records, Vainu enables easy access to relevant data and integrates seamlessly with various platforms.
It offers native integrations with HubSpot, Salesforce, Pipedrive, and over 1000 other tools, allowing users to streamline their sales and marketing processes effectively.
Pricing: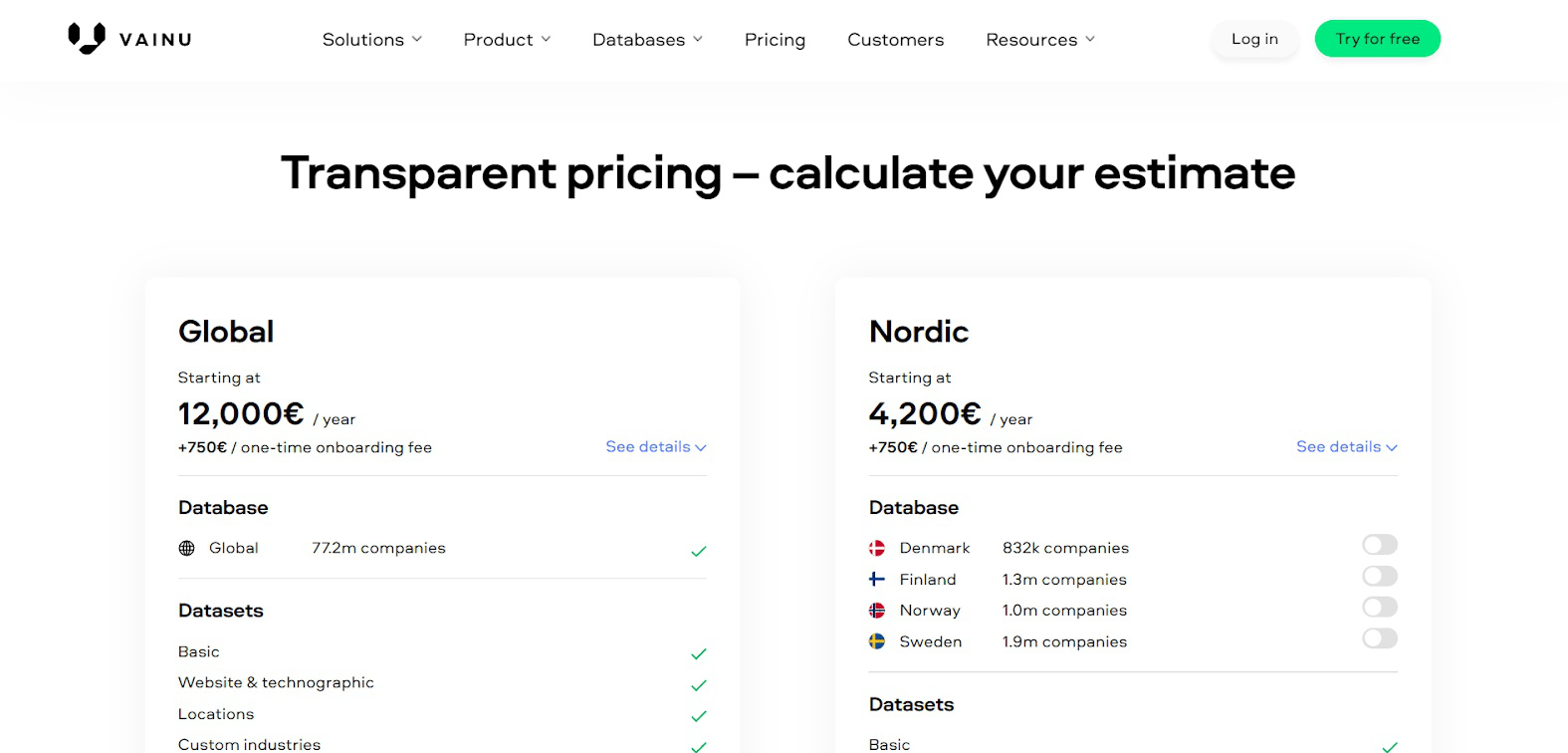 Vainu offers two pricing plans.
Nordic Plan – €4200 per year
Global Plan – €12000 per year
Clearbit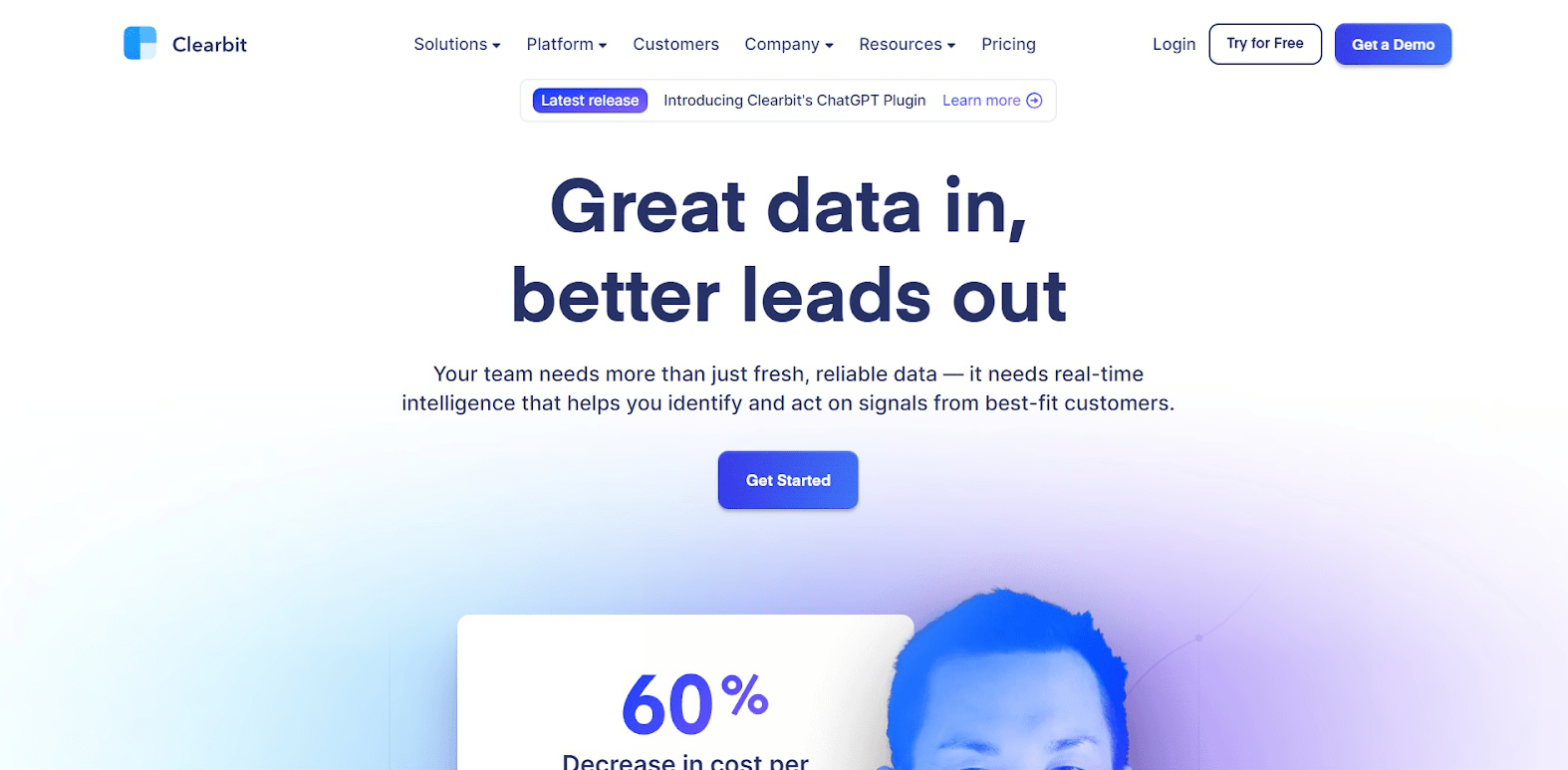 Clearbit is a powerful platform that enhances B2B sales efforts by providing up-to-date company and contact information. Access to over 200 million contacts enables teams to enrich, qualify, and score leads effectively.
Clearbit's advanced features automatically update and enhance contact information, ensuring accuracy and reliability for sales records. By leveraging Clearbit, businesses can streamline their lead enrichment process and make informed decisions for successful sales outcomes.
Pricing: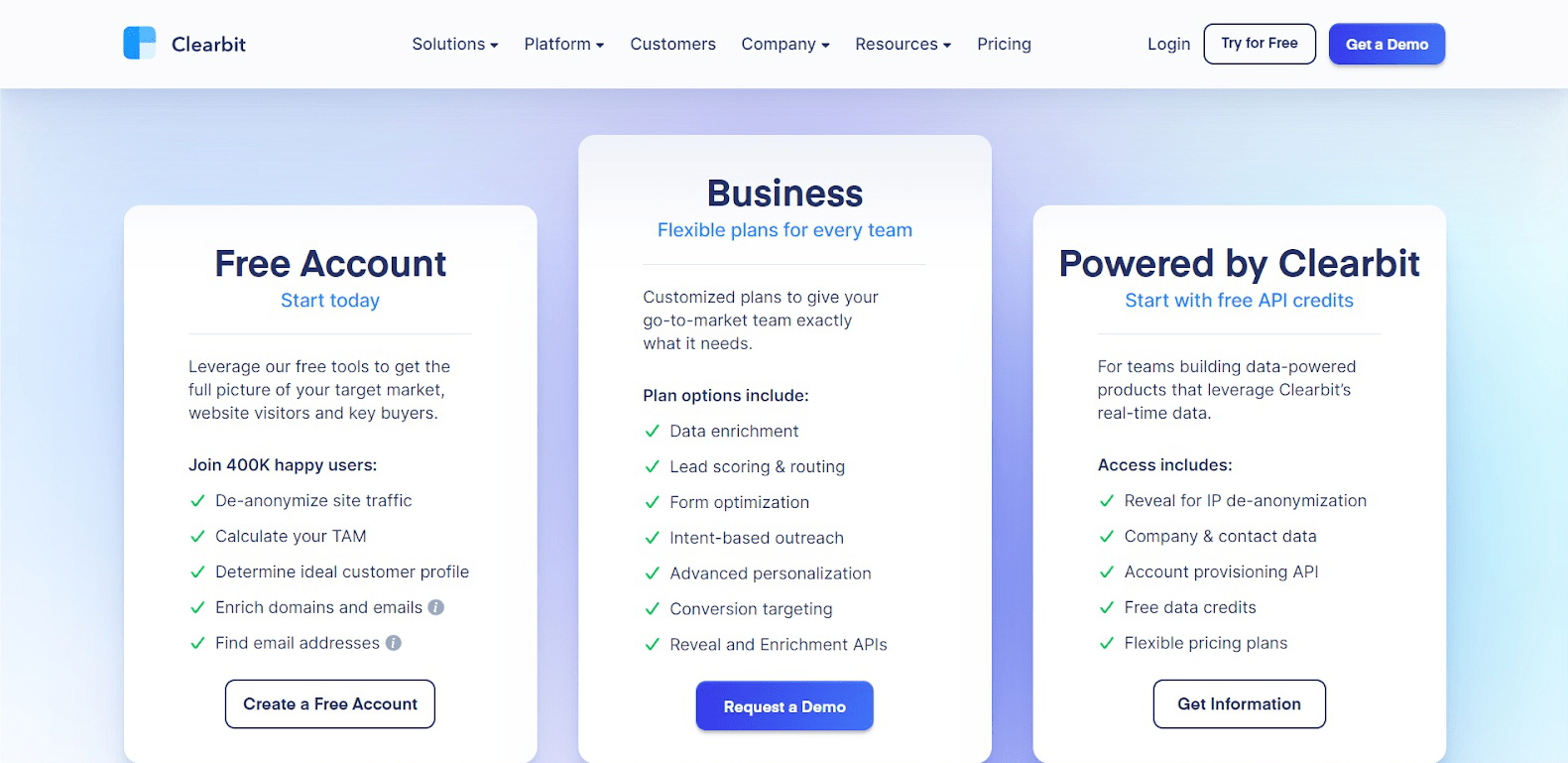 Clearbit offers three pricing plans.
Free Plan with no cost
A business plan, which is a customized plan. You can request a demo at the site.
A Powered by Clearbit plan, which is constructed for larger teams. More information can be obtained through their site.
Swordfish.AI stands out as a contact finder among all the above-mentioned tools because of its unlimited business email addresses and bulk domain search. Let's have a look at all its features in detail.
Swordfish.AI: The Best Tool For CRM Data Enrichment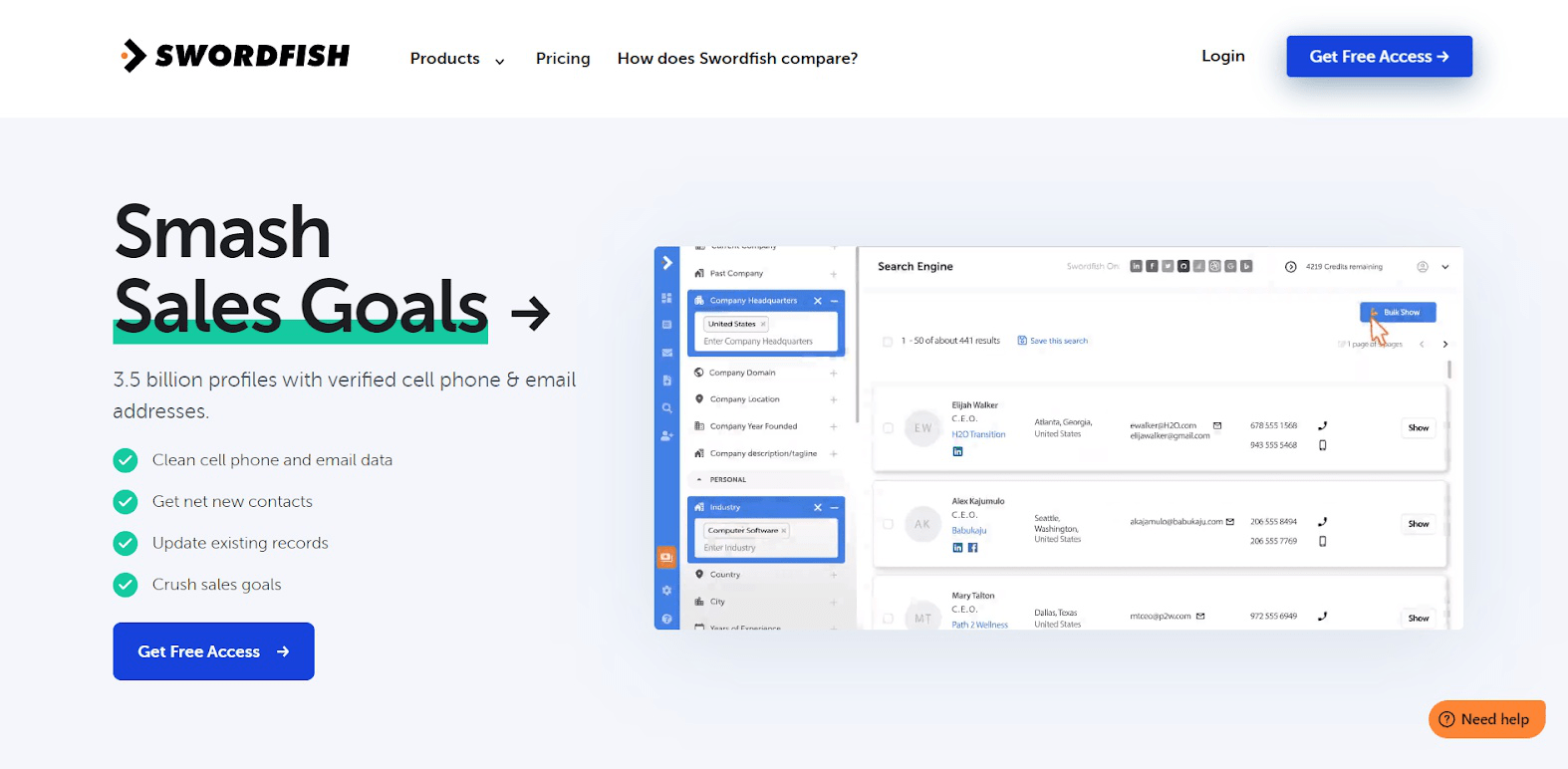 Swordfish.AI is a cutting-edge CRM data enrichment tool that revolutionizes customer relationship management. With its advanced algorithms and artificial intelligence capabilities, Swordfish.AI empowers businesses to enhance their customer data effortlessly.
By integrating with existing CRM systems, it analyzes and enriches data points, providing invaluable insights into customer preferences, behavior, and demographics. Its comprehensive data enrichment services include appending missing contact information, verifying email addresses, and updating social media profiles.
The result is a highly accurate and complete customer database that enables businesses to personalize marketing campaigns, improve lead generation, and deliver exceptional customer experiences. Swordfish.AI is the go-to solution for businesses seeking to unlock the true potential of their CRM data.
Features of Swordfish.Ai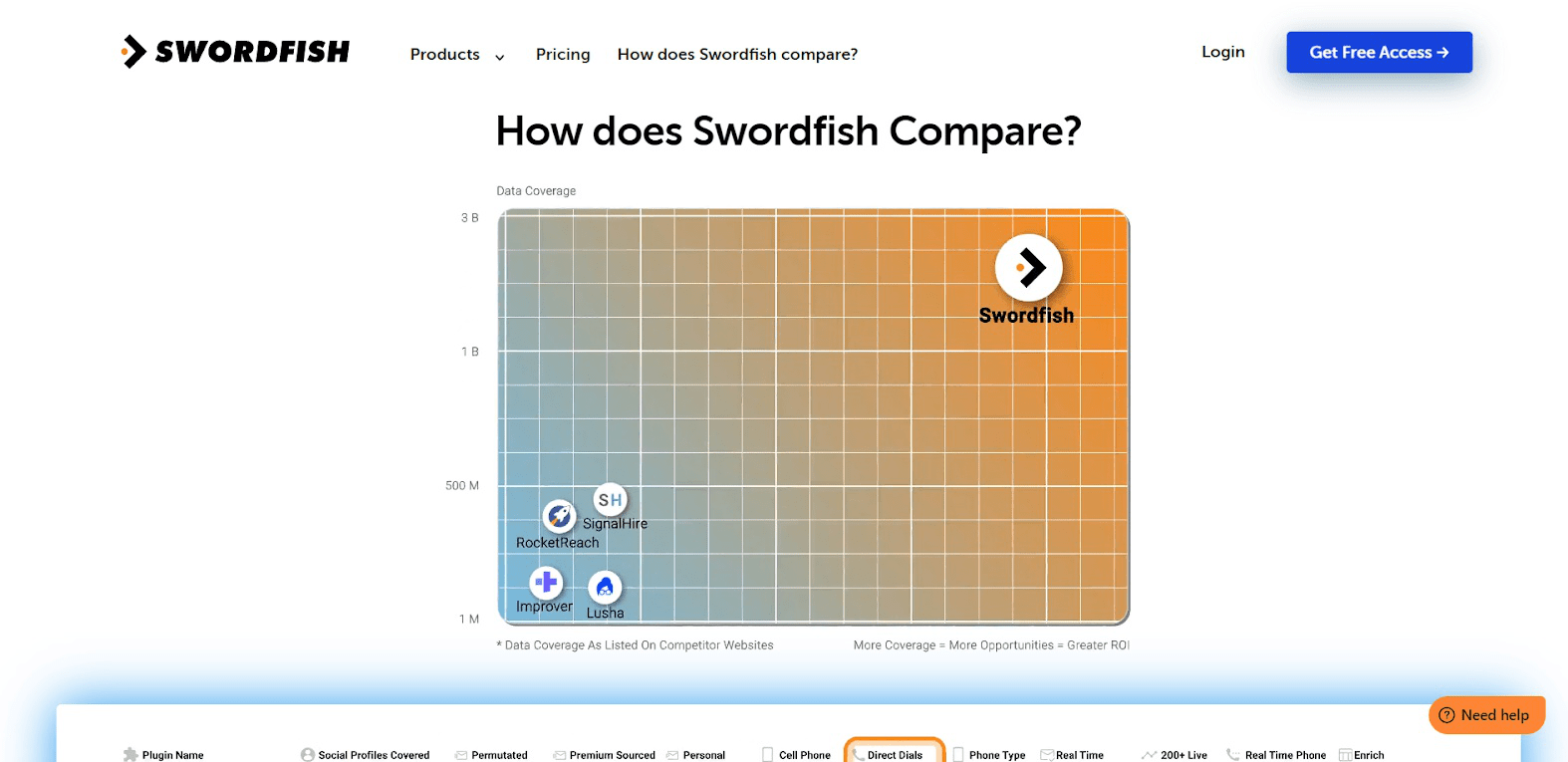 The following features make Swordfish.AI one of the best tools available.
Google Chrome Extension
Swordfish.AI offers a convenient Chrome extension for seamless integration with your CRM platform, enabling instant data enrichment within your browser.
Vast Database Coverage
With access to a vast and diverse database, Swordfish.AI enriches CRM data by providing extensive customer information, including their backgrounds, professional details, and social media profiles.
Free Trial Version
Experience the power of Swordfish.AI's features with a free trial, allowing you to explore them and witness the transformative impact on your customer data.
Phone Number Search
Effortlessly retrieve valuable customer insights by conducting phone number searches, enabling you to uncover additional contact details, social media accounts, and professional information.
Bulk Domain Search
Save time and effort by performing bulk domain searches, instantly enriching your CRM data with comprehensive company information, including their website, industry, and contact details.
Unlimited Business Email Addresses
Access an extensive repository of business email addresses, allowing you to enrich CRM data with verified and relevant email contacts for targeted marketing campaigns.
Direct Dial Phone
With direct dial phone capabilities, Swordfish.AI enables you to enhance CRM data with direct phone numbers, enabling efficient communication and personalized outreach to customers and prospects.
Conclusion
CRM data enrichment is crucial in unlocking the full potential of customer data for businesses.
By enriching CRM data with additional information and insights, businesses can understand their customers comprehensively, leading to improved personalization efforts and increased revenue growth.
Swordfish.AI stands out as an innovative and powerful solution among the top tools. It offers various features designed to enhance customer insights and communication.
With functionalities such as phone number search, bulk domain search, unlimited business email addresses, and direct dial phone capabilities, Swordfish.AI empowers businesses to uncover valuable customer information and enrich contact details.
With a free trial version available, businesses can experience the transformative impact of Swordfish.AI firsthand.