ContactOut is a Candidate Sourcing Software with a full feature set made for Agencies and Businesses. ContactOut offers end-to-end services. The Chrome Extension, Dashboard, Search Portal, and Email Campaigns are all available in one place with this online candidate sourcing system.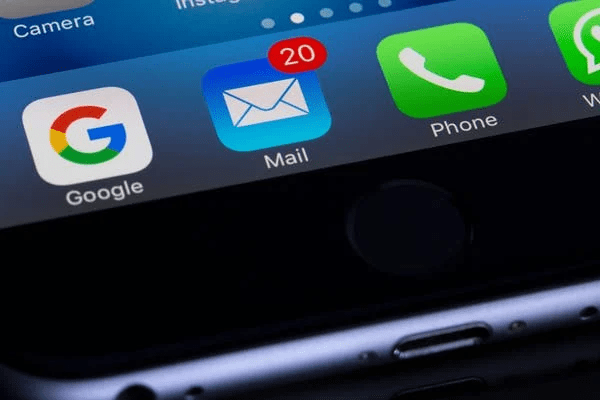 This email search engine lets you quickly and easily find prospects' email addresses, add reusable templates to your library, and even integrate with Salesforce work emails.
The overlay feature makes finding the right contact information easy without leaving your current page. In this article, we will discuss Contactout Pricing and find out if its worth the investment.
ContactOut Software Overview
ContactOut Software is a powerful tool that helps businesses reach more prospects and see tangible results.
It provides users with accurate B2B data intelligence that can be used to optimize their sales, marketing, and processes for recruiting teams.
With ContactOut Software, you can trust that the information is reliable and up-to-date so that you can target the saved leads quickly and accurately with the help of full ATS integration.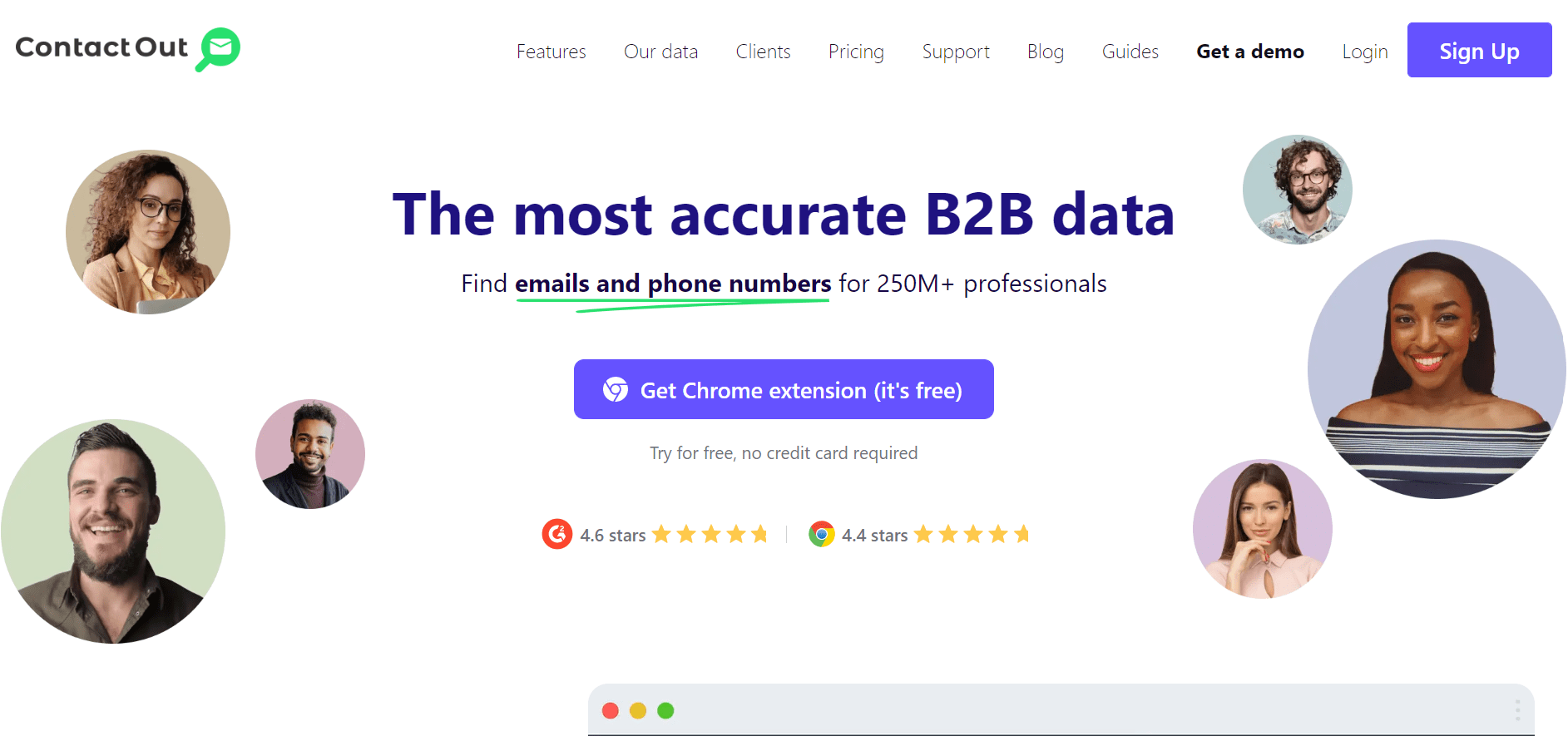 Whether you're looking to organize candidates, work emails or a way to enhance your marketing strategy or streamline your recruitment process, ContactOut Software has everything you need in one easy-to-use platform.
You'll have access to comprehensive business profiles on over 500 million professionals across all industries worldwide.
You can find candidates directly using their contact information, such as emails and phone numbers. This data will help you connect with the right leads and convert them into customers or qualified candidates.
ContactOut Software is trusted by hundreds of thousands of professionals in over 76% of Fortune 500 companies like Microsoft, Google and Netflix.
It's the perfect way to take your business to the next level with accurate data intelligence that will fuel success.
ContactOut Key Features
As per ContactOut reviews, ContactOut is the ultimate B2B data intelligence tool, empowering you with the tools and information you need to make smarter business decisions.
The features of ContactOut are as follows:
Search Portal
Contactout's search portal allows you to search through millions of professionals worldwide and build lead lists in seconds.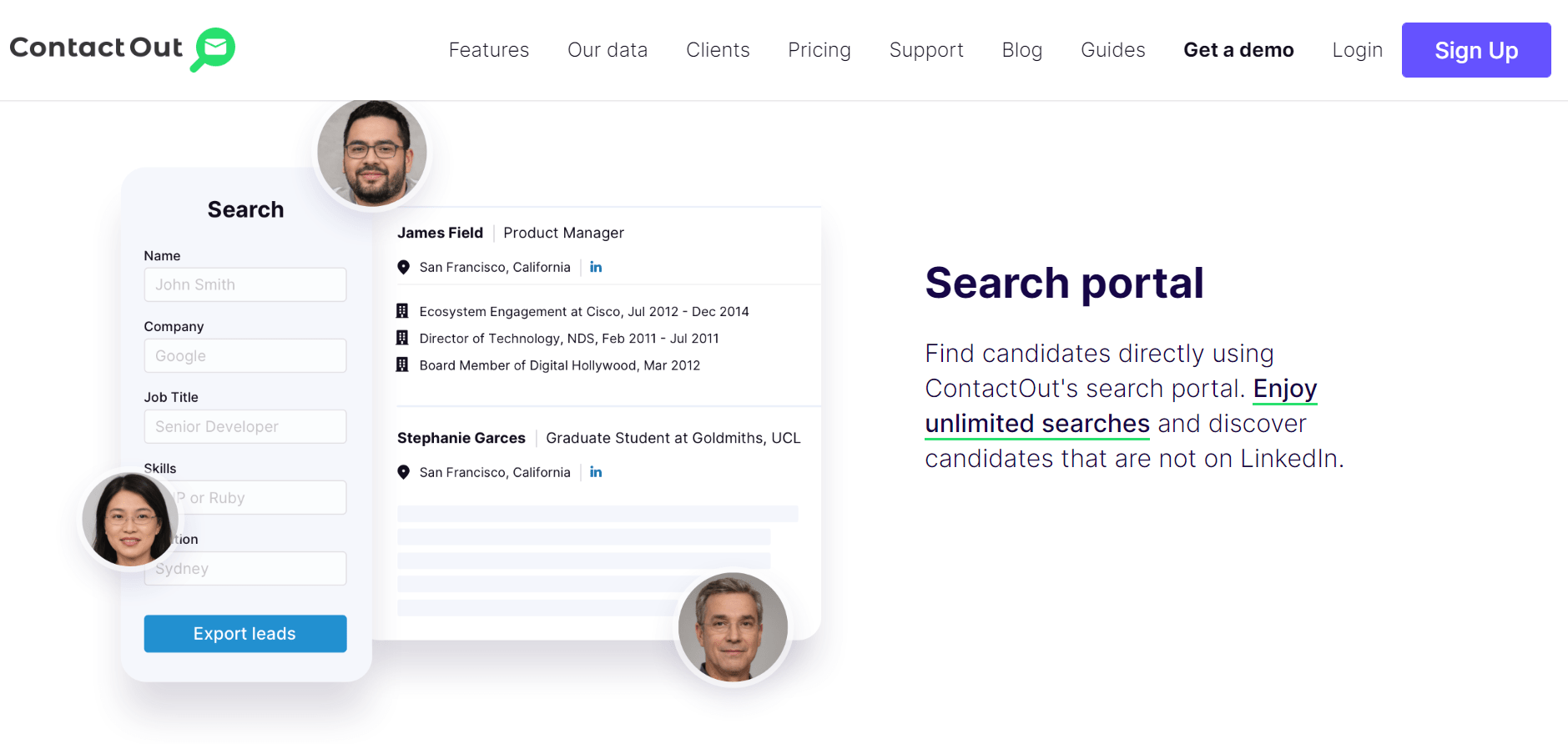 You can apply job title, skills, company size, location and more filters to refine your search results. Multiple people search options are available; you can even save searches for later use.
Enrichment
ContactOut is an email search engine tool that helps uncover the contact information of LinkedIn profiles, email addresses, and companies.
It enriches a list of contacts with 20+ fields such as name, title, company name, address and phone numbers. Using ContactOut, you can easily transform any list of emails or LinkedIn URLs into a full contact list with rich details in just one click.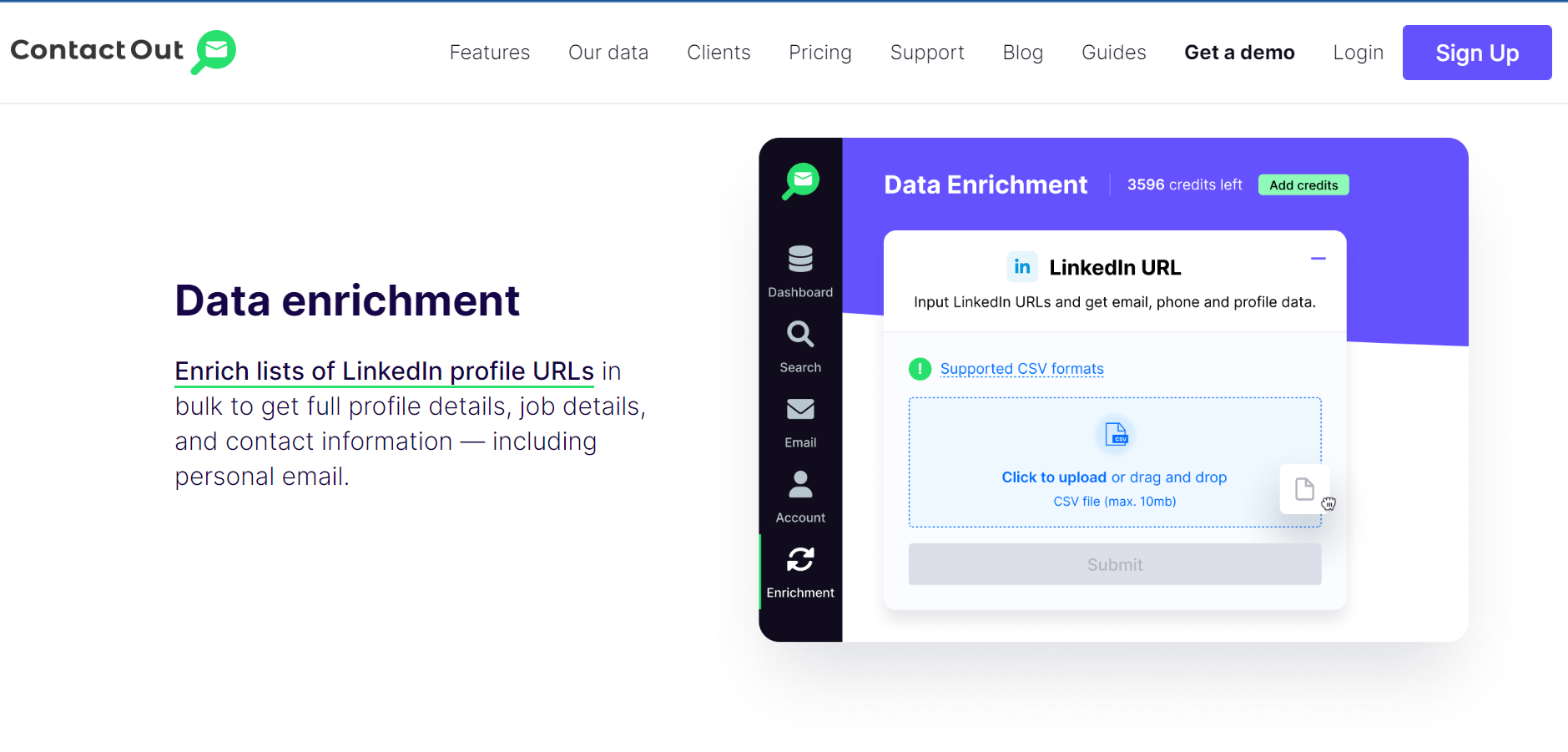 The software quickly finds accurate contact details to make it easier for businesses to connect with potential candidates, customers or partners.
Its advanced algorithms ensure accuracy while delivering results at lightning speed, so you can save time and effort when researching contacts.
Furthermore, the easy-to-use interface allows anyone to get started immediately by simply uploading their contacts list and getting access to the full contact list.
Chrome Extension
ContactOut's Chrome extension lets you quickly get in touch with the people who matter. Simply open LinkedIn profiles, and you will have access to their contact data – like personal emails and phone numbers – instantly.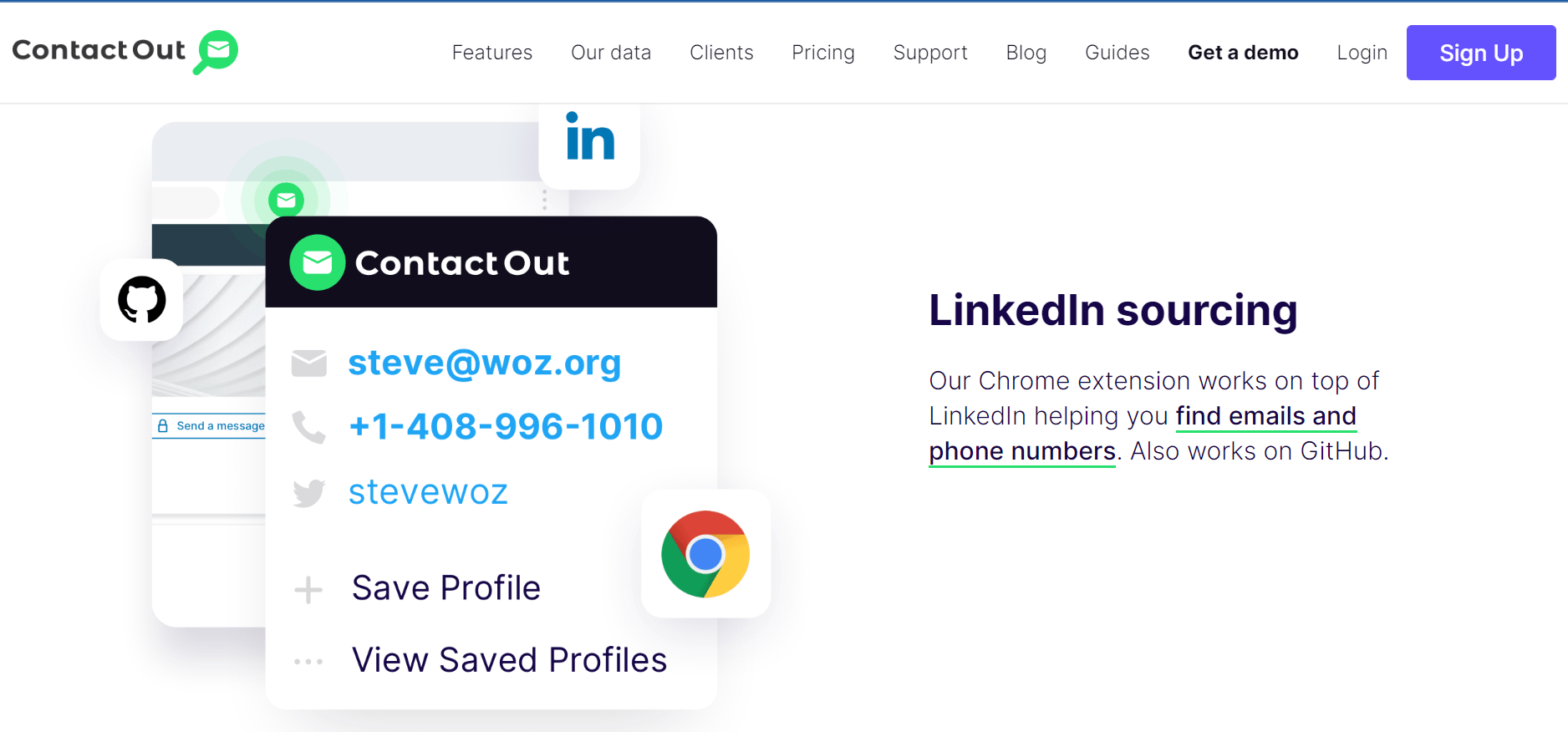 This allows you to save time while doing unlimited searches or candidates for outreach. Furthermore, you can easily manage your leads within the platform by categorizing them into different lists and tagging them for quick reference.
This makes it easier for you to navigate contacts for recruitment or potential sales opportunities. Additionally, it utilizes powerful algorithms to provide accurate and up-to-date contact information that is constantly being updated from sources all over the web.
CRM Plugin
ContactOut is software that provides all the necessary tools to keep your customer relationship management (CRM) up-to-date.
It enables you to quickly send vital candidate data directly from LinkedIn into your CRM with just one click of a button.
This ensures that you always have the most current data available for your sales prospects, allowing you to reach out more efficiently and effectively.
ContactOut also offers integration with popular cloud-based CRM providers, so you can stay connected wherever you go. With ContactOut's plugin feature, updating your CRM has never been easier!
By using ContactOut's powerful email search engine tool and integrating it with popular CRMs, you can ensure that your sales team is always up to date with the most important candidate information.
API
The ContactOut API is designed to turbocharge lead generation by instantly providing bulk detailed personal profiles and contact information.
Simply submit a LinkedIn URL and get an entire profile and contact records in return.
Unlike other solutions, ContactOut automates the process of collecting profile data, enabling users to quickly & accurately build up their database of contacts.
The API also allows for advanced filtering capabilities to pinpoint only the most relevant leads, allowing you to save time & energy while still meeting your desired outcome.
On top of that, the API provides real-time analytics and insights into which profiles generate the best leads. You can keep track of your outreach efforts and see what's working.
AI Mail Compose
ContactOut's AI Mail Compose feature is an automated solution to help you save time in writing personalized emails to hundreds of recruitment candidates and sales prospects.
Powered by Artificial Intelligence, this feature can generate ultra-personalized emails designed to engage with recipients.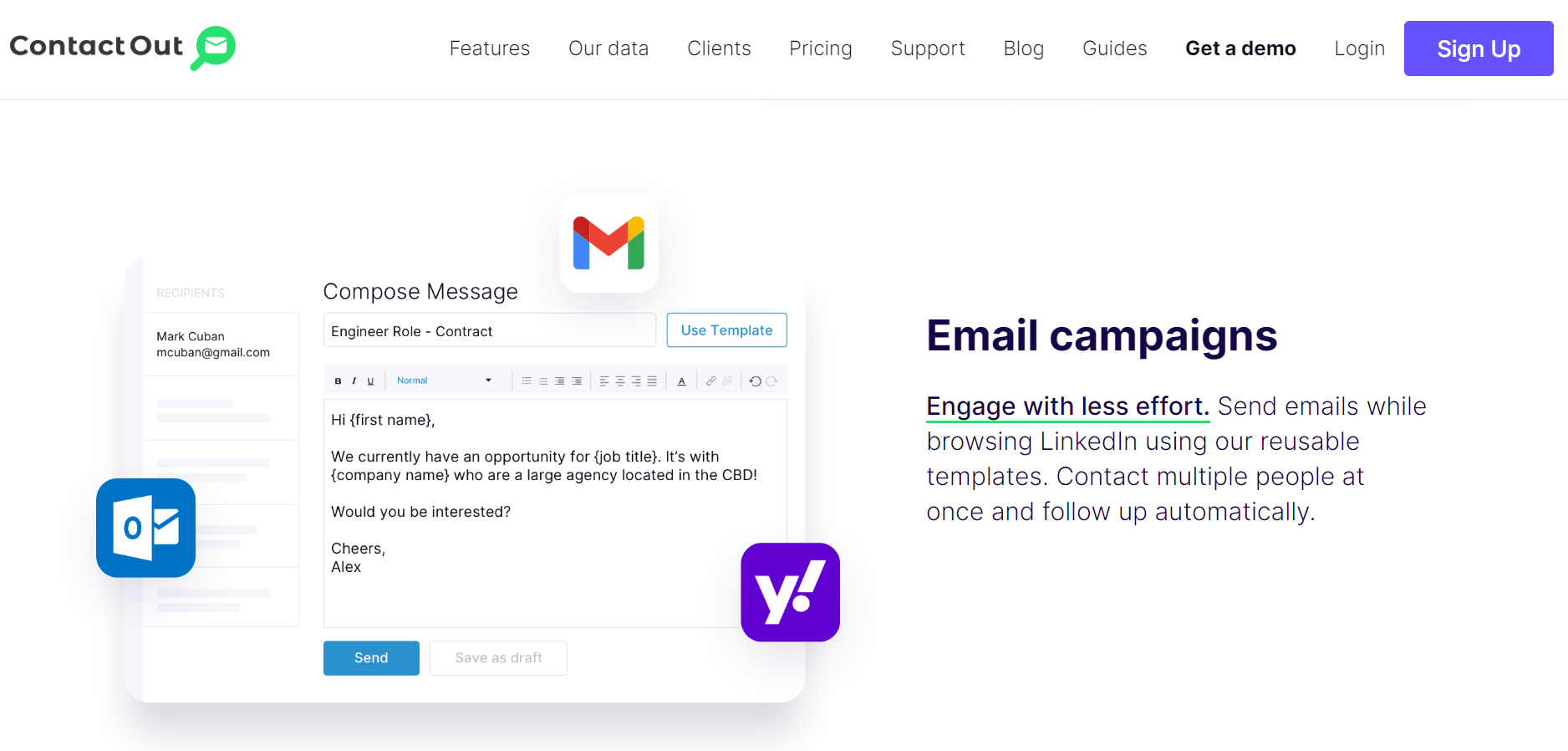 The software not only helps you craft the perfect message but also assists in warming up conversations with those on your contact list.
With ContactOut's AI Mail Compose feature, you'll be able to quickly and efficiently reach out to many people without sacrificing quality or personalization.
This will give you more time to focus on other important tasks while ensuring each recipient receives the same attention they would get from a personally written email.
ATS Plugin
ContactOut's ATS Plugin helps keep your Applicant Tracking System (ATS) constantly updated with the most recent data of candidates.
ContactOut automatically delivers full candidate details directly to your ATS with just one click from LinkedIn.
This allows you to get the best up-to-date information quickly and easily while eliminating time wasted manually entering data.
The plugin also gives you access to ContactOut's deep learning algorithms to find more qualified candidates with fewer searches.
By streamlining your recruitment process and making it faster, you can focus on other important tasks and reach hiring goals quicker than ever before.
The ATS Plugin is an invaluable tool for any recruiter looking for the best talent promptly.
Email Outreach
ContactOut allows you to easily automate email outreach campaigns and send personalized emails in bulk.
With its mail merge function, you can quickly draft messages with personal details like first name, last name, job title and more.
You can also easily schedule multiple email delivery times and track each message's open rate.
Whether you're looking to onboard new leads or engage existing customers, ContactOut is the perfect tool for streamlining your email outreach strategy.
You can save valuable time by leveraging its powerful features and automation capabilities while efficiently engaging hundreds of leads with personalized communications.
Pros
Contactout is very affordable compared to other contact-finding tools. It costs a few dollars monthly and offers you access to millions of emails and phone numbers in no time.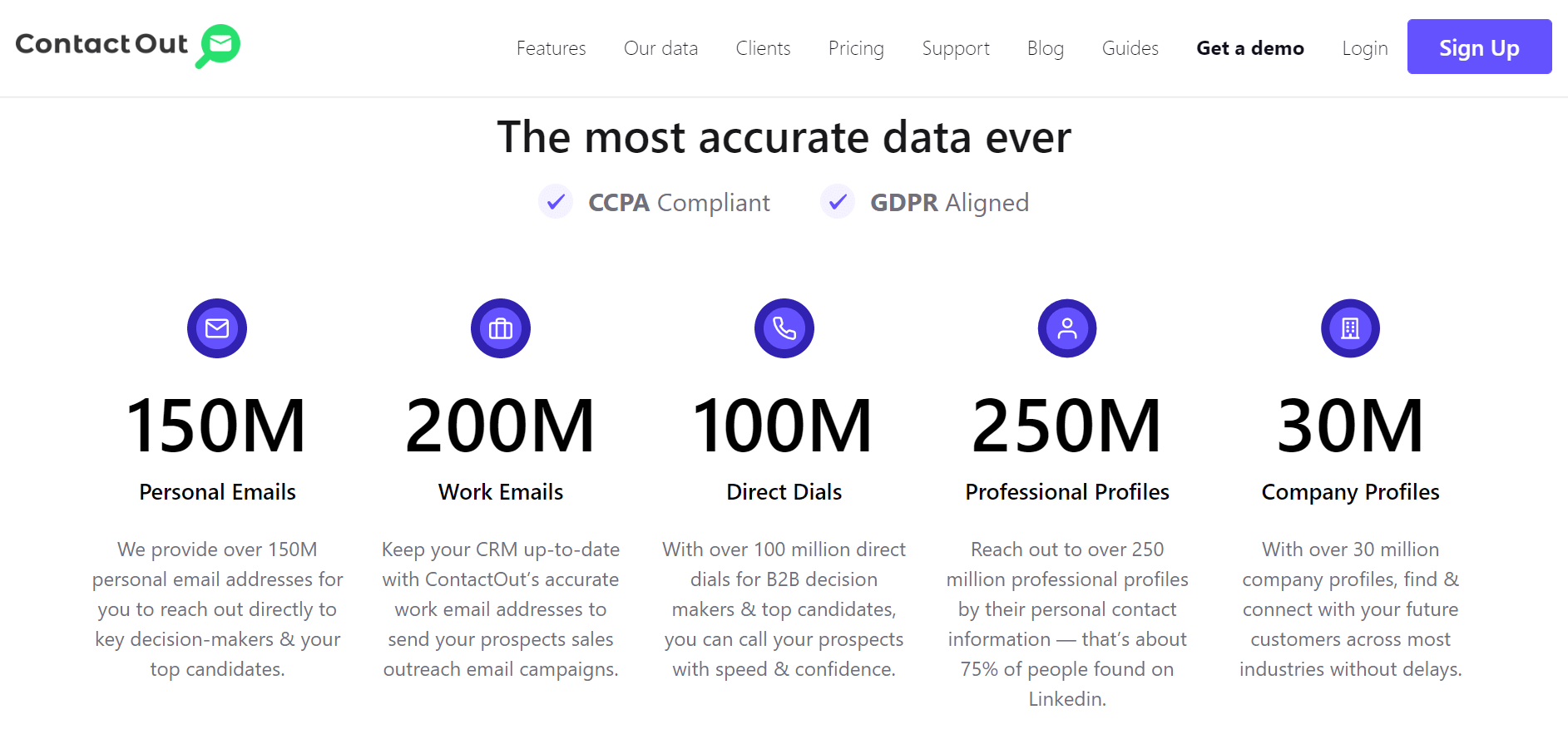 Contactout's accuracy rate is one of the highest in the industry. This means that it finds far more accurate information than other similar services, so you can save time and effort when looking for contacts.
Contactout's interface is easy to use and intuitive, making it an excellent choice for those new to contact finder tools.
Availability is another great advantage of Contactout. It gives you access to millions of emails and phone numbers across over 65 percent of the world's western population.
Cons
Although ContactOut offers a great range of features and benefits, there are some limitations that you should consider:
ContactOut only works with Github and LinkedIn for search results. So if the contact is not on these two platforms, the tool won't be able to find it.
Price can also be an issue as it isn't hugely affordable for some countries covered by its availability.
Customer support can sometimes be difficult to get ahold of. This may cause delays in resolving any queries or technical issues that you have.
Contactout Pricing
Four different pricing plans are available to suit the needs of businesses and individuals.
Free Plan
The free trial plan is free and offers 40 emails and 3 phone numbers per month. This plan only works on standard LinkedIn, so if you have a premium account, you must opt for one of the paid plans.
With this plan, you can search both work emails as well as personal emails.
Personal Plan
ContactOut's Personal Plan is available for $29/month and provides 150 emails and 15 phone numbers monthly. This plan only works on standard LinkedIn and includes work and personal emails.
The Personal Plan is perfect for those who need only a few contacts each month or doesn't require access to any other premium features.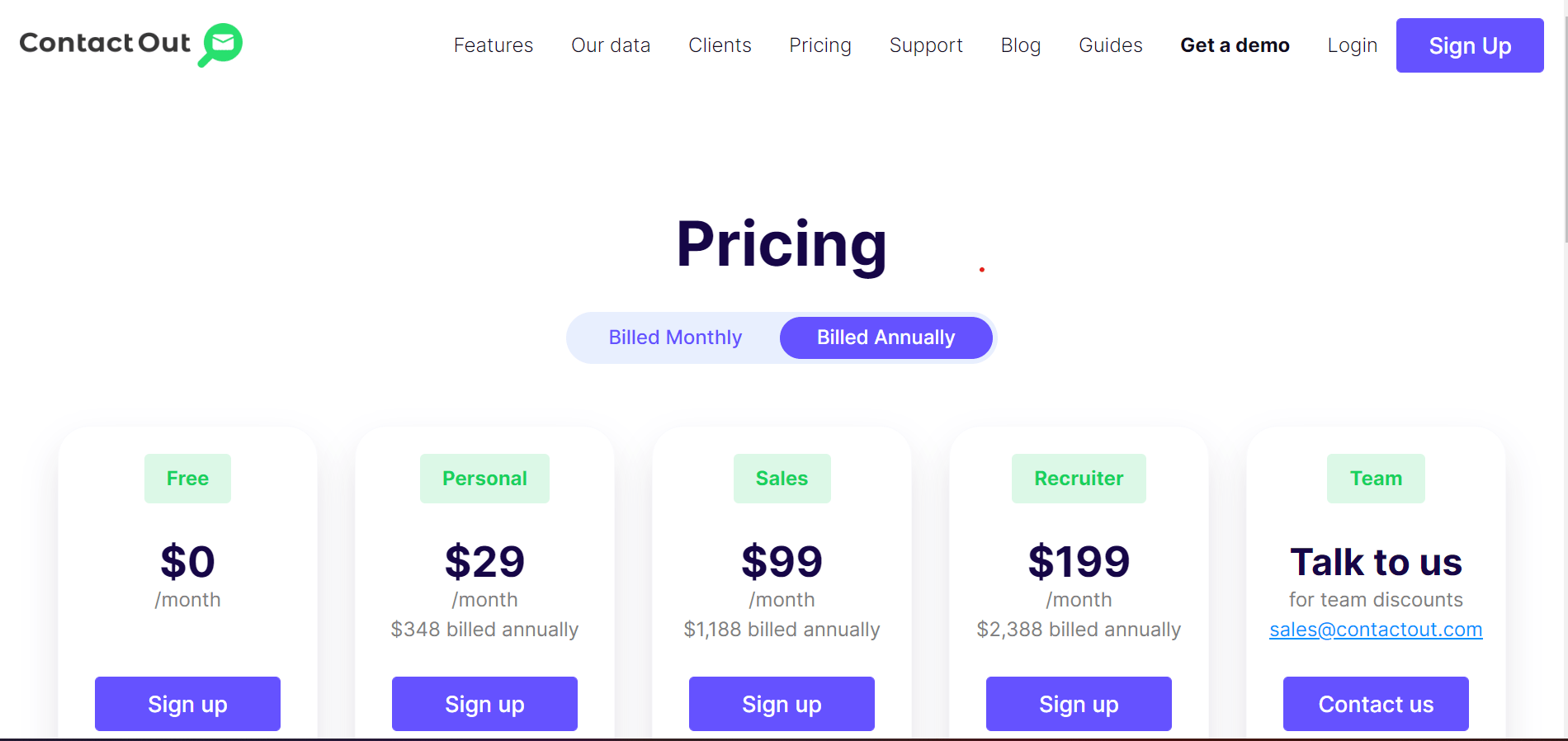 Sales Plan
Contactout's Sales Plan is ideal for a more robust email search tool.
It costs $99/month and allows you to access 500 emails per month, 50 phone numbers per month, works on LinkedIn Recruiter Lite and Sales Navigator and has limited ATS integration and Salesforce integration capabilities.
Recruiter Plan
ContactOut's Recruiter Plan is perfect for any recruiter who needs to find contact information quickly and accurately.
The plan costs $199/month and unlocks 1,000 emails, 50 phone numbers, and access to all versions of LinkedIn (including LinkedIn Recruiter Pro). You can also use the tool to integrate with ATS systems and Salesforce.
The Best Alternative to Contactout: Swordfish
Swordfish is an email and phone number finder tool with various features. This tool helps to search for contact information from public sources quickly.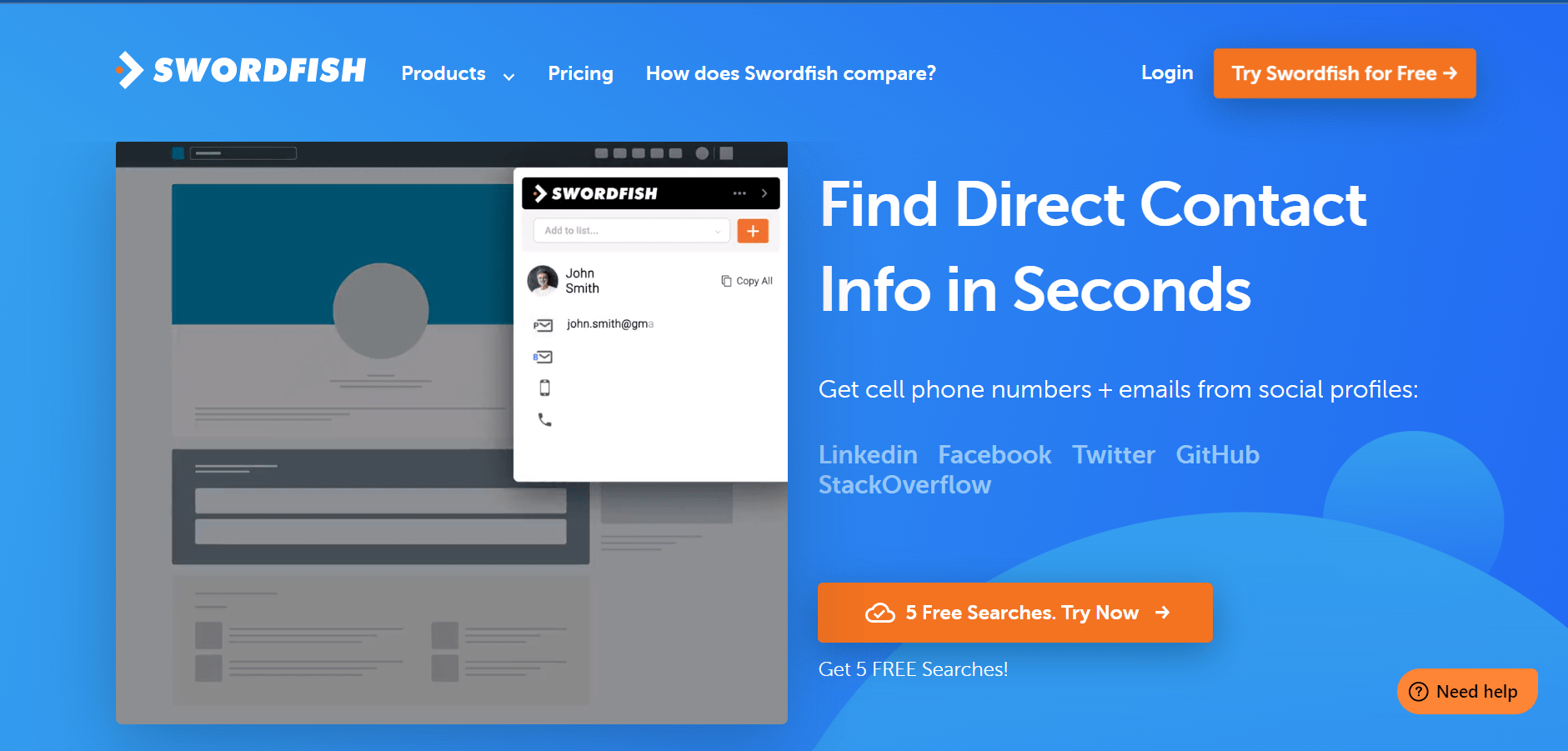 It quickly extracts emails, phone numbers and social profiles from websites, directories, databases and more.
The tool's intuitive interface makes searching for contact information easy and fast. Swordfish also allows you to search for contact information using various keywords.
This feature makes tracking any contact information relevant to a project is easy. Furthermore, Swordfish has advanced filtering options that allow you to narrow results based on criteria such as countries and industries.
Finally, the tool has an efficient automation feature that allows you to set up automated searches for contact information, so you don't have to manually search for them every time.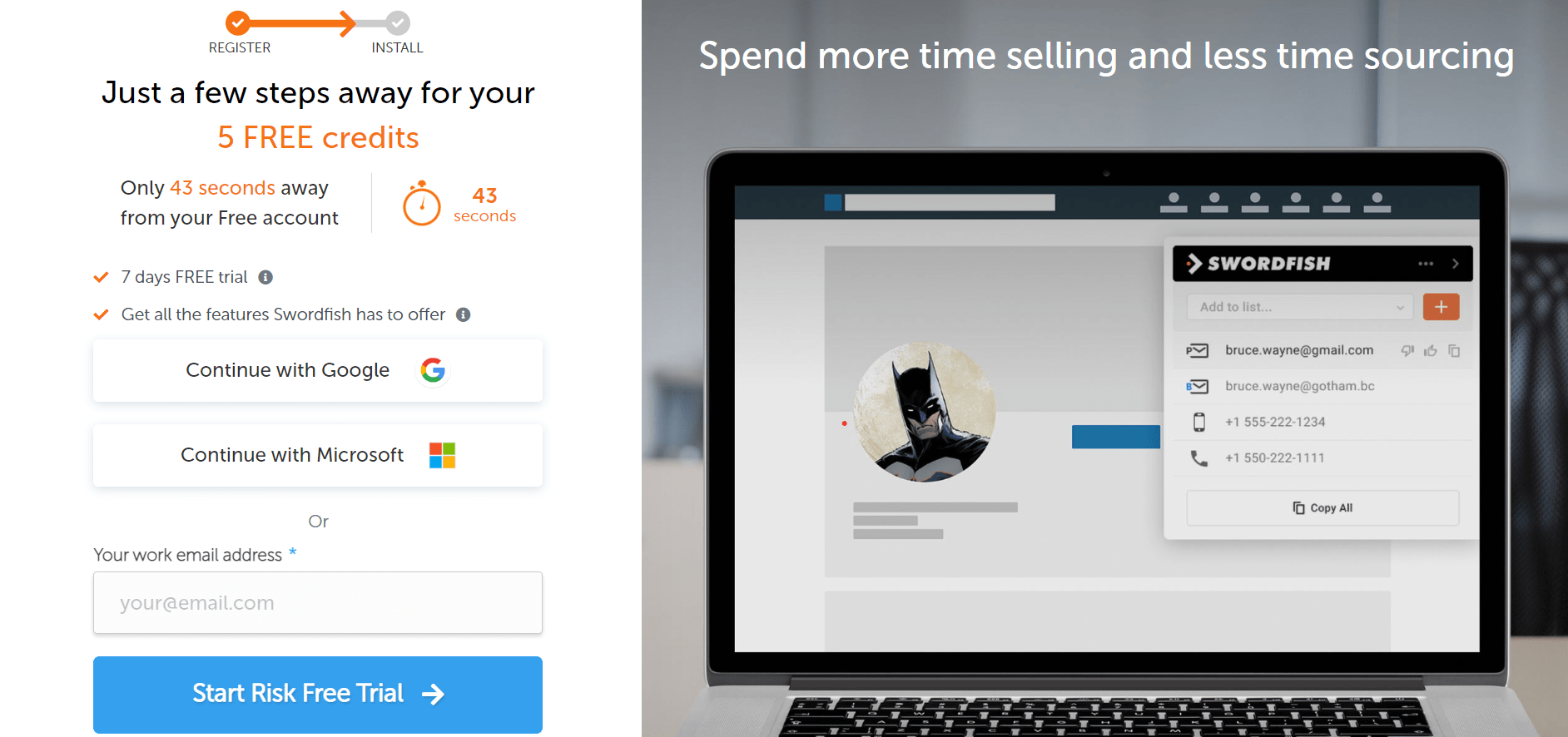 Also, helpful reports summarize your searches and provide insights into your contact discovery process.
Swordfish is an effective alternative for those who wish to find email addresses or phone numbers quickly and accurately.
The best part about this tool is that it offers a free trial to its users so they can evaluate it before deciding to purchase the full-featured version.
Therefore, if you are looking for an alternative tool with better plans than Contactout Pricing, Swordfish is the right choice.