The sales automation space is constantly evolving and expanding, making it hard to keep up with the latest solutions. This is why many Organizations chose to turn to ExactBuyer Search, which enables recruiting, sales and marketing groups to identify their ideal clients, employees, partners, or acquisition targets. However, it's important to keep an open mind and explore all options available. In this article, we have mentioned Top 10 Exactbuyer Alternatives that businesses can use instead.
What is Exactbuyer
Exactbuyer is a company that provides corporate and contact intelligence solutions to organizations around the world. They specialize in analyzing their customers' business histories, from small- to medium-sized businesses (SMBs) to large enterprises.
Their research includes evaluating strategic embeds – such as acquisition, merger, sale, or liquidation – over the entire lifecycle of each customer's business.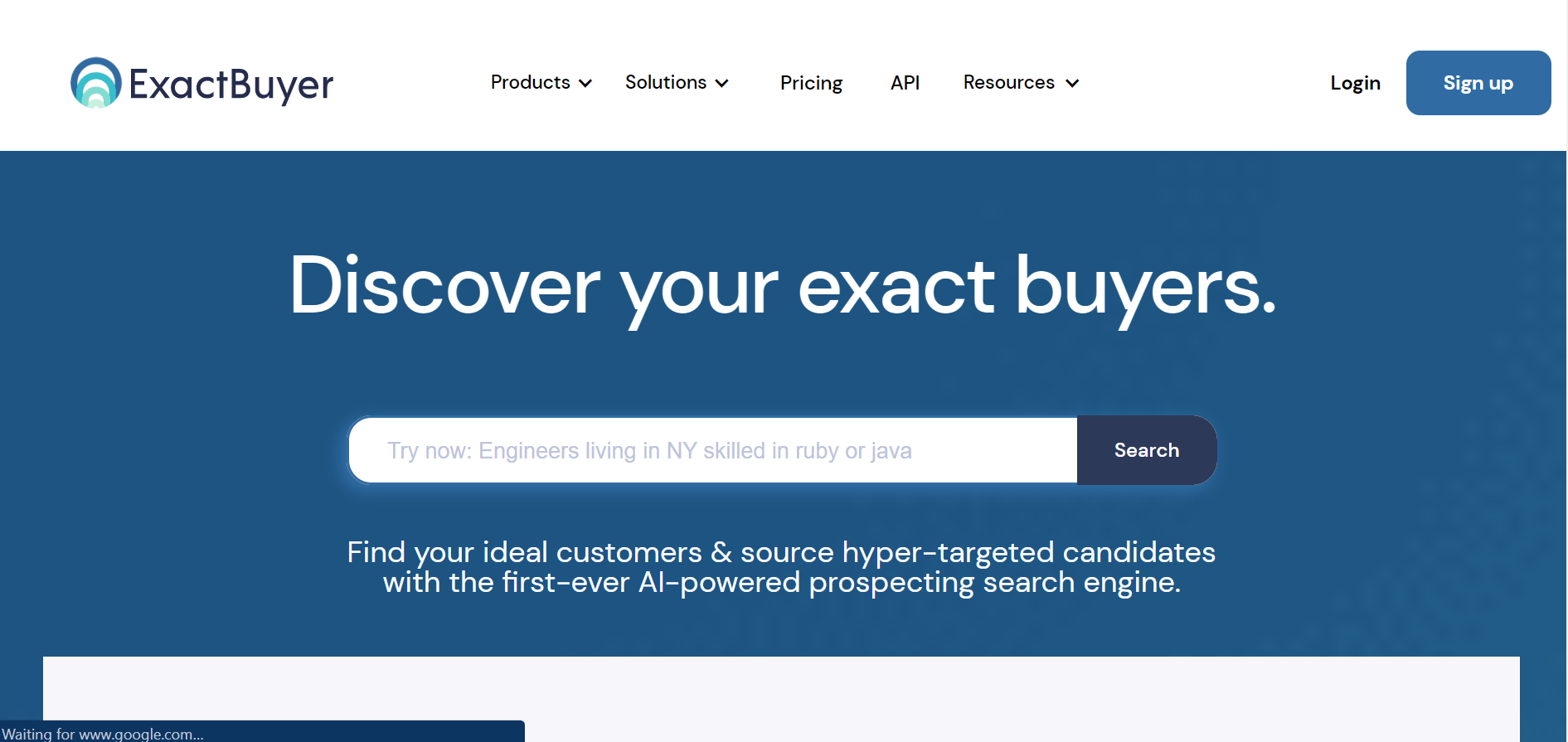 Exactbuyer offers a wide range of data-driven insights and analytics, including a company's important milestones timeline.
This timeline can help customers understand how a company grew or changed over time, allowing them to make better decisions and investments in their own business.
Exactbuyer also offers an API that helps customers integrate their data sources with their products and processes.
It enables companies to create custom workflows, such as sales automation, marketing campaigns, and customer service solutions.
While Exactbuyer is one of the most popular corporate and contacts intelligence solutions, it is not the only option.
Top 10 Exactbuyer Alternatives
1. Swordfish
Swordfish is a powerful contact data enrichment tool that helps organizations gather comprehensive information about their customers.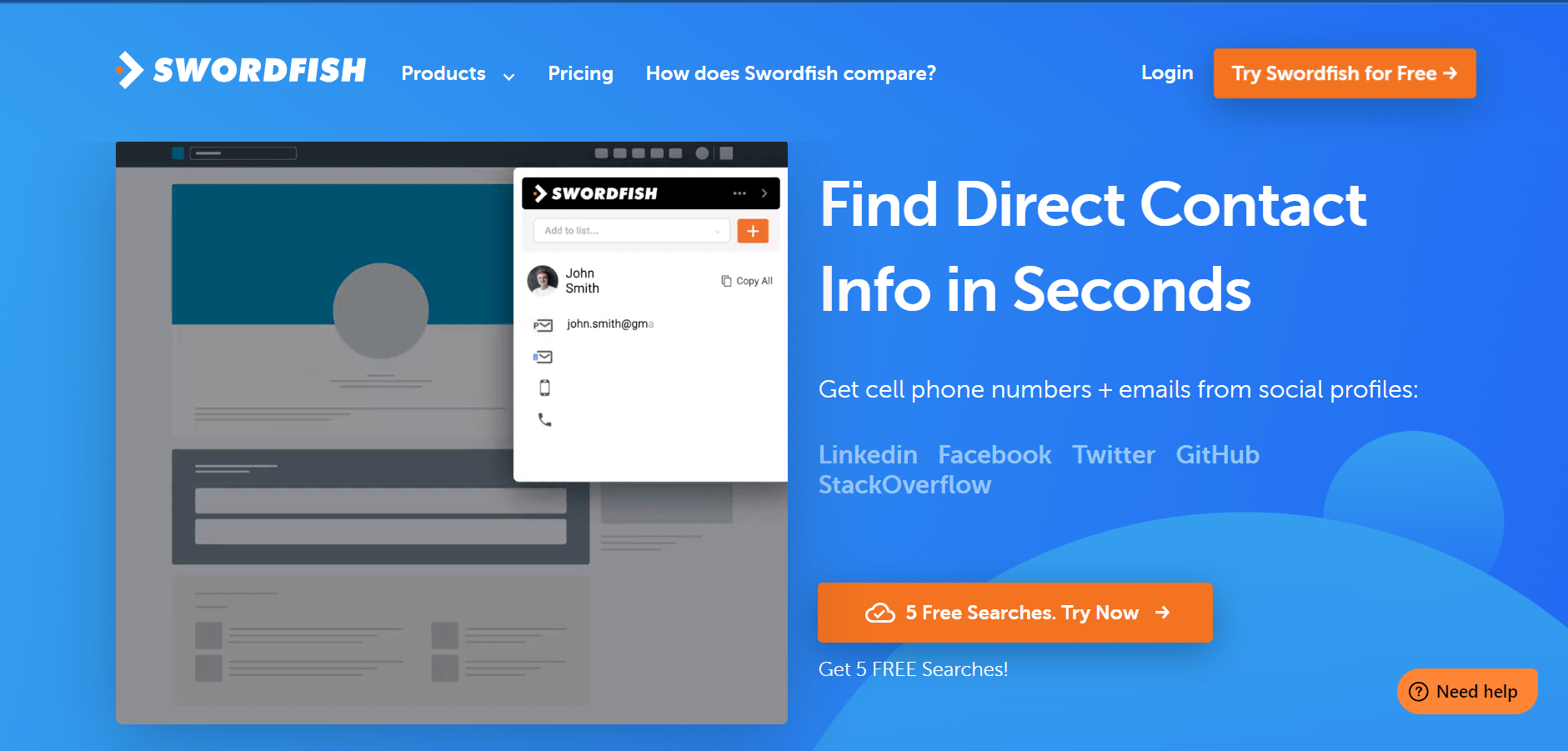 This Data enriching tool is one of the best among Exactbuyer Alternatives. It enables users to quickly and accurately identify contact details such as name, title, email address, phone number, social media profiles, and more in bulk.
Swordfish can provide accurate results even when the initial searches yield incomplete or insufficient data points.
The growing technology platform also offers various other data-driven services, including identity verification, UX research, and website validation.
Swordfish's data enrichment capabilities are further enhanced by its advanced search, indexing and filtering features.
With the help of Swordfish, users can access comprehensive contact information from sources such as job postings, press releases, websites and more.
The platform also provides automated web scraping and crawling services to retrieve information from public directories and government records.
It has a powerful natural language processing (NLP) engine that accurately recognizes names, titles, addresses and other contact details even if they occur in non-standard formats or abbreviated words.
Moreover, Swordfish enables organizations to get insights into customer behavior by tracking their online activities across multiple channels.
2.Leadinfo
Leadinfo is an excellent alternative to ExactBuyer for understanding and recognizing B2B website visitors. With Leadinfo, users can effortlessly access a global database of 220M businesses spread across more than 200 countries.
What's more, their advanced algorithms can identify potential leads even if the visitors don't leave an email address or other contact details behind.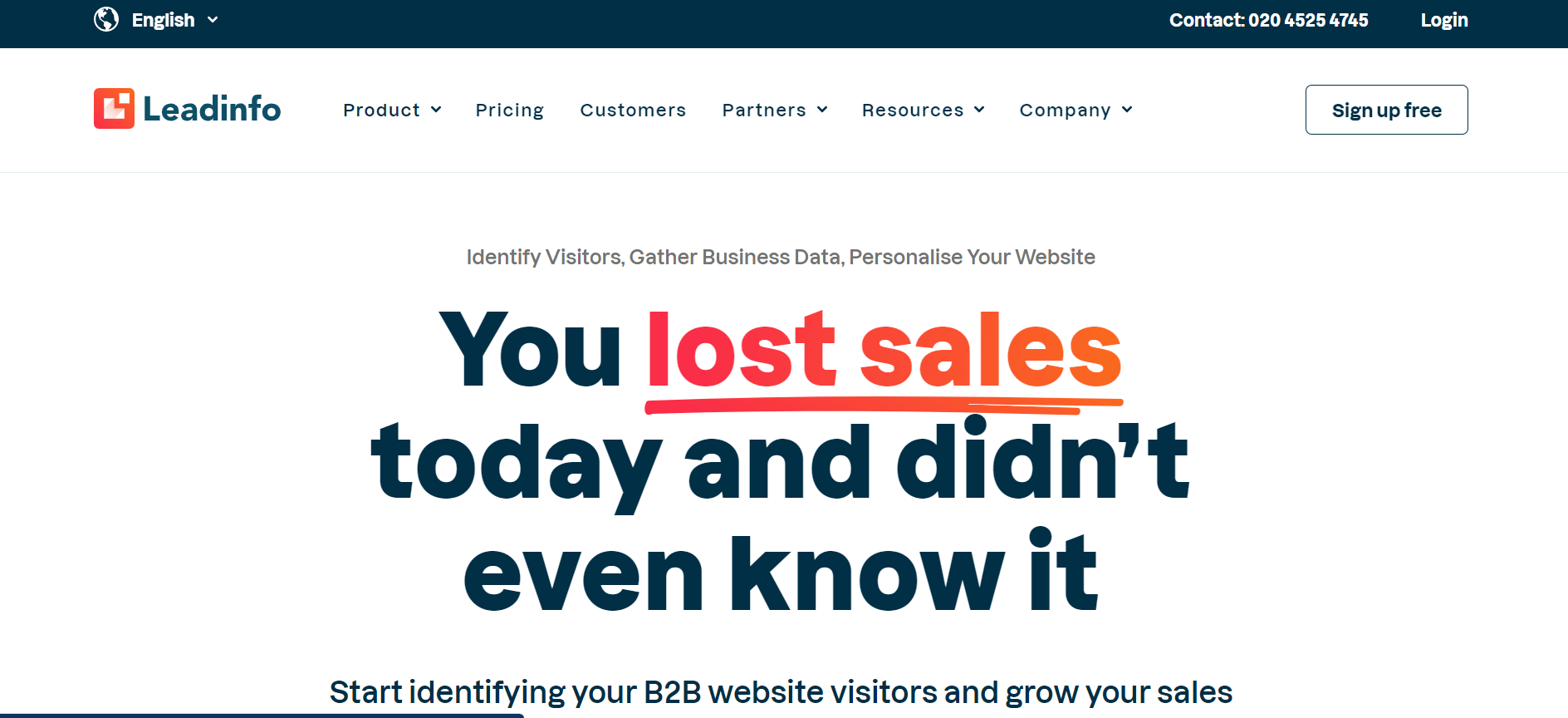 This helps users reach out to prospects ready to engage and enter into meaningful conversations without having to scour the web with manual search efforts.
Leadinfo also provides detailed insights on website visitors, allowing businesses to track visitors' page views, visits, location, company size, and much more.
This helps them segment their target audience and personalized craft campaigns more likely to lead conversions.
Furthermore, LeadInfo's user-friendly dashboard makes it easy for users to monitor all their key metrics and optimize their marketing strategies accordingly.
3.LinkedIn Sales Navigator
LinkedIn Sales Navigator is an all-in-one sales management tool designed to help sales representatives and businesses nurture relationships with individual prospects and close more deals.
With this powerful software, users can understand business metrics deeply, target the best leads, and engage them with highly personalized outreach to turn them into loyal customers.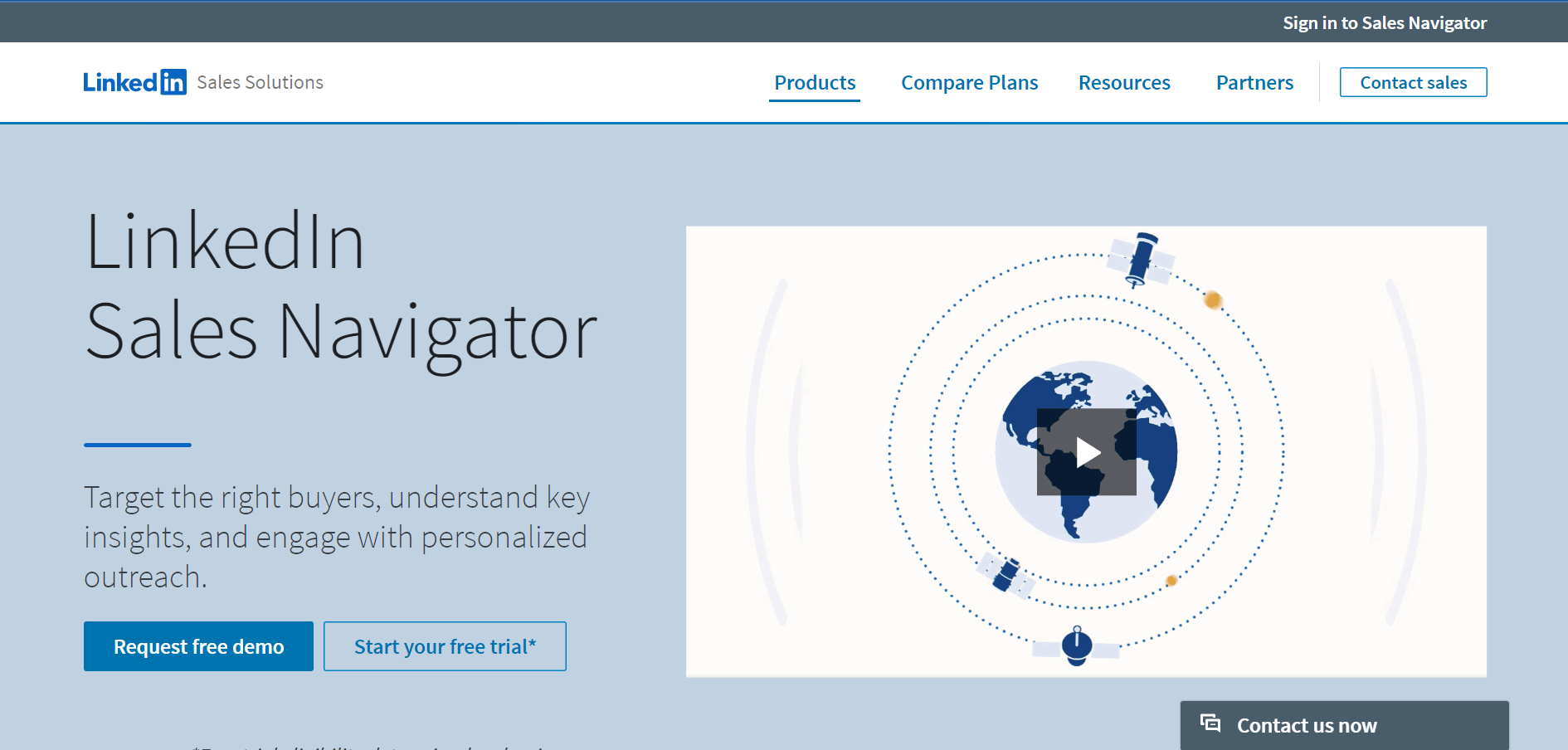 LinkedIn Sales Navigator helps you maximize your sales efforts by streamlining daily tasks like prospecting, lead generation, account management, customer onboarding, and more.
The software also provides valuable insights into current market trends and competitor analysis so that you can stay ahead of the curve.
By leveraging LinkedIn's vast network of professional contacts and comprehensive set of features, businesses can quickly generate leads and build strong relationships with prospects that turn into long-term customers.
Linkedin might not give you exact and verified data for your sales outreach, unlike other Exactbuyer Alternatives.
4. Adapt
Adapt provides a comprehensive and unified platform to accelerate sales growth. It offers 500,000+ customers and 100 million business contacts in multiple industries, including job titles, direct dial, and email addresses.
Adapt's Lead Builder and Prospector are designed to help you quickly find the right leads for your business by giving you detailed information about prospects that match your criteria.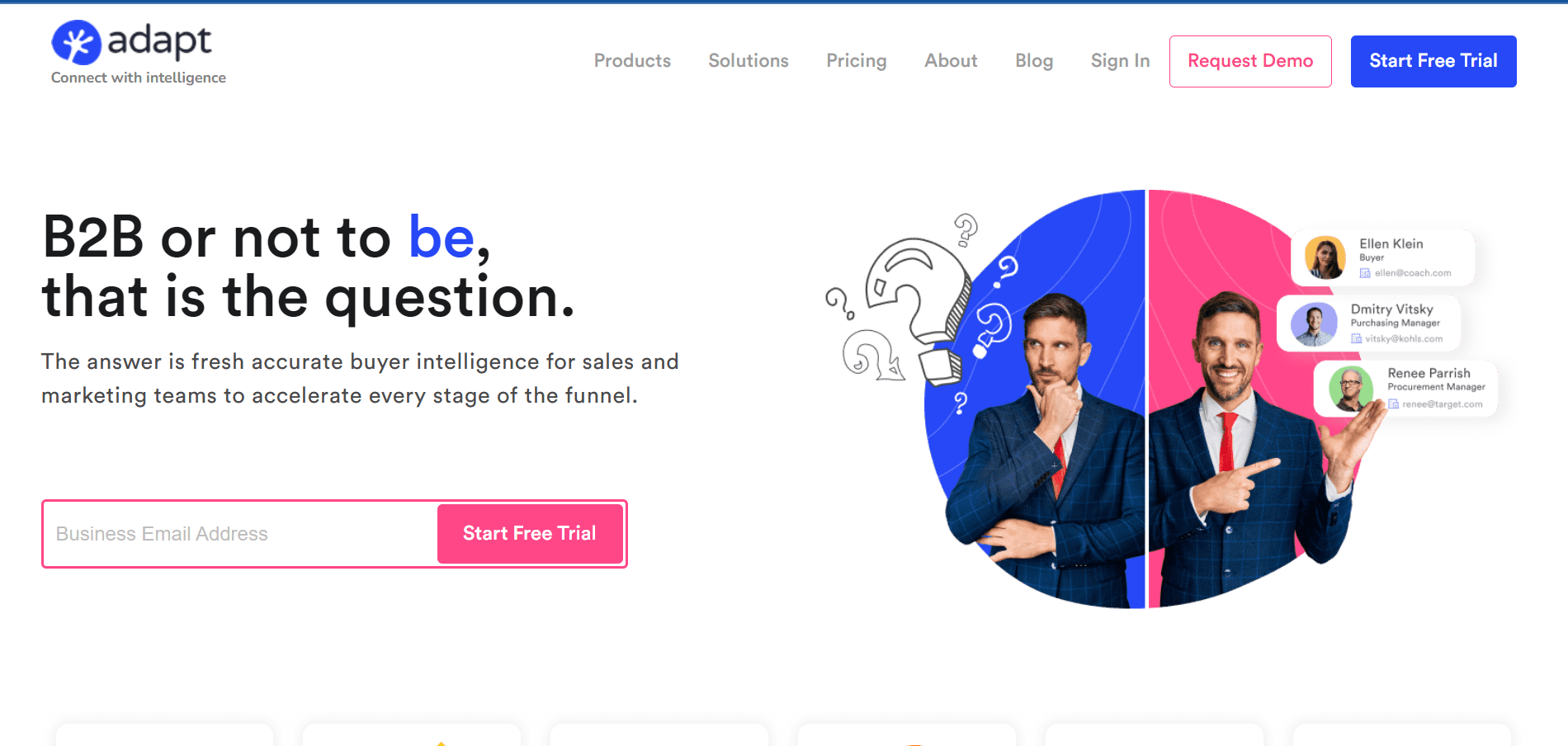 Moreover, its streamlined user interface simplifies lead generation processes so that you can focus on what matters most—converting leads into customers.
With Adapt, you can easily access industry-specific contact data and generate sales faster than ever before.
Its extensive contacts database makes it easier for businesses to connect with potential buyers interested in their products or services. Additionally, its powerful search filters allow you to refine search results according to your specific criteria.
5. RocketReach
RocketReach is a powerful tool that offers a complete suite of services to help individuals and businesses reach out to their contacts.
With an expansive database of emails, direct dials and other contact information, RocketReach gives you access to the most accurate and up-to-date contact lookups available on the market.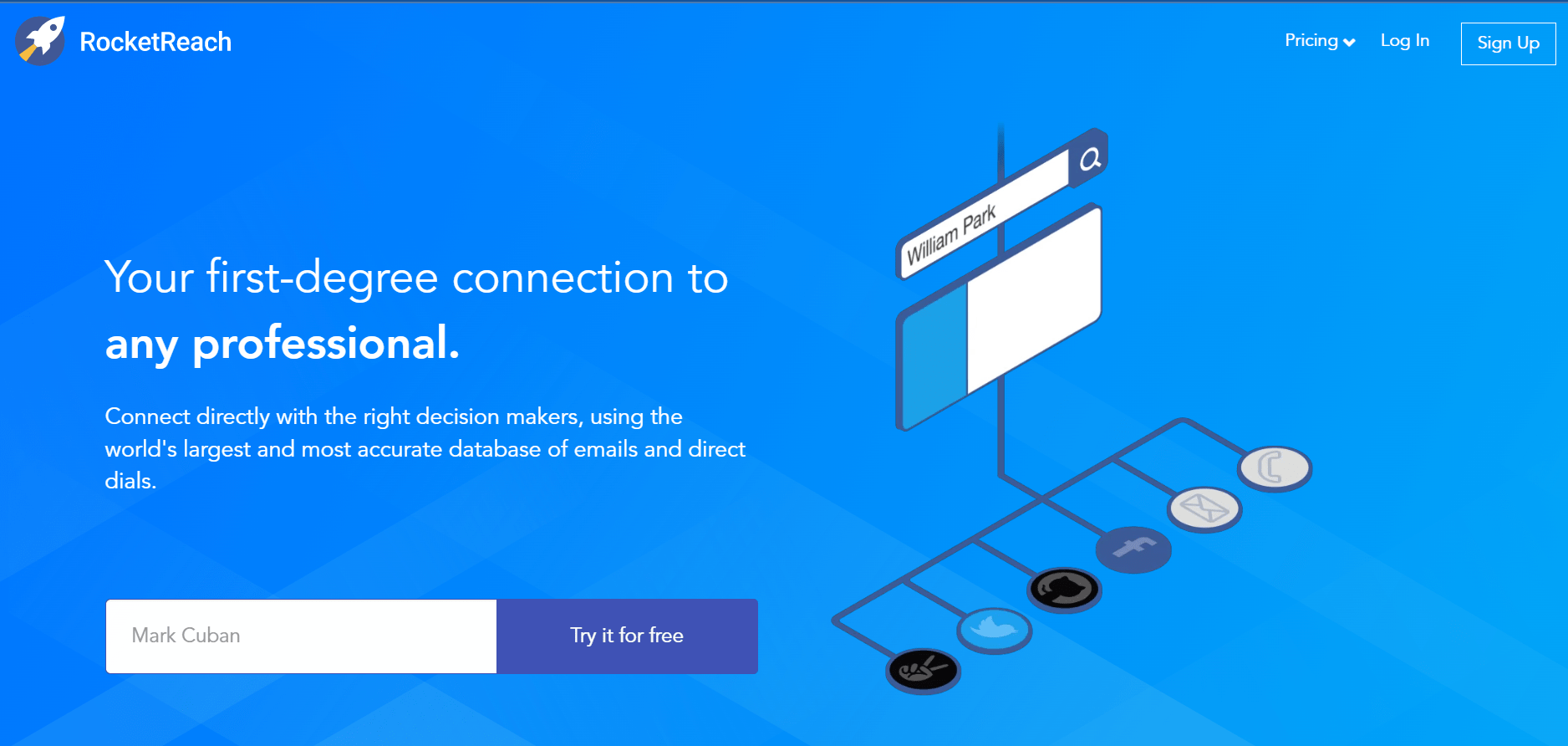 You can use this data to build target lists for advertising campaigns or segment databases. It's also great for recruiting efforts, as you'll be able to find qualified leads with just a few clicks quickly.
Connecting with individuals in your network is simple with RocketReach, allowing you to keep in touch with your connections even though they change jobs or relocate.
Whether you're looking for ad targeting, database segmentation or recruitment, RocketReach is the perfect tool. This software comes with an easy to use interface and is worth an investment.
6. 6sense Revenue AI
The comprehensive ABM/ABX platform 6sense Revenue AI offers businesses the resources and insights necessary to achieve predictable, scalable development.
It leverages Artificial Intelligence (AI), Big Data, and Machine Learning (ML) to empower each member of the revenue team with the insights needed for informed decision-making.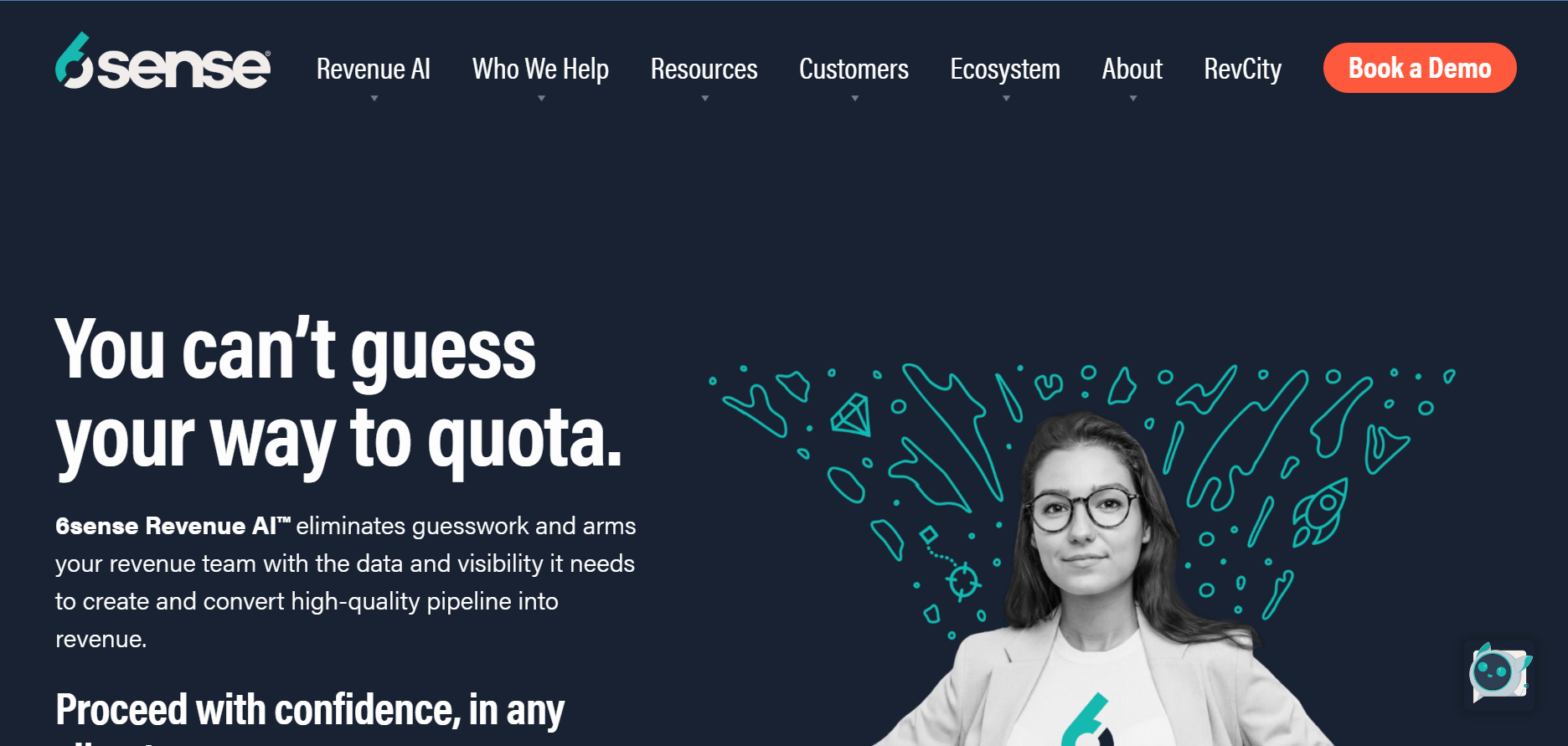 6sense helps marketers identify opportunities, sales reps understand customer buying behavior and prioritize outreach efforts, and Customer Success teams provide personalized engagement.
With a single source of truth across departments, 6sense helps companies see what's working and optimize their go-to-market approach accordingly.
At its core, 6sense Revenue AI combines disparate data sources across systems like Salesforce CRM, Marketo Engage, and LinkedIn, turning them into actionable insights.
It helps B2B organizations reduce guesswork by providing a comprehensive view of customer buying behavior, better segment customers, prioritize outreach and uncover new sales opportunities.
Additionally, its AI-powered recommendations can be used to create hyper-personalized campaigns that help maximize efficiency and drive revenue growth.
7.SellHack
SellHack is a comprehensive email finding tool created to help companies build powerful email lists of potential customers.
With this intuitive software, sales teams can verify emails in real-time and sync their contact information with SalesForce. This makes it easier to access precise data quickly and easily.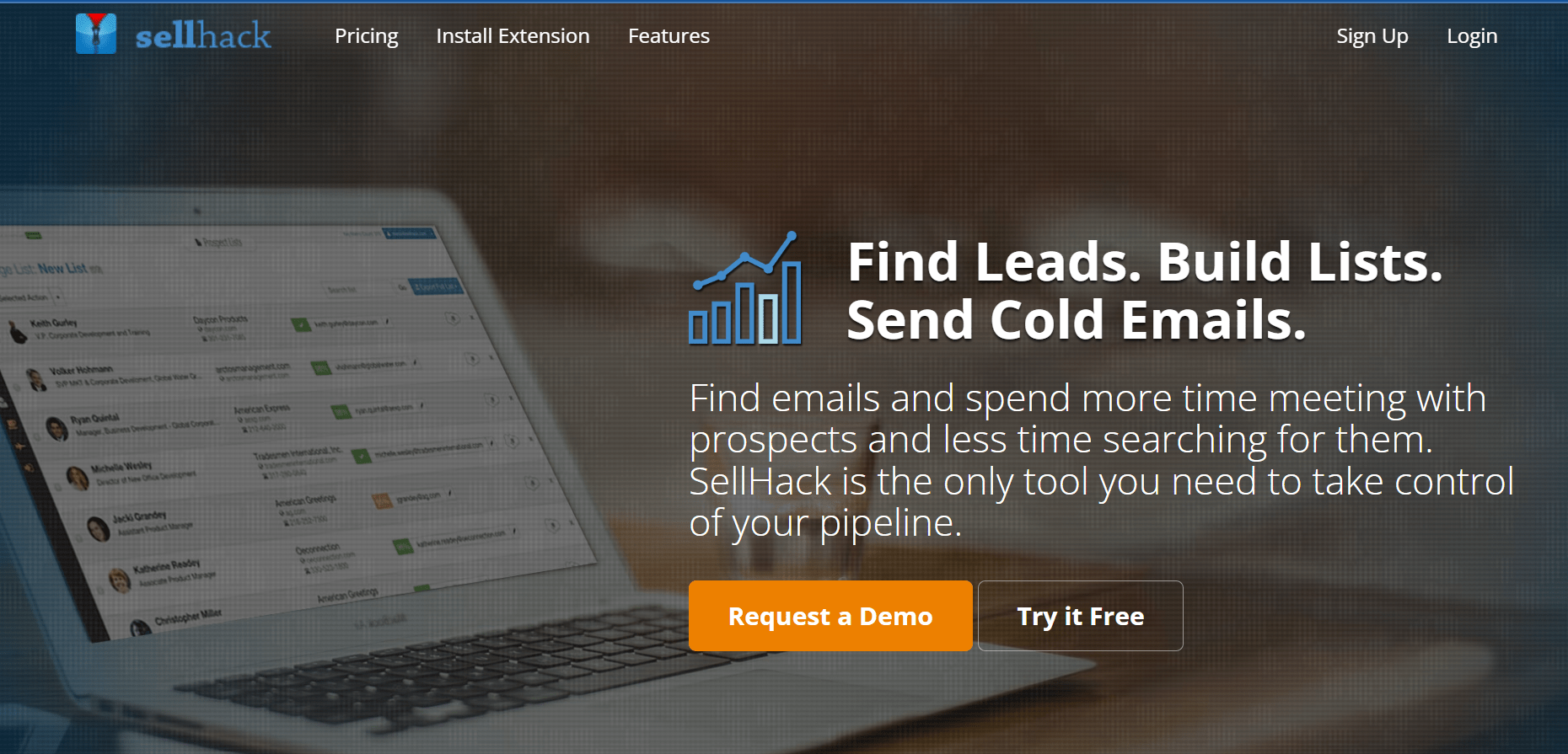 By streamlining the lead discovery process, SellHack enables businesses to place cold emails more accurately into prospects' inboxes. This allows them to reach out directly to qualified leads and increase their chances of making a sale.
The verification engine also ensures that incorrect or outdated emails are avoided within seconds, reducing the time-consuming manual work involved in building accurate customer lists.
With SellHack, businesses can also analyze their email lists to track the performance and success of their campaigns. This allows them to gain valuable insights into what's working and what needs improvement.
Additionally, advanced search filters allow sales teams to find contacts with specific interests in order to target a more precise audience. This ensures that they are targeting the right people and can increase engagement rates significantly.
8. Crunchbase
Crunchbase is an alternative to Exactbuyer that provides private-company prospecting and research solutions.
It offers a comprehensive database of over 30 million companies, providing users with access to detailed company profiles, news updates, funding data points, key contacts, and more.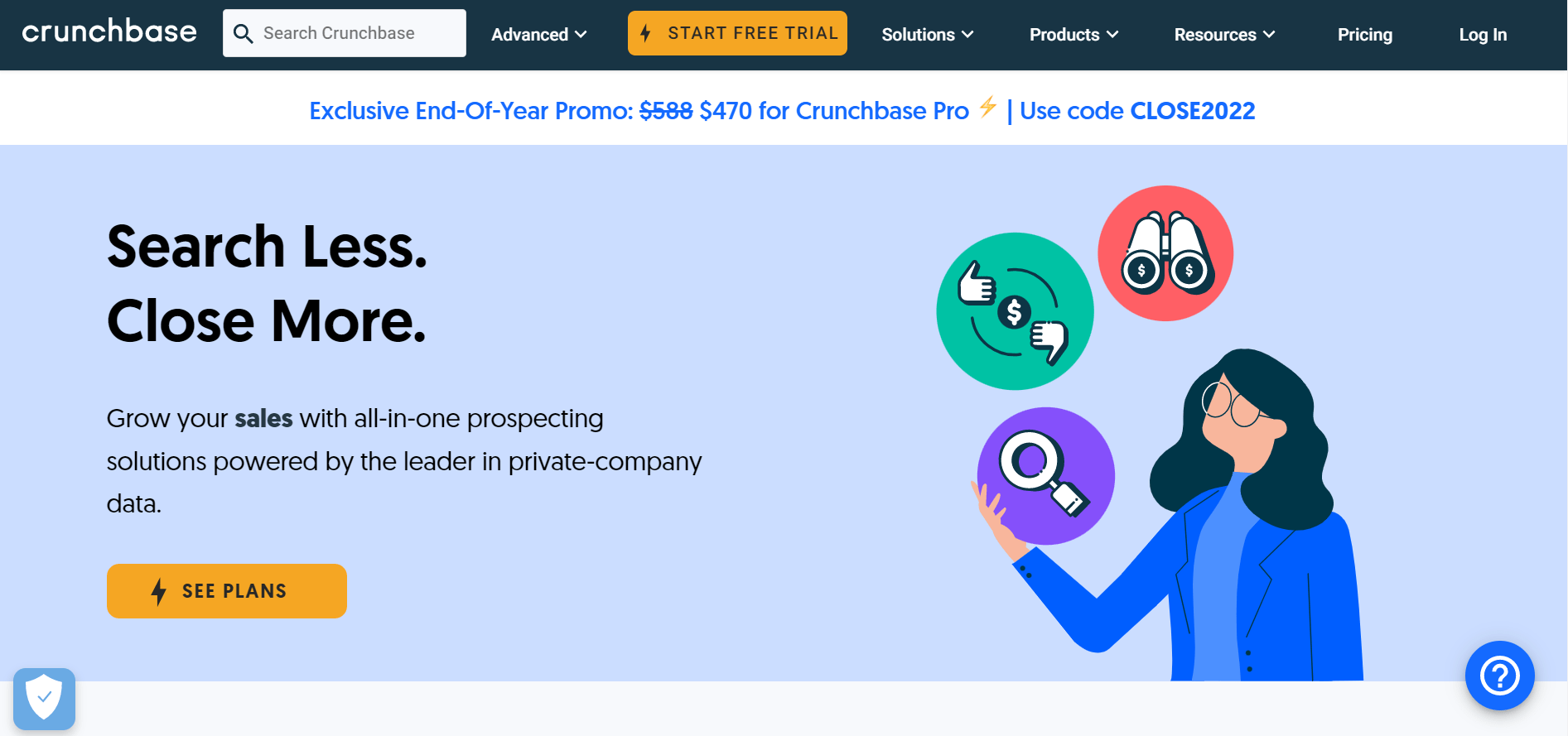 With a user-friendly interface and intuitive search capabilities, Crunchbase makes it easy for business professionals to track vital information about their target companies efficiently.
Additionally, Crunchbase's API allows developers to create powerful applications for locating prospects quickly and accurately.
This makes it the perfect tool for salespeople, entrepreneurs, investors, market researchers, and other industries looking for reliable prospecting data. So if you're looking for an alternative to Exactbuyer, Crunchbase is worth a try.
9. ZoomInfo
Another one of the best Exactbuyer Alternatives, ZoomInfo is a comprehensive B2B intelligence platform that offers an alternative to the traditional Exactbuyer solution. It provides a unified system of data, insights, software, and integrations designed to give you complete visibility into your total addressable market.
With it, you'll be able to identify potential buyers with precision and convert them into paying customers more quickly. ZoomInfo also enables you to define your target market and reach ideal buyers with accurate B2B intelligence.
With this insightful information at your fingertips, you can create highly targeted campaigns to help you succeed in no time. Whether for lead generation or sales conversion, ZoomInfo has all the tools and resources to find the right contacts.
10. Outreach
Outreach is the perfect alternative for those looking for a smarter, more efficient way to engage with customers. The platform combines three essential elements – sales engagement, conversation intelligence, and revenue intelligence – into one comprehensive solution.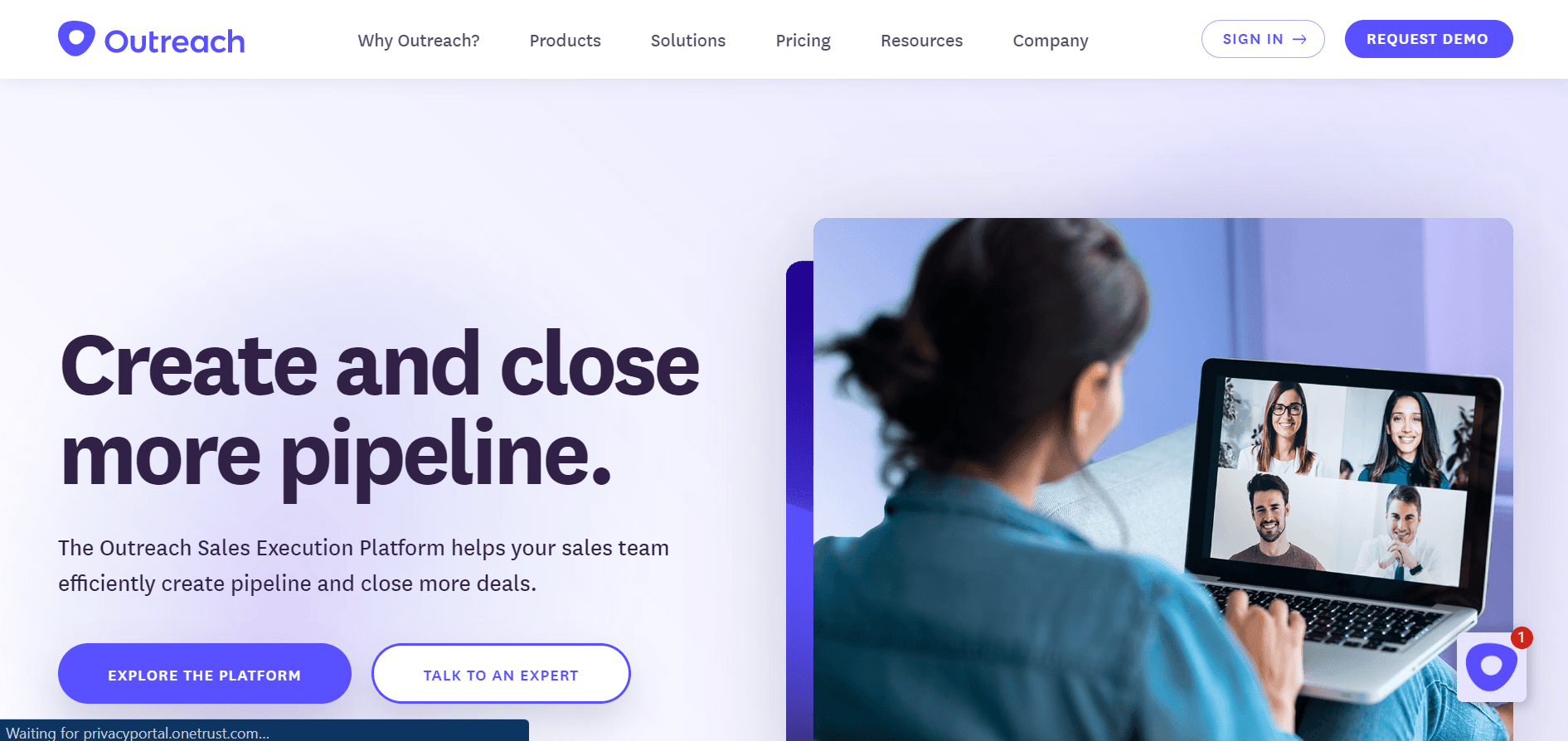 Companies can dramatically increase their productivity and gain valuable insights from customer conversations. With Outreach, businesses can quickly identify opportunities and close deals faster by accessing data-driven insights that drive better decision making.
Outreach allows teams to build stronger relationships with their customers while driving more profitable outcomes for the business. Outreach is one of the top choices out of other Exactbuyer Alternatives.
The Best Exactbuyer Alternative: Swordfish
Swordfish is one of the most effective cell phone and email finder tools, enabling users to quickly and easily find contact information such as phone numbers, emails, addresses, and other vital data.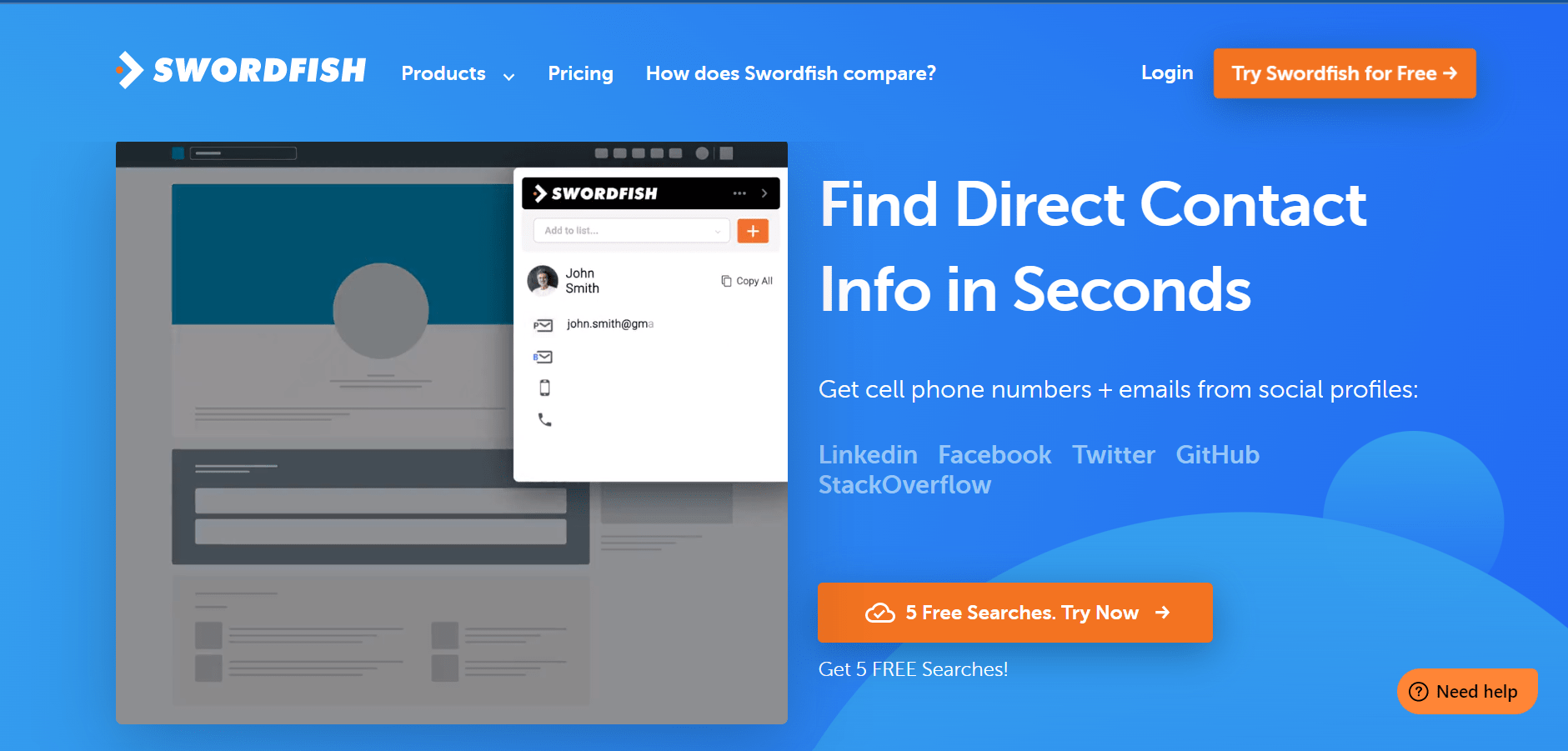 It helps them instantly save time in their daily workflows by automatically collecting the required details from various sources simultaneously.
With Swordfish's smart filters and accurate results, businesses can effortlessly access the right contact information for their sales outreach campaigns.
It offers advanced features such as secure database connection, pre-built integrations with CRM systems and more to simplify searching.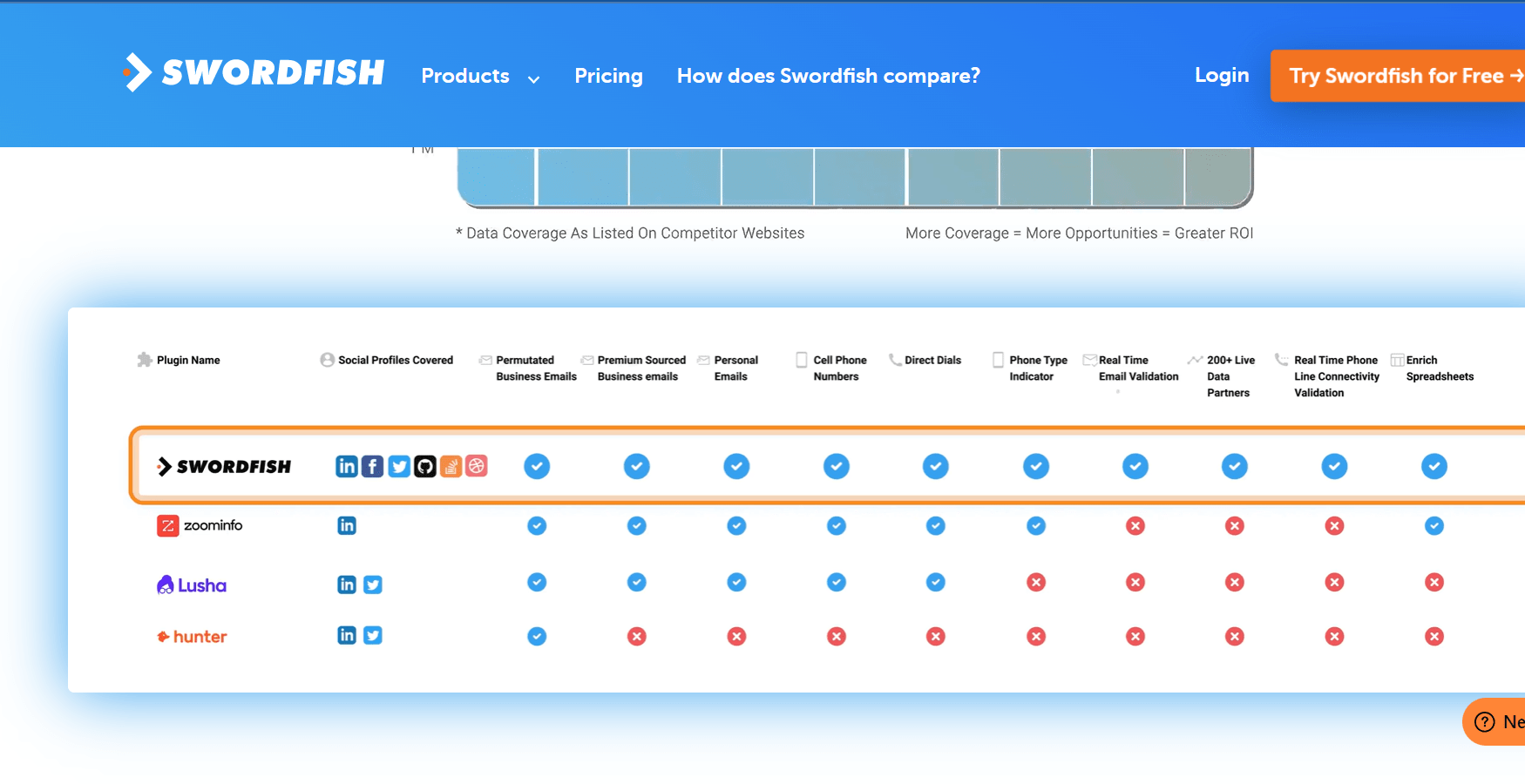 Moreover, Swordfish includes robust privacy protocols to ensure your contacts' data remains safe.
Therefore, Swordfish is the ideal choice if you have to get started with a trustworthy and safe Exactbuyer substitute. It helps you streamline your workflow and ensure that contact information is always up-to-date.
You can check the pricing plans to get the best out of Swordfish and enjoy its unbeatable features. Try it out today!