Email outreach is an important part of lead generation strategies. Finding accurate contact information and verifying emails can be time-consuming, but it's essential for successful outreach campaigns. Hunter.io is one tool that makes this process easier by providing a way to search for contact details, verify emails, and generate leads quickly. But is Hunter.io Pricing worth the Money?
In this article, we'll explore the pricing plans offered by Hunter.io and examine whether this outreach tool is worth the cost. Let's take a closer look!
 What is Hunter.io?
Hunter.io is a powerful software tool designed to help businesses quickly and easily find and verify professional email addresses from domains, companies, or specific professionals on the web.
This software saves users time and resources when seeking out contact information for their business needs. Their website also provides in-depth research on millions of email addresses and contacts to ensure accuracy and relevancy.
With an intuitive user interface and easy-to-use features, Hunter makes it simple to gather up-to-date contact details with just a few clicks of the mouse.
Besides providing accurate emails from companies, or individual professionals online, this software offers features like lead scoring tools to identify and prioritize hot leads and customizable templates to craft professional emails quickly.
Features
There are many features of Hunter.io Software that help businesses to find and verify professional email addresses with ease. Mentioned below are these features:
The Domain search feature of Hunter.io allows users to find email addresses related to a certain domain quickly. Users can easily discover the contact information associated with that domain by simply entering the domain name.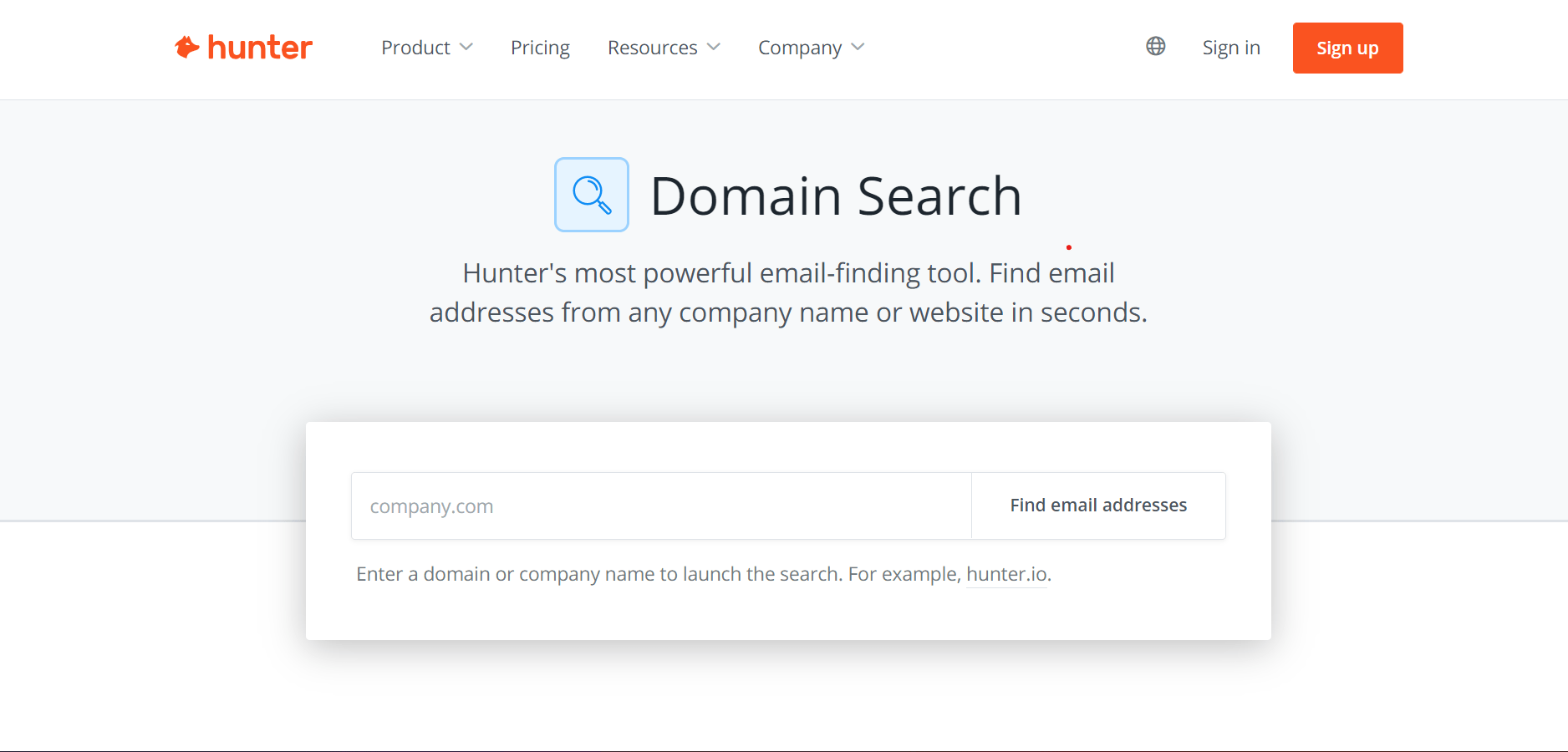 Many businesses are able to gather contact lists of their target audience by using the Domain Search feature. This helps them to reach out easily and connect with customers and prospects more effectively.
Hunter.io's Author Finder is an excellent tool for finding the email addresses of specific authors quickly and easily. It takes the hassle out of manual search and saves you time.
You have to do is enter the article URL into the search bar, and Hunter will provide you with an accurate email address if it finds one.
You can use this tool to reach out to authors directly or build relationships with them so they'll be more likely to read your content in the future.
This feature can also help increase your website traffic by giving you access to potential new readers interested in similar topics.
The email finder tool Hunter.io makes locating anyone's email address easy. It searches across millions of public and private databases to find your address.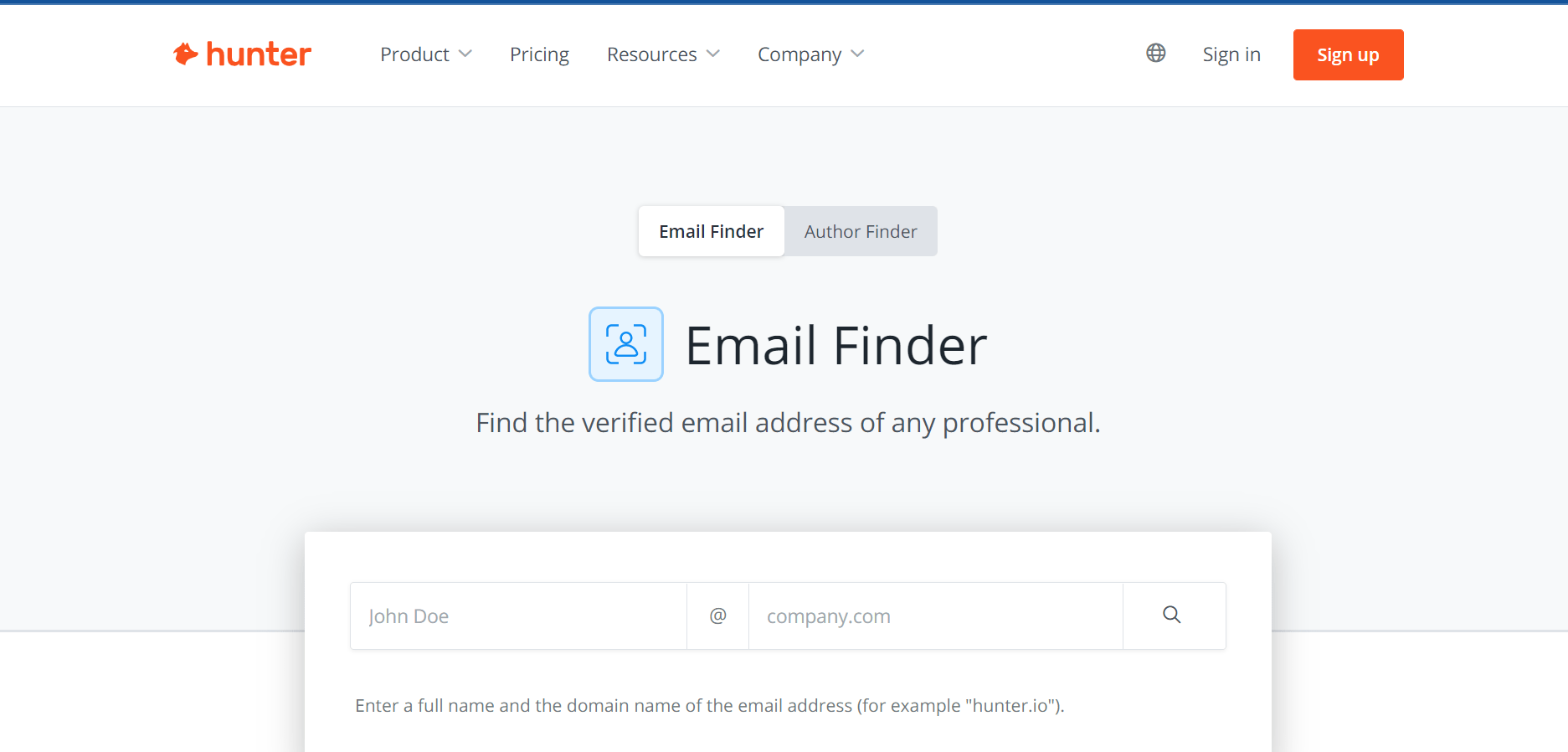 It has sophisticated data filtering capabilities that allow for more precise targeting, allowing you to easily find specific types of emails like C-level executives or particular departments within a company.
You can search by domain name, first and last name, job title, and location. This email hunter tool also has an API that allows you to integrate its powerful search capabilities into your own software and applications.
Hunter.io is a powerful and collaborative tool that allows users to send cold emails with minimal effort. It enables users to easily create professional-looking messages while also providing insights into the success of their campaigns.
With Hunter.io, users can access hundreds of millions of email addresses and comprehensive contact data, making it easy to reach out to more potential customers or partners in less time.
This software also provides advanced analytics and insights on each campaign so users can quickly refine their strategies for better results.
Furthermore, Hunter.io helps users protect their reputation by ensuring all sent emails comply with international laws and regulations such as CAN-SPAM, GDPR, CASL, etc.
These features allow them to remain compliant while achieving maximum engagement from prospective contacts.
Hunter.io offers an integrations feature, allowing users to connect their existing tools and services easily with the Hunter platform. This helps to streamline processes and save time across many different platforms.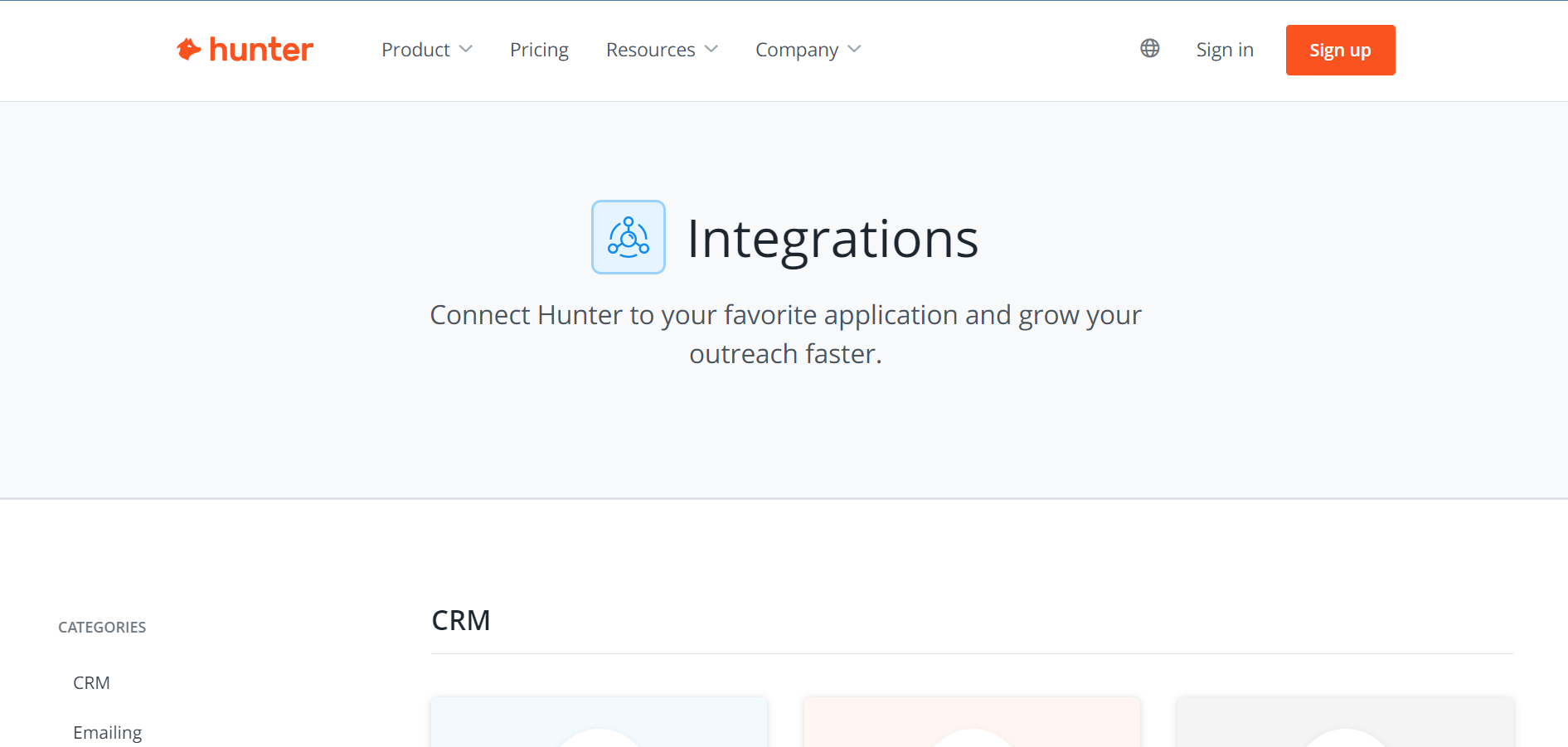 With these integrations, users can search for emails based on criteria such as name, company, or position directly from within their existing tools and services.
Additionally, they can quickly add contacts to contact lists and export data in CSV format with just a few clicks.
All of this makes it easier than ever to find new leads and build relationships with potential customers. Hunter's integration feature is designed to help make your workflow more efficient – so you can focus on what really matters.
Hunter.io's verify emails feature helps users accurately verify the email addresses of contacts and prospects, ensuring they are valid and deliverable.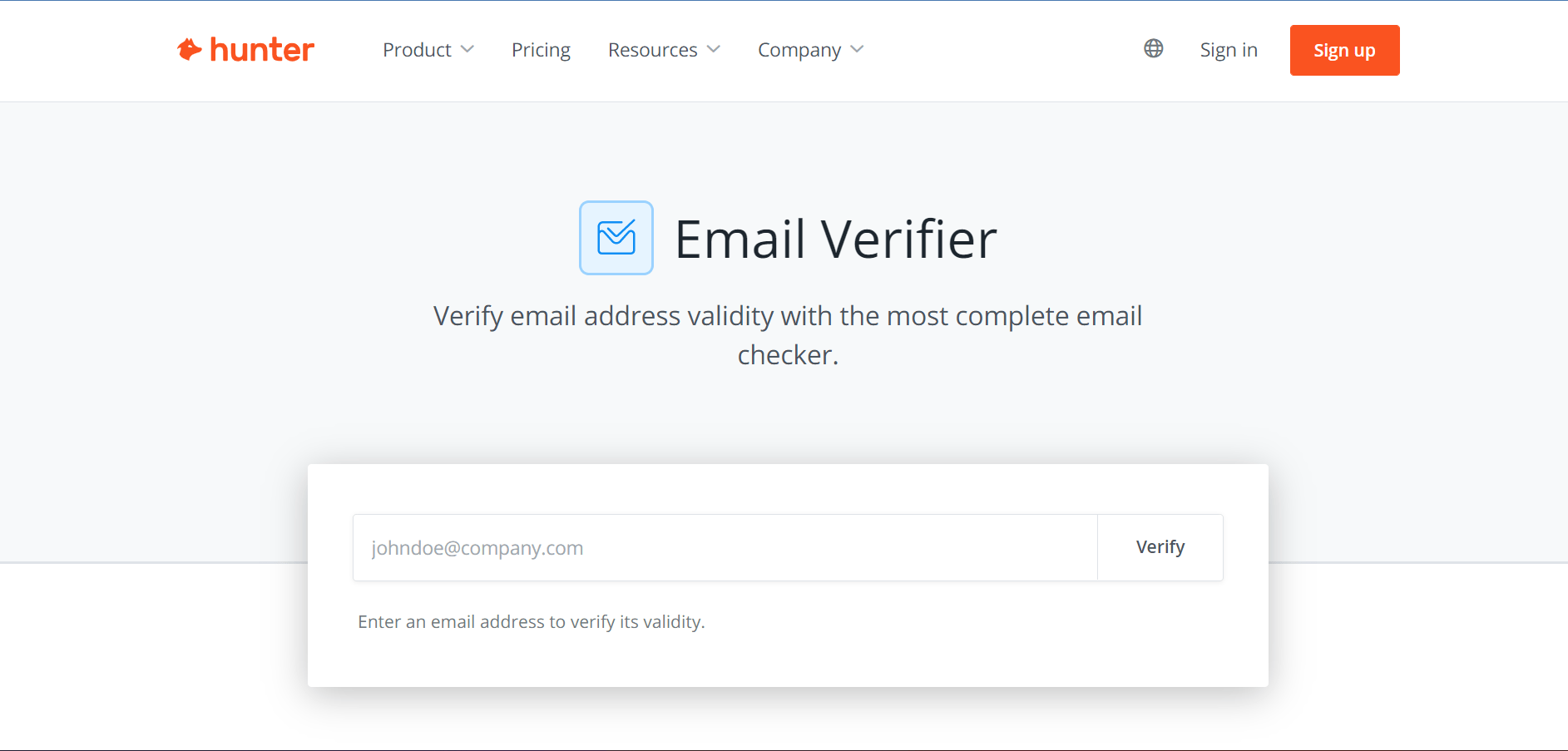 This eliminates the risk of sending emails to invalid or bounced addresses, thus saving valuable time and resources.
The email verifier tool also allows users to check if an email address is associated with any known online accounts like social media profiles or other websites.
This can help businesses find additional information about their targeted contacts, which can be used for personalized outreach messages and campaigns.
Pros
Hunter.io is a user-friendly tool that allows users to easily find email addresses and verify their accuracy with just one click.
The intuitive user interface makes it easy for beginners and experienced users alike to quickly access the data they need without having to learn complex commands or features.
Hunter.io comes with handy browser extensions that make searching for emails on websites or from LinkedIn profiles easier. This saves users valuable time by providing an easy way to access contact information while browsing online.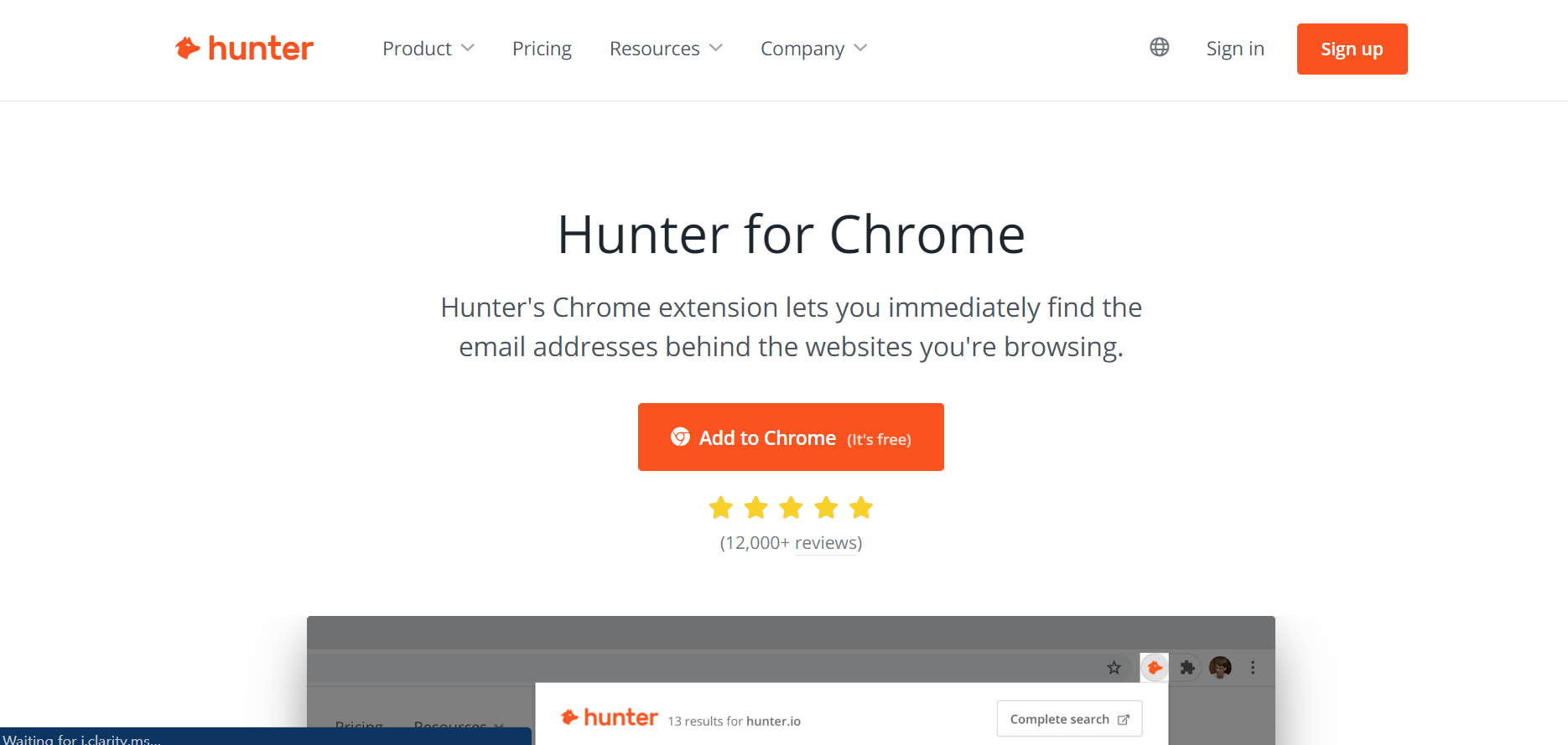 With the help of these browser extensions, users can quickly find emails and verify them without having to switch between applications.
Hunter.io is an economical way to find email addresses for professionals worldwide.
It comes with no contracts, monthly fees, or hidden costs – meaning you can use it whenever you need and pay as you go based on how many searches you make.
Hunter's powerful database contains over 1 billion public emails and grows daily. This ensures that whatever email address you are searching for, there is a high chance that Hunter will be able to provide it quickly and accurately.
Cons
Hunter.io does not provide any social media tools or tracking capabilities – if you're looking for a tool to monitor your brand mentions on social networks, you'll need to look elsewhere.
Hunter.io only works with professional email addresses – if you need to find contact information for personal accounts, such as Gmail or Yahoo, this is not the tool for you.
Hunter.io Pricing
The most basic option is a free version, which gives you 25 searches and 50 verifications per month. This is how to try out the service before deciding if buying a premium plan is worth it for your specific use case.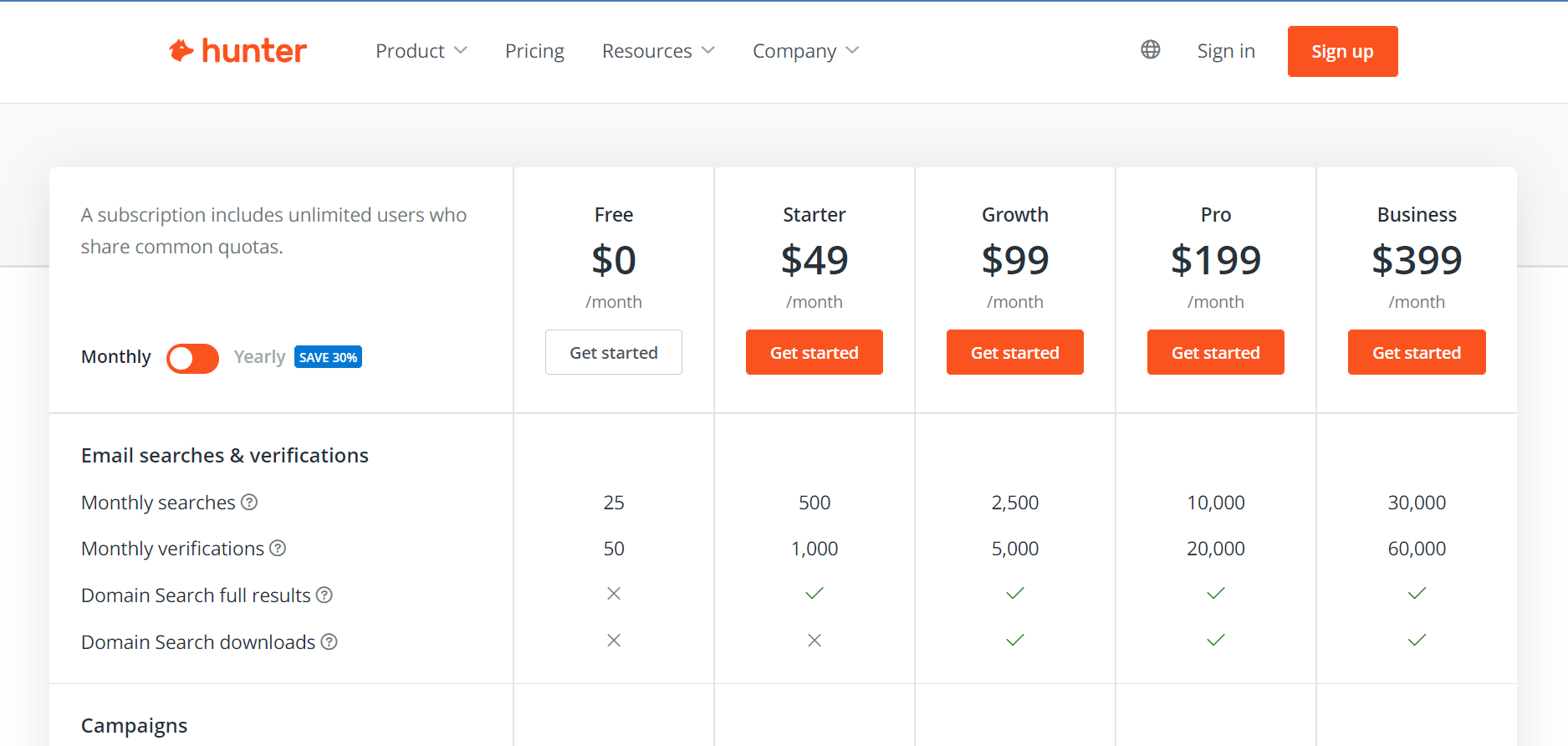 For those who need more than what the free version offers, several subscription options are available that increase monthly search and verification counts as well as other features.
Your profile will track how many searches and verifications you have left in any given month, so you always know when your quota will reset.
Free plan
Hunter.io's free plan offers 25 searches and 50 verifications per month for those who need a no-commitment way to get started. This is perfect for those who want to try out the service and see if it works.
Starter plan
Hunter.io's starter plan is great for businesses just starting out. It grants 500 searches, 1,000 verifications, premium features like campaigns, and priority support—all for just $49 a month!
With this plan, you'll have access to the basics that make Hunter.io so powerful and reliable.
Growth plan
The Growth plan by Hunter.io is designed for those who need more from their online search and verification needs. At $99 per month, the plan offers 2,500 searches, 5,000 verifications, and all the features of the Starter plan.
Pro plan
The Pro plan from Hunter.io costs $199/month and offers 10,000 searches and 20,000 verifications with all the features of the Growth plan included. This is an ideal option for businesses that need more robust search capabilities to identify email addresses quickly and accurately.
Enterprise plan
For a monthly fee of $399, the Enterprise plan grants you 30,000 search queries and 60,000 email verifications. This plan also includes all the features offered by the Pro plan. With this tier, you can access even more comprehensive data for your needs.
This pricing model is perfect for those requiring a large volume of data and a comprehensive audience understanding. With this plan, you can ensure that your campaigns are well-targeted and effective.
Is Hunter.io Pricing worth the Money?
The answer depends on your unique requirements. For example, the free version might suit you if you need access to a few email addresses or contact information.
However, if you require more advanced features, such as bulk searches and domain search metrics, then the premium plans are likely a better option. The main advantage of Hunter.io is that it provides accurate results relatively quickly.
It can process thousands of emails quickly and accurately, i.e., users can find what they're looking for much faster than manually searching for information online or through other tools.
Additionally, the tool allows users to find contact data from LinkedIn and other social media platforms.
The Best Alternative to Hunter.io: Swordfish.AI
Swordfish.AI is a powerful tool designed to help you find cell phone numbers quickly and easily.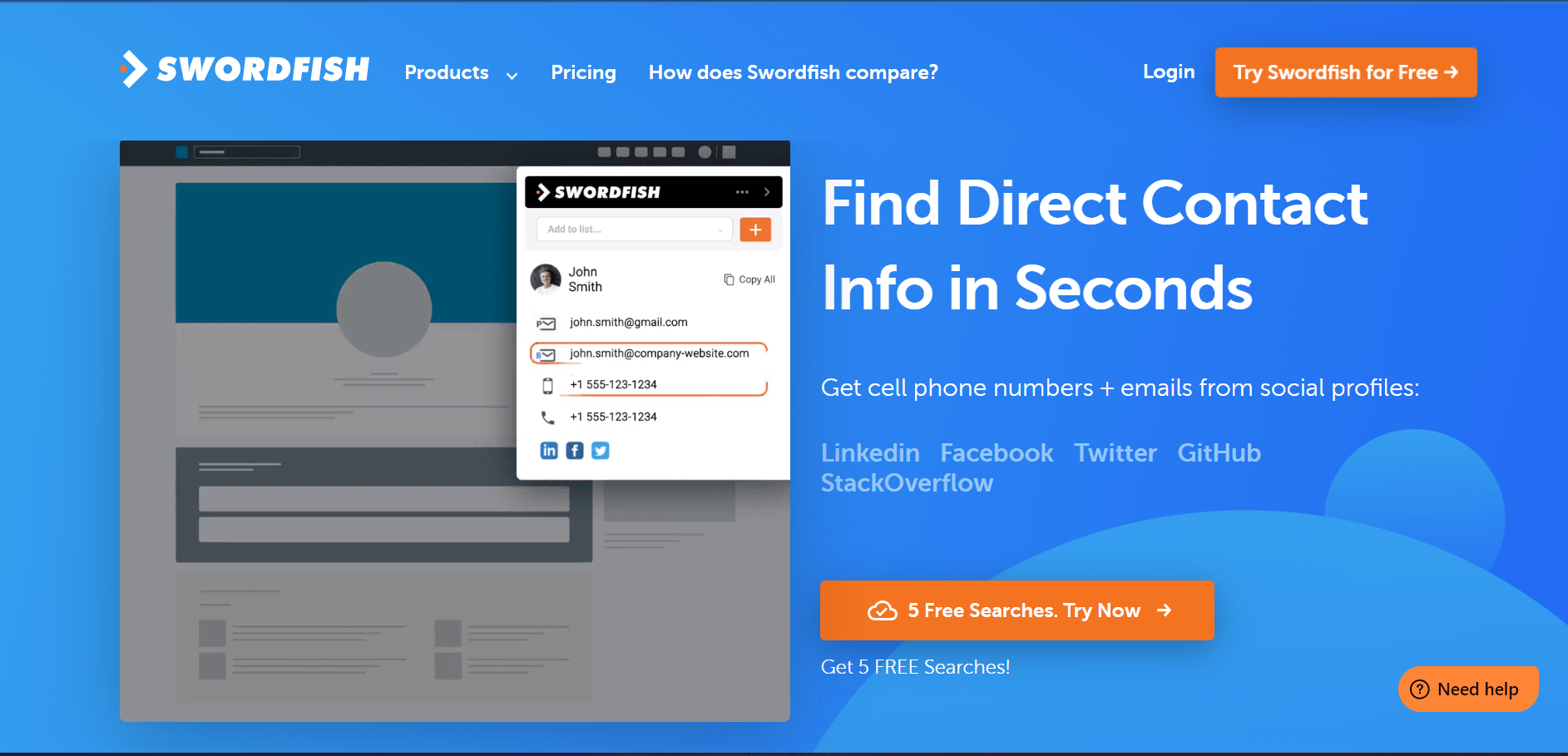 With Swordfish, you can search for contact information from millions of web sources in seconds. It offers an intuitive user interface and comprehensive features to ensure you quickly find the information you need.
It also comes with powerful filtering options so you can narrow your search results to get more accurate results.
Swordfish also allows users to save their searches and gain access to historical data on past searches. This makes it easy to track trends or find contacts that were previously difficult to locate.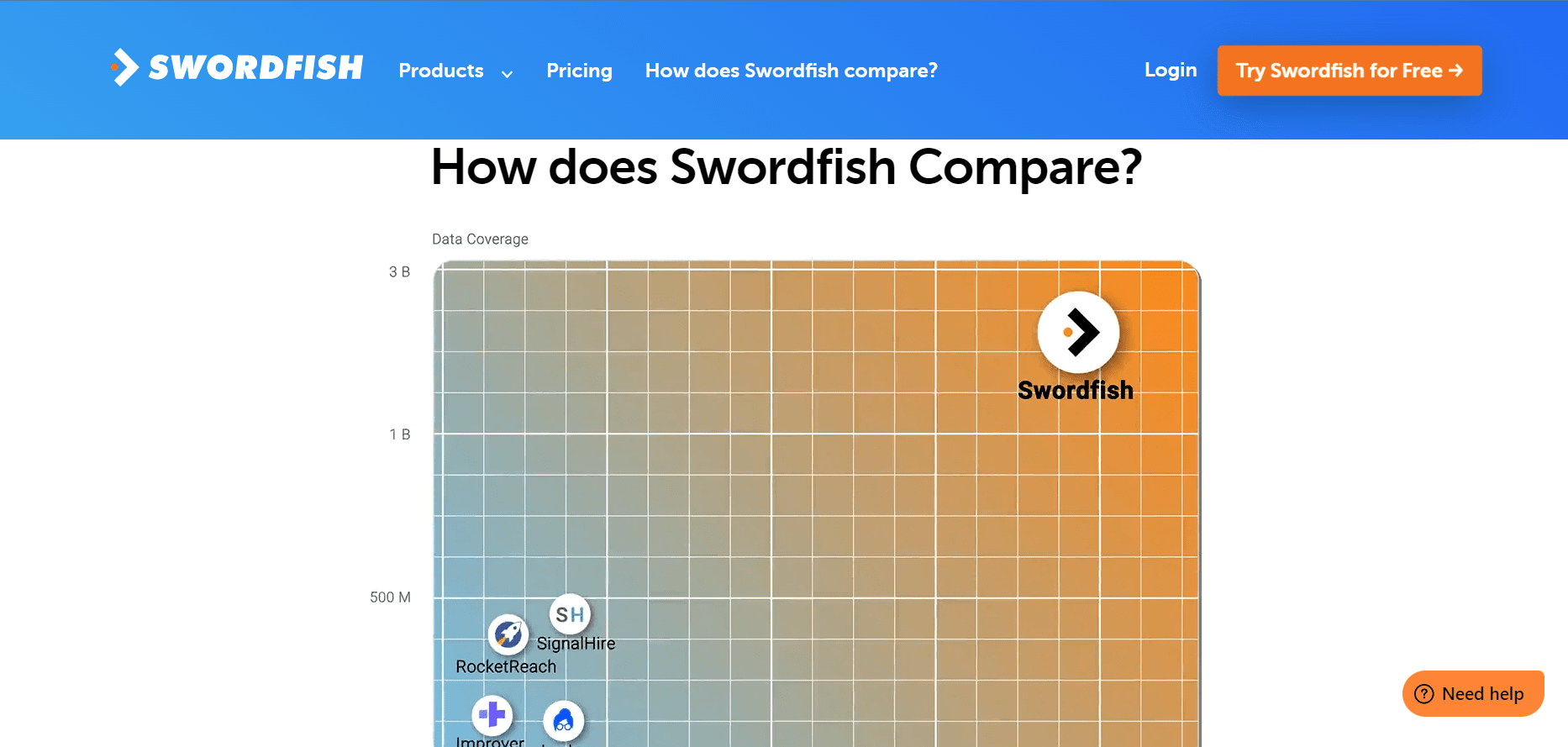 Finally, Swordfish is equipped with advanced security measures such as two-factor authentication (2FA) to keep your data safe and secure. All these features make Swordfish one of the best alternatives to Hunter.io.
You can get started for free with Swordfish.AI and see why it's quickly becoming the go-to tool for finding cell phone numbers.