Time is gone for generic outreach campaigns that could barely engage the audiences. Your skill is invaluable in today's world if you can understand your audience's behavior by tracking their digital footprints.
Intent data provides precisely that information, with additional details about an individual's company, job title, location, and more. Without this information, you're just mindlessly exploring the market, hoping to stumble upon potential leads, wasting time and resources.
Intent data providers track the digital footprints of individuals and companies, returning valuable information that helps filter and segment leads that can help you personalize your campaigns to connect to your audience on a personal level.
Today, we'll explore seven leading intent data providers, discussing their strengths and weaknesses based on specific criteria to help you pick the most relevant one.
What is Intent Data?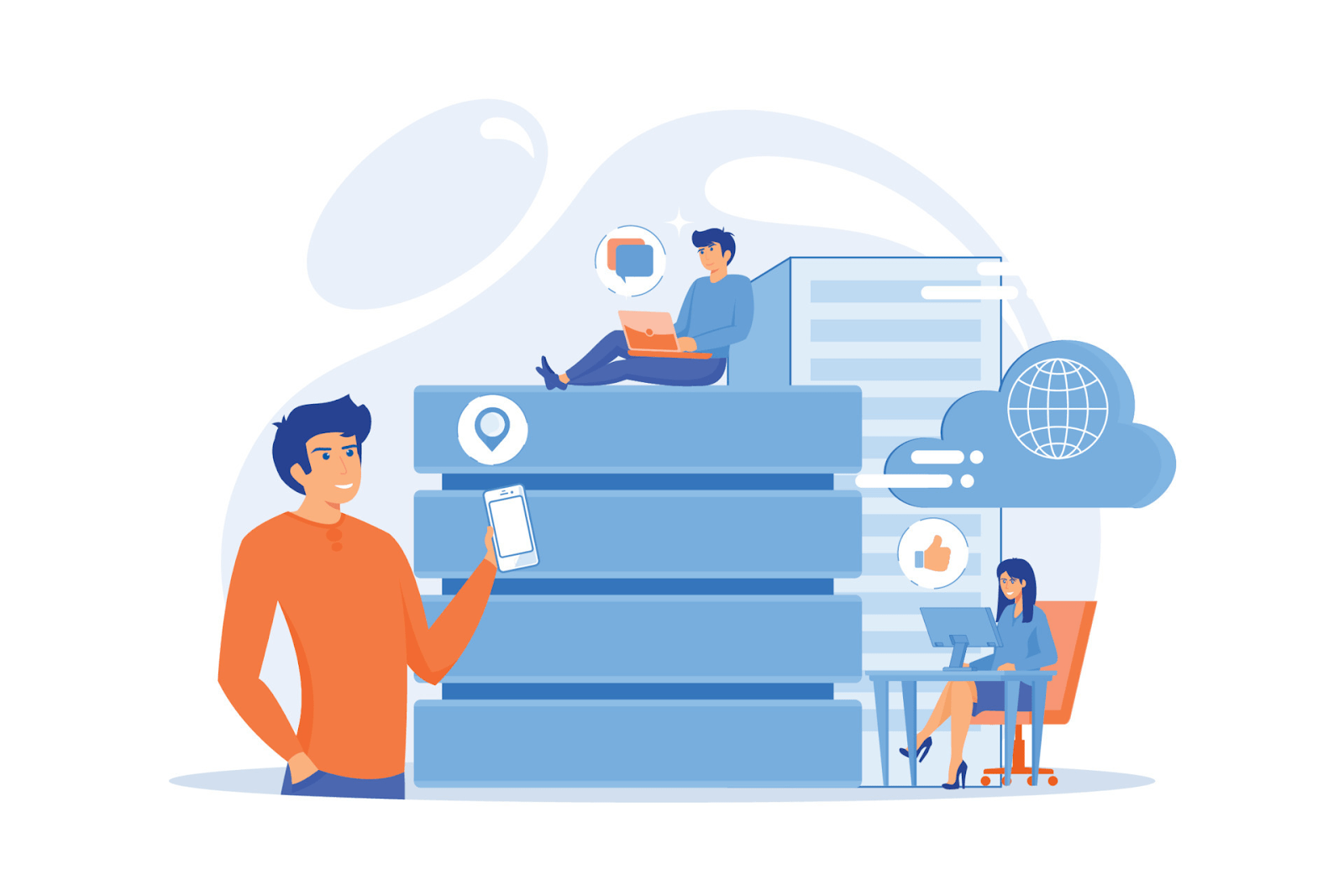 source
Intent data refers to information about a customer's or organization's intent to purchase from you. This data is collected by monitoring and analyzing their online behaviors to predict their next action.
One can even monitor how they engage with your content, like emails, website content, newsletters, etc., to predict their following actions. Intent data proves a valuable source for marketers to filter out leads more likely to convert.
How is intent data collected?
Intent data is collected by analyzing every user's action on a website. There are two primary intent data sources: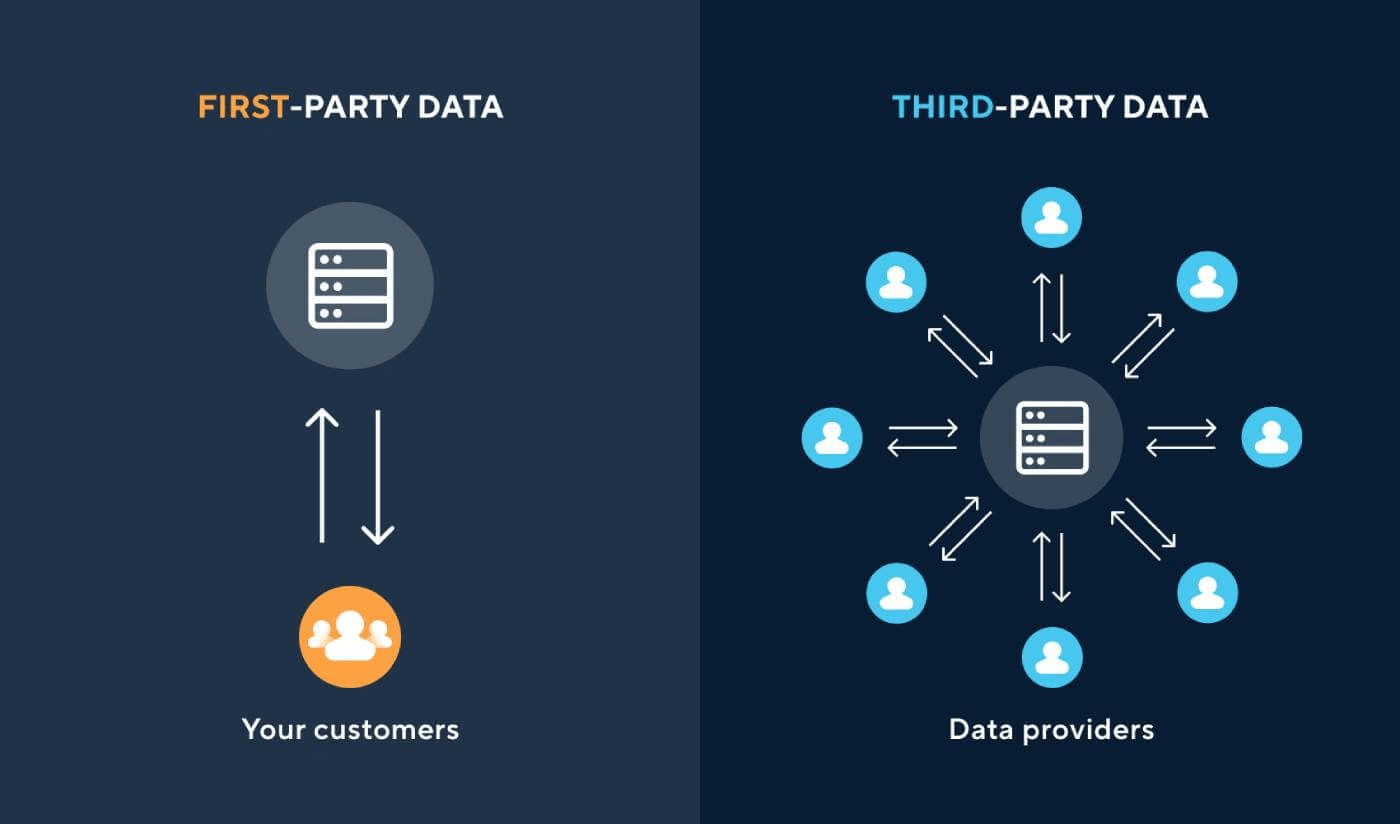 source
First-Party Intent Data
Internal intent or first-party intent data is collected from your website by IP addresses, forms, signups, etc. As easily accessible and valuable as it is, it is also limited because only those visiting your website can be tracked.
Here are some familiar sources of first-party intent data:
Website Analytics
Email Engagement
CRM Data
Content Management
Social Media Monitoring
Third-Party Intent Data
Third-party or external intent data consists of information collected from external sources. Generally, a customer goes through multiple options, such as websites, blogs, etc., before purchasing.
Third-party data providers collect this information and provide it so you can use it to your advantage. Have you ever wondered how you were browsing for something and started seeing product recommendations everywhere? This is how it happens.
What are Intent Data Providers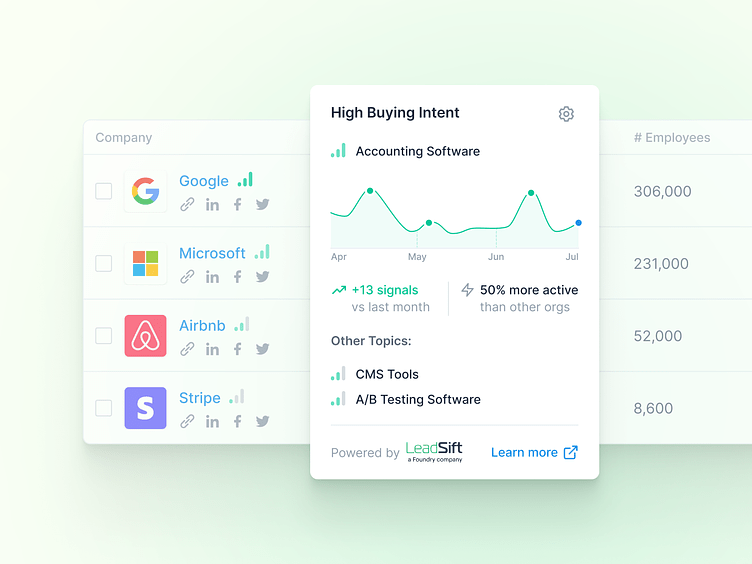 source
Intent data providers are software platforms (third-party intent data providers) that collect and analyze customer data from around the web (external sources) based on their behavior. They provide this data to you, helping you identify potential buyers and effectively target them.
Since they pick data up based on their behavior, they can also provide you additional details like their geographic location, keywords they used, names, positions, and more, which helps you personalize your outreach.
All these data providers are liable to follow privacy laws like GDPA and CCPA to protect user privacy. Intent data providers can provide information most relevant to your leads, which helps you easily segment and target them so you can work on your strategies if needed.
What are they used for?
Intent data providers are primarily used to track user behavior online to understand their requirements and work on personalizing outreach campaigns. Here are some additional uses of buyer intent data:
For identifying potential buyers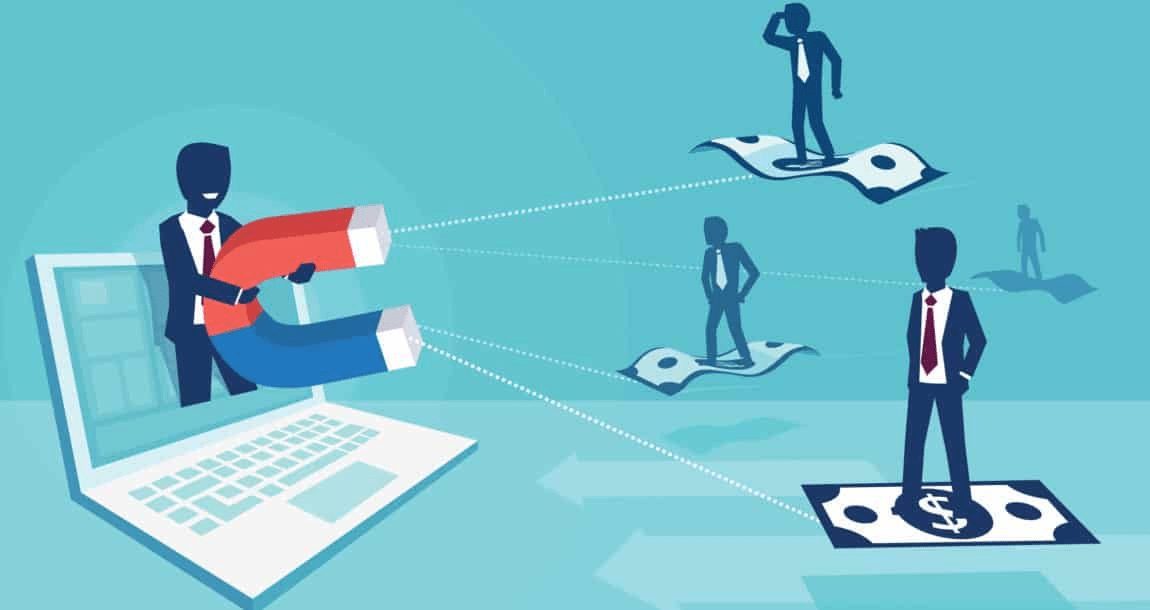 source
They help you identify potential buyers looking for a specific product or a service. Analyzing intent signals like search queries and online interactions helps pinpoint potential buyers who are more likely to purchase.
This information can be invaluable for your teams, allowing them to focus on leads with a higher conversion potential.
For personalizing content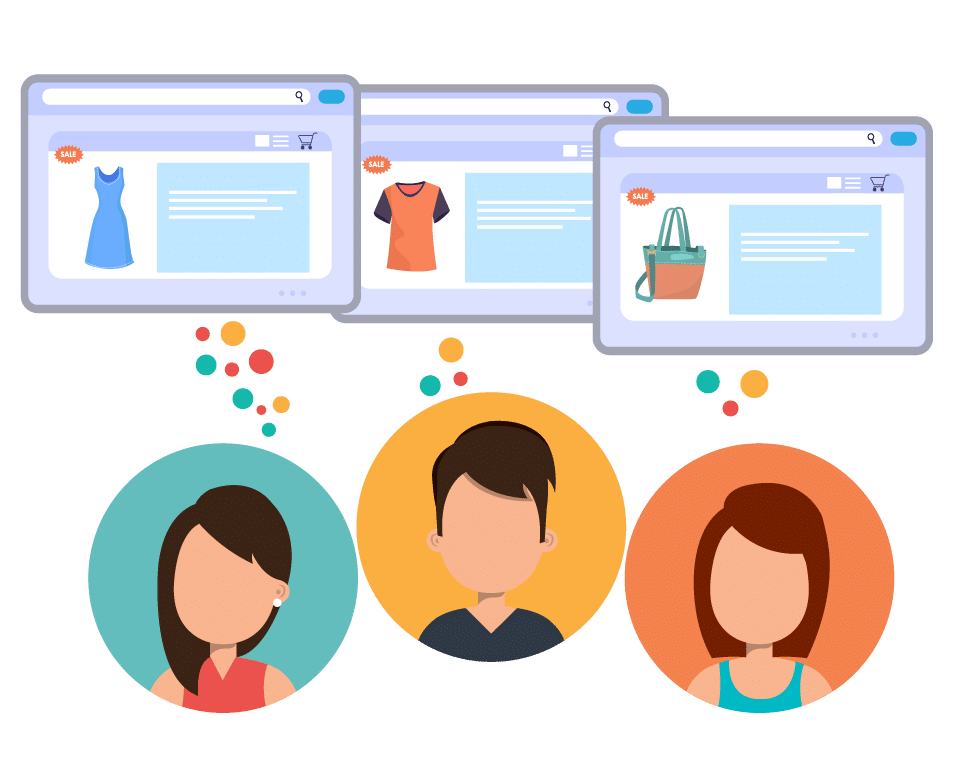 source
Personalization is a crucial element of modern marketing, and it offers insights into the topics and products that potential buyers are interested in.
This enables your teams to create personalized email campaigns, product recommendations, and web content. Personalization improves the user experience and increases the likelihood of converting leads into prospects.
For lead prioritization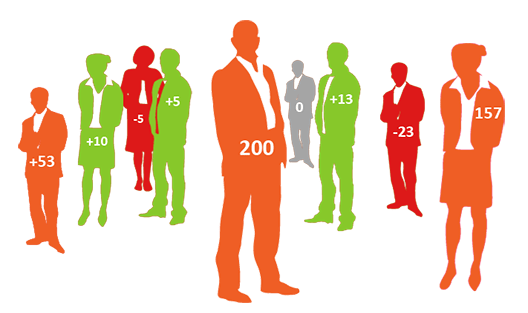 source
Not all leads are equal when it comes to purchasing. Buyer intent data helps you prioritize leads based on their level of intent.
Leads showing strong intent signals, such as repeated visits to product pages or engagement with specific content, can be classified as "hot leads" and must be prioritized in sales outreach.
For Account-based-marketing (ABM)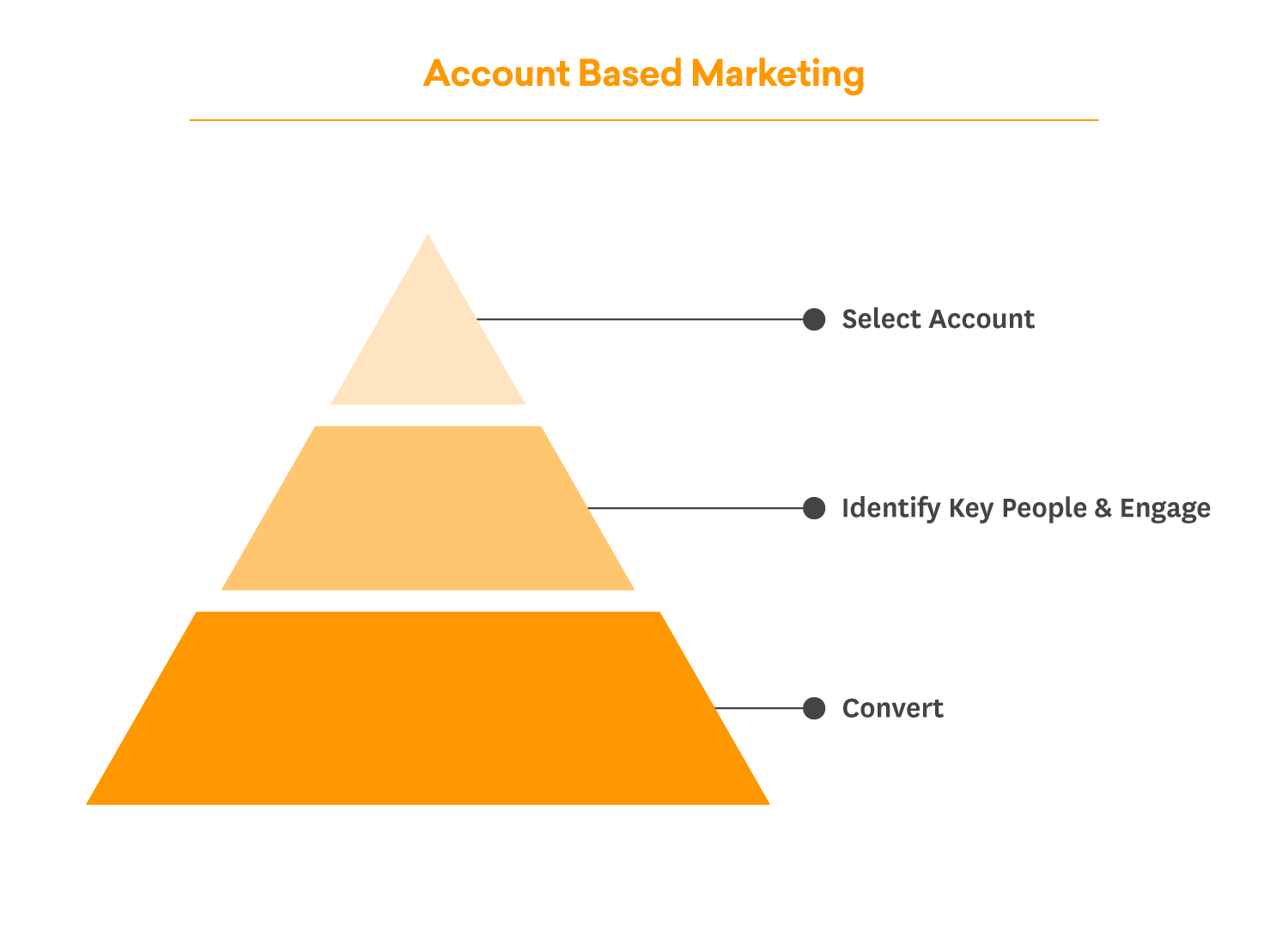 source
Account-Based Marketing (ABM) involves targeting a set of accounts within a market. Intent data plays a vital role in ABM by identifying accounts looking for products or services related to your industry.
This information can help you tailor marketing campaigns to target these high-potential leads, increasing your chances of winning business.
For ad targeting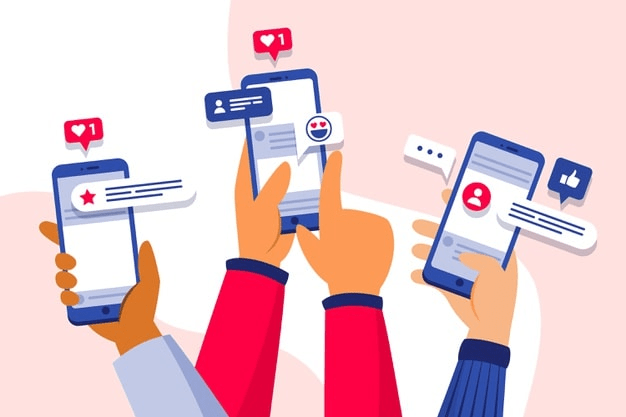 source
Advertisers can use intent data to identify keywords and behaviors that display a user's intent. This enables them to display targeted ads to those more likely to engage with the content and take desired actions like clicking on ads and purchasing.
Intent data helps advertisers optimize money spent on ads and achieve better results.
But how do you pick the correct platform for your business?
How to pick the correct intent data provider
While the perfect platform depends primarily on your requirements, here is a checklist to pick the one that is legally compliant and will work for most industries and situations.
Data Accuracy- The best buyer-intent data providers will validate all the information in real life, using AI and human skills. You do not want outdated data, except historical data, as it is rarely worth it.
Channel Sources- The sources from where the platform collects data are essential. There are no limitations or restrictions to where a person can browse online while looking for a product or a service.
A reliable platform will always collect data from various sources to ensure maximum accuracy.
Privacy- How many sites you browse ask for permission to accept third-party cookies? Most of them do. This ensures that you agree to share your information, like IP address and geographic location, and are okay with it.
Data privacy is important to any platform; otherwise, your sales reps will struggle later.
Ease of Integration- While picking a provider, you must ensure it integrates with your marketing stack. This way, you can easily use the data in your campaigns, saving time and extra effort.
Insightful Data- Many intent data providers deploy employees to validate the information collected.
While doing so, they pick up additional information about a prospect, which can help you understand how to approach that person, boosting your conversion rates significantly.
Let's now explore the top data providers that can help maximize your conversions with personalized content so that you can close more deals quickly.
Top 7 Intent Data Providers
Here are the top seven intent data providers of 2023. We have explained the features and limitations of each so you can evaluate them based on the above criteria and your requirements.
Bombora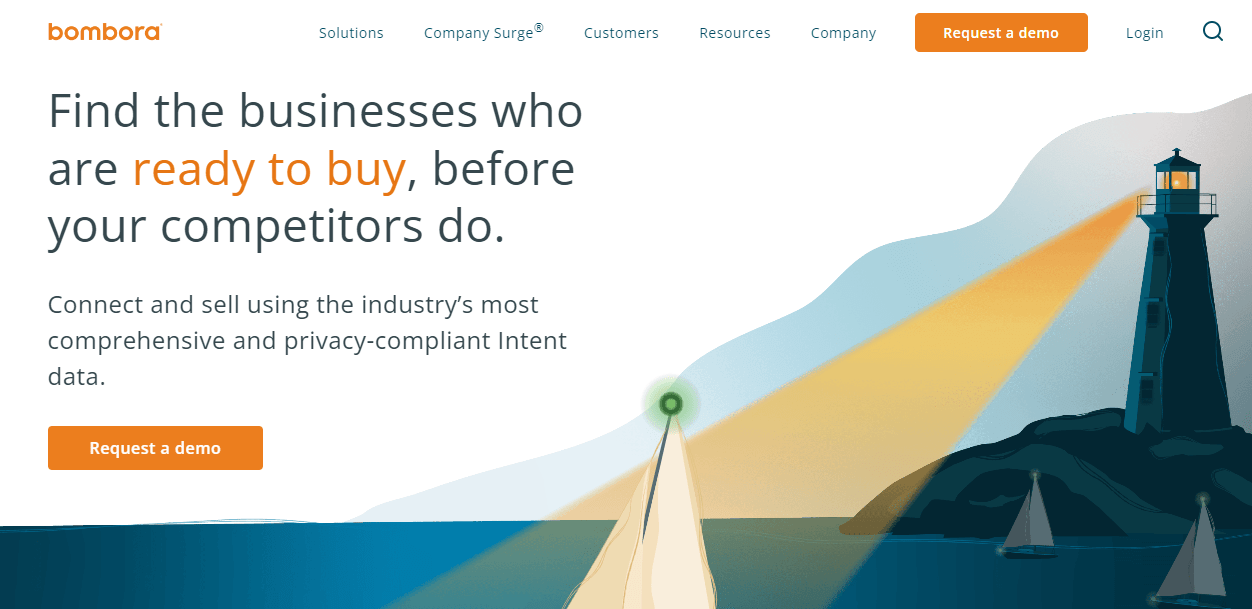 source
Bombora is the largest aggregator for B2B intent data and helps you prioritize 'hot' leads. Bidding farewell to cold outreach helps you save time and effort and close more deals in a shorter time period.
Once you have filtered leads, you can use your time by ranking them based on the highest likelihood of closing. It also provides insightful data that helps you learn about your leads in depth so you can personalize your messages to make them relevant to them.
Bombora also integrates with the market's leading B2B software and service providers like HubSpot and Marketo, so you get the best customer insights without shifting to an entirely new platform.
Features
Increased reply rates with Company Surge scores.
Intent data cooperative picks up detailed digital actions of users.
Robust integrations.
CCPA and GDPR compliant.
Intelligently resolves business identity with firmographic and technographic data.
Limitations
Lacks minute details.
Slow software.
It is not possible to import information into the software.
Dynamic updating is not available.
Complex reports.
SalesIntel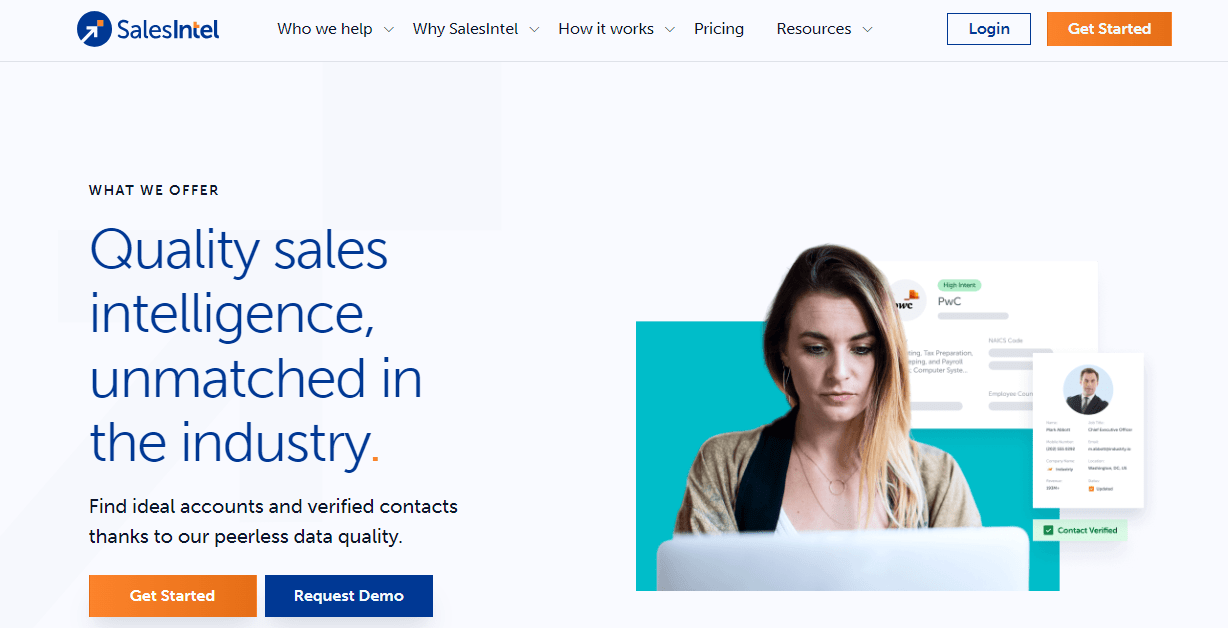 source
SalesIntel is another first-party B2B data provider that is ethically sourced. Their vast database of 17 million contacts is human-verified from 22 million companies across the US.
SalesIntel helps you catch prospects early in the sales cycle by combining Bombora's intent data with their hyper-detailed search features.
It contains over 12,000 active intent topics, which can help monitor companies for a specific topic and score them based on their activity level. SalesIntel aids in shortening your sales cycle by prioritizing high-quality leads in real-time.
Features
Firmographic and technographic data with custom search filters to focus on Intent topics specific to your business.
Target prospects with relevant messages and human-verified contact information.
Twelve thousand active Intent topics to choose from to prioritize high-quality leads.
Integrates with popular platforms like Salesforce, Zoho CRM, HubSpot, etc.
Compliance with local and federal privacy regulations.
Limitations
Download limit set to 100,000.
Intent categories are limited to topics primarily.
Limited data availability for countries other than the US.
Integrations are buggy sometimes.
Poor customer support.
Demandbase

source
Demandbase is a GTM platform providing B2B account intelligence, combining your first-party data with third-party data and AI-driven insights to provide a detailed buyer behavior analysis.
It provides insights into every step of the buyer's journey by picking up data from intent keywords, social profiles, IP addresses, technographics, and more. It provides precise predictive models to zero in the most likely to buy accounts.
Demandbase provides advanced intent filters to provide you with data that is highly categorized so you can pinpoint high-quality leads faster.
Features
Lead-to-account mapping to prevent chasing irrelevant leads.
Data cleansing and enrichment to keep it up-to-date.
Exceptional accuracy with machine learning and human verification.
Robust security policy to protect privacy.
Integrates with Salesforce, HubSpot, Dynamics 365, and more.
Limitations
Expensive.
Chunky and lagging UI.
Complex platform.
Limited integrations.
Less accurate data.
6sense

source
6sense is an ABM platform that provides detailed intent data that helps gain visibility into what your leads are actively researching. 6sense helps surface every account and buyer, signaling interest and intent to buy your products.
This helps your sales teams engage in market accounts sooner than the competition. 6sense users have experienced a decrease in their sales cycle by 22 days by gaining visibility into their leads' activities, which helps them personalize their outreach to increase response rates.
It also helps you filter leads by predicting customer upsells and potential churn with behavior alerts when a potential lead starts looking for competing solutions.
Features
6signal Company Graph helps match anonymous web traffic and intent signals to accounts and known contacts across devices, channels, and locations.
6sense Predictive AI analyzes intent signals, web activity, and historical buyer data to continuously monitor the likelihood of an account being marketed.
Continually analyze the content of every webpage to view relevant intent data.
Set up unlimited custom generic and branded keywords to track relevant research related to your company, products, and competitors.
Limited information is collected with permission.
Limitations
Steep learning curve.
Accurate location data not provided.
Poor technical support.
It is not possible to see intent by contact data.
How their predictive AI works is not transparent.
G2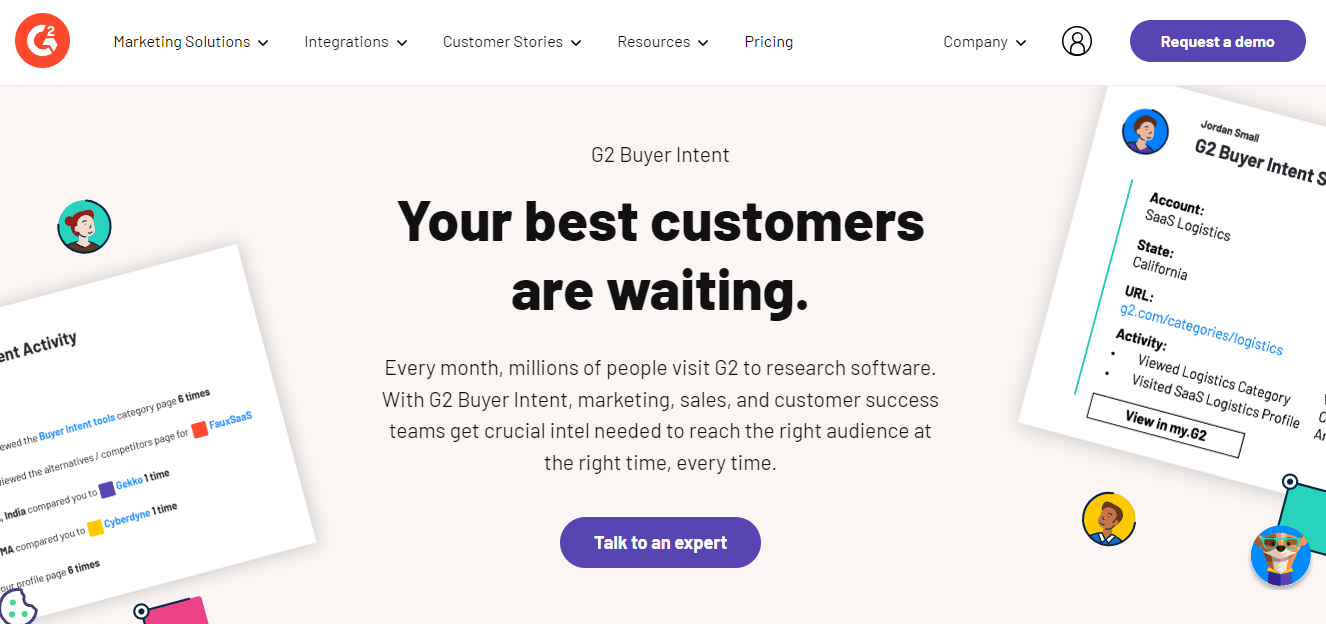 source
G2 is a software review site, owning G2 buyer intent. When companies go to G2 for reviews and options, it collects third-party data and provides that to you in intent data, helping you identify companies looking for your solution.
Only 5% of buyers in the market can be classified as warm leads, and G2 helps you hit those by revealing which ones are looking for your solution. It also provides real-time notifications on Slack so you can hit those buyers before competitors and improve conversion rates.
Features
Integrations with HubSpot, Demandbase, Slack, etc.
Intent data with ICP filters to bring out the best accounts to the front.
80M+ annual users help provide exclusive strong intent signals.
Highly regarded platform.
Compliant with data privacy laws.
Limitations
It gets expensive very quickly.
Dependent on data provided by G2.
Segmentation of data is limited.
Integrations could be smoother.
No control over data that can/ cannot be moved to HubSpot.
DemandScience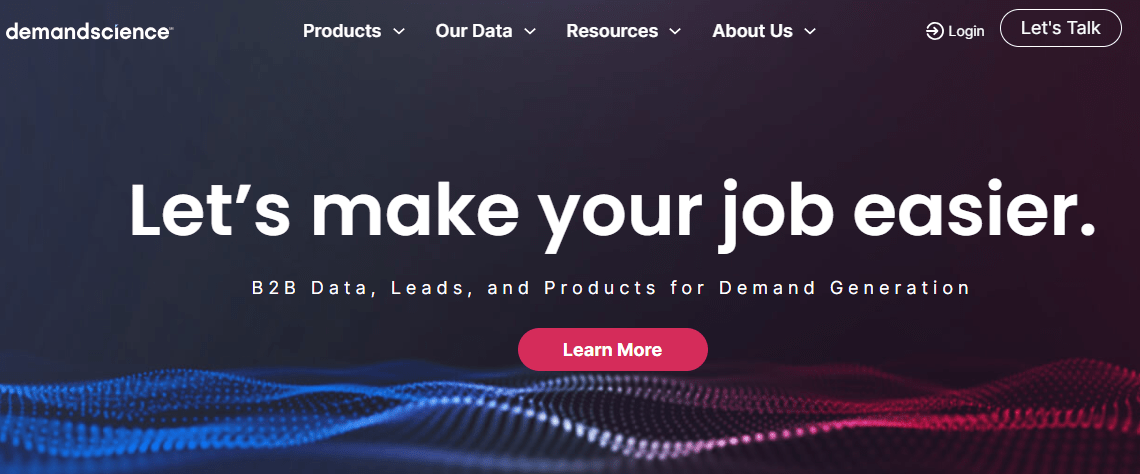 source
DemandScience is a lead generation and B2B marketing platform. It quickly identifies buyers with real intent, speeding up your sales process.
It provides a targeted approach to reach out to leads and boost conversion rates with PurePush, which filters high-quality leads with ICP and intent data. DemandScience helps you target the right person at the right time with accurate data and insights into their behavior.
Its HQL+ feature provides another layer of lead qualification with info about leads searching for your solutions and having the budget and authority to do so.
Features
Over 70 million verified contacts across the world.
Best customer success team.
Detailed analytics.
It lets you reach new market segments.
Access to tracking across IP addresses and devices to ensure you are reaching the right prospects.
Limitations
It is a time-consuming and complex platform.
More TOFU leads.
Limited customization.
No insights on how leads are acquired.
Limited offerings as per pricing.
Swordfish AI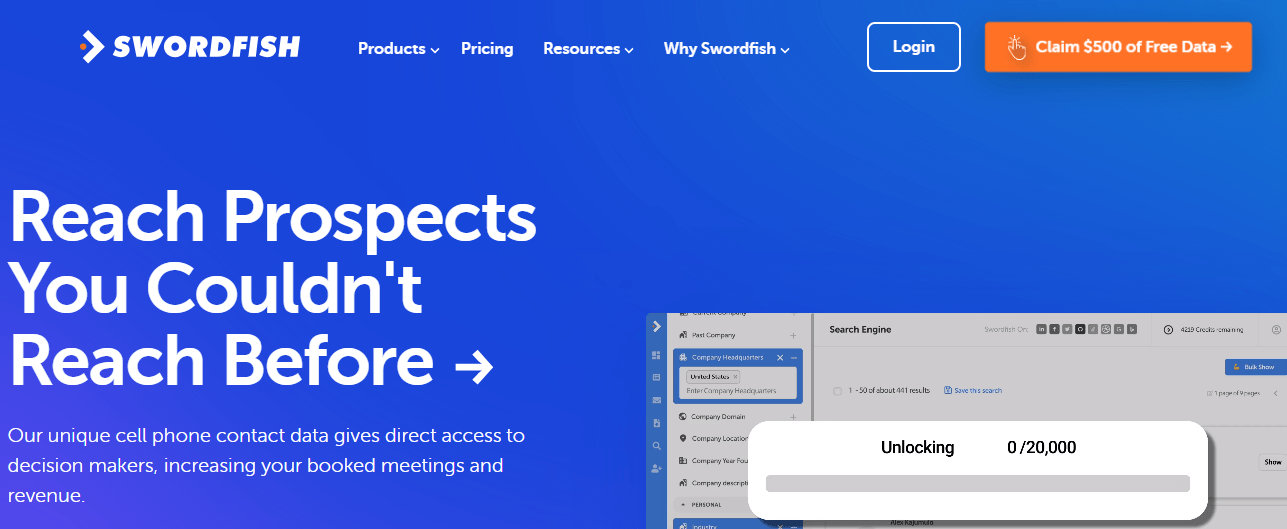 Swordfish AI is a contact-finder and prospecting platform that lets you find contact information on LinkedIn, Facebook, Twitter, Dribble, GitHub, StackOverflow, Google, and Bing.
Swordfish has a vast database of 3.5 billion verified profiles partnered with cell phone carriers for advanced verification. It collects data from 200+ live data partners, validating real-time and phone line connectivity.
It tests all emails for deliverability in real time before returning the results. Swordfish automatically syncs with your CRM or ATS to fill in the blanks in your contact database.
It partners with Bombora for intent data, providing details about market-ready buyers and providing accurate contact information for them. Verified information is checkmarked for accuracy to provide transparency.
Once Bombora identifies potential buyers, Swordfish reveals accurate contact information for them in seconds with Prospector, including direct cell phones, premium business emails, and direct dials.
Features
Limitations
Swordfish stands out in this list by providing over 95% accuracy over email data and 80% accuracy for cell phone data.
As soon as you get your hands on intent data, you can generate relevant information on your buyers with Swordfish and start contacting them with personalized content that relates to them to increase conversion rates.
Conclusion
Intent data works exceptionally well when combined with accurate contact information to significantly reduce the duration of a typical sales cycle.
Intent data providers can track down user behavior and categorize it in such a way as to make it easy for your sales teams to personalize campaigns so your audience can easily relate to them.
We explored seven leading data providers here, discussing their pros and cons and explaining how their intent data can help you connect with high-quality leads.
Based on the criteria we discussed to select the most appropriate data provider, Swordfish stands out from this list by combining intent data with the most accurate contact information with an accuracy of over 95% on its email data.
Swordfish provides top-notch features and free data worth $500, so you can try it hands-on. With Bombora's proprietary data sources, Swordfish can help you reach your prospects before competitors, engaging them with relevant content.