Having a robust lead-generation strategy in place is the factor that can help you increase your sales and grow your business. Two popular techniques for reaching out to potential customers are cold calling and warm calling. But which one is better in cold calling vs warm calling comparison?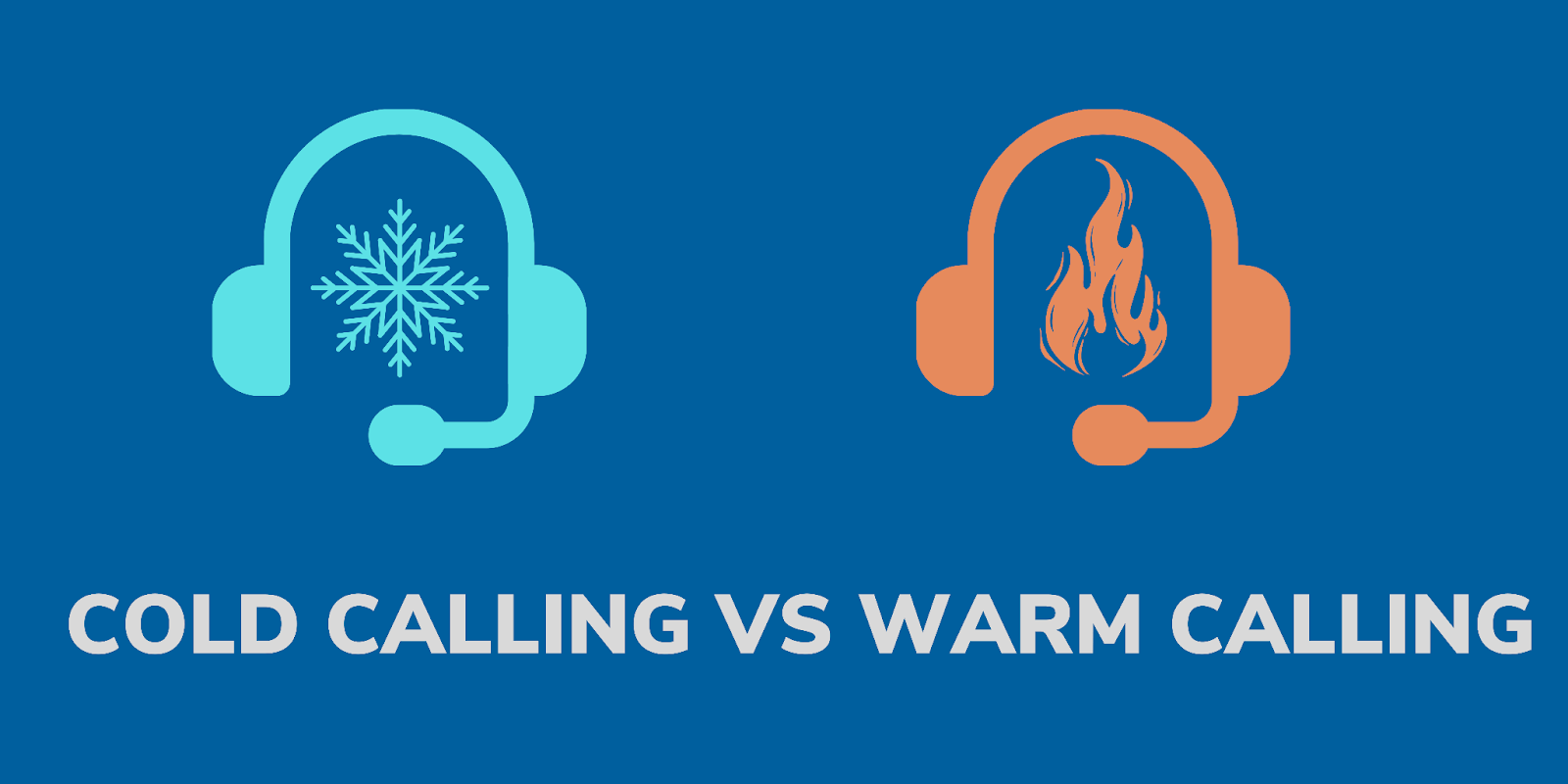 In this blog, we'll explore the differences between these approaches and help you understand which one may best fit your business needs.
What is Cold Calling?
Cold calling is a sales strategy where a salesperson contacts potential customers to pitch their products or services, even if they have not expressed interest in purchasing.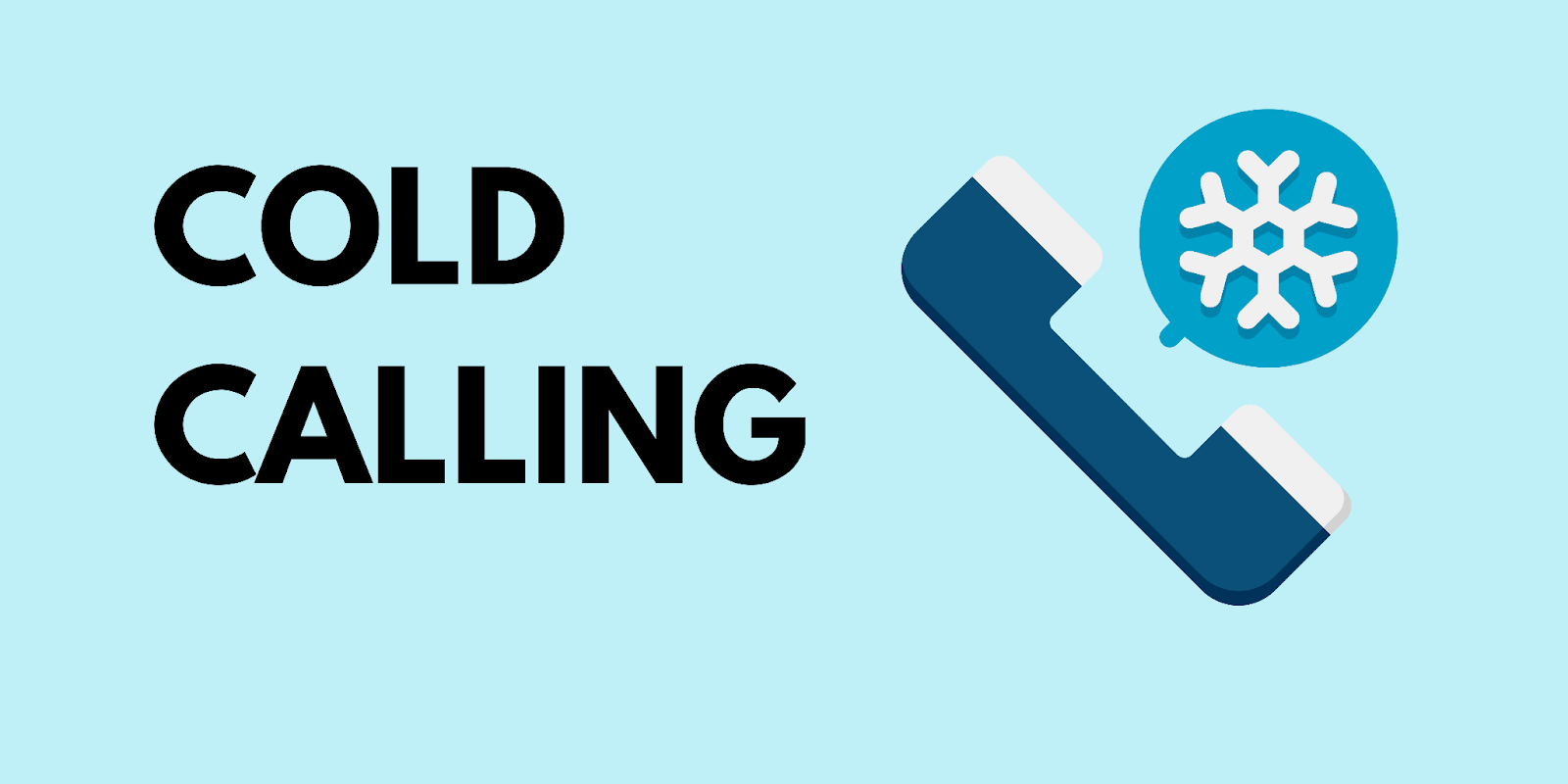 The benefits of cold calling include expanding the customer base, allowing salespeople, especially newcomers, to practice their sales pitch, and allowing for a more personal connection with potential customers than email. 
Pros of Cold Calling:
Reach New Customers: Cold calling allows you to reach out to people who fit your typical customer profile but may have yet to search for your products or services actively. This allows you to expand your customer base.

Master Your Sales Pitch: Cold calling is excellent practice for sales reps, especially for newcomers. It allows you to refine and perfect your sales pitch through real-time feedback from potential clients.

Make Human Connections: Cold calling provides a chance to gain valuable information and establish a personal connection with potential clients. You can gauge their personality and humor, which is hard to do over email and can go a long way in building a business relationship.
Cons of Cold Calling:
Intrusive and Annoying: Many people find unsolicited phone calls to be an interruption and may need to be more receptive to a sales pitch. It's common for individuals to want to end the call as quickly as possible, and you may also catch them at a bad time or get sent to voicemail.

Low Conversion Rates: While some businesses have succeeded with cold calling, there should be other focuses of your sales strategy. The number of sales generated from cold calling is often unpredictable, which could pose financial risks for your business.
What is Warm Calling?
After discussing the details of cold calling, it's worth exploring the concept of warm calling. Reaching out to a potential customer with whom you've already had some form of contact, such as an email, referral, or direct mail campaign, is called warm calling. 
Since you've previously interacted with the prospect, they have some prior knowledge of your business, making the introduction more comfortable and the sales call more streamlined.
Pros of Warm Calling:
Higher Conversion Rates: Warm leads are already familiar with your business and have expressed interest in your product or service. Therefore, they are more likely to convert into customers, resulting in higher conversion rates.

Customized Approach: With warm calling, you can tailor your pitch to meet the prospect's specific needs. You can use the information you have from your previous contact to create a more personalized sales pitch, which could increase the chances of closing the sale.

Building a Strong Relationship: Since warm leads have already shown interest in your business, warm calling allows you to establish a stronger connection with potential customers. By nurturing this relationship, you can develop a mutually beneficial partnership that could lead to repeat business and referrals.
Cons of Warm Calling:
Complacency: Some sales reps may need to pay more attention to the importance of warm calling and become complacent in their approach. A necessary effort is not made to make a strong impression on the prospect, which could lead to missed opportunities.

Ineffective Voicemails: Even with warm calling, reaching the prospect on the first attempt is impossible. In these cases, leaving a well-crafted voicemail can be an effective way to establish communication. However, some sales reps may need more time to plan and craft strategic voicemails, which could reduce the chances of receiving a callback or response.
Difference Between Cold Calling and Warm Calling
To know what option is better for you between cold calling vs warm calling, it is important to know about their differences. Here are the key differences between both. 
Engagement with Lead
Cold calling: No prior engagement with the lead. You can source their contact details from somewhere, but you need to know if they're interested in becoming a customer.

Warm calling: This happens after the lead has displayed some initial interest in your brand or marketing campaigns, such as commenting on your LinkedIn post, attending a webinar, filling out a sales contact form, or engaging with your paid ad content.
Knowledge of Brand
Cold calling: The prospect may need to learn your brand or what you offer.

Warm calling: The prospect will already know about your brand and what you offer, making them more likely to engage with you.
Customization
Cold calling: You have to start from scratch with your pitch and have yet to gain prior knowledge of the lead's needs or interests.

Warm calling: You can customize your pitch to meet the needs of the lead based on their prior engagement with your brand.
Effectiveness
Cold calling: Conversion rates can be low, and the prospect may need to be more receptive.

Warm calling: Conversion rates can be higher due to the prior engagement and interest shown by the lead.
Preparation
Cold calling: You need to prepare a pitch that can capture the prospect's attention in a short amount of time.

Warm calling: You can prepare your pitch in advance and tailor it to the lead's specific needs and interests.
Cold Calling vs Warm Calling: Which One is Better?
When choosing between cold and warm calling, it's important to balance the two. Both methods are effective, but it mainly depends on your prospecting strategy and the level of interest shown in your product or service. 
You can test both methods by creating a calling list and tracking the results to determine which approach works best for your business. Analyzing the data can help you identify which method is more effective in bringing in the most clients.
An effective and well-informed call list can yield exceptional results. A call list will enable you to deliver your message swiftly while adding a personal touch to the right prospects. 
Unsurprisingly, many of the world's leading B2B sales teams have relied on cold and warm calling as a strategy and still use it today.
A common mistake many companies make is failing to generate effective lists of prospects for cold and warm calling. Your team may need accurate contact information to reach the right individuals.
Top 5 Tools that You Need for Creating a Call List
No matter what you choose in the battle of cold calling vs warm calling, you will need the prospects' contact information in either case. You can use multiple tools to get information about potential clients and analyze whether they need your services.
Swordfish AI is a powerful tool for finding contact information, like personal and business email addresses and cell phone numbers. It connects to over 200+ network data partners to provide users with the most updated and accurate information available.
Swordfish AI uses a free Google Chrome extension that integrates with popular social media profiles, including Facebook, Twitter, LinkedIn, GitHub, Meetup, Stack Overflow, Dribble, Xing, Bing, Gmail, and Google. The extension displays all contact information found for an individual's profile.
Users can access cell phone numbers and email addresses directly through the Swordfish.ai website with the bulk upload and data list enrichment feature.

Swordfish AI offers a 15-day free trial for users to test the tool's capabilities. The pricing page provides details on monthly plans based on the number of credits selected, with convenient options to suit different needs. Enterprise plans are also available for high-volume users.
Swordfish AI stands behind its product with a 15-day money-back guarantee. Users can receive a full refund if they are unsatisfied with the tool's contact-finding capabilities.
Cognism is a global sales intelligence tool that enhances the quality of data for lead-generation strategies while ensuring compliance with international privacy laws.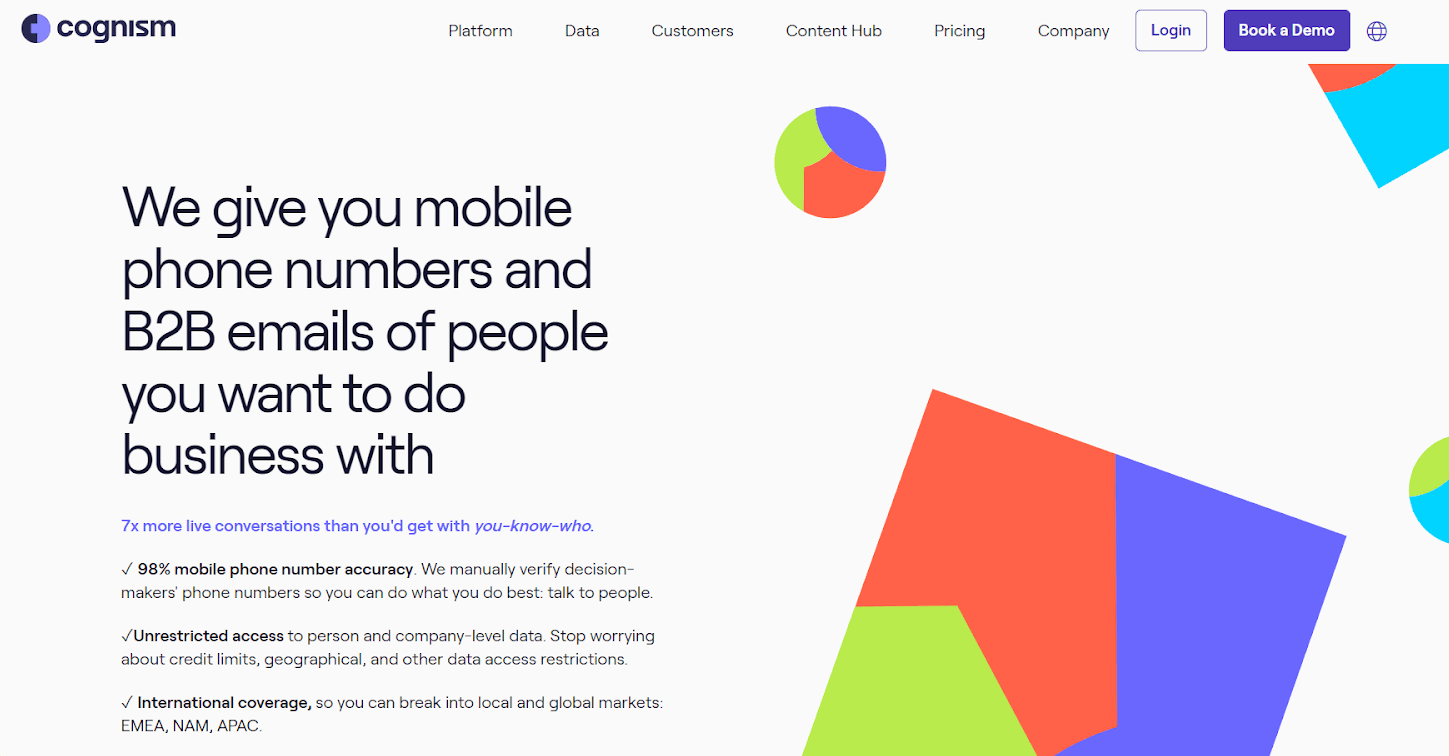 It enables businesses to contact critical decision-makers with verified email addresses and phone numbers and provide contextual data to further engage and target high-value prospects for closing more deals.
Cognism seamlessly integrates with CRM and sales engagement platforms like Salesforce, Hubspot, SalesLoft, Outreach, and others, enabling you to access B2B prospect data on the systems you work with.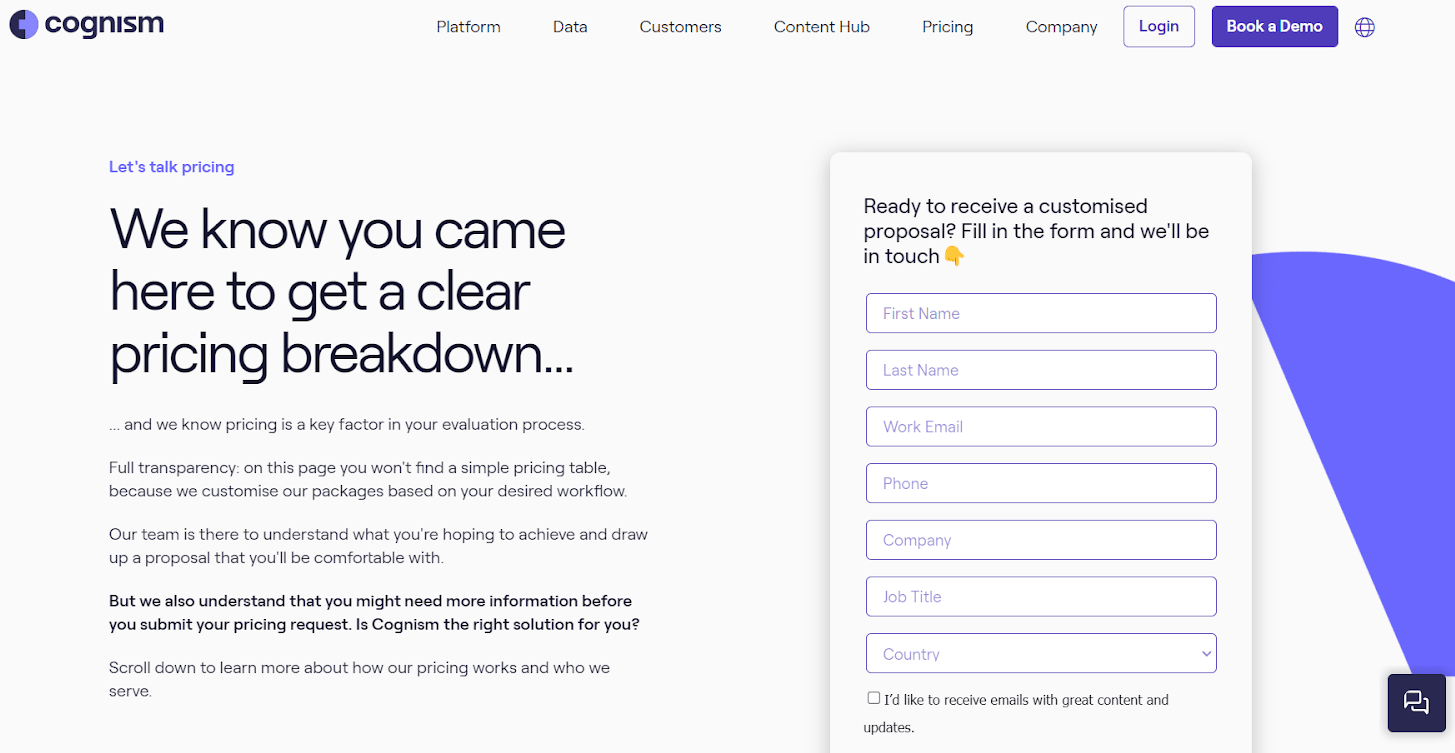 While Cognism does not offer a transparent pricing plan, they provide customized pricing options tailored to your business needs. This personalized approach ensures that you only pay for the required services, allowing you to optimize your budget and maximize your ROI.

Lusha is a B2B data enrichment tool that allows users to verify and establish trust in business profiles. Their Google Chrome extension integrates with LinkedIn and Salesforce to provide accurate and up-to-date information for enhanced business intelligence.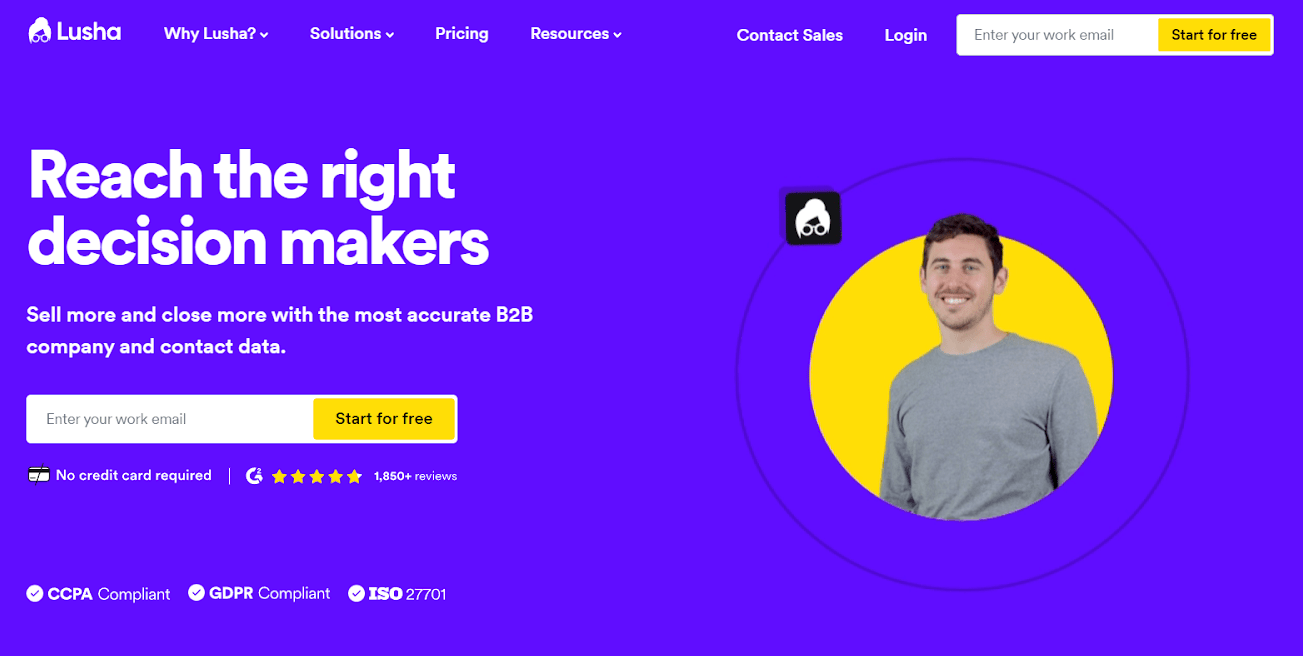 Lusha offers a free trial and a range of affordable monthly plans starting at $0 (free) and going up to $69, depending on the number of credits you select. This pricing structure allows businesses of all sizes to access the benefits of their services.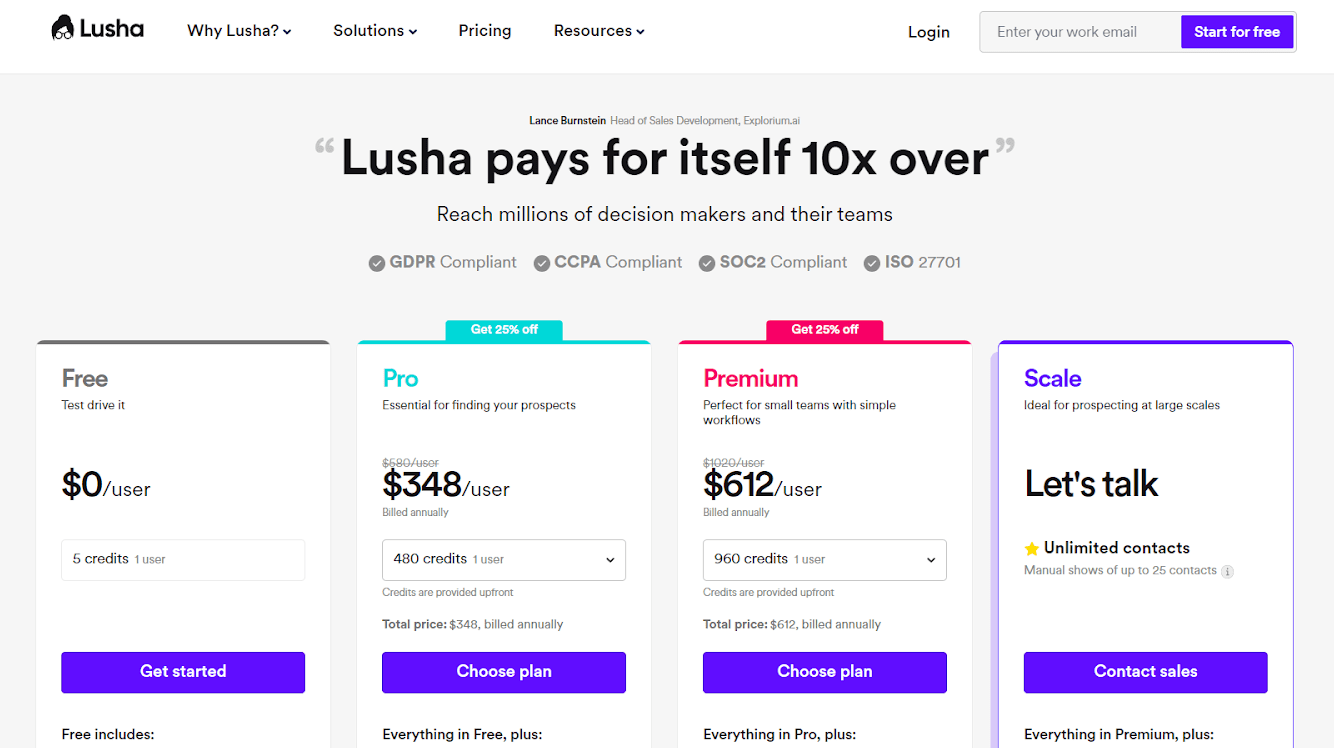 UpLead is a sales leads tool that helps you drive growth by connecting with qualified prospects. With their Google Chrome extension, you can quickly find and engage with potential customers.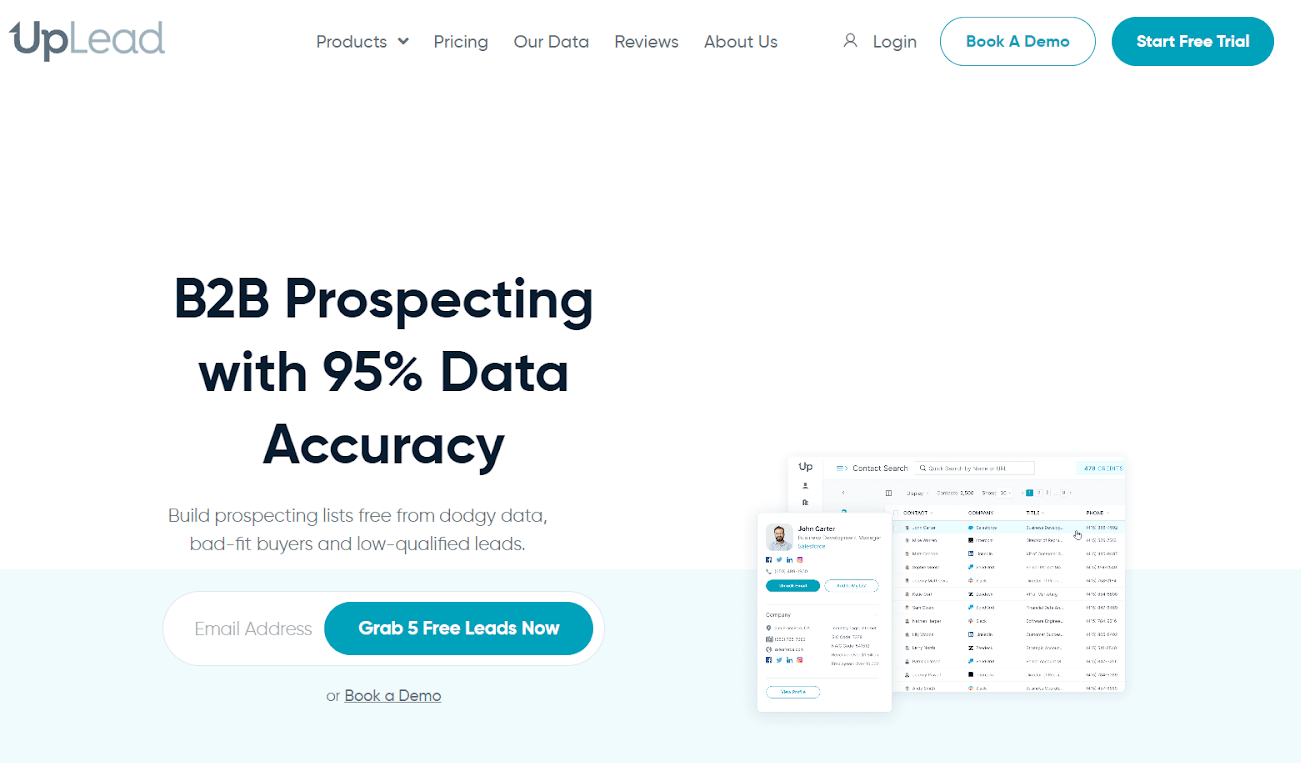 To get started, UpLead offers a free trial where you can test out their features. They also have a variety of pricing plans available, including a free option and monthly plans starting at $99.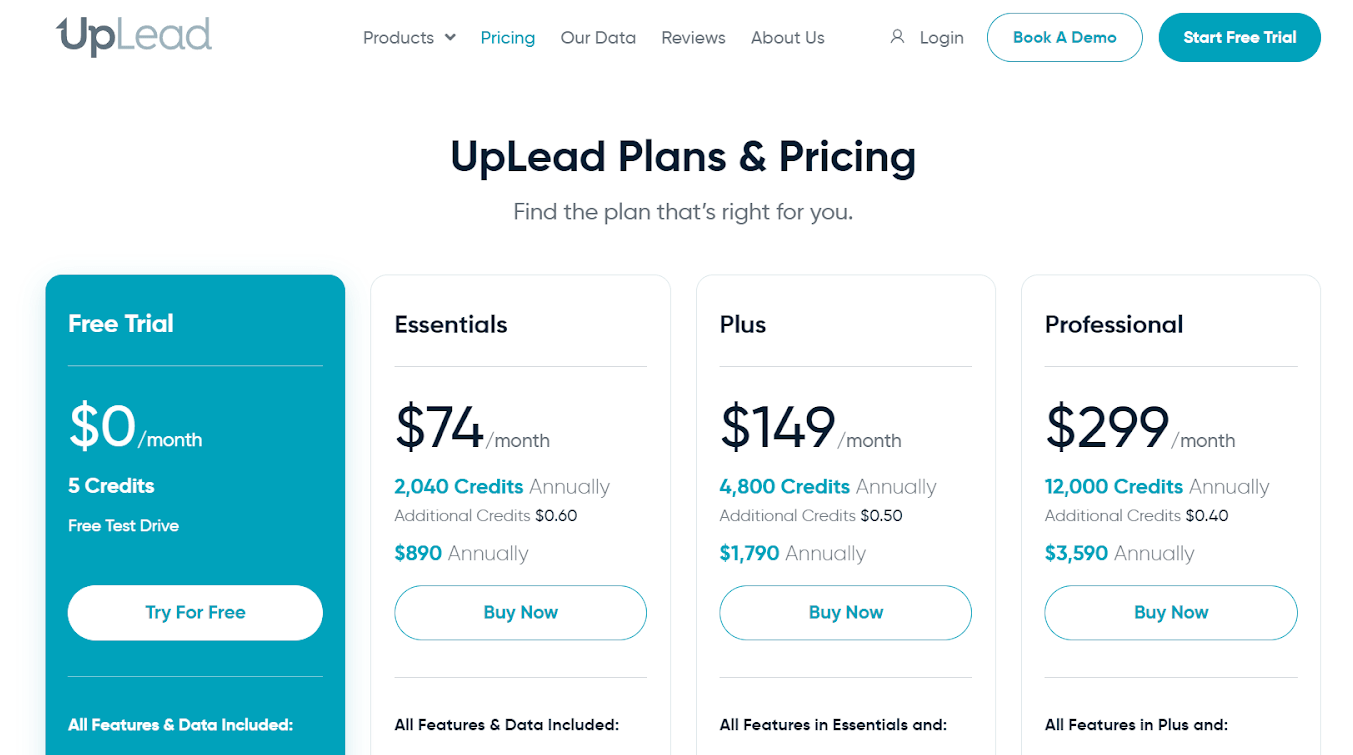 The plans vary based on the number of credits you need, with higher tiers offering more credits and additional features. If you require even more advanced features, UpLead also has Enterprise plans available.
ZoomInfo is a powerful tool that helps you find and connect with your ideal customers, providing technology, integrations, and automation for each phase of your go-to-market strategy. With their tagline "Hit Your Number," ZoomInfo aims to help you achieve your lead generation, sales, and revenue goals.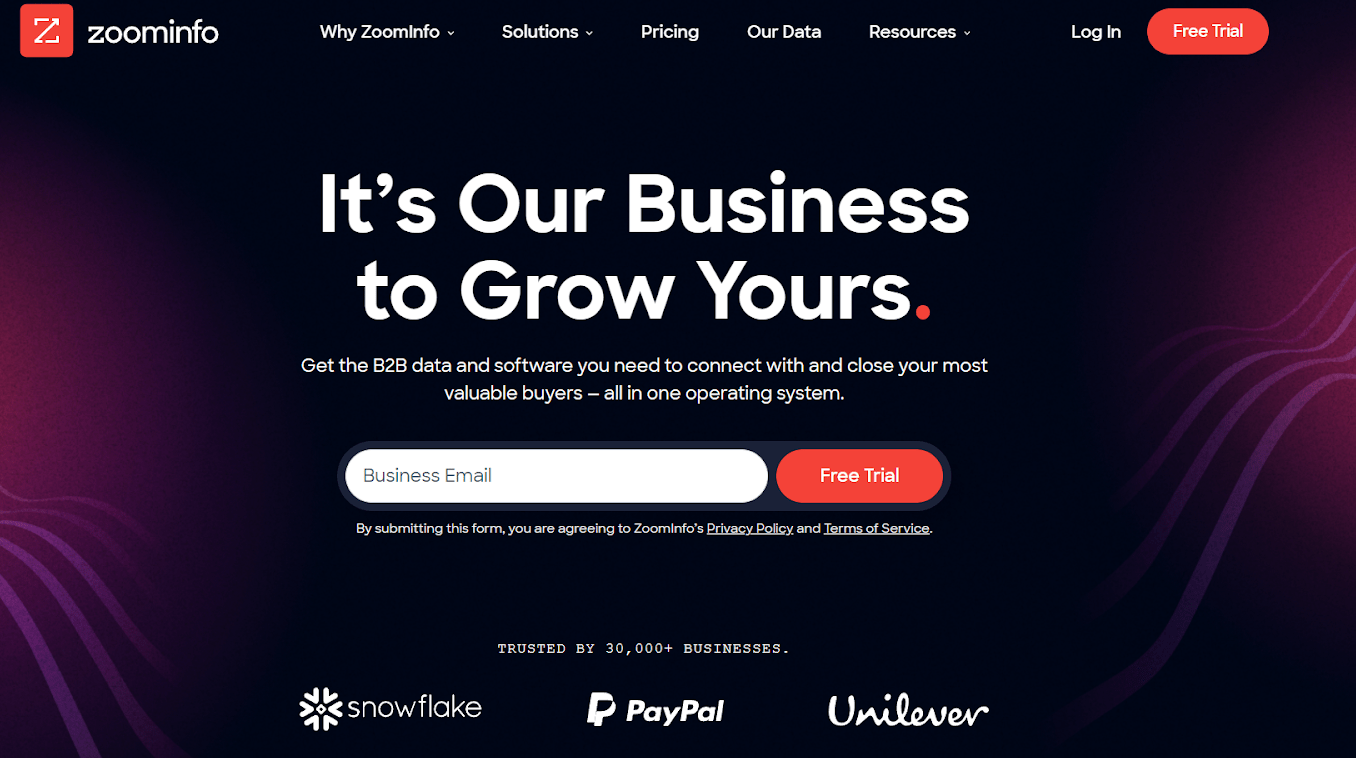 ZoomInfo offers a range of pricing plans to meet your needs and budget, so you can select a pricing plan according to the needs of your business. If you're interested in ZoomInfo, you can sign up for a free trial on their website. While they do not provide detailed pricing information on their website, you can enter your email address to receive access to their pricing plans.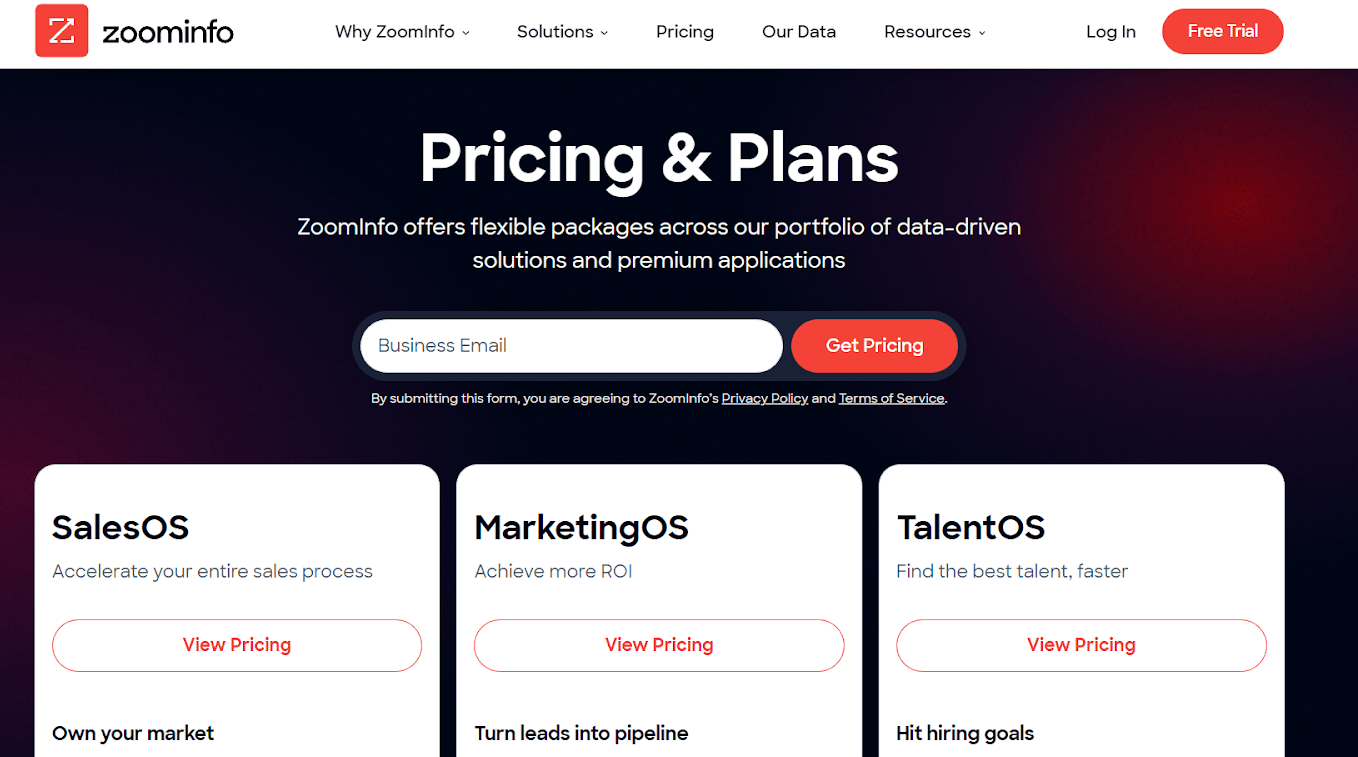 If you still need clarification, let us help you and give you a detailed analysis of the best contact finder tool, Swordfish. AI. Read about its features in detail and know how it will help you in the cold as well as warm calling. 
Swordfish.AI: The Best Way to Find Contact Information
Swordfish AI is a powerful tool that simplifies the process of finding people by extracting public information, including email addresses, social profiles, contact numbers, residential addresses, and more. 
Key features of Swordfish AI:
Accurate and comprehensive data: Swordfish AI uses advanced algorithms and collaborates with over 200 data partners who provide verified contact information.

Multiple search options: You can conduct specific, bulk, or even automated searches on LinkedIn and Facebook groups to find the right prospects.

Chrome extension plugin: Google Chrome extension plugin allows you to enhance your prospect search by integrating with various platforms like LinkedIn, Facebook, Twitter, Gmail, Github, Bing, and more.

Reverse search feature: With Swordfish AI's reverse search feature, you can access a wide range of information with minimal input. You can find social profiles, names, complete residential addresses, email addresses, and phone numbers.

CRM/ATS integration: Swordfish AI integrates directly with your CRM/ATS, allowing for efficient lead generation strategies and reducing the time and resources required for manual searches.

File enrichment: Swordfish AI lets you upload files for data enrichment, adding verified information like names, job titles, business emails, and social profiles to your database automatically.

Customer success team: The Swordfish AI team includes data specialists who can help you integrate their API to prioritize data as "must-have" information, streamlining your recruitment processes.
Swordfish AI's credit-based system allows you to conduct a single contact search for each credit you purchase, and they only charge credits if they provide you with verified contact information. 
With Swordfish AI, you can save time and resources while finding accurate and comprehensive data to improve your lead generation and recruitment efforts.
Conclusion
Now that you know the differences between cold calling vs warm calling, it's clear that a well-planned and well-executed warm calling strategy can lead to more successful sales conversions.
By taking the time to research and target specific prospects and by using Swordfish AI to find accurate and verified contact information, you can approach potential customers with a tailored message that resonates with their needs and interests.
With its comprehensive database of over 3 billion profiles, sophisticated algorithms, and integrations with various platforms, Swordfish AI simplifies the lead generation process. Sign up today, get a free trial, and start growing your business with the power of Swordfish AI!