In this article, I will discuss how to find someone's cell phone number, email address, for free, by their name, how to acquire the greatest info on leads, and even how to find out who owns the phone number.
Why you may need someone's Phone number?
Finding someone's phone number has become an important part of our daily lives. With the ever-increasing number of people we communicate with, it's important to have their phone numbers so that we can keep in touch.
Having someone's phone number is necessary for a number of reasons. Firstly, it's a way to network with friends, communities and colleagues. Having a phone number allows us to quickly and easily reach out and make plans or relay important information.
Secondly, it's necessary for businesses. Having a person's phone number allows businesses to send quick and timely messages to clients and customers. This could includes meeting scheduling, appointment reminders, notifications, or other updates that are needed for customers to remain informed.
Overall, having someone's phone number is a critical tool in day-to-day life. Whether you're looking to network, share opportunities, stay connected with friends and family, conduct business, or handle an emergency, having someone's phone number is necessary.
Top Tools to find someone's phone number for free
1. Swordfish AI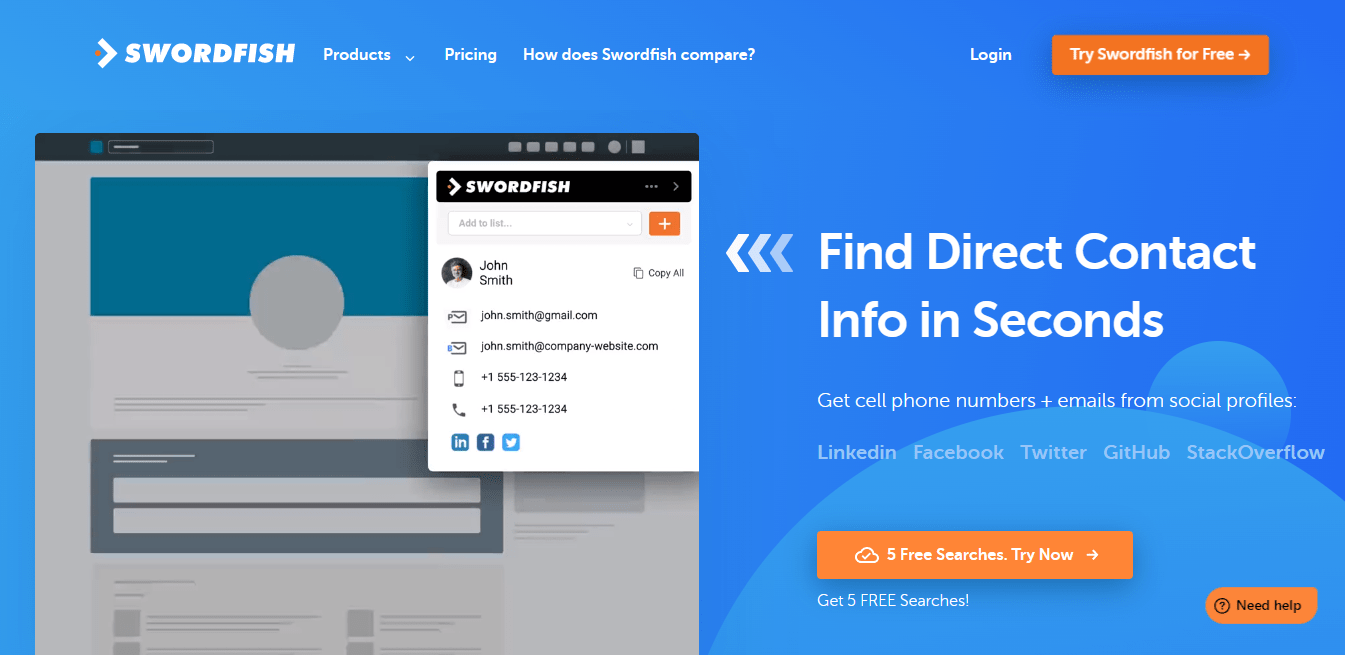 SwordFish.ai is a web-based cloud platform designed to help organizations find contact information quickly. It is powered by AI technology to retrieve contact information from social media profiles such as LinkedIn.
It also provides bulk enrichment capabilities to update contact data in one go. With SwordFish.ai, users can find direct contact information in seconds, find cell phone numbers and business phone numbers (or just the address), and emails from social profiles, and enrich contact data in bulk.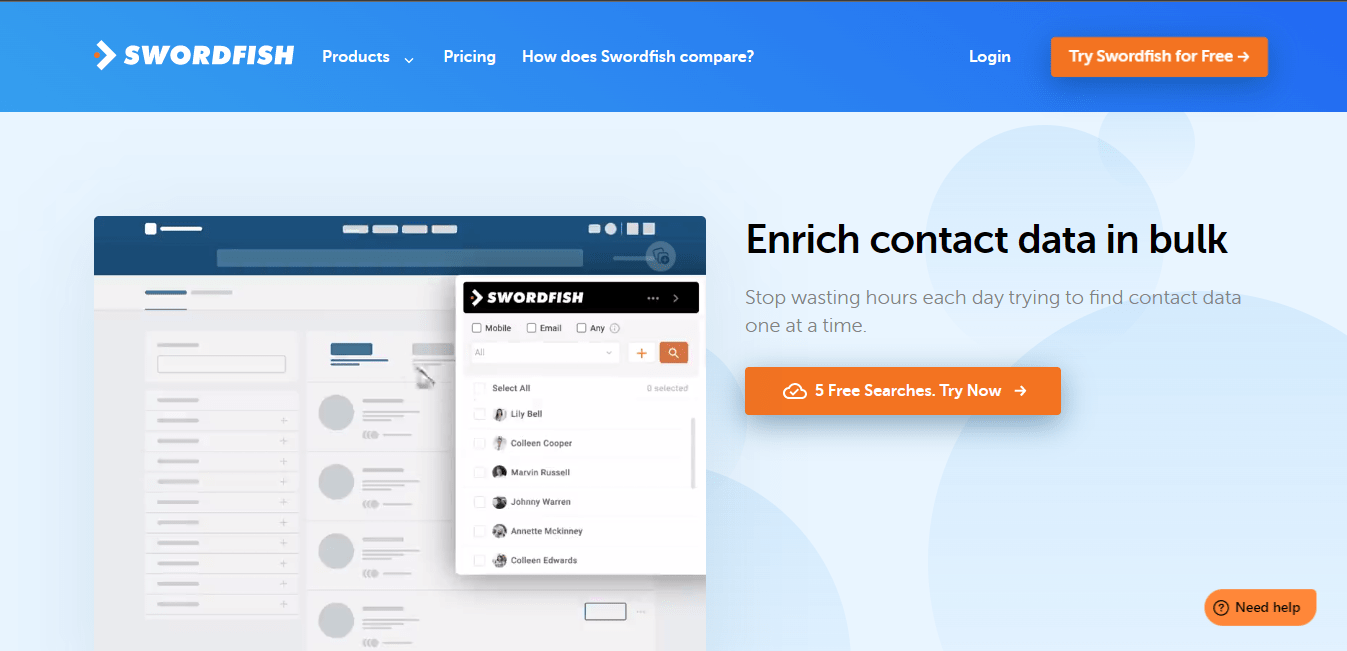 Swordfish AI provides users with the most current and accurate contact information, connecting to over 200+ network data partners.
The free Swordfish AI Google Chrome extension plugin interacts with Facebook, Twitter, LinkedIn, GitHub, Meetup, Stack Overflow, Dribble, Xing, Bing, Gmail, and Google to work on the majority of popular social media profiles on the internet.
Through its bulk upload and data list enrichment features, the Swordfish.ai website also makes it simple to find landline and mobile phone numbers without using a Chrome plugin.
Swordfish gives you five free searches on first-time sign-up. You can spend one search to get the details of one lead. You can always choose the more expensive options after you're satisfied with the service.
Swordfish AI has a 15-day free trial available for every plan. Depending on how many credits you choose, the Swordfish AI pricing page offers easy monthly plans starting at $0 (free), $39, $69, and $99. For needs involving big volumes, it also offers Enterprise plans.
Use Swordfish to find direct contact information in seconds.
Pros
Find Direct Contact Info in Seconds
Made for enterprise recruitment and sales teams
Enrich contact data in bulk
Source Facebook groups
Cons
Results are accurate only 95% of the time
2. AnyWho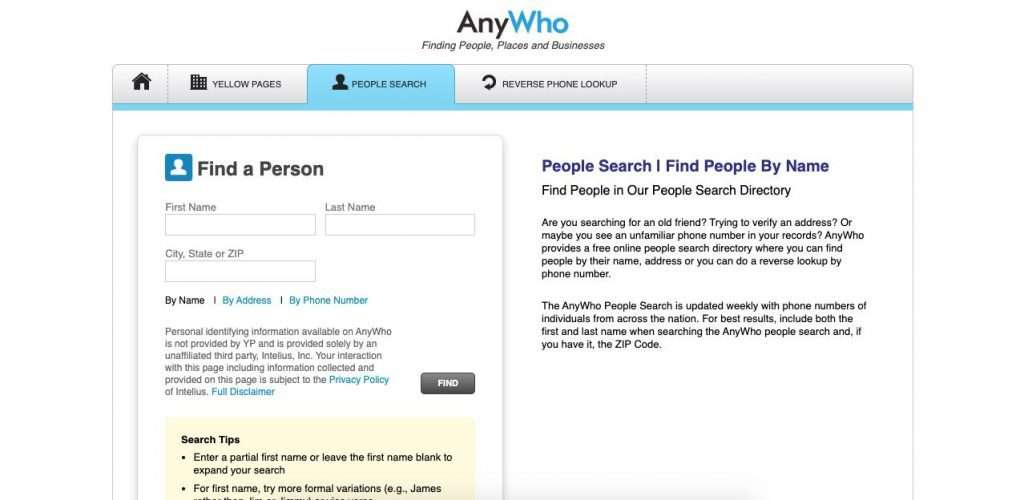 A free phone number lookup service is AnyWho. It allows you to look for phone numbers on the White Pages. Reverse lookups can also be used to discover the owner of a phone number.
If you want toll-free numbers or are looking for something to generate leads, AnyWho is fantastic.
It is incredibly easy to use. Enter the leads' first and last names and their zip code into the website. To run a thorough person search of users with that last name in that location, you can search for the last name and zip code if you want more results.
Pros
You can look up as many phone numbers as you like.
Easily accessible data reports.
Cons
Limited accuracy:
AnyWho has very little information, some of which may not be accurate or current.
Not for extensive lead browsing:
Finding several leads can take a lot of time because you have to actively look through them.
Irrelevant outcomes:
You'll frequently receive irrelevant results, forcing you to go through them to identify the correct person.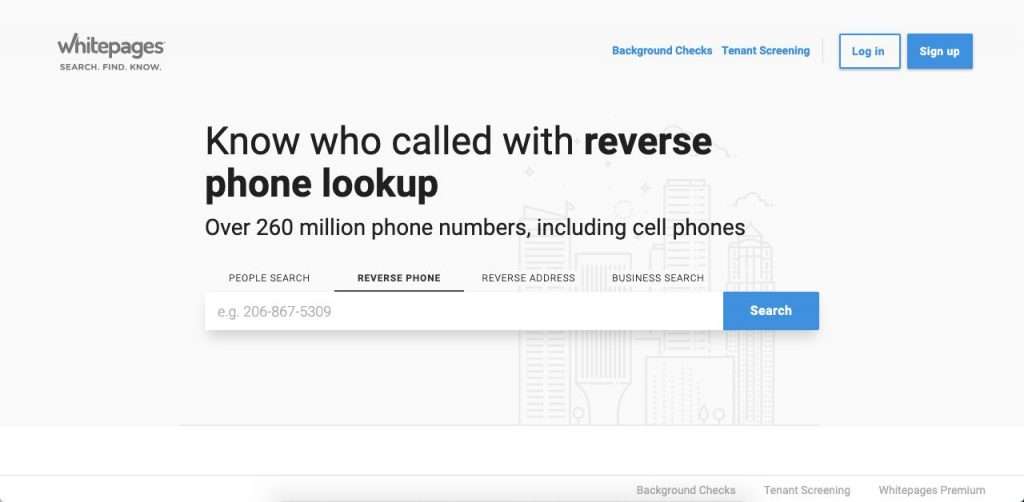 On some websites, using only the address could make it impossible to find someone's phone number. In this circumstance, you could use Whitepages.com to search for the person's name.
You can find all the information about the individual at that address on the internet. One of the first websites, it has been helping consumers discover the right phone numbers for years and years.
You can use Whitepages.com to quickly and effectively do your search by learning the name from the website.
Whitepages also offers reverse phone lookup, which allows you to discover who a phone number belongs to, their location, name, and perhaps some affiliated companies.
Pros
It provides a low-cost background investigation on your subjects.
Cons
Inaccurate data: There is no assurance that the data is accurate or current.
It only works in the USA and is ineffective in other nations.
Not for business purposes: There is no bulk browsing available, so you must individually search each result.
4. Linkedin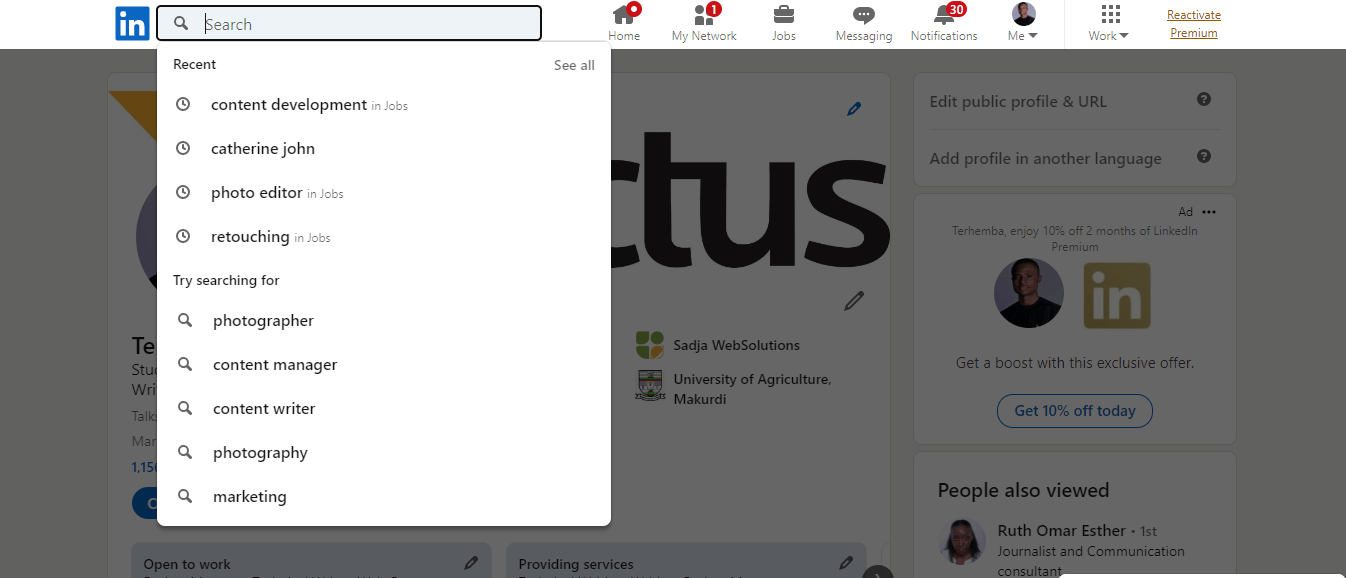 LinkedIn is a fantastic tool for professional networking and connections. It enables you to search a database of more than 875 million members from 200 nations, including companies, professionals, and other organizations.
The search engine on LinkedIn is a great way that shows you how to find someone's phone number for free and other contact information. It would help if you first connected with them; they must accept your request to connect.
Once your request has been received, you can obtain their contact information, including their email and phone number, from their business profile.
However, this will only function if the leads or professionals have added their phone numbers and made them openly accessible. If it is hidden, look for alternatives using tools or services like email finders.
Pros
Global reach: The platform has data on many companies and workers worldwide.
Cons
It's challenging to locate a phone number: Unless the subject in the issue decides to make their number public, you won't be able to locate them.
5. Google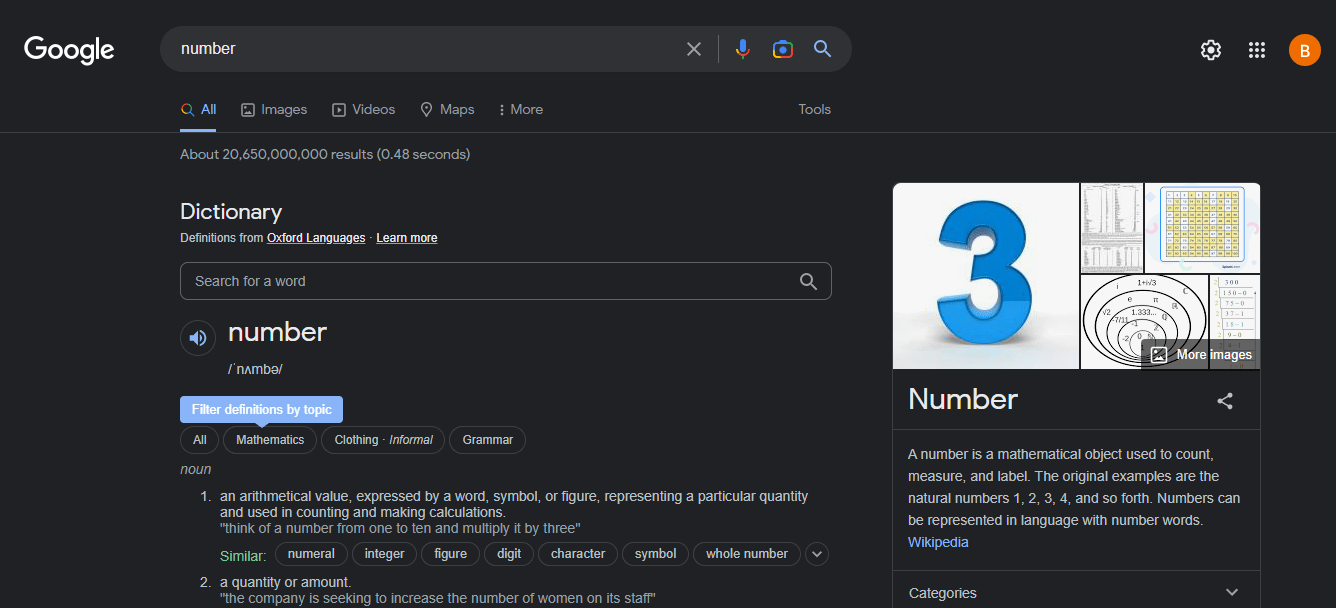 Google is a wonderful resource for finding a company's phone number if you're looking for it online. You may find someone's phone number by searching for the company name and the keyword "phone number," as shown in the screenshot above. If a company is large enough or has a Google profile, Google will display its phone number or company profile.
Despite being free, this service only functions if your lead is listed on Google. Additionally, it will probably only provide their company's phone number rather than other ways to contact them.
Pros
High-quality business data: Google business profiles contain a wealth of information, including the location, hours of operation, and other means of contact.
Cons
For selected people only: It's unlikely that you'll be able to locate just anyone's mobile number.
Manual search: The software does not offer automated or bulk search alternatives.
6. SpyDialer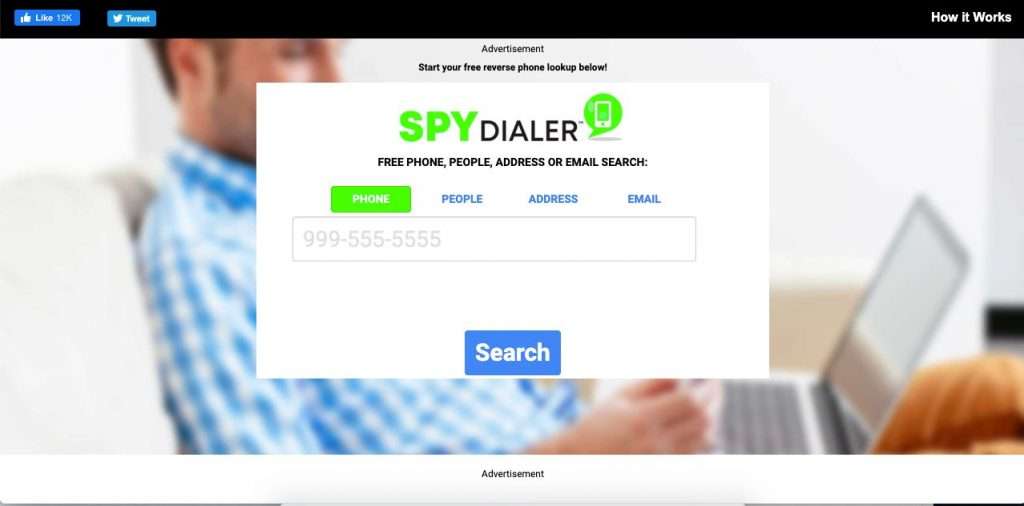 Robert Scott, a best-selling author and certified private investigator specializing in discovering phone numbers online, invented SpyDialer. With the help of his team of experts and the countless articles and investigations he has worked on, SpyDialer has grown to be a highly-liked tool for conducting internet person searches and locating phone numbers.
You have three choices using SpyDialer to locate someone's phone number: their name, address or zip code, or even their email. It may also be used to locate the owner of a mobile phone number by running a reverse phone lookup on the number.
Pros
A variety of search possibilities:
Use a person's name, email address, and phone number to find information about them.
Cons
Data inaccuracy: There is no guarantee that the information is accurate or up to date.
It is ineffective abroad and only effective in the USA.
Limitations: The speed and manual nature of searches are typical of any free service.
7. BeenVerified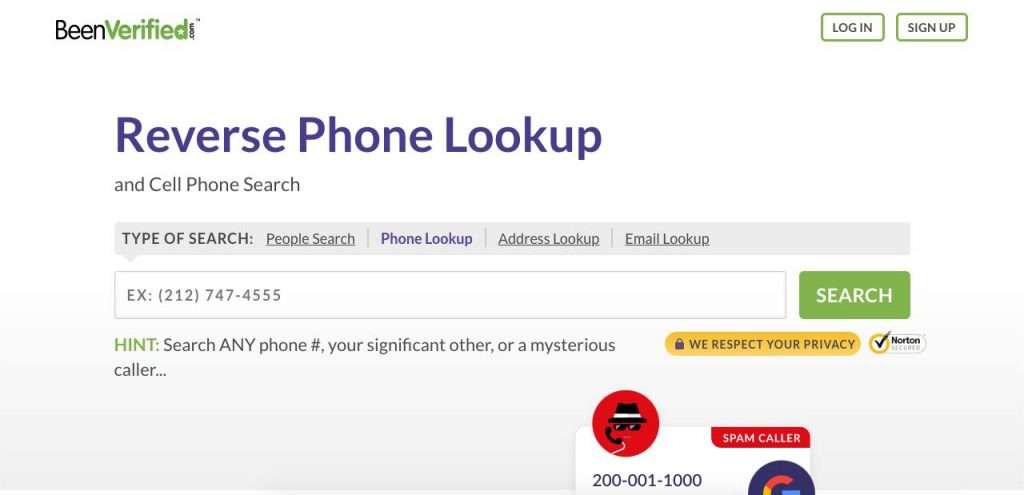 You can search through billions of public records of personal details and commercial numbers with BeenVerified's reverse phone number lookup to find out who is calling or texting you from an ominous number. It could also provide further helpful details about them, such as their location, email address, age, social media accounts, and even potential relatives.
BeenVerified provides you with various intriguing free choices in addition to reverse phone searches. Most other sites also include the person's name and address, which may be used to check the person's phone number.
However, BeenVerified also makes it possible to look up a phone number using usernames and VINs. You may use it to look up unclaimed funds associated with your name or other people's names.
Pros
You can only get information using VINs on this platform.
Cons
Unsecured data: This information is free and open to the public; anybody can alter it.
Not a good source of leads: It might take time because its searches are manual.
8. AeroLeads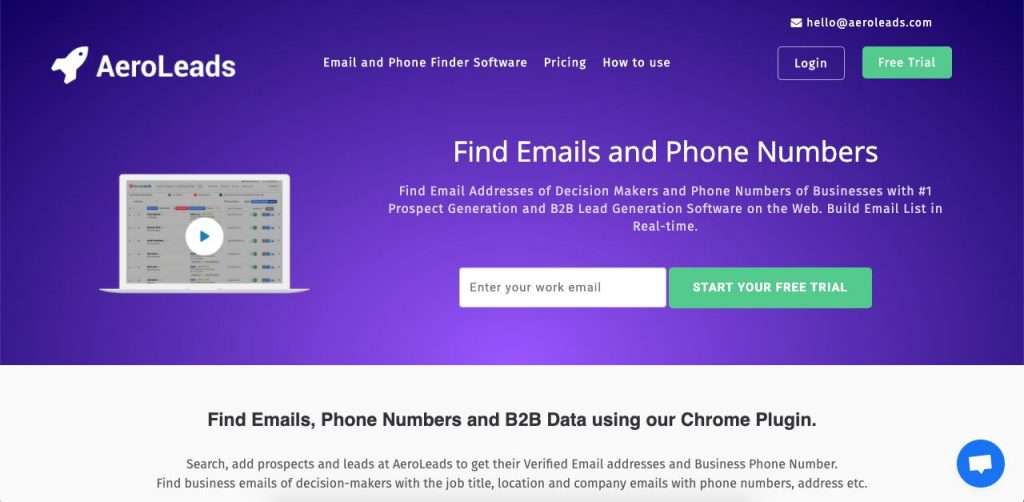 For B2B organizations, AeroLeads is a platform for lead generation. It works with a Chrome extension that lets you look for contact details while surfing the internet.
People may use it by downloading the free Chrome plugin and searching on websites like LinkedIn, CrunchBase, and AngelList. You add your leads to your plugin list once you have located them. AeroLeads can locate a lead's phone number, email address, and professional data.
Pros
Focused on lead generation: The ideal method for generating more leads naturally.
Simple to use: It is simple to use and convenient for online browsing thanks to the browser extension.
Cons
Although this service is paid for, there is no assurance that the data is accurate.
No bulk search: You must still manually discover leads.
9. LeadIQ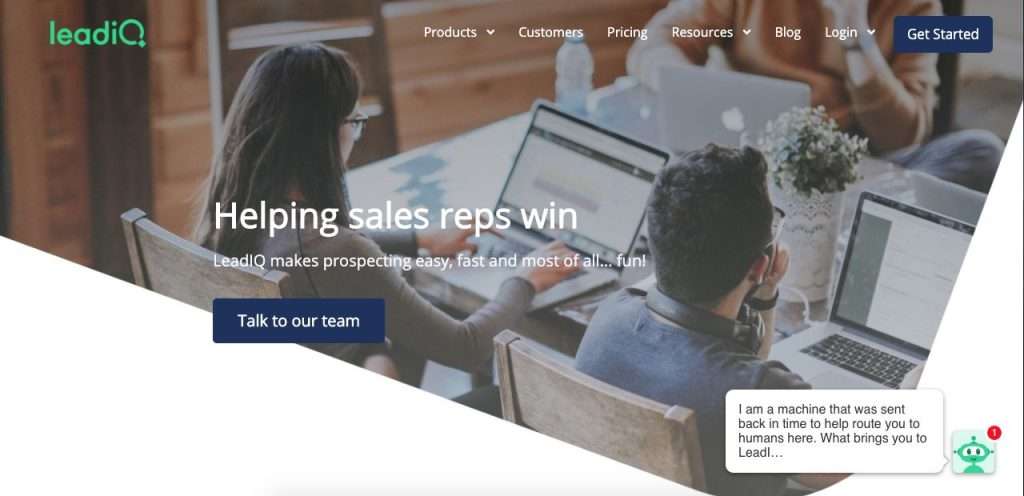 LeadIQ's Prospector extension enables you to quickly locate phone numbers and contact information on an online company profile during your sales prospecting process. Install it and begin looking for them. After that, you may use the extension to save your leads into campaigns and save their data.
LeadIQ is one of the top lead-generation tools that allow users to browse through their database to identify the best leads, providing them access to over 100 million contacts with verified emails.
However, this approach might be pricey if you wish to obtain a phone number using LeadIQ's extension. Their pricing begins at a monthly cost of $75 per user, which only grants access to 25 phone lookups.
Pros
It integrates well with your CRM and is excellent at discovering leads.
Cons
Limited data: Many contacts won't have phone numbers.
Difficult to navigate: The dashboard may be unreliable and constrained.
Conclusion
SwordFish.ai is a unique service that makes finding contact information and enriching contact data easier and faster than ever. It uses the latest analytics technology to allow users to quickly and accurately find direct contact info with just a few clicks. Additionally, SwordFish.ai can enrich contact data in bulk, giving you detailed, up-to-date contact data sets in a matter of minutes.
With SwordFish.ai, you can get cell phone numbers, emails, company info, and more from social profiles. You can also search for leads based on criteria such as industry, company size, and geographic location. With all this data, you can quickly and easily build contact lists tailored to your specific needs.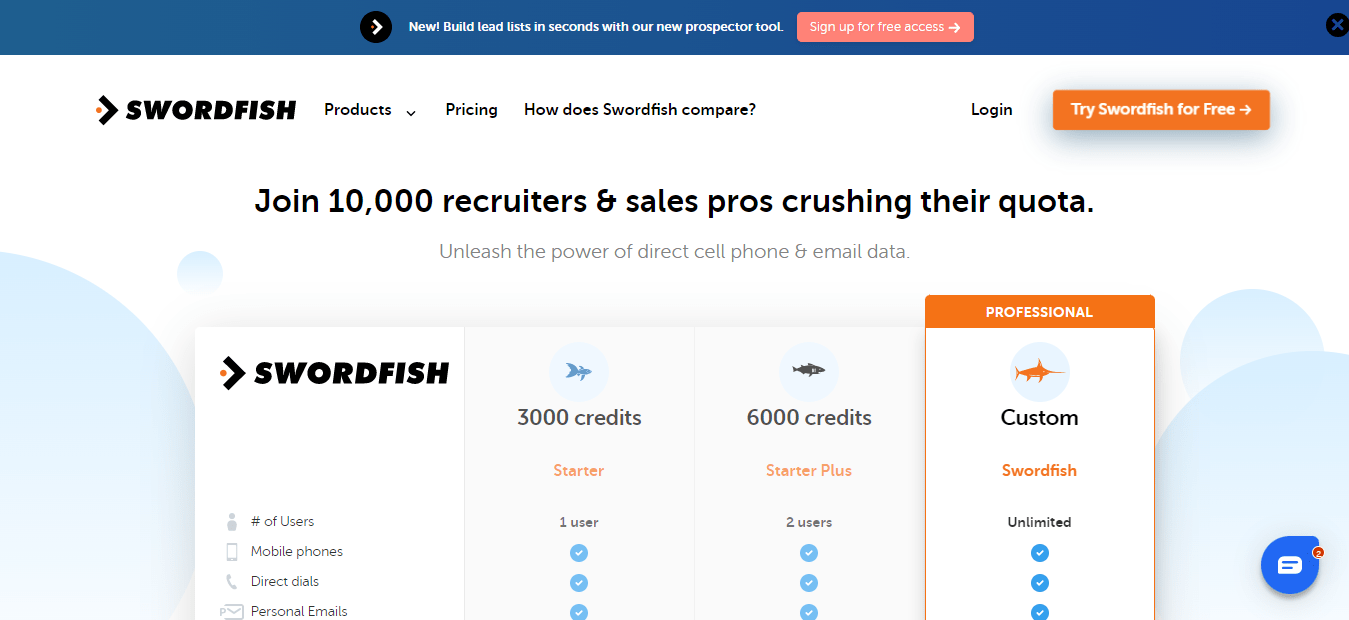 SwordFish.ai is the perfect tool for sales and marketing professionals who need to quickly and accurately find contact data. With its powerful analytics and easy-to-use interface, you can find the right contacts in seconds and build powerful, customized contact lists in minutes.