Have you been searching all over the internet for your B2B and B2C lead email addresses? It's time to stop and consider trying an email extractor.
An email extractor is a powerful tool for extracting email addresses from different web pages and exporting them in the desired format. These extractors help improve your lead gen game, improving efficiency and automated workflows.
Today, we will discuss the top ten Chrome email extractor extensions to efficiently build email lists for marketing. These extensions can help you save time and extra effort, which can be used for better purposes.
Let us learn how to collect verified email addresses quickly, individually or in bulk.
What is an Email Extractor?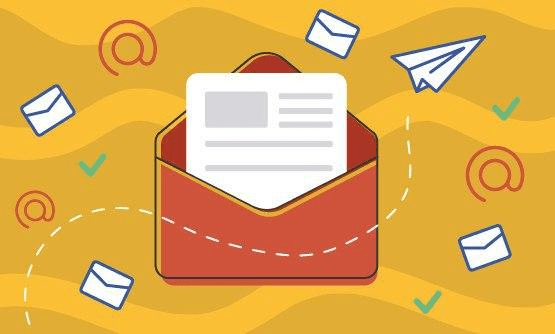 source
An email extractor is a web application designed to extract or collect email addresses from online and offline sources. They help build email lists for lead generation and outbound marketing.
They scan and process web pages and documents to extract email addresses, using a structured pattern (abc@example.com) to recognize emails. They come with their features and functionalities and are mostly easy to use.
Many can detect and remove duplicates, eventually generating all the email addresses in a single file. They can generate and export them in bulk and file formats like PDFs, CSVs, PST, and EML.
Chrome Email Extractor
A Chrome email extractor is a browser extension specially designed to work on Google Chrome, extracting email addresses from web pages you visit on Chrome. Here's how it works:
You install the Chrome email extractor extension from the web store.
When browsing a website from where you need to extract email addresses, for example, LinkedIn, you click on the extension on the Chrome toolbar.
The extractor scans and analyzes the website content you are browsing to recognize and extract email addresses and returns them to you in a file that can be exported in the same format as generated.
Advantages of a Chrome Email Extractor
If you're looking to build targeted email lists for marketing, an email extractor can be your best asset. Here's why:
Saves time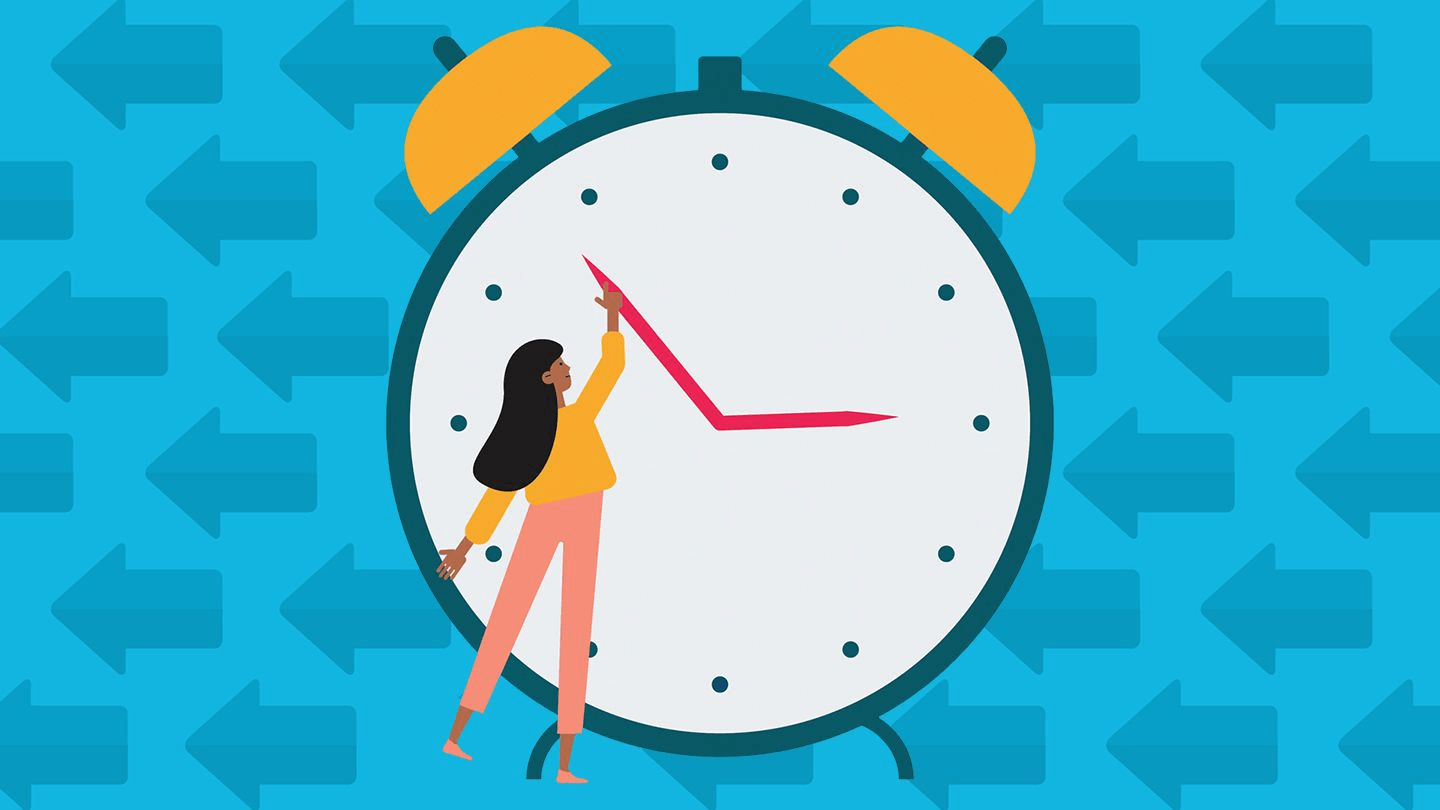 source
If your sales reps have ever searched the internet for email addresses and recorded them individually, you know how tiring and frustrating it can get.
Email extractors save time and effort by automating searching and collecting email addresses. They can quickly scan multiple web pages, making it easy to gather many contacts.
Contact Verification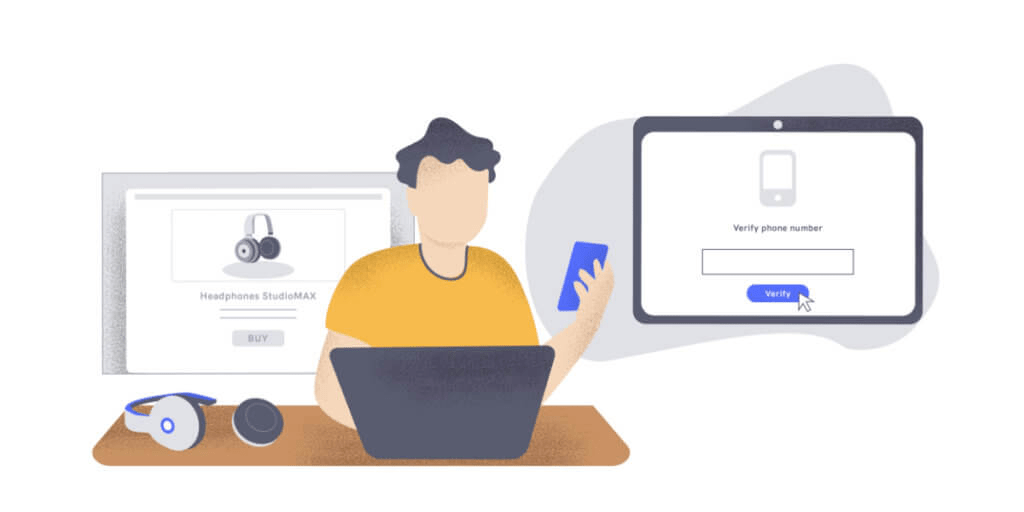 source
Offered by some extractors, contact verification significantly impacts the quality of emails collected. The verification process involves five steps in general, which are:
Syntax check
Domain validation
Mailbox existence
Catch-all domain detection
SMTP response analysis
Why is it important? Verifying email addresses improves the sender's reputation and reduces bounce rates, which can cause significant losses later on.
Easy export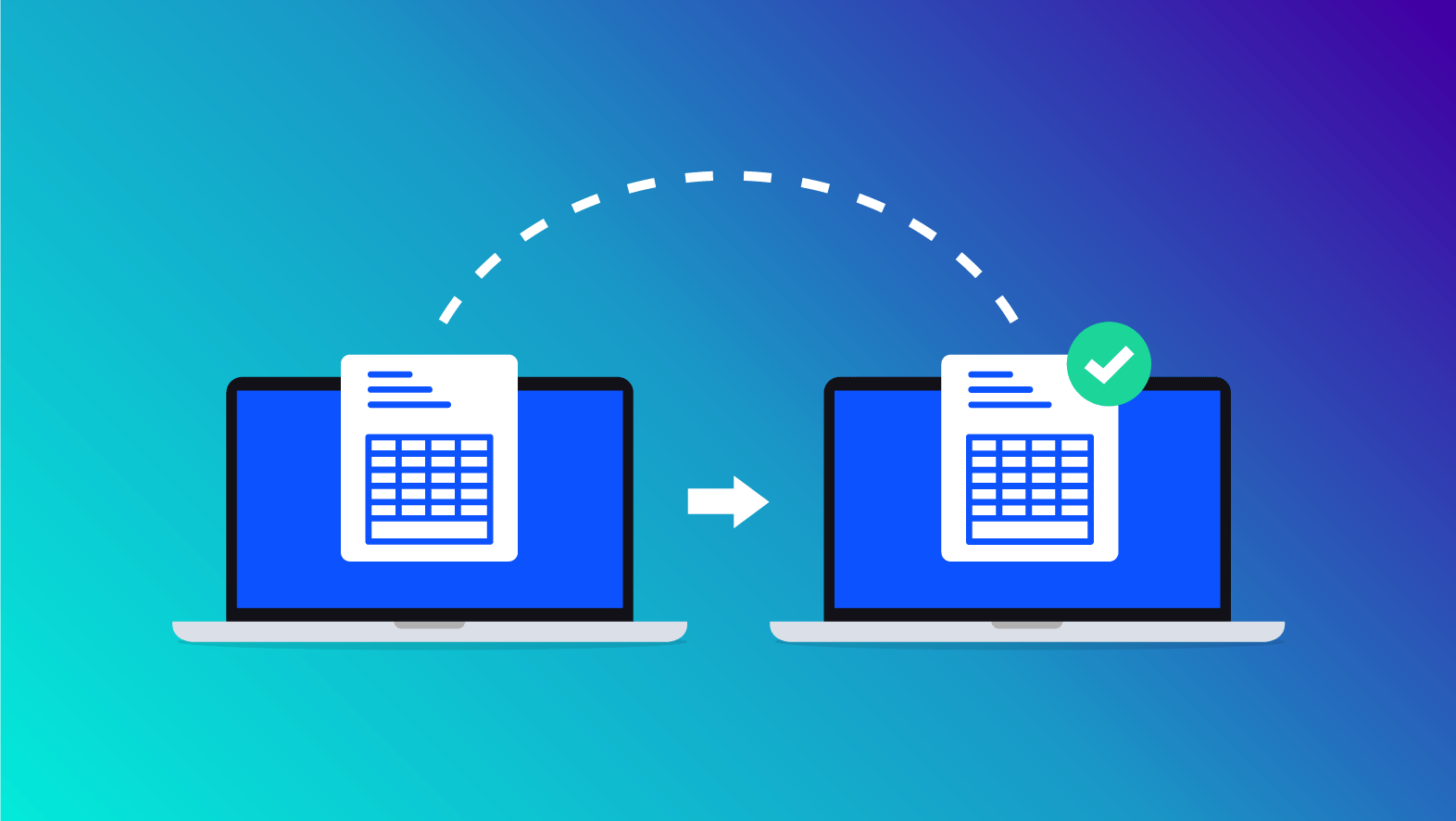 source
Most email extractors can collect the email addresses extracted in a single file in one or convertible formats (like PDF, CSV, PST, Excel, etc.).
These files can easily be exported in one click wherever you wish, which is much faster and easier than manually collecting, sorting, and recording these addresses.
Up-to-date emails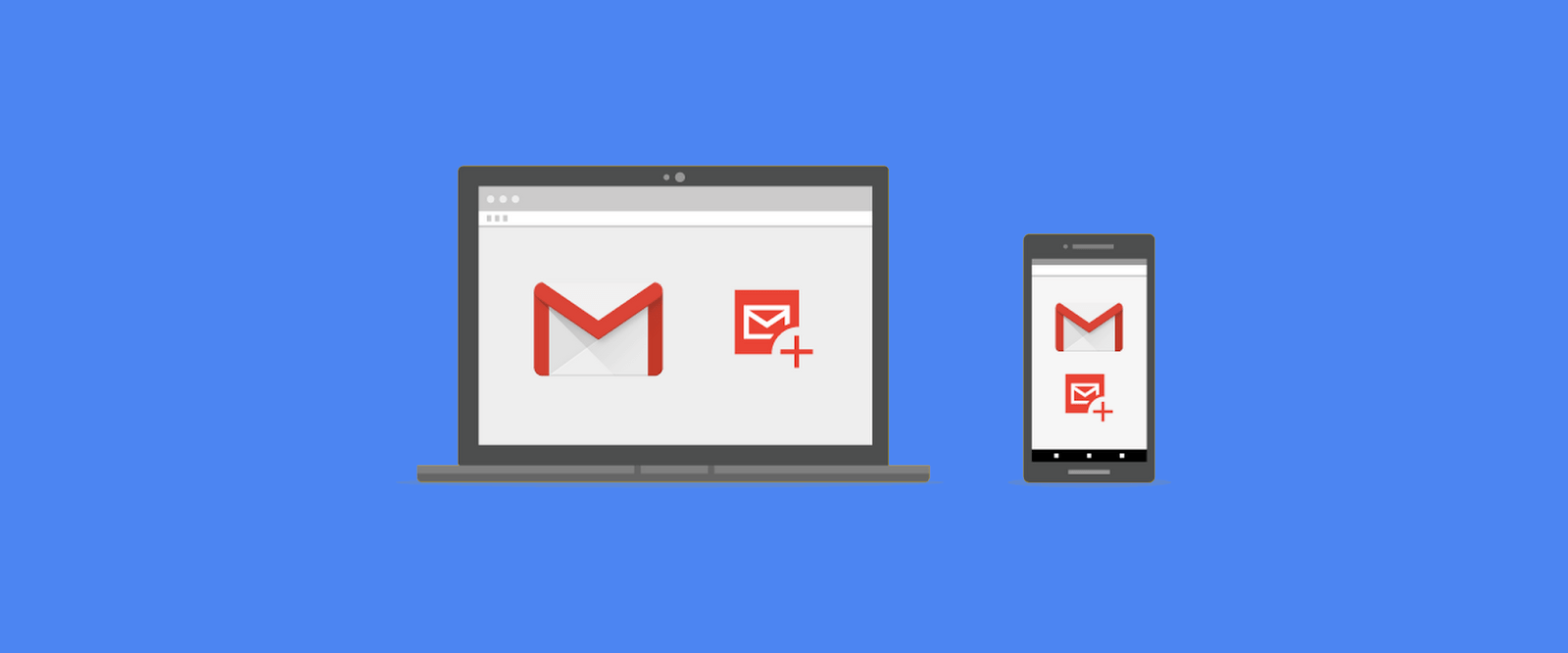 source
Extractors can be scheduled for periodic scans, helping automatically keep your email lists up to date.
They are also easily configurable to search for emails based on specific criteria, which helps extract relevant and latest information. Automation can significantly save time and resources, which can be used better.
Bulk Processing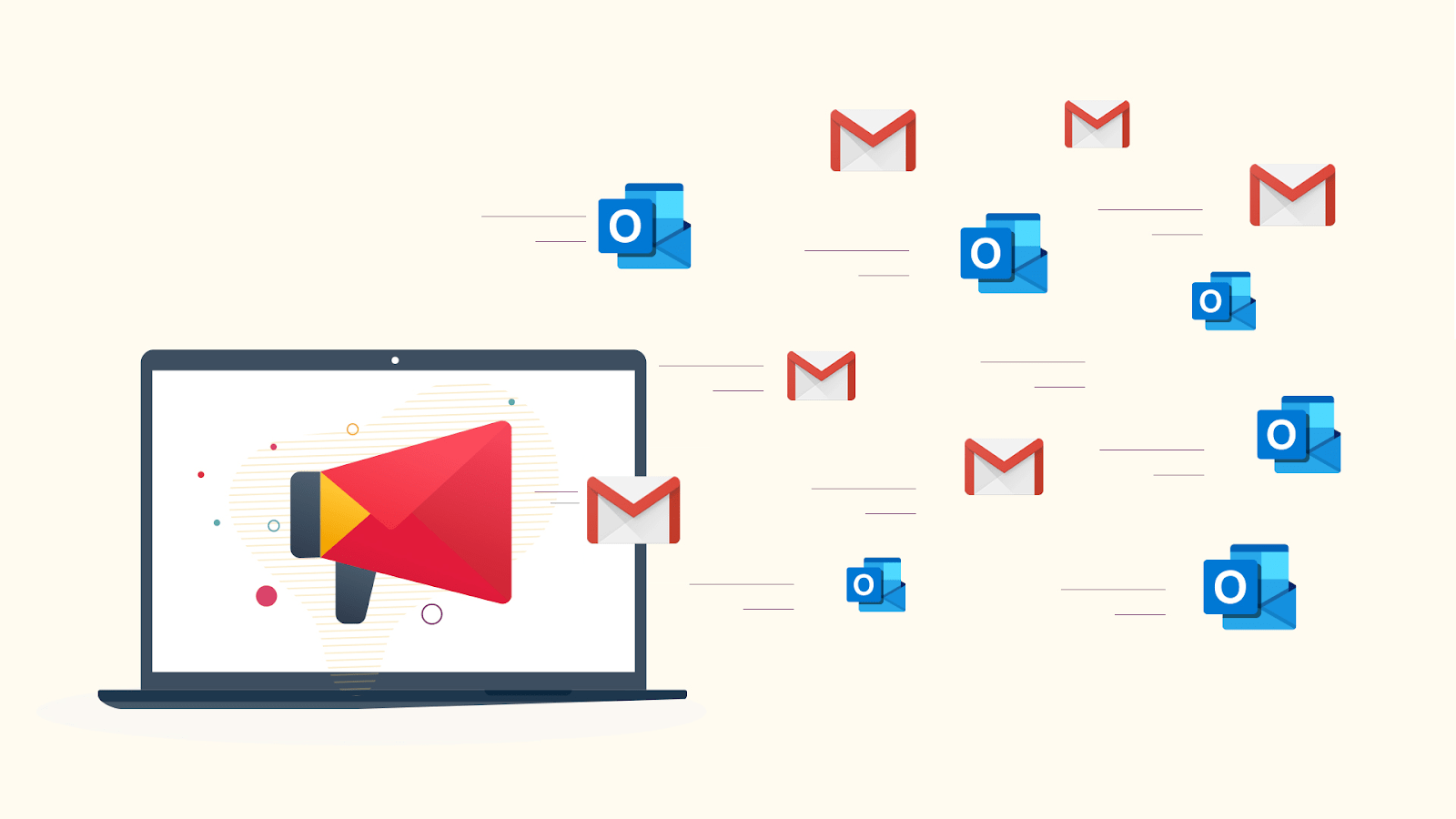 source
Email extractors can scan through hundreds and thousands of web pages quickly while maintaining consistency to ensure no vital ones are overlooked.
This helps accurately identify and extract emails in bulk, saving you hours or even days of work. They also present them in an organized manner, making it easy to work with the collected data.
Let's discuss the top 10 Chrome email extractor extensions in 2023.
Top 10 Chrome Email Extractor Extensions
Chrome email extractor extensions allow you to extract emails of your leads that fit specific criteria, individually or in bulk. Here are the best ones to find anyone's email address:
Email Extractor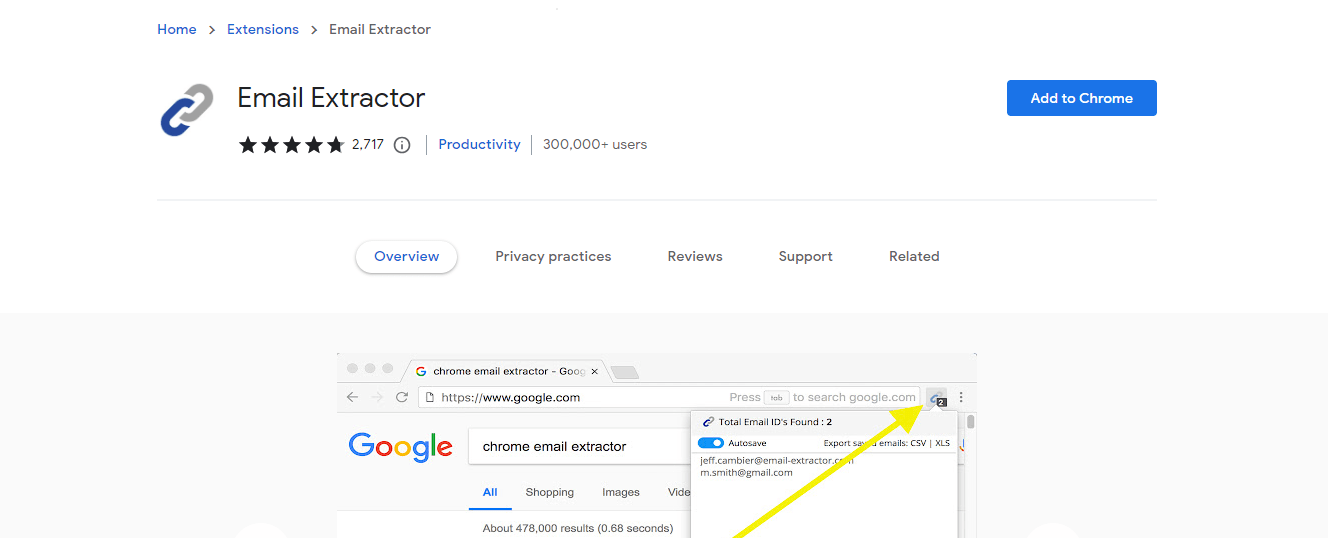 source
Email extractor's Chrome extension is a powerful one that automatically fetches valid email IDs from the web page you are browsing, which can be copy pasted selectively or exported in bulk in a text or CSV file format.
You can easily automate it to filter emails ending with a specific domain name. The extension is free from ads and junk but requires little technical knowledge to configure.
The extractor can even extract emails from AJAX pages, local HTML documents, text files, and cloaked ones.
Features
Works at lightning-fast speed.
Offline support.
Subscription is shareable.
AutoVisit lets you build a queue of URLs you wish to visit automatically.
Auto-save all emails in the cloud while you browse any website.
Local storage is available.
RevDriver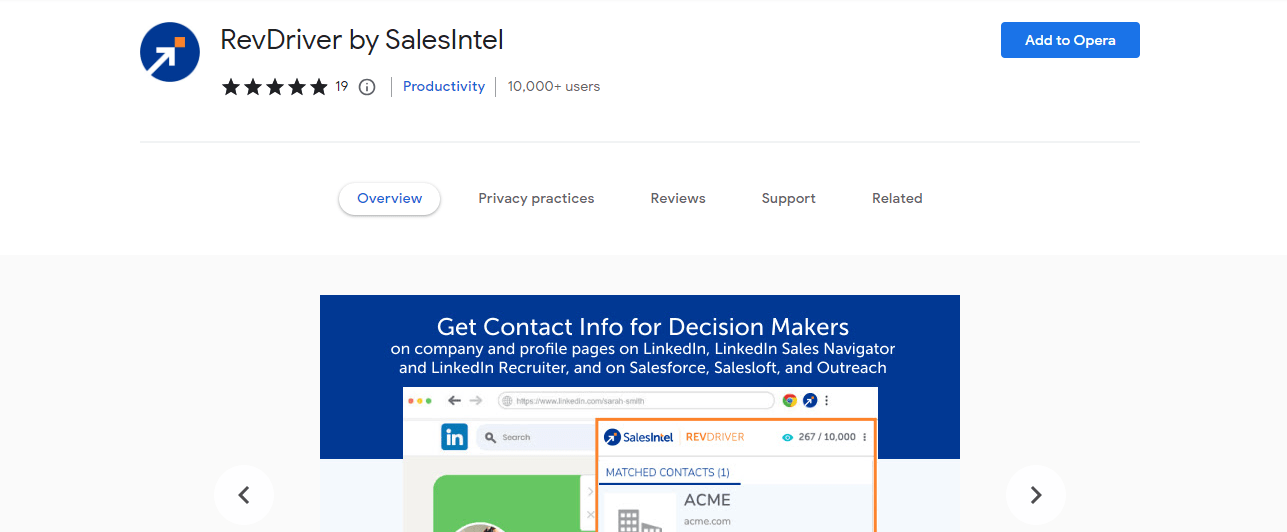 source
RevDriver's Chrome extension is an account-based prospecting solution provided by SalesIntel that gives you the power to connect with one click.
RevDriver collects company and contact information from the web pages you are browsing, retrieves records related to that information from SalesIntel's human-verified database, and displays all that information together.
This gives you access to prospect email addresses, phone numbers, the company's technographic and firmographic data, and much more, providing over 95% accuracy.
Features
Retrieve accurate contact data from:
LinkedIn profiles, Sales Navigator and Recruiter, and company pages.
Salesforce and Salesloft accounts and records.
Outreach accounts and prospect screens.
Contact information enriched by SalesIntel's database.
Verified contact information.
Research on demand for enterprise teams.
Hunter.io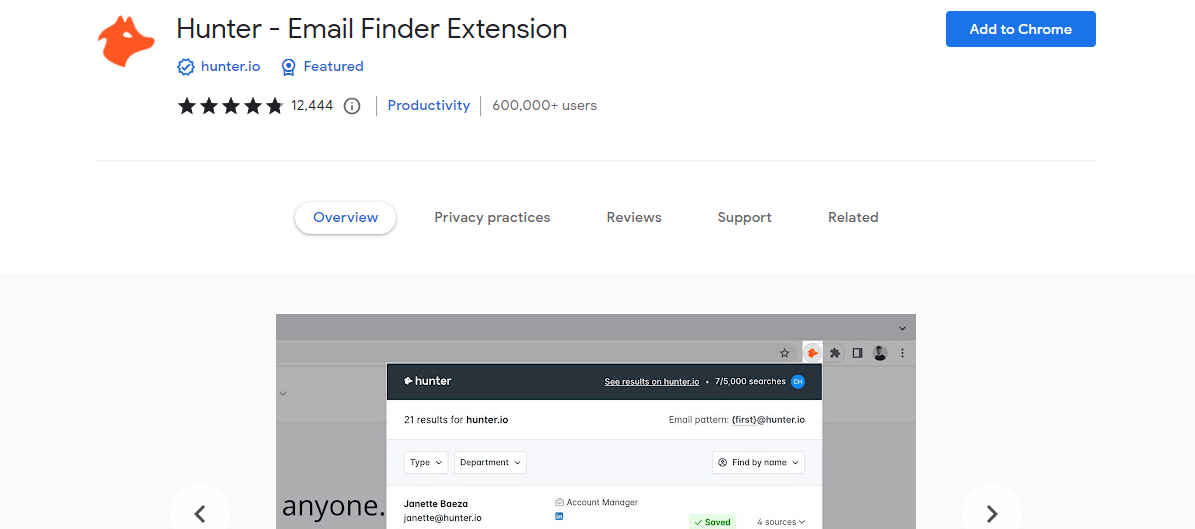 source
Hunter for Chrome is a one-of-its-kind powerful tool that lets you find immediately who to contact when you visit a website. The email addresses returned are either marked verified or confidently scored before returning.
To search for specific people, when you type in their name in the search field, you get the found email address along with a score and sources. You get 25 searches per month for free, requiring upgrading your account for more.
Features
Immediately find contact information for anyone on the web.
Verified email addresses.
CRM integrations for easy list building.
SMTP verification.
Easy to use.
Lusha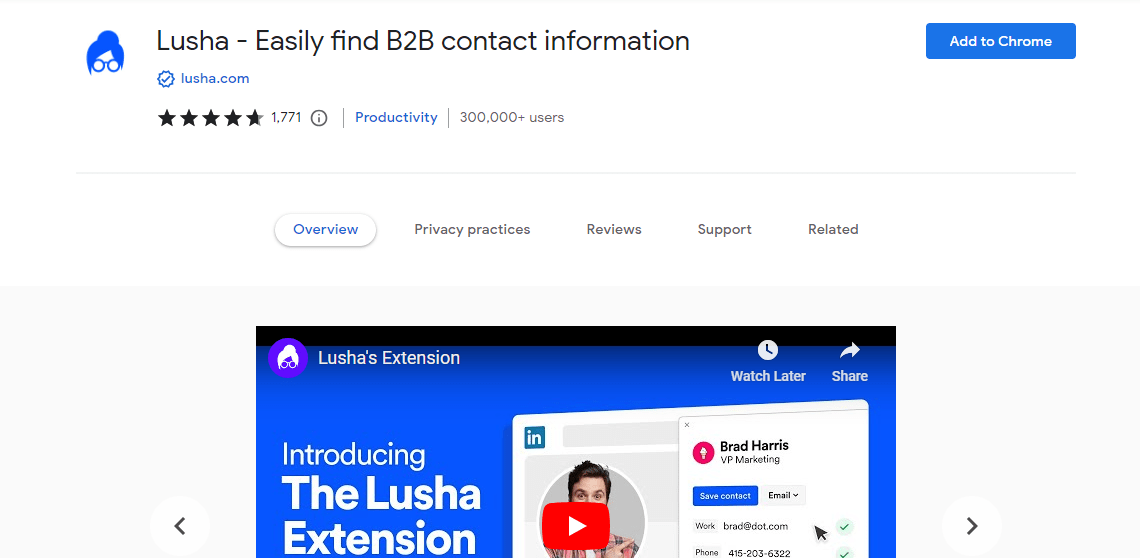 source
Lusha is an easy-to-use B2B contact information finder platform whose extension gives access to the entire platform. You only need to select a lead, and Lusha will provide any information it has on that lead.
Lusha provides five free monthly credits to prospect and unlock actionable information. However, a significant drawback is that Lusha's extension is meant to be used with the platform and not as an extension alone.
Features
Instantly reveal contact information for prospects from LinkedIn, Salesforce, Gmail, and any other company website.
All information from direct dials to accurate company information is provided.
Easy one-click integrations to your CRM to export contact lists.
Data is securely collected from affiliates, third parties, and publicly available sources.
It helps fill gaps in your CRM.
Skrapp.io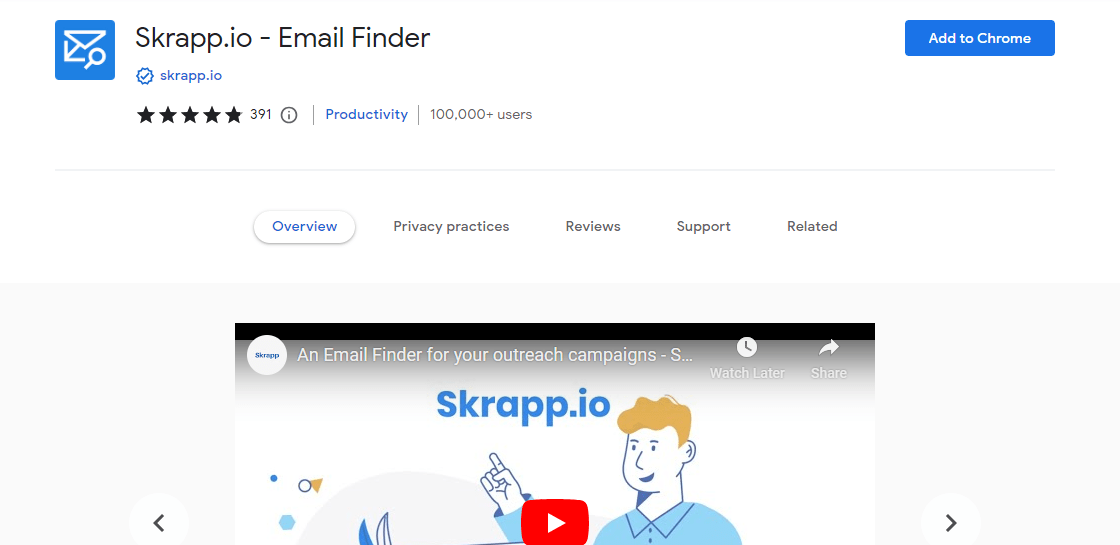 source
Skrapp can be another powerful tool in your suite to find verified professional email addresses of potential leads.
Additionally, it provides a separate LinkedIn extension that scrapes the email addresses of your leads from LinkedIn and Sales Navigator profiles and search pages. You can save these directly into your CRM or email service provider.
It is an easy-to-use extension that provides additional information such as their industry, revenue, number of employees, etc.
Features
Free of cost.
User-friendly interface.
LinkedIn integrated Chrome extension.
Easily save all email addresses in one click.
Automated workflows.
Verified and targeted emails.
FindThatLead
source
FindThatLead is another powerful contact-finder platform that provides an effective Chrome extension for free. You can easily find all the email addresses you need without leaving your browser.
You can find verified emails from the same web page or LinkedIn profile in just two clicks. All the emails are verified to ensure the high deliverability of campaigns.
Features
Collect and verify leads in bulk.
Additional lead information to enhance data.
Fast searching and verification of leads so your emails never bounce.
Create and automate personalized email sequences.
Local business and social media searcher.
Fifty free searches per month are provided.
AZ Email Extractor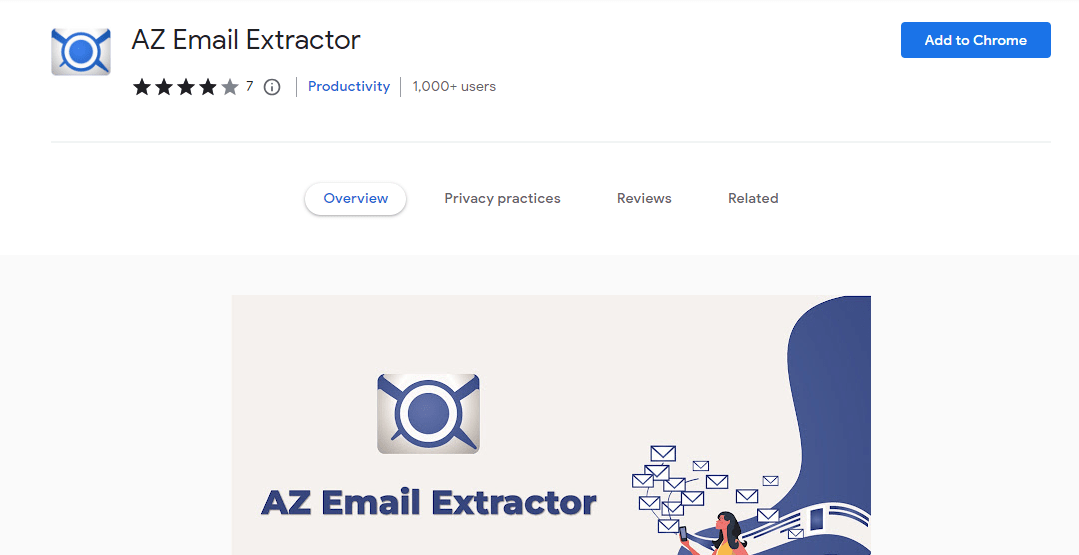 source
AZ email extractor is another powerful software extension that automates the extraction of email addresses from social media, websites, and directories.
It uses advanced algorithms to provide contact information for your leads for marketing and lead generation, all in a simple, user-friendly interface.
Features
Extract emails from web pages easily.
User-friendly, interactive UI.
Easy to export or copy/paste emails to a text or CSV file.
No data is sold to third parties.
GDPR/ CCPA compliant.
GetProspect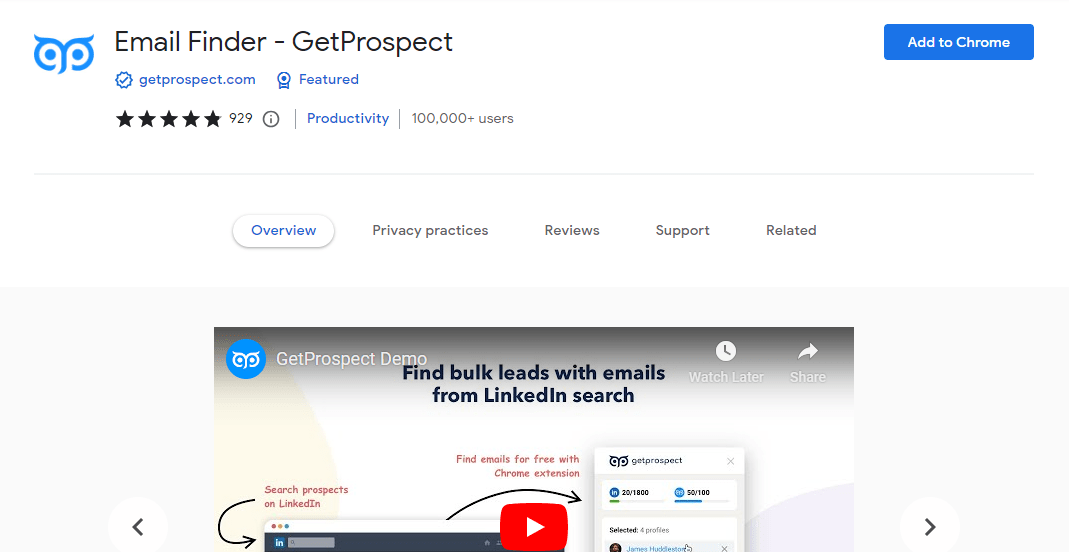 source
GetProspect provides a fast and easy-to-use plugin for Chrome that helps gather accurate business email addresses in seconds. It can also quickly generate LinkedIn leads with just one click on user profiles.
To collect leads in bulk, you must add the number of pages you want to save the leads from. Their bulk email tool automatically finds and adds verified emails to your list.
It can also provide additional information on your prospects, automatically saved to your GetProspect account.
Features
Free monthly credits.
Works with LinkedIn, Sales Navigator, and Recruiter.
Free of cost email verification.
Bulk generator.
Easy integrations.
Effective customer support.
UpLead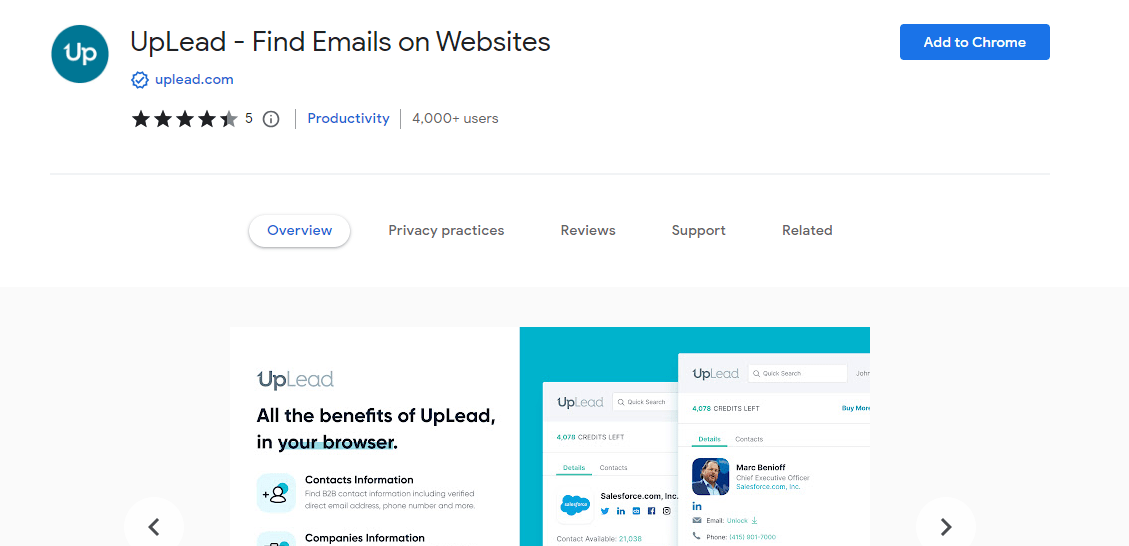 source
UpLead is a leading contact data provider platform with one of the highest-rated Chrome extensions that goes beyond just email extraction. It provides you with verified phone numbers and email addresses from LinkedIn, with related contact information.
This also makes identifying potential leads and collecting their contact info easy. UpLead's extension also provides details about a company, like its revenue, size, etc.
Once you find your desired data, you can push it to your CRM or download it as a CSV file.
Features
Worldwide data coverage.
Social links are provided with the data for verification.
50+ fields, including direct verified email addresses, phone numbers, contact titles, location, etc.
Verified emails.
Technographic and intent data.
Swordfish AI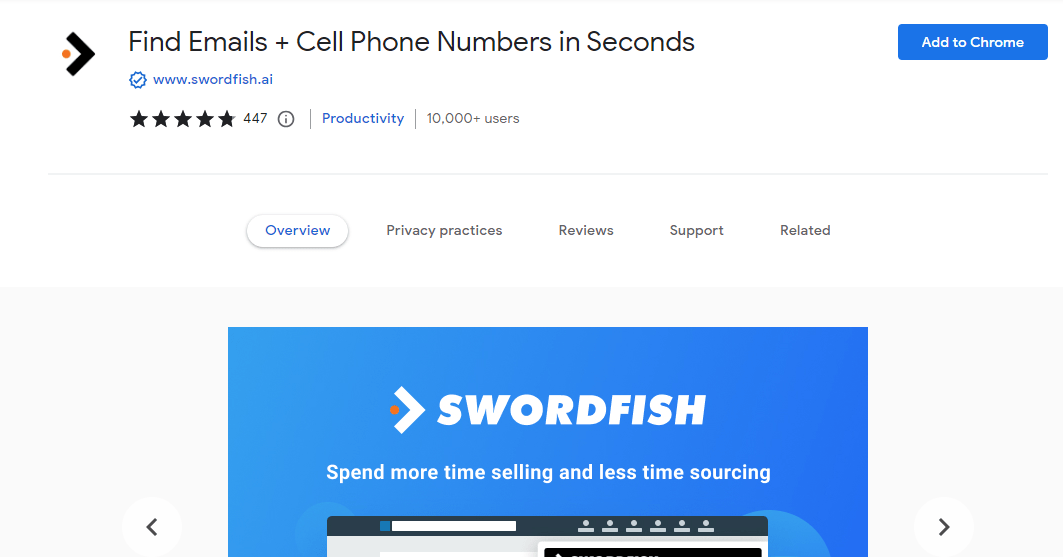 source
Swordfish AI has the highest-rated Chrome email extractor extension, and rightly so. Swordfish lets you find contact information on LinkedIn, Facebook, Twitter, Dribble, GitHub, StackOverflow, Google, and Bing.
You can easily navigate to any of these platforms to generate email addresses of individuals or entire lists. With a few clicks, you can quickly unlock unique cell phone data and premium business emails in bulk with a few clicks.
It tests all emails for deliverability in real time before returning the results. Swordfish automatically syncs with your CRM or ATS to fill in the blanks in your contact database.
Swordfish has a vast database of 3.5 billion verified profiles partnered with cell phone carriers for advanced verification. It collects data from 200+ live data partners, validating real-time and phone line connectivity.
Features
Swordfish can fill up missing data of your leads in bulk within minutes.
GitHub and StackOverflow can provide the personal contact info of developers instantly.
Excellent customer support.
Advanced filtering on the prospector for pinpoint accuracy.
Live data, verification, and validation.
Keeps your database up-to-date with the freshest and most accurate contact information.
Swordfish also provides buyer intent data from Bombora to find companies ready to purchase your solution and then unlock accurate email and phone data using Swordfish.
With so many email extractors in the list, you must think, is it even legal to extract users' contact information without their permission? Let's discuss.
Is it Legal to Use Email Extractors?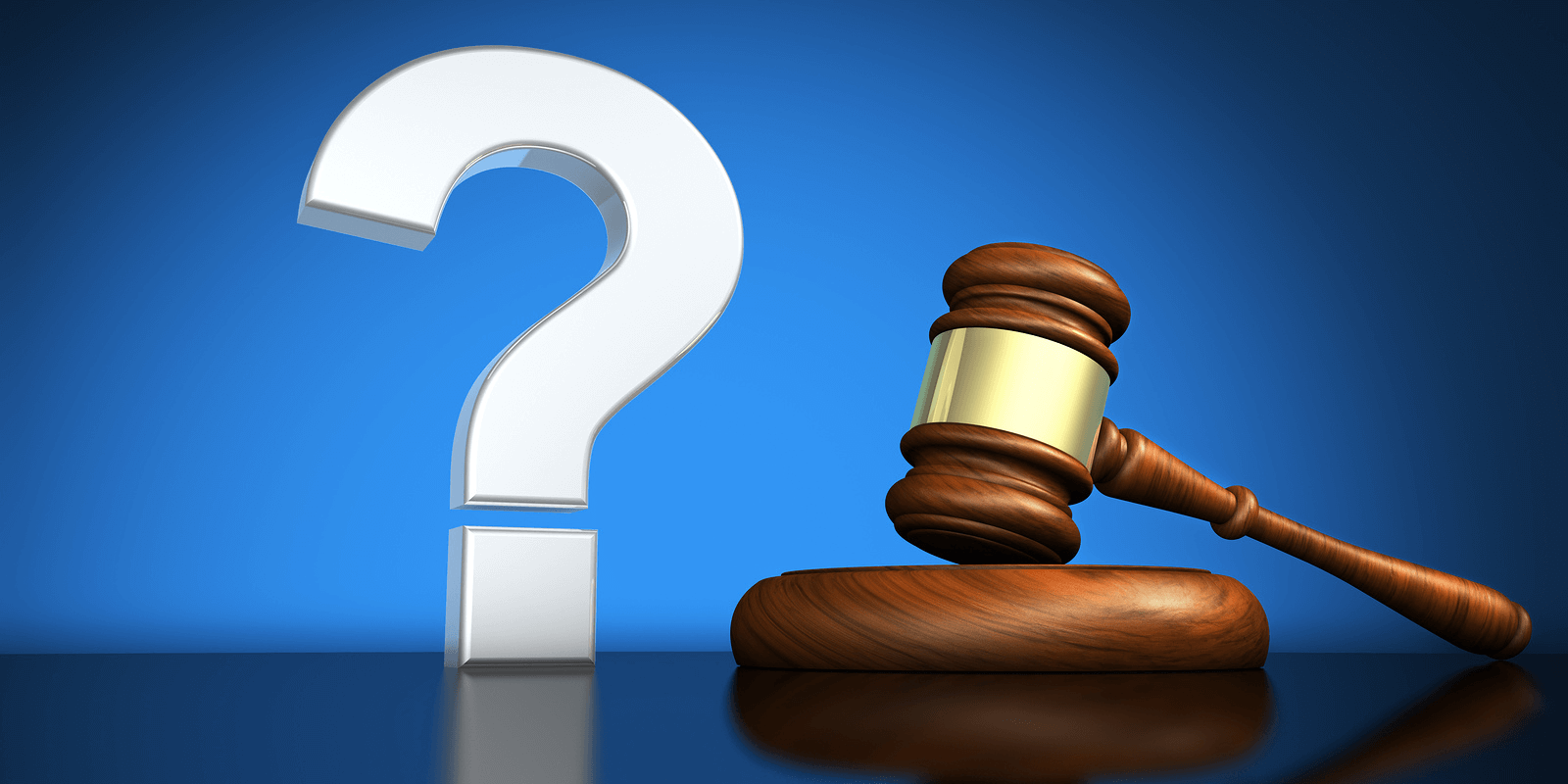 source
Email extractors are not strictly illegal, as they gather publicly available information only. The legality depends on the method used for scraping emails, and most follow anti-spam regulations.
However, it is still not advisable to use them for spamming purposes. Email extractors must be used carefully, respecting the privacy and preferences of individuals while contacting them.
Try to get permission from your leads before contacting them, and always provide an unsubscribe button for them to opt out when they want to.
Conclusion
Email extractors provide a powerful and efficient way to build sustainable lists for marketing. What's even better? You can get them for free or as a more advanced tool per your budget and requirements.
We have discussed ten robust Chrome email extractor extensions with unique features that work together to provide you with the most accurate contact information. You can pick any free tool to simply build email lists.
However, Swordfish's extension stands out because of its advanced features like live data verification, validation, and updating features that no other extractor in this list provides.
With such features, Swordfish guarantees 80% accuracy over cell phone data and 95% over email data. Claim data worth $500 for free here and extract contact information for all your leads using Swordfish's Chrome extension to build targeted email lists today!