Converting prospects into long-term customers requires several lead nurturing processes to move them through the sales funnel. You must ensure your leads are constantly engaged throughout their buyer's journey, or you risk losing a prospective customer.
Sending high-value leads and prospects in the top-of-the-funnel (ToFU) branded gifts or notes is an excellent strategy to personalize your outreach and show appreciation that helps win trust and brand loyalty.
However, prospects don't always leave their addresses in fill-up forms.
If you have to find address from name alone, you can use the six best methods to use a lead's full name to search for their residential addresses and enhance your direct mail strategy.
Why Should You Know Where Your Prospects Live?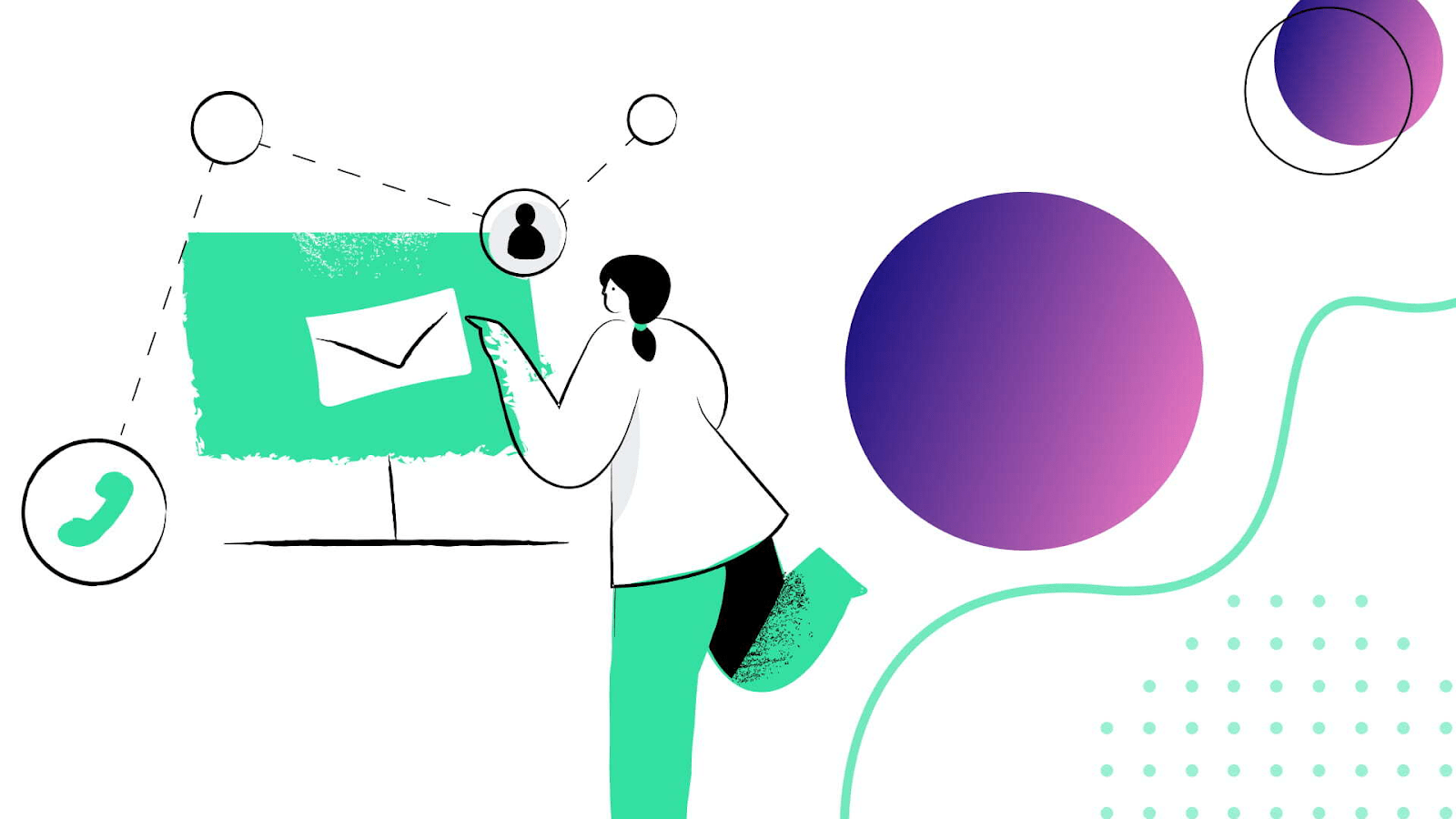 source
For the general public, people want to know the address of specific individuals to visit them or send them gifts for a B2B company.; knowing where a high-value qualified lead lives opens up new opportunities to re-engage and target them specifically for conversion.
Marketing strategies such as direct mail marketing let you send leads personalized branded gift hampers, merchandise, or a simple token of appreciation for trusting your company with its solutions.
Direct mail can benefit prospects in your sales funnel's top or middle stages. You can send prospects in the research stage a promo code or discount to drive brand awareness and handwritten notes to prospects who have given you their contact information for gated content.
You can utilize addresses to identify areas that make up the highest demographic of leads that convert into long-term paying customers to focus on them further.
While leads don't usually provide residential addresses since it's easier to type out their email or phone number, you can retarget business partners with high purchase intent with direct mail and promotional content.
Public records and reverse lookup services are viable methods to find address from name only.
Top 6 Ways to Find Address From Name
B2B business users can reliably locate where their prospects reside by using publicly available sources. Direct mail campaigns can often leave a mark on prospects initially unwilling to convert your brand into long-term customers.
Despite looking like a daunting task at first, if you want to find address from name or any other contact detail, there are six ways you can choose to do so:
Search on Whitepages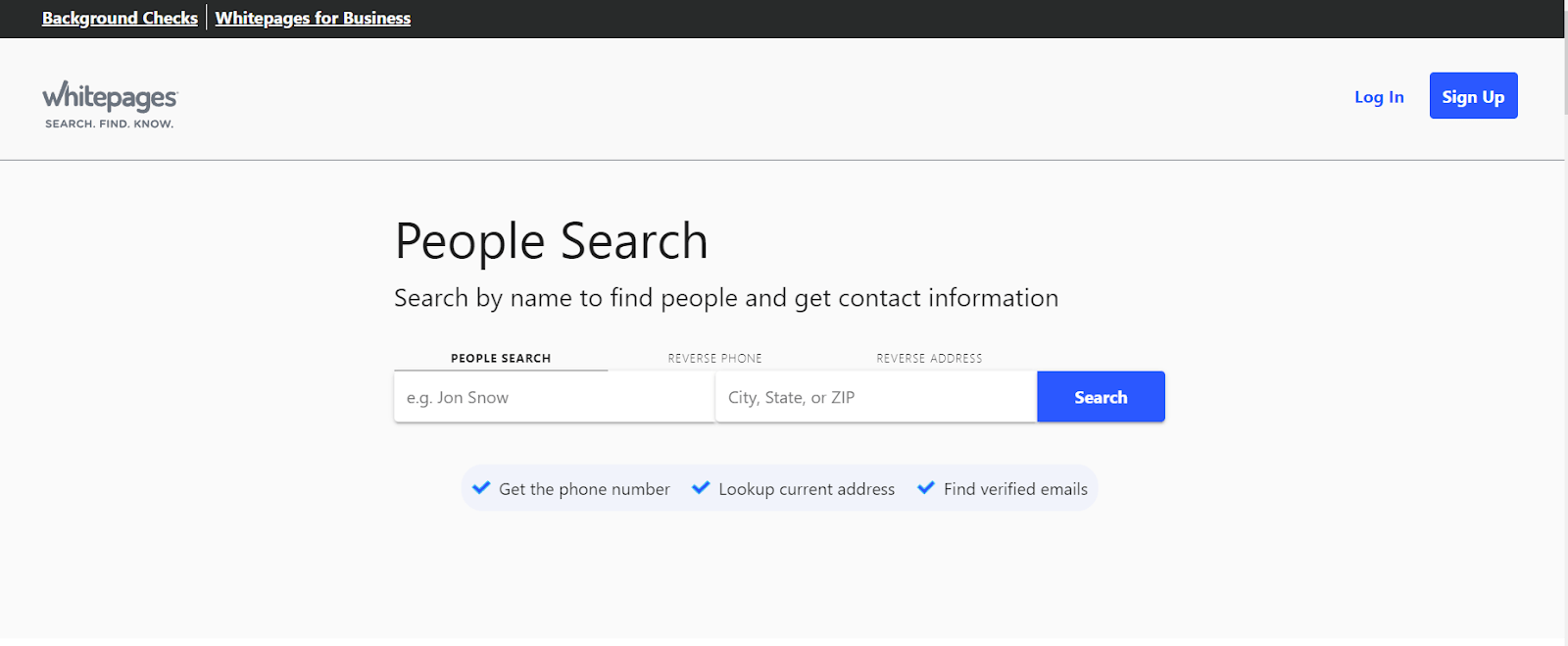 source
Whitepages is one of the oldest resources to find contact information for people in the United States. While Whitepages is a free service, you must pay a fee to see detailed reports on your prospects.
B2B business users can input the full names of their prospects from their databases. You can also optionally add the city or state postal code for qualified leads if you know it for more accurate search data.
After clicking "View Details," you can see a host of information, including their publicly available address. Remember that the "Current Address" option costs money and can be your only option if the prospect or lead's address is not publicly available.
Available residential addresses can be viewed on Google Maps by clicking the "Map" option.
Other People Search Sites
A people search site is an online tool that provides accurate contact data for prospects when you input a single credential based on the information you have for them. You can access phone numbers, emails, social media profiles, and residential addresses.
Using a people search site with an address lookup feature is a popular method to search for where your prospects live. Online lookup sites often have access to an extensive repository of profiles to scan and help you find address from name only.
Detailed reports and other information can often be locked behind premium memberships despite utility. Worse yet, you could end up with outdated or inaccurate contact information.
Here are a few people search sites you can use to find addresses:
Melissa Lookups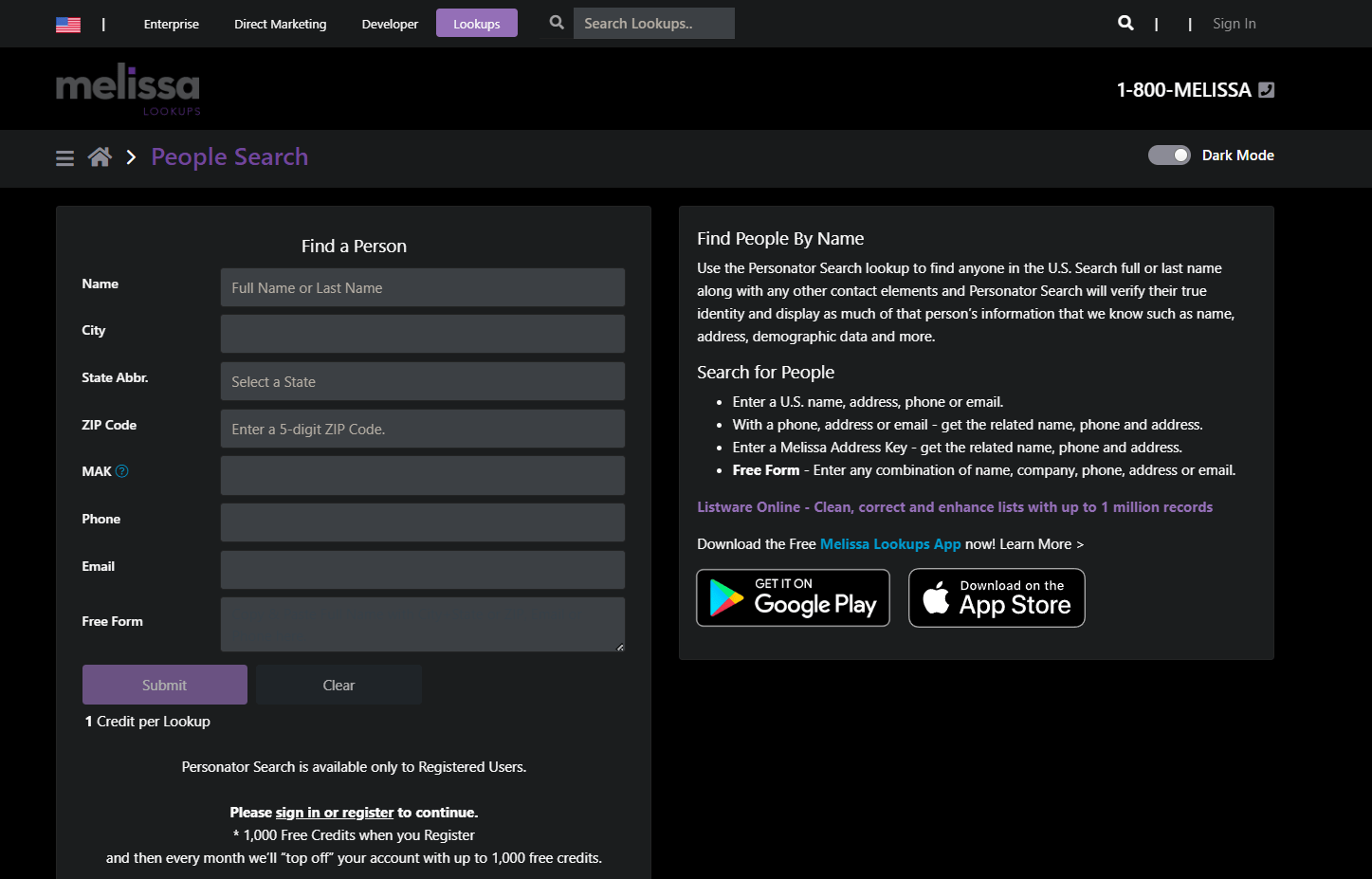 source
Melissa Lookups is a service trusted by government agencies for its public record database to search for addresses. The Personator Search feature contains data verified by the US Postal Service and Canada Post.
You can input names with the relevant city or state to get a detailed report of their contact information.
Although Melissa Lookups charges 1 credit per search, you can register an account to get 1,000 credits for free.
Spokeo
Spokeo is a US-only people search site that lets you find phone numbers, email addresses, social media profiles, and updated residential addresses.
Spokeo hosts a database of over 12 billion records supplemented by a deep web scan to make your prospect contact data report more accurate.
However, Spokeo does not have access to several public government records and requires a monthly subscription of $24.95 or $0.95 for individual reports.
They offer a 7-day free trial to test their features, but it is not a long-term solution for B2B users.
Truthfinder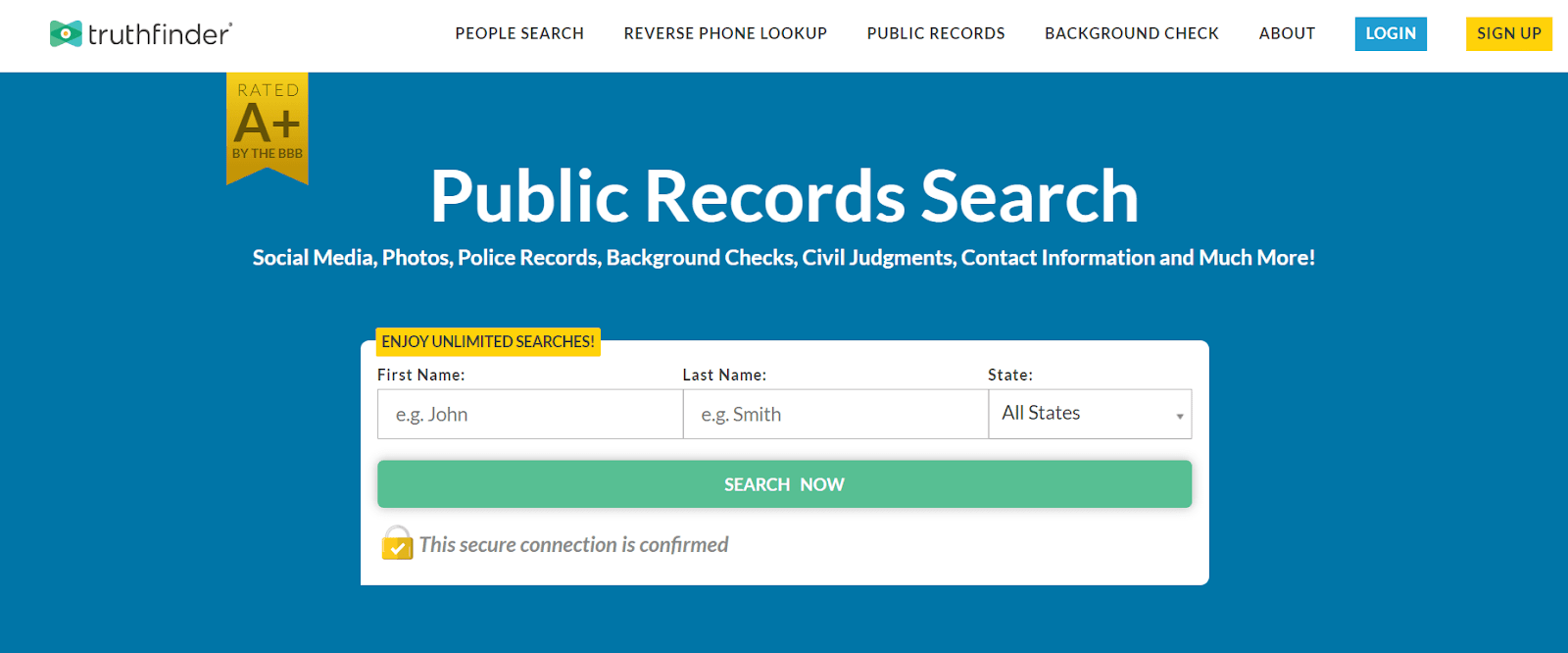 source
Truthfinder is a popular address lookup tool that offers complete public records gathered from authorities, government agencies, corporations, etc.
You can search for several types of publicly available information on an intuitive browser platform that provides access to other features like a reverse phone lookup tool, background check, and so on.
Despite the wealth of information Truthfinder provides, B2B users cannot search for prospects in bulk. Furthermore, it does not have a free trial to access contact information like Swordfish AI, and you must register with a premium plan.
Social Media
Leveraging social media platforms to find address from name is a tried and tested method by several business users who want a free method of finding contact information for high-value leads.
Prospects and leads often include their residential addresses on social media sites in their profile or posts. You can even search for mutual connections to ask who knows them personally.
Since social media platforms come with an option to send private messages, you can contact warm leads on sites like LinkedIn, Facebook, Twitter, etc., to give you their residential addresses.
You can use Twitter Advanced Search to search for exact phrases if you know your prospect's Twitter account to view a list of tweets that mention their residential address, district, city, or state.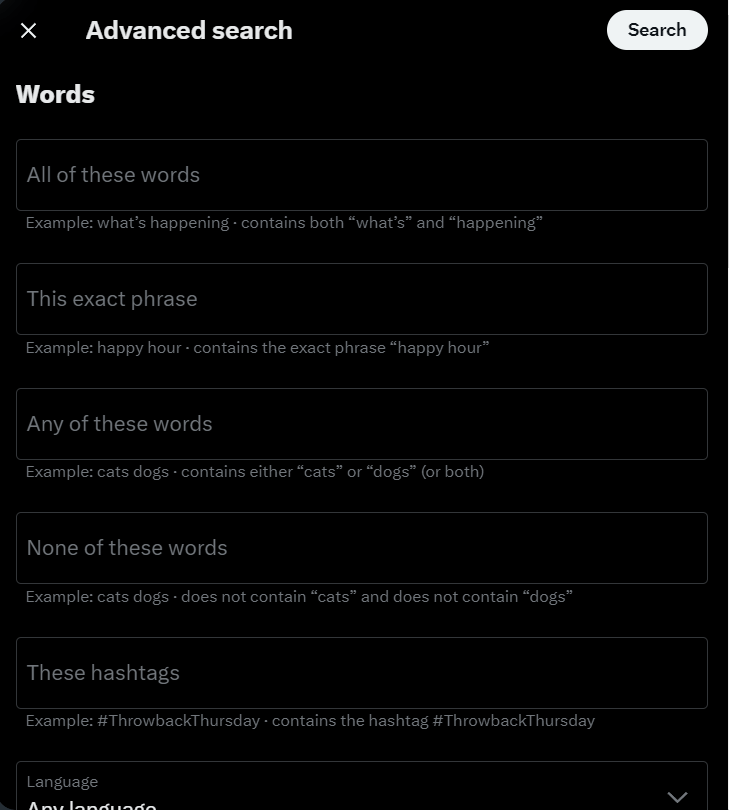 source
Prospects can often include their address in the Facebook "About" section. Despite the feature, this method can be unreliable since business contacts rarely mention addresses in their Facebook profiles.
You can leverage LinkedIn if your prospect or lead is connected with you on the platform. While you can view their "Contact Info" section to check if they have mentioned their residential address, you can also send a connection request to warm leads.
Once they accept your request, you can casually interact with them and ask them for their residential addresses. Since LinkedIn is a professional social media platform, you're more likely to receive their addresses.
Google

source
Search engines like Google and Bing can offer various contact information, including residential addresses when searching for the correct terms. You can search for blogs, posts, and other content containing their residential addresses.
However, the process is unreliable and tedious since you must go through every link on the SERP to verify that you're viewing contact information for the correct information.
Business users can also use Google Maps to view satellite images and location-based information when they search for particular terms to narrow down their results. You can also input their phone number to search for their location.
Requesting Postal Address Correction
To find qualified leads who have recently moved within the United States, users can find address by name and previous US residential address of an individual lead through the United States Postal Service (USPS).
If the recipient has requested mail sent to the previous address to be forwarded to the new address, you can follow this step-by-step guide:
1.Write the lead's last known address on a blank envelope.
2.Write your name and return address on the upper-left corner of the envelope.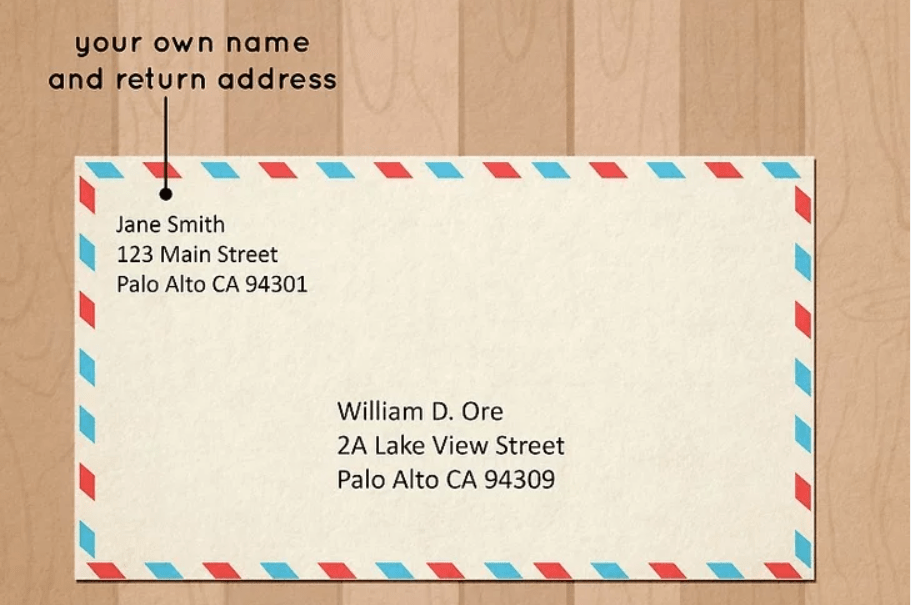 source
3.Add "Address Correction Requested Do Not Forward" under the previous address.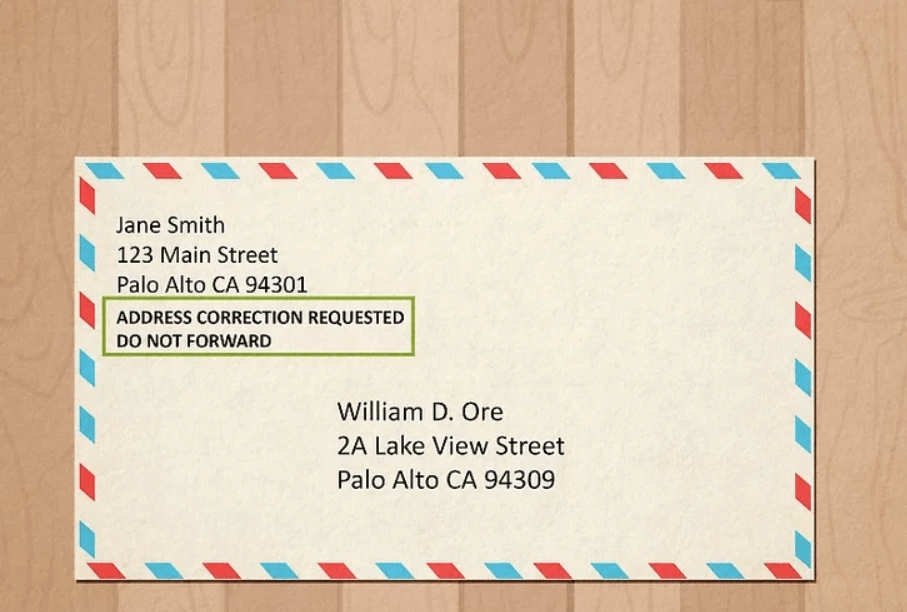 source
4.Attach a postage stamp and send the envelope.
However, requesting a postal address correction takes significant time and can be inconclusive if the prospect cannot receive forwarded mails.
Public Records
B2B users can leverage public records maintained by local, state, and government agencies like the Social Security Administration's Death Master File or National Property Database.
Remember that this process is tedious and may involve additional steps based on your prospect's state. Depending on the information you have on your leads, you can follow these two methods to find address from name:
County Tax Assessor Office – If you know your prospect or lead's county, you can find their addresses through their local county tax assessor. You can make a simple Google search for "[county name] tax assessor."
Most websites have a free search option or contain steps to search the county's public records.
Suppose the county does not have the information you're looking for. In that case, you can use NETROnline, a free online directory of the United States tax assessor, treasurer, and recorder office websites.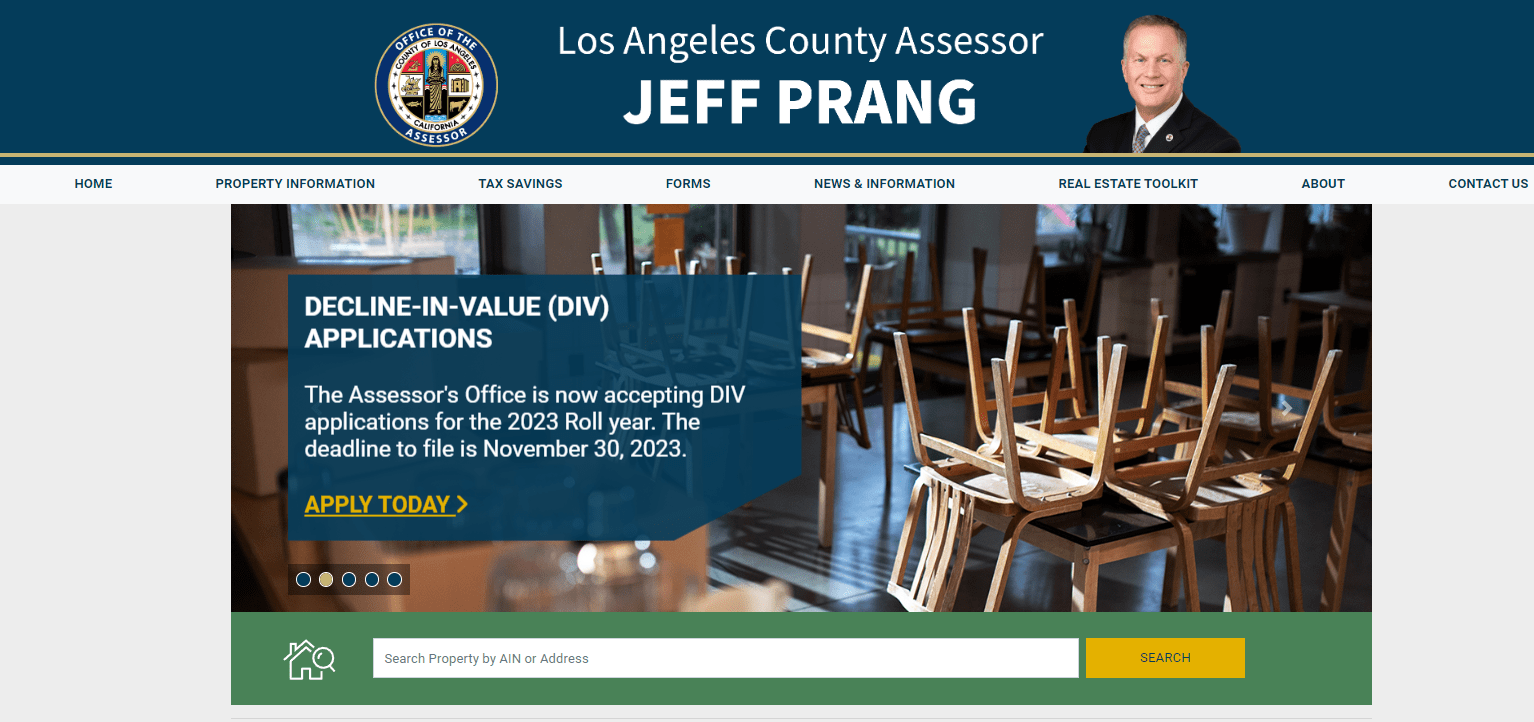 source
Request a public voter registration list – The state your leads reside in can allow certain people to access a complete list of registered voters. However, some regions may charge a fee to access registered voter lists.
Now that I have listed the methods to find address from name only, you can see that most of these techniques have their caveats and drawbacks, like keeping certain data behind premium subscriptions or having tedious processes searching public records to find a single prospect's data.
Searching for addresses on social media and search engine platforms is a tedious and time-consuming process with no guarantee of success or verified contact information.
People finder sites have data locked behind premium plans and free trials but can often show outdated residential addresses.
B2B companies that want to enhance their outreach strategies with direct mail campaigns and access accurate contact information for verified profiles worldwide can trust Swordfish AI's suite of features.
Swordfish AI: Reliably Find Prospect Addresses Instantly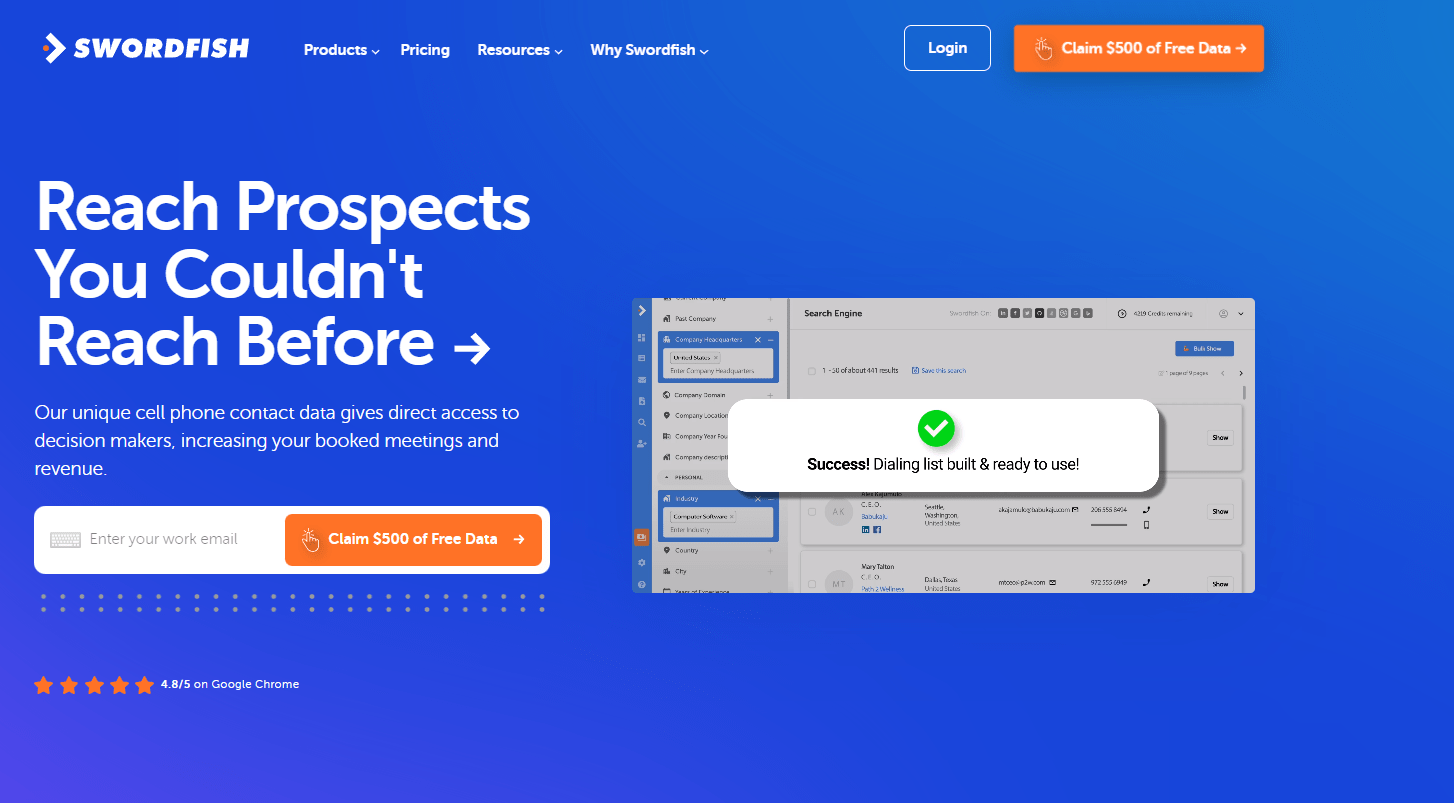 source
Swordfish AI is a powerful prospect-finding tool that helps B2B users find residential addresses and other relevant contact information for high-value leads by leveraging an extensive database where you can search for prospect data individually or in bulk.
Swordfish AI reliably provides information for 3.5+ billion verified profiles by collaborating with 200+ data partners to report publicly available information, including residential addresses.
Features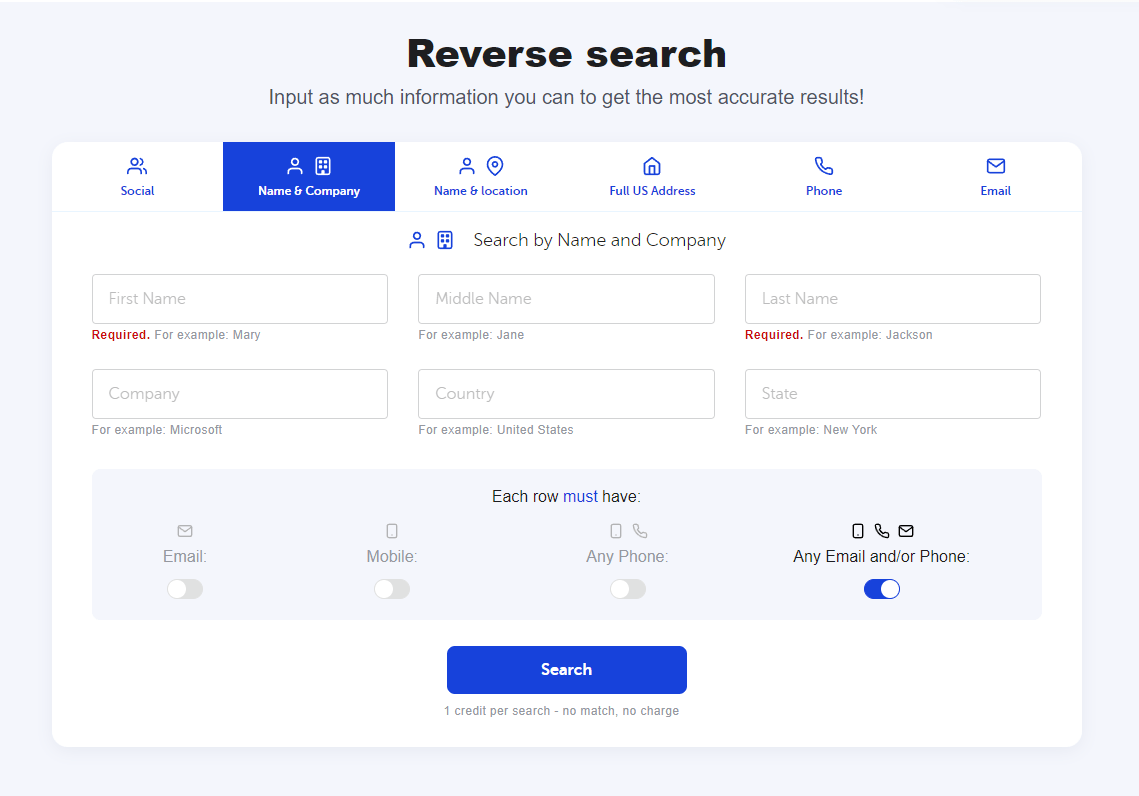 We also let you prioritize your contact data requirements with the "must-have" data feature to specify that you need residential addresses for high-value leads. Swordfish AI charges you based on the information we provide for the "must-have" data.
You can upload your files in Excel or .CSV formats on our browser platform to fill out data in bulk.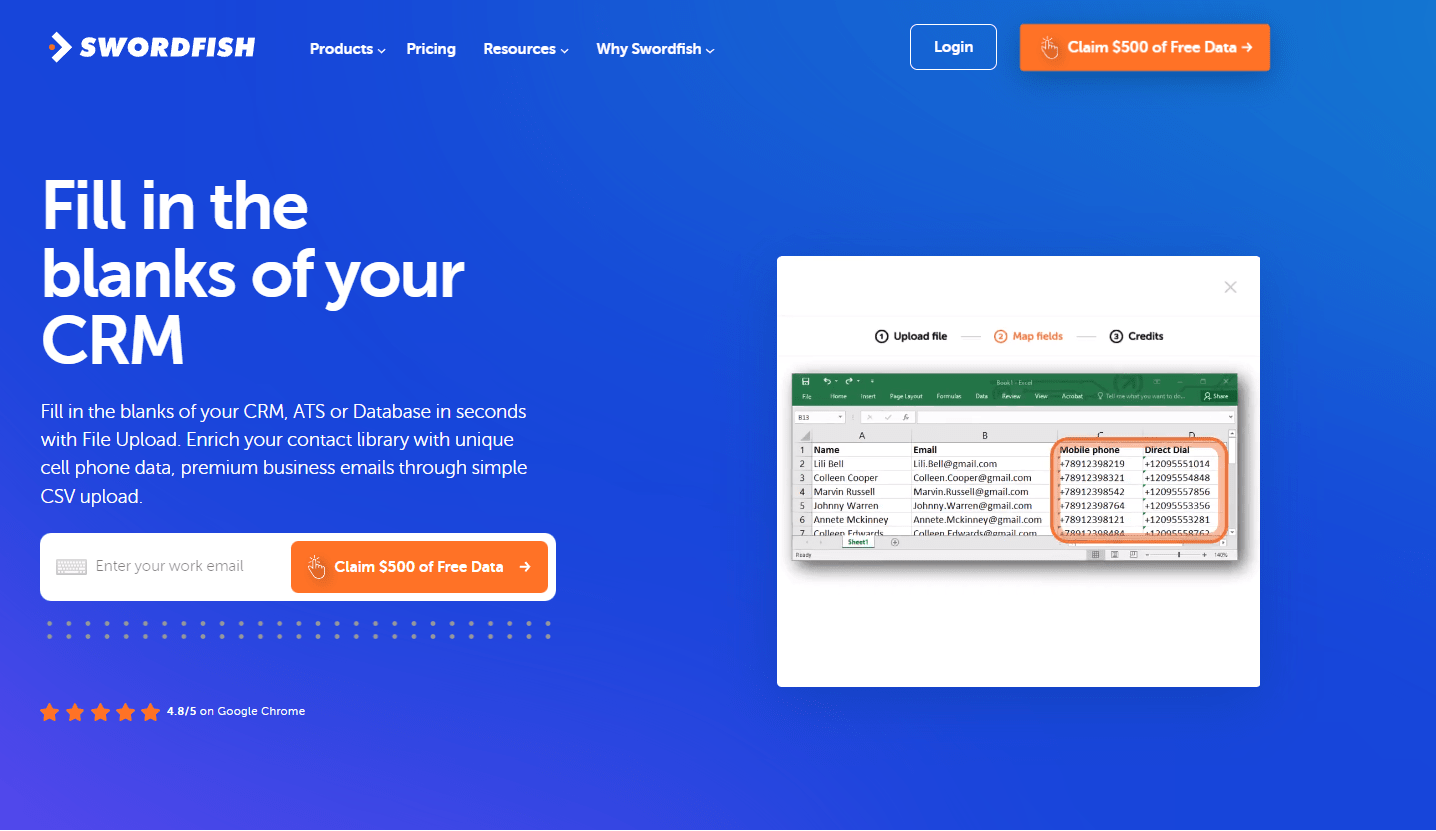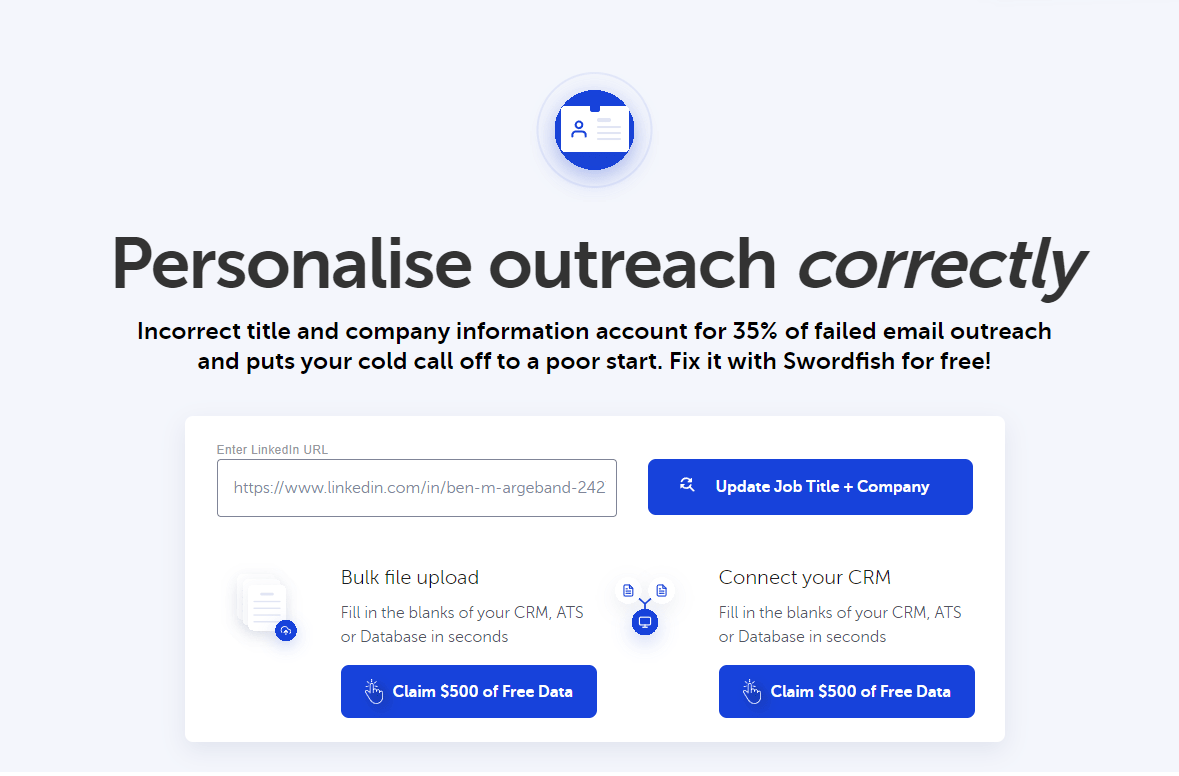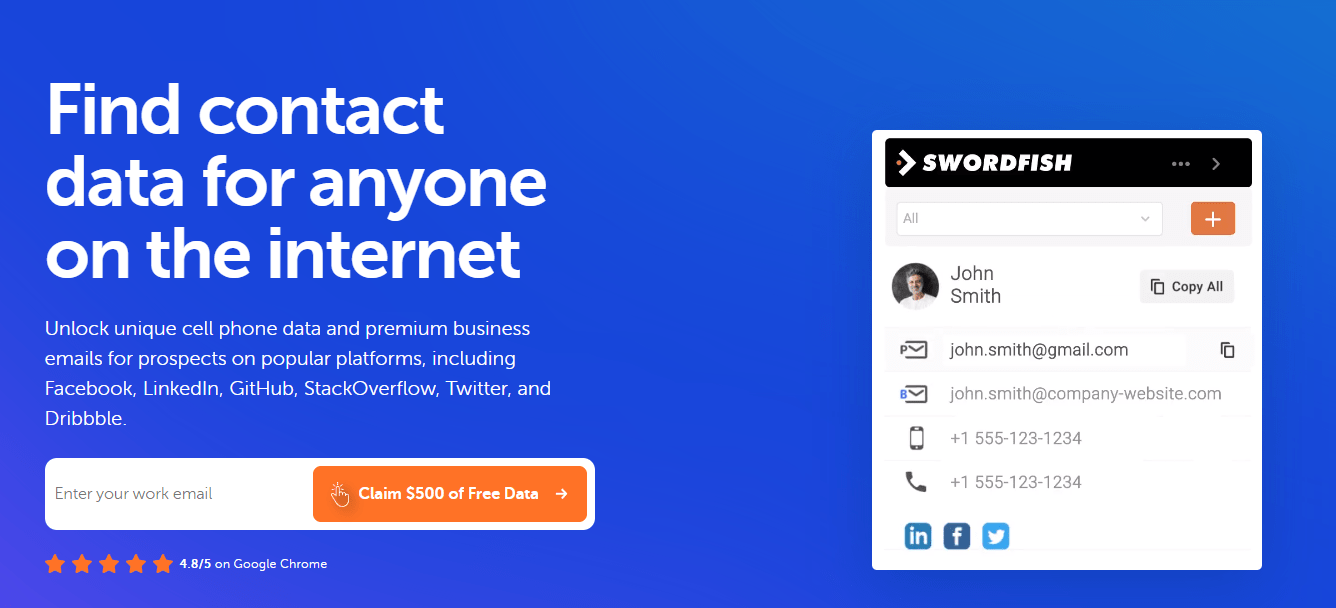 Swordfish AI's Bombora integration provides buyer intent data to enhance your marketing strategies. We offer a flexible pricing plan catered towards various teams working in your organization to assist them in increasing conversion rates and closing more deals.
Contact us for a personalized plan based on your prospect data requirements, or try our features risk-free with a free trial.
Conclusion
Prospects and leads in your sales funnel must be targeted consistently to make them go through the stages and eventually convert into long-term paying customers.
While there are several inbound marketing strategies, sending direct mail to high-value leads is an excellent strategy to personalize your brand offering and incentivize them into becoming loyal customers with branded gifts and promo codes.
However, sending mail requires knowing their residential addresses, which can be challenging to find since prospects are unlikely to leave their full address on fill-up forms. You can find addresses with names after you implement the methods I have listed, but they have their respective drawbacks.
Swordfish AI offers accurate contact information for over 3.5 billion verified profiles, including residential addresses and other relevant contact information. Our Reverse Search feature is an excellent way to find address from name alone.
You can try our features risk-free with a free trial or contact us to discuss your company's data requirements. We will tailor a customized plan that fulfills the requirements of every team in your organization to help you reach out to prospects faster and close more deals.
Show your appreciation to loyal customers with branded gifts through direct mail after you find their residential addresses instantly on Swordfish AI!