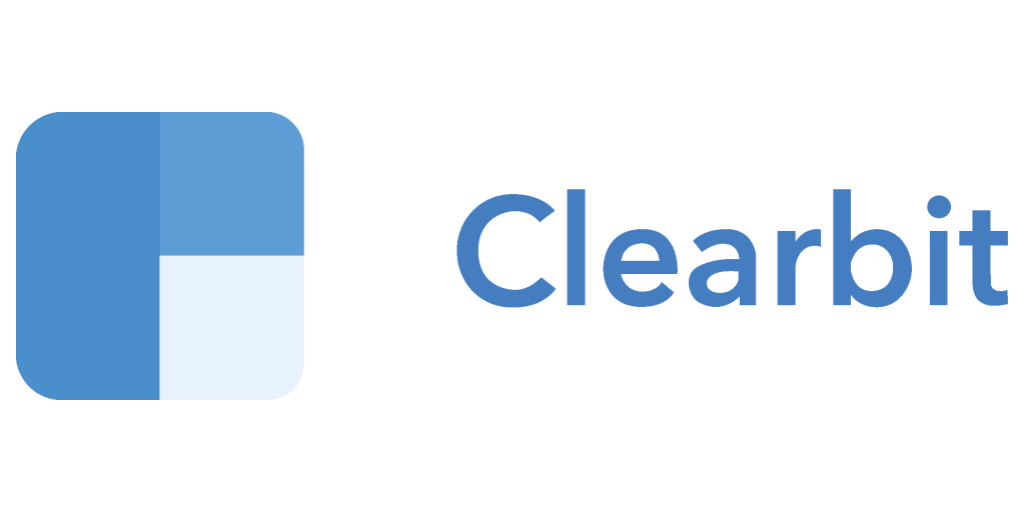 Clearbit is a data platform for sales and marketing that offers a range of products, including data enrichment, lead generation, and more. Clearbit's most notable integration is Clearbit for Salesforce, a Salesforce AppExchange app for lead enrichment and prospecting. It also has direct integrations with Acquire.io, Customer.io, Drift, Heap, Intercom, Segment, Slack, Zapier, and many other services.
In addition, Clearbit can be directly integrated with a range of other services by passing data through Segment, Zapier, and Tray.io. Clearbit's APIs are also available via REST API.
However, Clearbit cost can be a concern for businesses looking for more cost-effective alternatives. Several Clearbit alternatives offer similar features and functionality at a lower cost.
In this article, we will explore Clearbit cost and alternatives and compare Clearbit cost and features to help you make an informed decision.
What is Clearbit?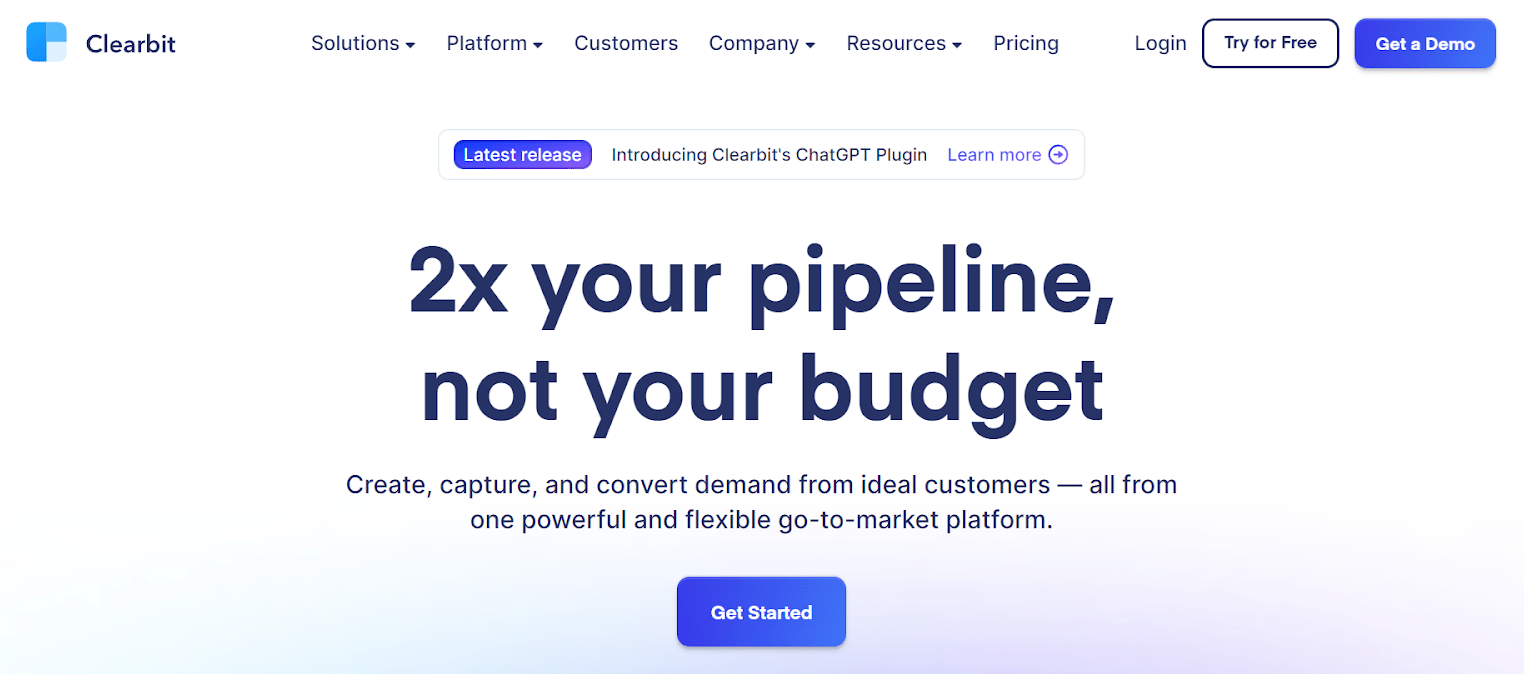 Clearbit is a data enrichment and intelligence platform that provides information about individuals and businesses.
It gathers data from various sources, including public records, social media profiles, company websites, and more, and organizes it into a comprehensive database. Clearbit offers APIs and integrations allowing businesses to access this data and enhance their applications, products, or services.
Clearbit's data enrichment services can provide valuable information such as contact details (email addresses, phone numbers), social media profiles, job titles, company information (industry, size, location), technology usage, and more.
You can use data for many purposes, including sales and marketing activities, lead generation, customer support, and personalization of user experiences.
Clearbit's APIs and integrations allow businesses to integrate this data into their existing systems, like customer relationship management (CRM) platforms, marketing automation tools, and other software applications.
By leveraging Clearbit's data, businesses can gain deeper insights into their customers, prospects, and target market, enabling them to make informed choices and improve their overall operations.
Features of Clearbit
Data Enrichment: Clearbit offers powerful data enrichment capabilities that enhance customer data with valuable information. This includes enriching contact profiles with data like email addresses, phone numbers, social media profiles, job titles, company details, and more.
Company Enrichment: Clearbit provides detailed company information, such as company name, industry, location, employee count, funding data, and technologies used. This helps businesses gain insights into their target companies and tailor their strategies accordingly.
Lead Generation: Clearbit offers lead generation tools that enable businesses to find and identify potential leads. By specifying criteria such as industry, company size, job titles, and other relevant parameters, businesses can generate targeted lead lists to fuel their sales and marketing efforts.
Website Visitor Tracking: Clearbit's Reveal feature allows businesses to track and identify the companies visiting their website. It provides real-time insights into website visitors, empowering businesses to engage with them proactively and personalize their interactions.
CRM and Marketing Integrations: Clearbit integrates seamlessly with popular CRM platforms, such as Salesforce, HubSpot, and Marketo, enabling businesses to enrich customer data within their existing systems. This integration enhances customer profiles, improves lead scoring, and facilitates personalized communication.
Email Enrichment: With Clearbit Connect, a browser extension for email clients like Gmail, businesses can enrich their email contacts with additional information. It displays contextual data about the connections, allowing users to gather insights and tailor their communication effectively.
API Services: Clearbit provides a range of APIs (Application Programming Interfaces), allowing developers to access and utilize Clearbit's data in their applications and systems. These APIs include Company API, Person API, Prospector API, and more, enabling businesses to retrieve and leverage Clearbit's data.
Analytics and Segmentation: Clearbit enables businesses to perform analytics and segmentation on customer and prospect data. This helps companies identify patterns, create targeted marketing campaigns, and better understand their customer base. Clearbit's features enable your business to enhance customer data, target ideal prospects, personalize communication, and gain valuable insights for effective marketing and sales strategies.
Clearbit cost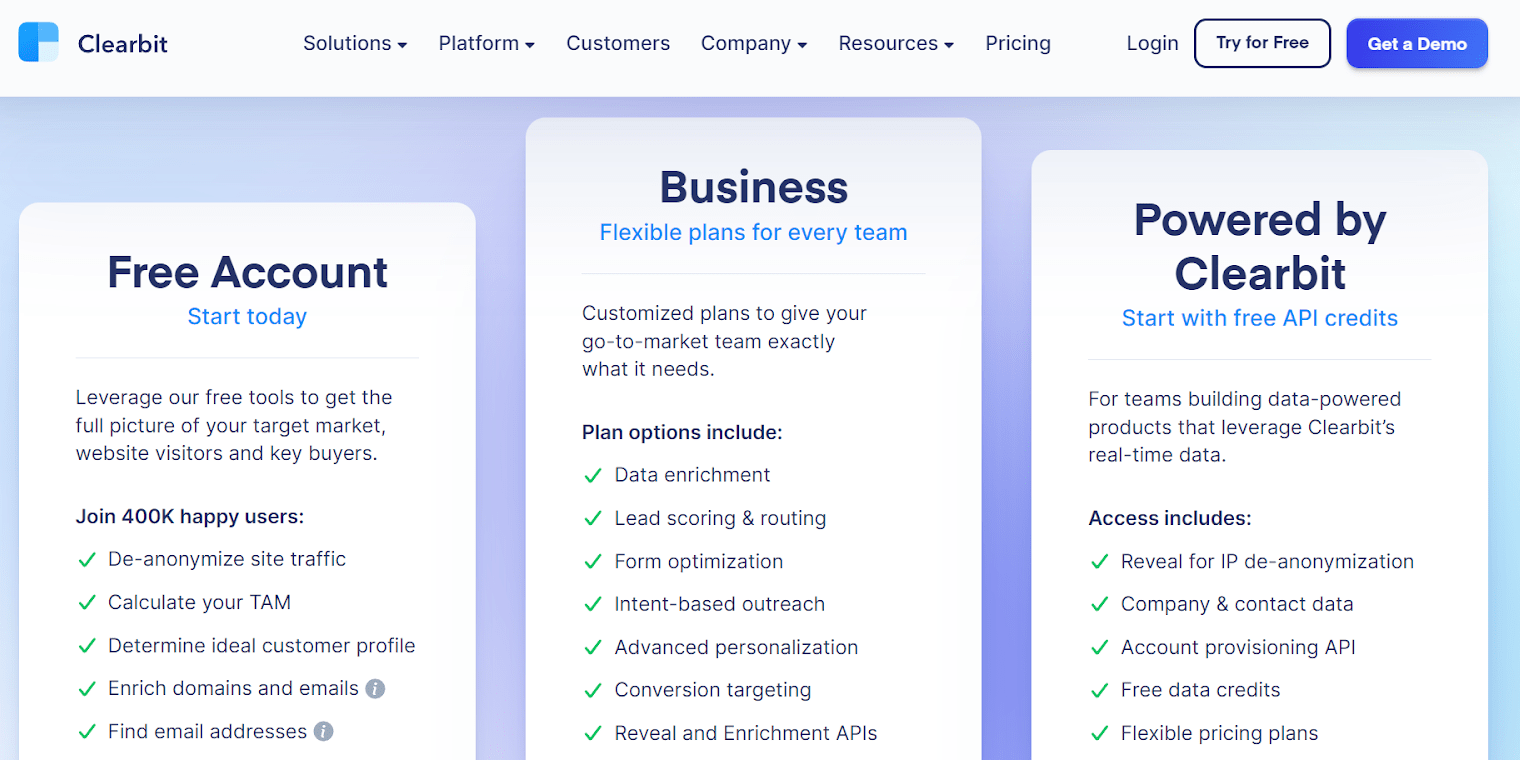 Clearbit offers flexible product pricing plans based on CRM and database size, monthly web traffic, or contact creation. Clearbit cost provides three types of plans, including creating a free account. Here, they have the features provided with Clearbit cost.
| Free Account | Business | Powered by Clearbit |
| --- | --- | --- |
| Clearbit provides free tools that can be used with a free account. The features include: | This is the customized plan to give your teams what they need. The features include: | This plan is for teams building data-powered products using Clearbit's real-time data. The features Include: |
| Determine the ideal customer profile | Lead scoring & routing | Company & contact data |
| Find email addresses | Form optimization | Free data credits |
| Calculate your TAM | Conversion targeting | Account provisioning API |
| De-anonymize site traffic | Data Enrichment | Reveal for IP de-anonymization |
| Enrich domains and emails | Conversion targeting | Flexible pricing plans |
| | Reveal and Enrichment APIs | |
| | Intent-based outreach | |
Clearbit provides powerful analytics that can help companies make better business decisions.
On the other hand, Swordfish.ai offers a more comprehensive approach to contact-finding with its network data partners and mission to save users time.
Swordfish.ai offers a free trial and money-back guarantee, which may make it a more attractive option for businesses looking for a contact-finding tool.
Clearbit and Swordfish.ai have different pricing structures. Clearbit has monthly plans starting at $99 and USD 199, while Swordfish.ai's pricing depends on the number of credits you select.
Therefore, Swordfish.ai is cost-effective with all flexibility in pricing and offers a free trial and money-back guarantee, which may make it a more attractive option for businesses looking for a contact-finding tool.
What is Swordfish.ai?
Swordfish.ai is a powerful lead generation and data analytics platform revolutionizing how businesses and organizations approach sales and marketing.
With its advanced data analysis capabilities, machine learning algorithms, and extensive database of over 3.5 billion business and consumer data contacts, Swordfish.ai is helping companies gain valuable insights into potential leads and customers, streamlining their sales and marketing efforts and driving business growth.
Swordfish.ai is a cloud-based platform offering businesses and organizations advanced data analysis and lead generation tools.
The platform uses machine learning algorithms and natural language processing (NLP) technology to analyze large volumes of data, including social media profiles, company websites, and other online sources, to give users valuable insights and intelligence on potential leads and customers.
The tool offers many features, such as prospecting, reverse search, API integration, file upload, and a Chrome Extension, that make it easy for users to gather data on potential leads and companies, generate new leads, and optimize their outreach efforts.
Features of Swordfish.ai
Here I have listed the key features of Swordfish.ai;
File Upload: This feature offers convenience, efficiency, and accuracy in handling data, making it a crucial aspect of the Swordfish.ai experience. One of the primary benefits of the file upload feature is its ability to streamline the data analysis process. Instead of manually inputting data into the platform, users can upload files containing their data in various formats, such as Excel spreadsheets, CSV files, and more. This saves time and effort, reducing the risk of errors during manual data entry. The file upload feature also allows businesses to work with larger datasets. Handling significant amounts of data manually can be time-consuming and prone to errors, but Swordfish.ai's file upload feature overcomes these changes.
Chrome extension: With this feature, businesses and individuals can conduct research, gather information, and streamline their lead generation efforts seamlessly. The primary benefit of the Chrome Extension is its ability to provide users instant access to crucial information about potential leads and companies. Installing the Swordfish.ai Chrome Extension lets users conveniently gather data on prospects and companies in real-time without leaving their browsing session. This eliminates the need for manual searches and data entry, saving time and effort in the lead generation process. The Chrome Extension feature lets users view company profiles with a single click.
Reverse search: This feature enables businesses and individuals to uncover valuable data about potential leads, customers, or contacts, empowering them to make informed decisions and optimize their sales and marketing efforts. The primary benefit of the reverse search feature is its ability to provide users with valuable information on the owner or associated account of a phone number or email address. By simply inputting a phone number or email address into Swordfish.ai, users can access a wealth of information about the individual or company connected to that contact information. The reverse search feature retrieves various details about the contact, such as their name, address, social media profiles, and other relevant data points.
Prospector: The Prospector feature of Swordfish.ai enables users to search for potential leads and customers based on specific criteria, providing access to a vast database of information to fuel their sales and marketing strategies. One of the primary benefits of the Prospector feature is its ability to refine lead searches based on various parameters. Users can define specific criteria such as industry, location, company size and more to target their ideal audience. By narrowing down the search results, businesses can focus on leads most likely to convert, saving time and resources. The Prospector feature provides users comprehensive company profiles, delivering detailed insights into each organization.
Swordfish API: Swordfish.ai's API (Application Programming Interface) feature is a robust tool that allows businesses and developers to integrate the platform's data analysis and lead generation capabilities into their applications and workflows. This feature enables seamless communication between Swordfish.ai and external systems, providing users with a flexible and customizable experience. One of the aspects of the API feature is the ability to extend the functionality of Swordfish.ai to meet specific business requirements. By leveraging the API, businesses can directly integrate Swordfish.ai's data analysis and lead generation capabilities into their existing applications, CRM systems, or marketing automation platforms. This allows for a unified workflow and a more streamlined user experience. These features of Swordfish enable your business to optimize lead generation, data analysis, and sales and marketing strategies, empowering you to make data-driven decisions and drive growth in a competitive business landscape.
Pricing of Swordfish.ai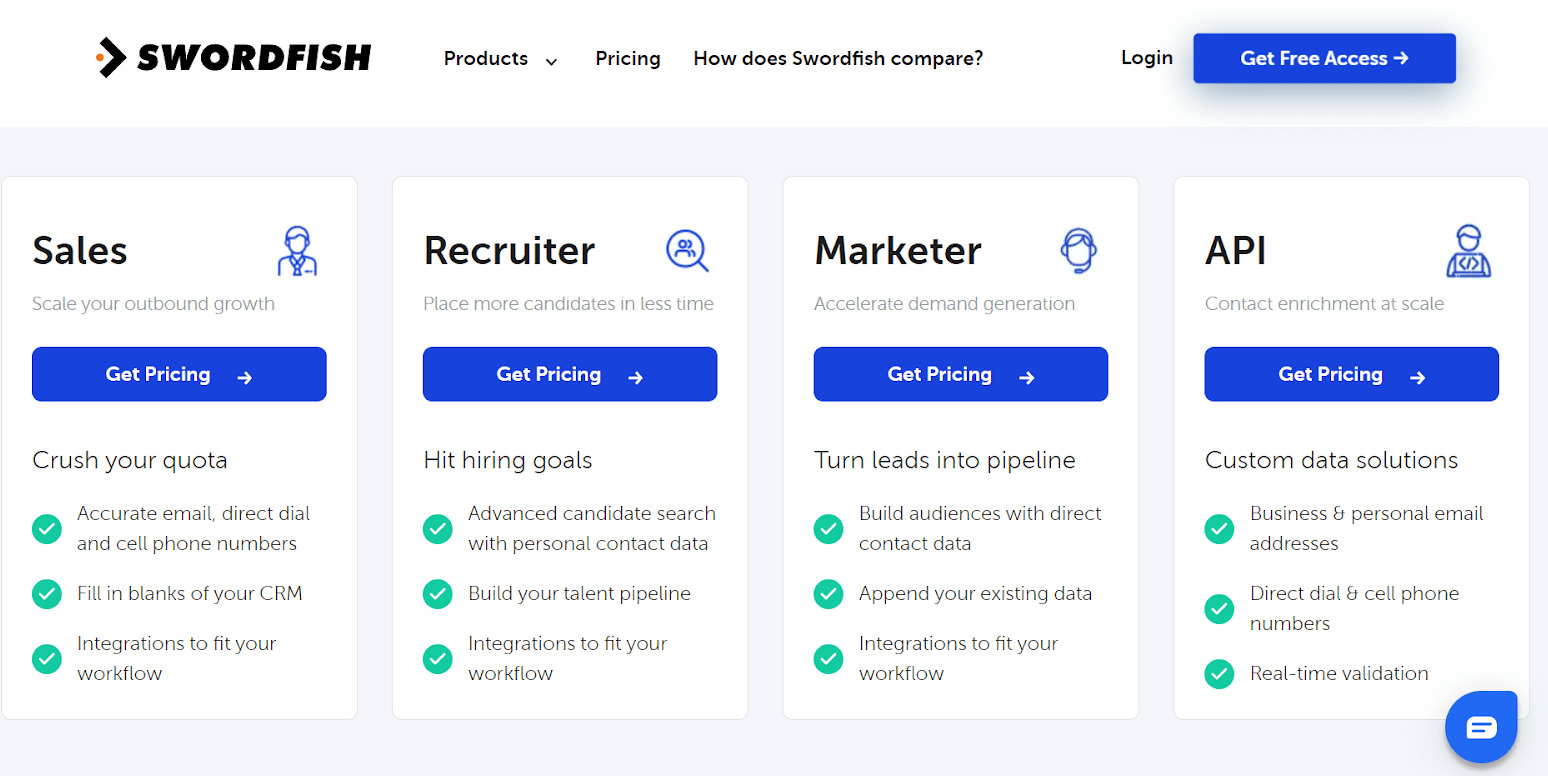 The pricing for Swordfish varies depending on the plan and the number of credits. Here are the pricing details from the search results:
According to Saasworthy, Swordfish has two plans: Small Business at $39.00 per month and Enterprise at $79.00 per month. However, how many users or credits are included in these plans is unclear. So contact us now to get an effective offer for your business needs.
| Sales | Recruiter | Marketer | API |
| --- | --- | --- | --- |
| This plan is meant to scale your outbound growth | This plan is for you to place more candidates in less time | This plan enables you to turn leads into the pipeline | The API is meant to enrich contacts at scale. |
| Accurate email, direct dial and cell phone numbers | Integrations to fit your workflow | Build audiences with direct contact data | Direct dial & cell phone numbers |
| Integrations to fit your workflow | Advanced candidate search with personal contact data | Integrations to fit your workflow | Business & personal email addresses |
| Fill in the blanks of your CRM | Build your talent pipeline | Append your existing data | Real-time validation |
Conclusion
Clearbit's Prospector tool is popular. It allows you to search for email contacts by company, department, and seniority. There are more cost-effective alternatives available in the market. Swordfish.ai is a better user experience and more affordable pricing plans.
Swordfish.ai's advanced AI algorithms and intuitive interface make it a better choice for B2B marketers seeking an efficient and effective contact finder tool. In addition, it offers a more affordable pricing plan and a better user experience. By using Swordfish.ai, B2B marketers can save time and money while getting accurate and up-to-date contact information for their target audience.
So, try Swordfish.ai for yourself now by signing up, and you can also get a free trial of the Swordfish platform to experience it yourself.