Are you tired of searching for the perfect email addresses and phone numbers to connect with potential customers or partners? It can be daunting, especially in today's digital age, when an email is used for primary communication.
But fear not! With the help of some online tools, we can easily extract contact information from social media profiles and websites.
In this article, I'll walk you through the concept of email lookup and how it can revolutionize how you grow your business. As a result, you'll be able to connect easily and expand your network like never before.
What is Email Lookup?
Email lookup involves searching for email addresses and phone numbers linked to an individual or organization, utilizing different tools and methods to extract data from online sources.
B2B companies must find contact information for potential clients or partners, making email lookup important. Therefore, B2B email search services specialize in providing business-related contact information, such as email addresses, phone numbers, and job titles.
Advantages of Email Lookup
Email lookup can be used for a wide range of purposes. With the right tools and resources, it can be a valuable asset for anyone looking to leverage the power of email communication. Let us discuss some significant benefits of it.
Connecting with Potential Customers
Searching for email online can help you find the email addresses of potential customers, which can be used for email marketing campaigns. Email is an affordable and effective way to reach potential customers and promote your products or services.
Finding the email addresses of people in your industry or related fields can be useful for networking, collaborating on projects, and building professional relationships.
Research and Verification
Online tools can be used to identify individuals and verify the validity of email addresses. This is useful for businesses that must ensure that their email addresses are accurate and up-to-date.
Emails can be used as a background check to gather information about an individual. This is very useful for you if you want to verify the information provided by job applicants or for individuals who want to investigate someone they have met online.
You can get protection against fraud by identifying fake email addresses or by checking the validity of emails from unknown sources. This can help individuals and businesses to avoid phishing scams and other types of online fraud.
Why use Email Lookup Tools?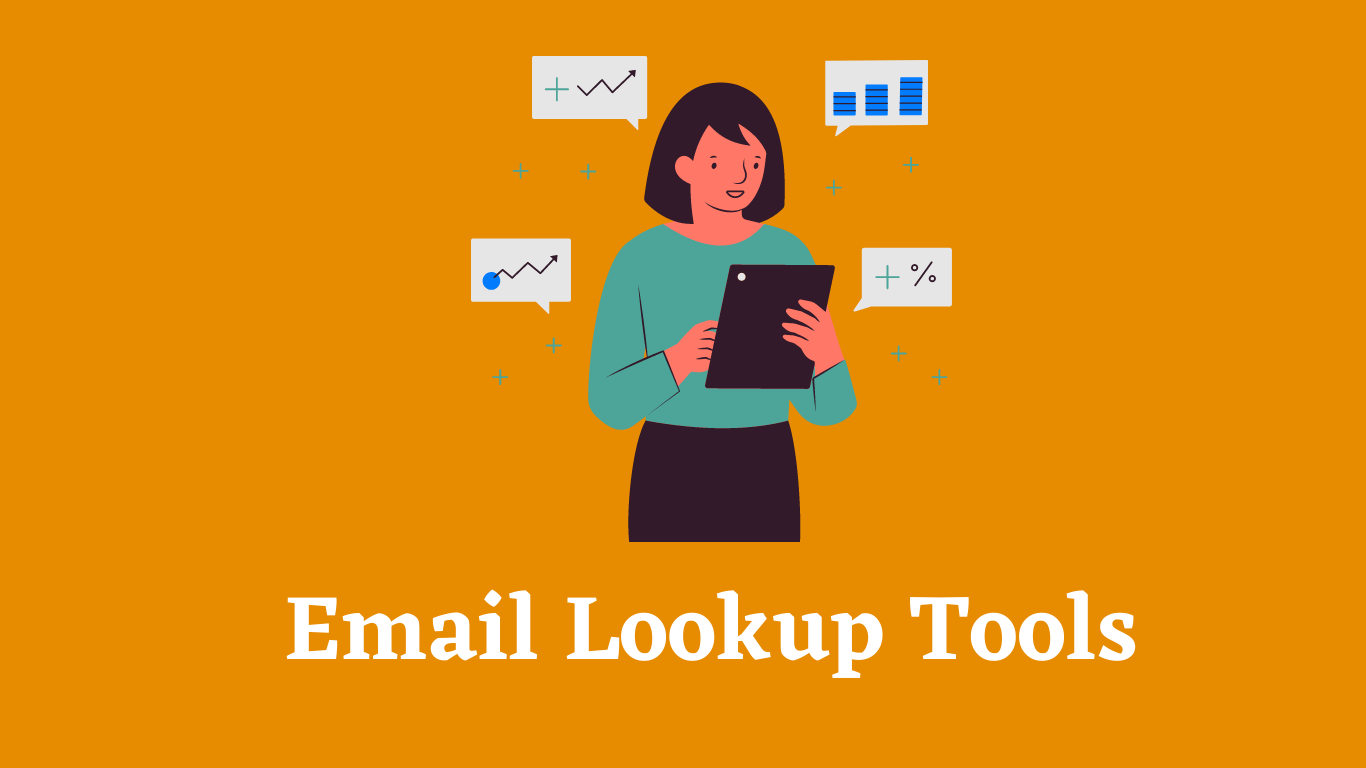 Several methods exist to perform an email search, but the most common one involves using online services. These services use advanced algorithms and databases to match the email address with the corresponding contact information.
These tools enable you to search for the contact information of individuals, organizations, and businesses, even if you don't know their email addresses. Here are some reasons why you should consider using email searching tools:
Save Time and Effort
Searching for someone's email address manually can be a daunting and time-consuming task, particularly if you need to contact many people. Online Email search tools can help you find the email addresses of individuals and businesses in seconds, freeing up your time to focus on other important tasks.
Build your Network
These online tools provide you with accurate and up-to-date contact information. This enables you to connect with people who might otherwise be difficult to reach. So whether you're looking for new clients, job opportunities, or industry contacts, email searching tools can help you expand your network and make meaningful connections.
Ensure Online Safety
Email searching tools can help avoid scams, phishing attempts, and other online threats. In addition, they verify the identity of unknown senders and protect your personal or professional security.
Improve Email Marketing
By providing accurate and up-to-date contact information, these tools can help you build targeted email lists more likely to generate engagement and conversions. This can be particularly useful for businesses that rely on email marketing as a key component of their overall marketing strategy.
5 Best Email Lookup Tools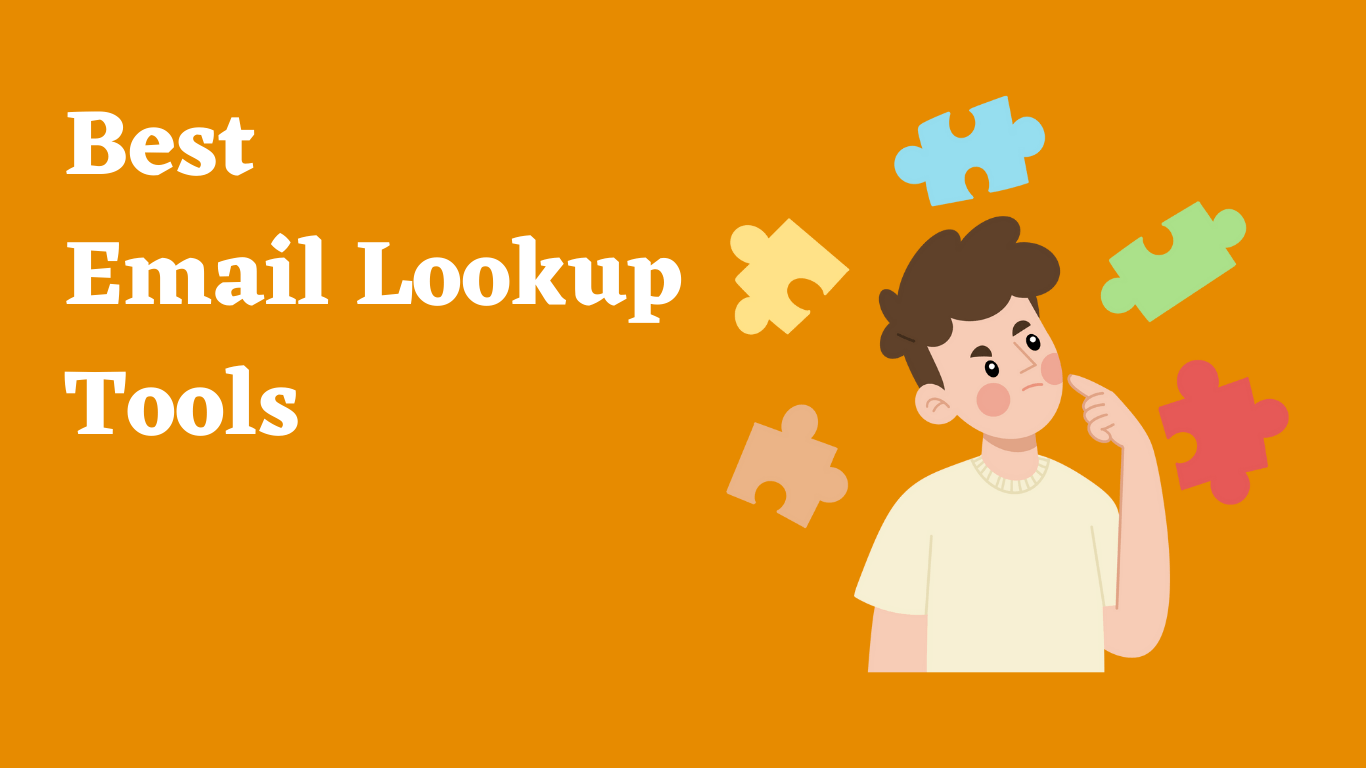 1. Swordfish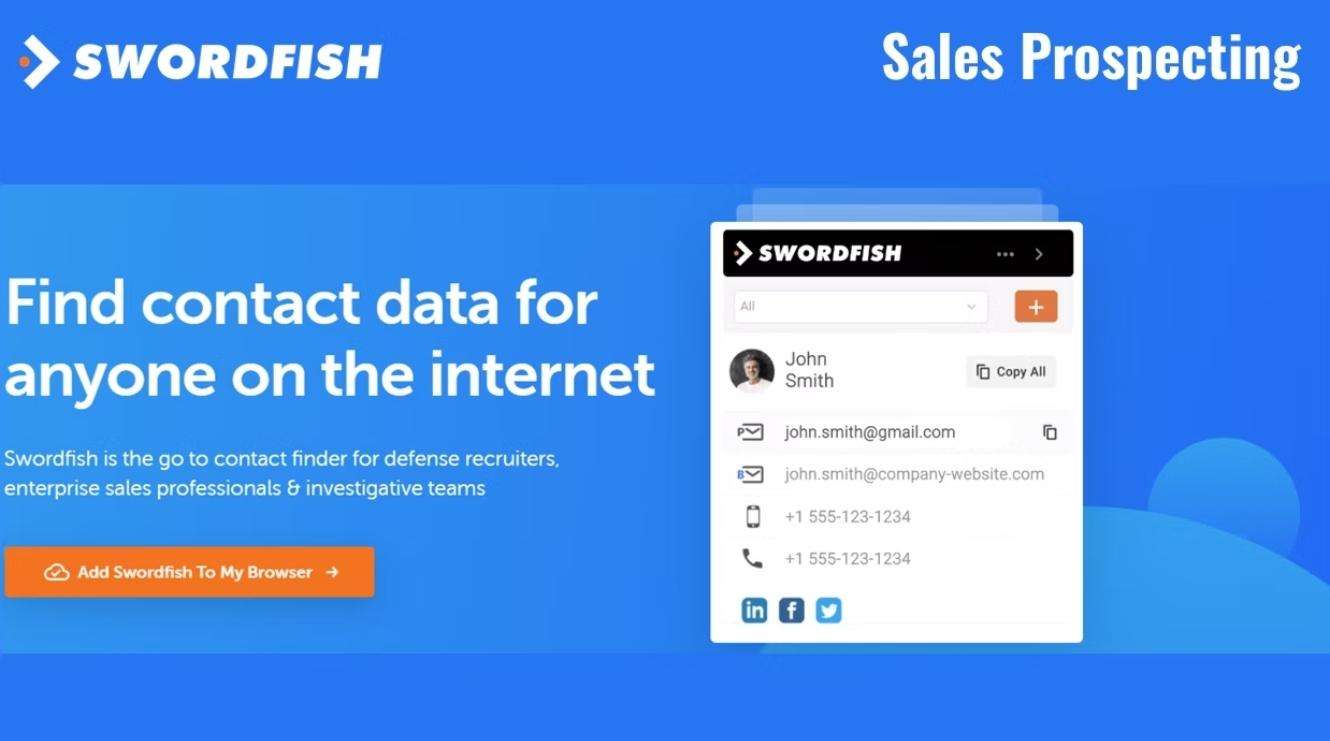 Swordfish is a reliable email and cell phone number finder tool that can help businesses and professionals find accurate and up-to-date contact information for individuals worldwide.
Its affordability and integration with various CRM tools make it an excellent option for businesses of all sizes.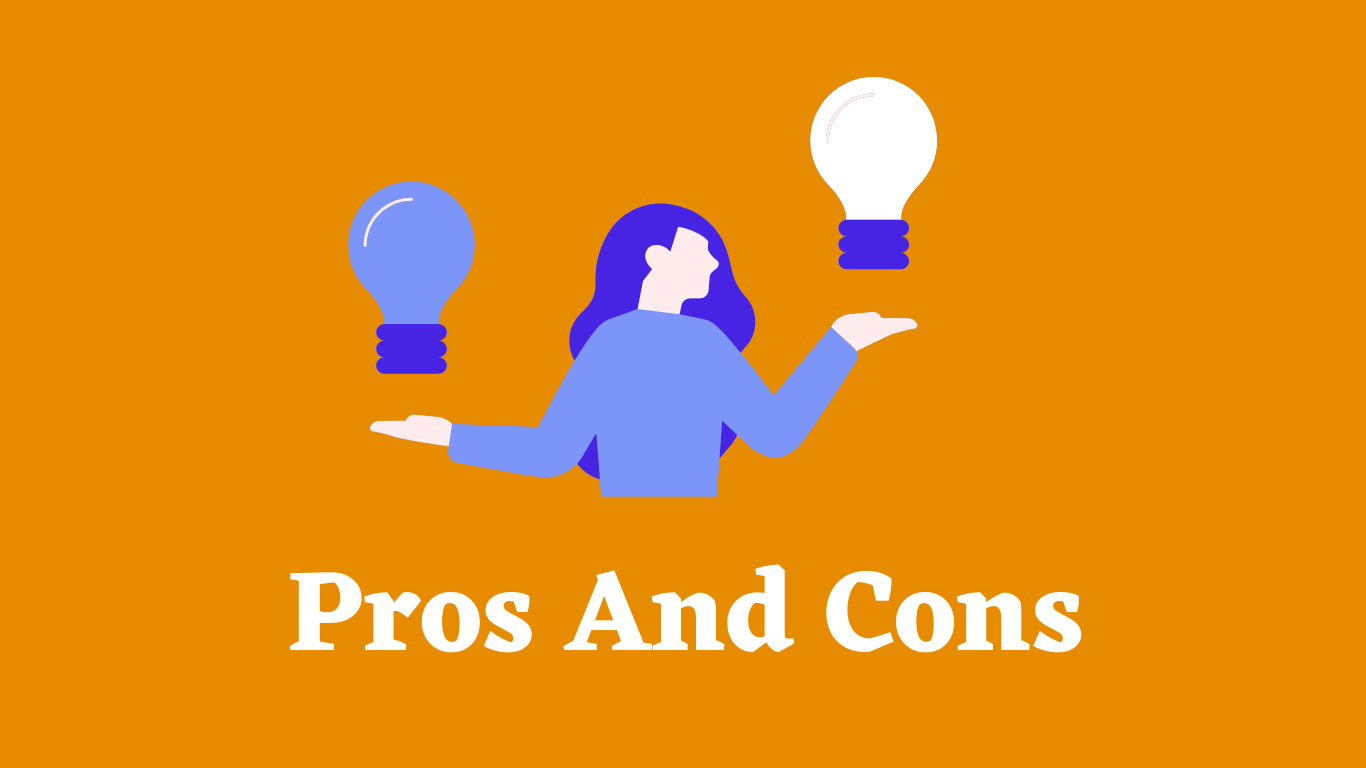 Pros
Large database: Swordfish has a vast database of contact information for individuals, including email addresses and cell phone numbers.
Accurate results: The platform uses advanced algorithms and data sources to verify and update contact information regularly, ensuring that the results are accurate and up-to-date.
Easy to use: Swordfish is a user-friendly tool that requires no technical expertise. For example, you can easily search for contact information using keywords, domains, or other parameters.
Integration: Swordfish can integrate with various CRM tools, including Salesforce, HubSpot, and Zoho CRM.
Affordable: Swordfish offers a free trial, and its paid plans are reasonably priced, making it an affordable option for businesses of all sizes.
Cons
Limited free trial: The free trial version only allows users to perform a limited number of searches.
Pricing
Swordfish AI offers a custom-sized free trial suited to the organization's needs. The Swordfish AI pricing page contains information on different plans, including custom enterprise solutions. 
2. Rocket Reach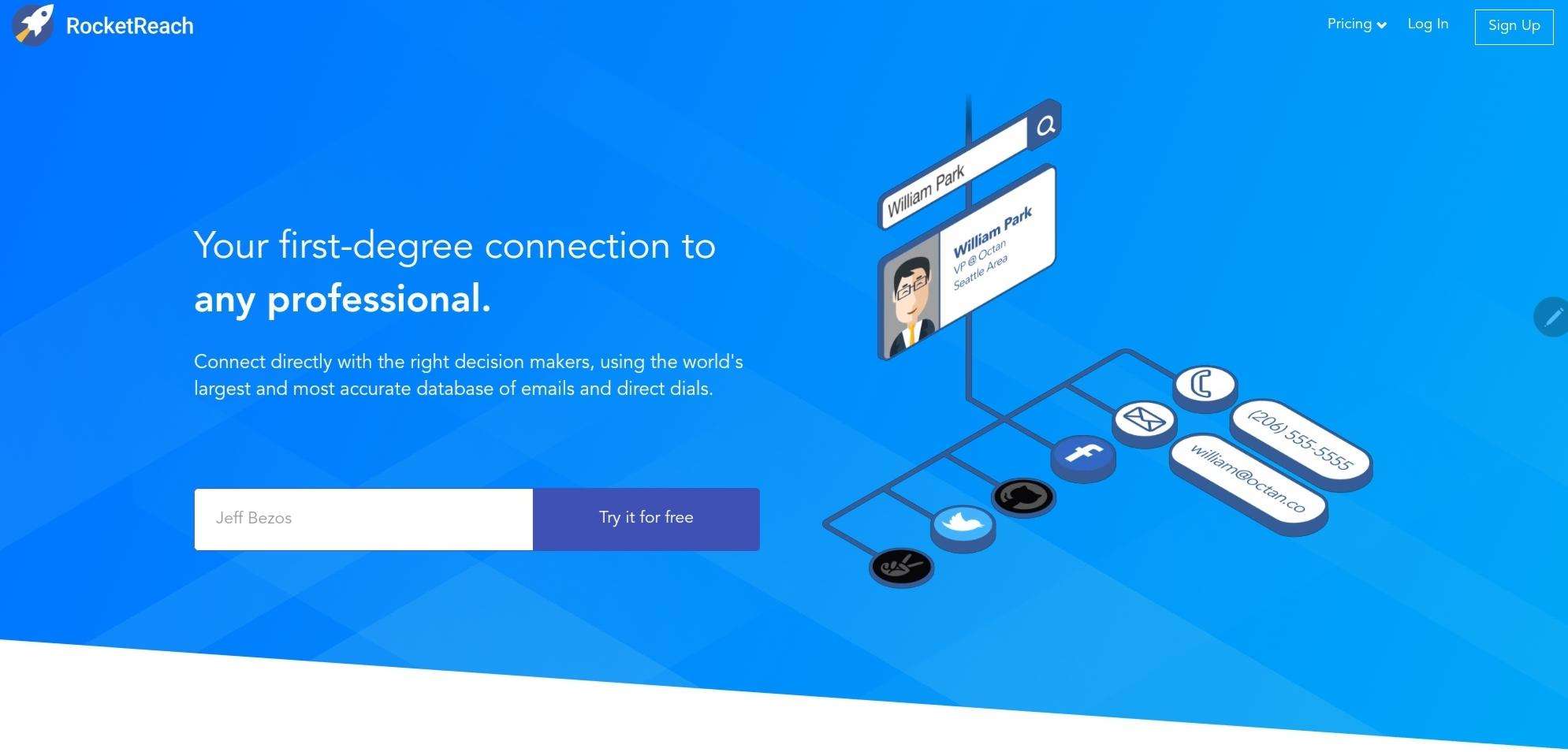 RocketReach is a powerful tool that helps businesses and individuals find contact information for professionals and companies.
It uses machine learning algorithms and data from various sources to provide accurate and up-to-date email addresses, phone numbers, and other contact information.
Pros
Good for Large Teams and Companies: The platform offers various plans to accommodate different team sizes and needs, making it a versatile option for businesses of varying sizes.
Large Database: RocketReach has an extensive database with access to millions of professional contact profiles. This includes email addresses, phone numbers, job titles, and social media profiles.
Advanced Features: RocketReach offers advanced features that can enhance the user experience, such as email verification, team collaboration, and integrations with other tools.
Cons
Reportedly inaccurate email addresses: Some users have reported inaccuracies in the email addresses provided by RocketReach. Users need to double-check the accuracy of the data before taking action based on the information provided.
Lack of Filters and Small Database: The filters for email lookup are not enough and the database can be better.
No free plan: RocketReach does not offer a free plan, which can be a disadvantage for users on a tight budget or needing contact information infrequently.
Pricing
RocketReach offers several pricing plans, including.
Limited free Plan: RocketReach offers free lookups for the first five searches.
Essentials: It provides 1500 annual lookups /users, billed annually at $421.
Pro: 3600 annual lookups/user, billed annually at $853.
Ultimate: 10,000 annual lookups/user, billed annually at $2149.
3. Lusha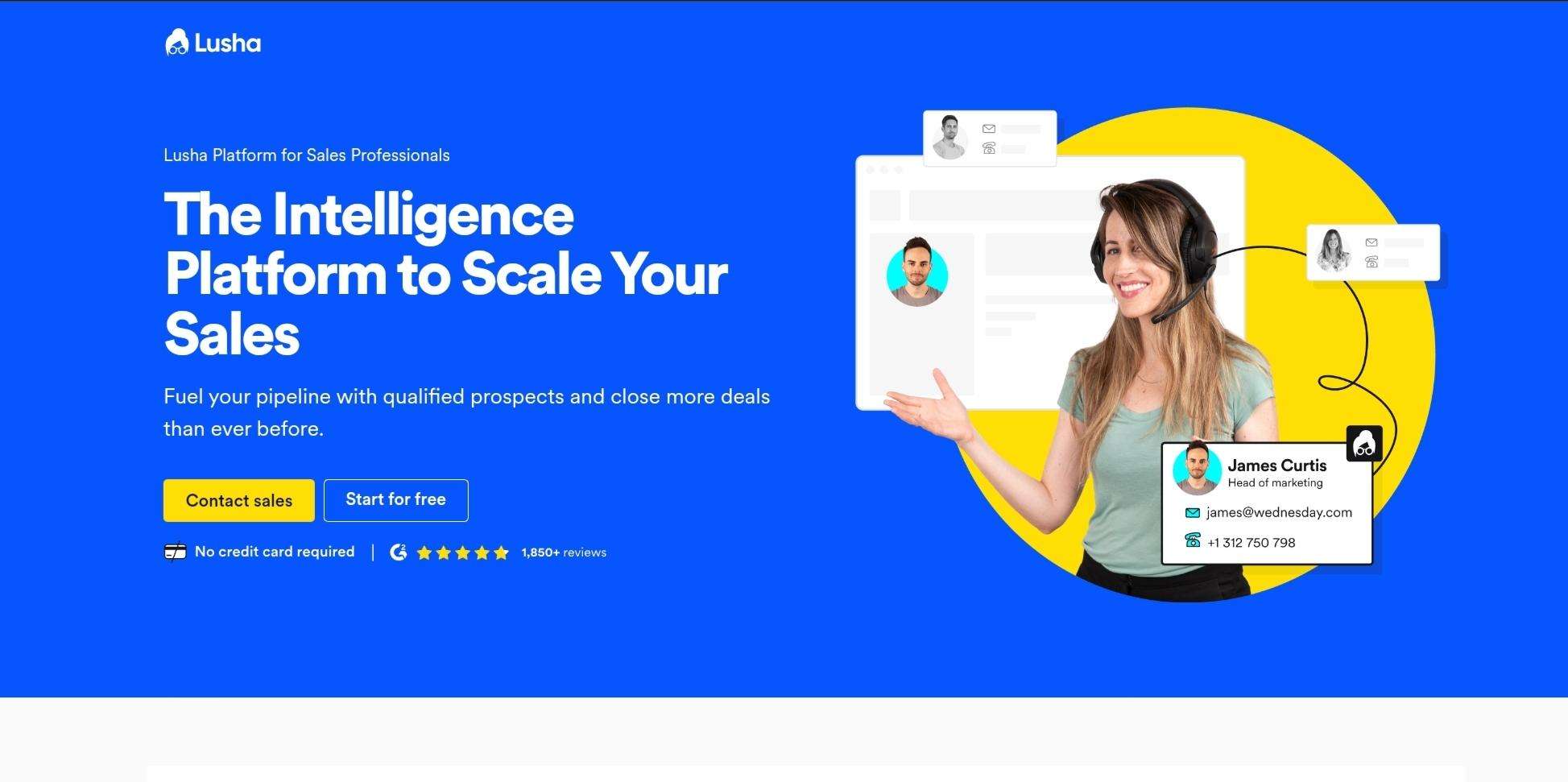 Lusha is another popular information tool that helps businesses and individuals find contact information for professionals and companies. It uses advanced technology and data from various sources to provide accurate and up-to-date email addresses, phone numbers, and other contact information.
Pros
Access to professional and personal data: Lusha provides access to both the professional and personal data of individuals, which can benefit businesses and individuals who need to obtain contact information for sales, marketing, or networking purposes.
Fairly large database: Lusha has a fairly large database with access to information on millions of individuals. This extensive database can benefit businesses and individuals targeting a large audience or specific demographics.
Cons
No data accuracy guarantee: Lusha does not guarantee the accuracy of its data.
Complicated: Looking for a specific person's contact information is complicated.
Priced higher than average: Lusha's pricing is higher than the industry average for similar services. The cost can add up quickly for frequent users or those who need to access large amounts of data regularly.
Pricing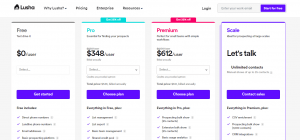 Lusha offers several pricing plans, including
Limited free Plan: It gives five credits per user.
Pro: Starts at $348 per user for 480 credits per user. It can be upgraded for more users and credits.
Premium: Starts at $612 per user for 960 credits for one user. It can be upgraded for multiple users as well.
4. SignalHire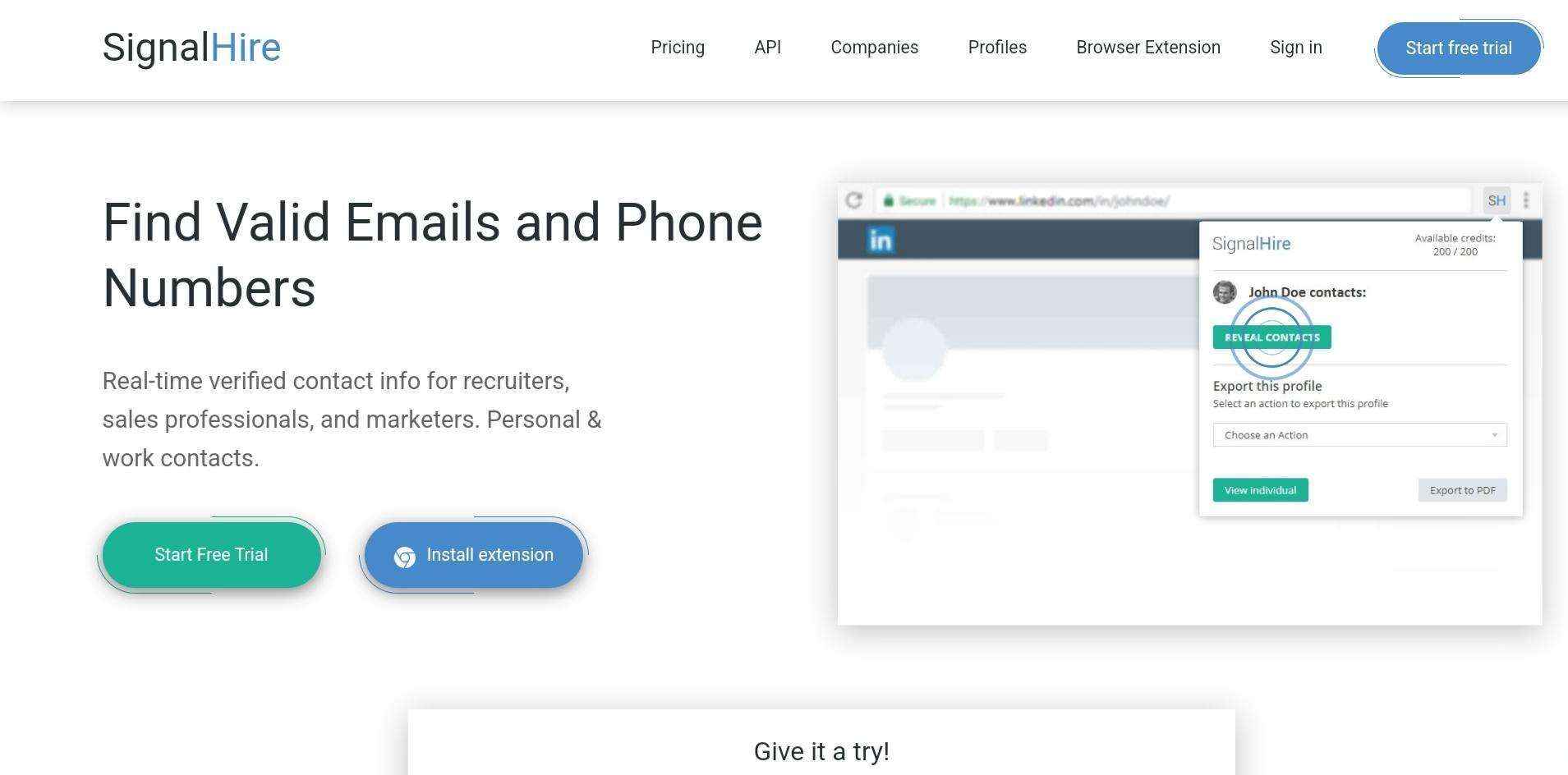 SignalHire is a reliable email searching tool that can help businesses and professionals find accurate and up-to-date email addresses. In addition, it is affordable and integrated with various CRM tools.
Pros
Simple UI: SignalHire is simple and user-friendly. The platform's design provides a seamless user experience and requires minimal training.
Flexible Pricing System: SignalHire offers a flexible pricing system that can accommodate different budget levels and usage needs.
Intuitive Confidence Level Feature: SignalHire has an intuitive confidence level feature that shows how likely the provided contact information is to be accurate.
Cons
Fairly Expensive for its Features: Some users may find SignalHire relatively expensive compared to other platforms offering similar features.
Lacks CRM: The CRM feature is not available and is under development.
May Require Some Getting Used to at First: While SignalHire has a simple and user-friendly interface, some users may find that getting used to the platform's features and functionality takes a bit of time.
Pricing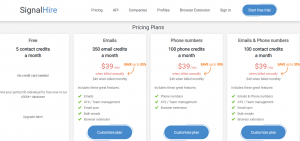 SignalHire offers multiple pricing plans:
Free Plan:5 Contact credits a month
Phone numbers: 100 phone credits at $39/month when billed annually and $49 monthly.
Emails: 350 email credits a month at $39/month when billed annually and $49 when billed monthly
Emails & Phone numbers: 100 contact credits a month at $39/month, when billed annually and $49 when billed monthly
5. Improver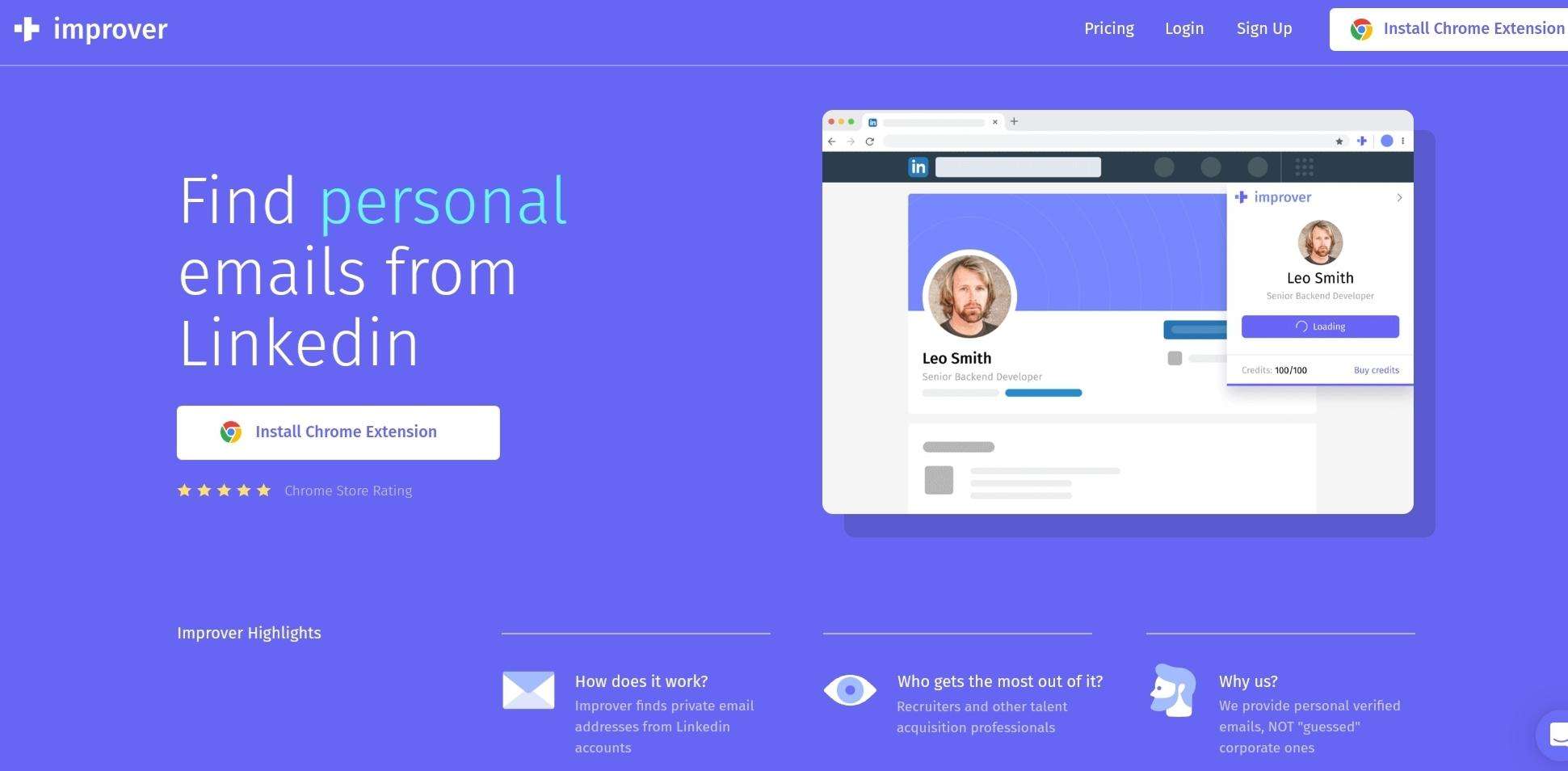 Improver is a sophisticated tool that enables businesses to find contact information from public records. It employs advanced technology to collect data from various sources and provide comprehensive and up-to-date email addresses and phone numbers.
Pros
User Friendly: Improver.io is a user-friendly and intuitive platform that makes managing and monitoring project progress easy. The platform's clean and modern design makes it easy to navigate and use.
Excellent Customer Support: Improver.io offers excellent customer support, with a responsive team always available to answer questions and provide guidance.
Cloud-Based: Improver.io is cloud-based, accessible from anywhere with an internet connection, making it a great tool for remote teams.
Cons
New Platform: Improver.io is relatively new, and some features may still be under development or refinement.
No native Integrations: Improver.io does not offer native integrations with some popular tools, meaning users may need to transfer data between systems manually.
Not suitable for Complex Workflows: The platform may not be suitable for teams with complex project management needs, as it is geared towards more straightforward project workflows.
Pricing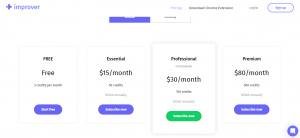 Improver offers several pricing plans,
Free Plan: 3 credits per month for free.
Essential Plan: priced at $15 per month for 50 credits.
Professional Plan: $30 per month for 150 credits.
Premium Plan: $80 per month for 500 credits.
With so many options available, it can be tough to know where to start. To make things easier, we have mentioned the details of Swordfish.AI below. This will help you understand its features and make an informed choice.
Why Swordfish Outperforms Other Email-Finding Tools?
Swordfish.AI is the ultimate solution for finding emails, using sophisticated algorithms to comb through openly accessible material online. Its easy-to-use Chrome extension lets you quickly search profiles and discover connections through web directories, social media, and other sources.
But Swordfish.AI's advanced search capabilities span a variety of web resources. Moreover, results are delivered in seconds, making your search quick and efficient. With the free trial, you can experience the power of Swordfish.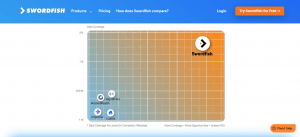 Some reasons why I suggest Swordfish over other email-searching tools are-
Chrome Extension: Swordfish's Chrome extension lets users easily find contact information on various websites. Once the tool is opened on a website, it quickly scans the profile to uncover email addresses, phone numbers, and other relevant contact information.
File Upload: This feature streamlines the process of enriching customer lists by allowing users to bulk upload data, such as names, job titles, company names, social profiles, locations, and business emails, to their lists.
Deep Search Engine: Swordfish's feature allows users to locate individuals based on their input data. This powerful tool can search social URLs or addresses, names and locations, email addresses, and more.
API: Swordfish offers an API tool that gives customers access to the platform's robust data. This API tool uses a standardized data model to offer scalable data management and storage services catering to each customer's specific needs.
Conclusion
Email lookup tools are valuable for businesses that want to grow their customer base and partnerships. By using them, you can automate finding email addresses and phone numbers, saving you time and effort.
However, choosing a reliable email lookup tool and verifying the results before using them is important. Swordfish is the best option, with lightning-fast search capabilities, advanced algorithms, and a user-friendly Chrome extension. So don't wait any longer – Sign up now for the free trial and start discovering the power of Swordfish.