A "sales pipeline" is a visual overview of your customer acquisition process and an indicator of where your leads stand in the sales process. Sales pipeline metrics provide detailed insights into your sales processes to help you determine the effectiveness of your strategy.
While you can analyze these metrics to view the time it takes for prospects to convert on a CRM tool and inform further optimizations to your sales process, your company can be overwhelmed with the amount of data you can gather for different metrics.
Learn about the critical sales pipeline metric to track that goes beyond the revenue acquired and inform you of the strengths and weaknesses of your sales strategy and funnels to move prospects through the stages faster. 
Why are Sales Pipelines and KPI Important?
Sales pipelines answer the fundamental question of how one prospect moves to the next stage of a sales funnel and how effectively they do so. Analyzing your sales pipeline while focusing on the correct metrics is the secret to skyrocketing your revenue.
You can predict your revenue, understand what your lead demographic wants to make them buy, and focus on moving them to purchase faster, find high-value leads, and future-proof your business plans. Sales pipelines highlight the stages you need to improve.
In the context of sales pipelines, KPI is a key performance indicator and refers to metrics that record the prospects' journey through the pipeline in numerical values. You can compare the performance and effectiveness of pipelines and sales reps with numbers. 
Regarding the important metrics you need to look out for, here are the 12 sales pipeline metrics to track to optimize your sales funnels for more significant ROI.
12 Sales Pipeline Metrics That You Need To Track
Keeping yourself updated on every possible metric can shift your focus from the essential ones and result in wasting resources to tweak unnecessary elements of your sales pipeline. 
Here is a comprehensive list of the critical metrics you need to track, including what they mean for your sales funnel: 
1.Number of Qualified Leads
Arguably one of the most common sales pipeline metrics to track, a steady supply of qualified leads ready to purchase with your company is essential for revenue growth. 
Qualified leads are customers who fit your company's predefined criteria and are sales-ready. Purchased leads cannot be considered qualified leads. Effective sales pipelines are supposed to generate new qualified leads every week.
You must track inbound and outbound leads to ensure your sales reps gather enough leads to hit your company's revenue goals. You can leverage prospecting tools to help find leads easier.
Sales pipeline performance can be measured by calculating the effectiveness of your sales initiatives and activities, lead volume, and lead quality. 
2.MQL to SQL Conversion Rate
MQL stands for Marketing Qualified Lead, a term for leads that engage with your product or service's content (blogs, Ebooks, newsletters) but are not sales-ready yet. SQL is Sales Qualified Leads who fit your ideal customer criteria and are ready to buy.
The MQL to SQL conversion rate shows the percentage of leads you gather that eventually become leads ready to purchase. The industry standard for MQL to SQL percentage is 13% (13 sales-ready leads from 100 leads gathered from marketing).
As a sales manager, you need to keep track of MQL, SQL, and PQL (Product Qualified Leads who want to buy after using a free trial for your product).
3.Sales Pipeline Velocity
Sales pipeline velocity refers to the speed at which your prospects move through your sales funnel. The faster your prospects move through the pipeline and make a purchase, the more time you have to focus on generating more leads.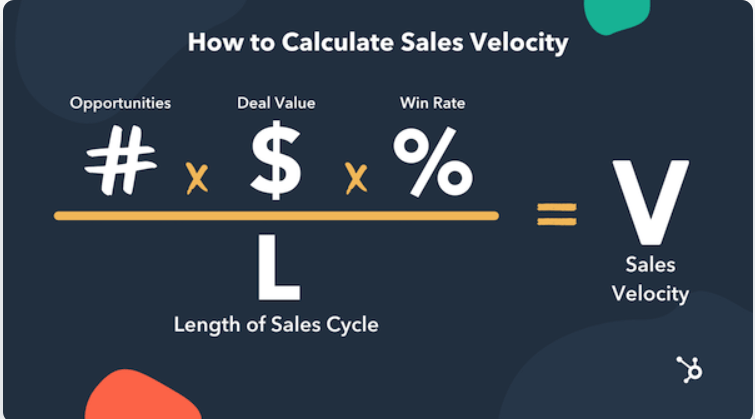 The sales velocity KPI is calculated using the equation shown in the above image. Improving your sales velocity comes down to tweaking one or all of the elements referred to in the equation. 
Sales velocity can help you calculate the revenue your sales strategy brings in monthly and shows the exact days your production is at peak so that you can optimize your efforts based on the best-performing weeks of the month. 
4.Average Sales Cycle Length
A sales cycle is the time it takes to convert a lead from first contact to finalizing conversion and closing a deal. You can calculate the average sales cycle length by dividing the days to close deals by the number of deals closed.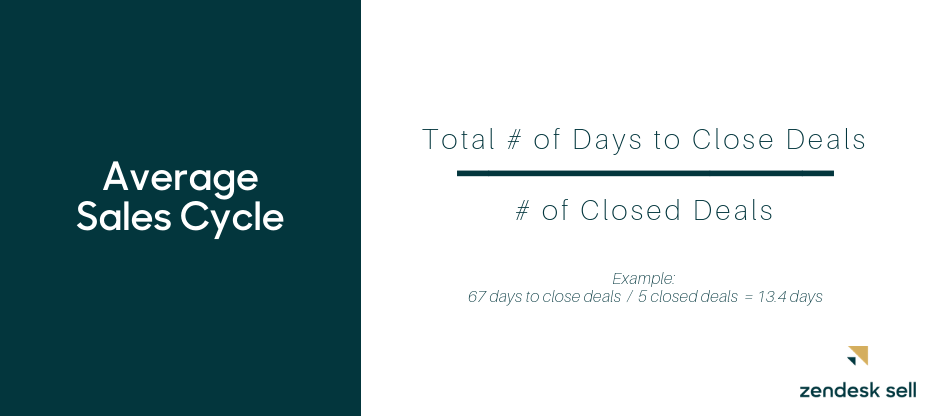 The average sales cycle length can highlight the deals stuck in your sales pipeline for extended periods. Stagnant deals can slow down your sales velocity. You can avoid that by focusing on specific deals and determining what went wrong.
You can also set up an automated re-engagement system that will automatically follow up on prospects who have gone inactive due to a lack of clear communication from your sales rep or because they had queries not addressed in your outreach. 
5.Opportunity Win Rate
The opportunity win rate is calculated as a percentage of qualified leads who turn into clients and customers over a specific period. Periodic calculations of win rate %, such as quarter to quarter, can help you chart your performance over time.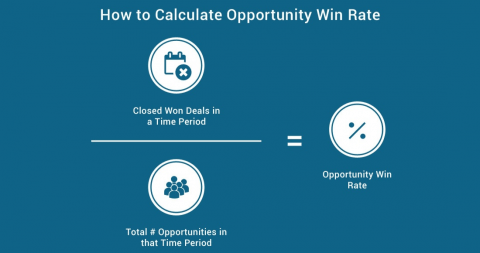 The equation for opportunity win rate is calculated as the number of closed deals divided by the total number of opportunities present in a specific period. Win rate% can help you compare your performance against your competitors.
A declining win rate indicates that you need to analyze the problem in your sales strategy and devise a better conversion path. Conversely, a high win rate but low sales show your problem lies in your marketing efforts, not sales.
6.Customer Lifetime Value (LTV)
Customer lifetime value (LTV) refers to the potential revenue a long-term customer generates during your business relationship. Companies rely on this projected metric to calculate repeated sales from the same client.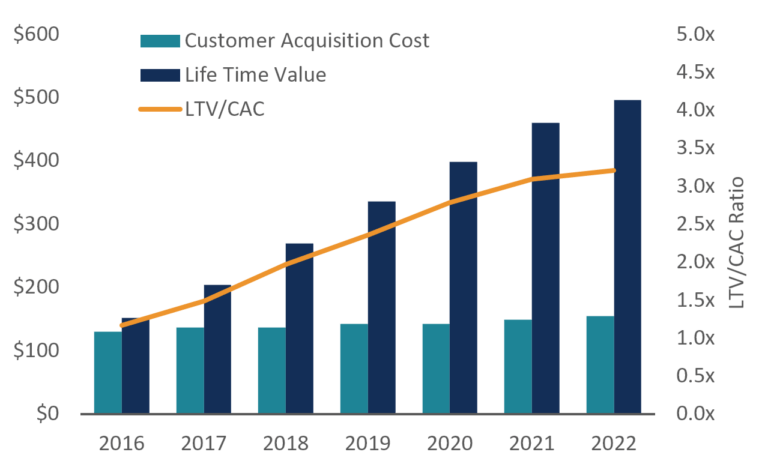 LTV lets you measure the effectiveness of your campaigns and the customer types who are more likely to buy from your company repeatedly. Focusing on these demographics can help you generate more revenue and save resources on acquiring new leads.
7.Customer Acquisition Cost (CAC)
Customer acquisition cost (CAC) measures the money and resources your sales and marketing efforts need to gain a new customer. CAC lets you measure your long-term revenue against the total cost of acquiring the customer.
To make a profit, you must keep your CAC lower than the revenue gained. An effective sales funnel can help you achieve this result without further tweaking. 
8.LTV to CAC Ratio
Combining the two metrics I have defined, the LTV to CAC ratio denotes the revenue you're making for every customer you acquire. The LTV cost has to be noticeably higher than the CAC to ensure profits and your company's growth.
The industry standard for the LTV to CAC ratio is set as 3:1, meaning that for every $1 you spend acquiring a new customer, you need to earn at least $3 in lifetime value. A ratio lower than 1:1 is seen as harmful to any B2B business.
9.Average Deal Size
Generally speaking, the size of the deal is more important for your company to focus on than the number of deals you close. Your sales pipeline and funnels are closely dependent on the size of every won deal.
While larger deals are more important to close, they are also slower since more money is at stake and more people are involved in closing these deals. 
Instead of allocating most of your sales team to closing large deals, you can strategically segment your workforce to close smaller deals where transactions occur significantly faster. Specialized sales reps can undertake high-value deals.
10.Customer Churn Rate
Unlike LTV, the customer churn rate measures the number of customers who refuse to purchase repeatedly and opt out as paying customers. Your customers terminating their subscriptions or services can expose the weak links in your sales practices. 
Unsatisfactory customer experiences or support can lead to higher churn rates, cutting your ROI. Once you identify the issue, you can rectify the error to reduce your products' churn rates.
11.Deal Loss Reason
Losing a deal in the late stages of your sales pipeline can significantly impact your revenue and morale. However, instead of never looking back at the closed deal, you can analyze the reason the deal failed to fix and improve your sales strategy.
You can inform your sales and marketing teams about their shortcomings and have them actively address the issues so that you retain more of your customer base.
12.Total Pipeline Value
Finally, we come to the total pipeline value metric, calculated by the cumulative cost of all the deals in your sales pipeline. Higher total value means better revenue opportunities. 
However, as we have learned before, not all deals close. You need to calculate the value of your pipeline based on each stage by breaking down the calculations for elements such as leads, revenue opportunities, meetings, etc.
As you reach closer to the end of your pipeline, you get a clearer picture of the actual value of your sales pipeline.
Now that you have learned the essential sales pipeline metrics to track to optimize your sales activities, you still require a steady stream of new leads to reach out to and nurture them to conversion.
Manually looking for leads can quickly take up significant resources and time your sales and marketing teams could have focused on closing more high-value deals. Swordfish AI can help solve this issue by giving you verified contact information so you can reach out to leads faster.
Swordfish AI: The Best Prospect Finder Tool 
Swordfish AI is a comprehensive and intuitive prospect finder tool that aims to help you close more deals by cutting down the time it takes to find business contacts to generate sales-ready leads. 
We provide verified public information, such as email addresses, social profiles, contact numbers, residential addresses, etc., for over 3.1 billion profiles and are searched by inputting credentials or in bulk. Swordfish AI collaborates with 200+ data partners to keep our database updated. 
Our File Upload feature lets you append missing data in your CRM, ATS, and databases for names, job titles, locations, contact numbers, mobile numbers, business emails, etc., by uploading your files on our browser platform. 
You can prioritize the needed data by specifying it as a "must-have" for credentials like phone numbers and email addresses. We charge based on response to the must-have results. If we fail to provide a match for your required data, we do not charge you for it.
The Chrome Extension feature saves you time by removing the need for manual clicking with bulk searches and list enrichments. You can automatically get prospects and their contact data on LinkedIn, Facebook, Twitter, etc., after which you can save them to various projects or lists. 
With Reverse Search, we provide you with a range of contact information such as social profiles, names, complete residential addresses, contact numbers, and email addresses by inputting only one of these credentials. This feature is also equipped with "must-have" options.

Sales reps and recruiters can benefit from the host of features offered at Swordfish AI by spending less time hunting for contact data to utilize the time saved to prepare more sales-qualified leads by calculating the essential sales pipeline metrics to track.
Pricing
Swordfish AI offers custom pricing plans depending on the specific requirements of different teams working on your sales pipelines. Our services can integrate directly into your workflow and CRM/ATS to seamlessly provide verified business profiles for your lead generation strategy.
Sales reps and marketers can benefit from our services by accessing accurate contact information such as email addresses and phone numbers to reach prospects faster without wasting time and resources on outdated or inactive contacts. 
Recruiters can similarly access a pool of curated talent through bulk searches and easily identify the best fit for your organization. Our services are scalable to your data requirements and can be customized accordingly.
You can contact us to test out our features with a free trial and reach out to us for a custom pricing plan based on the requirements of specific teams. 
Conclusion
The B2B market of today is growing at an astonishing pace. Your customers need solutions as fast as possible to solve their pain points, and they need a company they can rely on to do so consistently.
However, simply offering them your brand's solution is not enough. You need to nurture them through your sales funnel, and you need the collaboration of several teams working together to achieve that. 
Placing your workforce to gather new prospects manually can cut your revenue as you spend less time and resources closing high-value deals.
Swordfish AI can assist your marketing and sales efforts by providing billions of verified profiles with complete information regarding their social media contact, email addresses, phone numbers, residential addresses, and other public information.
Combining the essential sales pipeline metrics to track with our cutting-edge features, you can reach out to key decision makers of any organization and re-engage them in your sales efforts to ensure you earn a long-term customer for your products. 
Contact us for a free trial of our services and a customized pricing plan based on your company's business requirements and data needs. Feel the difference in your sales strategies with Swordfish AI today!