Advertisement and marketing campaigns are crucial for B2B companies that want to expand their presence in the market and gather more potential customers. Your organization relies on effective lead-generation strategies to acquire more revenue and long-term customers.
However, you must also invest heavily in various strategies to gather leads and encourage them to convert. Measuring the cost per lead (CPL) helps you stay informed about your company's efficiency, but how do you profit while generating more leads?
Learn the seven best ways to reduce lead costs to drive ROI while expanding your customer base significantly and how much your CPL should be if you want to see massive profits.
What is Cost per Lead (CPL)?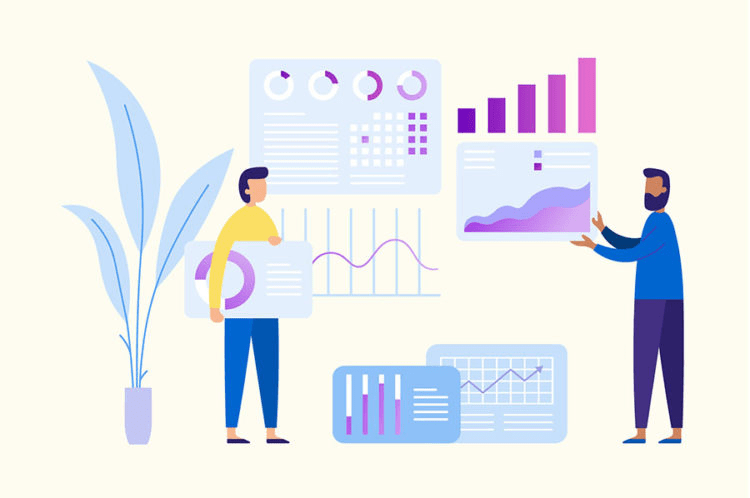 source
A "lead" is any individual who showcases an interest in your brand's products or services by leaving their contact information (names, email addresses, phone numbers, etc.), opting for a free trial of your product, or wanting to learn about your solutions to their personalized pain points.
Cost per lead (CPL) is a performance metric that evaluates the cost-effectiveness of your advertisement and marketing campaigns. CPL measures the average cost of generating new leads for your sales teams.
Since B2B companies rely on successful lead generation to acquire revenue and brand growth, calculating CPL is integral for marketing teams to attach a monetary value to leads and assign the appropriate budget to gather leads.
Knowing your organization's CPL can help optimize the customer acquisition cost (CAC) and better invest in strategies that drive ROI.
In general, the lead costs must remain lower than the revenue they generate as a paying customer to turn a profit for your company.
If your expenses for gaining new customers exceed their customer lifetime value (CLTV), it might be time to reconsider and streamline your marketing efforts.
5 Factors That Affect Lead Costs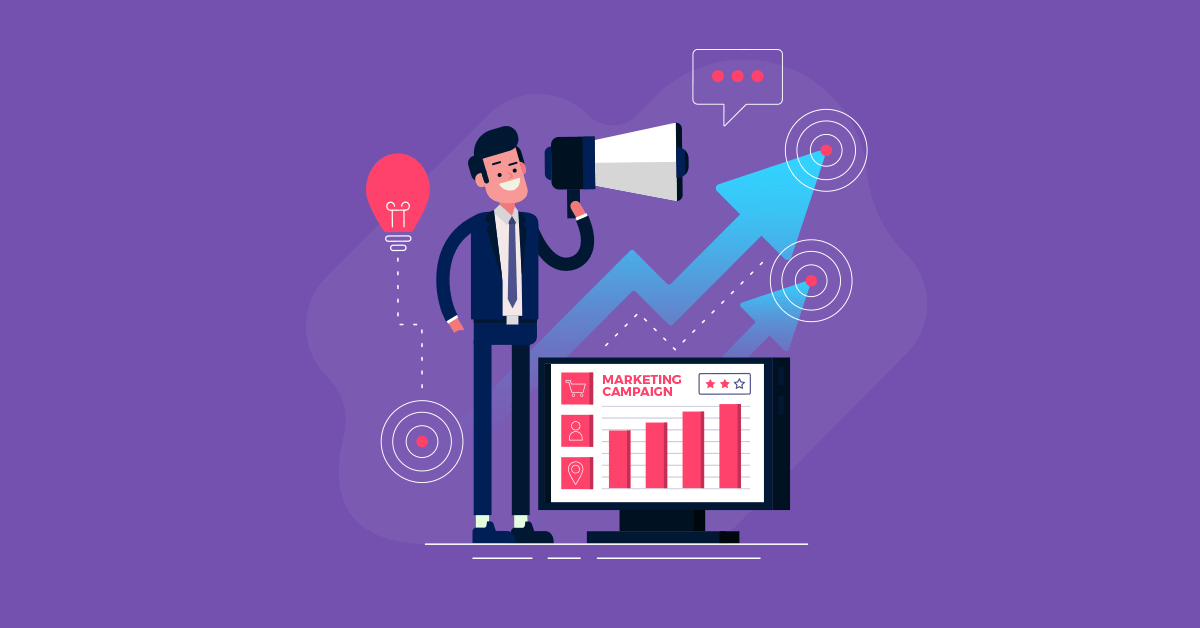 source
Lead generation costs refer to the sum your business must expend to generate a single lead.
For instance, if outsourcing your sales processes to a third-party agency costs $1,000 and purchasing a cold-calling lead list costs $1,000 to generate 200 leads, you're spending $10 to acquire a single lead.
When you're trying to include lead generation costs while calculating your profit margins, here are five factors to consider that add on to your expenditure:
Lead Generation Tools – Sales teams require the assistance of lead generation tools like marketing and email automation platforms, customer relationship management (CRM) software, business intelligence tools, etc., to shorten sales cycles.
These tools are obtained or licensed by vendors through a premium fee.
Lead Generation Outsourcing Costs – B2B organizations can hire outsourced sales and marketing companies that manage their revenue-generating operations with specialized teams.
Choosing an outsourced team over your in-house teams further increases lead costs.
Advertisements – Placing advertisements for your organization can include costs for social media marketing (Facebook Ads and LinkedIn Ads) or display ads (Google Ads).
You must plan your budget based on the cost of maintaining these advertisement campaigns and the salaries for the marketing reps that conduct research and run these campaigns since they also get included within your lead generation costs.
Maintaining In-House Teams – Your in-house sales and marketing teams require salaries, products, and commissions in your lead generation costs.
Hiring and Training Specialists – Hiring and training professionals to manage your lead generation activities requires you to allocate some of your budget to maintaining them and familiarize specialists like sales development representatives (SDRs) with your products.
How to Calculate Cost per Lead (CPL)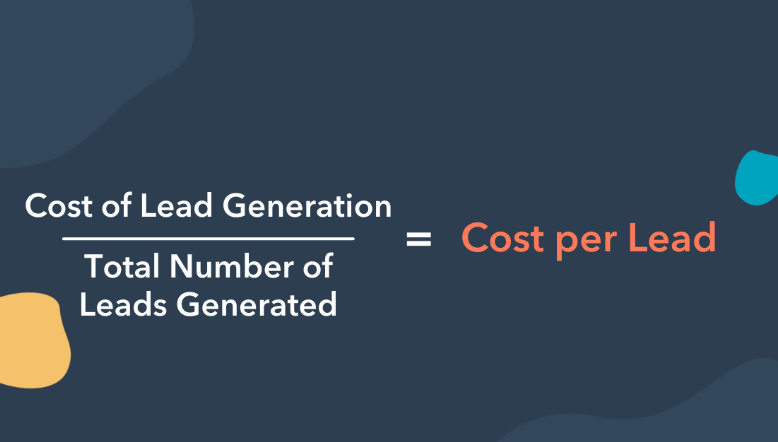 source
Cost per lead is calculated by dividing the cost of your marketing campaigns over a while by the total number of sales-qualified and marketing-qualified leads you generated in the same campaign.
As mentioned, you must aim for a higher investment return for every advertisement and marketing campaign. The CPL number can also help you identify campaigns and platforms you're losing revenue on to tweak and optimize their processes.
B2B users closely associate CPL with the cost per acquisition (CPA) metric that calculates the average cost of converting a prospect into a paying customer for particular campaigns.
What is a Good CPL?
A reasonable cost per lead is an amount lower than your gross profit.
However, there is no set amount for the ideal CPL. Your winning numbers rely on multiple criteria like industry, lead generation channels, average deal size, company size and annual revenue, and marketing budget.
CPL numbers can change drastically based on these variables. To ensure your company maintains a good CPL average, focus your marketing efforts on generating quality leads instead of prioritizing their quantity.
What are the Average Lead Costs?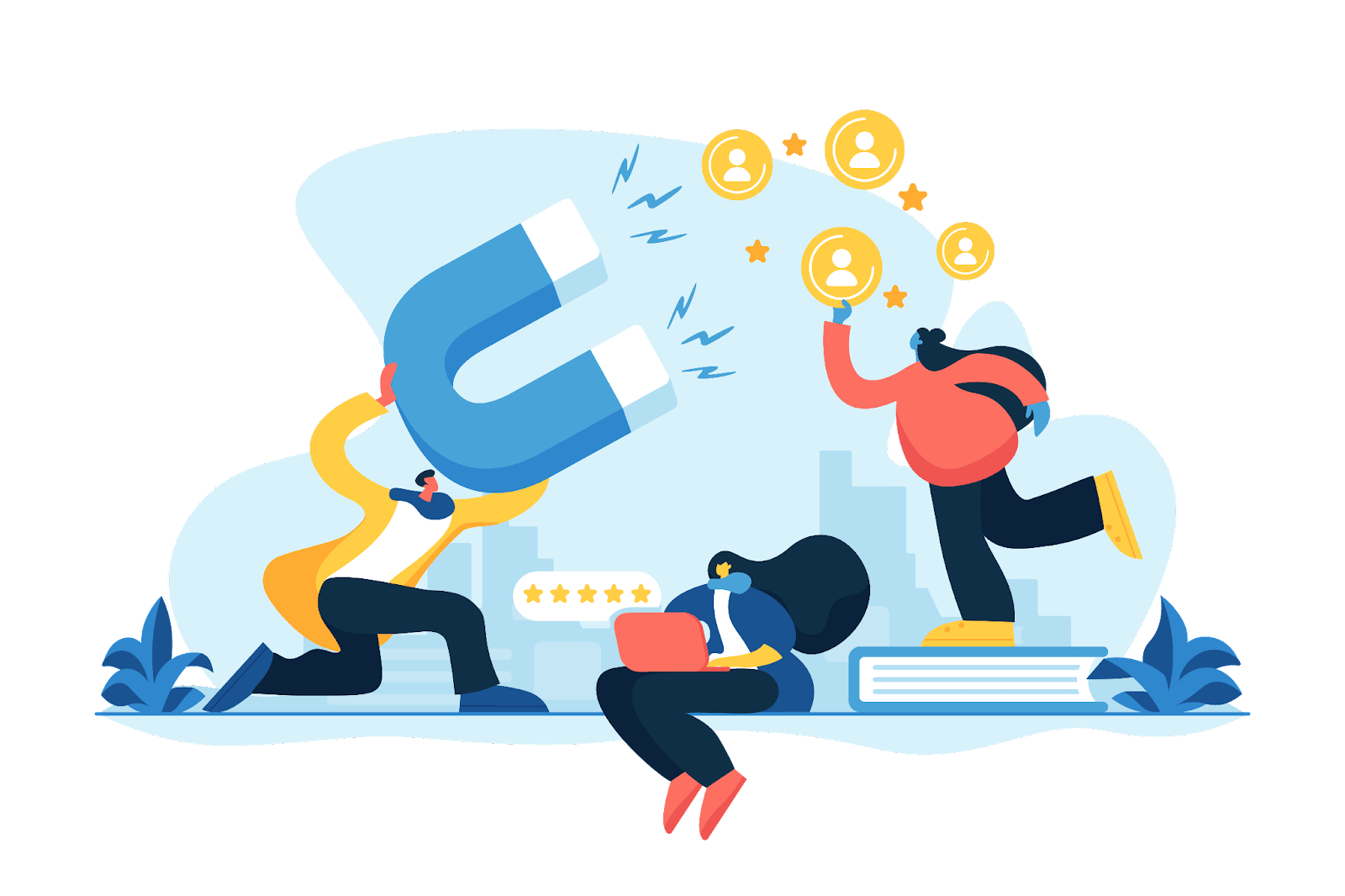 source
Since lead costs vary for different criteria, I have created a table below to showcase the average CPL for various industries and marketing channels as measured by Linchpin SEO:
Cost Per Lead for Industries
| Industry | Average Cost Per Lead (CPL) |
| --- | --- |
| Retail | $41 |
| Non-Profit | $43 |
| Telecom | $64 |
| Education | $66 |
| Marketing Agency) | $173 |
| Consumer Products | $182 |
| Travel & Tourism | $182 |
| Media & Publishing | $191 |
| Business Services | $225 |
| Industrial & Manufacturing | $235 |
| Financial | $272 |
| Healthcare | $286 |
| IT | $370 |
Cost Per Lead for Marketing Channels
| Marketing Channel | Average Cost Per Lead (CPL) |
| --- | --- |
| Retargeting | $39 |
| Display Advertising (Programmatic) | $42 |
| SEO | $47 |
| Email | $72 |
| Paid Social Media | $73 |
| Social Media Advertising | $82 |
| Display Advertising (Premium) | $82 |
| Referral | $92 |
| Webinar | $98 |
| LinkedIn Advertising | $99 |
| Content | $140 |
| Video | $288 |
| PR & Earned Media | $480 |
| Traditional Offline Advertising | $1,200 |
| Events & Tradeshows | $1,442 |
Top 7 Ways to Optimize and Reduce Lead Costs
Effective lead generation requires a significant investment of revenue and resources to achieve the desired results. While generating leads for free would be ideal, the truth is that you must spend your budget judiciously to make the most value for every conversion.
If your CAC exceeds the customer's lifetime value, here are seven ways to reduce lead costs and drive ROI:
Leverage Data Providers

source
Purchasing lead lists from online vendors for cold outreach strategies can unintentionally cause your organization to breach privacy laws. However, the alternative would be manually creating a list of prospects that takes countless hours to create and maintain.
High-quality data providers like Swordfish AI offer a repository of accurate contact information for prospects in target industries by leveraging an extensive database and data enrichment features to update your CRM/ATS platforms automatically.
You can guarantee better success rates for your outreach strategies when you spend less time hunting for contacts and more on closing deals.
Target Your Core Demographic

source
Identifying and targeting audiences more likely to purchase is one of the fundamental ways B2B companies can reduce lead costs. Targeting a broader audience with unspecified brand messaging fails to generate leads consistently.
Conducting market research to learn the demographic that makes up most of your paying customers helps you hinge your marketing campaigns to target them better and encourage them to convert by providing personalized brand solutions.
Once you create your ideal customer profile (ICP), you can stop wasting resources on lead-generation strategies targeted toward a broader audience and focus on driving conversions from prospects with high-purchase intent.
Configure Ads and Outreach Frequency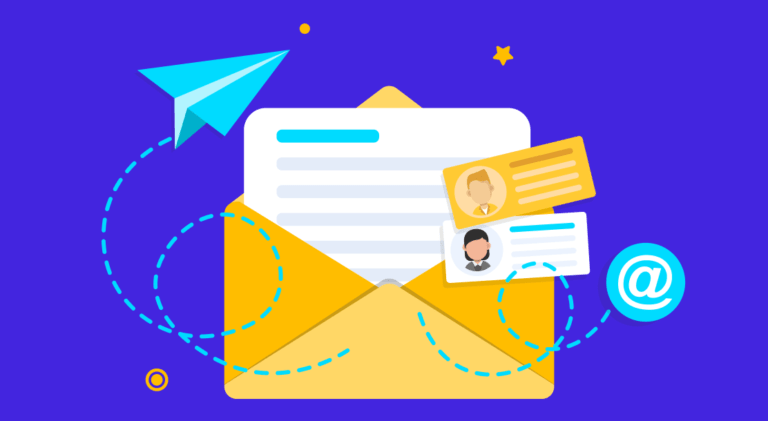 source
Different patterns and frequency of advertisements or brand messages can impact lead generation.
For instance, your email marketing campaigns can experience better conversion rates with a lower frequency of emails, but the inverse can be true for your Google Ads campaign.
Monitor diverse campaign performances with the appropriate analytics tools and experiment with different frequencies till you find the perfect middle ground.
Retargeting Campaigns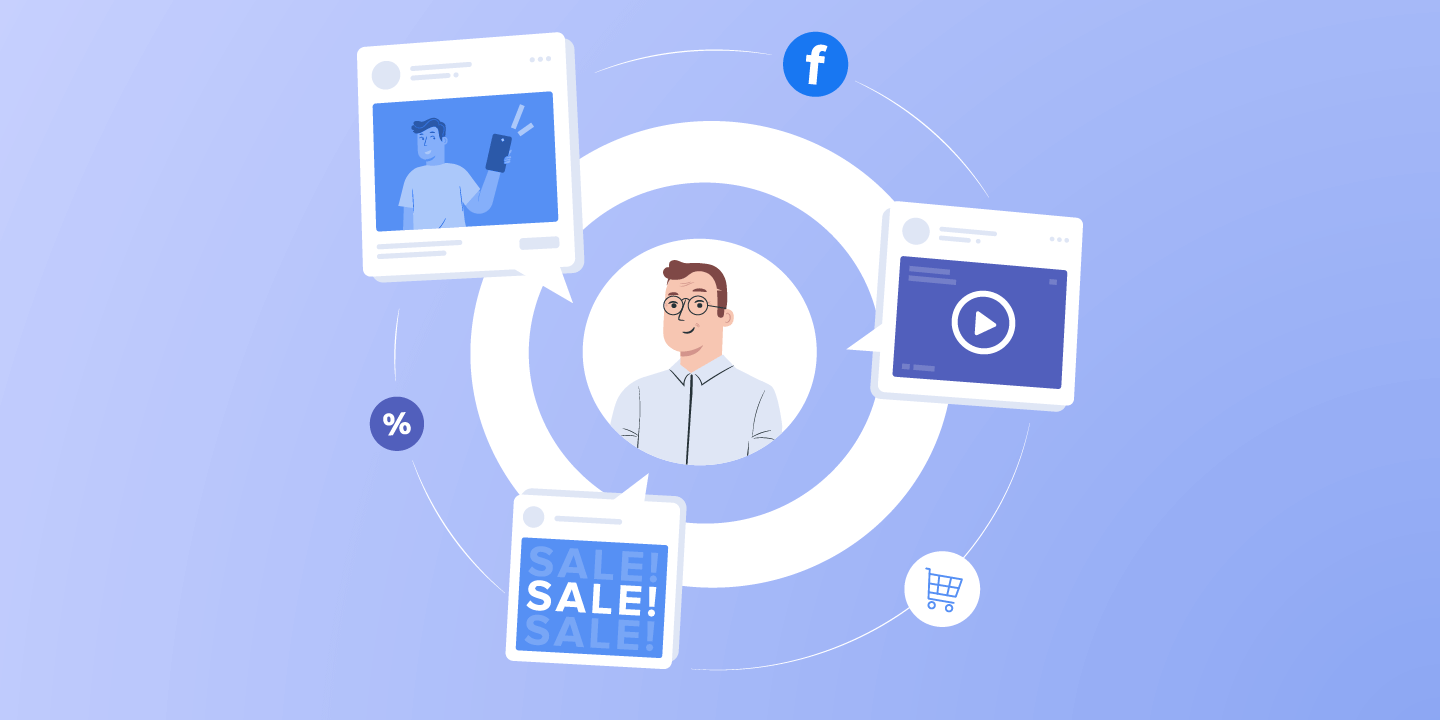 source
Most prospects willing to buy from your brand don't always convert when presented with your products and services.
Instead of spending your resources searching for new leads, you can re-engage prospects with personalized outreach and targeted ads to keep your brand offering memorable for longer and nurture them through your sales funnel until they convert.
Retargeting campaigns are aimed at prospects already aware of your solutions, making them easier to convert into paying customers and reducing CPL.
Optimize Landing Pages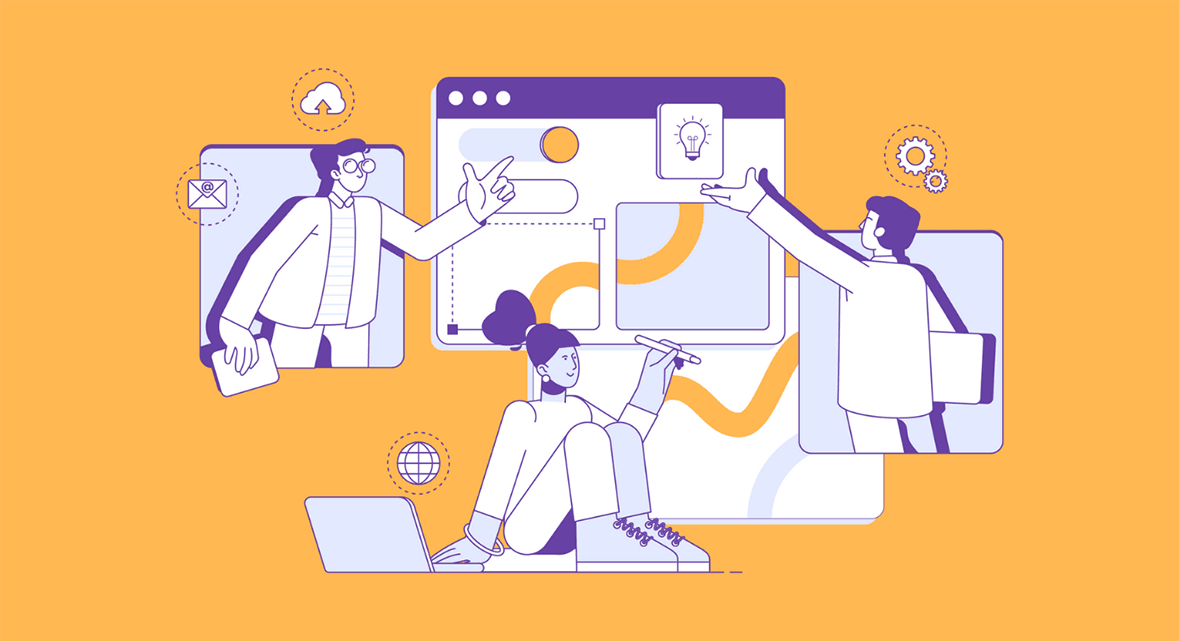 source
Landing pages built for conversions must guide website visitors through the process with strategically placed call-to-action (CTA) buttons.
You must engage prospects within seconds. Experiment with layouts and content for website elements like headers to monitor what works and gets positive reception.
You can also leverage social proof to build customer trust and incentivize visitors to move further down your sales funnel. With the content finalized, optimize the technical aspects of your landing pages, like page load times, to retain prospects till they view your brand offering.
Use Inbound Strategies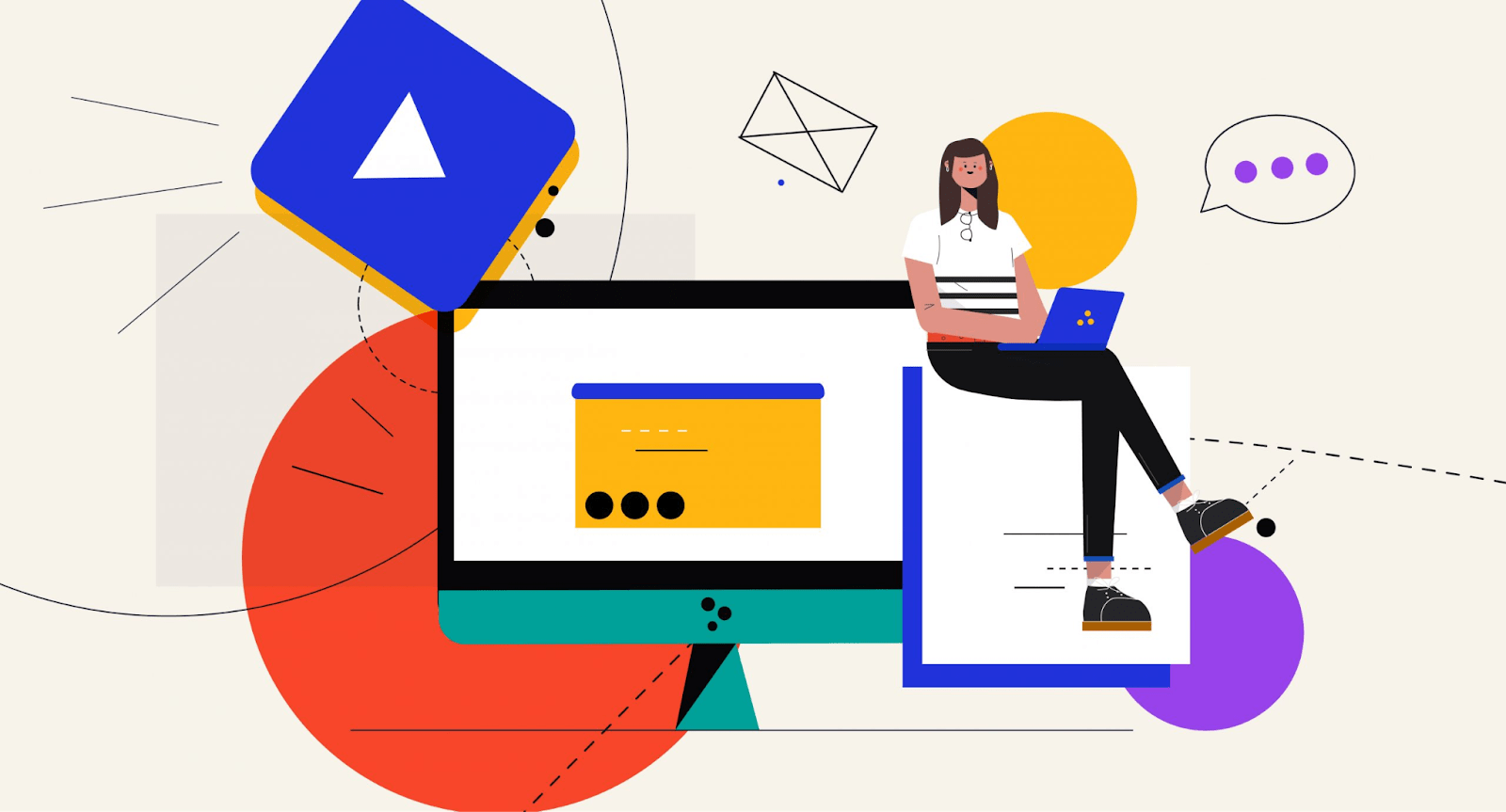 source
SEO is a relatively inexpensive inbound marketing strategy that provides long-term benefits when implemented effectively. SEO for your content marketing strategy can help you rank on the SERP and increase visibility for your brand.
Marketing teams must conduct thorough keyword research to identify what your audience is searching for and create personalized content that grabs their attention with solutions for their pain points.
While ranking on the SERP for keywords helps drive website traffic, it does not necessarily translate into conversions. Long-tailed keywords have fewer searches but possess high-purchase intent that helps you generate leads for a lower cost.
You can focus on creating content like videos, blogs, podcasts, display ads, etc., for your target audience to maximize engagement.
Perform A/B Testing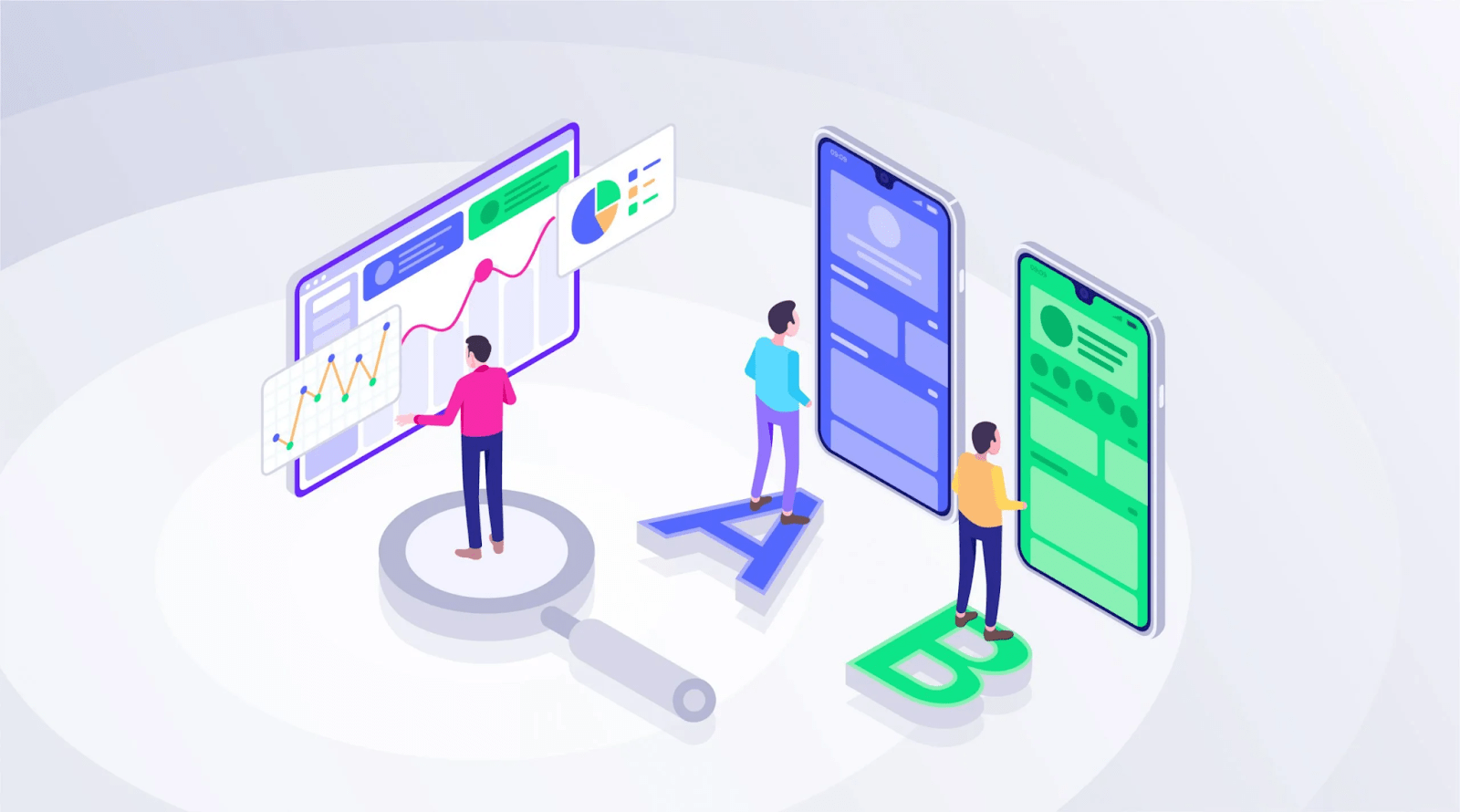 source
Performing A/B tests for your advertisements and marketing strategies can help you decide what works to help you invest resources wisely. Small tweaks can drastically affect the reception of your campaigns by prospects.
Changing various elements to find the working configuration pays off by creating subsequent campaigns that cost less.
Now that you know the seven methods to reduce your cost per lead (CPL), you can develop campaigns offering better returns over your initial investment.
However, your sales and marketing teams must communicate with your B2B prospects throughout their journey in your sales funnel to engage with them consistently and ensure they reach the end of the funnel to convert into paying customers.
Without updated contact information, your teams can waste precious time searching for channels to reach your prospects instead of guiding them to close deals successfully.
To reduce the chances of your generated leads slipping away from your company, you can rely on the best data provider in the market, Swordfish AI.
Swordfish AI: The Ultimate Contact Data Provider
Swordfish AI is a robust prospect finder tool that helps your sales and marketing team find contact information like email addresses, residential addresses, phone numbers, and other publicly available information to reach high-value leads faster.
You can reduce lead costs by engaging potential customers when they are prepared to convert for your brand solutions by spending less time hunting for data and accessing contact data from our extensive database of 3.5+ billion verified profiles maintained by partnering with 200+ data partners.
Features
File Upload: Swordfish AI's File Upload feature helps you maintain an updated list of leads by bridging gaps in your CRM/ATS platforms automatically for contact information like names, job titles, locations, contact numbers, mobile numbers, business emails, etc.
You can skip buying outdated lead lists from online vendors and maintain a compliant database as the File Upload feature appends missing prospect data after you upload your files in Excel or .CSV on our browser platform.
Reverse Search: The Reverse Search feature provides accurate credentials for individual prospects after you input just one of their credentials. You can prioritize your prospect data requirements by marking information as "must-have" data.
Swordfish AI charges you based on whether we can provide the "must-have" data. We don't charge you for the search if we cannot find it.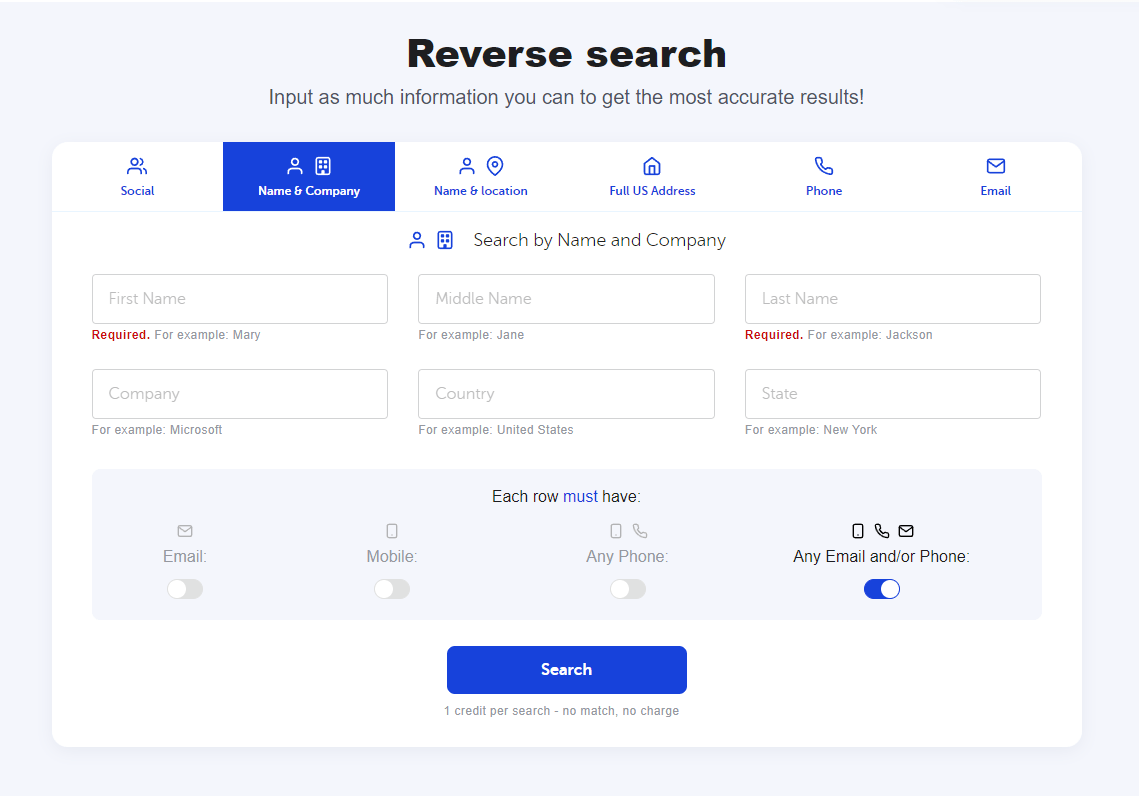 source
Refresh Title+Data: Refresh Title + Data provides data for job titles and current employment of key decision-makers in target companies to stay updated with changes in their structure after you input the organization's LinkedIn URL.
Swordfish AI ensures your cold outreach strategies always reach the right prospects through the correct channels so that you can convert sales-ready leads with fewer resources.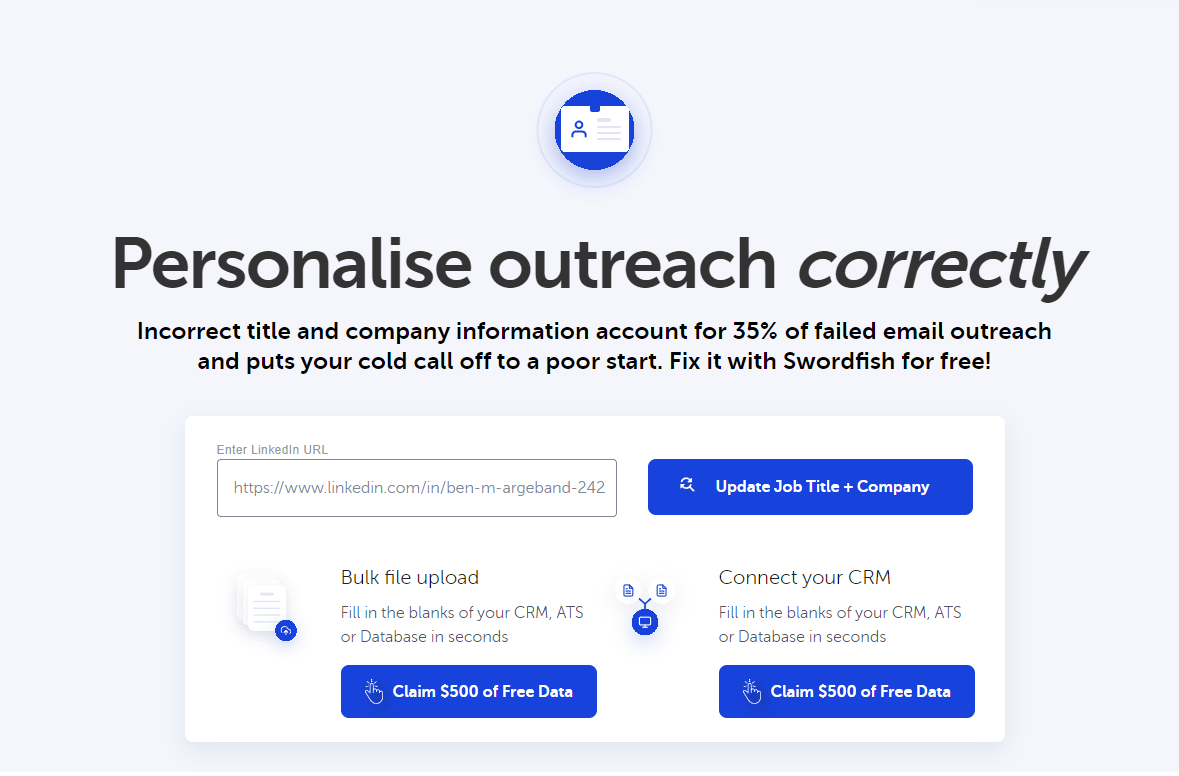 source
Chrome Extension: Our Chrome Extension automatically scans social media platforms like LinkedIn, Twitter, GitHub, Dribble, Facebook, etc., for contact information related to prospects. You can also add contact data to project lists for easier segmentation.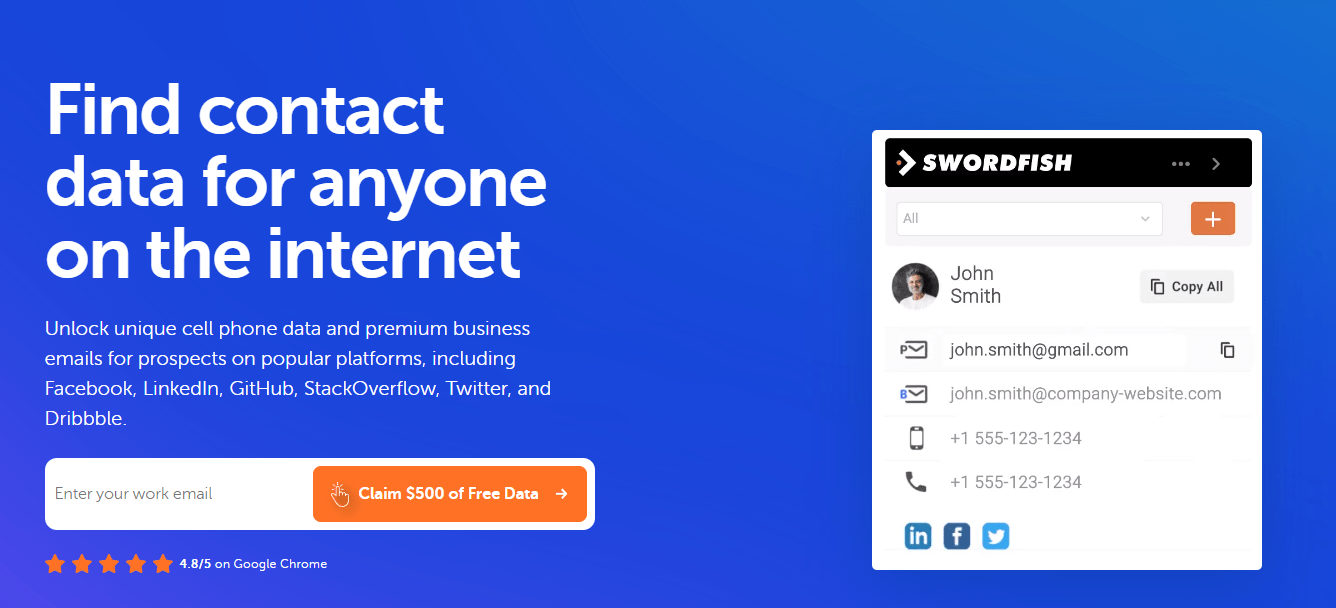 source
Swordfish AI's Bombora integration offers buyer intent data to help you identify and target sales-ready leads looking for your brand solutions.
Our flexible pricing plan is tailored to assist every team in your organization to smash sales goals and close more deals. Contact us to discuss your lead generation goals, or try our features with a free trial.
Conclusion
Measuring the effectiveness of your advertisement and marketing campaigns helps your company make more informed decisions to allocate company resources effectively and turn a profit.
Calculating the cost per lead (CPL) ensures you have a tangible numerical value attached to each campaign so you can monitor your lead generation efforts and optimize processes that are not performing as expected.
To reduce lead costs and convert more potential customers into loyal customers and business collaborators, you can trust the best data provider, Swordfish AI, to supplement your marketing efforts with accurate contact information to ensure your outreach efforts are always a success.
Our File Upload feature helps you maintain an updated contact database that complies with privacy laws and bridges gaps in your existing CRM/ATS platforms to start connecting with prospects on the proper channels. You can also use Reverse Search to find high-value leads.
You can try our features risk-free with a free trial or talk to us about your company's specific data requirements so that we can help you drive ROI and grow your company further with the newfound success.
Create marketing campaigns that pay off several times their investments to generate massive profits by reaching your prospects faster when you use Swordfish AI.