Consumers worldwide trust digital platforms to search for solutions for their pain points. Despite the increased connectivity provided by the Internet, your prospects are always being reached out to by thousands of brands trying to convert them for their products and services.
With the ever-shortening attention spans of people, it can get complicated for any company to stand out from the crowd and engage their target prospects long enough to convey their brand offerings. Converting prospecting through emails faces a similar predicament.
Sales teams must master writing good sales email subject lines if you want to grab your target audience's attention and have them read through your email to understand why they should convert into paying customers for your company.
Learn more about writing compelling subject lines and read the 40 best examples to start sending emails that drive conversions.
Importance of Good Sales Email Subject Lines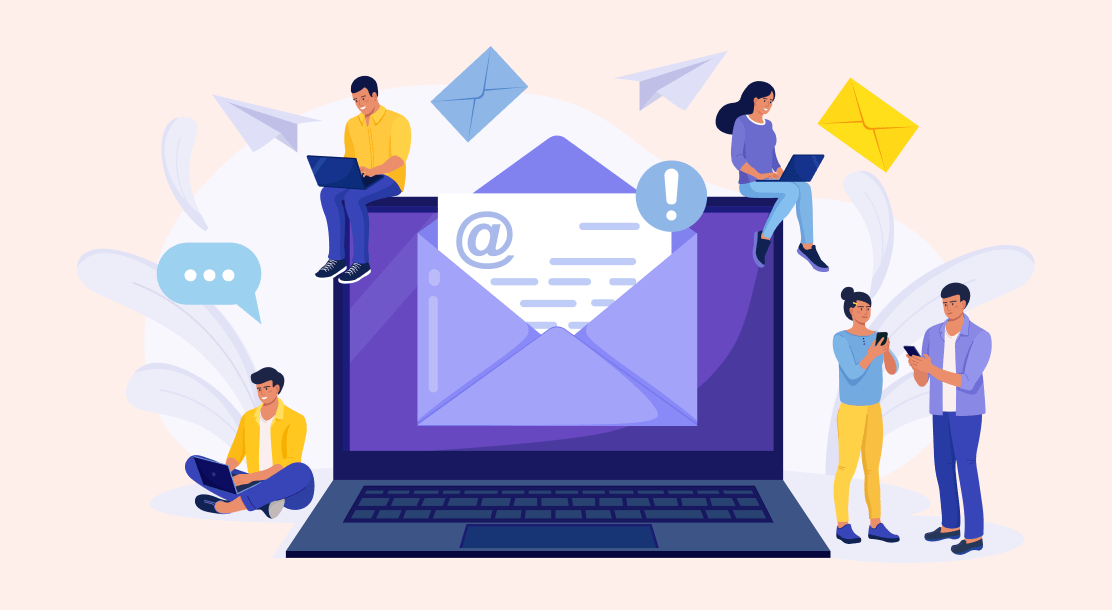 source
Subject lines for your email outreaches are critical in deciding if your prospect will click on your email. While the content and format of the email are equally important, a bland first impression given by the subject line can make the recipient skip your email altogether.
Here are three reasons you should focus on creating good subject lines for your sales email:
A unique and enticing subject line that promises value for the reader helps your email stand out from the numerous other emails in its inbox.
Personalizing subject lines further ensures your prospects feel catered to and move further down your sales funnel as qualified leads.
An average employee receives 121 emails daily, which only gets higher for key decision-makers in your target companies.
Good sales email subject lines grab the recipient's attention by piquing their interest with a particular intent and encouraging them to open your message to eventually take action, like visiting your landing pages and bringing them closer to becoming a long-term paying customer.
How to Write Good Sales Subject Lines That Stand Out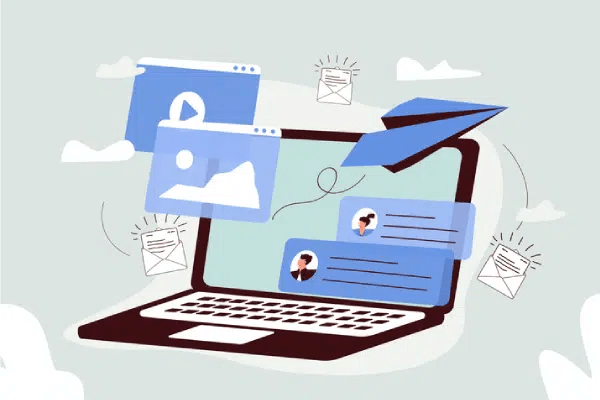 source
A successful email marketing campaign requires every moving part to function as intended to ensure the prospect opens, reads, and acts upon the message. A creative sales subject line sparks an interest in the reader's mind to read more about your brand offering.
However, with consumers growing cynical daily, it can be challenging to keep innovating new ways to get your prospect's attention. While there are no long-term strategies for writing good sales email subject lines, you can follow these tips provided by industry experts:
Keep it Short

source
Writing long, intricate subject lines with only a few seconds to win your prospect's attention is unnecessary and counter-intuitive.
You must write your subject lines to ensure prospects can view your emails on all devices, like desktop, mobile, tablet, etc. As a rule, limit your subject lines to 40-50 characters to a maximum of 60.
Subject lines longer than four to seven words get truncated and can hide the incentivizing factor in your writing.
A short subject line is also easier to scan for prospects who will be able to understand your motive for sending them an email.
Personalize the Message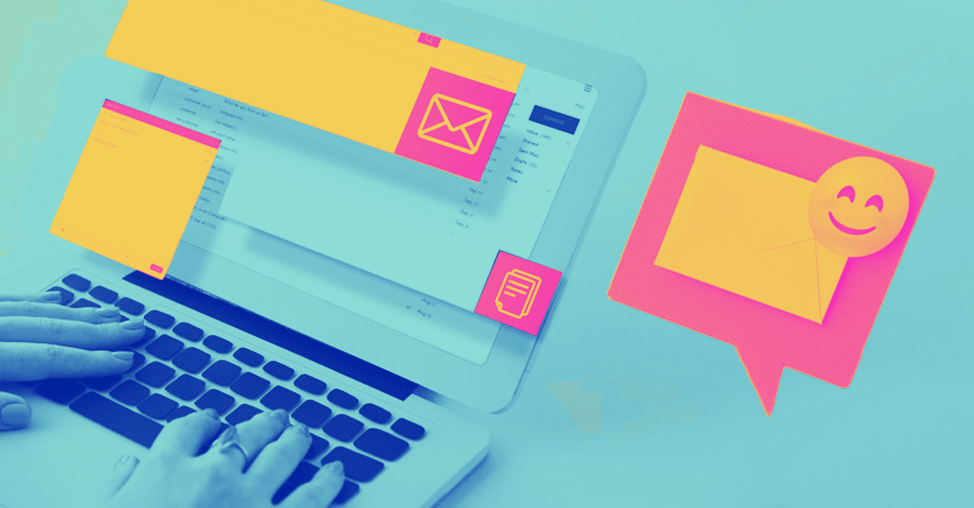 source
Business users who feel like your brand solutions are catered to them are more likely to be interested in your offering and eventually convert. Subject lines that include the recipient's name, company, and industry-specific ideas humanize your cold outreach.
You can leverage accurate prospect data to use relevant information to make your recipient feel understood instead of being a target for a mass email campaign.
Using your personal email to reach high-value leads can also make them feel like they're talking to a human being and are willing to reach out to you for further questions or information about your brand.
Avoid Spam and Clickbait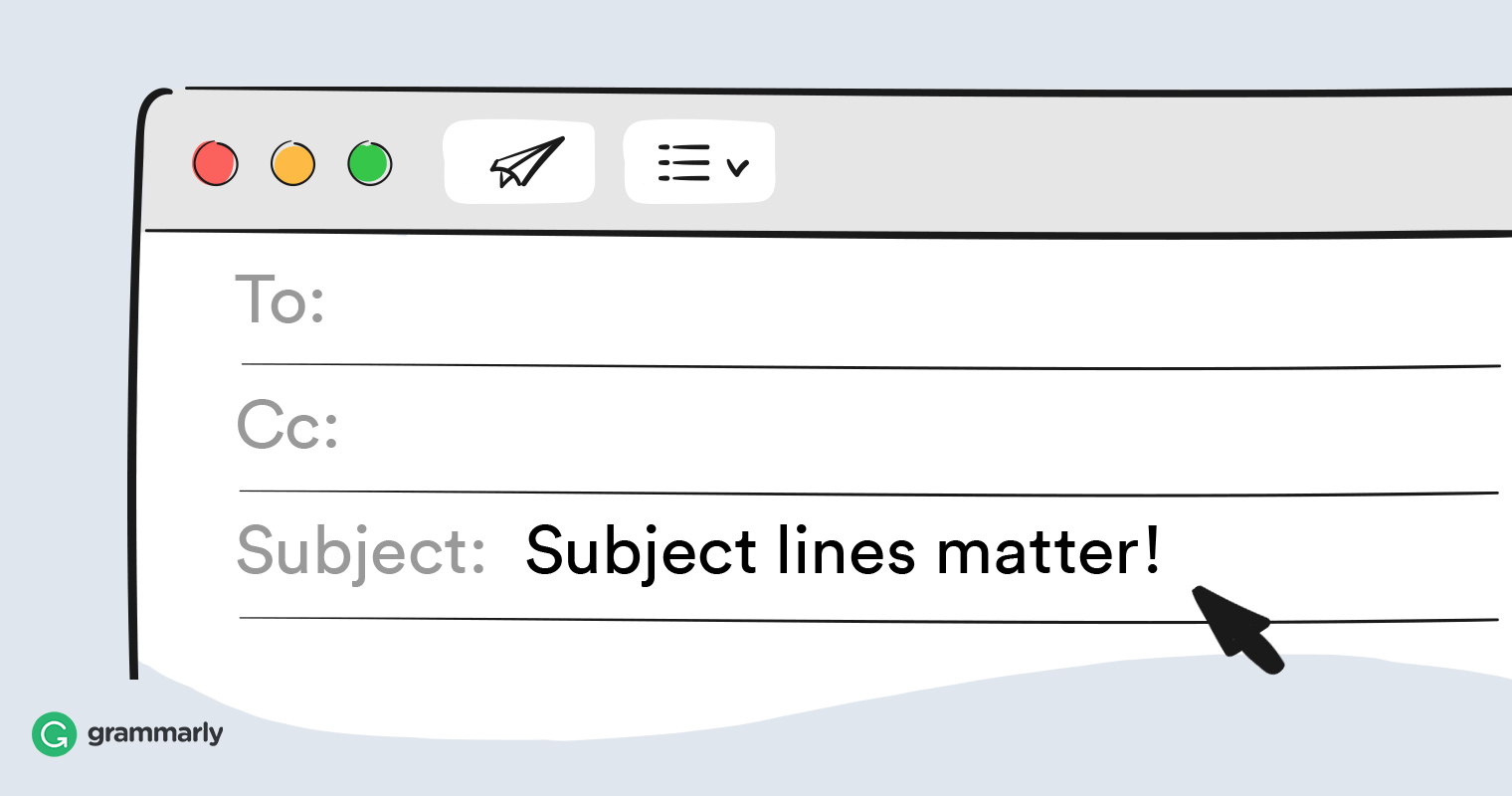 source
Although your goal for writing good sales subject lines is to grab attention and increase your CTR, there is a fine line between attention-grabbing and clickbait.
Your cold email is your target audience's first impression of your brand. Promising value in your subject lines that does not reflect in the content of your emails can often leave prospects feeling annoyed or angry.
You can lose out on leads with high purchase intent or, worse yet, get your domain marked as spam. In addition to the already low clickthrough rates, your emails stand no chance of being opened.
Ensure your email body accurately elaborates or answers what you have mentioned in your subject lines.
Provide Value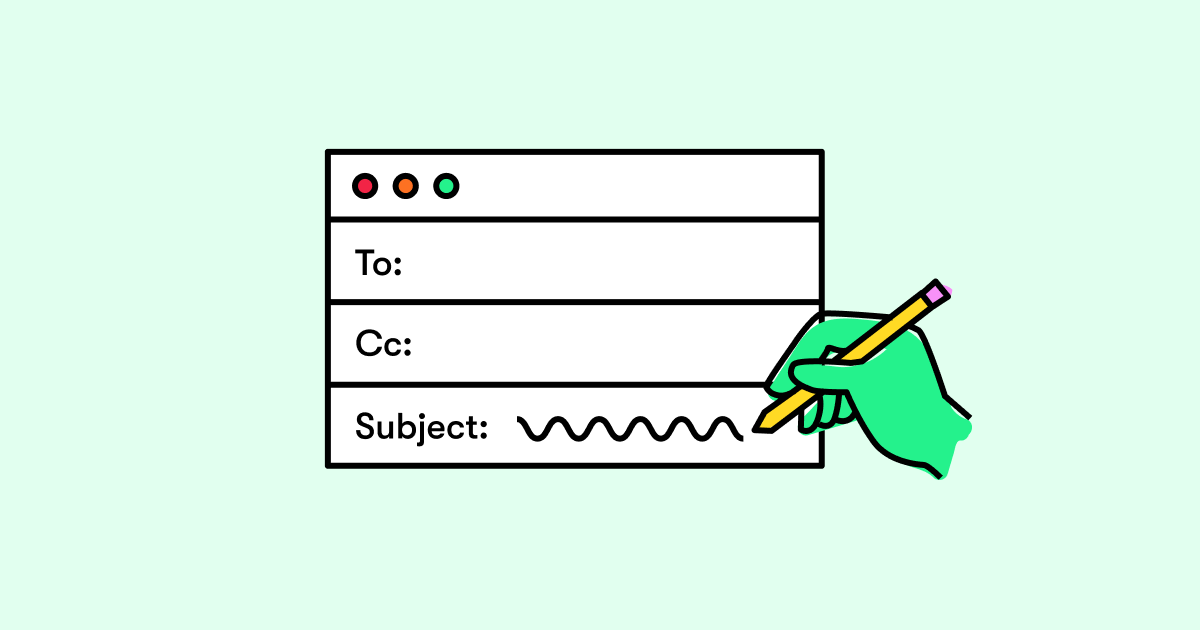 source
To entice your prospect into opening your email, you must offer them a product or service they have been searching for in their buyer's journey.
By promising them a solution they have been looking for in the market, you can effectively pique their interest and provide a solid reason to open your email and go through your brand offering.
Create Urgency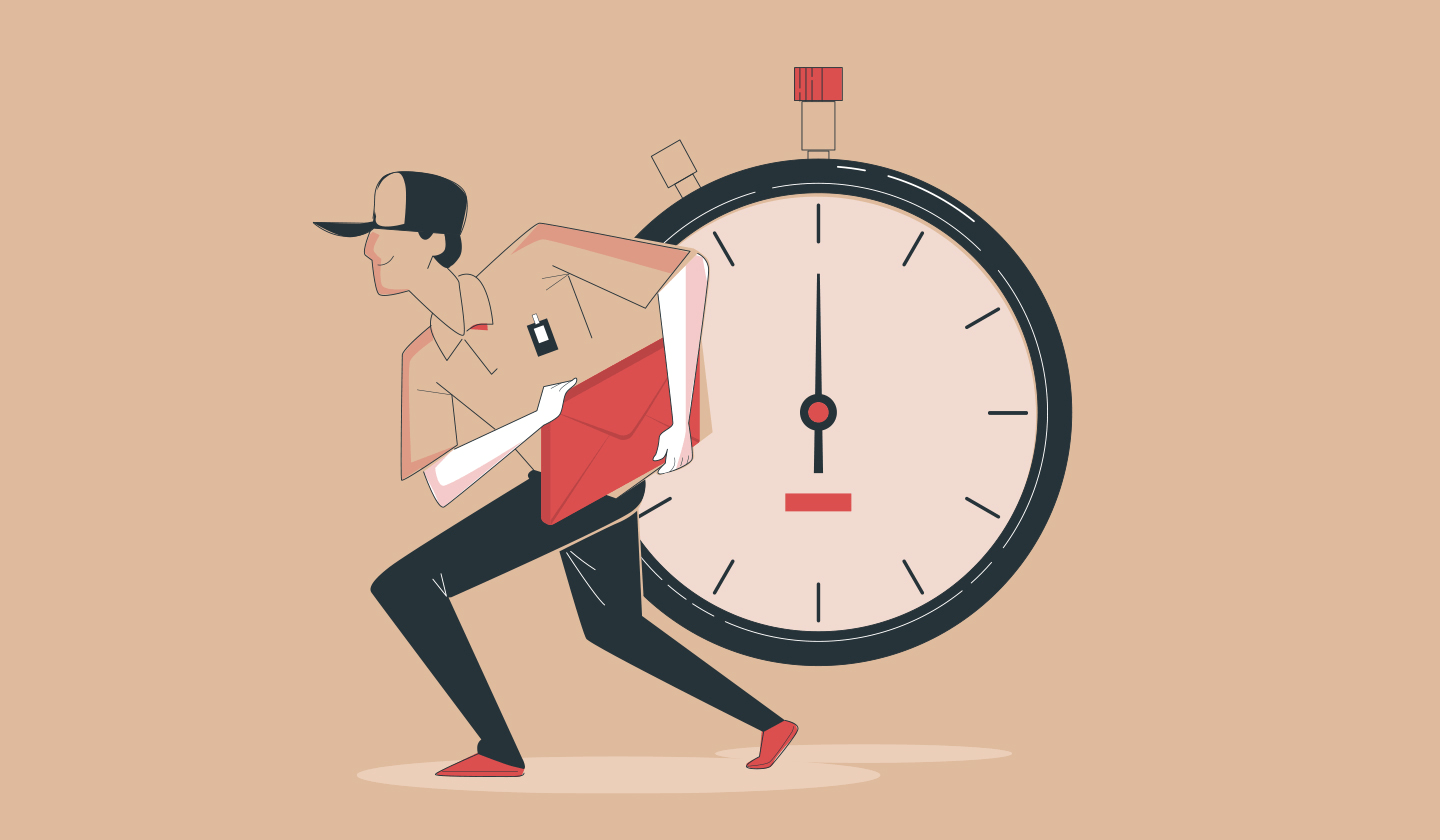 source
Motivating your recipient to find a solution for an authentic time-sensitive issue can drive urgency, giving them more reason to view your email before any others. As mentioned in the earlier sections, ensure you're not clickbaiting your prospects!
40 Best Samples of Sales Email Subject Lines
Creating subject lines that aren't intrusive while promising engaging content and grabbing attention can be monumental.
To help business users and sales teams write good sales email subject lines, I have listed the top 40 sample subject lines for various use cases to show you some of the tried and tested examples so you can start creating your own quickly.
Personalized Subject Lines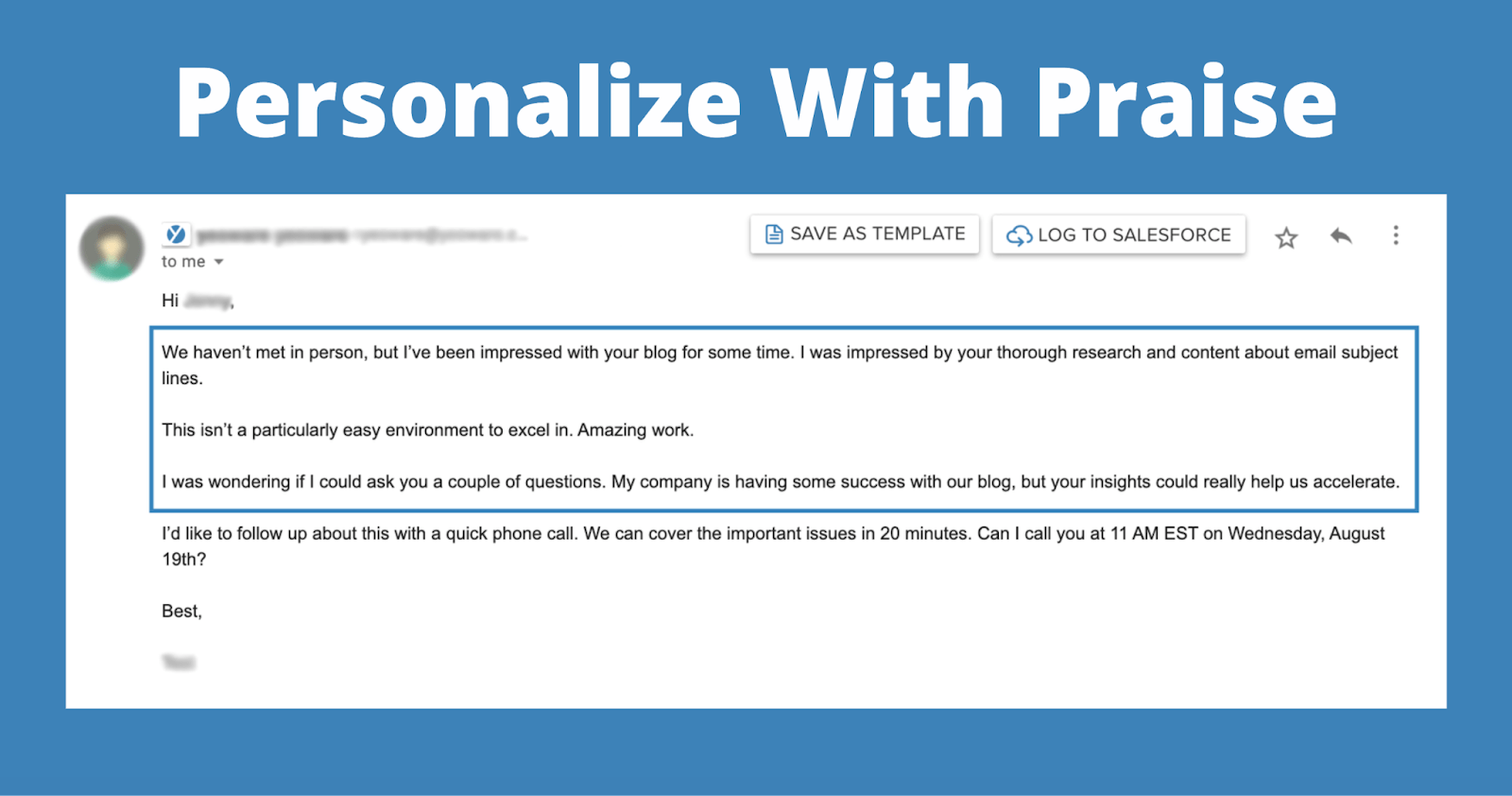 source
"Congratulations on hitting [prospect's milestone]!"
"Still looking to solve [pain point]?"
"Hi [name], I loved your blog on [topic]."
"Here are some tips for [industry-specific topic]"
"Hi [name], heard you were going for [event name]."
Personalization humanizes your brand to your recipients. Prospects will trust your brand and pay attention to your solutions when they feel they are being catered to. They will convert faster if they feel like you understand their pain points.
Mentioning their names, companies, job titles, content, etc., helps boost your open rates by 50%. You can also harness prospect data to discover their current objectives, interests, and pain points through various sources to include them in your subject lines.
Talking about attending industry-specific events or providing tips for topics reinforces your image as an active member of the industry and someone your prospect can rely on. Furthermore, expressing appreciation for a recent achievement helps build rapport.
Cold Email Subject Lines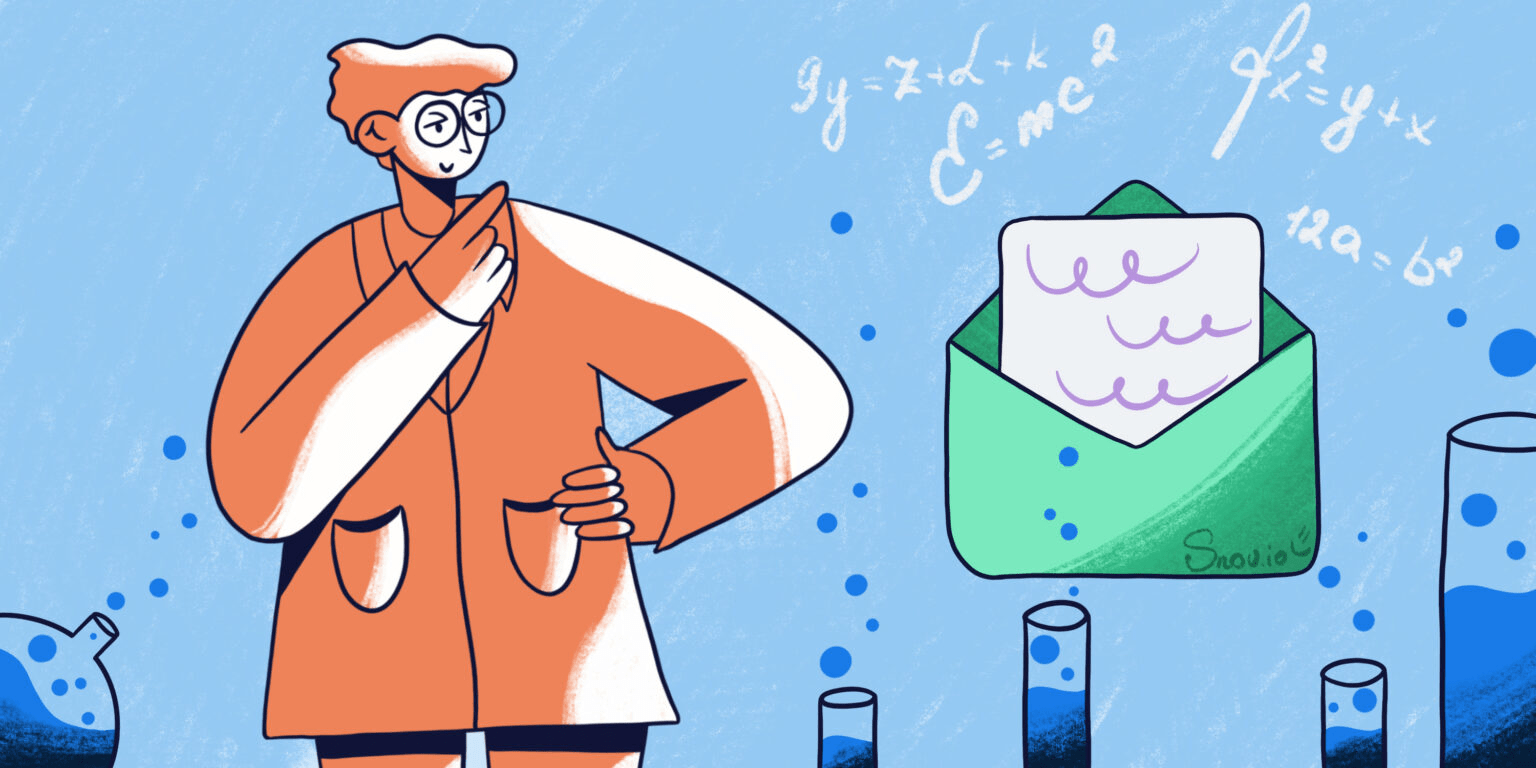 source
"Hi [name], [question]?"
"[Referral name] suggested we get in touch."
"Feeling [emotion] about [pain point]? Let me help."
"Achieve 10x [key metric] in [time frame]!"
"Let me cut to the chase here…"
Sales reps worldwide consider cold emailing an effective and viable method of reaching out to prospects who haven't interacted with the brand before to familiarize them with its offerings.
However, recipients are often unwilling to go out of their way to open emails from strangers. Mentioning their names and company lets them know your email has been tailored to the recipient.
Mentioning the names of authentic referrals grants credibility through a mutual connection, thus building trust with your recipient. As with personalized subject lines, writing a subject line for a particular pain point motivates the recipient to consider your solutions first.
Offering assistance and support lets your prospects know that you're ready to communicate about their business requirements and work together to find solutions. Promising to achieve a goal within a specific time frame incentivizes the recipient to take immediate action.
Cold leads intrigued by your brand offering would want to learn more about your solutions by interacting with your sales and marketing teams. Thus, you are successful in converting them into warm leads.
Follow-Up Subject Lines
source
"Following up from the last call…"
"Claim [product or service deal] before it's gone!"
"Thought this might interest you."
"[Name], here are the resources I promised you."
"Hi [Name], loved our talk at [event]!"
Following up on prospects is crucial to ensure they haven't forgotten your brand offering, and you can nurture them further through the sales funnel with further interactions.
Reminding them of an ongoing promotional campaign incentivizes the recipient to consider your brand offerings and hopefully convert as they notice they can claim a product for discounted prices.
Providing content based on the prospect's interest or resources from your brand is critical when they are in the research stage of their buyer's journey. You can share content that contains effectively placed call-to-action (CTA) buttons to guide your prospects to the following actions.
Follow-up emails to warm leads you might have met at a physical event let them know you have their interests in mind and are willing to communicate with them to help reach their business goals.
Curiosity-Driven Subject Lines
"Don't open this email."
"We seriously did not plan for this…"
"You're invited."
"Are you making the same mistake as your competitors?"
"Let me tell you a secret…"
The human psyche loves to resolve curiosities. Sending them an open-ended subject line is bound to catch their attention and make them question the intent of your email.
They must open your email to deduce the meaning behind your subject line, making curiosity-driven subject lines an effective method.
As mentioned earlier, while you can incentivize your recipients to open your email with partial information in your subject lines, make sure the content of your email has a meaningful and satisfactory conclusion with strategically placed CTA buttons.
You can place your brand offerings as a catalyst for any exponential growth your brand or clients have had to encourage prospects to achieve the same by purchasing.
Subject Lines for Prospects Who Haven't Responded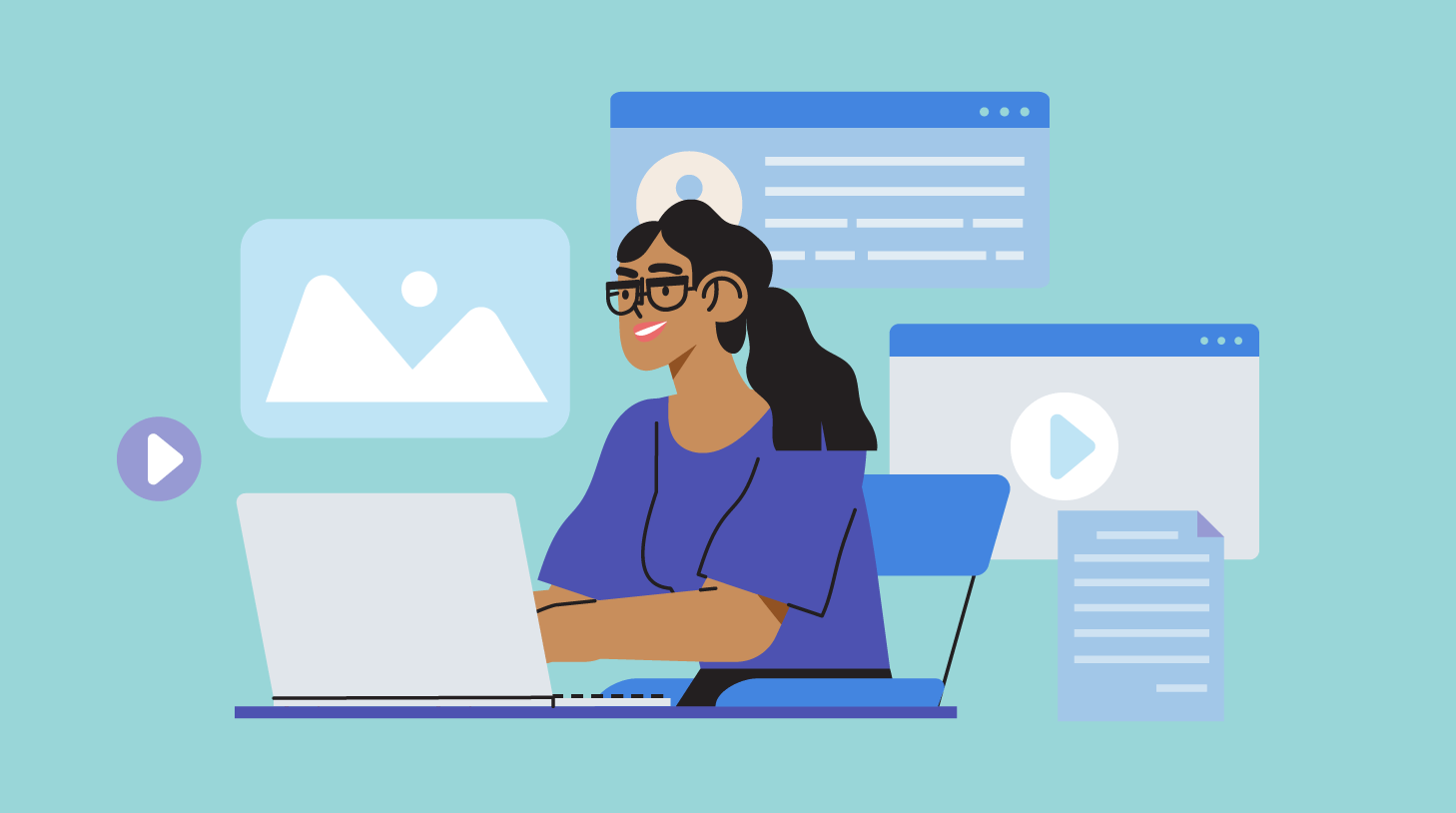 source
"Should I stay, or should I go?"
"Before I leave…"
"Permission to remove you from our mailing list?"
"Have you heard about [industry-specific topic]?"
"If you change your mind about partnering with [competitor]…"
Cold leads are notoriously tricky to re-engage and move them further into your sales funnel. While these prospects may not have responded to you yet, it does not mean they aren't interested in your brand offerings.
A reminder that your company will officially stop contacting them can motivate them to contact you again and resume the interaction from where you left off.
Rekindling a prospect interaction can also be done in a casual-sounding conversational subject line that encourages the prospect to share their thoughts on an industry-specific topic they are passionate about.
Prompting your leads to reevaluate their partnership with their current B2B provider can help them rationalize their choices and identify flaws they can overcome by switching to your brand.
Sharing insightful content can also help change the recipient's mind about cutting contact with your sales reps. Make sure you're not being melodramatic while you can craft a breakup email with a similar subject line!
Your subject line must drive urgency without sounding too aggressive.
Meeting Request Subject Lines
source
"Hi [Name]. 10 mins next week?"
"Free for a quick meeting on [day]?"
"Time to chat?"
"Can you spare a minute?"
"[Name], can we meet this week?"
Reaching out to cold leads or retargeting a prospect you have some rapport with over a meeting is an excellent method of engaging the recipient. Meeting requests can include an informal proposal or schedule a day for a formal meeting.
Your goal with this subject line is to make the prospect agree with a low-commitment meeting proposal. If you ask your prospects for a quick chat, ensure it is a short phone call to reduce the frustration of your prospect and engage them further till they agree to a formal meeting.
Referral Sales Subject Lines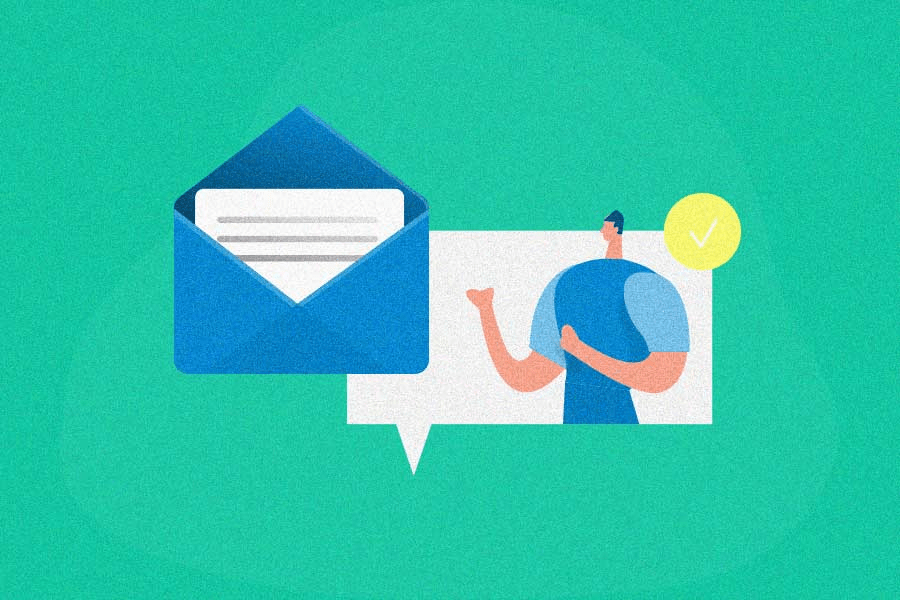 source
"[Referral name] suggested that we connect."
"[Referral name]"
"[Referral name] helped me find you."
"Loved our talk with [referral name] at [event]!"
"Remember [referral name]?"
Prospects are more willing to talk to you as cold leads if they have an assurance that you know a mutual connection. Mentioning that you are reaching out to them through a referrer helps build trust and gives you the credibility of a brand that can provide effective solutions.
Promotional Email Subject Lines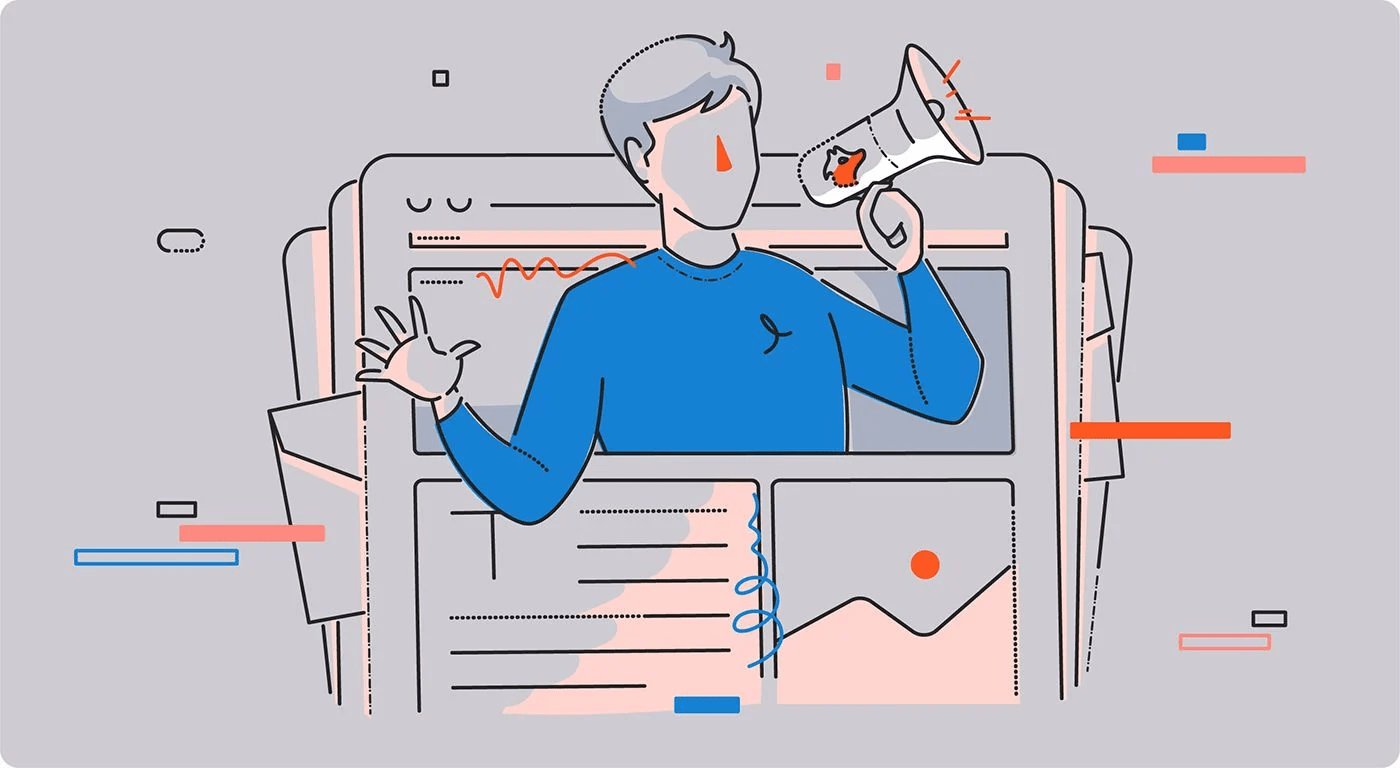 source
"You seriously do not want to miss out on this…"
"What if I told you…"
"Hurry and claim [promo] while you can!"
"We know you would love this [discount]"
"Don't wait on this exclusive offer."
Promotional campaigns effectively entice qualified leads into converting to your brand through discounts and freebies. Your prospects would be more likely to purchase from you if they can acquire the same products and offers at a lower cost.
Converting them into long-term paying customers pays off the discounted price you initially offered in the long run.
While writing a good sales email subject line is an essential process for the success of your outreach campaign, you must supplement your creativity with accurate prospect data to personalize your subject lines and target your prospects better.
Furthermore, inaccurate contact data can lead to your sales teams sending emails to outdated or inactive email addresses, negatively impacting your cold outreach efforts.
Swordfish AI is the perfect email finder tool that lets you access billions of verified profiles to find contact data like phone numbers, email addresses, social media profiles, etc., to effectively re-engage your prospects and ensure you're reaching them through the correct channels.
Swordfish AI: The Ultimate Prospect Finder Tool
Swordfish AI is a comprehensive prospect finder tool that simplifies your search for contact information by leveraging automation and an extensive database of profiles to obtain names, phone numbers, email addresses, etc., to interact with key decision-makers faster.
You can start brainstorming on how to write good sales email subject lines confidently when you work with the prospect data we provide.
Swordfish AI hosts a database of over 3.5 billion verified profiles worldwide by partnering with 200+ data partners. You can search for the required prospect data on social media platforms like LinkedIn or conduct bulk searches.
Features
File Upload: Swordfish AI's File Upload feature lets B2B business users bridge gaps in their CRM/ATS that automatically appends missing information in your databases, such as names, job titles, locations, contact numbers, mobile numbers, business emails, etc.
You can upload your files in Excel or .CSV formats on our browser platform to append missing data in bulk.
Reverse Search: Our Reverse Search feature provides updated contact data for prospects after you input only one credential. Reverse Search makes finding other credentials hassle-free.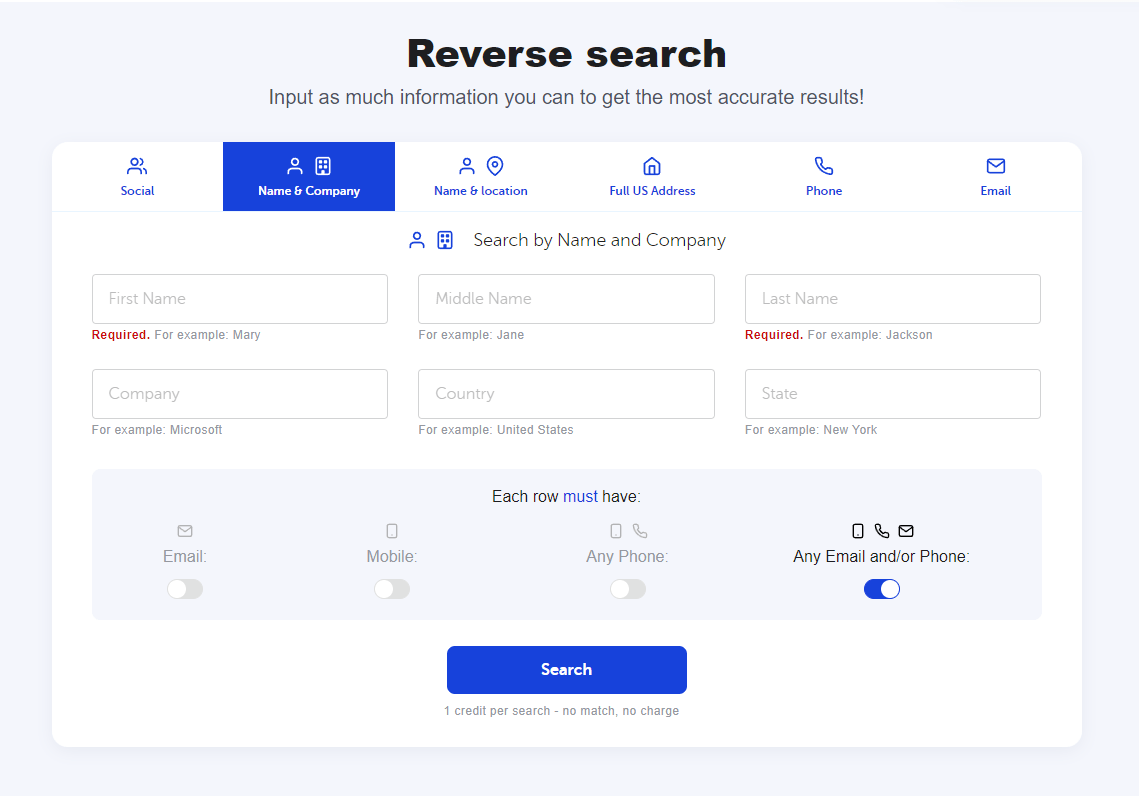 source
You can prioritize contact data like email addresses for high-value leads by marking them as "must-have" data. Swordfish AI charges you based on whether we can provide the "must-have" data. We don't charge you for the search if we cannot find it.
Refresh Title+Data: You can keep track of your target company's firmographic data and keep track of changes with the management by using the Refresh Title + Data feature to view current job titles and employment after you input the organization's LinkedIn URL.
We help your cold emailing strategy by ensuring it reaches the right contacts to drive the most impact.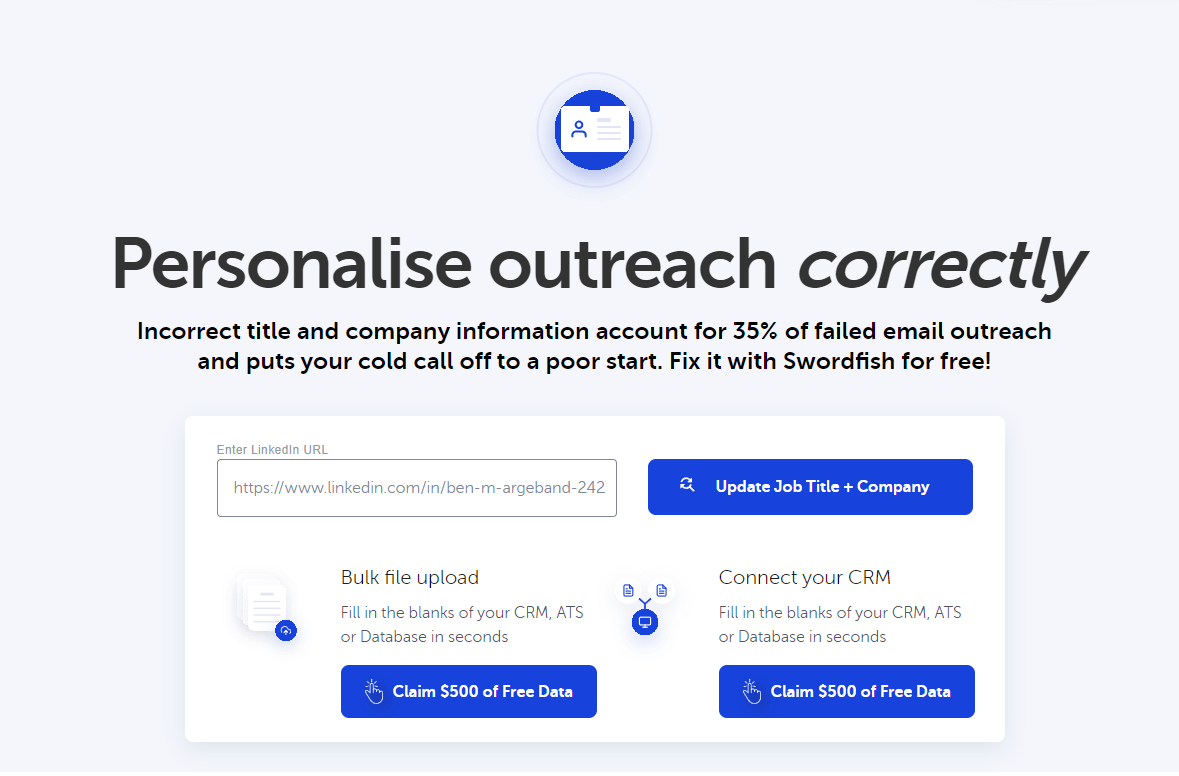 source
Chrome Extension: Our Chrome Extension scans social media platforms for contact data on individual profiles that you can save into various project lists with just a few clicks whenever you're on domains like LinkedIn, Facebook, Twitter, GitHub, Dribble, etc.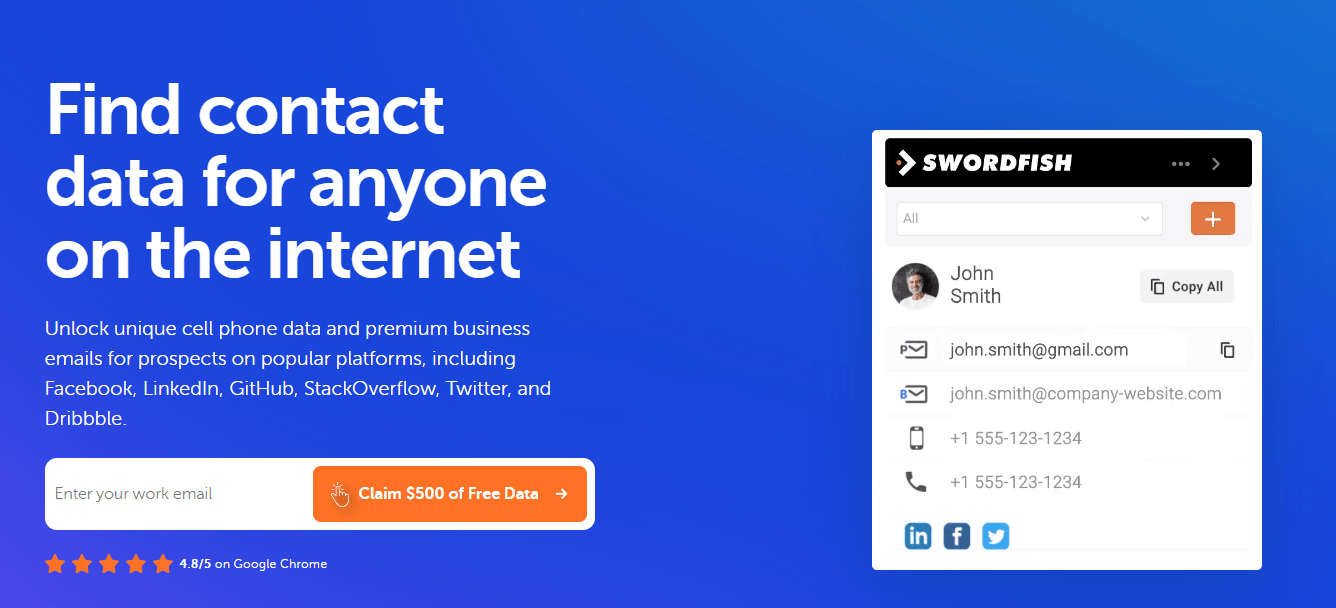 source
Swordfish AI also provides buyer intent data with our Bombora integration. We offer flexible pricing plans that address various teams in your organization to meet their requirements and help them achieve their goals.
Contact us to discuss your personalized prospect contact data requirements, or try our features with a free trial.
Conclusion
B2B companies always seek updated strategies and tactics to reach prospective customers and nurture them into sales-ready leads.
Email marketing has been a crucial strategy to reach cold leads with branded content and proper CTA placements to incentivize them with your brand solutions for the recipient's pain points and eventually convert them into long-term paying customers.
However, generic subject lines can negatively impact your open and CTR rates as the recipients will probably ignore and skip them. Your cold outreach can be jeopardized if you cannot reach your target audience.
Writing good sales email subject lines ensures your emails stand out from the other messages in your prospect's inbox while enticing them to read your brand message and go through the stages of your sales funnel to close a deal with your company.
You can trust Swordfish AI to provide accurate prospect data for 3.5+ billion verified profiles to ensure your email outreaches are sent to the correct contacts. You can use our File Upload feature to bridge gaps in your database and Reverse Search to find emails individually.
You can try our features risk-free with a free trial or talk to us about your company's prospect data requirements. We will tailor a custom pricing plan to cater to the various teams under your organization to help you reach qualified leads through the correct channels.
Engage prospects with targeted emails and grab their attention with carefully crafted subject lines when you work with accurate contact information on Swordfish AI!