The world of digital space is experiencing a rapid shift. And it is essential to keep up with its changing pace to compete with the growing competition. Suppose a business does not include digital marketing solutions in its marketing strategies. It risks losing its customers to competitors.
But marketing isn't the same for all. You need to tailor it to fit your firm and reach your Consumers. B2B growth marketing is the perfect way to achieve this. It is a newer approach to marketing that is helping many firms achieve their desired results. But what exactly is growth marketing? And how is it done? And is it worth it? This blog will answer these questions.
What is B2B Marketing?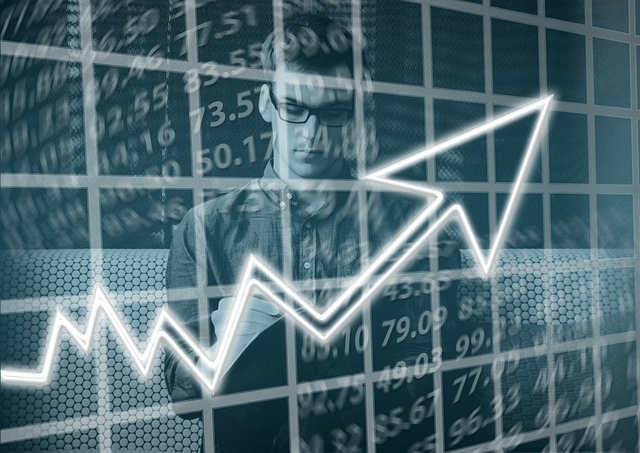 B2B Growth marketing is a new approach to digital marketing. Here the main focus is on creating leads. This is through qualified prospects through content, email marketing, and social media. This marketing tactic boosts leads, sales, and revenue for the business.
Any marketing initiatives to maintain the business's development must include growth marketing. After all, every marketing effort aims to develop the business by increasing sales, customer satisfaction, etc.
Growth Marketing is a bit different than the other marketing techniques. Marketing aims at increasing brand awareness. Or to promote a brand or a business. While Growth marketing primarily focuses on growing or scaling a business through data-driven strategies.
Although it includes commercials, still growth marketing is not the same as advertising. This marketing method has various uses.
You can use growth marketing to broaden your consumer base, improve customer relationships, foster loyalty, and expand your business. The technique uses unconventional means to increase a business' growth and sales.
It is also a great way to know more about your target audience and increase your sales and lead generation strategies. It also provides you with different ways to continuously improve and develop your business.
But, it is just a short-term strategy to give you a kickstart. Once you have established your initial results, go for a more long-term strategy that uses more conventional marketing tactics, like email and social media.
What sets B2B Growth Marketing Apart from B2C Method?
Selling goods or services to other companies or organizations is called business-to-business (B2B) marketing. Selling goods or services to consumers is business-to-consumer (B2C) marketing.
Marketing goods to consumers can be very different from marketing goods and services to businesses, as both have different needs and preferences. Thus the marketing plans should be made accordingly.
Depending on the industry, company size, and other variables, your B2B marketing strategy will differ. For example, joining the purchasing committee in a small and medium business (SMB) requires B2B marketing techniques versus large companies.
Some factors that affect B2B Marketing
1. Consumers: Whereas buyers in B2B marketing typically consist of businesses or organizations, consumers in B2C marketing are typically individuals. Businesses and organizations have different needs and objectives than people, so these distinctions significantly affect marketing methods.
2. Decision Makers: In contrast to B2C marketing, where there is typically only one decision-maker, B2B marketing typically involves several decision-makers. The ability to impress some decision-makers can be more challenging. Thus, this distinction is crucial when creating a marketing campaign.
3. Sales Cycle: Unlike B2C marketing, B2B marketing typically has a longer sales cycle. This is because individuals typically take longer than corporations and organizations to determine what to purchase due to the numerous considerations that must be made while buying for an organization.
4. Price: In B2B marketing, it is frequently negotiated, but it is typically fixed in B2C marketing. When determining the price of a good or service, it is crucial to take these distinctions into account.
5. Competition: In B2B marketing, competitors are typically other businesses or organizations, but in B2C marketing, competitors are typically individuals or businesses that provide identical products or services. This is something to bear in mind while you develop your marketing strategy.
Key Components of B2B Marketing
Here are some of the key components of B2B marketing: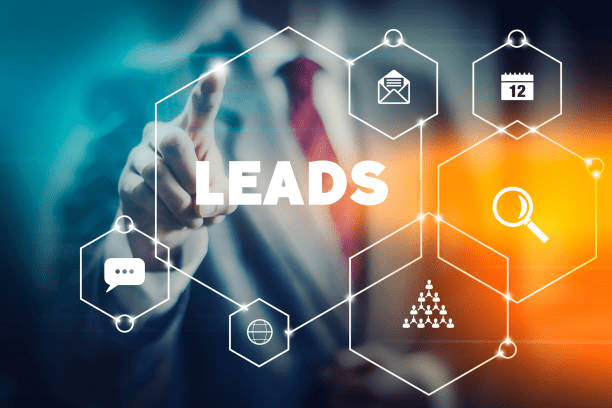 1. Marketing Funnel
A marketing funnel is a framework that explains the customer journey from initial awareness of a product or service to purchase and post-purchase follow-up.
The funnel helps you see and comprehend the various phases of client experiences as they progress from being a prospect to a customer to a devoted repeat customer.
The marketing funnel normally has four major stages, and they are as follows:
Awareness
At this point, the client is made aware of the existence of the good or service. In this phase, marketing aims to attract customers' attention and inform them of the product or service.
Interest
After becoming aware of the product or service, a customer is interested in discovering more. At this point, marketing aims to give them more specific information about the good or service and how it can help them.
Decision
At this point, the customer is prepared to decide whether or not to buy the goods or services. At this stage, marketing aims to persuade consumers to select the good or service over rivals.
Action
The customer takes action and purchases this level of the marketing funnel. Making the purchasing process as straightforward as feasible is the aim of marketing at this point.
2. Lifecycle Marketing
This marketing funnel positively affects the customers across all life cycle stages. It is an essential strategy for all businesses that help businesses retain loyal customers and boost revenue by drawing the attention of new customers.
The marketing funnel is part of lifecycle marketing and goes beyond. It involves interacting with an audience to transform into potential customers and convince them to become your brand evangelists.
You have a basic idea of the B2B market and know how it differs from the B2C market. Moving forward with this guide, you'll learn more about growth marketing and its impact on the B2B marketplace.
3. Both Lead and Demand Generation
A marketing tactic called demand generation employs material to raise awareness of a product/service or the brand/business as a whole.
This is achieved through inbound marketing, in which marketers provide valuable content to address important issues for your audience and generate their interest in your products or services.
A demand creation strategy called lead generation is used to entice potential clients who have already given a company some of their personal information. Driving leads and converting them into sales is how it makes a difference.
4. Lead Nurturing and Management
Engaging with leads as they examine a company's product or service and exchanging information to influence their purchasing intent is known as lead nurturing.
A B2B marketing team can boost sales by highlighting everything their company renders and forge closer relationships with their prospects.
Lead creation, lead nurturing, lead routing to sales, post-purchase follow-up, and other activities are also included.
How is Growth Marketing Used in B2B Marketing?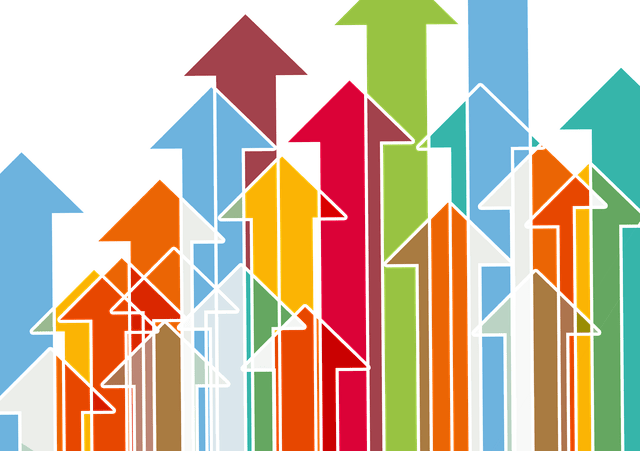 B2B growth marketing will be the primary focus of B2B marketers in 2023. This effective marketing method involves prioritizing ideas, testing your employee's skills, analyzing the potential for upscaling, and deciding which ones to keep and remove to ensure the company's growth.
Growth marketing is a spectacular approach to discovering more about your target market and audience, enhancing your lead-generating & sales techniques, and providing you with a chance to grow your company over time.
It also allows businesses to measure ROI on their campaigns and track progress over time. By leveraging growth marketing strategies, B2B companies can maximize their investments in digital channels, optimize customer acquisition costs and build long-term customer relationships.
Top 5 Growth Marketing Techniques

Knowing where to start with B2B growth marketing might be challenging when you initially get started. You can employ various strategies to increase your lead generation, sales, and income. However, you must not ignore any of these effective strategies if you want to use B2B growth marketing:
1. Social Media Marketing
Social media marketing is a fantastic method to interact with and get to know your target market. Moreover, if you make the most of social media, it can also help you increase the reach of your material to your intended audience and boost website traffic.
However, you must wisely execute your strategy while using social media marketing. Avoid barraging your audience with promotional material. Instead, interact and develop relationships with your present and future clients through social media.
2. Email Marketing
One technique to get in front of your target audience is email marketing. You can communicate with your customers directly and give them the required information.
It can be a valuable tool for sharing informative material with your audiences.
Customers may receive helpful information from it, such as instructions and suggestions or marketing offers which help you increase conversions.
3. Content Marketing
Content marketing is one of the most effective methods to generate leads and boost sales. However, you should produce top-notch content that engages, informs, and inspires a reaction from your audience.
It's crucial to keep your audience in mind when you create your content.
What information do they need?
What do they hope to discover?
What are they concerned with?
If you can address these concerns, your material will be far more effective.
4. Campaigns for Account-Based Marketing
A B2B growth marketing strategy, an account-based campaign, focuses on delivering value to your target market by communicating with them. It lets you communicate with your target market more personally and inform them about your business. You want to build a relationship by giving your target audience stuff that matters to them! Isn't it?
5. Verification of Leads
The ultimate goal of B2B marketing is to generate leads that are truly interested in your product and will eventually convert into loyal clients.
But since leads may be expensive and hard to come by, you want to ensure that you produce qualified leads eager to buy your products. You can execute different strategies to raise your leads' caliber.
Verifying your leads is one of the simplest methods to guarantee that they are high-quality ones. Additionally, verification enables you to distinguish between interested leads and those who aren't.
Is Growth Marketing Worth It?
The answer to this is Yes. Growth marketing can prove to be a valuable asset for your business. Here are 5 reasons why:
Increased Revenue
Growth marketing strategies are designed to increase revenue by attracting new customers, retaining them, and encouraging repeat purchases. Thus, you can notice a significant growth in your income with the arrival of new customers.
Data-Driven decision making
Growth marketing depends on data and analytics for decision-making. This approach lets the business make sound decisions about where to allocate the resources and which marketing tactics are more efficient.
Scalability
These marketing strategies are scalable in nature. Thus, they can be applied to businesses of all sizes. And it also allows small businesses to compete with larger ones.
Innovation
Growth marketing encourages experimenting and innovating in marketing tactics. This can lead to the formation of new and creative marketing strategies. And can make your business stand out from the others.
Long-term sustainability
Growth marketing is not only about quick gains but also about building long-term sustainable growth. By focusing on building loyal customers and retaining them, businesses can build a strong customer base and continue to generate revenue over time.
What is Swordfish.Ai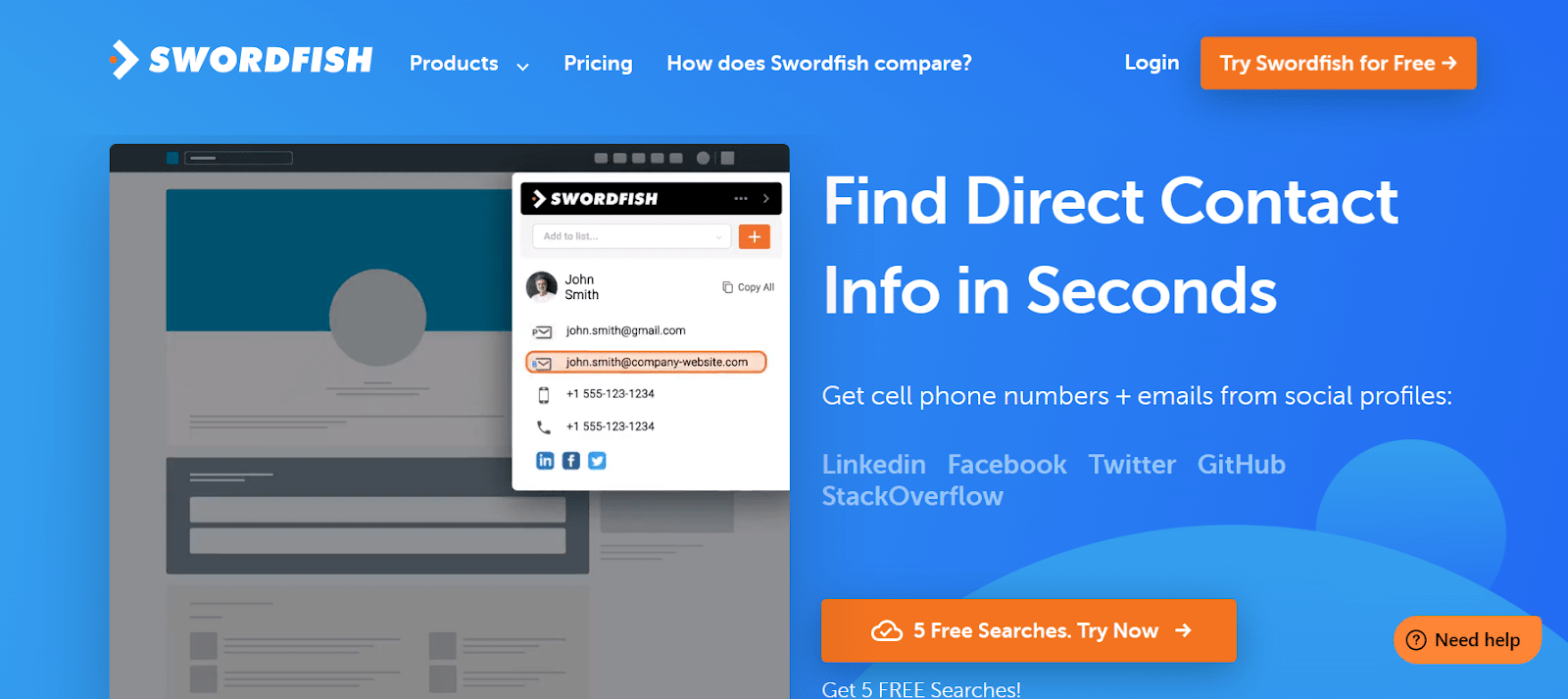 One of the best email and phone tracking software is Swordfish AI.
Swordfish AI connects to more than 200 network data partners, including personal and work email addresses and the most valuable personal contact information, cell phone, and cell phone numbers, to provide users with the most current and accurate contact information.
Free when browsing Bing, Dribble, Facebook, GitHub, Gmail, Google, LinkedIn, Meetup, Stack Overflow, Twitter, and Xing.
The Swordfish AI Google Chrome plug-in will automatically connect and work with the most popular social network profiles on the web. . . All contact information opened for that person's profile will be displayed by Swordfish Chrome Extension.
Swordfish.ai's extensive upload and data list enrichment feature makes adding email addresses and mobile phone numbers easy without a Chrome plugin.
Swordfish aims to help you save the most important resource – time – while reducing your cognitive load, facilitating connections to the future, and confirming your identity.
How Can Swordfish.ai Help You in Quality B2B Growth?
Swordfish is a powerful online data verification software that helps you curate a list of potential customers. Its advanced analytics tools and automation capabilities allow businesses to streamline their marketing efforts and focus on deriving growth through targeted, personalized campaigns.
Swordfish's predictive analytics capabilities are another salient feature that can help businesses identify high-value accounts and direct their marketing efforts by analyzing historical information and identifying patterns and trends.
It can provide insights into accounts that are most likely to convert and which marketing techniques will be the most effective for them. Besides this, Swordfish also allows users to execute their campaigns across various platforms.
Thus helping your business to grow.
Final Thoughts
Businesses use B2B growth marketing strategies as an effective tool to increase their customer base, revenue, and market share. However, finding the right tool or platform to empower your B2B growth marketing team and improve the customer journey is important.
You can use several Swordfish AI features, such as lead quality monitoring, to help your B2B growth marketing reach potential customers. Getting the best results from your offer is important to achieve your business goals.